Porsche Centre Kuwait celebrates the arrival of the new 911 Carrera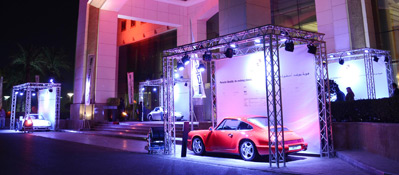 Porsche Centre Kuwait, Behbehani Motors Company, celebrated the arrival of the new 911 Carrera and Carrera S Coupé with a thrilling reveal show at Arraya Ballroom on 7th of February 2012. The icon, highly anticipated by sports car aficionados and now available in its seventh generation, has undergone a complete re-design.
In the presence of large crowd of Porsche enthusiasts and owners, over 900 attendees were part of the exclusive launch event that witnessed the new 911 generation reveal. With an incredible 3D show demonstrating the 48-year history of the 911 series, the involvement of regional racing heroes from the Porsche owned GT3 Cup Challenge Middle East, a high-tech product presentation and a virtual tour on the famous Nordschleife of the Nürburgring, the audience's emotions rose high before the cars appeared surprisingly from literally beneath all guests.
2/7/2012