Porsche Centre Kuwait wins Porsche Middle East Marketing Award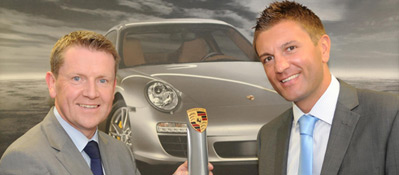 Porsche Centre Kuwait was awarded with the prestigious Marketing Award at the annual Porsche Middle East and Africa Marketing Conference held in Dubai recently. Graeme Hunter, General Manager of Behbehani Motors Company and Darren Abel, Brand Manager of Porsche Centre Kuwait, who attended the conference proudly, accepted this honourable accolade. The award acknowledges the centre's creative marketing strategies which continue to generate growth and positive results for Porsche Centre Kuwait.
Several factors are taken into consideration when choosing the recipient of this reward. Continuous marketing excellence coupled with regular initiatives, innovative ideas and unique campaign developments and implementation all contributed to Porsche Centre Kuwait's success. The centre and its team of dedicated professionals all played a role in achieving consistent performance in all areas, while continuing to raise the bar of excellence.
Porsche Centre Kuwait provides its customers with high standards of customer care, both sales and after sales, quick service facilities and is compliant with international Porsche standards. The Porsche Middle East Marketing Award is an acknowledgement of all the hard work, creativity, and fresh marketing plans designed to produce continued sales growth and innovative new campaigns to further enhance the Porsche experience for its entire client base.
10/10/2011