Ramadan Kareem from Porsche Centre KuwaitReceive an exclusive KD 1,500 Behbehani retail gift voucher with every Boxster S this Ramadan.
Porsche Centre Kuwait and Behbehani Group are offering a special gift voucher worth KD 1,500 with the purchase of every Porsche Boxster S that is redeemable at selected Behbehani retail outlets.
Don't miss this exciting offering from Porsche Centre Kuwait.
Ramadan operating hours: Saturday - Thursday, 9:30 - 13:00 / 20:30 - 23:00
Terms and conditions apply.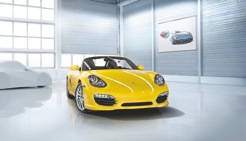 8/1/2011