Results for Porsche
919 Hybrid No. 19: Hülkenberg, Bamber, Tandy
1st position; 395 laps; fastest lap: 3'18.596
919 Hybrid No. 17: Bernhard, Webber, Hartley
2nd position; 394 laps; fastest lap: 3'18.186
919 Hybrid No. 18: Dumas, Jani, Lieb
5th position; 391 laps; fastest lap: 3'18.917
911 RSR No. 91: Lietz, Christensen, Bergmeister
5th position; 327 laps; fastest lap: 3'56.863
911 RSR No. 92: Pilet, Makowiecki, Henzler
- position; 14 laps; fastest lap: 3'58.639
Overall result
P
Driver
No.
Team
Car
Class
Laps
Best Lap
Gap
1
Nico HÜLKENBERG
Earl BAMBER
Nick TANDY
19
Porsche Team
Porsche 919 Hybrid
LM P1
395
3'18.596
2
Timo BERNHARD
Mark WEBBER
Brendon HARTLEY
17
Porsche Team
Porsche 919 Hybrid
LM P1
394
3'18.186
1 Laps
3
Marcel FÄSSLER
André LOTTERER
Benoît TRÉLUYER
7
Audi Sport Team Joest
Audi R18 e-tron quattro
LM P1
393
3'17.475
2 Laps
4
Lucas DI GRASSI
Loïc DUVAL
Oliver JARVIS
8
Audi Sport Team Joest
Audi R18 e-tron quattro
LM P1
392
3'17.831
3 Laps
5
Romain DUMAS
Neel JANI
Marc LIEB
18
Porsche Team
Porsche 919 Hybrid
LM P1
391
3'18.917
4 Laps
6
Alexander WURZ
Stéphane SARRAZIN
Mike CONWAY
2
Toyota Racing
Toyota TS 040 - Hybrid
LM P1
387
3'22.633
8 Laps
7
Filipe ALBUQUERQUE
Marco BONANOMI
René RAST
9
Audi Sport Team Joest
Audi R18 e-tron quattro
LM P1
387
3'17.647
8 Laps
8
Anthony DAVIDSON
Sébastien BUEMI
Kazuki NAKAJIMA
1
Toyota Racing
Toyota TS 040 - Hybrid
LM P1
386
3'20.896
9 Laps
9
Alexandre IMPERATORI
Dominik KRAIHAMER
Daniel ABT
13
Rebellion Racing
Rebellion R-One - AER
LM P1
336
3'26.594
59 Laps
10
Nicolas PROST
Nick HEIDFELD
Mathias BECHE
12
Rebellion Racing
Rebellion R-One - AER
LM P1
330
3'27.184
65 Laps
11
Harry TINCKNELL
Michael KRUMM
Alex BUNCOMBE
22
Nissan Motorsports
Nissan GT-R LM Nismo
LM P1
242
3'35.888
153 Laps
12
Olivier PLA
Jann MARDENBOROUGH
Max CHILTON
23
Nissan Motorsports
Nissan GT-R LM Nismo
LM P1
234
3'36.525
161 Laps
13
Tsugio MATSUDA
Mark SHULZHITSKIY
Lucas ORDOÑEZ
21
Nissan Motorsports
Nissan GT-R LM Nismo
LM P1
115
3'37.863
280 Laps
14
Simon TRUMMER
Pierre KAFFER
Tiago MONTEIRO
4
Team Bykolles
CLM P1/01 - AER
LM P1
260
3'33.560
135 Laps
P
Driver
No.
Team
Car
Class
Laps
Best Lap
Gap
1
Oliver GAVIN
Tommy MILNER
Jordan TAYLOR
64
Corvette Racing - GM
Chevrolet Corvette C7R
LM GTE Pro
337
3'54.823
58 Laps
2
Davide RIGON
James CALADO
Olivier BERETTA
71
AF Corse
Ferrari 458 Italia
LM GTE Pro
332
3'55.698
63 Laps
3
Gianmaria BRUNI
Toni VILANDER
Giancarlo FISICHELLA
51
AF Corse
Ferrari 458 Italia
LM GTE Pro
330
3'54.991
65 Laps
4
Marco SØRENSEN
Nicki THIIM
Christoffer NYGAARD
95
Aston Martin Racing
Aston Martin Vantage V8
LM GTE Pro
330
3'54.600
65 Laps
5
Richard LIETZ
Michael CHRISTENSEN
Jörg BERGMEISTER
91
Porsche Team Manthey
Porsche 911 RSR
LM GTE Pro
327
3'56.863
68 Laps
6
Fernando REES
Alex MACDOWALL
Richie STANAWAY
99
Aston Martin Racing V8
Aston Martin Vantage V8
LM GTE Pro
320
3'54.246
75 Laps
7
Darren TURNER
Stefan MÜCKE
Rob BELL
97
Aston Martin Racing
Aston Martin Vantage V8
LM GTE Pro
110
3'56.026
285 Laps
8
Patrick PILET
Frédéric MAKOWIECKI
Wolf HENZLER
92
Porsche Team Manthey
Porsche 911 RSR
LM GTE Pro
14
3'58.639
381 Laps
P
Driver
No.
Team
Car
Class
Laps
Best Lap
Gap
1
Nico HÜLKENBERG
Earl BAMBER
Nick TANDY
19
Porsche Team
Porsche 919 Hybrid
LM P1
395
3'18.596
2
Timo BERNHARD
Mark WEBBER
Brendon HARTLEY
17
Porsche Team
Porsche 919 Hybrid
LM P1
394
3'18.186
1 Laps
3
Marcel FÄSSLER
André LOTTERER
Benoît TRÉLUYER
7
Audi Sport Team Joest
Audi R18 e-tron quattro
LM P1
393
3'17.475
2 Laps
4
Lucas DI GRASSI
Loïc DUVAL
Oliver JARVIS
8
Audi Sport Team Joest
Audi R18 e-tron quattro
LM P1
392
3'17.831
3 Laps
5
Romain DUMAS
Neel JANI
Marc LIEB
18
Porsche Team
Porsche 919 Hybrid
LM P1
391
3'18.917
4 Laps
6
Alexander WURZ
Stéphane SARRAZIN
Mike CONWAY
2
Toyota Racing
Toyota TS 040 - Hybrid
LM P1
387
3'22.633
8 Laps
7
Filipe ALBUQUERQUE
Marco BONANOMI
René RAST
9
Audi Sport Team Joest
Audi R18 e-tron quattro
LM P1
387
3'17.647
8 Laps
8
Anthony DAVIDSON
Sébastien BUEMI
Kazuki NAKAJIMA
1
Toyota Racing
Toyota TS 040 - Hybrid
LM P1
386
3'20.896
9 Laps
9
Matthew HOWSON
Richard BRADLEY
Nicolas LAPIERRE
47
KCMG
Oreca 05 - Nissan
LM P2
358
3'36.836
37 Laps
10
Simon DOLAN
Mitch EVANS
Oliver TURVEY
38
JOTA Sport
Gibson 015S - Nissan
LM P2
358
3'36.679
37 Laps
11
Roman RUSINOV
Julien CANAL
Sam BIRD
26
G-Drive Racing
Ligier JS P2 - Nissan
LM P2
358
3'37.078
37 Laps
12
Gustavo YACAMAN
Luis Felipe DERANI
Ricardo GONZALEZ
28
G-Drive Racing
Ligier JS P2 - Nissan
LM P2
354
3'38.109
41 Laps
13
Karun CHANDHOK
Mark PATTERSON
Nathanaël BERTHON
48
Murphy Prototypes
Oreca 03R - Nissan
LM P2
347
3'38.715
48 Laps
14
Maurizio MEDIANI
David MARKOZOV
Nicolas MINASSIAN
27
SMP Racing
BR01 - Nissan
LM P2
340
3'42.444
55 Laps
15
Ed BROWN
Johannes VAN OVERBEEK
Jonathon FOGARTY
31
Extreme Speed Motorsports
Ligier JS P2 - HPD
LM P2
339
3'42.890
56 Laps
16
José IBANEZ
Pierre PERRET
Ivan BELLAROSA
45
Ibanez Racing
Oreca 03R - Nissan
LM P2
337
3'44.918
58 Laps
17
Oliver GAVIN
Tommy MILNER
Jordan TAYLOR
64
Corvette Racing - GM
Chevrolet Corvette C7R
LM GTE Pro
337
3'54.823
58 Laps
18
Alexandre IMPERATORI
Dominik KRAIHAMER
Daniel ABT
13
Rebellion Racing
Rebellion R-One - AER
LM P1
336
3'26.594
59 Laps
19
Léo ROUSSEL
Ho-Pin TUNG
David CHENG
29
Pegasus Racing
Morgan - Nissan
LM P2
334
3'40.794
61 Laps
20
Victor SHAYTAR
Andrea BERTOLINI
Aleksey BASOV
72
SMP Racing
Ferrari 458 Italia
LMGTE Am
332
3'56.165
63 Laps
21
Davide RIGON
James CALADO
Olivier BERETTA
71
AF Corse
Ferrari 458 Italia
LM GTE Pro
332
3'55.698
63 Laps
22
Patrick DEMPSEY
Patrick LONG
Marco SEEFRIED
77
Dempsey - Proton Racing
Porsche 911 RSR
LMGTE Am
331
3'58.832
64 Laps
23
Nicolas PROST
Nick HEIDFELD
Mathias BECHE
12
Rebellion Racing
Rebellion R-One - AER
LM P1
330
3'27.184
65 Laps
24
William SWEEDLER
Townsend BELL
Jeffrey SEGAL
62
Scuderia Corsa
Ferrari 458 Italia
LMGTE Am
330
3'57.299
65 Laps
25
Gianmaria BRUNI
Toni VILANDER
Giancarlo FISICHELLA
51
AF Corse
Ferrari 458 Italia
LM GTE Pro
330
3'54.991
65 Laps
26
François PERRODO
Emmanuel COLLARD
Rui AGUAS
83
AF Corse
Ferrari 458 Italia
LMGTE Am
330
3'56.841
65 Laps
27
Marco SØRENSEN
Nicki THIIM
Christoffer NYGAARD
95
Aston Martin Racing
Aston Martin Vantage V8
LM GTE Pro
330
3'54.600
65 Laps
28
Scott SHARP
Ryan DALZIEL
David HEINEMEIER HANSSON
30
Extreme Speed Motorsports
Ligier JS P2 - HPD
LM P2
329
3'39.702
66 Laps
29
Jacques NICOLET
Jean-Marc MERLIN
Erik MARIS
35
Oak Racing
Ligier JS P2 - Nissan
LM P2
328
3'46.095
67 Laps
30
Richard LIETZ
Michael CHRISTENSEN
Jörg BERGMEISTER
91
Porsche Team Manthey
Porsche 911 RSR
LM GTE Pro
327
3'56.863
68 Laps
31
Peter MANN
Raffaele GIAMMARIA
Matteo CRESSONI
61
AF Corse
Ferrari 458 Italia
LMGTE Am
326
3'57.565
69 Laps
32
Tracy KROHN
Nick JÖNSSON
João BARBOSA
40
Krohn Racing
Ligier JS P2 - Judd
LM P2
323
3'42.168
72 Laps
33
Mikhail ALESHIN
Kirill LADYGIN
Anton LADYGIN
37
SMP Racing
BR01 - Nissan
LM P2
322
3'41.402
73 Laps
34
Fernando REES
Alex MACDOWALL
Richie STANAWAY
99
Aston Martin Racing V8
Aston Martin Vantage V8
LM GTE Pro
320
3'54.246
75 Laps
35
Han-Chen CHEN
Gilles VANNELET
Mike PARISY
68
Team AAI
Porsche 911 RSR
LMGTE Am
320
3'59.683
75 Laps
36
Abdulaziz AL FAISAL
Jakub GIERMAZIAK
Michael AVENATTI
66
JMW Motorsport
Ferrari 458 Italia
LMGTE Am
320
3'58.646
75 Laps
37
Jun-San CHEN
Alex KAPADIA
Xavier MAASSEN
67
Team AAI
Porsche 911 GT3 RSR (997)
LMGTE Am
316
4'00.996
79 Laps
38
Paul DALLA LANA
Pedro LAMY
Mathias LAUDA
98
Aston Martin Racing
Aston Martin Vantage V8
LMGTE Am
321
3'56.988
74 Laps
39
Harry TINCKNELL
Michael KRUMM
Alex BUNCOMBE
22
Nissan Motorsports
Nissan GT-R LM Nismo
LM P1
242
3'35.888
153 Laps
40
Christopher CUMMING
Laurens VANTHOOR
Kevin ESTRE
34
Oak Racing
Ligier JS P2 - HPD
LM P2
329
3'38.251
66 Laps
41
Jeroen BLEEKEMOLEN
Ben KEATING
Marc MILLER
53
Riley Motorsports-TI Auto
Srt VIPER GTS-R
LMGTE Am
304
3'55.896
91 Laps
42
Nick LEVENTIS
Danny WATTS
Jonny KANE
42
Strakka Racing
Dome S103 - Nissan
LM P2
264
3'41.304
131 Laps
43
Duncan CAMERON
Matt GRIFFIN
Alexander MORTIMER
55
AF Corse
Ferrari 458 Italia
LMGTE Am
241
3'57.712
154 Laps
44
Olivier PLA
Jann MARDENBOROUGH
Max CHILTON
23
Nissan Motorsports
Nissan GT-R LM Nismo
LM P1
234
3'36.525
161 Laps
45
Pierre THIRIET
Ludovic BADEY
Tristan GOMMENDY
46
Thiriet By Tds Racing
Oreca 05 - Nissan
LM P2
204
3'39.575
191 Laps
46
Roald GOETHE
Stuart HALL
Francesco CASTELLACCI
96
Aston Martin Racing
Aston Martin Vantage V8
LMGTE Am
187
3'57.477
208 Laps
47
Pierre RAGUES
Oliver WEBB
Zoel AMBERG
43
Team Sard Morand
Morgan Evo - SARD
LM P2
162
3'41.725
233 Laps
48
Tsugio MATSUDA
Mark SHULZHITSKIY
Lucas ORDOÑEZ
21
Nissan Motorsports
Nissan GT-R LM Nismo
LM P1
115
3'37.863
280 Laps
49
Nelson PANCIATICI
Paul Loup CHATIN
Vincent CAPILLAIRE
36
Signatech Alpine
Alpine A450b - Nissan
LM P2
110
3'40.324
285 Laps
50
Darren TURNER
Stefan MÜCKE
Rob BELL
97
Aston Martin Racing
Aston Martin Vantage V8
LM GTE Pro
110
3'56.026
285 Laps
51
Gianluca RODA
Paolo RUBERTI
Kristian POULSEN
50
Larbre Competition
Chevrolet Corvette C7R
LMGTE Am
94
3'58.640
301 Laps
52
Gary HIRSCH
Gaëtan PALETOU
Jon LANCASTER
41
Greaves Motorsport
Gibson 015S - Nissan
LM P2
71
3'40.834
324 Laps
53
Christian RIED
Khaled AL QUBAISI
Klaus BACHLER
88
Abu Dhabi-Proton Racing
Porsche 911 RSR
LMGTE Am
44
3'59.008
351 Laps
54
Patrick PILET
Frédéric MAKOWIECKI
Wolf HENZLER
92
Porsche Team Manthey
Porsche 911 RSR
LM GTE Pro
14
3'58.639
381 Laps
55
Simon TRUMMER
Pierre KAFFER
Tiago MONTEIRO
4
Team Bykolles
CLM P1/01 - AER
LM P1
260
3'33.560
135 Laps
Race report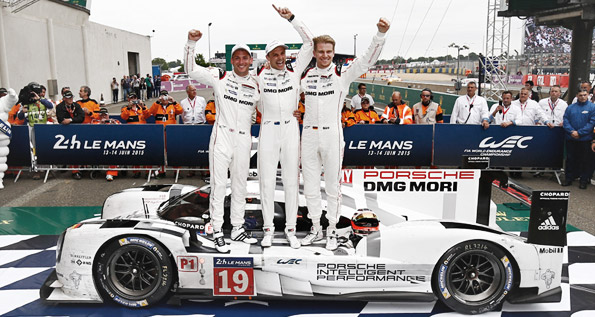 One-two for the Porsche 919 Hybrids in Le Mans
Stuttgart. Mission accomplished: Porsche has achieved its 17th overall Le Mans victory at the 83rd running of the famous 24-Hour race in a perfect way with a one-two finish. Drivers Earl Bamber (NZ), Nico Hülkenberg (GER) and Nick Tandy (GB) won the coveted trophy in their innovative Porsche 919...
Read more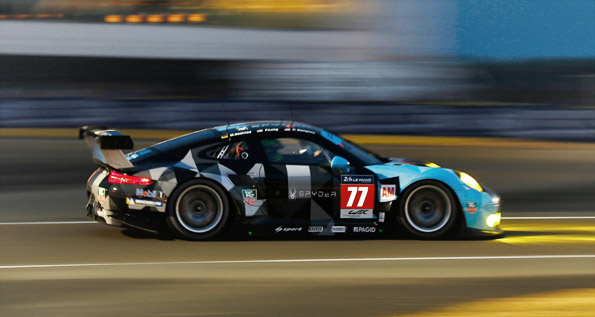 Patrick Dempsey scores second place at Le Mans with Porsche
Stuttgart. Patrick Dempsey has celebrated his greatest success as a race driver with Porsche at the 24 Hours of Le Mans. At the wheel of the 470 hp 911 RSR campaigned by Dempsey Proton Racing, the American actor ("Grey's Anatomy") crossed the finish line in second in the GTE-Am class at the 83rd...
Read more