Rear-mounted bike carrier
Product features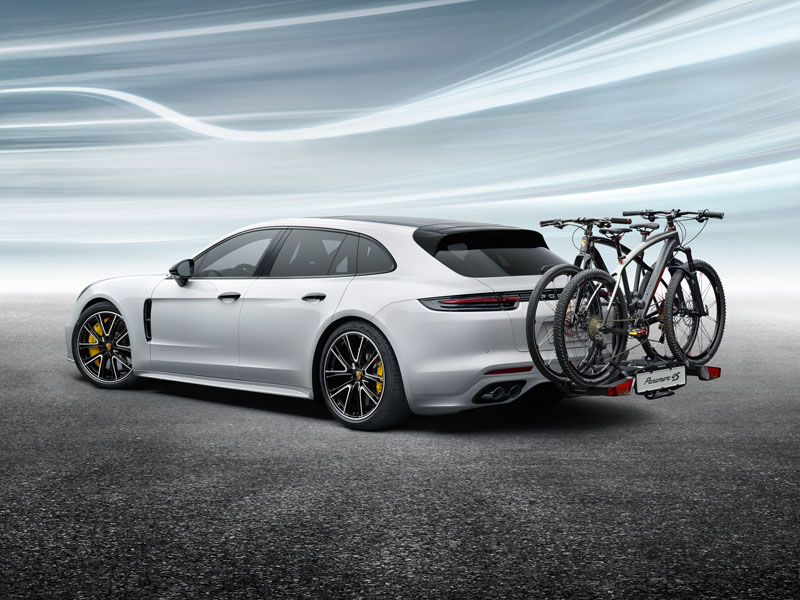 Lockable aluminium rear-mounted carrier for conventional bikes and e-bikes.
Easy to fit and adjust the bicycle rack before the clamping lever is closed, thanks to the stable connection to the towbar system.
Foldable for convenient installation, handling and space-saving storage
Ready to fit. No tool required for fitting.
Practical fold-down mechanism operated by foot pedal enables easy access to the luggage compartment, even with bikes mounted on the carrier.
High load capacity allows transport of e-bikes and heavy mountain bikes.
Wide spacing between rim holders helps to avoid bike-on-bike rubbing.
Extra-long rim straps with ratchet function for easy lashing of wheels.
Ergonomic transport of the bicycle rack thanks to integrated carry handles
The bike can be locked to the rear-mounted bike carrier and the rear-mounted bike carrier to the towbar system (locks are included).
Note:
A towbar system is required for attaching a rear-mounted bike carrier.
Max. weight per bike:
30 kg
Dimensions:
123 x 61 x 65 cm
Folded dimensions:
31 x 61 x 68 cm
Compatible with frame sizes:
22–80 mm
Fold-down (with bikes):
yes
Distance between bikes:
22 cm
Note:
suitable for bikes with carbon frame. For bikes with carbon frame or forks, always ask your manufacturer or retailer whether your model may be transported by this carrier. Porsche accepts no liability for damage to carbon frames or forks during installation and/or use of the rear-mounted bike carrier.
Availability:
Please use the Porsche Tequipment Finder to discover the Porsche models for which a bike carrier is available.
Rear-mounted bike carrier
Rear-mounted bike carrier
Rear-mounted bike carrier
Rear-mounted bike carrier
Rear-mounted bike carrier
Rear-mounted bike carrier