Porsche 911 Carrera (type 997)
From 2005, the Porsche 911 presented itself as being more diverse than ever before: it was available as a Coupé and Targa, Cabriolet and Speedster, with rear- and all-wheel drive, a slimmer and wider body, with water-cooled naturally aspirated and turbo engines, as a GTS version as well as a GT2, GT2 RS, GT3 and two GT3 RS sports versions. Including special models, the range counts 30 model variants – supplemented by numerous customisation options.
With the design of the 997, Porsche honed the 911's character and gave it an even more dynamic and powerful appearance. The Carrera already looked noticeably more masculine with its more strongly modelled rear, and the S, GT and Turbo models are another 44 millimetres wider. The 997 differentiated itself from its predecessor by the steeper, round, clear-glass headlights, which are an important stylistic element of the air-cooled 911.
Model overview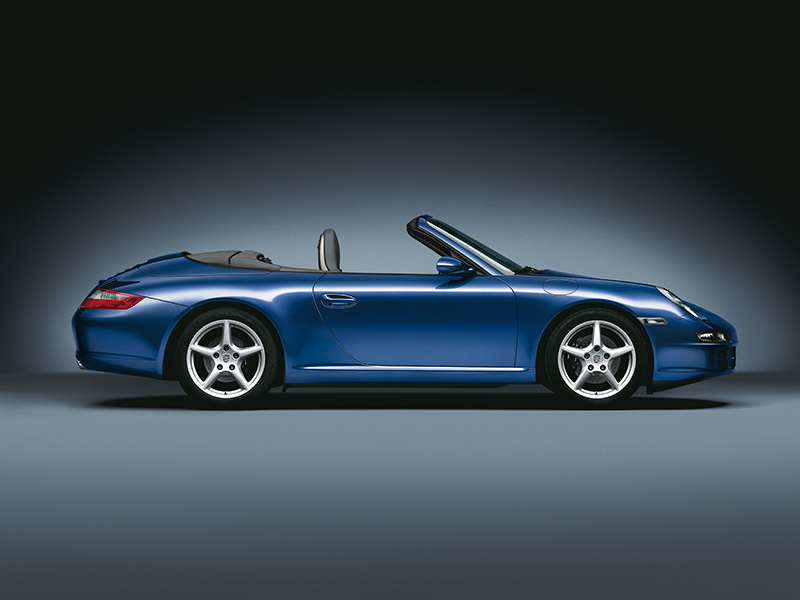 911 Carrera Coupé, 911 Carrera Cabriolet (2005-2008)
Orientation towards classic Porsche style elements (round headlights, additional lights in the front end) // Stronger sidecut with accentuated wings to create a particularly powerful and athletic look // Bumper elements behind the deformed plastic parts on the front and rear, plus an aluminium luggage compartment lid // Exterior mirrors mounted in the window triangle of the A-pillar instead of on the door // Large, elongated oval tailpipes and Silver-coloured logo // 3.6-litre naturally aspirated engine with sequential injection and 239 kW (325 PS) // PASM chassis at an extra cost // Cabriolet weighs only 7 kg more than the Coupé // Extendable, aerodynamically optimised rear spoiler // PCM with 5.8-inch screen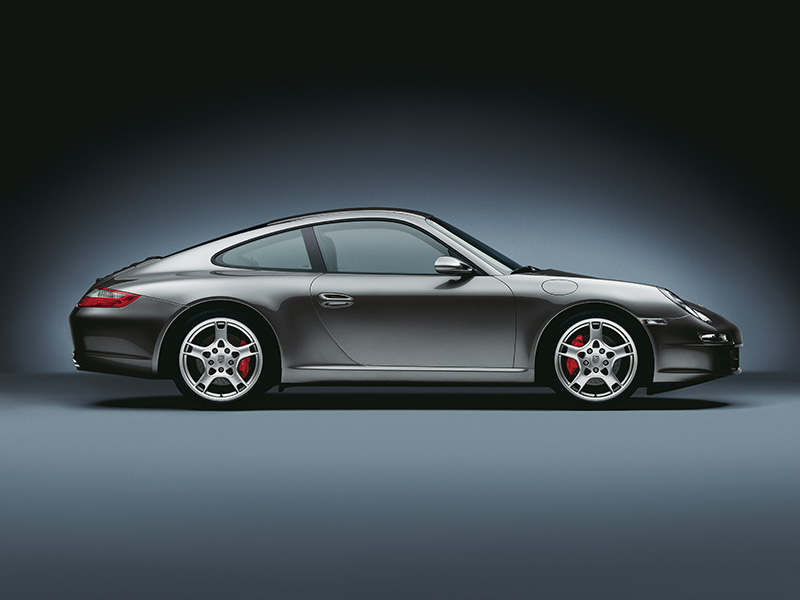 911 Carrera S Coupé (2004-2008), 911 Carrera S Cabriolet (2005-2008)
Two round twin tailpipes and titanium-coloured type designation // New high-performance engine with 3.8-litre displacement / 261 kW (355 PS) // Self-adjusting clutch // PASM chassis as standard on Carrera S // 3.8-litre Carrera S versions: revised braking system // Front and rear axle: 4-piston aluminium monobloc fixed callipers painted Red // Internally ventilated, perforated 330-mm brake discs // Frames of the air vents, decorative trims on dashboards and gearshift levers and shift pattern in the gearshift knob with an aluminium look // Aluminium-coloured dials, or available in Black (no extra cost) // Sports steering wheel with round baffle plate and recessed grips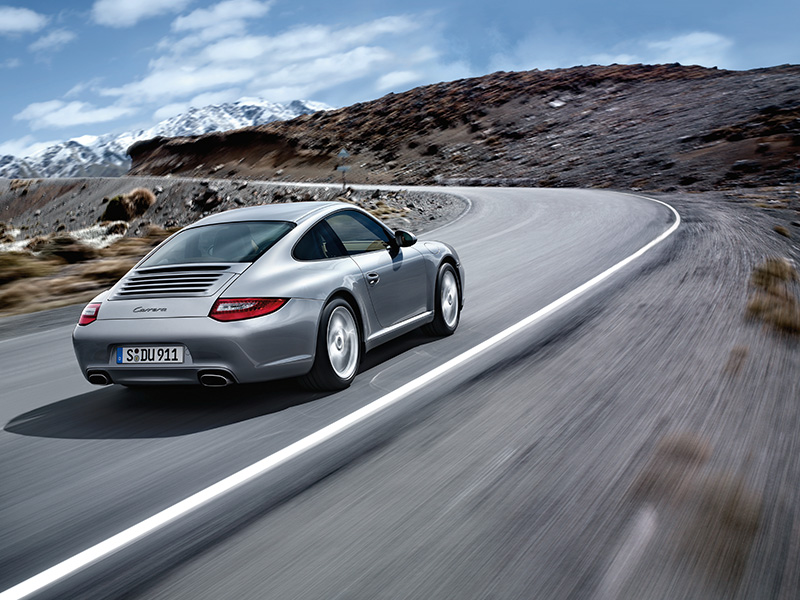 911 Carrera Coupé, 911 Carrera Cabriolet (2009-2012)
Newly designed engines with direct fuel injection: less weight and more power while reducing fuel consumption // Porsche Doppelkupplung (PDK) replaces Tiptronic S // Larger external air intakes on the front end // Above each front side air intake is an additional light unit with new LED daytime running lights, position light and indicators // PASM chassis at extra cost // Optional dynamic Xenon cornering light used for the first time // New shape for the adjustable and heated double-arm exterior mirrors // New shape for multifunction LED tail lights // 18-inch Carrera IV wheels with five V-shaped double spokes (3.6-litre engine) // Black covers on the underside of the new rear apron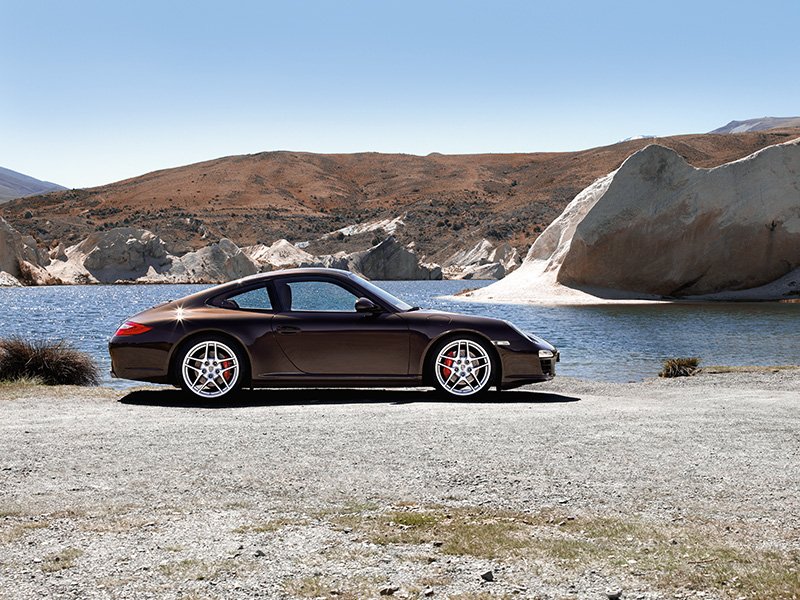 911 Carrera S Coupé, 911 Carrera S Cabriolet (2009-2011)
Two oval single-tube tailpipes (911 Carrera S Coupé): round twin tailpipes (911 Carrera S Cabriolet) // Titanium-coloured model lettering on the Carrera S, Silver-coloured on the Carrera // Engine with direct fuel injection and 283 kW (385 PS) // PASM chassis with active dampers as standard // 19-inch Carrera S II wheels manufactured using flow-forming technology // Sports steering wheel // Porsche Doppelkupplung (PDK) available // Interior parts painted in aluminium look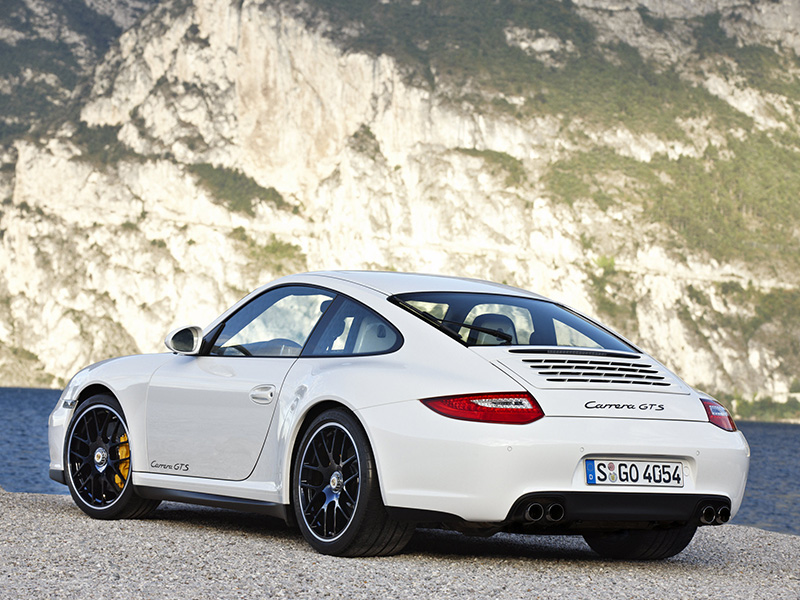 911 Carrera GTS Coupé, 911 Carrera GTS Cabriolet (2011)
Closes the performance gap between the S models and the GT3 in terms of PS with the same fuel consumption // 300 kW (408 PS) // Additional front spoiler lip painted Black as a typical motorsport feature // Modified cooling air intakes in the front apron // Modified side skirt trim in Black: together with the front spoiler lip and the panels of the lower rear apron, it creates a low visual focal point for the body // 19-inch RS Spyder wheels as standard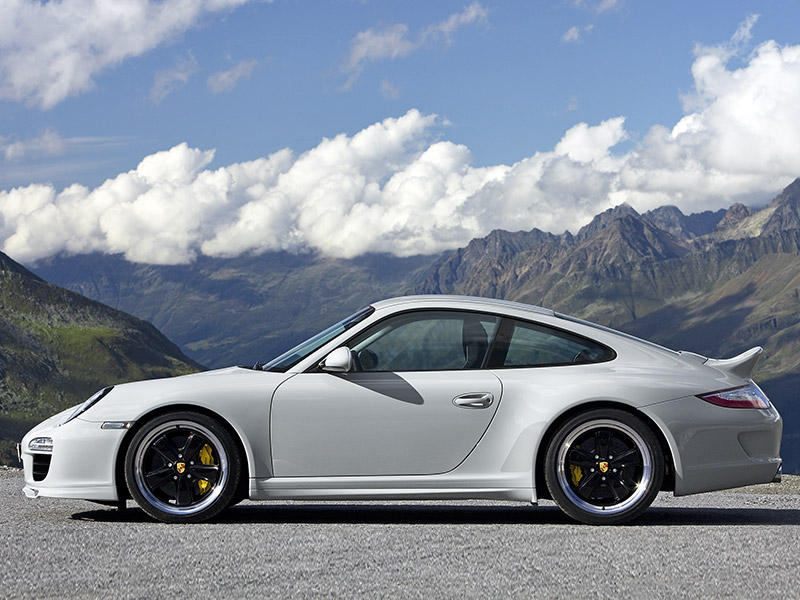 911 Sport Classic (2010)
Limited edition of 250 units // 'Ducktail' spoiler as a homage to the Carrera RS 2.7 from 1973 // Newly developed double-dome roof // Braided leather upholstery in the interior // 300 kW (408 PS) // 19-inch Sport Classic rims in Fuchs rim design // Black-framed headlights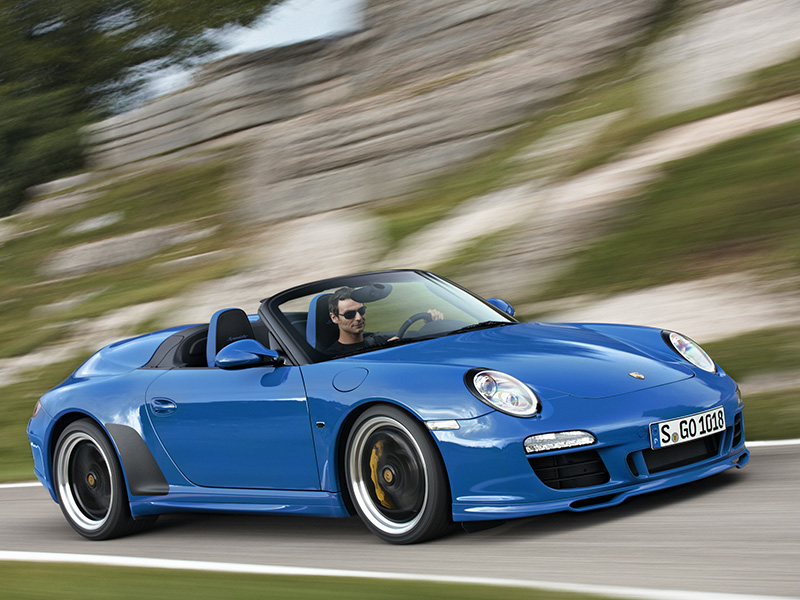 911 Speedster (2011)
Limited to 356 units //Homage to the 356 Speedster (1954) // Shortened windscreen frame and Speedster convertible top compartment lid // Black-framed main headlights // 300 kW (408 PS) // 19-inch Sport Classic rims with a visual nod to the Fuchs rim // Adaptive sports seats // Sport Chrono Package Plus as standard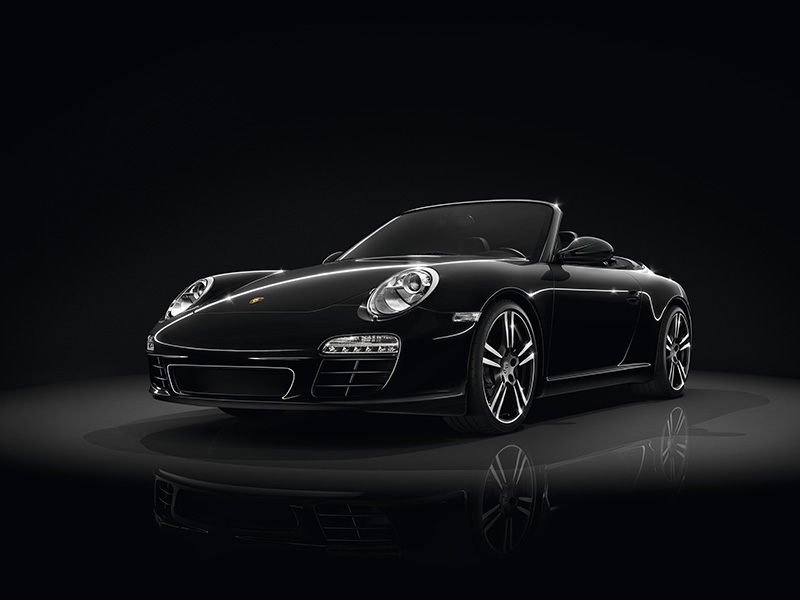 911 Black Edition (2011)
Available as a Coupé and as a Cabriolet // Limited to 1,911 units // Only available in Plain Black or Basalt Black Metallic // Door sills made of stainless steel with Black Edition logo // Badge with limited-edition number on the glove compartment // Optional extras such as 19-inch Turbo II wheels in two-tone design, cruise control, SportDesign steering wheel as standard
Porsche Classic Parts Explorer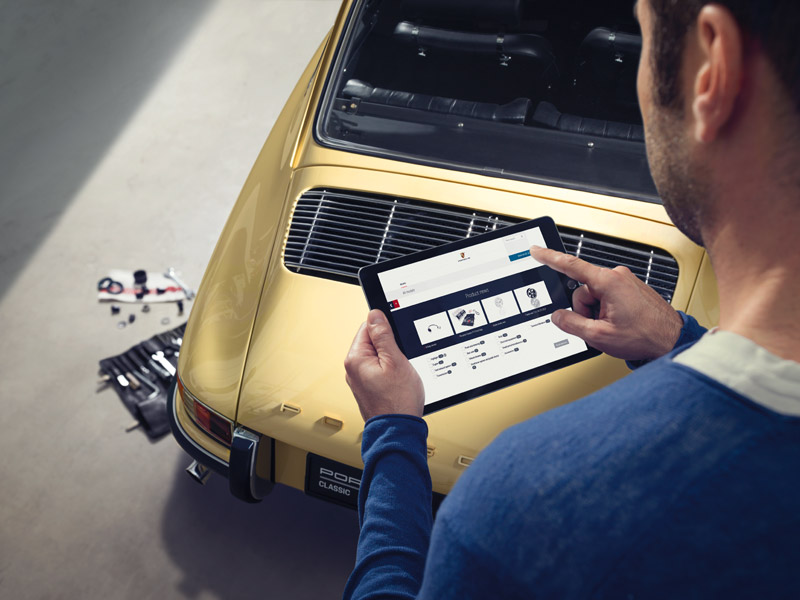 Search. Click. Result.
You can now quickly and easily find selected genuine parts for your classic car using the Porsche Classic Parts Explorer. Each year, some 300 reissued parts plus selected products for specific models become available online, along with all of the relevant details, of course. In addition to images and part numbers, you will find a range of useful information regarding the individual products and specific usage scenarios.
As you can imagine, there is a wealth of information available to explore. Why not begin your own tour of the Parts Explorer now and find out which reissued parts are available for your classic car. Incidentally: It is worth checking back regularly. After all, our product range is always expanding. We look forward to your visit.
Read more