Fitness coach sets new bungee world record in Dubai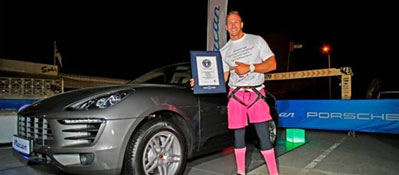 Dubai, UAE, 23 March 2014: Dubai expat and fitness coach Colin Phillips has set a new world record for the most bungee jumps in 24 hours in the Porsche Macan 24-Bungee event over the weekend.
At the Dubai Autodrome, Philips successfully completed 151 jumps, trumping the previous record of 105 in 2011. An official judicator from Guinness World Records was on site for the duration of the event to verify the record.
The Porsche Macan 24-Bungee event was sponsored by Porsche, Al Nabooda Automobiles. The jumps were carried out in three sessions starting at approximately 7pm on Thursday evening, breaking during the night, and picking up again from 6am – 10am and 3pm – 7pm on Friday.
3/23/2014