Porsche Centre Bahrain appoints Colin Sattar as new Brand ManagerPorsche Centre Bahrain appoints Colin Sattar as new Brand Manager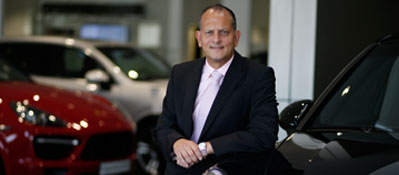 Manama. Porsche Centre Bahrain, Behbehani Brothers w.l.l., has announced the appointment of Colin Sattar as Brand Manager in an exciting and progressive move for the local representation of the exclusive sports car manufacturer. With a proven track record of delivering exceptional customer service, Sattar brings a wealth of industry knowledge to further build upon Porsche's unrivalled legacy in the Kingdom.
In his new role Sattar will be operating the local Porsche business, leading a team of 40 staff across multiple disciplines including Sales, Marketing, and After Sales. Central to the ongoing success of Porsche Centre Bahrain will be his overseeing of enhanced operating standards, procedures and policies to ensure the facility delivers on its promise; to provide the ultimate customer service experience for current and prospective Porsche owners.
Peter Green, General Manager of Behbehani Brothers w.l.l., said: "This is a hugely exciting time for Porsche here in Bahrain. 2014 started strongly with the landmark reopening of our flagship showroom featuring an increased size of almost 60 per cent. The appointment of Colin Sattar as the new Brand Manager comes at a crucial time when we have just introduced exciting new models, such as the new Macan or the Boxster and Cayman GTS models, whilst awaiting the arrival of the new generation Cayenne.
"With a wealth of industry experience in the UK and also regional experience in the Middle East, Colin is a knowledgeable professional who will help us realise our vision of providing the highest level of customer service that can be expected from Porsche", added Green.
Colin Sattar joins Porsche Centre Bahrain with more than 27 years of automotive industry experience. Starting his career in the UK, Sattar progressed to operate a premium dealership which was voted number one for customer service. He then took up a new challenge in the Middle East, holding the position of General Manager, Riyadh Region at Al Ghassan Motors, working with top luxury automotive brands.
Porsche Centre Bahrain
10/28/2014