Porsche Centre Bahrain holds "Open Day"Porsche Service Clinic in Bahrain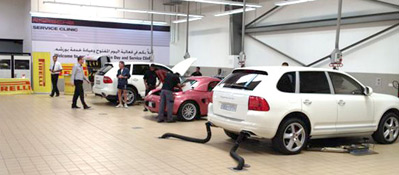 Manama. Porsche Centre Bahrain, a division of Behbehani Brothers w.l.l, hosted an open day at their premises in Sitra on Saturday, 17th of March. A total of 150 vehicle owners followed the invitation by the local Porsche team.
Featuring an array of activities, the event included the Porsche Service Clinic, an integral part of the Porsche Experience for any customer. Designed to maintain the overall functionality, the Porsche Service Clinic offers a state-of-the-art diagnostic programme for vehicles, the so-called Porsche 24-Point Check.
"We are thrilled to add the Porsche Service Clinic to our open day concept. It is an integral part of our customer satisfaction programme to enhance our After Sales Service for our valued clients. The service is complimentary on scheduled event days. Our skilled team at the showroom guides clients individually through the entire vehicle inspection process step by step and is happy to answer all questions", commented Firas Barbir, Business Development Manager at Porsche Centre Bahrain.
Last Saturday's event featured a line-up of current Porsche models on display for an up-close look; some of the cars were made available for ad-hoc test-drives during the day.
Customers interested in further individualization options after purchasing their car could see live in the workshop how some items available of Porsche's extensive Tequipment range were installed in or on a car.
A special show stand presented items at preferred rates. Also products from the attractive Porsche Design Driver's Selection were made available for purchase.
The "Open Day" at Porsche Centre Bahrain is an added event to the already busy calendar of Porsche activities in the Kingdom and provides an exceptional platform for vehicle owners to interact with the entire Porsche team in an open environment.
3/20/2012