Porsche Center Bahrain Teams up with Little Gems to educate children on road safety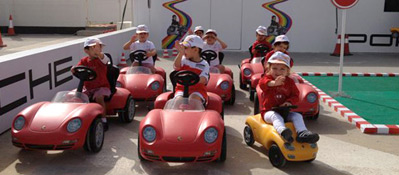 Manama. Porsche Center Bahrain, a division of Behbehani Brothers w.l.l hosted a fun two day event at the premises of Little Gems School located in Barbar to educate children on the importance of road safety.
Porsche Kids Driving School is a very popular event amongst the youngsters and has been hosted at various locations across the Kingdom, namely at the Bahrain International Circuit, The Rugby Club, Bahrain City Centre and the latest addition the Little Gems Pre-school.
To make their experiences memorable, the Porsche Team made certain that a practical driving scenario is replicated within the premises. After being briefed by a friendly teacher on the importance of road signs, their meaning and the significance of always buckling up the students were sent on their way to experience their first ever road thrill.
"Every week we have a Traffic awareness session to educate the children about the importance of wearing seatbelts and how to cross the road safely. We also aim to educate the parents and monitor the car park to ensure that parents are using their seatbelts and have age appropriate car seats installed for their children. This year we planned the event to coincide with Porsche Kids Driving School. It has been a fantastic opportunity for the children and a really fun and exciting way to learn about road safety. The event has been well received by the parents and we are very grateful to Porsche Center Bahrain, and in particular Mr. Barbir, for bringing PKDS to Little Gems" commented Eleanor, principal at Little Gems.
A track was set up comprising of all important signs be it zebra crossing, a petrol station or a roundabout the students pedaled their way on the mini red Porsches to enjoy the ride.
"The Porsche Kids Driving School is a highly interactive event which enables us to educate the children on the importance of road safety. We are honored to be invited to various locations all across the Country and be a part of the younger generations learning experience. It is truly a treat to experience the excitement and thrill the mini Porsches brings about on these young faces" commented Firas Barbir, Business Development Manager at Porsche Centre Bahrain.
The two day event was enjoyed by 160 students from Little Gems, aged between 3-5 years an all too eager audience ready to make their way on the roads. Upon completion of the programme, each student walked away with souveniors exclusive to the Porsche drivers. The pre-schoolers were awarded their 'First Driving License' along with a 'I am a Porsche Driver' cap.
3/13/2012