Porsche Centre Bahrain supports 'Think Pink' SocietyPorsche engages in community project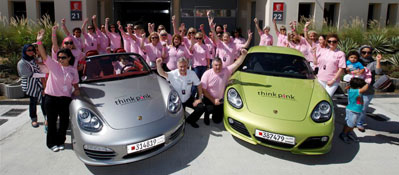 Manama. Porsche Centre Bahrain, a division of Behbehani Brothers w.l.l., supported this year's 'Think Pink Society' initiative by hosting an open track day at the Bahrain International Circuit to raise funds for the organization. The event was held on the 22nd of October in conjunction with the Breast Cancer Awareness campaign running currently in the Kingdom.
A total of 32 female 'Think Pink' supporters were invited to be a part of this unique event against a small donation for the good cause. Following a detailed briefing, participants were set on their way to explore the challenging and state-of-the-art Bahrain International Circuit. Throughout the programme, the team of the Think Pink Foundation received many useful driving tips for safe and professional car handling in various situations to conquer the challenging F1 circuit.
Various top models from the Porsche family were made available for this event. Amongst those offered were the Porsche Cayenne models, the sporty Cayman R, the Boxster S, the 911 Carrerra S and the Panamera 4S. Whilst the majority of vehicles were thoroughbred sports cars, the Porsche Cayenne and Panamera could also prove on the track that they are genuine Porsche cars with outstanding performance features.
"Porsche Centre Bahrain is delighted to be a support for 'Think Pink' this year. We believe that it is our responsibility to be pro-active in supporting the general awareness for Breast Cancer and education about this life threatening disease," commented Firas Barbir, Business Development Manager at Porsche Centre Bahrain.
During the event the sum of 1,300 BD was raised and will be handed over to the 'Think Pink Foundation' for future projects.
Porsche Centre Bahrain is actively involved in various socially responsible projects. An initiative was taken to introduce the Porsche Kids Driving School aimed at educating children on the importance of road safety. This latest 'Think Pink' event is an extension of Porsche's commitment to support communal activities.
10/22/2011