Porsche Centre Bahrain hosts first ever "Test Run" at the Circuit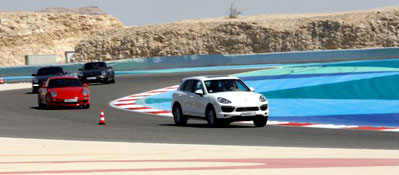 Manama. Porsche Centre Bahrain, a division of Behbehani Brothers, hosted its first ever "Test Run" event at the Bahrain International Circuit on Saturday, 8th of October 2011. This new addition to the driving event range extends the current event calendar even further and offers another exciting platform for Porsche fans to engage with the brand's products and the local Porsche Centre team.
Following a detailed briefing and many tips by professional instructors, a total of 52 drivers in 38 Porsche vehicles were set on their way to explore the challenging and state-of-the-art Bahrain International Circuit. This event gave participants the opportunity to become familiar with Porsche's model range and learn how to handle the cars in a challenging yet controlled environment.
Part of the attractive model line-up was the 911 Carrera S, the Cayenne S and the Cayman R. With 330 horsepower, the Cayman R was the fastest car on offer and demonstrated its real potential. Whilst the majority of vehicles were thoroughbred sports cars, the Porsche Cayenne and Panamera could also prove on the track that they are genuine Porsche sports cars setting benchmarks in their segment.
Firas Barbir, Business Development Manager at Porsche Centre Bahrain summarized the event's success: "We have always been a pioneer in introducing new events for our clientele that bring our brand and products closer to them. Our first "Test Run" was a full success and seeing the many smiles on the faces of our guests was a great feeling and showed us the need to continue with similar events."
Porsche Centre Bahrain also hosts the Porsche World Road Show, a highly anticipated and eagerly awaited event in the calendar. The introduction of the "Test Run" concept is a further addition to drive events hosted by the brand's local representative.
10/10/2011