Porsche Kids Driving School returns to drive home road safety messagePorsche Centre Bahrain extends community education programme for local students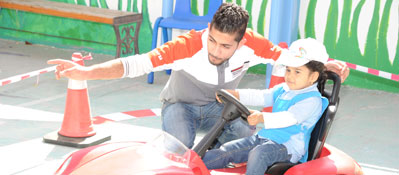 Manama. Building on the previous success of the established Porsche Kids Driving School, Porsche Centre Bahrain has kicked off a new term of education around the importance of road safety. The campaign has been launched last month through a two-day session held at Al Majd Private School in Manama.
As statistics for traffic incidents across the region continue to make headlines, Porsche Centre Bahrain has renewed its interactive corporate social responsibility programme to increase awareness and knowledge of safe driving for a new generation.
Over three hundred students attended the latest Porsche Kids Driving School event, which saw youngsters took part in sessions, including lectures on road safety with practical driving activities in Porsche 911 pedal cars through a maze of imitated streets. Children were taught about traffic signals and traffic rules, such as using pedestrian crossings safely, and the importance of wearing a seatbelt at all times. This simulated road experience was completed with zebra crossings, traffic lights, road signs and road marshals.
Morgan Sunderland, Brand Manager at Porsche Centre Bahrain, said: "Empowering children with knowledge is a critical step towards a future of safer roads and the Porsche Kids Driving School is built on this premise. Our aim is to start the driving education early with basic informative courses which can have a positive impact on lives of young people. We take our responsibility to the general public extremely seriously; and through fun, interactive teaching sessions such as this one, we hope to leave a lasting legacy for the youth of Bahrain."
Porsche Centre Bahrain worked with specially trained instructors who have a wide range of experience in teaching road safety fundamentals to children in practical but enjoyable methods.
Having enjoyed their first Porsche driving experience, the children were offered symbolic driving licenses, as an appreciation for their commitment to road safety practices.
3/3/2014