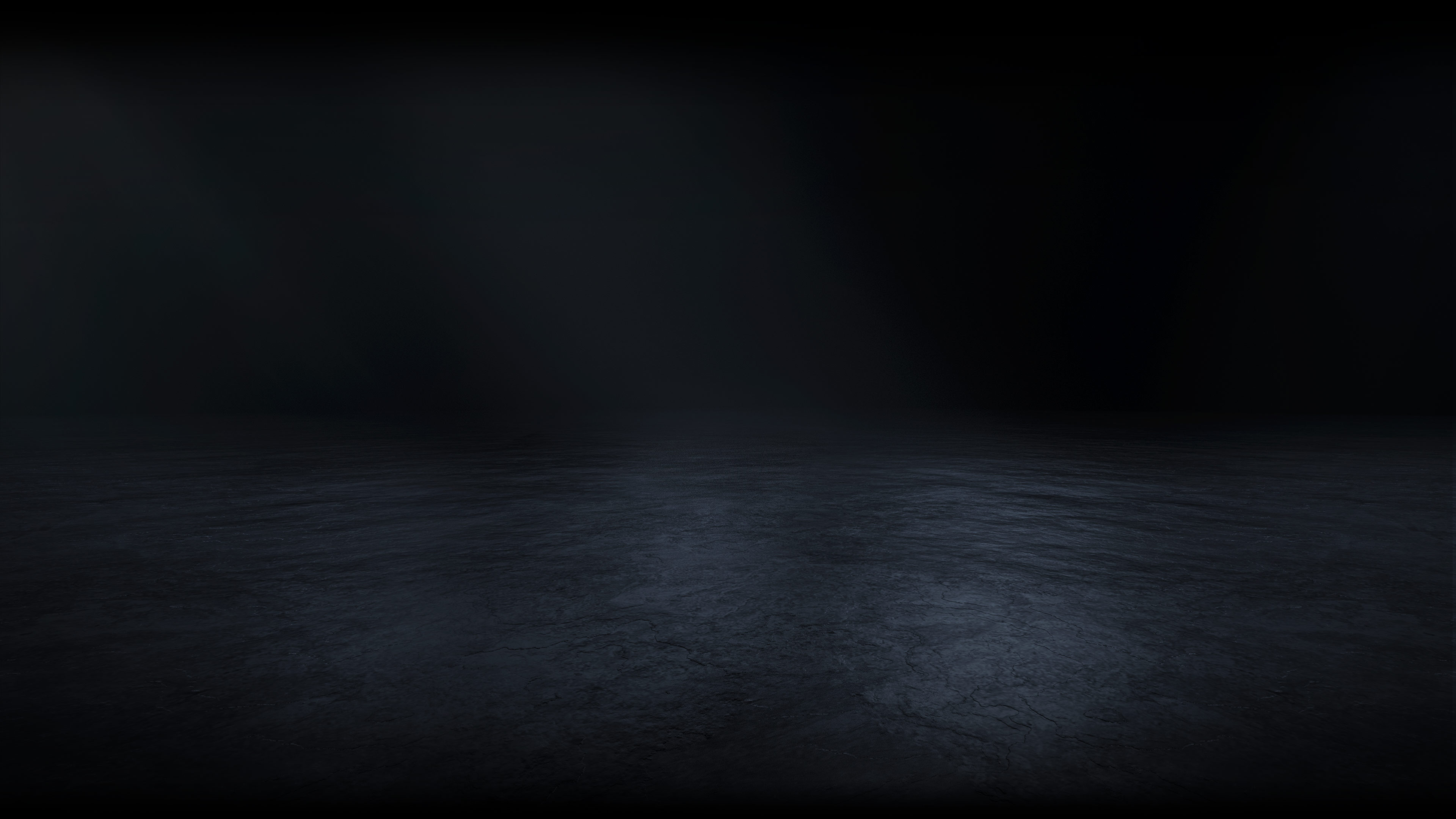 911 Dakar
from AED 870,100 incl. VAT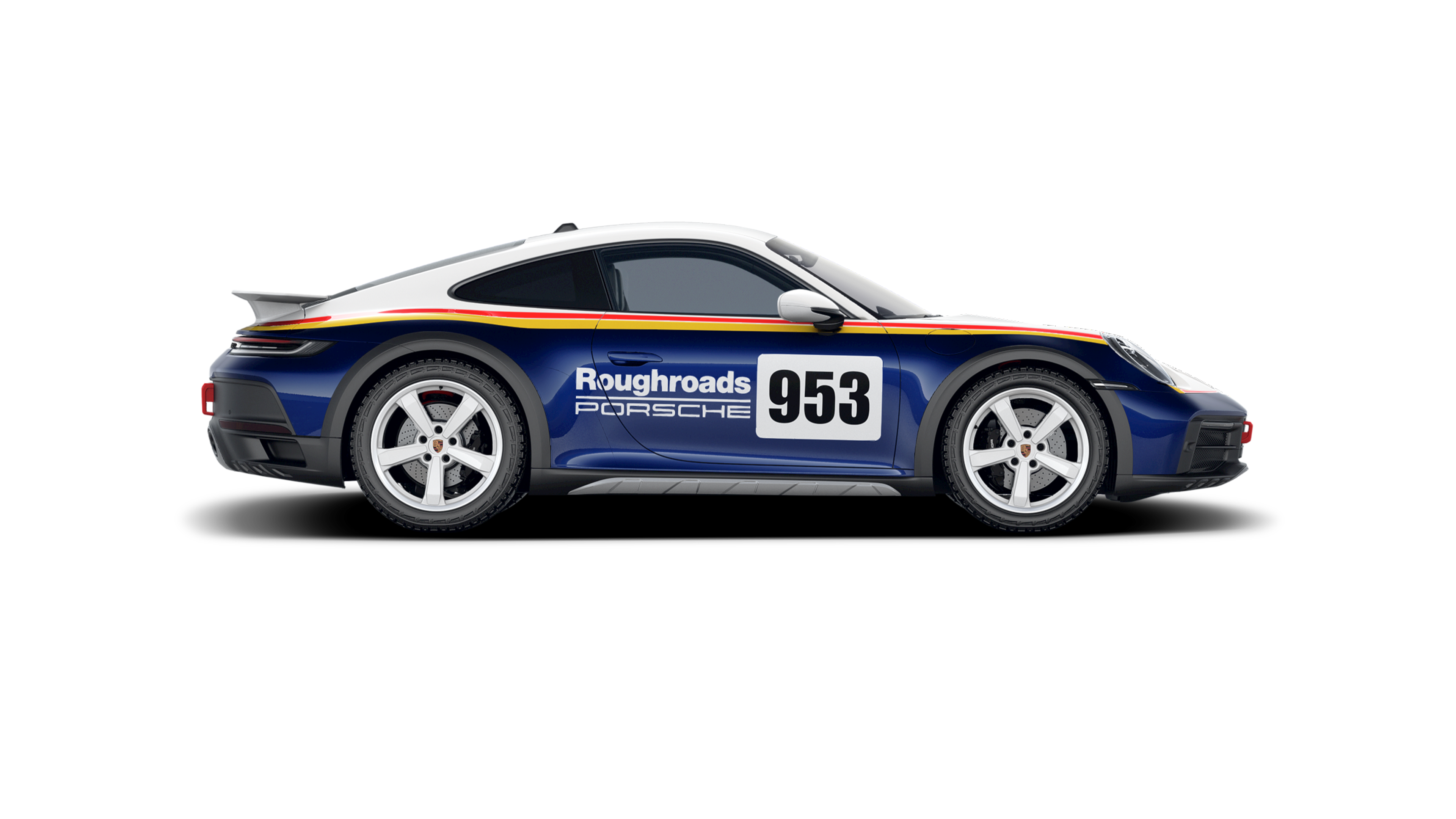 353 kW/480 PS
Power (kW)/Power (PS)
3.4 s
Acceleration 0 - 100 km/h
Back to beginning
Adventure in the desert.
The Dakar Rally was never a game in a sandbox. Right from the start, it was one of the greatest adventures in the world and a challenging test of endurance. With the toughest drivers, the toughest vehicles and a legendary winner in 1984: the 911 Carrera 3.2 4x4 Paris-Dakar (953).

The new Porsche 911 Dakar is a worthy successor. With the Rallye Design Package, it pays homage to the original and brings history back to life.
"The 911 is the only car that you can drive from an African safari to Le Mans, then to the theatre and onto the streets of New York."
Ferry Porsche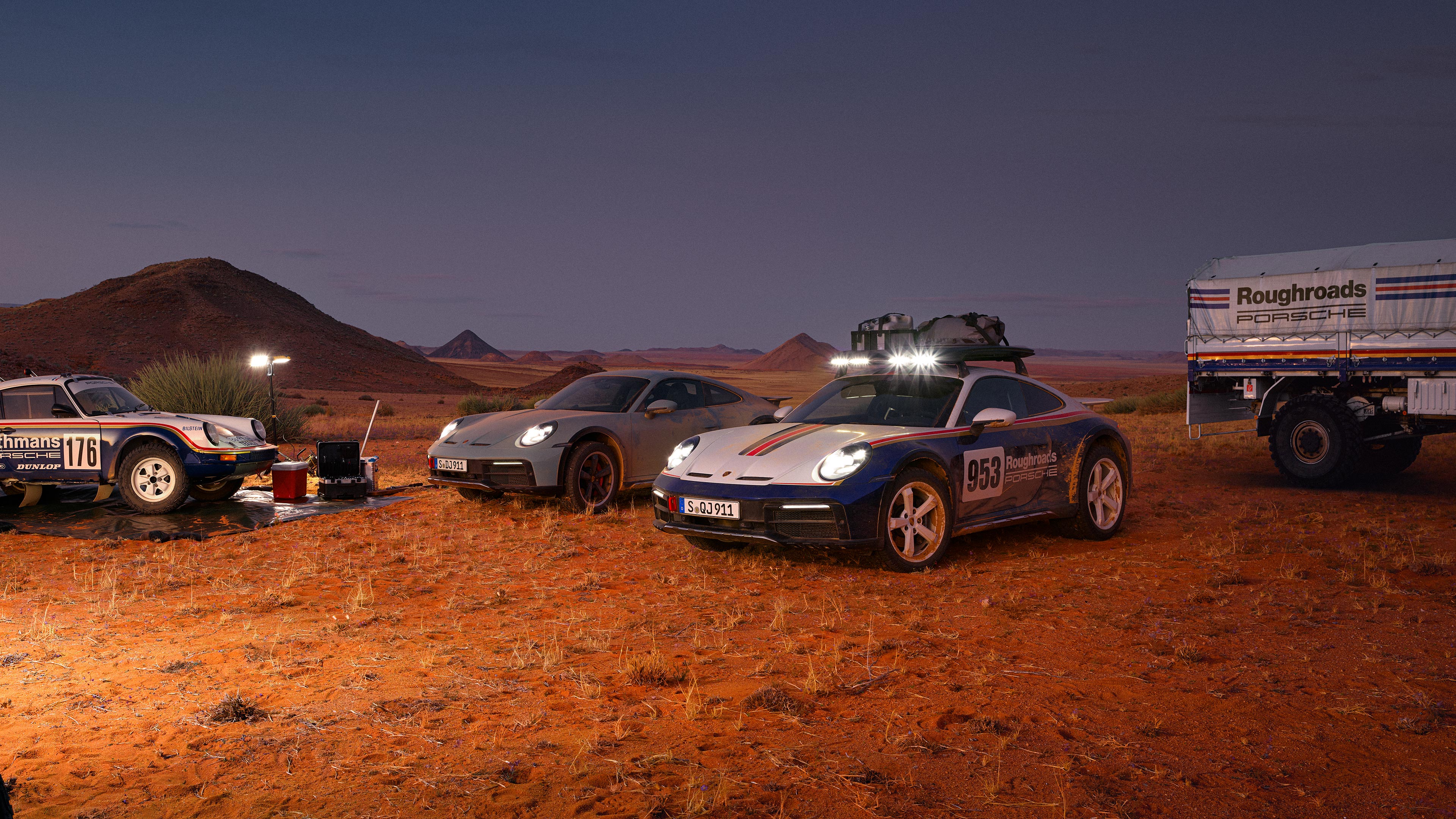 On to the next stage.
Performance, robust technology and endurance are what count in rallying. Only then do you really have a chance of being the first to reach the finish line. The new 911 Dakar is a sports car that is just as suitable for off-road driving as it is for on-road performance and also cutting a fine figure in the city.
The 911 Dakar with Rallye Design Package.
The 911 Dakar in Shade Green.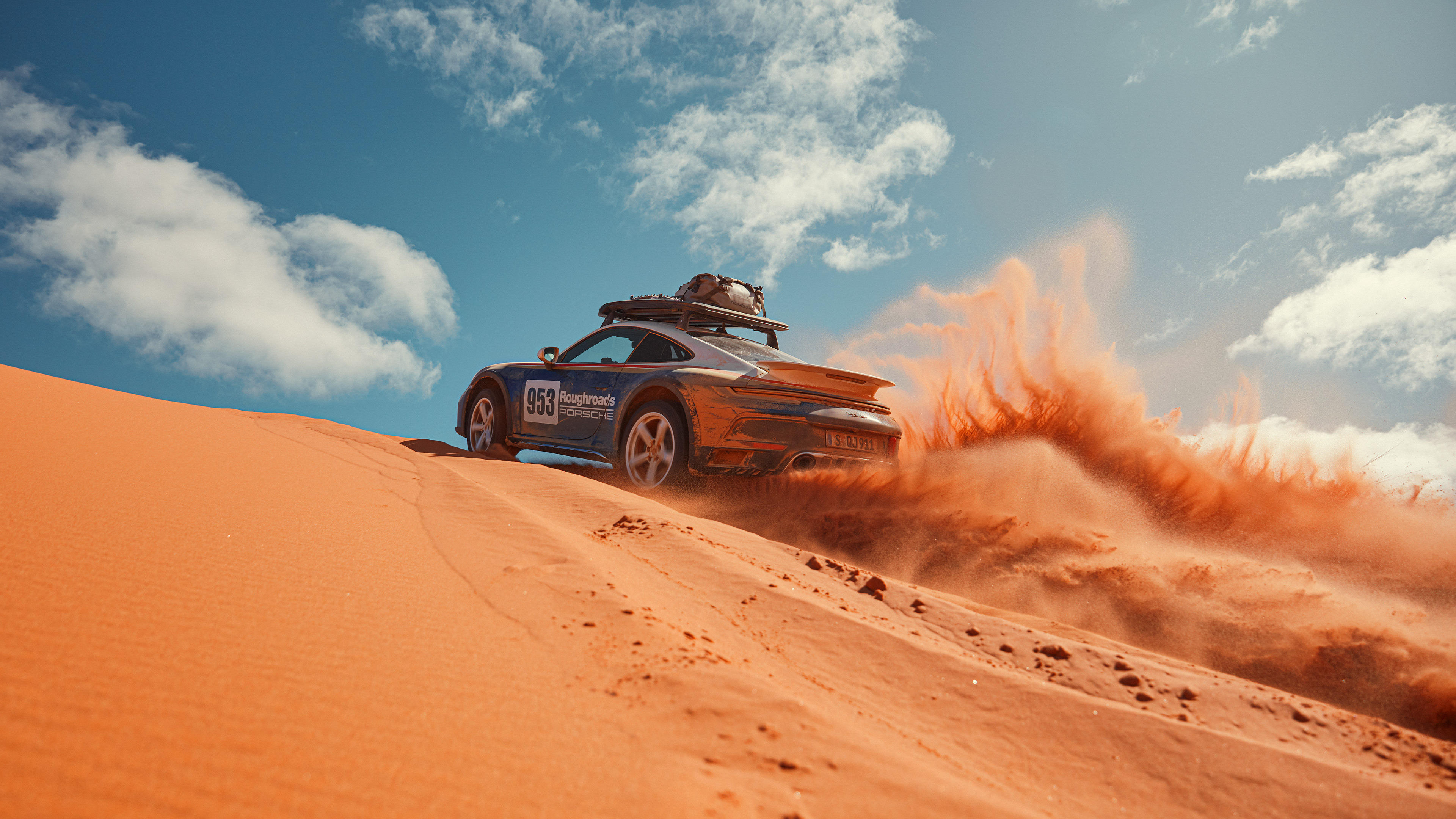 Strong performance.
Whether on tarmac, gravel or sand: the stiffer unit mounts of the 911 GT3 increase the driving dynamics of the 911 Dakar, especially when driving off-road. Together with the rear-axle steering and PDCC active roll stabilisation, the result is an optimally tuned chassis package that masters even the most difficult rally passages safely and comfortably. The 911 Dakar produces 353 kW (480 PS) of power, which is transferred to all four wheels by the 8-speed Porsche Doppelkupplung (PDK).
80 mm more ground clearance.
Keep your distance. Not just at the front and the rear – but also underneath. The Dakar is the only 911 that has sports chassis to make it 50 mm higher than the standard model. If space still gets tight under the stainless steel guard while on gravel roads, the 911 Dakar's specially developed lift system can raise the car by a further 30 mm at the front and the rear to let it reach speeds of up to 150 km/h. The maximum speed at 80 mm is 170 km/h.
Rallye Launch Control.
The Sport Chrono Package for the 911 Dakar includes two further specific performance setups: Rallye mode for gravel roads, muddy tracks and wet grass; and Off-Road mode for tackling sand dunes and rocky passages. The Rallye Launch Control is also on hand to ensure a perfect rally stage start on loose ground.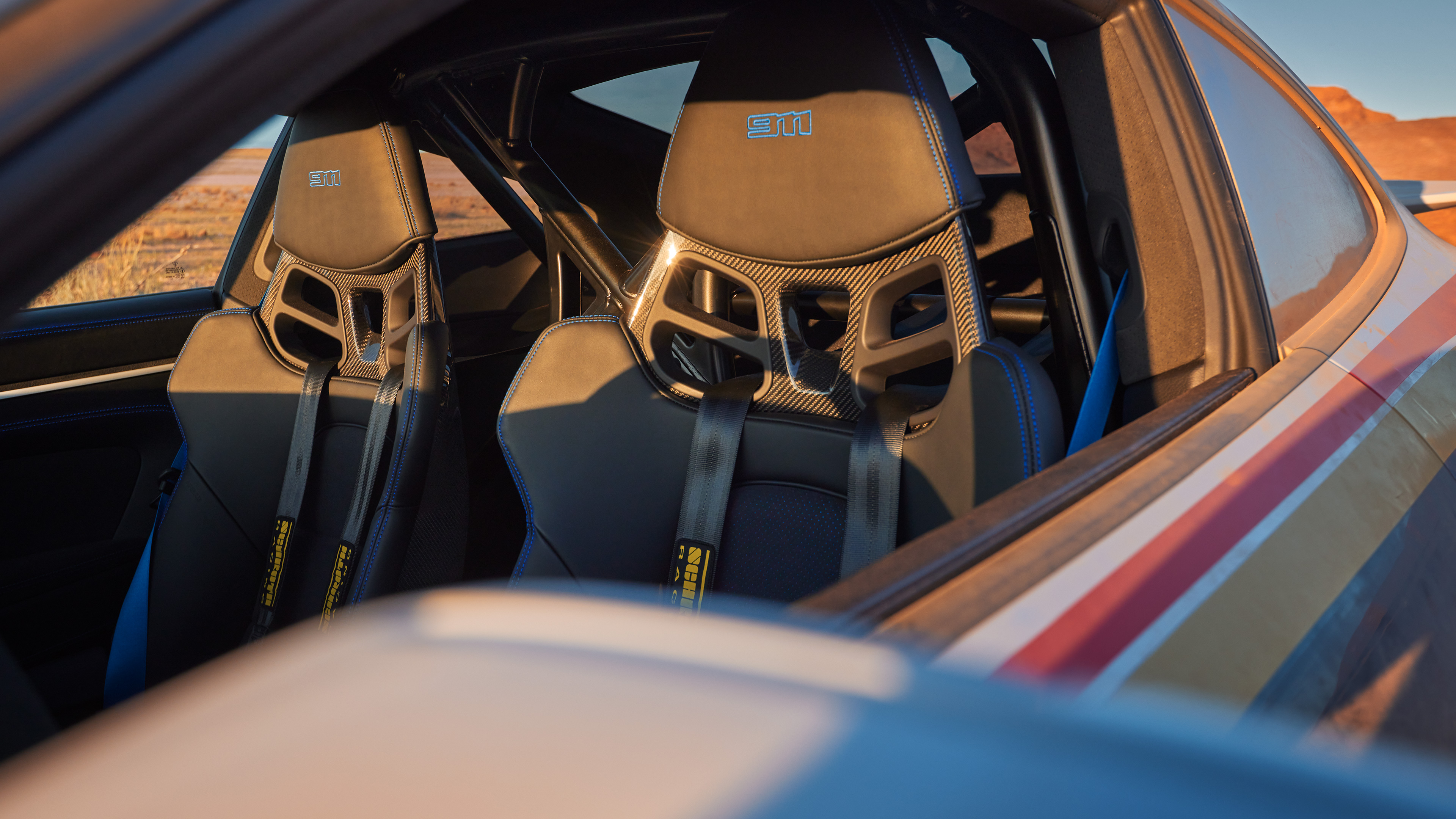 Rallye Sport Package.
The Rallye Sport Package offers enhanced protection for driving off-road and on circuits. It comes with two six-point seatbelts and a Black powder-coated steel roll bar that is bolted to the bodyshell behind the front seats. The package also includes an easily accessible fire extinguisher mounted on the passenger side.
Specific front profile with additional protection.
Front protection made of stainless steel with reinforced forged aluminium eyelet.
All-terrain tyres and robust side skirts.
19/20-inch Dakar light-alloy forged wheels with newly developed all-terrain tyres, sill with stainless steel covers and striking wheel arch extensions.
Specific rear profile with spoiler.
Rear with stainless steel protection, eyelet and fixed rear spoiler.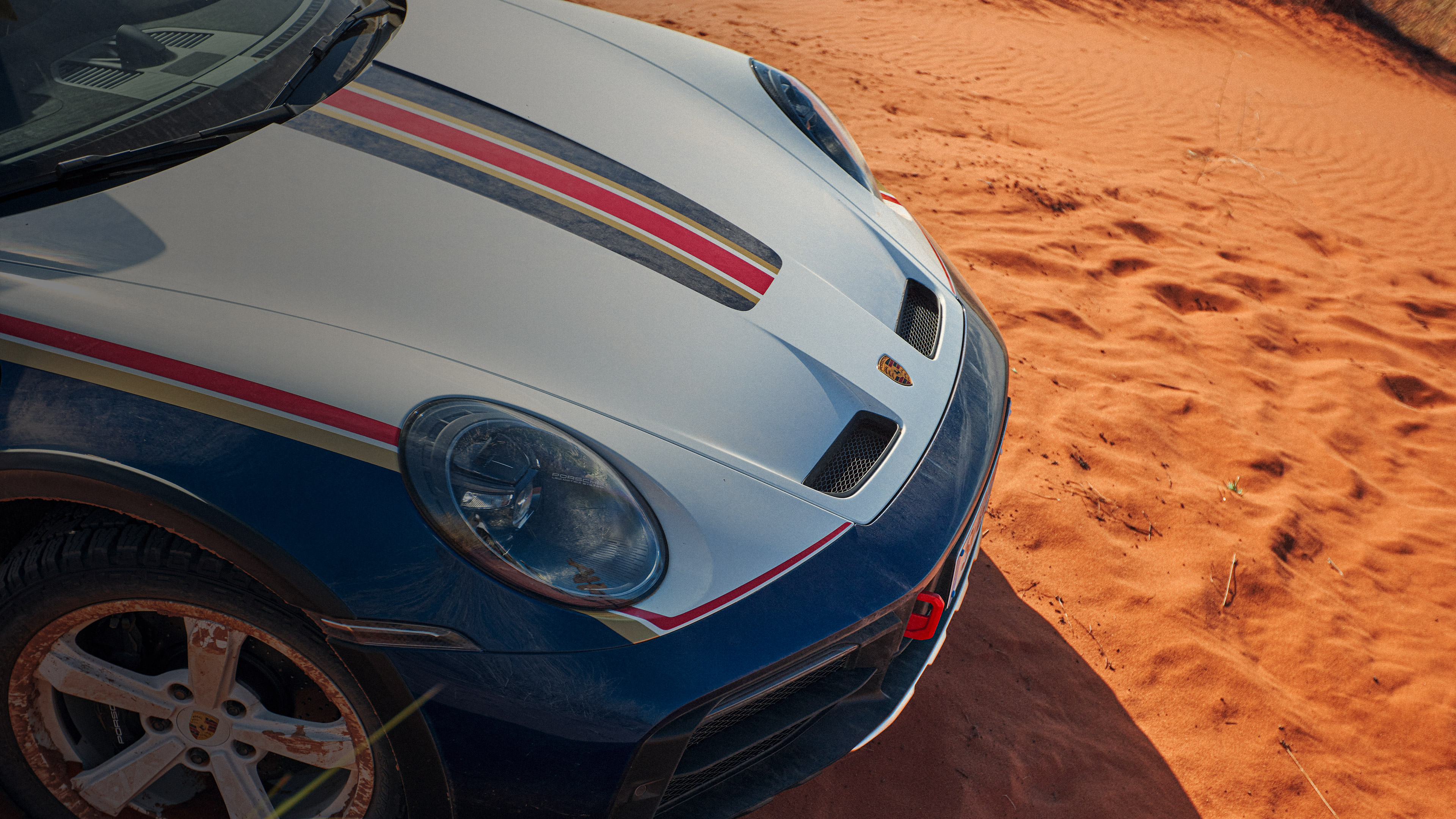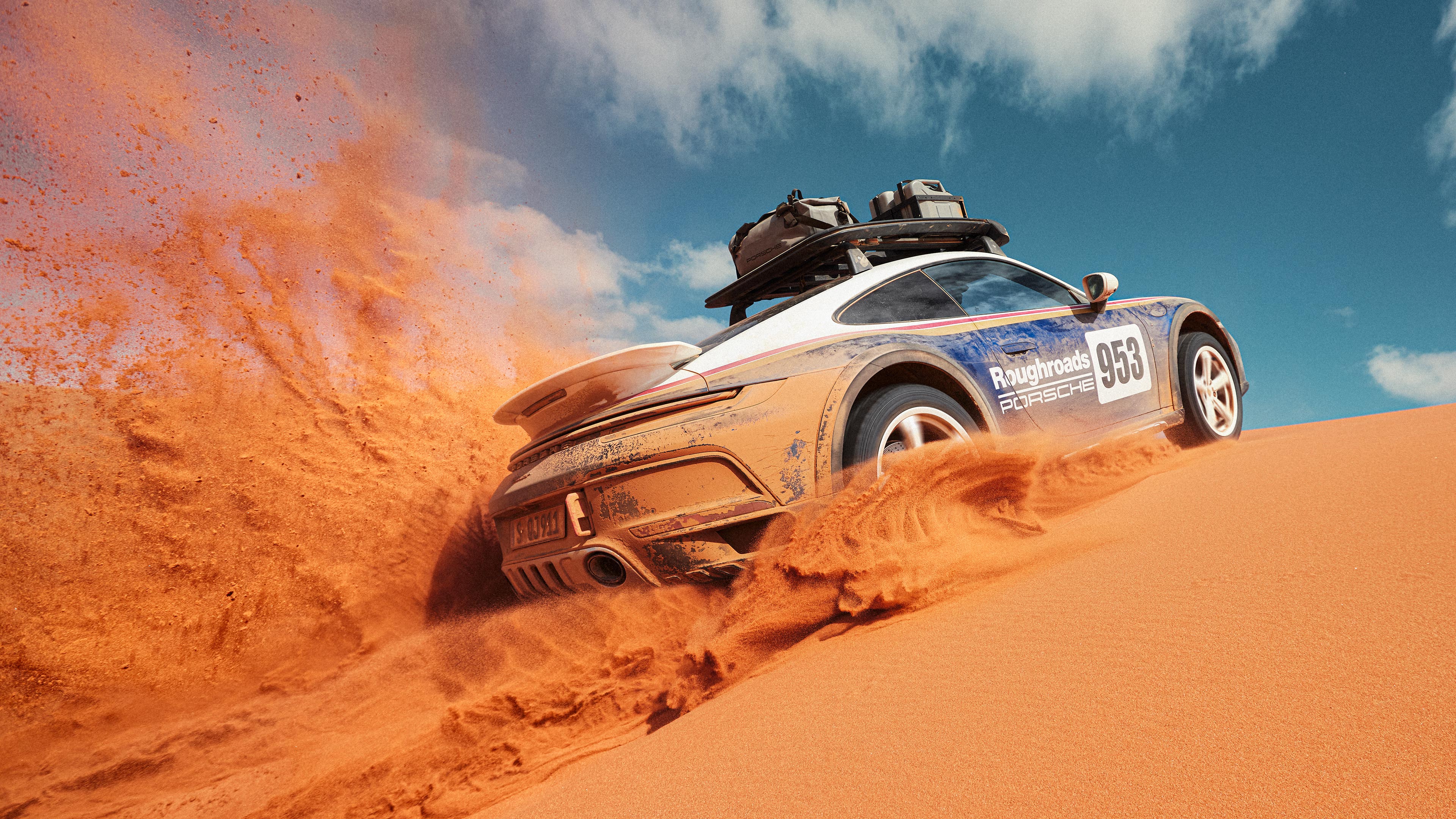 Fighting for every gram.
CFRP bonnet.
Every gram counts on sandy terrain. That's why the bonnet of the 911 Dakar, like that of the 911 GT3, is made of particularly lightweight carbon-fibre reinforced plastic (CFRP) with integrated air vents.
CFRP rear spoiler.
A carbon-fibre reinforced plastic (CFRP) fixed rear spoiler, which was developed for optimal aerodynamics, provides the necessary downforce on fast sections.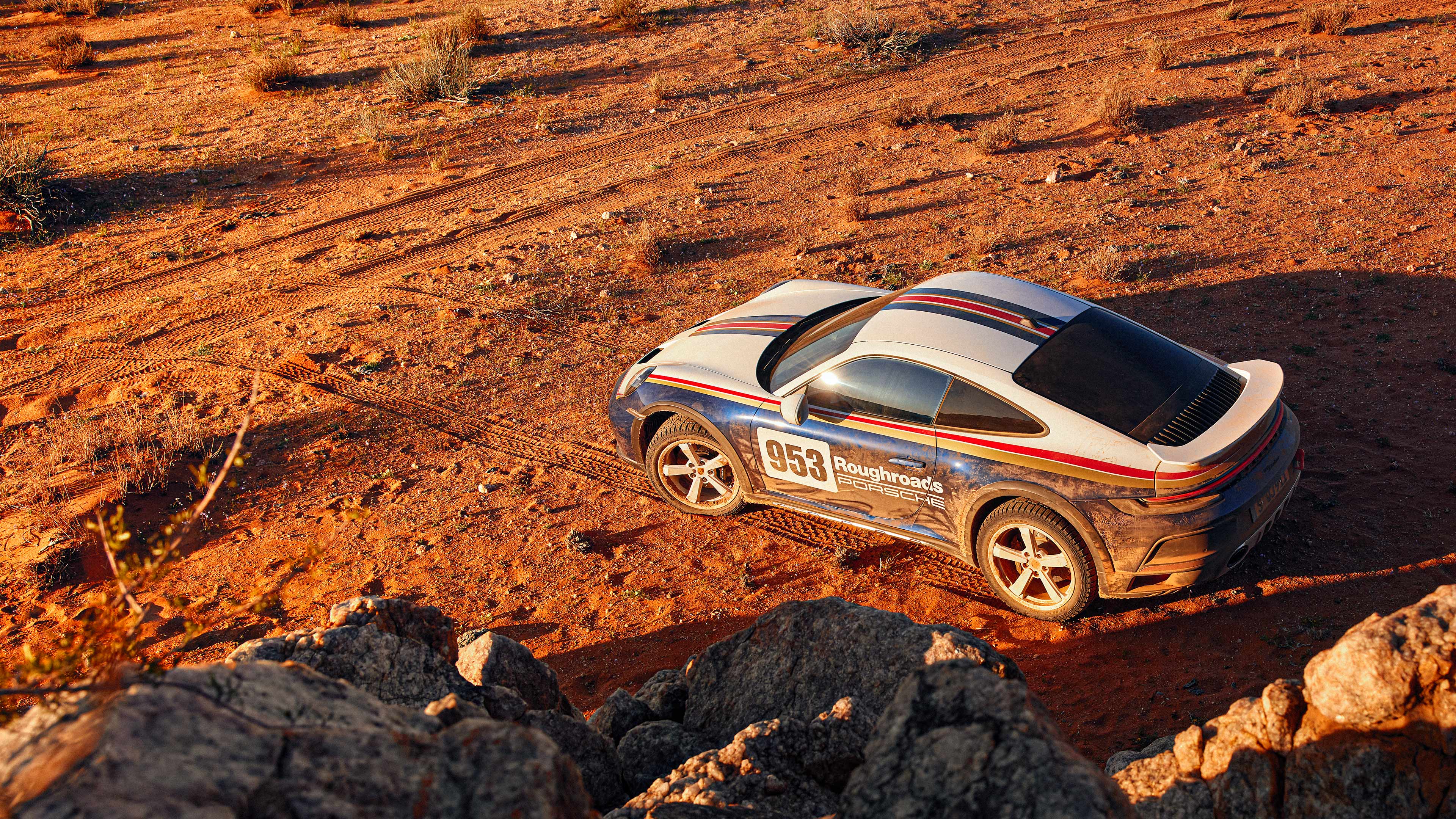 Rallye Design Package.
Two-tone paintwork.
A nod to the historic original: the two-tone paint finish in White/Gentian Blue Metallic, decorative stripes in Gold/Red and 19/20-inch wheels painted in White with all-terrain tyres pay homage to the legendary 1984 Porsche 953. The starting number can be chosen individually.
Accessories.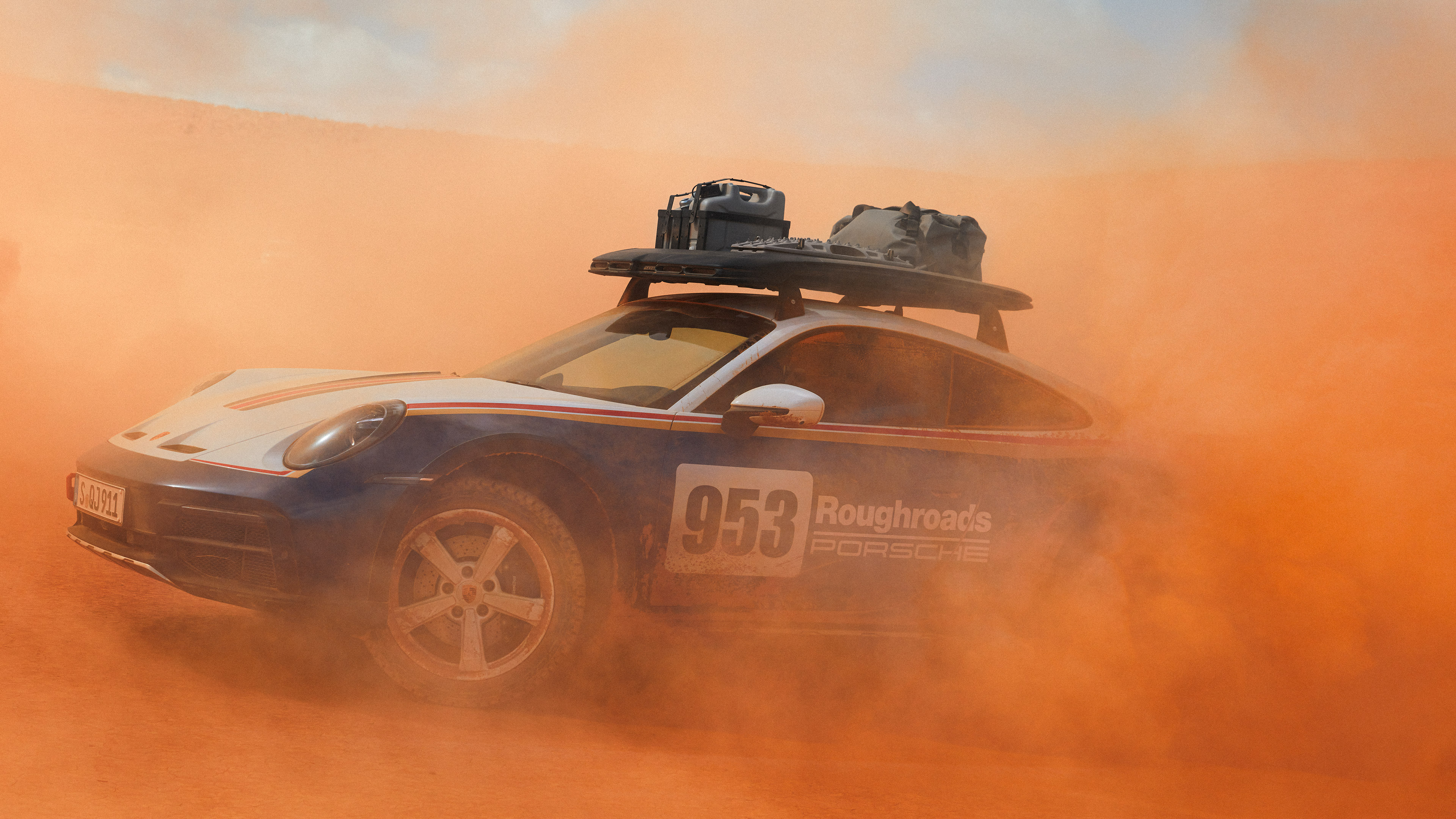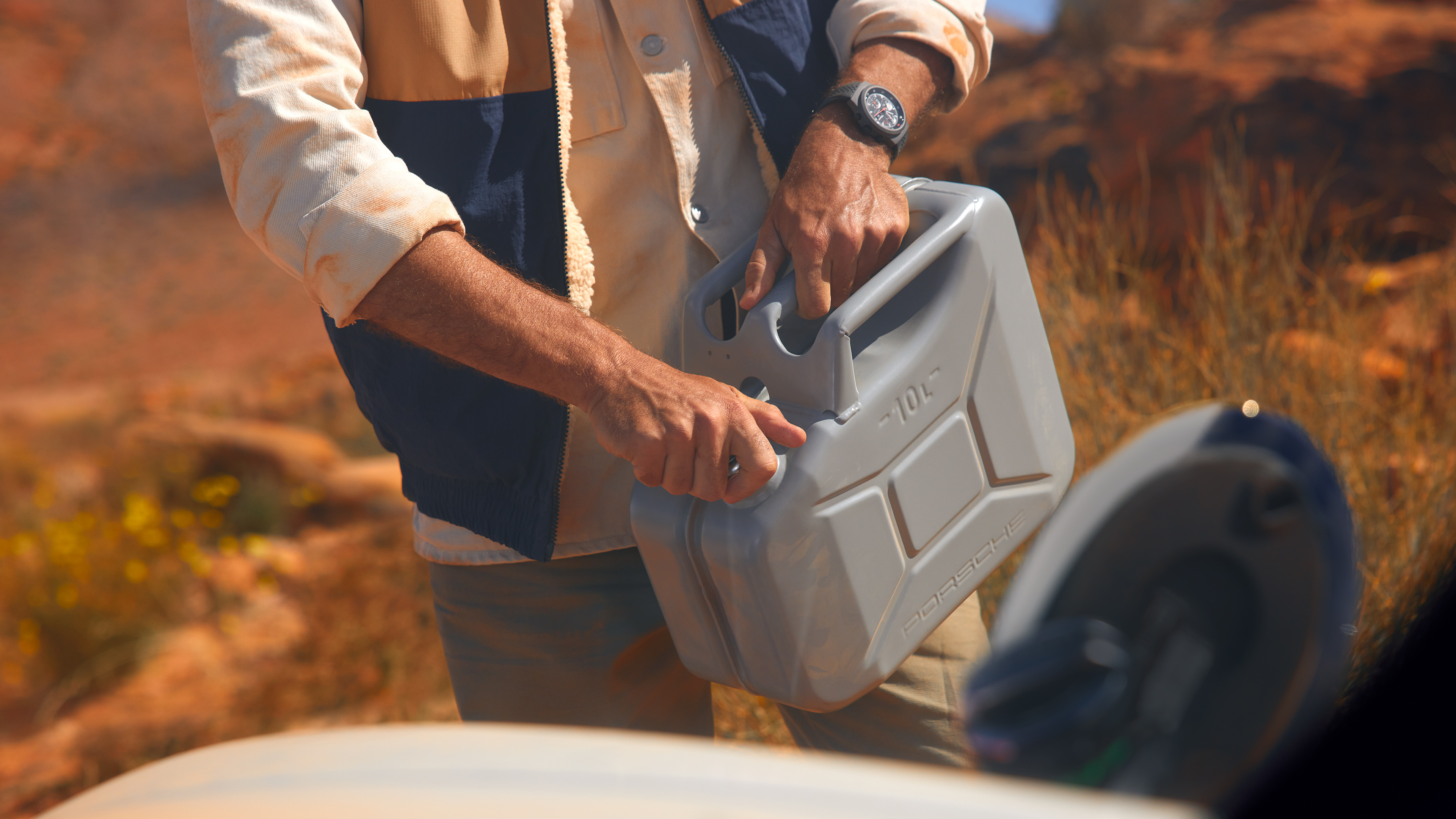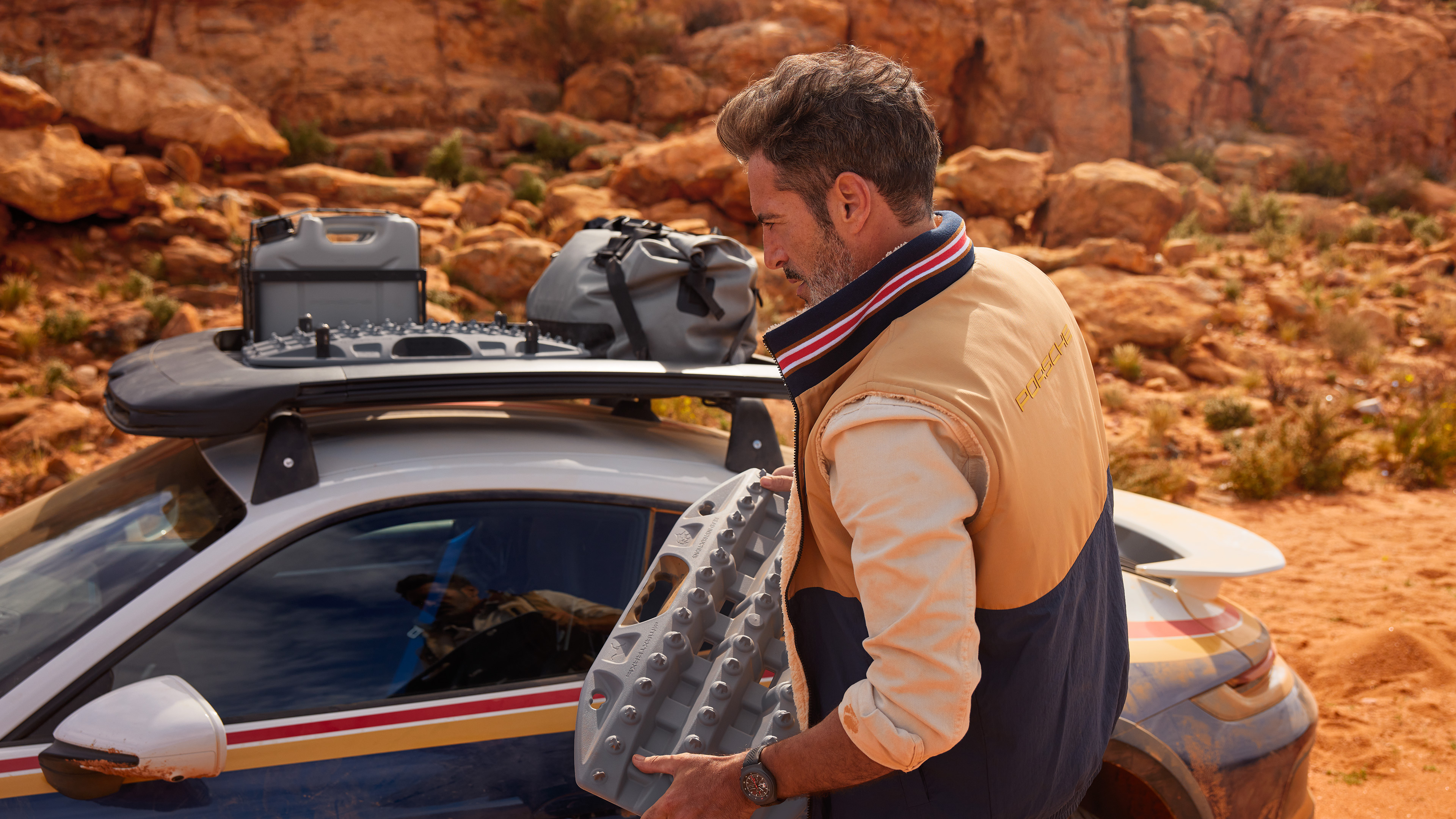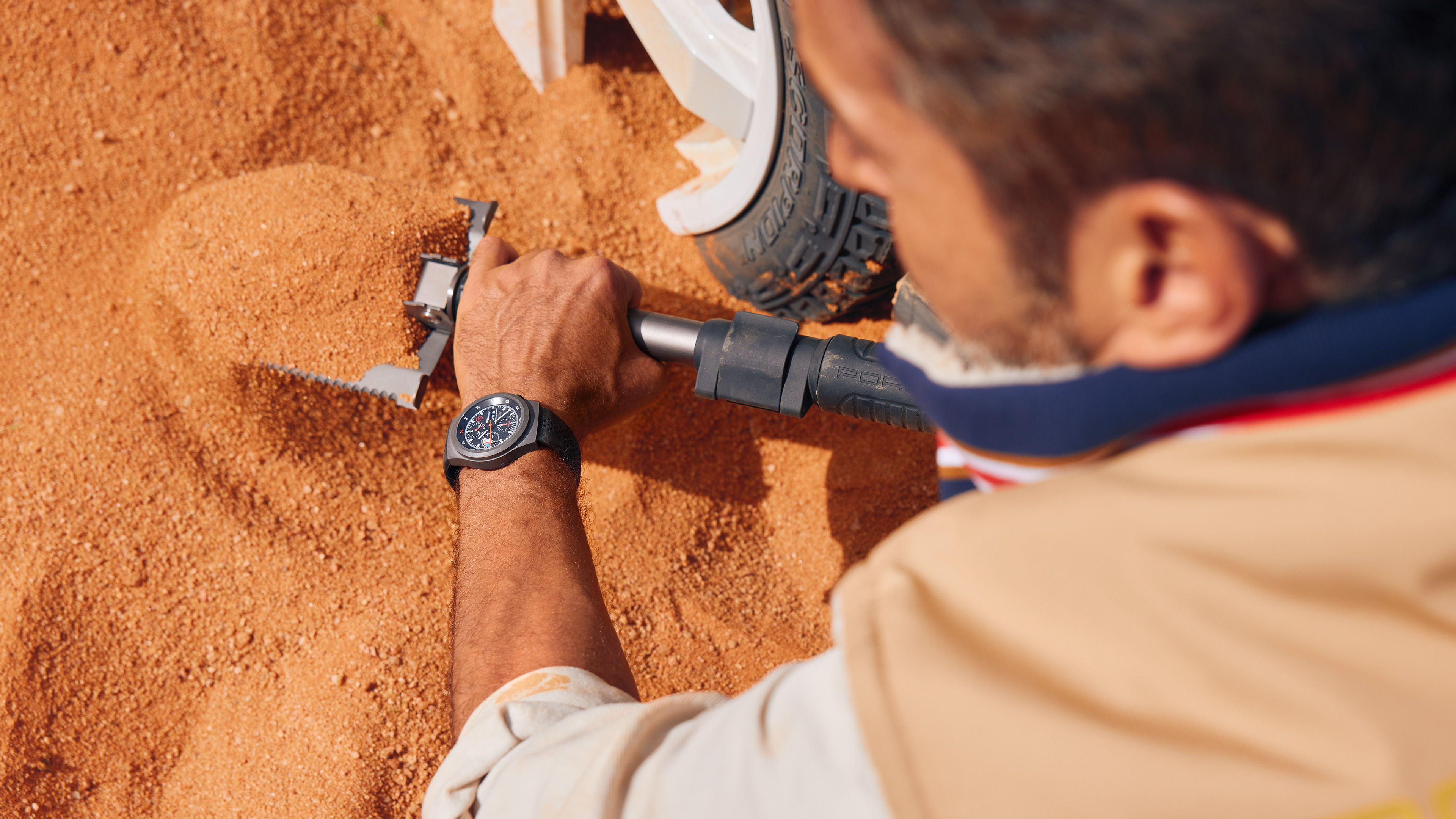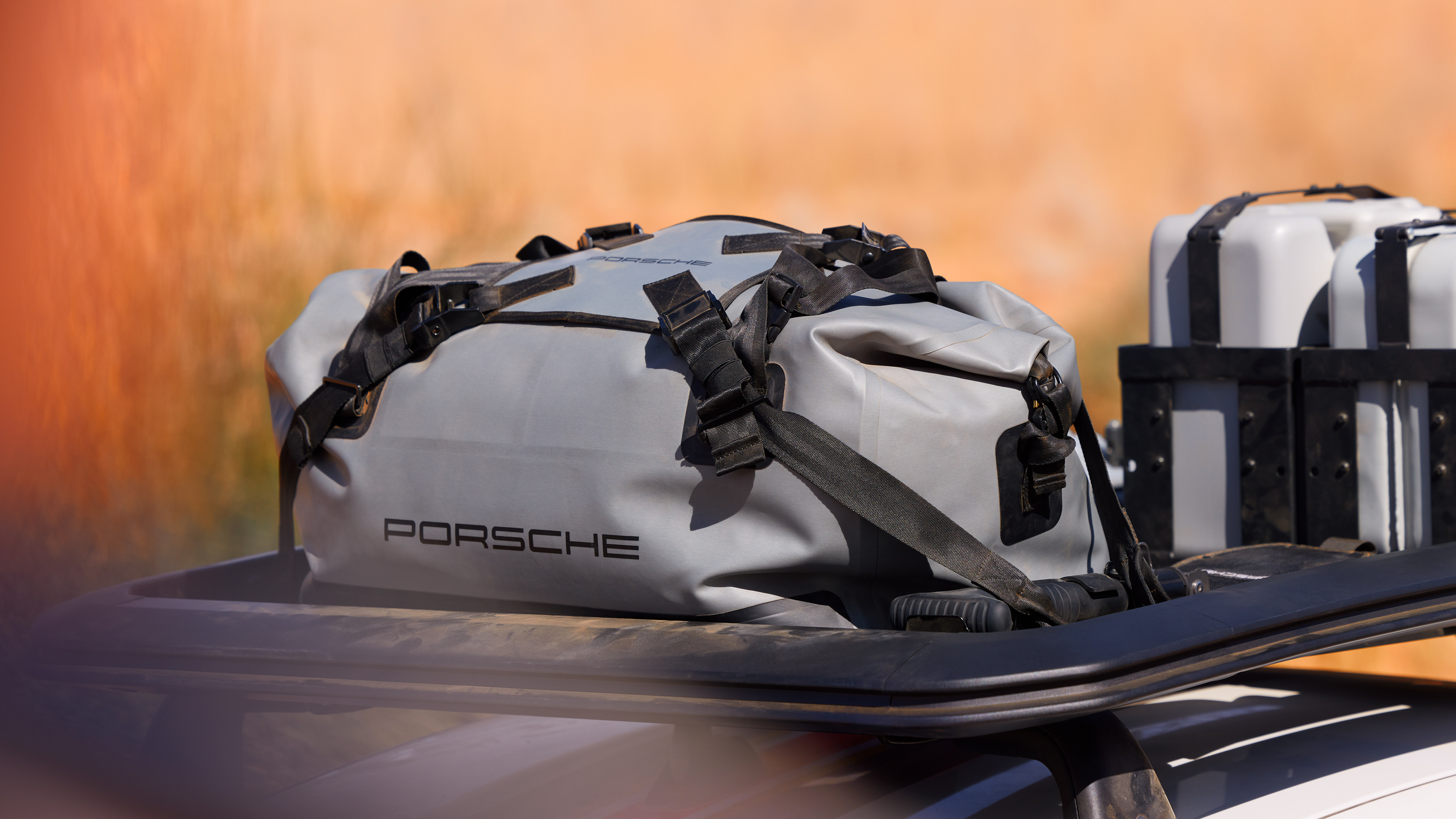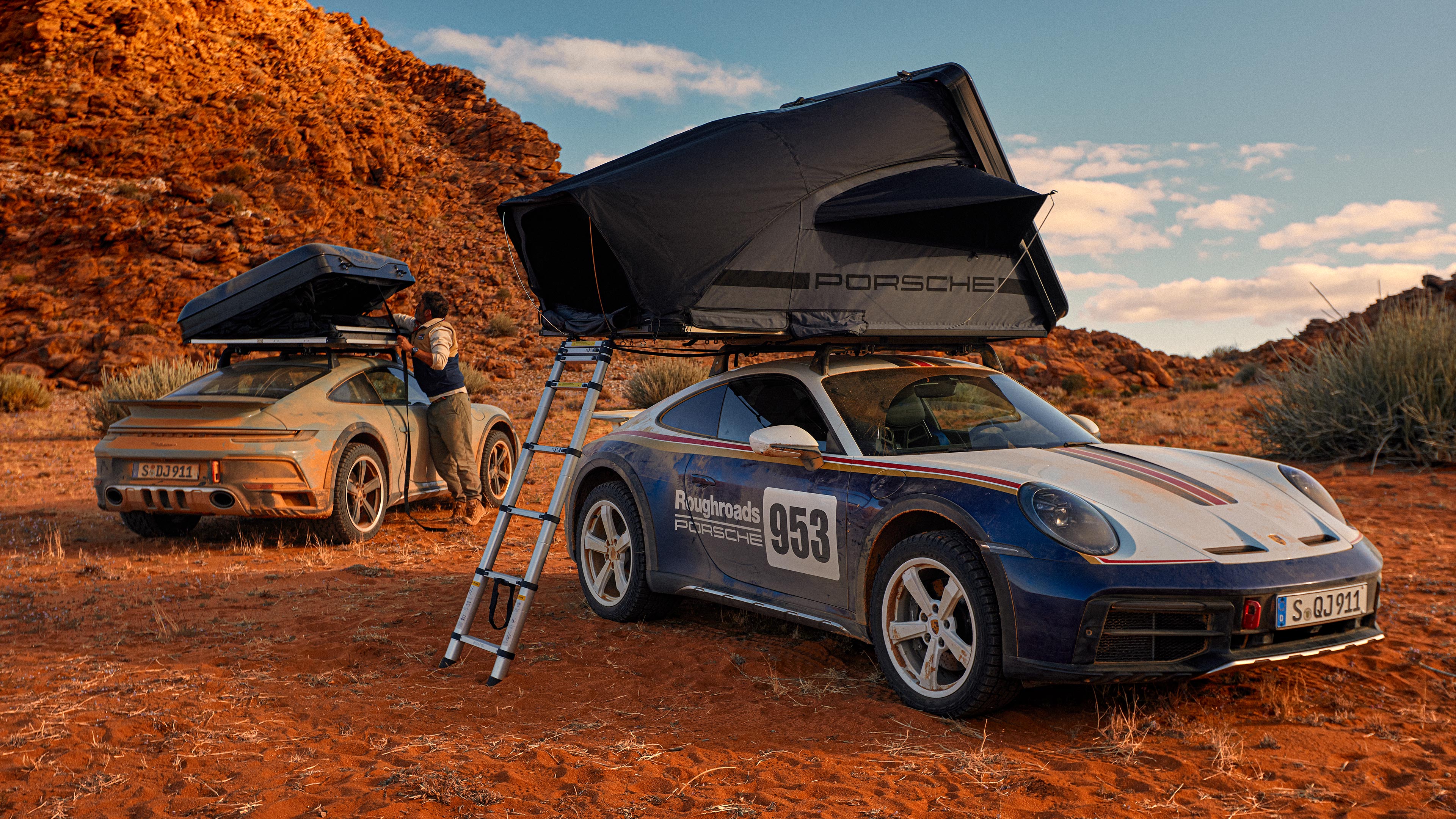 Roof basket with auxiliary headlights.
Ready to hold up to 40 kg: the Tequipment accessories available for the 911 Dakar, such as canisters, recovery boards and other luggage, can be securely fastened in the robust aluminium roof basket, featuring a Matt Black powder coating. If the stage lasts into the night, the integrated LED auxiliary headlights light the way through the desert.
Canister.
Indispensable during every stage: the painted 10-litre fuel canister and the 12-litre plastic canister for drinking water with "PORSCHE" logo. Both containers are fixed onto the roof basket with special, easy-to-open canister holders so that no time is lost when refuelling.
Recovery boards.
Essential for soft ground such as sand and mud: the robust plastic boards in grey with "PORSCHE" logo help with recovering the vehicle if it gets stuck, and can be transported in the roof basket.
Folding spade.
If you dive deep into the endless sea of desert, you need to have the right equipment. The folding spade including axe and saw is a true multifunctional tool – and should be attached to the roof basket within easy reach on every off-road adventure.
Active 2.0 duffle.
Extremely robust and water-repellent: this travel bag is made of Grey tarpaulin material with a distinctive "PORSCHE" logo in Black. Functional details, such as roll-top closure and practical straps for attaching to the roof basket, make it the perfect piece of kit on all tours.
Sticker sets.
For the 911 Dakar, three additional designs are available as decals that are reminiscent of historic Porsche vehicles from the East African Safari Rally of 1971, 1974 and 1978 and can be attached directly ex-works or retrofitted via Tequipment.
Roof tent.
The foldable roof tent for two people is mounted on the vehicle's roof transport system and can be set up in just a few simple steps – the best conditions for achieving the top podium position. During the journey, the tent, mattress and ladder are stowed in the hard-shell case.
Cockpit.
In the 911 Dakar, the driver is greeted by the GT sports steering wheel, which is covered with non-slip Race-Tex. Other specifications: a centre top marking in Shade Green, PDK shift paddles and a mode switch for selecting driving modes. Further highlights are the decorative inlays in brushed Black aluminium, the inlay in Shade Green and the limited edition plaque on the passenger side.
Rallye Design Package cockpit.
Additional elements in Race-Tex make the Rallye Design Package even more dynamic, such as the decorative inlays combined with decorative supports in Ceramica. Blue contrasting stitching, the Blue centre top marking on the GT sports steering wheel and the Blue belts add further distinctive accents.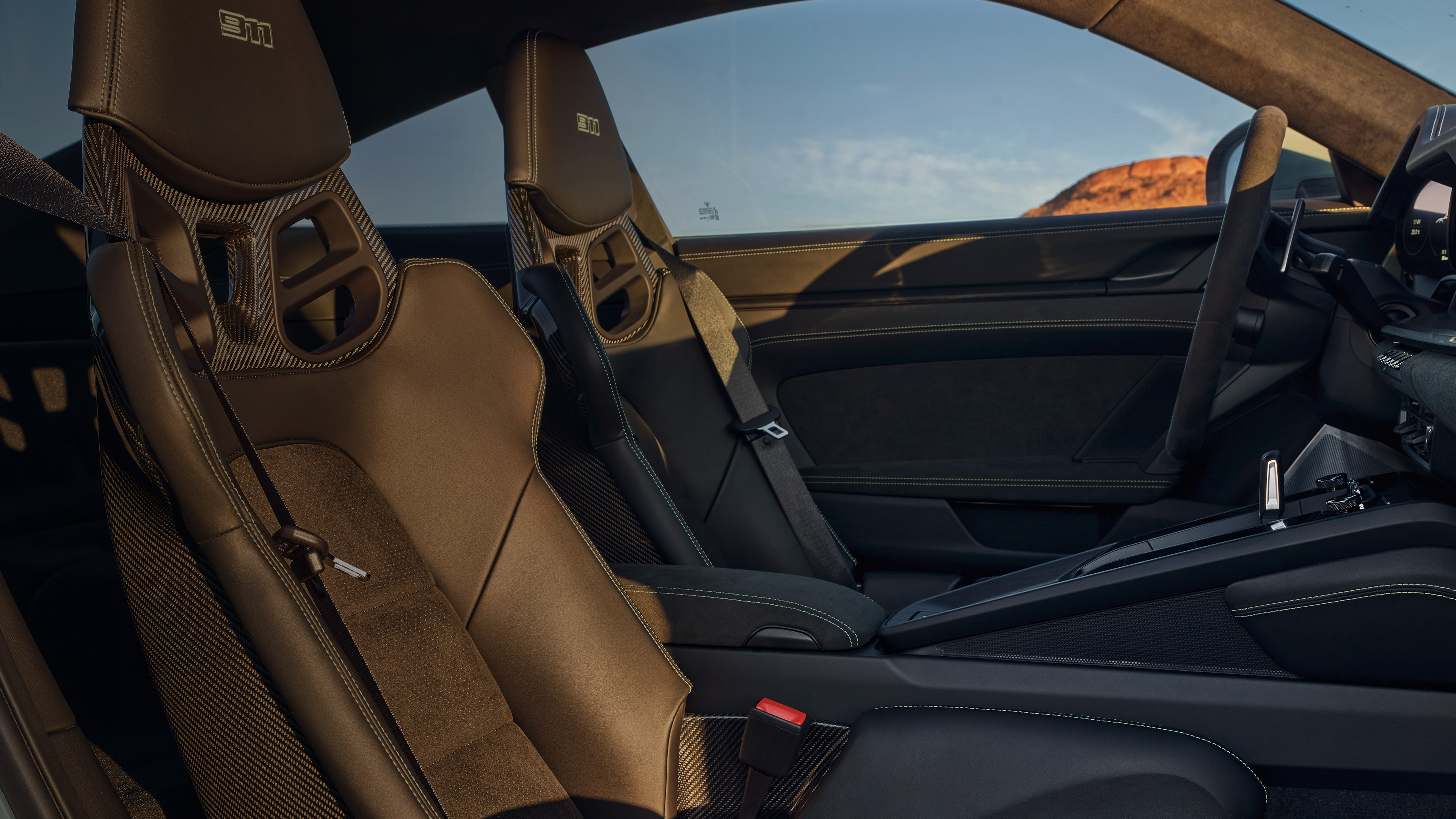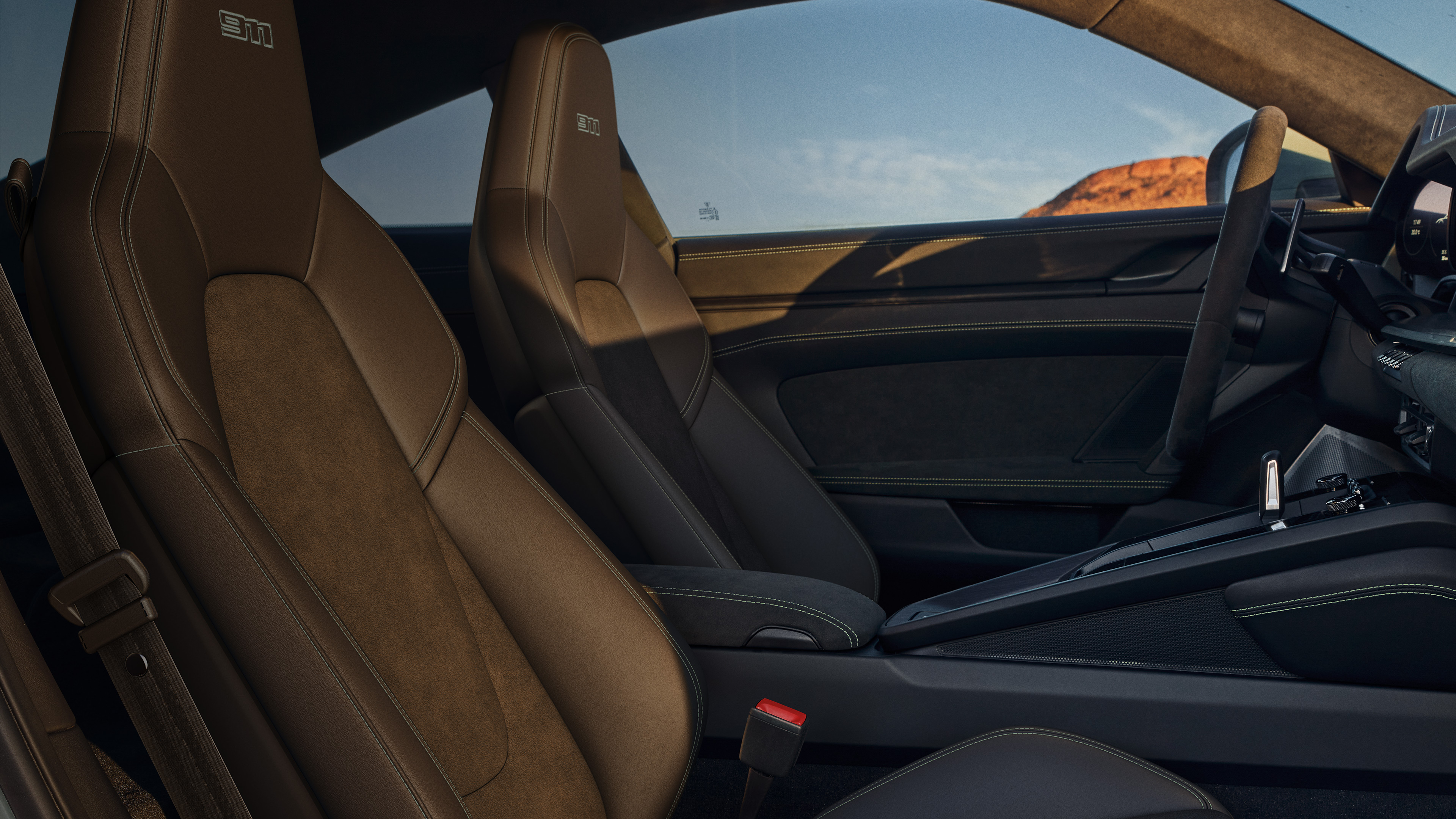 Seats.
Full bucket seats.
Built for wild dune drifts: the full shell is made of carbon-fibre reinforced plastic (CFRP) and offers particularly good lateral support while being lightweight. The bolsters are covered in Black leather and the seat centres in perforated Race-Tex with a Shade Green background. The decorative stitching and the embroidered "911" logo are also in Shade Green.
Adaptive sports seats Plus.
These 18-way electric seats offer adventurers particularly high levels of comfort. The seats are in Race-Tex, while the side bolsters are in leather. The contrasting seams and embroidered "911" logo in Shade Green add additional accents.
Interior highlights.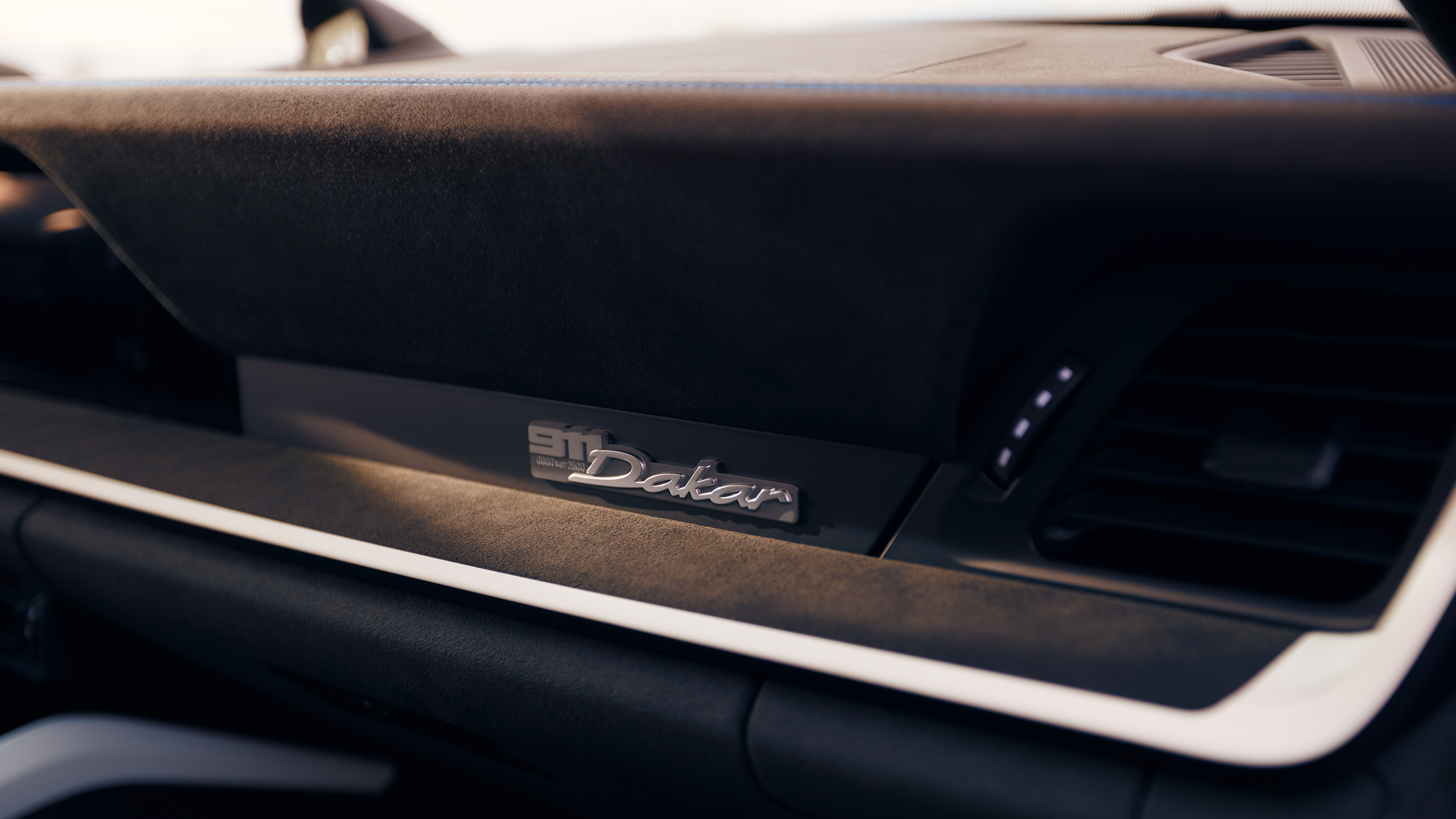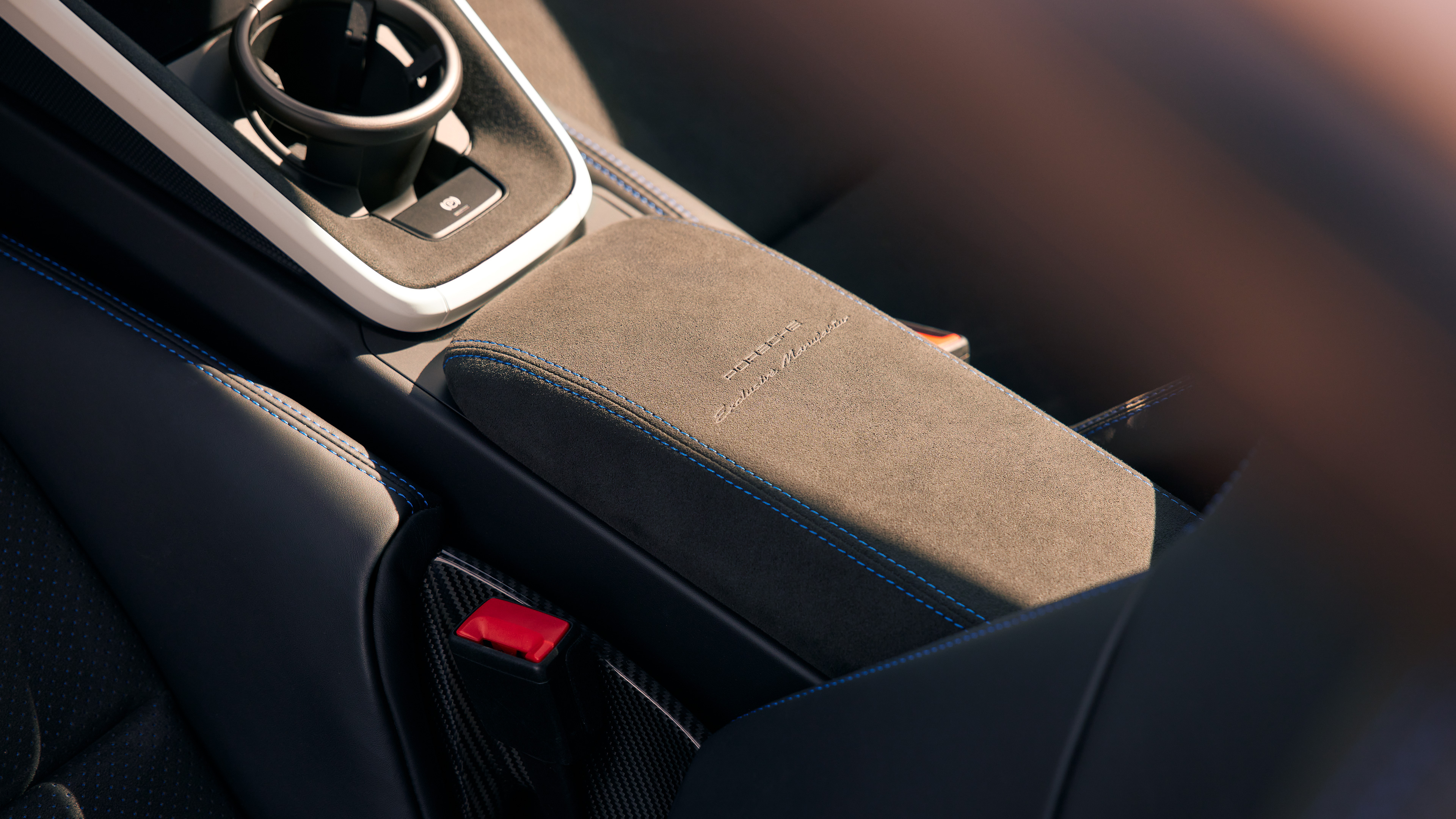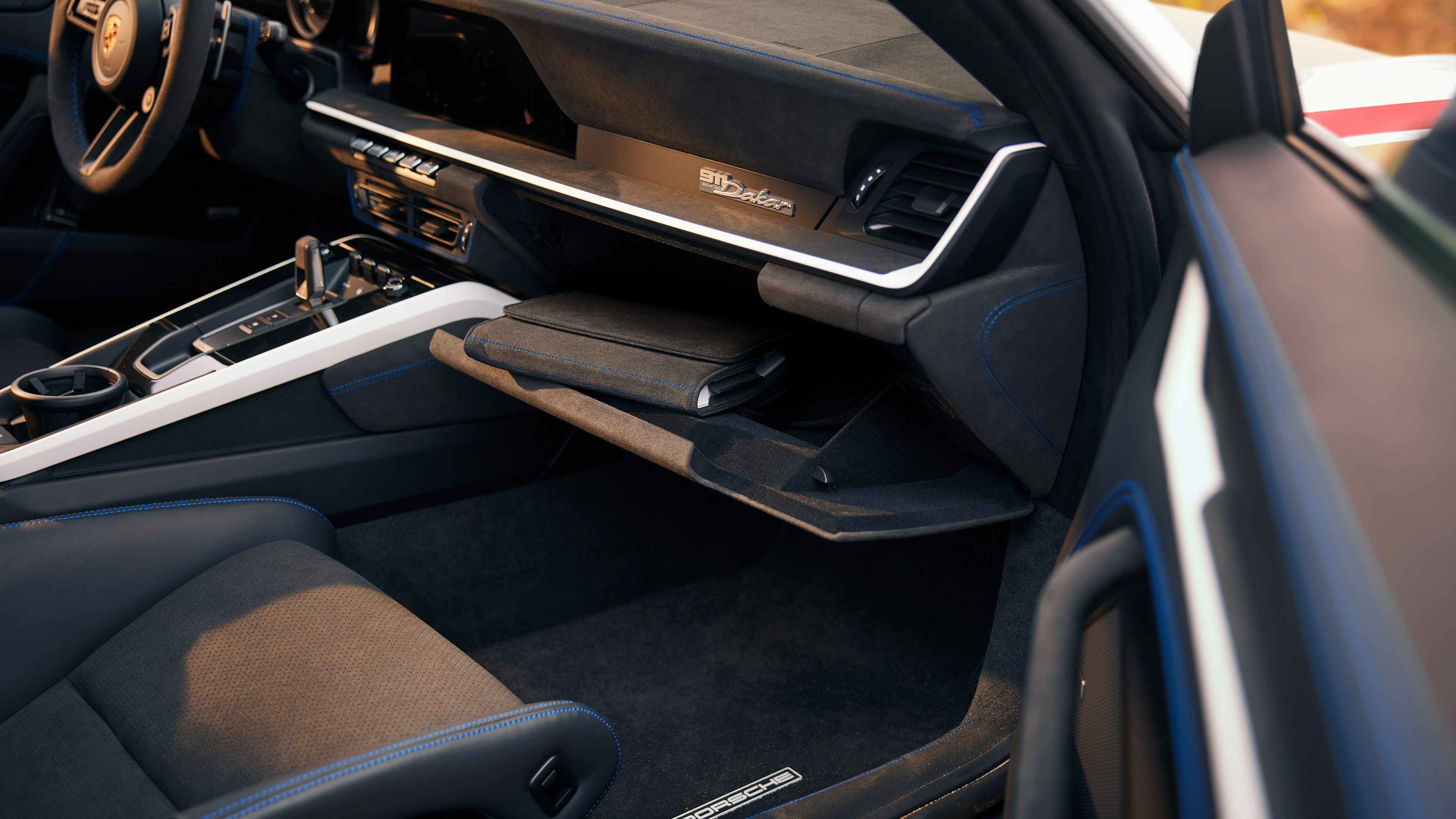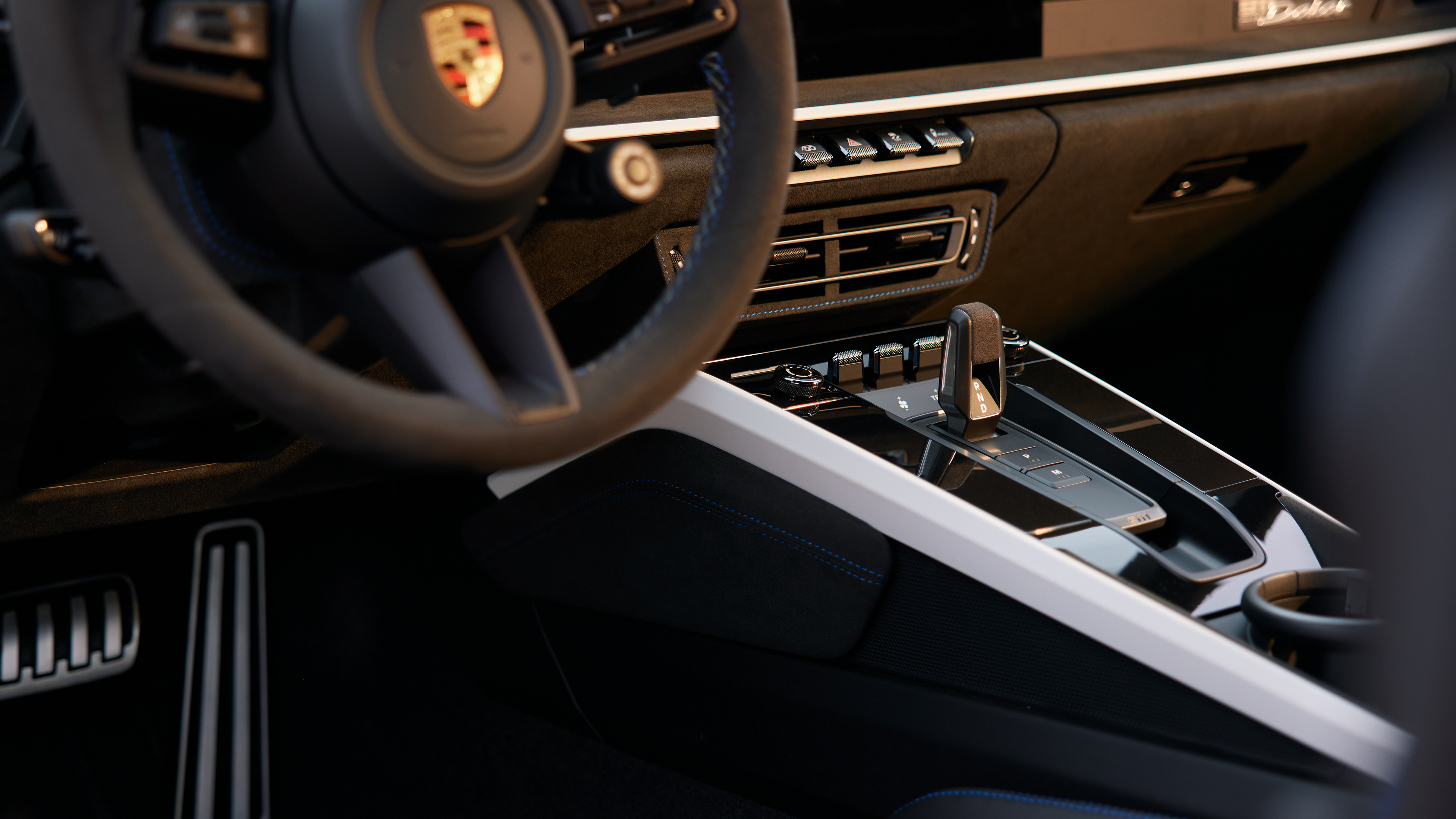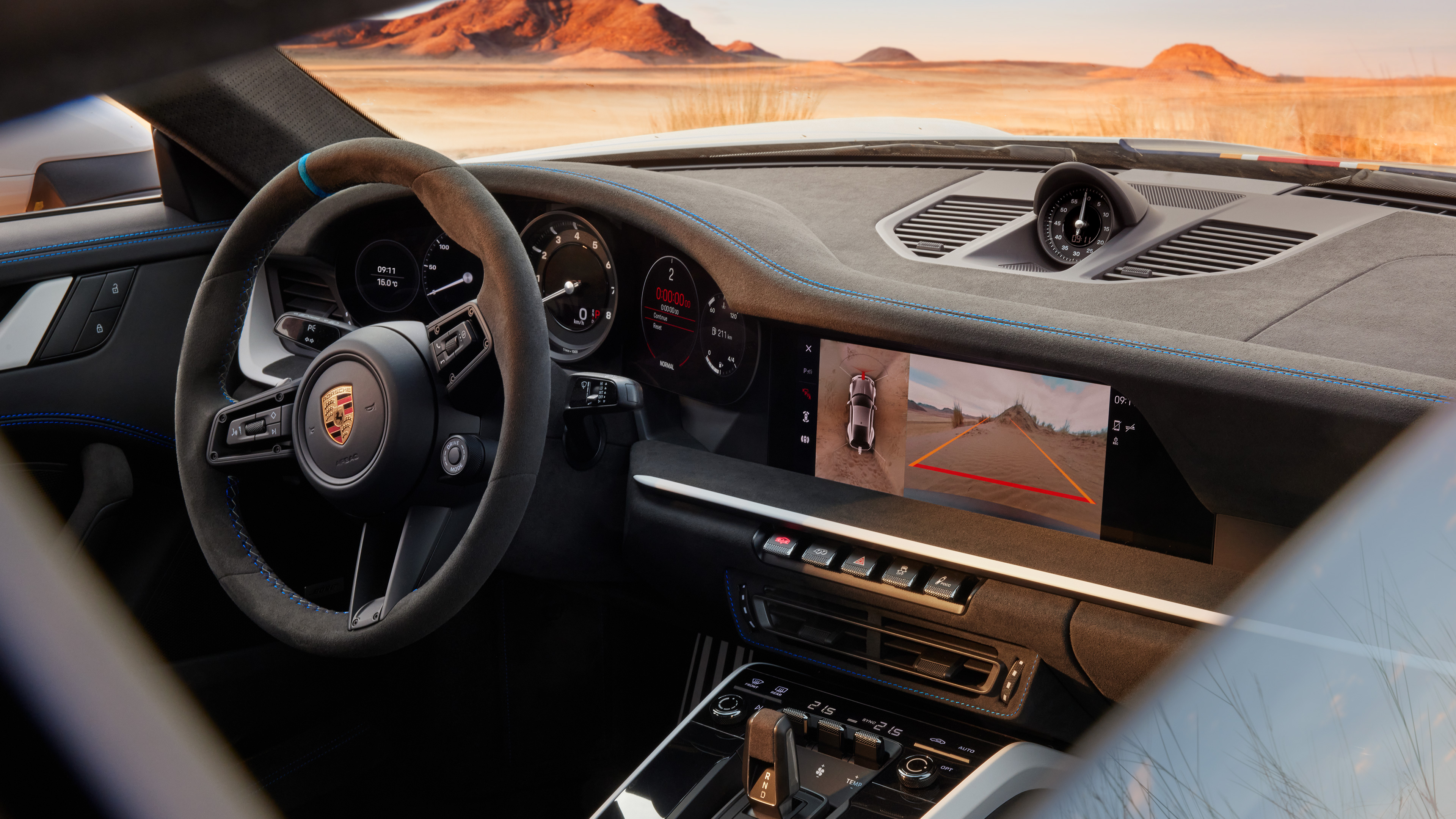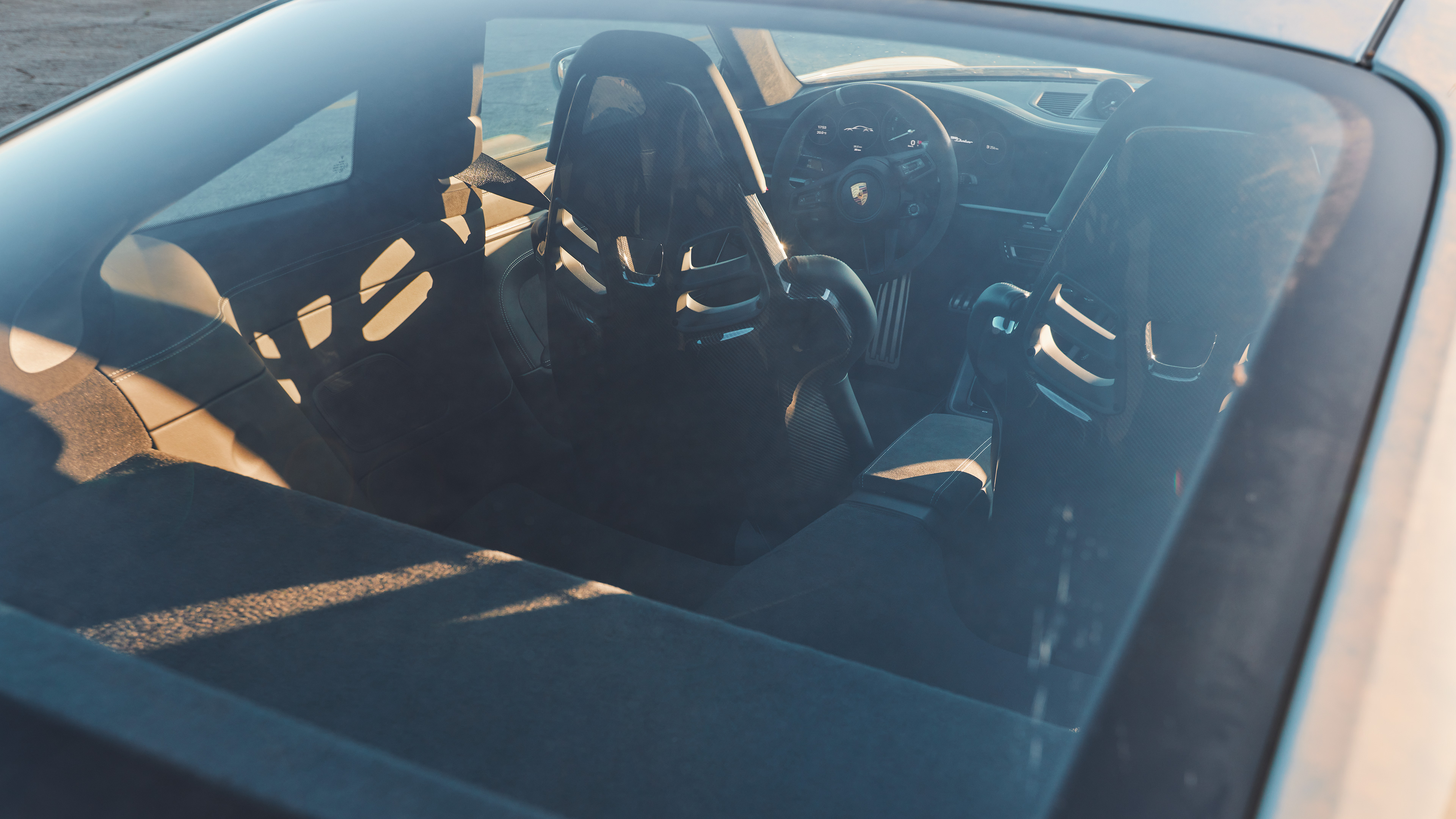 Desired limitation.
In the desert, there is an infinite number of stars in the night sky. The 911 Dakar, on the other hand, is limited to 2,500 units. The aluminium plaque with the limited edition number ensures each car is unique.
Porsche Exclusive Manufaktur.
The fascination of Dakar – combined with extraordinary craftsmanship. The design of the new 911 Dakar was specially matched to the sporty look of the victorious 1984 953 by Porsche Exclusive Manufaktur, and signed with the embossed logo on the storage compartment lid.
Rallye Design Expansion Package.
This is no mirage: the expansion package has additional details in Race-Tex including decorative stitching in Blue – such as the inner sill panelling, the fuse box cover, the vehicle document folder and the central air vent housing with vanes in leather. Another eye-catcher is the shell of the interior mirror, clad in Black Race-Tex with decorative stitching in the same colour.
Black aluminium.
Exclusive and sporty: pedals and footrest in forged aluminium with partially Black anodised and nanocoated finish. The milled PDK selector lever combines Matt Black and Silver-coloured aluminium with Black leather inlays.
Surround view.
When driving off-road, you have to always keep an eye on your surroundings – and even more so on the ground. Gravel? Branches? Mud? At low driving speeds, the terrain camera shows everything on the Porsche Communication Management (PCM) display, so the 911 Dakar can also be parked a little further away if necessary.
Removal of rear seats.
You don't drive a rally with four people, but two. For this reason, the rear seats were deliberately removed from the 911 Dakar, saving even more weight on the way to winning a rally stage.
911 Dakar
911 Dakar
911 Dakar
911 Dakar
911 Dakar
911 Dakar
911 Dakar
911 Dakar
911 Dakar
911 Dakar
911 Dakar
911 Dakar
Configure 911 Dakar model.
Selected
911 Dakar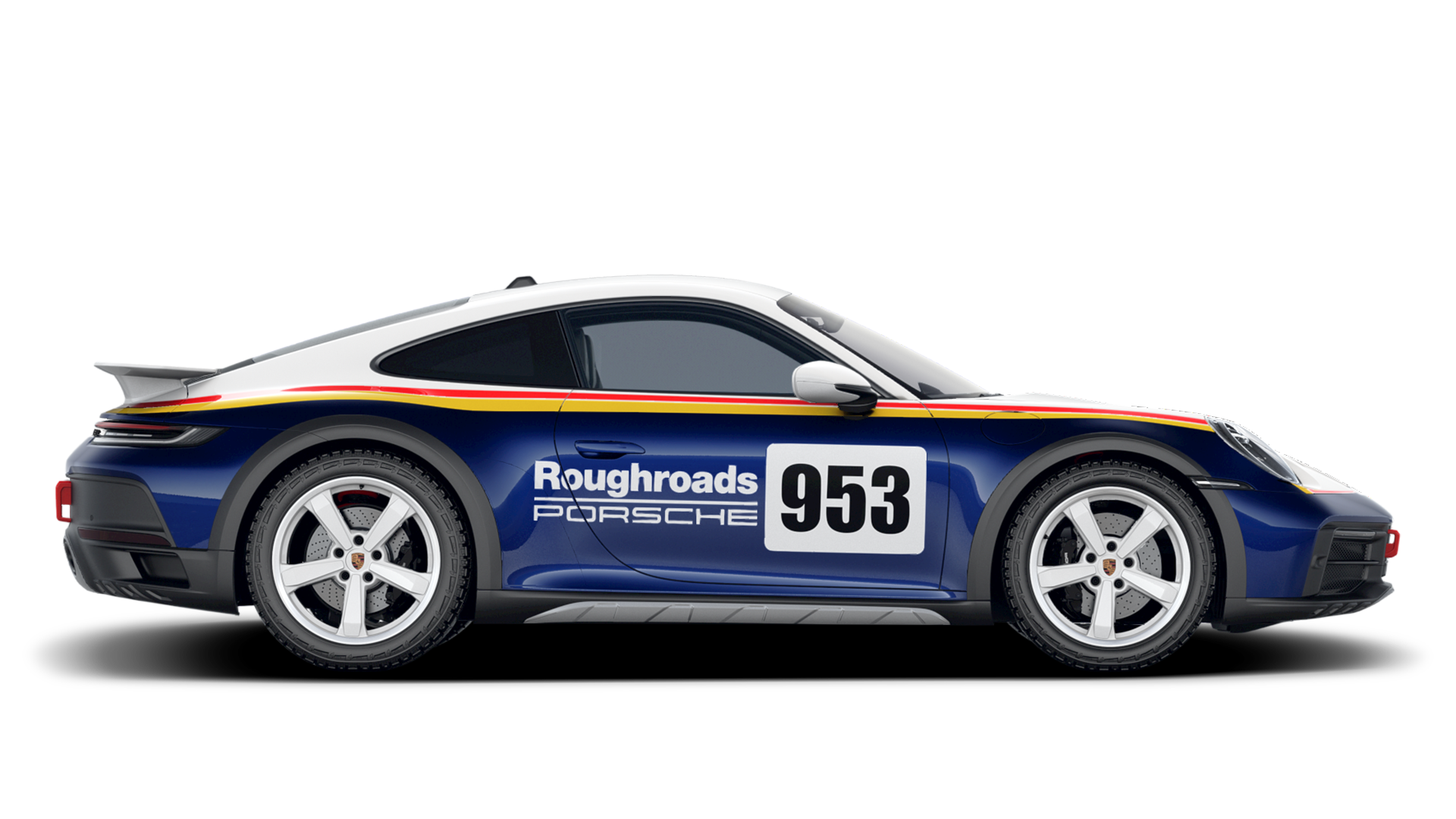 from AED 870,100 incl. VAT
353 kW/480 PS
Power (kW)/Power (PS)
3.4 s
Acceleration 0 - 100 km/h
911 Dakar
from AED 870,100 incl. VAT
Price
353 kW/480 PS
Power (kW)/Power (PS)
3.4 s
Acceleration 0 - 100 km/h
Technical Specs
| | |
| --- | --- |
| Number of cylinders | 6 Zahl |
| Fuel grade | 98 Zahl |
| Bore | 91,0 mm |
| Stroke | 76,4 mm |
| Displacement | 2.981 cm³ |
| Power (kW) | 353 kW |
| Power (PS) | 480 PS |
| RPM point maximum power | 6.500 1/min |
| Maximum engine speed | 7.500 1/min |
| Max. torque | 570 Nm |
| RPM range maximum torque | 2.300 - 5.000 1/min |
| Max. output per liter (kW/l) | 118,00 kW/l |
| Max. output per liter (PS/l) | 161,00 PS/l |
| | |
| --- | --- |
| Top speed | 240 km/h |
| Acceleration 0 - 60 mph | 3,2 s |
| Acceleration 0 - 100 km/h | 3,4 s |
| Acceleration 0 - 160 km/h | 7,8 s |
| Acceleration 0 - 200 km/h | 12,0 s |
| In-gear acceleration (80-120km/h) (50-75 mph) | 2,2 s |
| 1/4 mile | 11,6 s |
| | |
| --- | --- |
| Slope angle, front/rear steel suspension | 14,2 - 16,4 ° |
| Ramp break over angle steel suspension | 16,2 ° |
| Max. ground clearance steel suspension | 161 mm |
| | |
| --- | --- |
| Length | 4.530 mm |
| Width | 1.864 mm |
| Width (with mirrors) | 2.033 mm |
| Height | 1.338 mm |
| Wheelbase | 2.450 mm |
| Turning circle | 10,7 m |
| Unladen weight (DIN) | 1.605 kg |
| Unladen weight (EU) | 1.680 kg |
| Permissible gross weight | 1.960 kg |
| Maximum load | 355 kg |
| Maximum permissible roof load with Porsche roof transport system | 75 kg |
| | |
| --- | --- |
| Luggage compartment volume, front | 132 l |
| Fuel tank | 67 l |
| | |
| --- | --- |
| Fuel consumption urban | 15,1 l/100 km |
| Fuel consumption extra-urban | 7,8 l/100 km |
| Fuel consumption combined | 10,5 l/100 km |
| CO2 emissions combined | 239 g/km |
| NOx emissions | 11,8 mg/km |
| | |
| --- | --- |
| Sound level of stationary vehicle | 94 dB(A) |
| Sound level of stationary vehicle (rpm) | 3.325 1/min |
| Sound level of passing vehicle | 71 dB(A) |
| | |
| --- | --- |
| PDK | from AED 870,100 incl. VAT |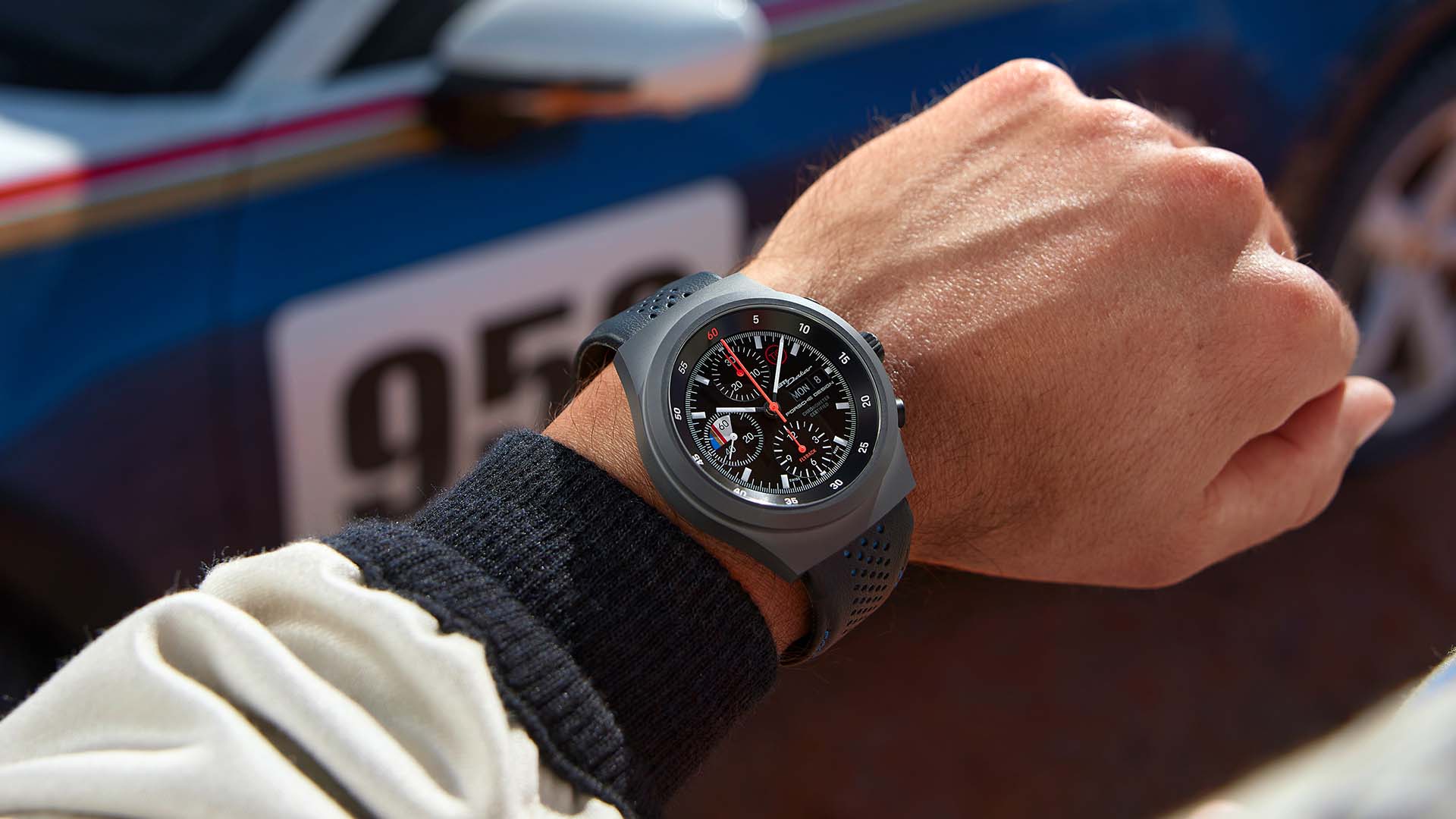 World innovation - made of titanium carbide.
The world's first chronograph with a titanium carbide case: the strictly limited-edition Chronograph 911 Dakar has legendary design features and impresses with its optimal readability even in direct sunlight. Exclusively for owners of the Porsche 911 Dakar.

Personalisation & finishing.
In the Porsche Exclusive Manufaktur we offer you a variety of personalisation options for exterior and interior. For your completely personalised vehicle.