Fascination Sports Car WeekendPorsche Centre Al Ain, Ali and Sons Co LLC, celebrated the 1st Anniversary of the new showroom opening with the Fascination Sports Car Weekend from 17th till 19th September 2015.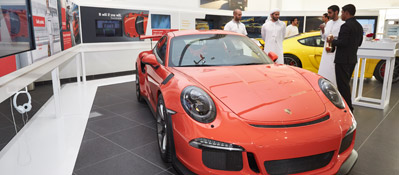 During the three day entertainment program, guests enjoyed a race competition in the racing pod simulator and had the exclusive opportunity to witness the 919 Hybrid that took home the 24 Hours of Le Mans trophy in June. Moreover, the latest additions to the Porsche family: the Cayman GT4 and 911 GT3 RS were showcased.
Al Ain residents enjoyed special privileges and had the opportunity to test drive the full model range during their visit.
9/28/2015