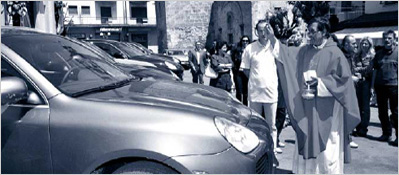 Note: To print individual articles, please open the relevant PDF and print only the pages required.
Info Exchange
Porsche Club Mainfranken/Porsche Club Deutschland - National Meeting of Porsche Club Deutschland
Porsche Club Deutschland/Porsche 356 Club Deutschland - Polo Cup in Stuttgart
Porsche Club Great Britain - Porsche Festival at Brands Hatch
Porsche Club of South Africa, Kwa Zulu Natal Region - Porsche Parade 2004
Porsche Club Deutschland, Boxster Group - An Active Group
356 Registry USA - East Coast Holiday 2004
Club Porsche de France Région Méditerranée - Paradis Porsche 2004
Porsche Design Driver's Selection - Inspired by the New 911
Porsche Tequipment - Tequipment Cayenne: Exterior On Road
Descargar PDF/ 918 KB
Classic Info Exchange
Porsche 356 Club Deutschland – Annual Meeting in Teutoburg Forest
Porsche Design Driver's Selection – 914 for the Showcase
Descargar PDF/ 724 KB
Reports
Porsche Club Japan - Porsche Parade Japan 2004
Porsche Club España - Porsche Parade Europe 2004
Porsche Cars North America - Huge Porsche Show in Daytona
Porsche Club of America - USA Parade 2004
Porsche Middle East - Pole Poition for Porsche in Dubai
Porsche Club Great Britain - Ireland Tour
Porsche Club Poland - 170 Laps of the Car Park for Charity
Porsche Club Hellas - Grand Foundation Ceremony
Club Porsche Mexico - Successful Presentation
Porsche Club Seetal Luzern - Practice Makes Perfect
Porsche Club Kirchen-Hausen - Italian Moments in the Cayenne
Porsche Club Berlin - With Walter Röhrl in Magny-Cours
Descargar PDF/ 915 KB
Classic Reports
Porsche 356 Club de France - International Meeting in Deauville
Porsche Cars North America - Speedster Festival in California
Porsche 914 Club Holland - 914 Meeting in the Netherlands
Porsche Club Great Britain - Largest Porsche 928 Meeting
Porsche Club 928/Rhein Main Region - Visit to the Porsche Centre Würzburg
Porsche 356 IG Deutschland e.V. - Anniversary Party
Descargar PDF/ 281 KB
Issue Complete 03/04
Note: The chapter 'Club Management' is only accessible to club members in the password-protected 'Services for Clubs - Porsche Club Management' area.
Descargar PDF/ 974 KB