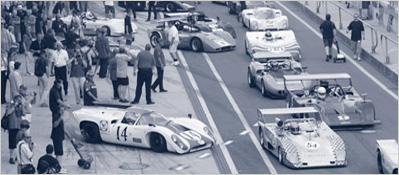 Note: To print individual articles, please open the relevant PDF and print only the pages required.
News from Porsche AG
The Watch to Match the Car: Porsche Design PTC 911 Limited Edition
Anniversary: 30 Years of the Porsche 911 Turbo
Porsche Spare Parts Production – Porsche Carrera for a Rehabilitation Clinic
Descargar PDF/ 3308 KB
Info exchange
Events Calendar 2005
Event Announcements 2005
New Porsche Speedster Book
Porsche Design Driver's Selection
Porsche Tequipment
Porsche for Every Day
Descargar PDF/ 3047 KB
Reports
Porsche Club Coordination - Factory Visits 2004
Porsche Club Great Britain - Precision 911 - Launch of the New Porsche 911 in Great Britain
Porsche Club Isartal-München e.V. - Trip to Trentino
Porsche Club Baden e.V. - Club Anniversary
Porsche Clubs Frankreich - Lucky Porsche Club Presidents
Porsche Club Seetal Luzern - Driver Training at Magny Cours
Descargar PDF/ 2548 KB
Classic Reports
Porsche Classic - AvD Odtimer Grand Prix at the Nürburgring
Club Porsche France 911 Classic - Le Mans Classic 2004
Porsche Diesel Tractor Register, USA - Gmund West 2004
Porsche Club Tirol - Porsche Clubs at the Ennstal Classic
Descargar PDF/ 1474 KB
Issue Complete 04/04
Note: The chapter 'Club Management' is only accessible to club members in the password-protected 'Services for Clubs -Porsche Club Management' area.
Descargar PDF/ 3731 KB