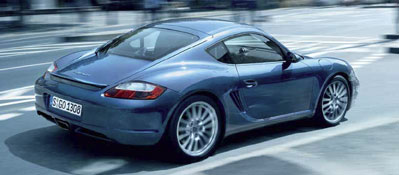 If you're curious and would like to know more about our Porsche magazine, you'll find selected articles here for you to read as a sample.
We hope you enjoy reading them – and if you want to read more, you can apply for subscription to "Christophorus" online now.
Fast Friends
The new Cayman proves itself in an uncommon venue: The snappy mid-engine sports coupe tours the urban jungle.
Descargar PDF/ 320 KB
Taking Direction
The dialogue between the driver and the sports car is a sensual experience. But how does that typical "Porsche-Feeling" actually develop?
Descargar PDF/ 258 KB
Beautiful View
Enlightenment: The 911 Targa 4 and the even more powerful
911 Targa 4S – now available only with permanent all-wheel-drive.
Descargar PDF/ 185 KB
A Trust-Building Measure
A road vehicle can't get any closer to being a race car than this: The
911 GT3 RS makes the grade in everyday driving just as it does on the racetrack.
Descargar PDF/ 205 KB
Wide Wild West
The Porsche RS Spyder's entry into the American Le Mans Series is also a logistical challenge, not the least factor being the costly transportation of material between the racetracks.
Descargar PDF/ 293 KB
Motion Detector
The new Porsche Calendarium provides an exciting chronicle of the company.
Descargar PDF/ 180 KB
On the High Seas
The thrill of the America's Cup: Valencia hosts the final contest for participation in 2007.
Descargar PDF/ 390 KB
Better Living
Class act: The ambiance at the hotel Falkenstein is one of timeless elegance.
Descargar PDF/ 73 KB
News
Triumph: Thirty-one-year-old Richard Westbrook drove the 911 GT3 Cup to victory in the Porsche Michelin Supercup.
Descargar PDF/ 61 KB
News
Showcase: The 911 GT3 Cup in front of the new motorsports warehouse, where around 20,000 different spare parts are stored and ready for use.
Descargar PDF/ 45 KB