December 2010 / January 2011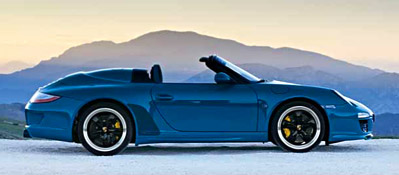 If you're curious and would like to know more about our Porsche magazine, you'll find selected articles here for you to read as a sample.
We hope you enjoy reading them – and if you want to read more, you can apply for subscription to 'Christophorus' online now.
Nice to Have / The Sky's the Limit
The Speedster has had many fans for decades now, fans who want even more than a cabrio. The new 911 Speedster continues in this tradition.
Descargar PDF/ 897 KB
Double Cheers
The 911 GT3 RSR and strong teamwork: Porsche has once again won both the American Le Mans Series and the Le Mans Series in Europe.
Descargar PDF/ 231 KB
Super Redux
Porsche 959, Carrera GT, 918 Spyder: Super sports cars from Porsche have always been ahead of their time in technology.
Descargar PDF/ 189 KB
Sixty and Sunny
No shortage of sun for cruising in South Beach: Miami is the perfect place to celebrate Porsche's sixtieth anniversary in America.
Descargar PDF/ 832 KB
American Way of Drive
The first Porsche 356 came to New York in the fall of 1950. It launched a great story of success. Sixty years of Porsche in America.
Descargar PDF/ 127 KB