Resultados de Porsche
919 Hybrid N.° 17: Bernhard, Webber, Hartley
1. posición; 169 vueltas; Vuelta más rápida: 1'47.369
919 Hybrid N.° 18: Dumas, Jani, Lieb
2. posición; 169 vueltas; Vuelta más rápida: 1'47.744
911 RSR N.° 91: Lietz, Christensen
1. posición; 151 vueltas; Vuelta más rápida: 2'05.392
911 RSR N.° 92: Pilet, Makowiecki
3. posición; 151 vueltas; Vuelta más rápida: 2'04.814
Resultados
P
Driver
No.
Team
Car
Class
Laps
Best Lap
Gap
1
Timo BERNHARD
Mark WEBBER
Brendon HARTLEY
17
Porsche Team
Porsche 919 Hybrid
LM P1
169
1'47.369
2
Romain DUMAS
Neel JANI
Marc LIEB
18
Porsche Team
Porsche 919 Hybrid
LM P1
169
1'47.744
26.294
3
Marcel FÄSSLER
André LOTTERER
Benoît TRÉLUYER
7
Audi Sport Team Joest
Audi R18 e-tron quattro
LM P1
169
1'46.685
30.311
4
Lucas DI GRASSI
Loïc DUVAL
Oliver JARVIS
8
Audi Sport Team Joest
Audi R18 e-tron quattro
LM P1
169
1'47.289
50.906
5
Alexander WURZ
Stéphane SARRAZIN
Mike CONWAY
2
Toyota Racing
Toyota TS 040 - Hybrid
LM P1
165
1'49.374
4 Laps
6
Anthony DAVIDSON
Sébastien BUEMI
Kazuki NAKAJIMA
1
Toyota Racing
Toyota TS 040 - Hybrid
LM P1
164
1'48.685
5 Laps
7
Nicolas PROST
Mathias BECHE
12
Rebellion Racing
Rebellion R-One - AER
LM P1
158
1'54.764
11 Laps
8
Simon TRUMMER
Pierre KAFFER
4
Team Bykolles
CLM P1/01 - AER
LM P1
156
1'56.892
13 Laps
9
Alexandre IMPERATORI
Dominik KRAIHAMER
Mathéo TUSCHER
13
Rebellion Racing
Rebellion R-One - AER
LM P1
153
1'54.213
16 Laps
P
Driver
No.
Team
Car
Class
Laps
Best Lap
Gap
1
Richard LIETZ
Michael CHRISTENSEN
91
Porsche Team Manthey
Porsche 911 RSR
LMGTE Pro
151
2'05.392
18 Laps
2
Gianmaria BRUNI
Toni VILANDER
51
AF Corse
Ferrari F458 Italia
LMGTE Pro
151
2'05.434
18 Laps
3
Patrick PILET
Frédéric MAKOWIECKI
92
Porsche Team Manthey
Porsche 911 RSR
LMGTE Pro
151
2'04.814
18 Laps
4
Davide RIGON
James CALADO
71
AF Corse
Ferrari F458 Italia
LMGTE Pro
150
2'03.759
19 Laps
5
Alex MACDOWALL
Fernando REES
Richie STANAWAY
99
Aston Martin Racing V8
Aston Martin Vantage V8
LMGTE Pro
149
2'06.179
20 Laps
6
Darren TURNER
Jonathan ADAM
97
Aston Martin Racing
Aston Martin Vantage V8
LMGTE Pro
149
2'07.022
20 Laps
Porsche Motorsport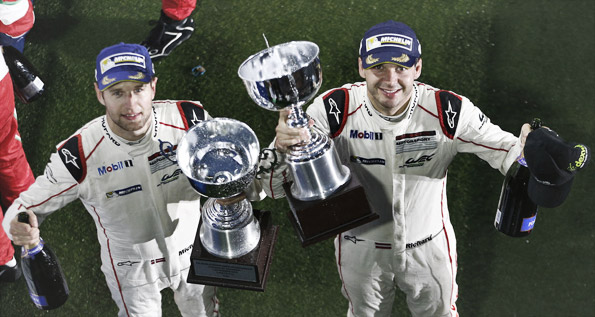 Third win of the season for Porsche 911 RSR – titles to be decided at finale
Suttgart. The Porsche 911 RSR driven by Richard Lietz (Austria) and Michael Christensen (Denmark) has won Sunday's six-hour race on Shanghai International Circuit. This marks the third victory of the season for the 470 hp winning racer from Weissach, which was developed on the basis of the iconic...
Más noticias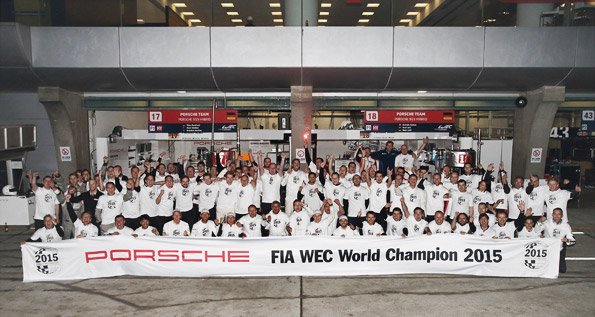 Porsche secures World Championship title by another one-two win
Stuttgart. By taking the fifth victory in a row Porsche has made itself a World Champion in Shanghai. One race before the season's finale no one can take away the constructors' title in the FIA World Endurance Championship (WEC) from the young team from Weissach. In China the winning drivers were...
Más noticias