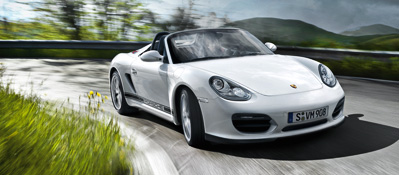 If you're curious and would like to know more about our Porsche magazine, you'll find selected articles here for you to read as a sample.
We hope you enjoy reading them – and if you want to read more, you can apply for subscription to 'Christophorus' online now.
Still Number One
When Porsche combines the Boxster and the Spyder, good things are to come. And on its premiere excursion along California's Highway 1, the new Boxster Spyder becomes the Sun King.
Descargar PDF/ 365 KB
Dune Buggy
Sand sizzles, heads turn, and the SUV powers on: in the morning ambiance of a secret mission in Dubai, the new Cayenne passes the merciless Porsche version of Germany's technical inspection board.
Descargar PDF/ 262 KB
The Joy of Full-Load Driving
Each new generation never ceases to amaze: the 500-hp engine in the latest 911 Turbo features an impressive array of sophisticated technology and sets new standards in fuel efficiency.
Descargar PDF/ 309 KB
A Knack for Curves
The test track at the Porsche factory in Leipzig combines ten of the world's most renowned and notorious curves into a single route—challenging drivers and vehicles alike.
Descargar PDF/ 280 KB
Ready for Takeoff!
A different take on driving at the controls of the Panamera: wellgrounded in his métier, so to speak, a flight captain checks out the cockpit of the Gran Turismo. His assessment: "Fabulous!"
Descargar PDF/ 455 KB