Porsche Cayman S (type 987)
The Cayman S, which has been available since model year 2006, is the first Cayman generation produced in Porsche history. Positioned above the Boxster S, the new mid-engine coupe closes the gap between the Boxster S and the 911 Carrera in terms of both price and performance. The Cayman S, which is equipped with a 3.4-litre engine, has design features of the 550 Coupe from 1953 and the 904 Carrera GTS Coupe and differs significantly from the 911 Carrera in terms of design and proportions.
In April 2006, the Cayman S was voted World Performance Car of the Year 2006 at the New York International Auto Show for its perfect combination of handling, looks and performance.
Model overview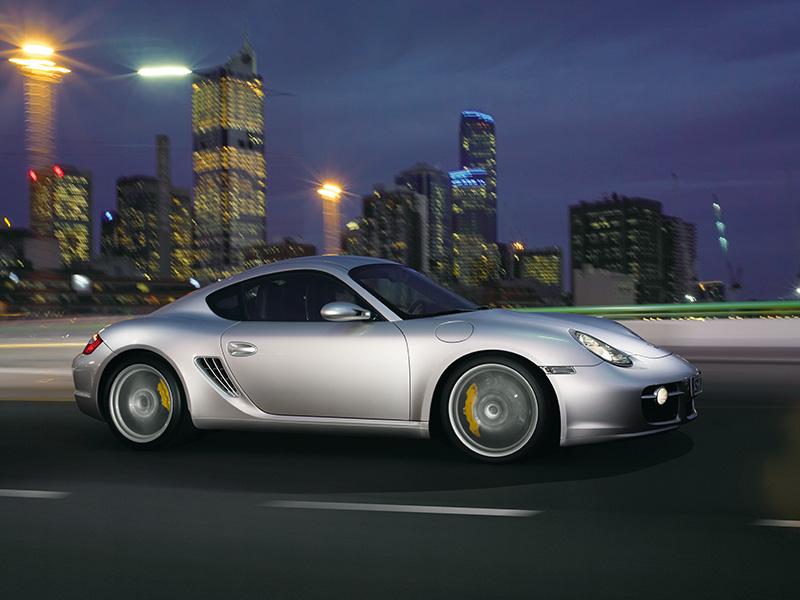 Cayman S (2006-08)
H7 clear-glass headlights with projection technology // 4-piston monobloc aluminium fixed callipers painted Red // 18-inch aluminium wheels // Front lid made of aluminium // Porsche Stability Management (PSM) // Wing element, which is extended by 80 millimetres at a speed of 120 km/h // Acceleration from 0 to 100 in 5.4 seconds // Top speed 275 km/h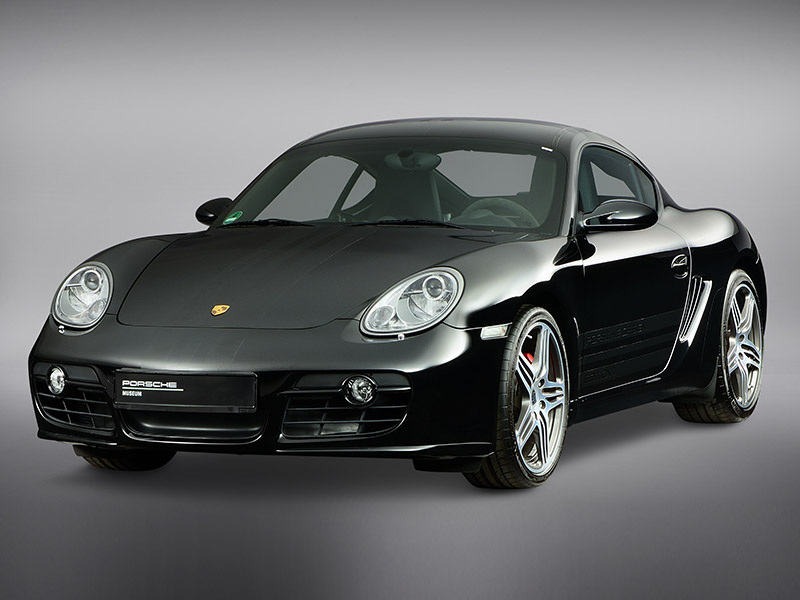 Cayman S Porsche Design Edition 1 (2007-08)
Black special model that comes with a briefcase containing selected Porsche Design products (sunglasses, a pen, a key ring, a pocket knife, a Flat Six chronograph) // Limited to 777 vehicles // Painted Black/three Medium Black vertical stripes, of which the middle one is slightly narrower/right stripe on the bonnet has PORSCHE DESIGN inscription // 3.4-litre boxer engine with a power output of 217 kW (295 PS) // 19-inch Turbo wheels // Interior features in leather/Alcantara // Porsche Crest embossed on the seat headrest // 3-spoke sports steering wheel // Aluminium plaque on the glove compartment with 'Porsche Design Edition 1' inscription and the vehicle number out of the 777 units // Dial of the instruments based on the design of the first Porsche chronograph // Only high-quality materials were used, such as steel, titanium, aluminium, and leather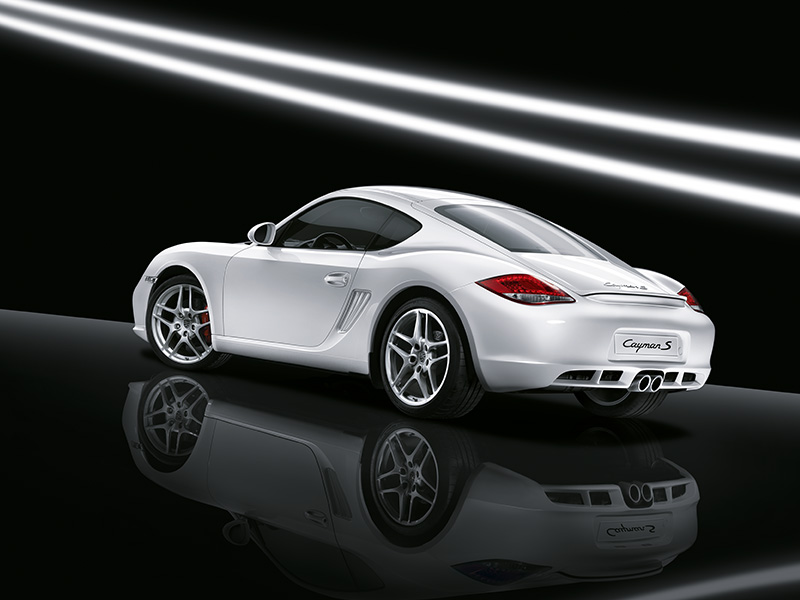 Cayman S (2009-12)
Round twin tailpipe // 3.4-litre engine with new direct fuel injection (DFI) // Unloaded weight of 1350 kilograms // Optional 7-speed Porsche Doppelkupplung (PDK) // Red brake callipers // New 18-inch Cayman S II wheels with a turbine-like arrangement of the 5 spokes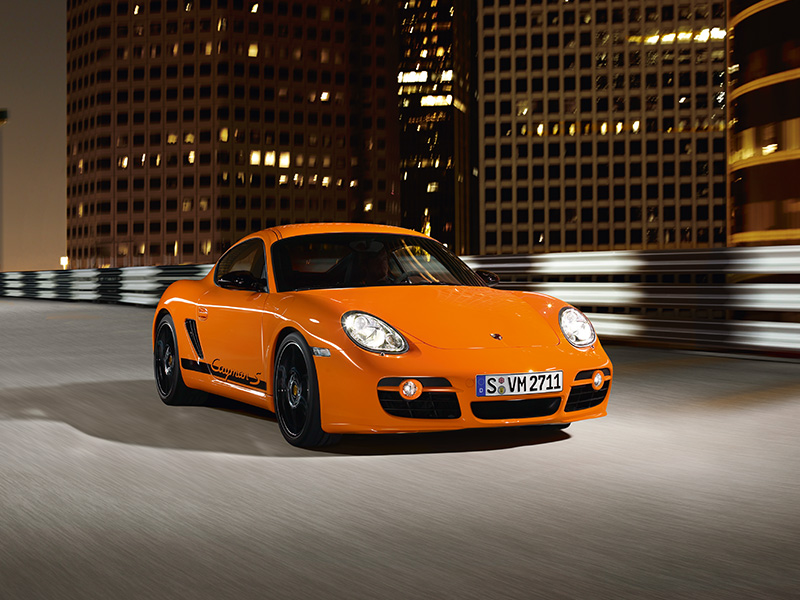 Cayman S Sport (2009)
Special model limited to 700 units // Available in the bright Orange or brilliant Green of the 911 GT3 RS // Black 'Cayman S' wrapping adhered to the sides // Standard Bi-Xenon headlights // 3.4 litre engine with 223 kW (303 PS) // Optimised exhaust system and sports exhaust system with two round tailpipes // 19-inch sport design wheels // Interior: features in Alcantara/leather // Aluminium plaque on the glove compartment with 'Cayman S Sport Limited Edition' inscription and the vehicle number out of 700 // 'Sport Chrono Package' with round chronographs on the dashboard and footrests in sports design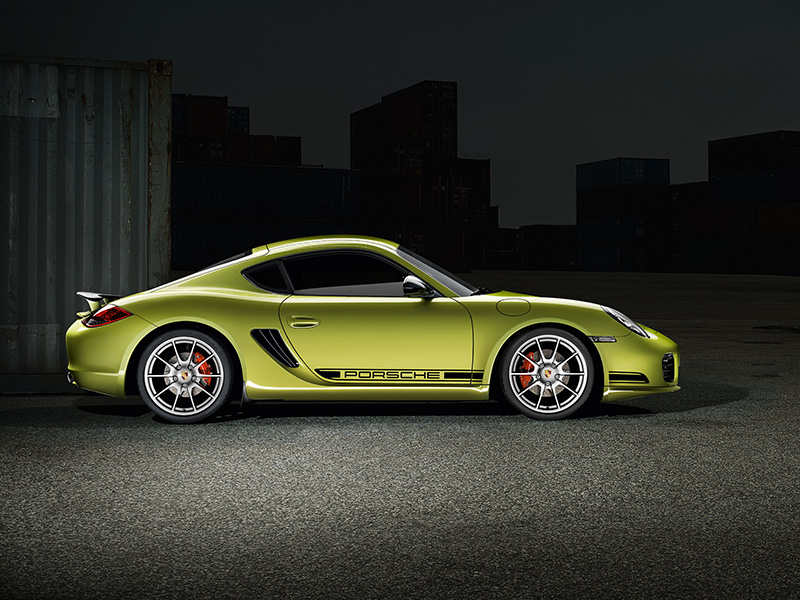 Cayman R (2011)
10 PS more power and 55 kg lighter than the Cayman S // Revised, 20 mm lower sports suspension // Black border around the headlights // Fixed rear wing // More pronounced front spoiler lip // Lighter doors from the 911 Turbo with Porsche logo // Lightweight equipment // Standard sports seats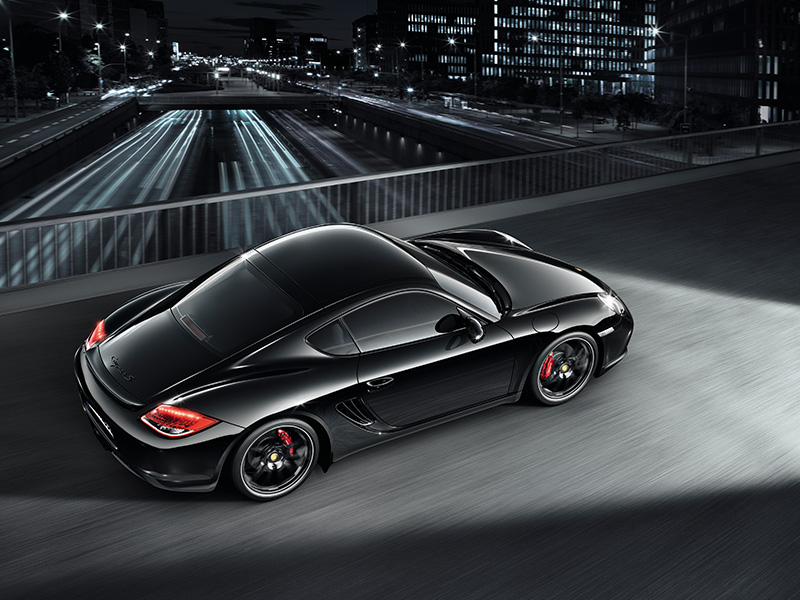 Cayman S Black Edition (2012)
Special model limited to 500 units // Performance-enhanced engine from the Cayman R // Painted Black, Black interior and Black rims
Porsche Classic Parts Explorer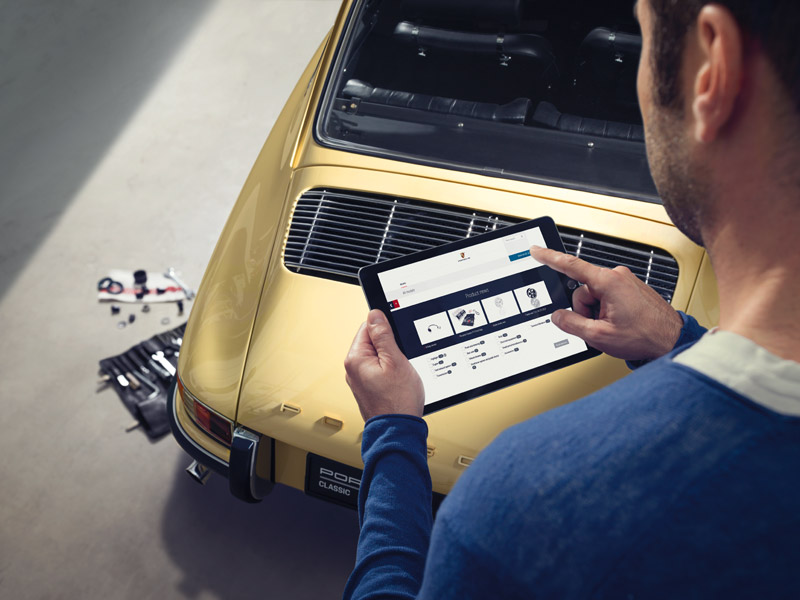 Search. Click. Result.
You can now quickly and easily find selected genuine parts for your classic car using the Porsche Classic Parts Explorer. Regardless of whether you search by model, type or model year, you can discover genuine parts and spare parts for the relevant classic car in just a few clicks. Each year, some 300 reissued parts plus selected products for specific models become available online, along with all of the relevant details, of course. In addition to images and part numbers, you will find a range of useful information regarding the individual products and specific usage scenarios.
As you can imagine, there is a wealth of information available to explore. Why not begin your own tour of the Parts Explorer now and find out which reissued parts are available for your classic car. Incidentally: It is worth checking back regularly. After all, our product range is always expanding. We look forward to your visit.
Read more