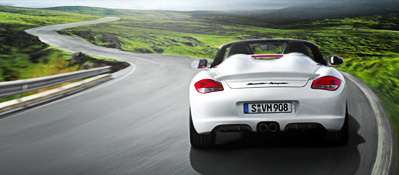 If you're curious and would like to know more about our Porsche magazine, you'll find selected articles here for you to read as a sample.
We hope you enjoy reading them – and if you want to read more, you can apply for subscription to 'Christophorus' online now.
High Pressure Zone
The king of the exhaust gas recyclers is holding court again. While displaying power in Portugal, the new 911 Turbo proves more impressive than ever: Porsche turbocharger technology yields astounding performance with even higher efficiency.
Download PDF/ 476 KB
Along Came a Spyder
No other Porsche is so lean. Weighing in at just 1,275 kilograms (2,811 pounds), the new Boxster Spyder will make its debut in December at the Los Angeles Auto Show. This third version joins the standard Boxster and Boxster S and will be available in February 2010.
Download PDF/ 148 KB
Inviting Curves
The Boxster and the Cayman combine performance and passion in what may be their most exquisite form. That is one of the reasons the two mid-engine sports cars have been so successful. Model series project manager Hans-Jürgen Wöhler promises: "We still have a lot of good ideas left."
Download PDF/ 115 KB
Joy Ride on the Rhine
The Porsche Cayenne Diesel quickly made a name for itself as a luxurious, agile, long-distance machine. And now its fan club wants to go all the way, asking, "How far can we get on a single tank of fuel?" An exciting question, which a Christophorus team set off to answer-along the Rhine river to the North Sea.
Download PDF/ 353 KB
Factory Thrill-Drive
A Porsche premiere in Leipzig: Peter Kopprasch, a furniture dealer from Bonn, and his wife, Claudia Becker, were the very first to pick up their Panamera Gran Turismo directly from the plant - and to take it for a spin on the test track. Collecting the luxury sports car right at the Porsche plant offers the opportunity to experience its amazing performance even before you take delivery.
Download PDF/ 153 KB
Sea, Ski, and See
The microclimate on Canada's West Coast promises a maximum of fun. You can get from the beach to the mountains in just two hours on Highway 99, which links Vancouver and Whistler. The two very different cities will be the center of the sporting world February 12–28, 2010, during the upcoming Olympic Winter Games. We took the Cayenne for a sneak preview.
Download PDF/ 390 KB
Time Machine
It won't be long before the speed of the Panamera is expressed in nanoseconds rather than miles per hour. It's just a matter of time. And that's exactly where this trip will lead us - to the eternal human longing to outrun time. Let's take a peek into the time tunnel.
Download PDF/ 338 KB