December 2007 / January 2008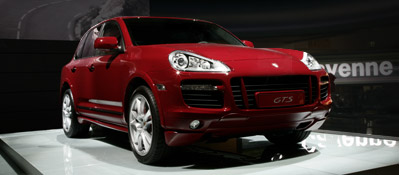 If you're curious and would like to know more about our Porsche magazine, you'll find selected articles here for you to read as a sample.
We hope you enjoy reading them – and if you want to read more, you can apply for subscription to 'Christophorus' online now.
Dynamic Young Performer
The Porsche Cayenne is sporty. And powerful. In the new Cayenne GTS, both attributes are enhanced: a bundle of power shows off its muscles.
Download PDF/ 142 KB
A Real Sports Fan
The new 911 GT2 knows how to spark enthusiasm. It can hit the 300 km/h mark - 186 mph! - in just 33 seconds. But the GT2 can show its stuff not only on the track; it's also at home on the road.
Download PDF/ 169 KB
Porsche Green Machine Scores High
At the International Motor Show in Frankfurt, Porsche created quite a sensation: besides the premieres of the Cayenne GTS and the 911 GT2, there was the presentation of the new hybrid drive.
Download PDF/ 149 KB
Figure Eight
In the American Le Mans Series, Porsche beat its own expectations with the RS Spyder. The sports prototype roared from one victory to the next. A season with many highlights.
Download PDF/ 454 KB
Ahoy There!
Porsche Consulting goes on board with United Internet Team Germany. The consultants are the German team's management and technology partners for the 33rd America's Cup.
Download PDF/ 225 KB
Made by Porsche
The Porsche Tennis Grand Prix is the tennis tournament with a difference - Porsche has lent its philosophy to the event. The Women's Tennis Association verdict: "Brilliant."
Download PDF/ 175 KB
Wake-up Call
The Porsche 917 wrote motorsports history in 1971 - a record that holds to this day. Now, the historic car with its twelve-cylinder engine has been reawakened.
Download PDF/ 179 KB
Desert Modern Cool
Palm Springs is forever: a place in the sun behind the Los Angeles Mountains. Here's the story of a place that has never gone out of style.
Download PDF/ 318 KB