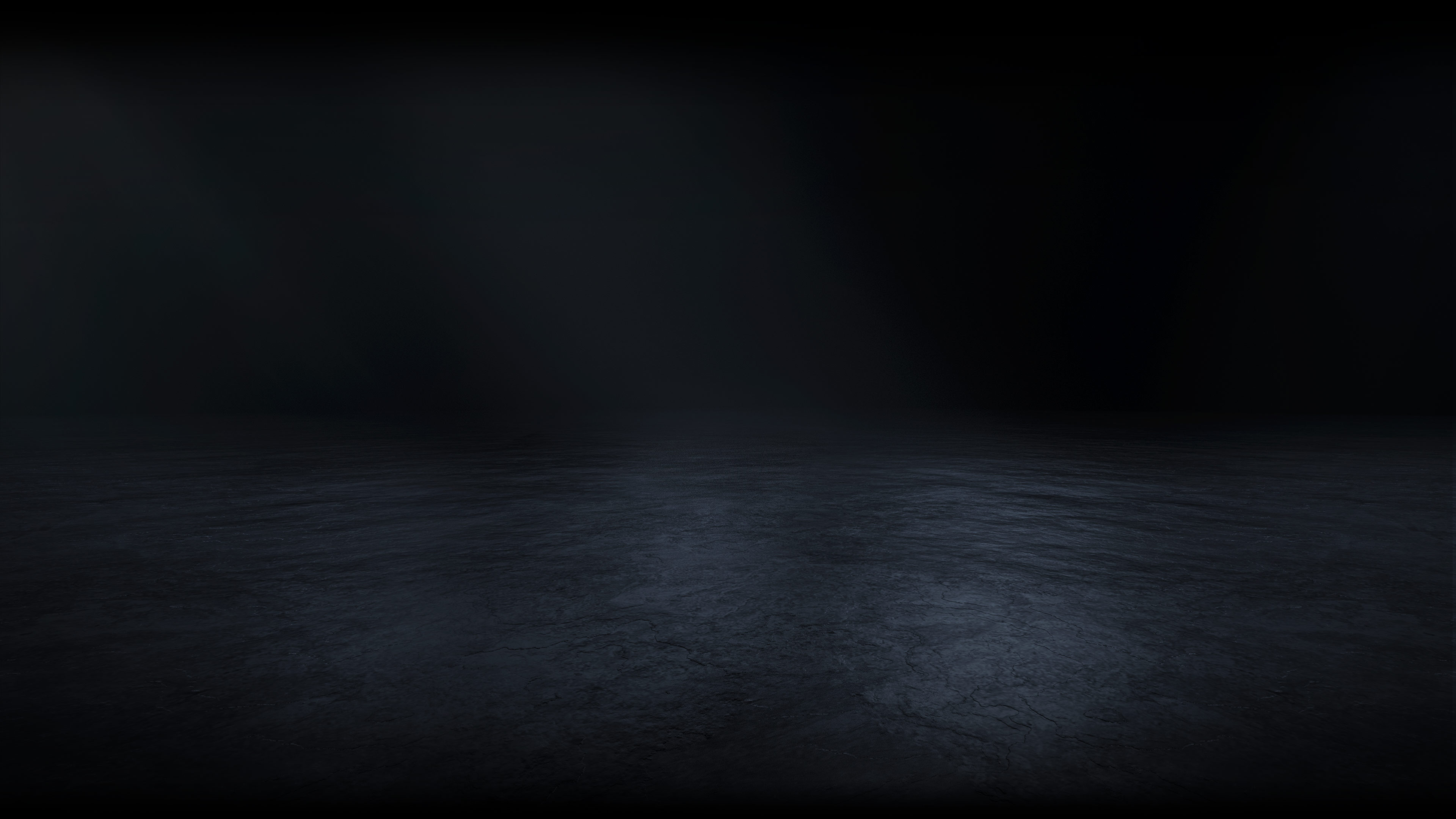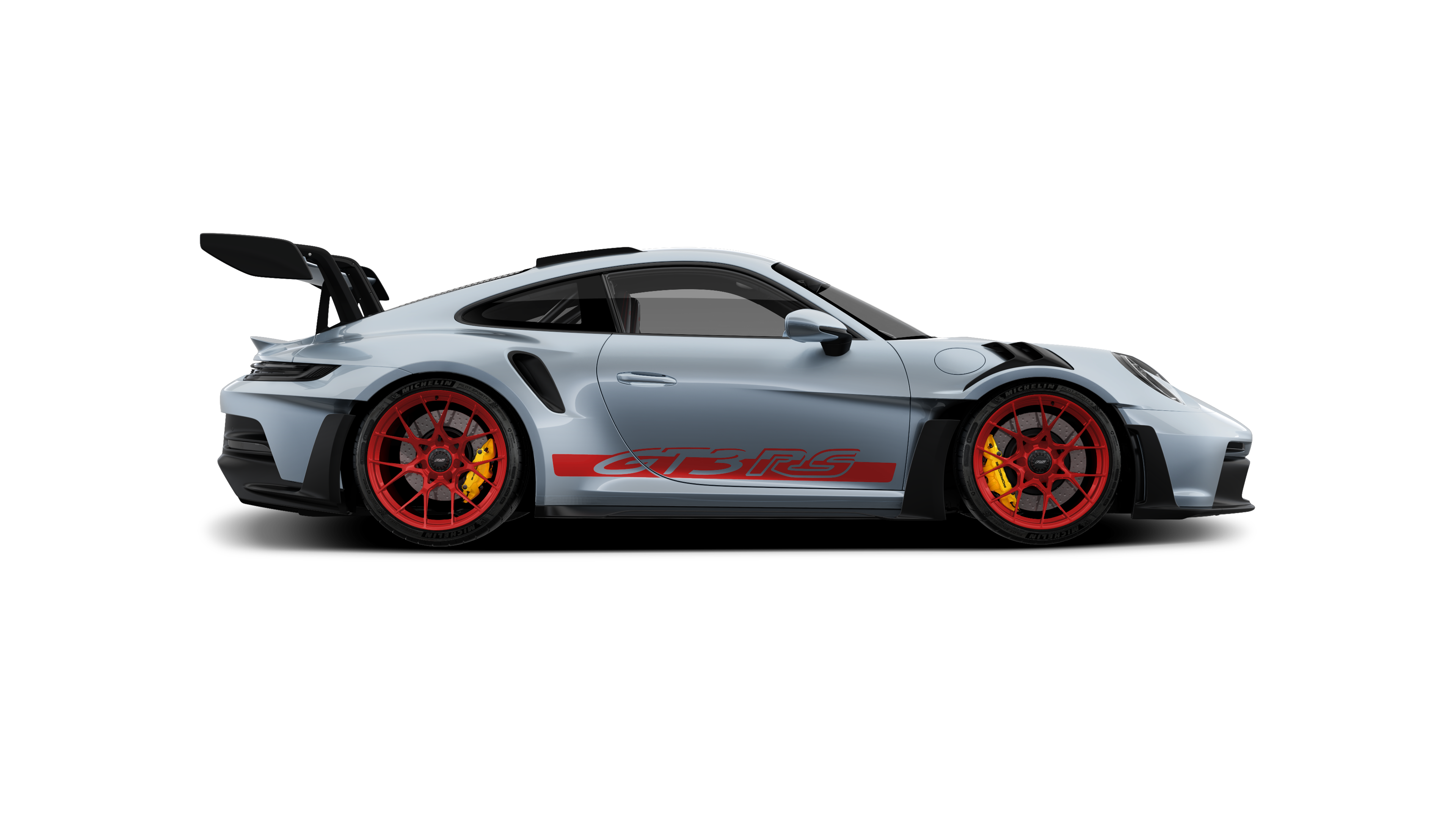 386 kW/525 PS
Potencia (kW)/Potencia (PS)
3.2 s
Aceleración de 0 - 100 km/h
Back to beginning
Perfection is never the start.
Athletes know: top performance requires more than perfect conditions and luck. Relentless training to become stronger and faster. Questioning everything, especially yourself. Learning from every mistake. Because the biggest challenge is to remain unbeatable. With this attitude, Porsche keeps pushing the boundaries of what is possible. Experience the new 911 GT3 RS in top form - with increased race track performance.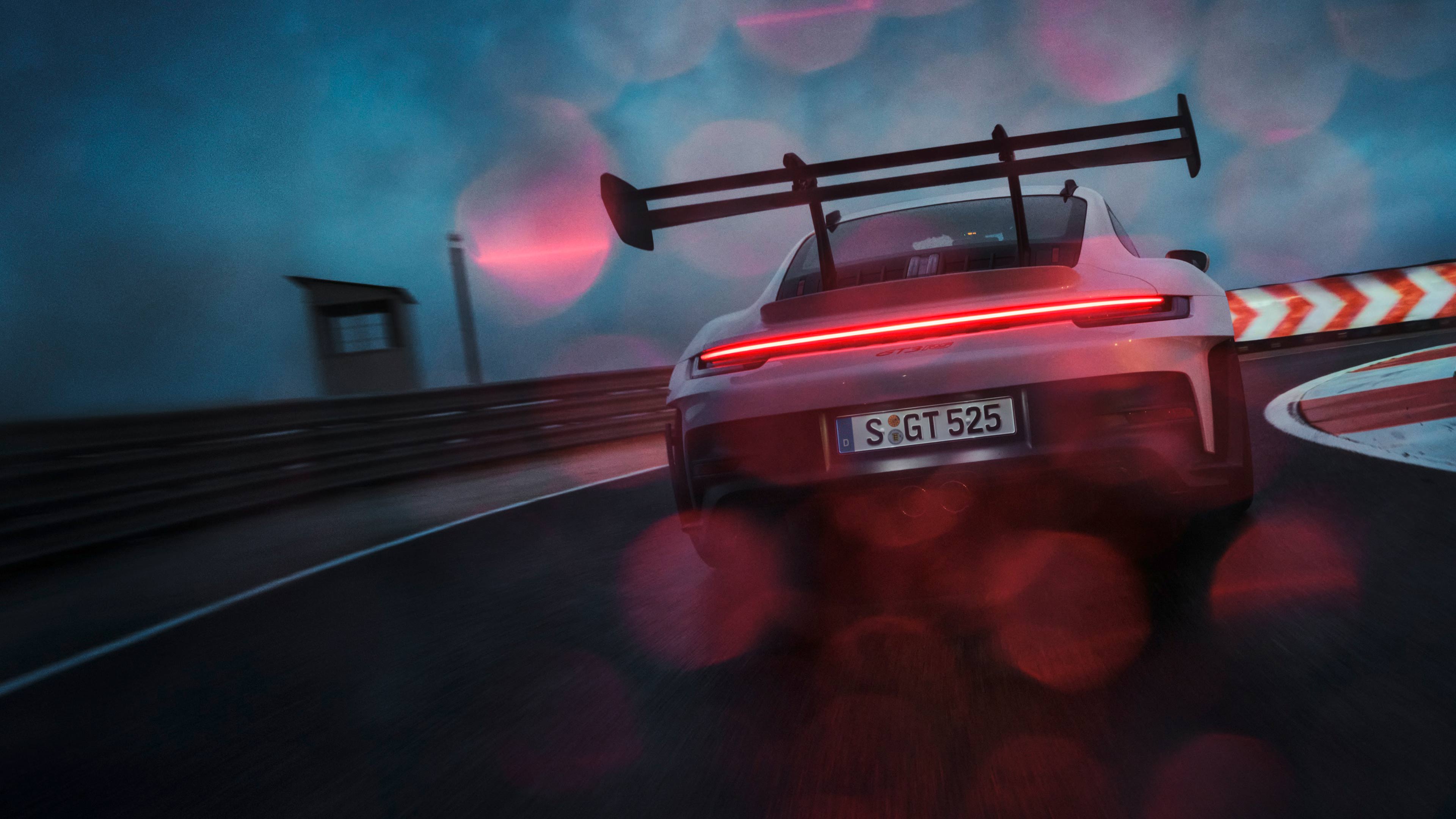 A 4.0-litre high revving naturally aspirated 525 PS (386 kW) engine.
Fully automatic adjustment of the front diffuser and rear wing.
Drag Reduction System (DRS) - rear wing.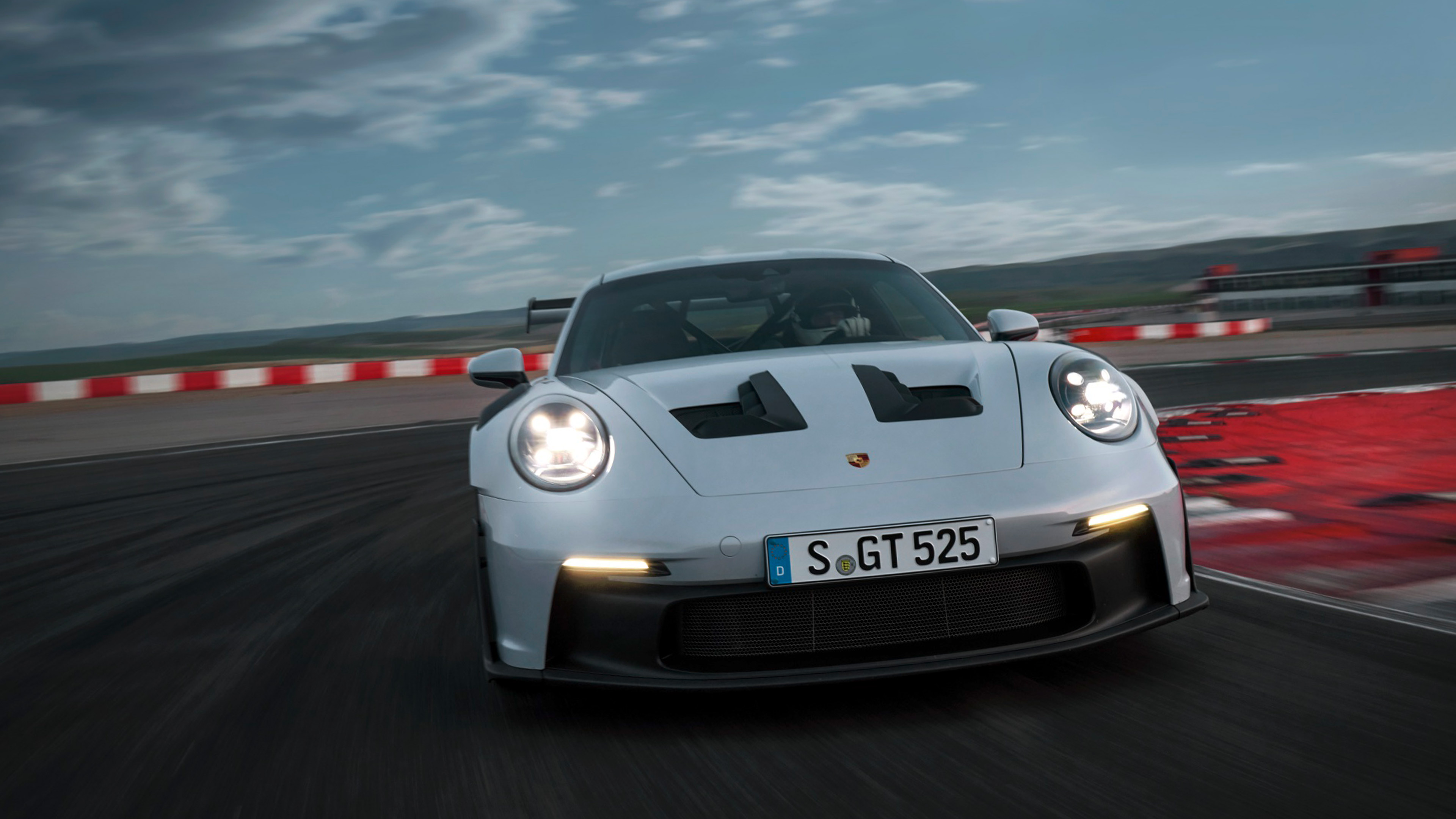 Aero wishbone on the front axle for up to 40 kg more downforce.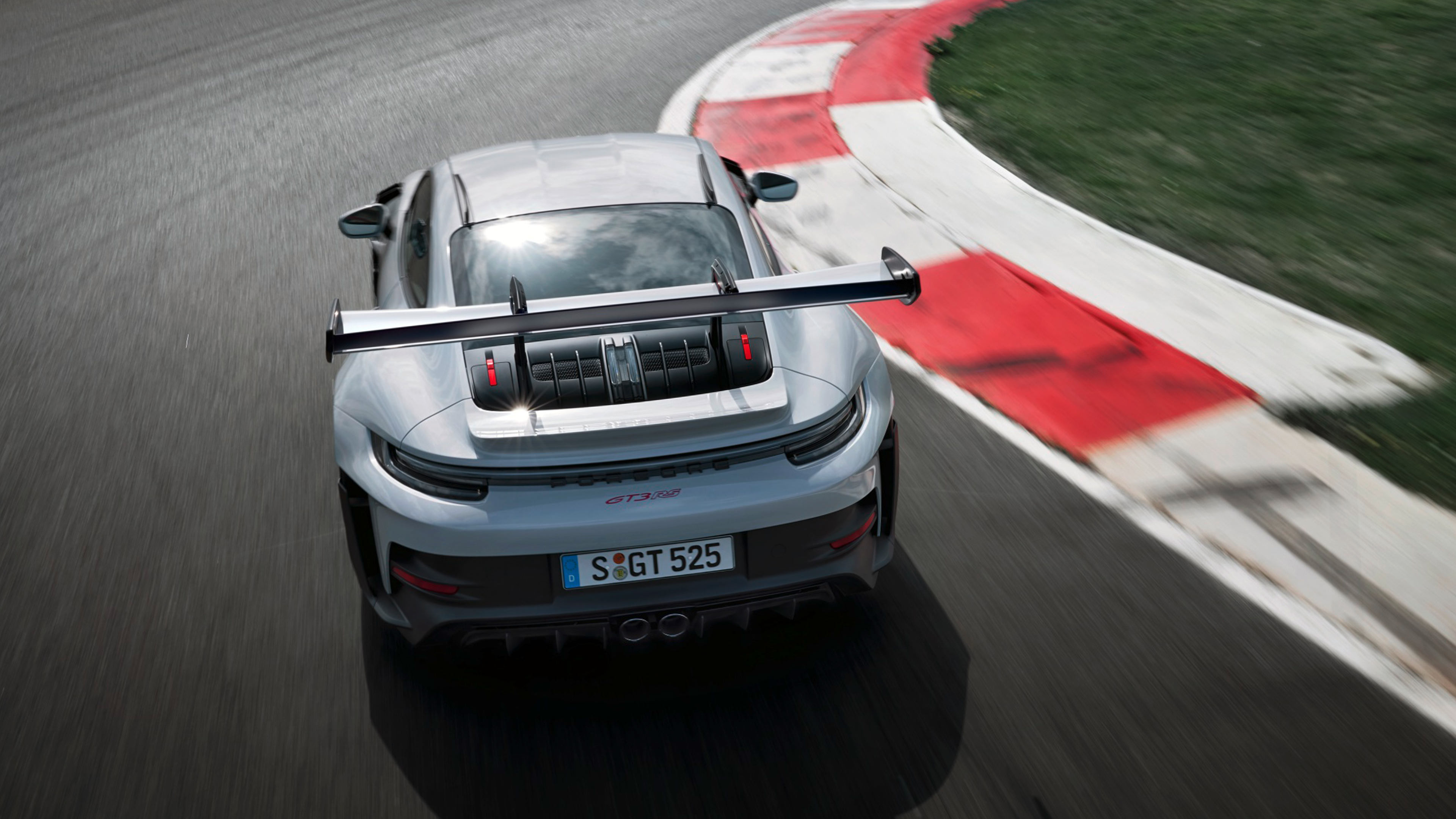 Consistent lightweight construction with numerous components made of carbon fibre reinforced plastic (CFRP).
911 GT3 RS
911 GT3 RS
911 GT3 RS
911 GT3 RS
911 GT3 RS
911 GT3 RS
911 GT3 RS
911 GT3 RS
911 GT3 RS
911 GT3 RS
911 GT3 RS
911 GT3 RS
911 GT3 RS
911 GT3 RS
911 GT3 RS
911 GT3 RS
911 GT3 RS
911 GT3 RS
911 GT3 RS
911 GT3 RS
911 GT3 RS
911 GT3 RS
911 GT3 RS
911 GT3 RS
911 GT3 RS
911 GT3 RS
911 GT3 RS
911 GT3 RS
911 GT3 RS
911 GT3 RS
911 GT3 RS
911 GT3 RS
911 GT3 RS
911 GT3 RS
911 GT3 RS
Discover the 911 GT3 RS in detail.
You already know the highlights. Here are more details about the individual chapters.

Aerodynamics and design
Experience maximum downforce for unbridled euphoria.
open chapter
Lightweight construction
Find out more about the consistent lightweight construction concept.
open chapter
Performance
Get your pulse racing with impressive race track performance.
open chapter
Interior and infotainment
Discover the motorsport inspired interior.
open chapter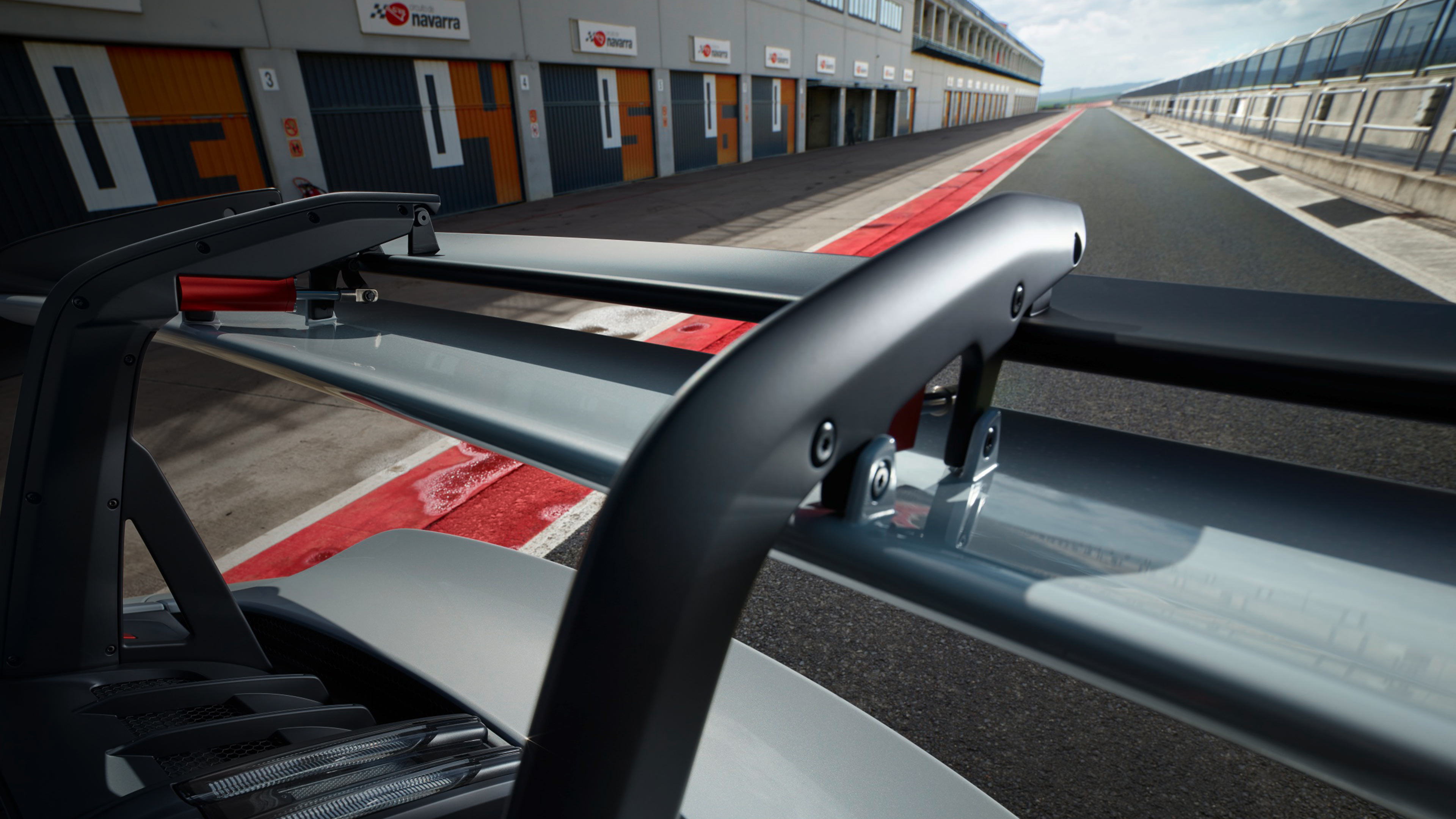 Downforce update.
The new 911 GT3 RS is set perfomance orientated – thanks to increased downforce and revised aerodynamics. Using all vehicle data, including longitudinal/lateral acceleration, accelerator/brake pedal position and friction values, even the position of the rear wing and front diffuser are automatically adjusted to the driving situation in split seconds by Porsche Active Aerodynamics (PAA) with DRS. Best prerequisites for the next flying lap.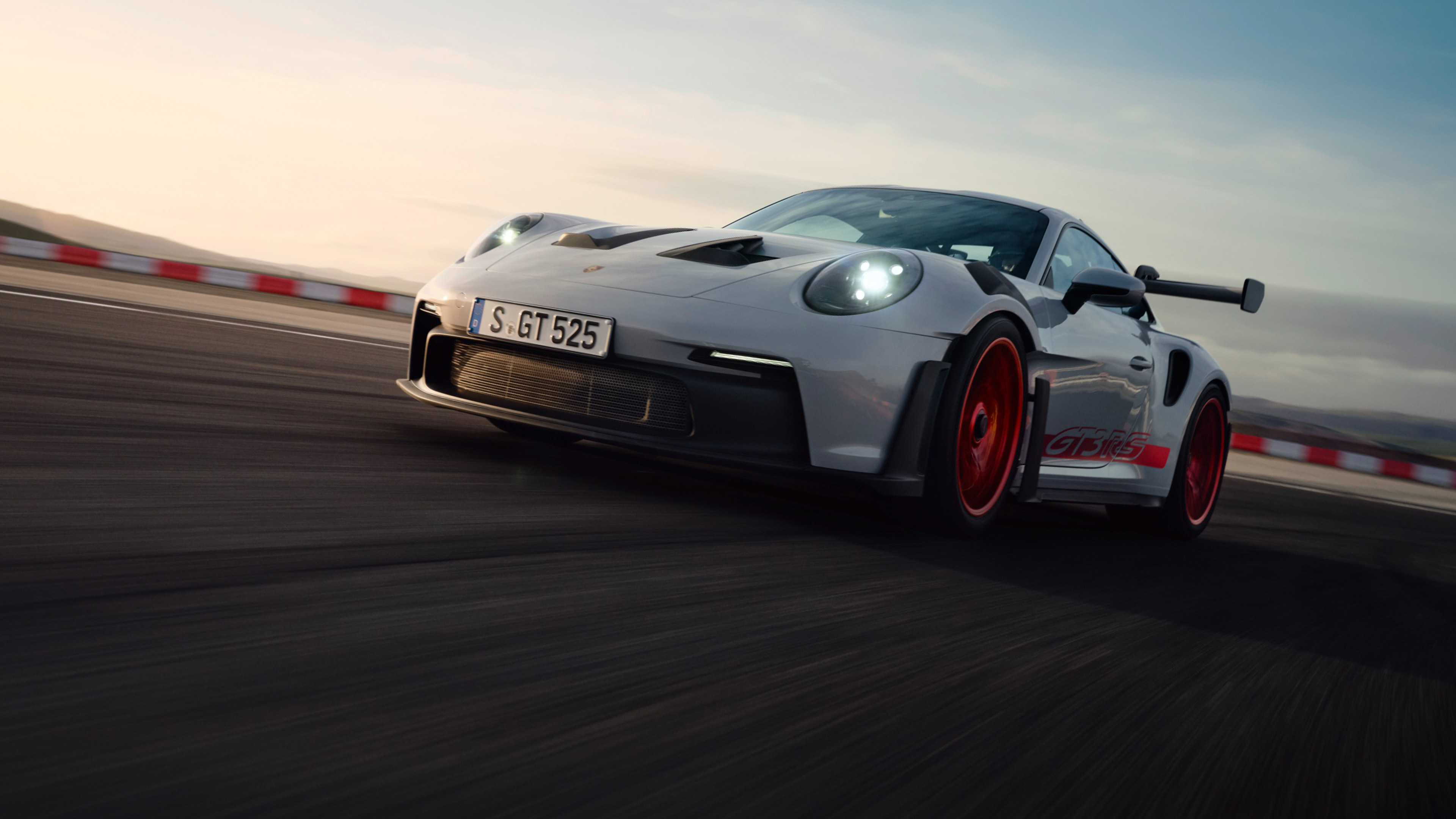 40kg more downforce.
The new aerobars on the front axle increase downforce by reducing turbulence and the flow rate behind the bars – by up to 40 kg at top speed. Sophisticated technology, derived from motorsports.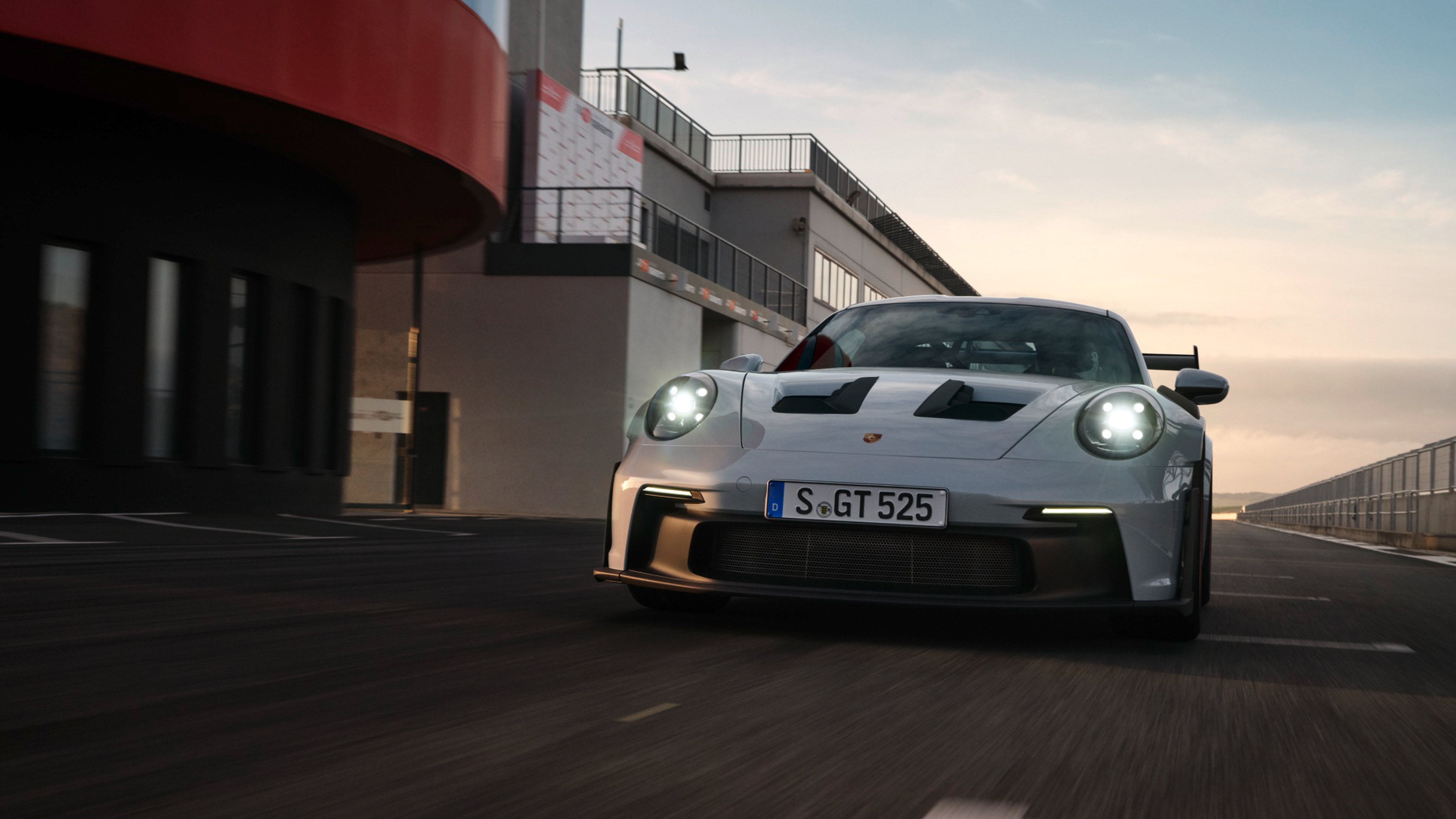 S-Duct front with single-cooler concept.
Like the GT racing cars, the new 911 GT3 RS has a single, large centre radiator in place of the front luggage compartment. The S-shaped air guide gives the concept its name. The concept ensures improved aerodynamics in terms of downforce and brake cooling compared to the two side coolers and the small centre cooler that are otherwise used.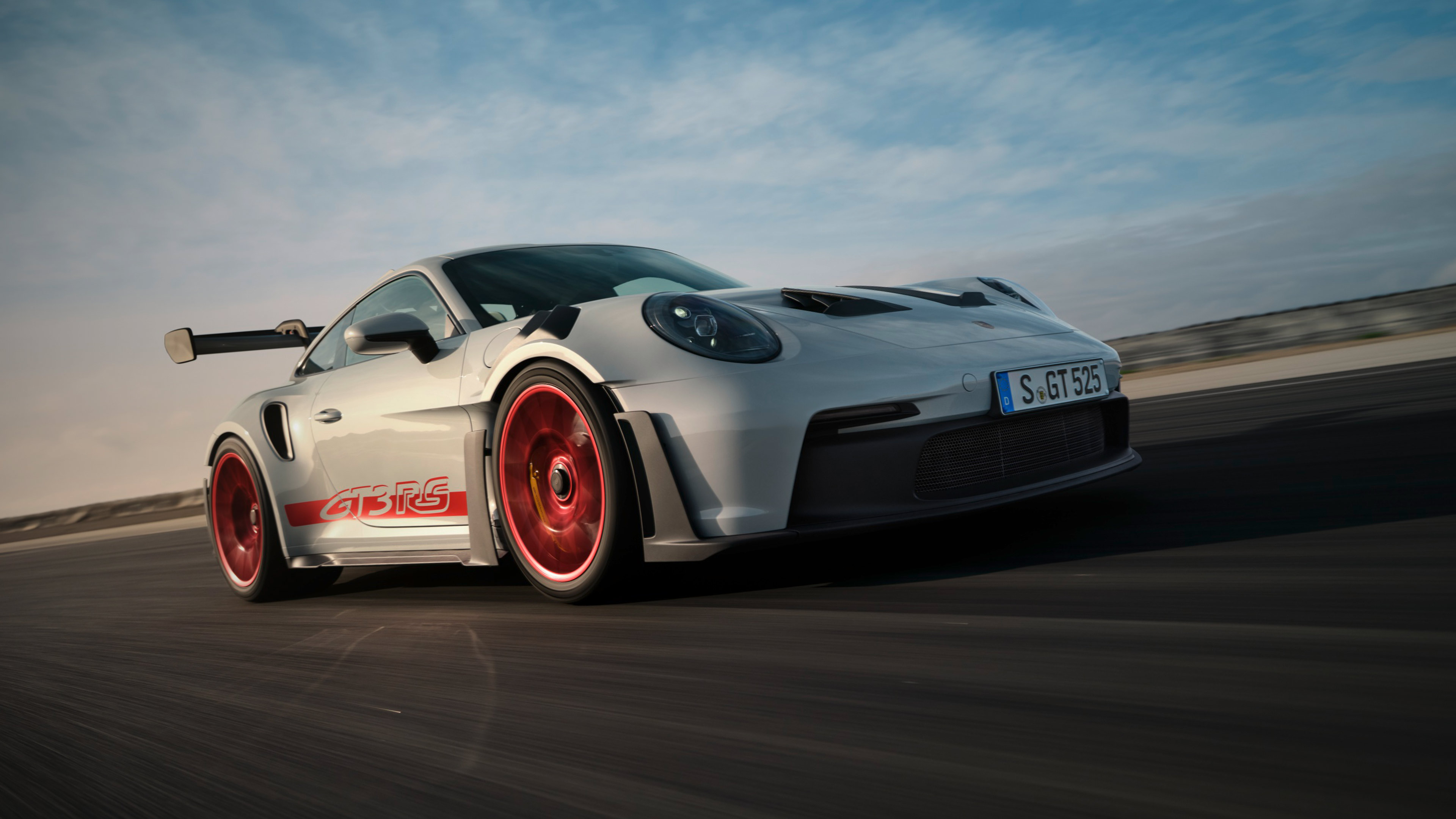 Wide turbo body with air intake cover.
The wide turbo body with air intake panel significantly contributes to the aerodynamic optimisation of the 911 GT3 RS and reinforces the athletic appearance. It also opens up space for new, wider wheels that improve handling even further.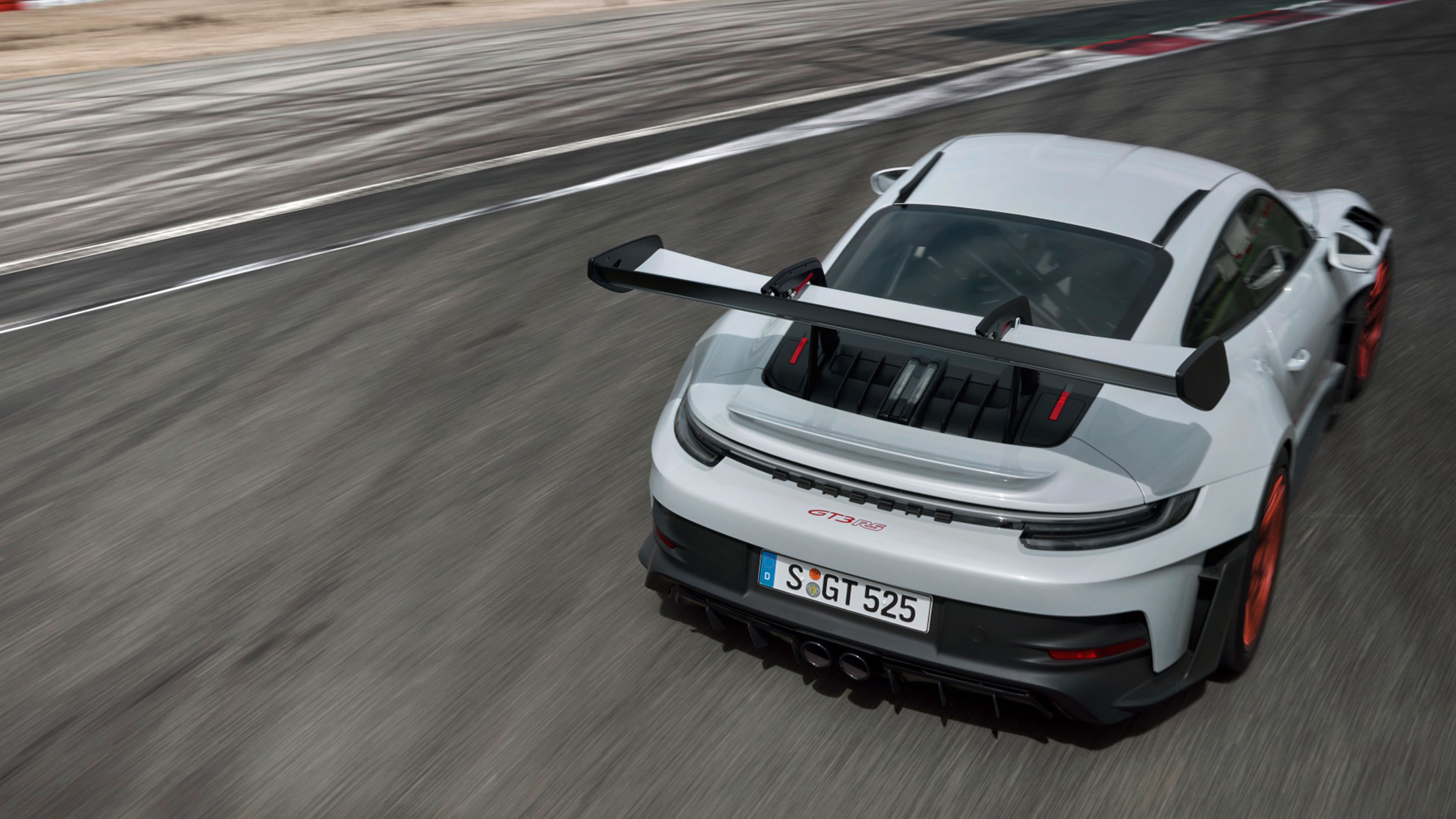 Form follows function.
Headwind is one of the biggest challenges on the way to fast lap times. The new 911 GT3 RS uses air flow optimally with every component. The setup for the best possible drag coefficient is completed by a two-piece rear section with enlarged air vents, rear spoiler with rear ventilation and a diffuser.
Next chapter
Lightweight construction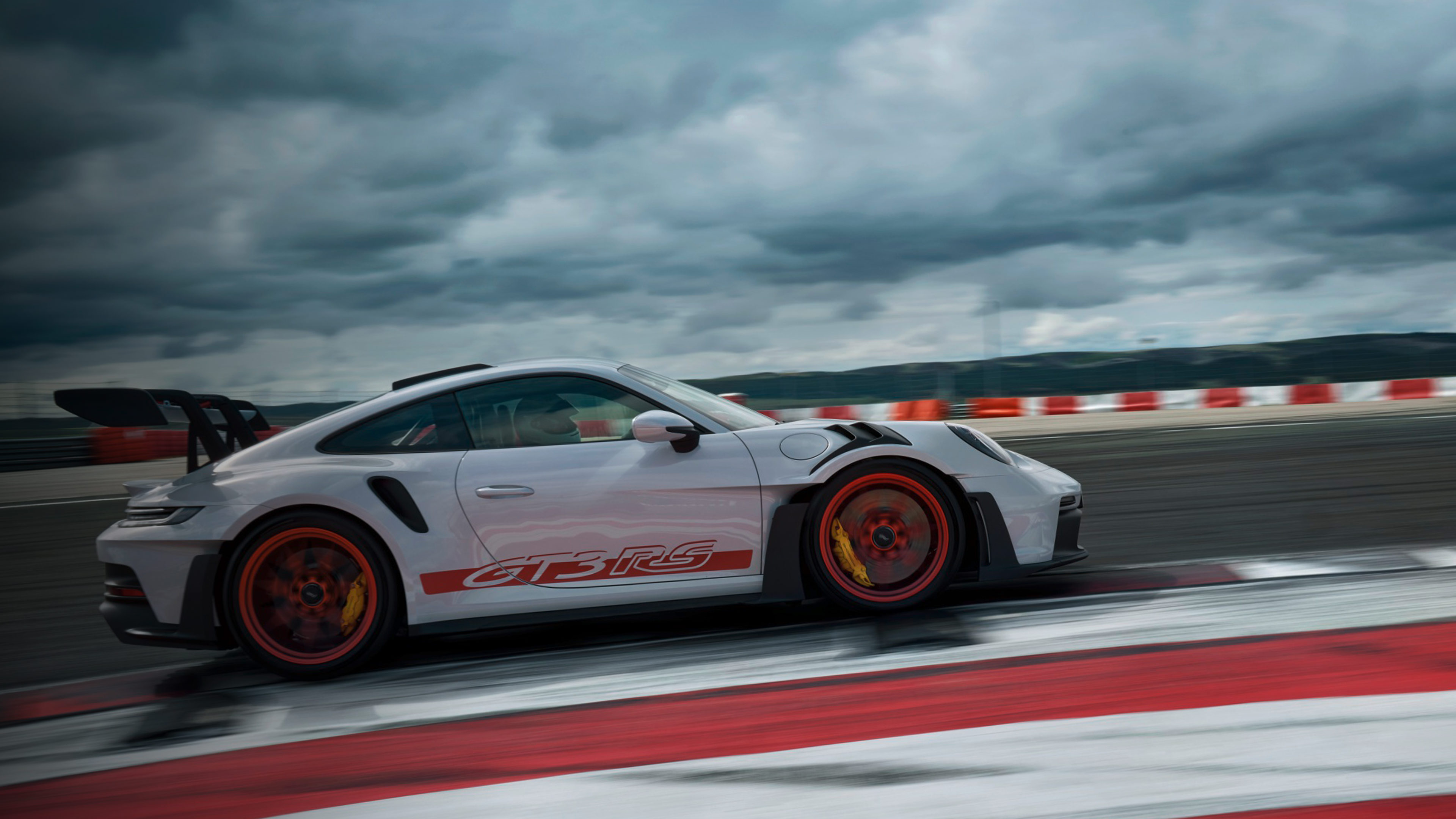 Thrilling lightness.
The highest maxim in lightweight construction: reduce to the maximum. The new 911 GT3 RS also remains true to this motorsport philosophy – despite the significantly expanded and further improved equipment compared to its predecessors, including the active aerodynamics, wider wheels and tyres, wider body and more extensive adjustment options for the chassis in different driving modes.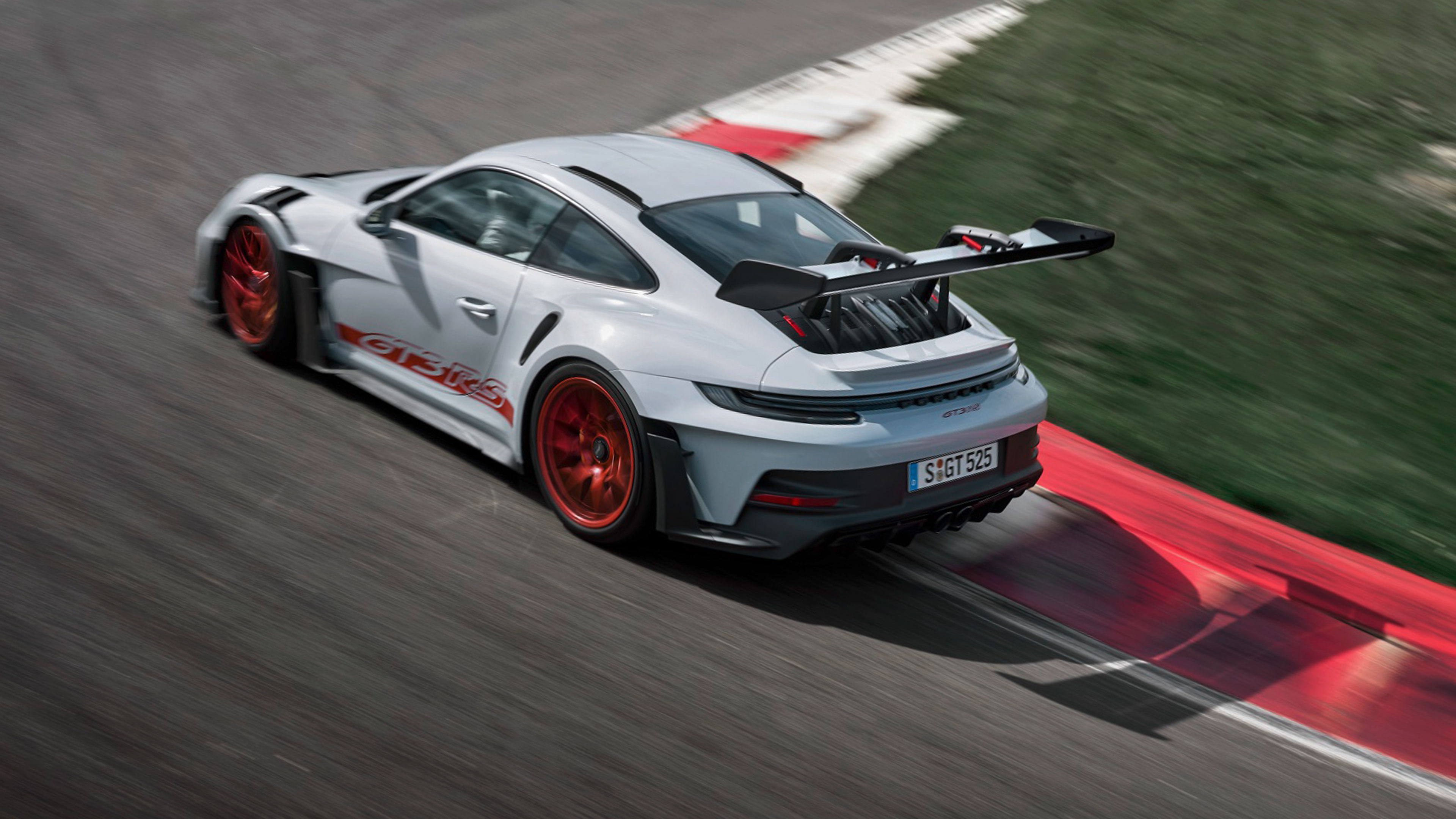 The consistent use of carbon fibre reinforced plastic (CFRP) enables an unladen weight of just 1,450 kg. The wings, front lid in a specific RS shape and roof are all made of motorsport-tested materials. The CFRP rear wing with active aerodynamics, CFRP doors for optimised wheel arch vents, and aluminium and magnesium lightweight forged wheels also yield significant advantages on the race track.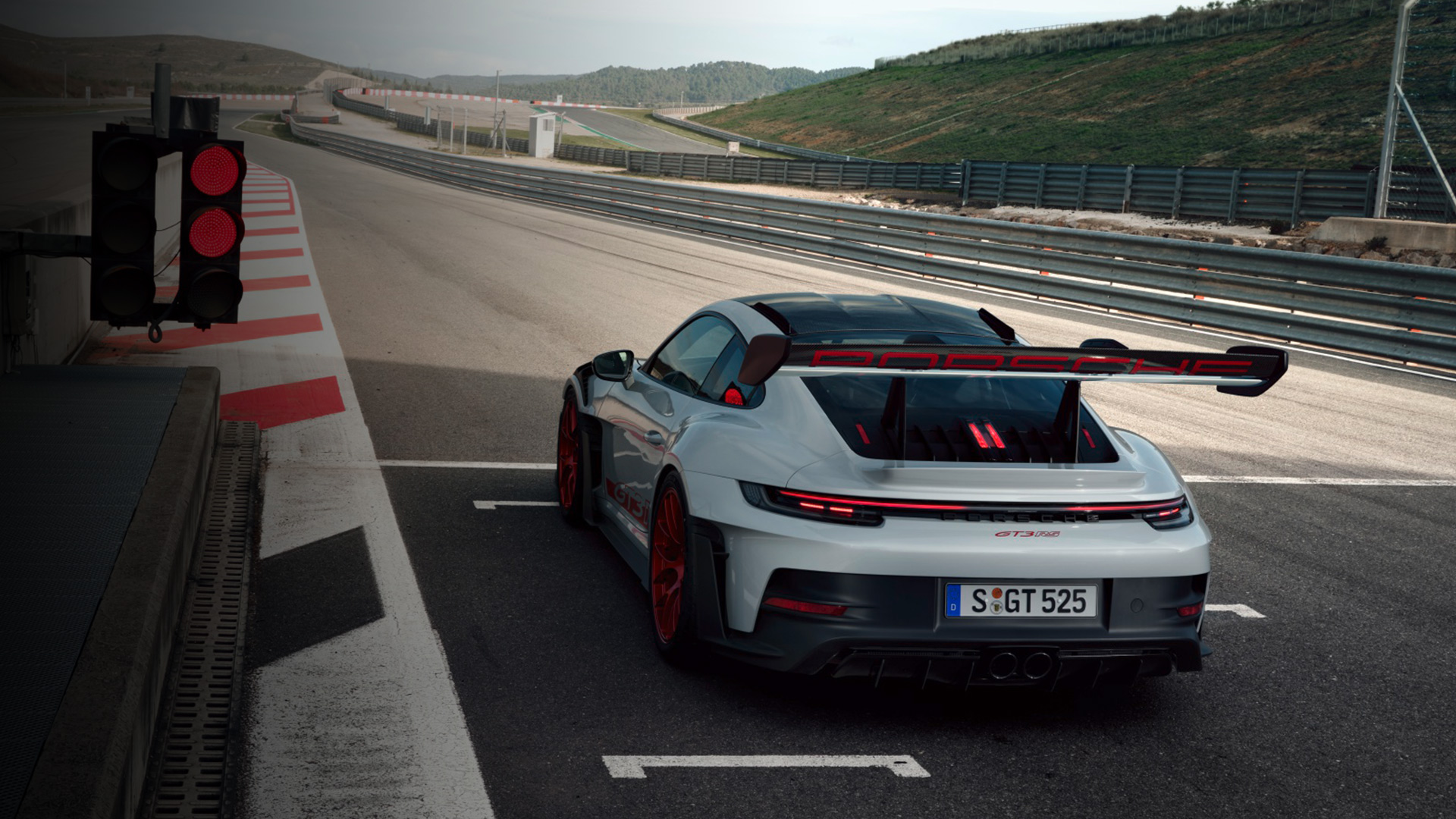 Exterior.
In a battle for thousandths, every gram counts. The optional Weissach package reduces the weight by just under 15 kg. The front lid, roof and top half of the exterior mirror in carbon-weave finish (high-gloss) also visually heighten the motor sport character of the new 911 GT3 RS – just like the rear wing, which is partly made in a carbon-weave finish (high-gloss), and large 'PORSCHE' lettering.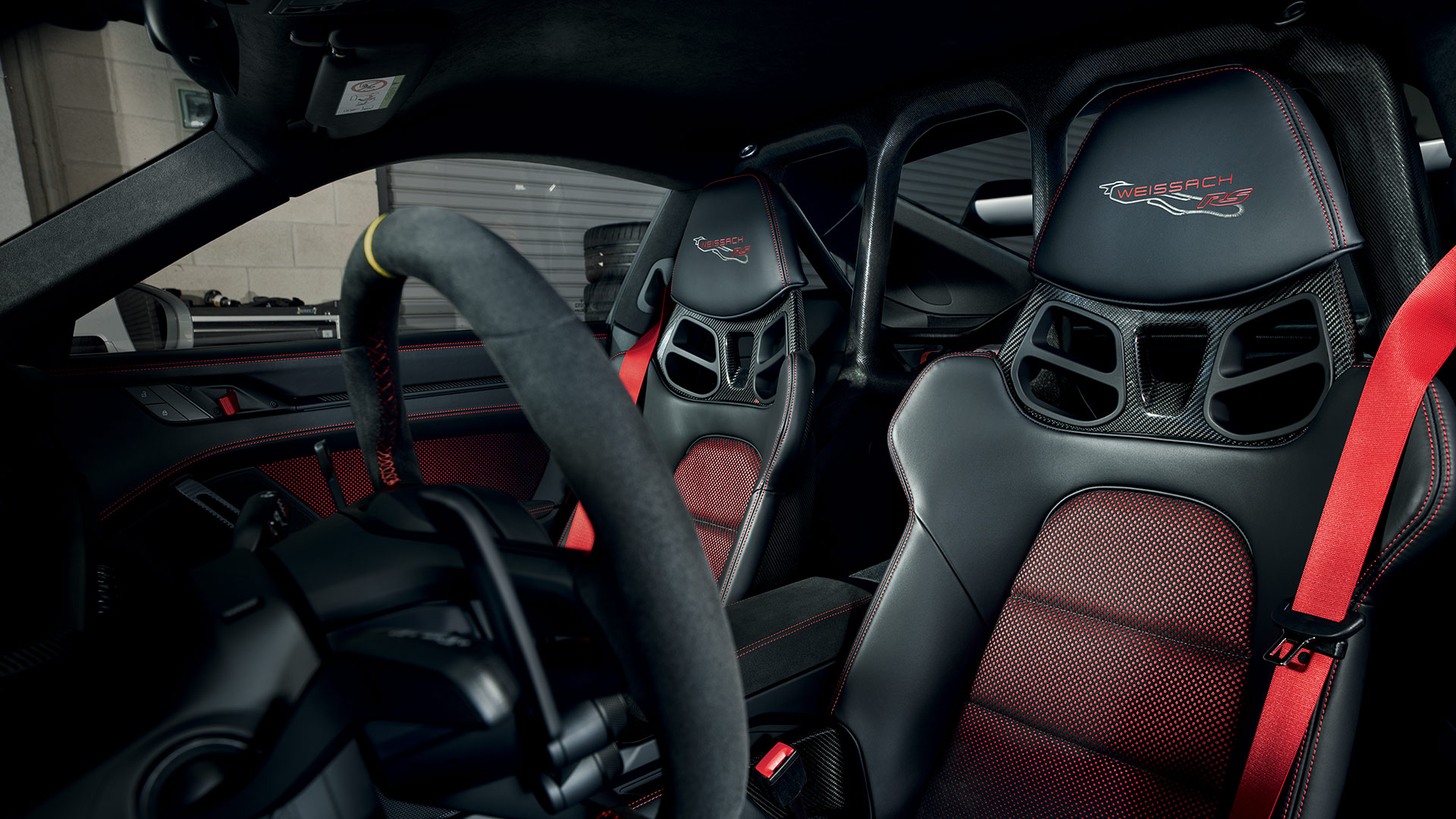 Interior.
The rear roll cage in a carbon-weave finish (satin) offers stylish, racing level protection. The fine tuning continues with the lightweight PDK gearshift paddles made of magnesium, a dashboard upper section covered with black Race-Tex, interior elements in a carbon-weave finish (satin), a badge with the 'Weissach RS' logo on the passenger side and headrests with the 'Weissach RS' embroidered logo.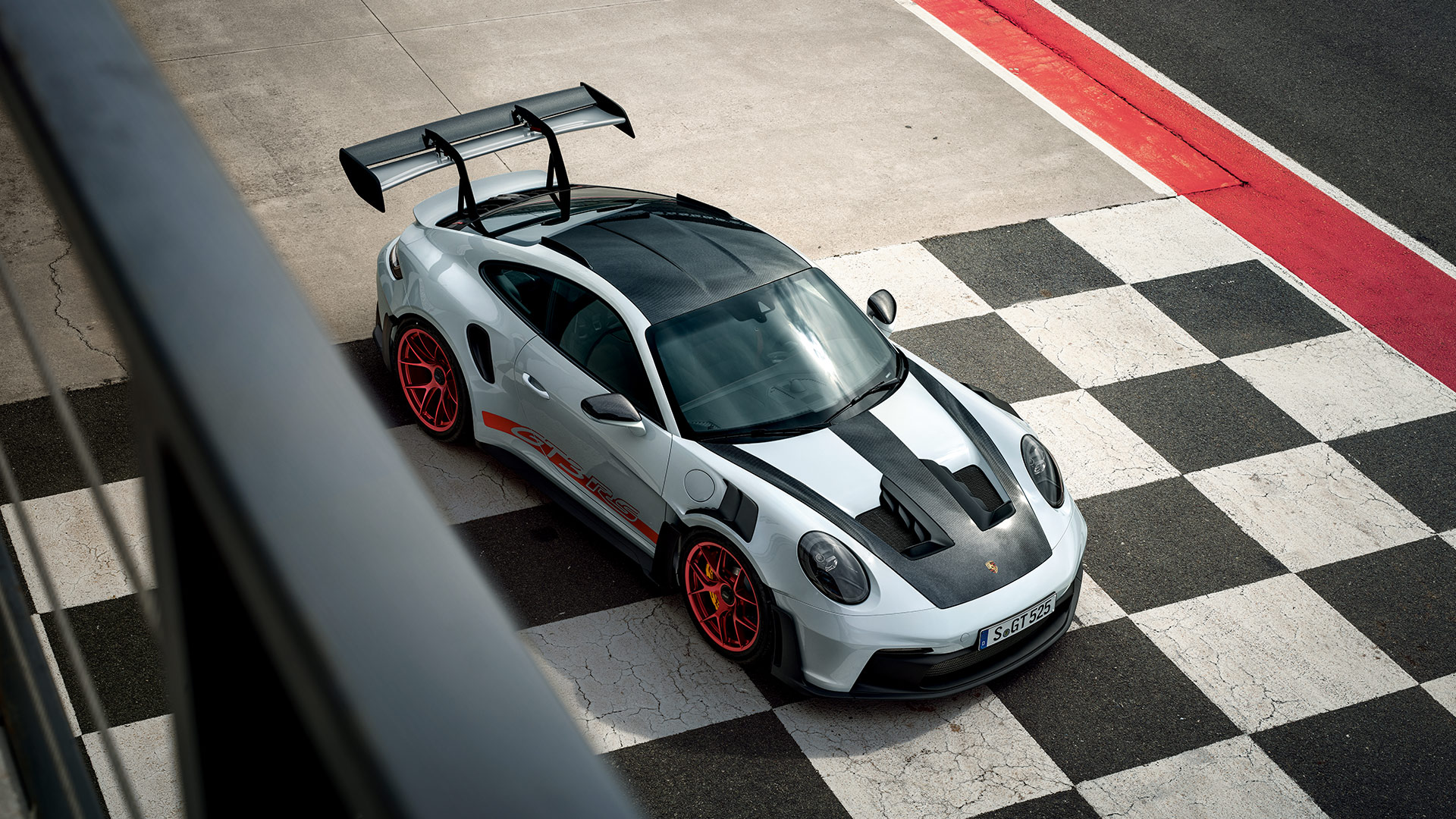 Chassis.
The stabilisers on the front and rear axles, coupling rods on the rear axle and the carbon-fibre reinforced plastic (CFRP) shear panel also provide the ideal weight on the way to new personal bests.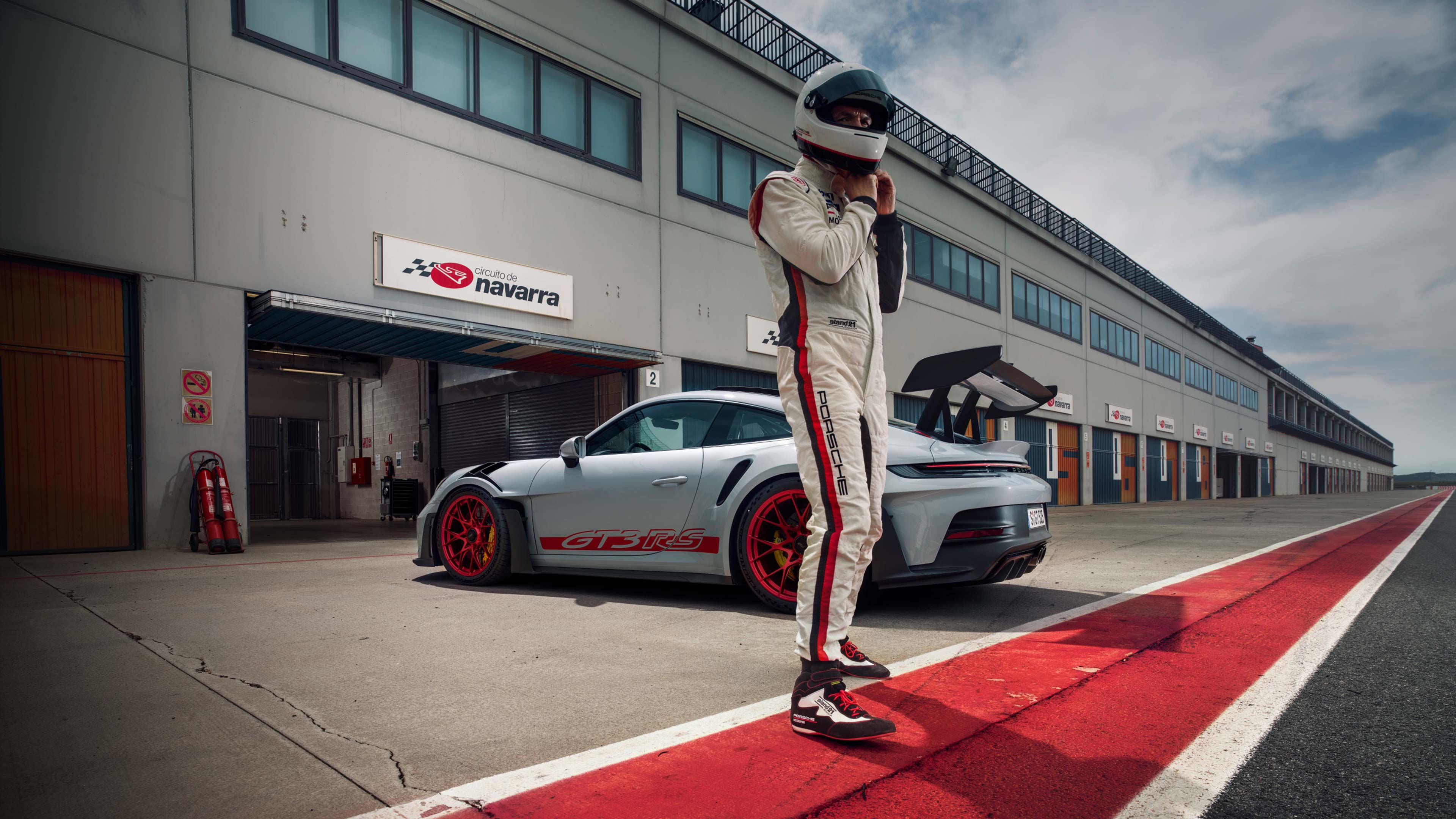 Lightweight and noise-insulated glazing.
The lightweight glazing with laminated glass and acoustic film on the front, door, rear side and rear windows not only optimises the vehicle weight, but also improves the interior acoustics – by minimising external noise such as rolling and wind noise.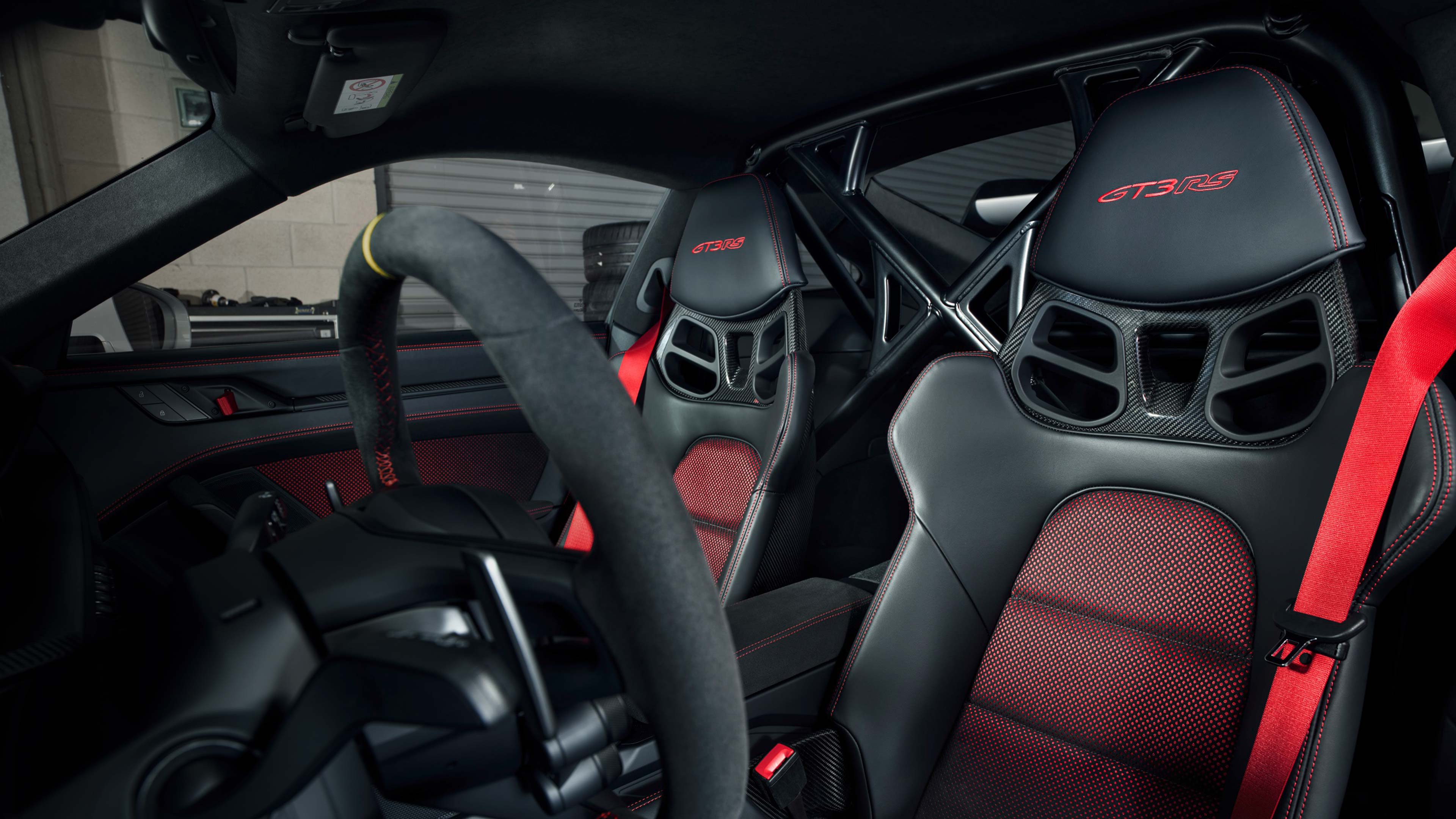 CFRP full bucket seats.
The lightweight full bucket seats made of carbon-fibre reinforced plastic (CFRP) in a carbon-weave finish (satin) already offer a high level of lateral support as standard. They also feature impressive seat covers in Black leather, seat centres with continuous perforation in Black Race-Tex with Red or Silver contrasting colour.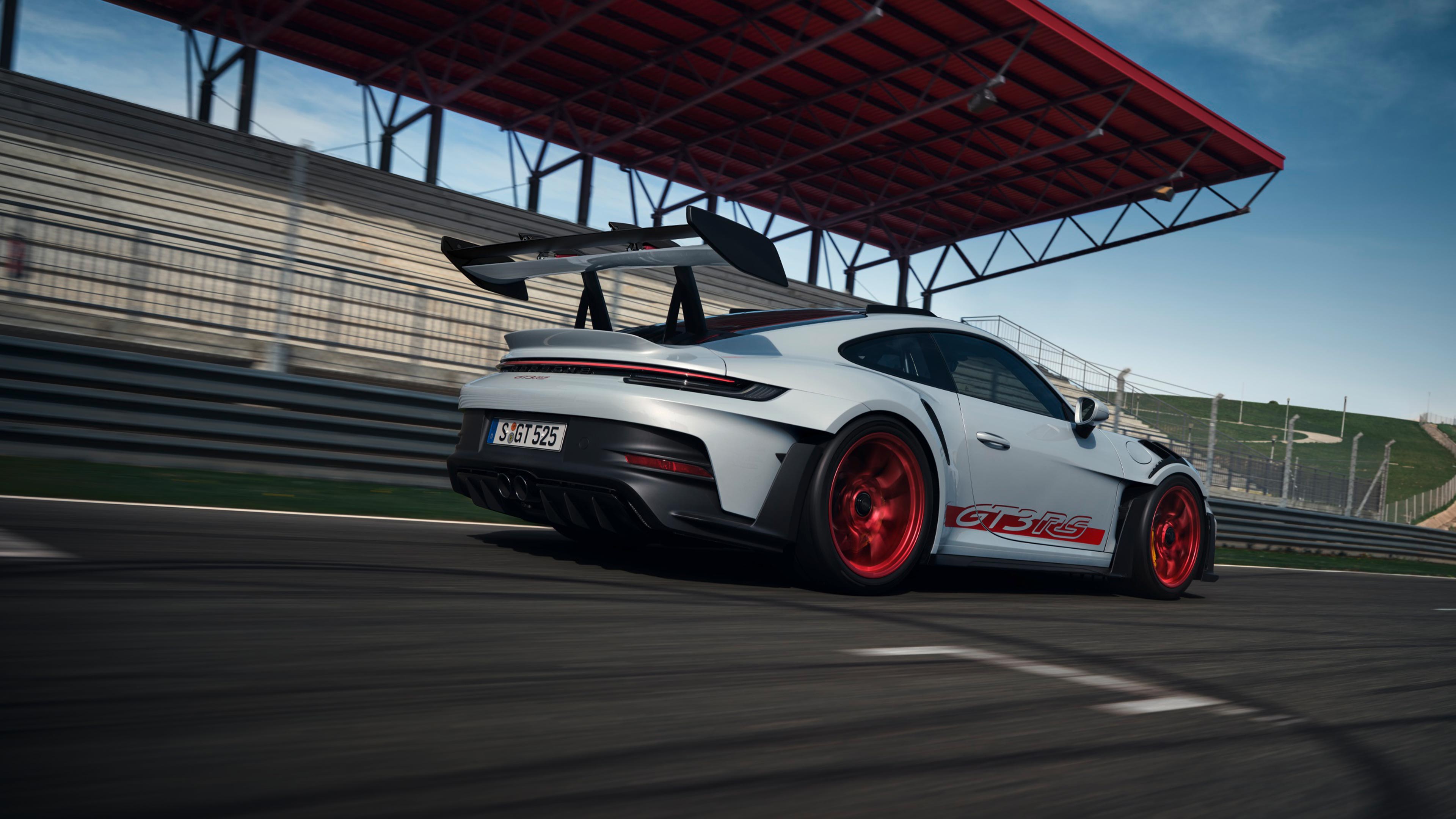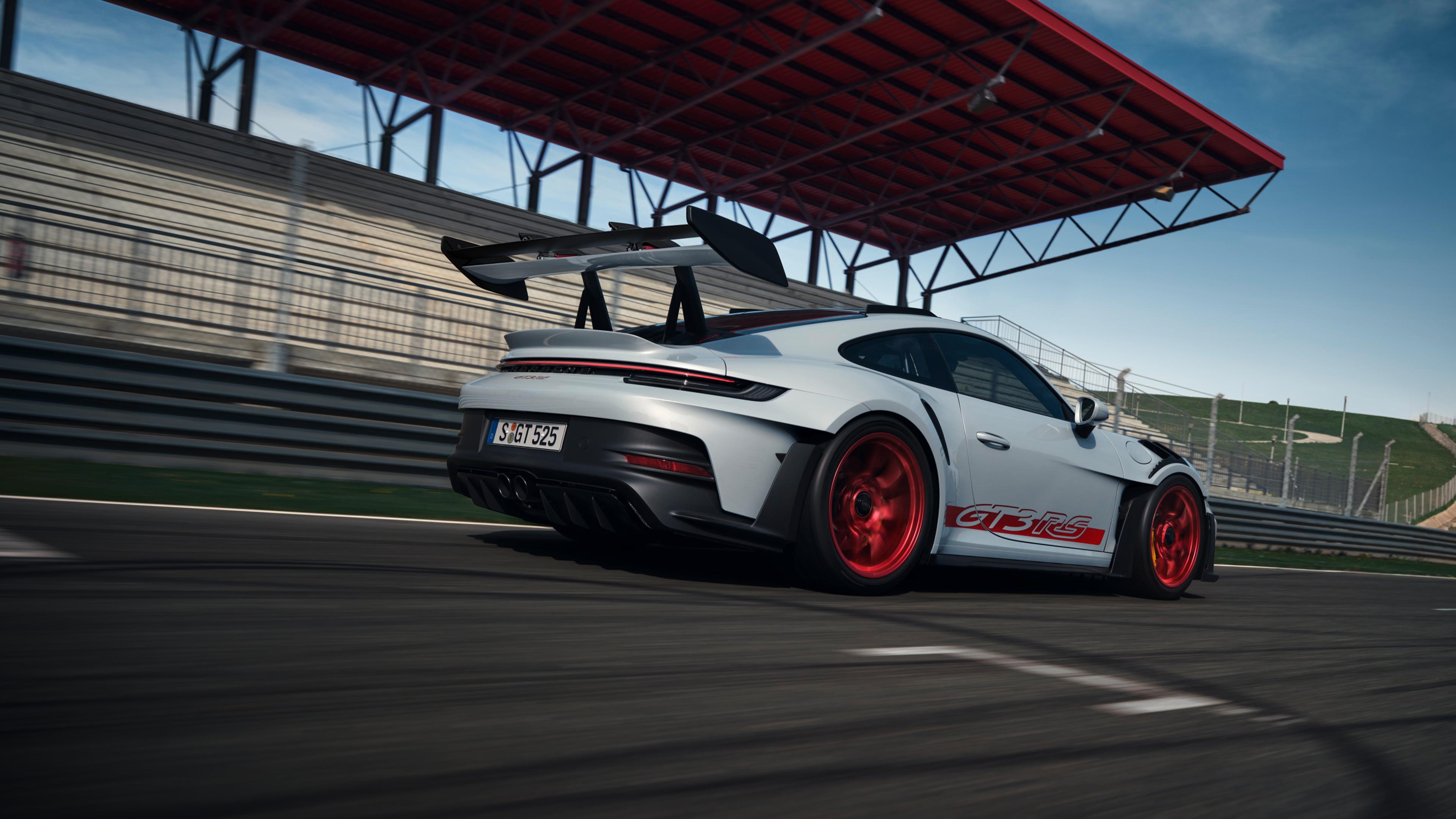 Maximum performance.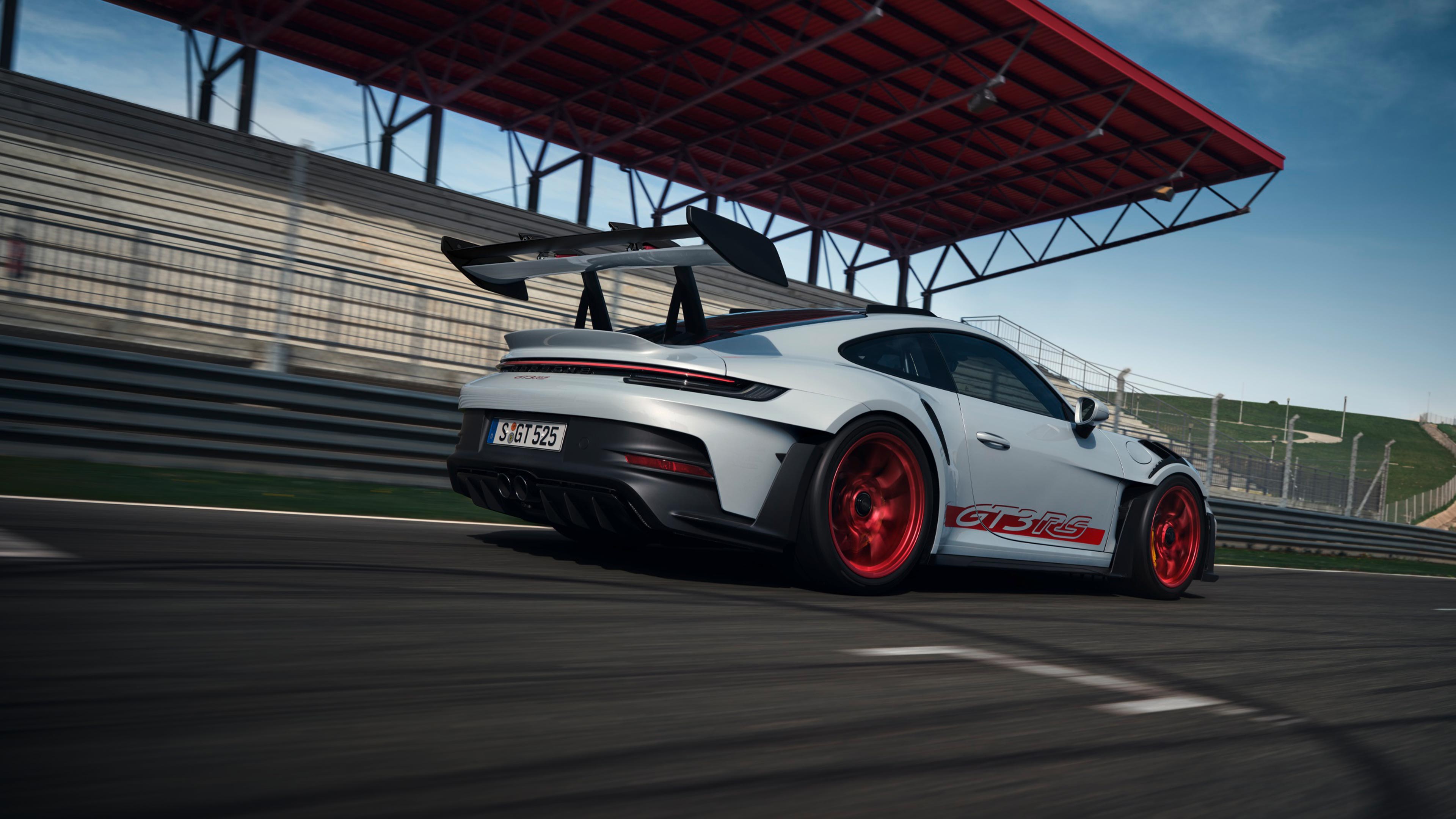 As soon as the lights give the starting signal, the new 911 GT3 RS delivers unbelievable performance of up to 465 Nm on the circuit. 386 kW (525 PS) catapult you from 0-100 km/h in 3.2 seconds, with no time to breath until reaching a top speed of 296 km/h. The lightweight stainless steel sports exhaust system ensures an unfiltered sound experience up to a maximum of 9,000 rpm.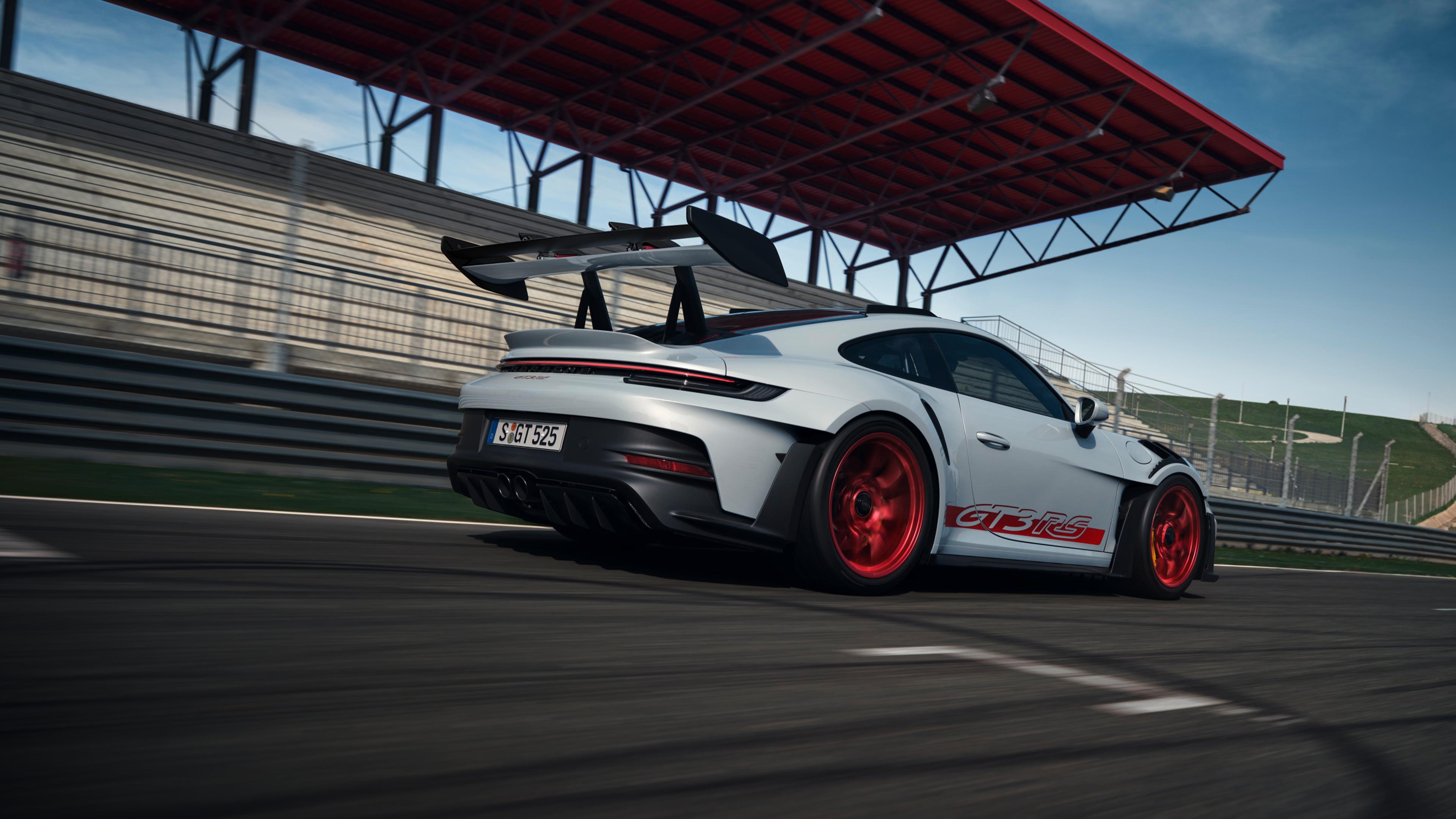 Modern motorsport technology sets the tone in the 4.0-litre high revving naturally aspirated engine: 4-valve technology including rocker arms and rigid valve drive, as well as forged pistons and titanium connecting rods. The oil supply is optimised and ready for high lateral forces, thanks to dry sump lubrication with a separate engine oil tank.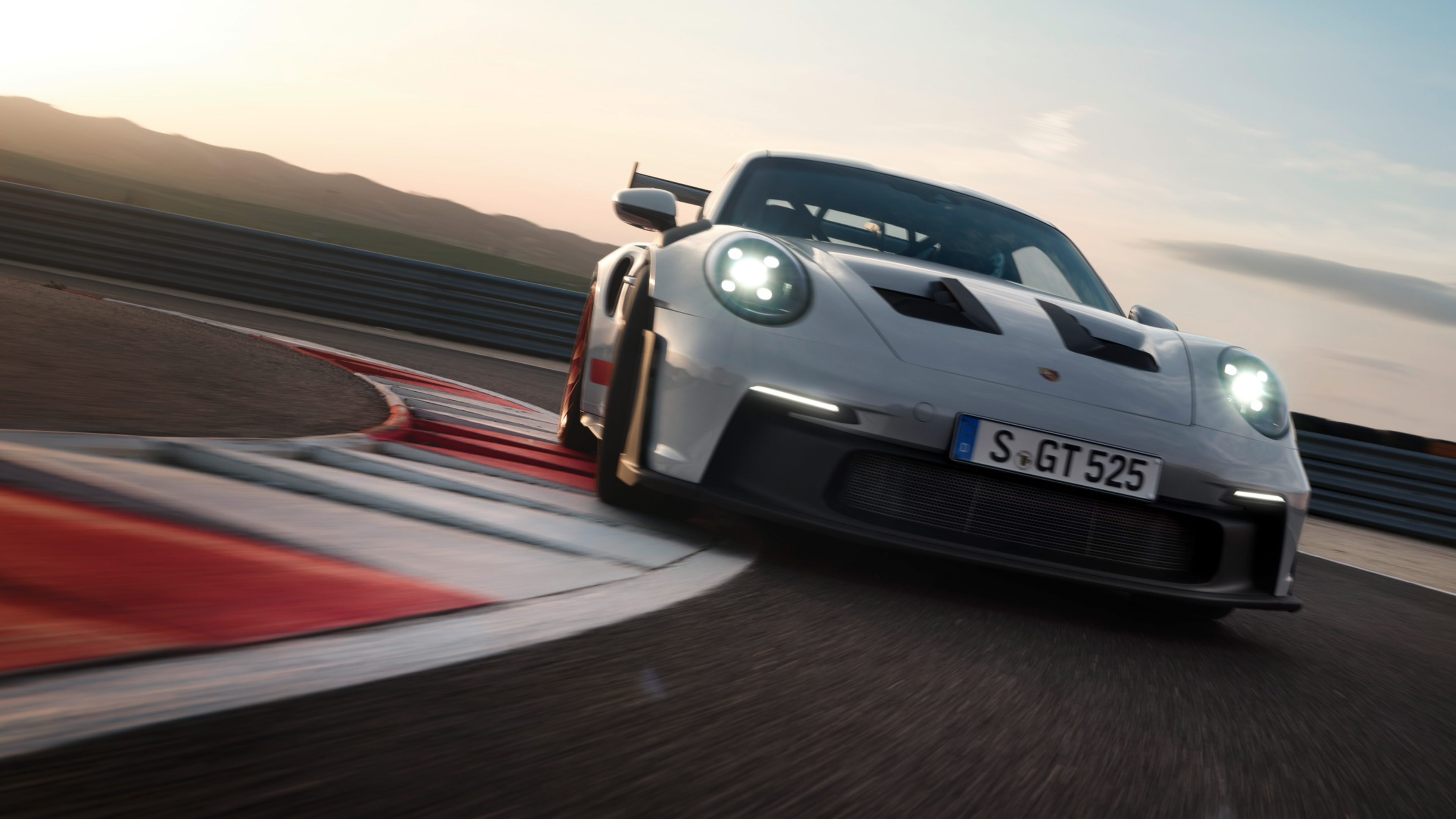 Increased antidive.
Ambitious drivers know that precise deceleration is just as important as powerful acceleration. Improved aero balance when braking is achieved by an optimised chassis geometry reducing the deflection of the front axle.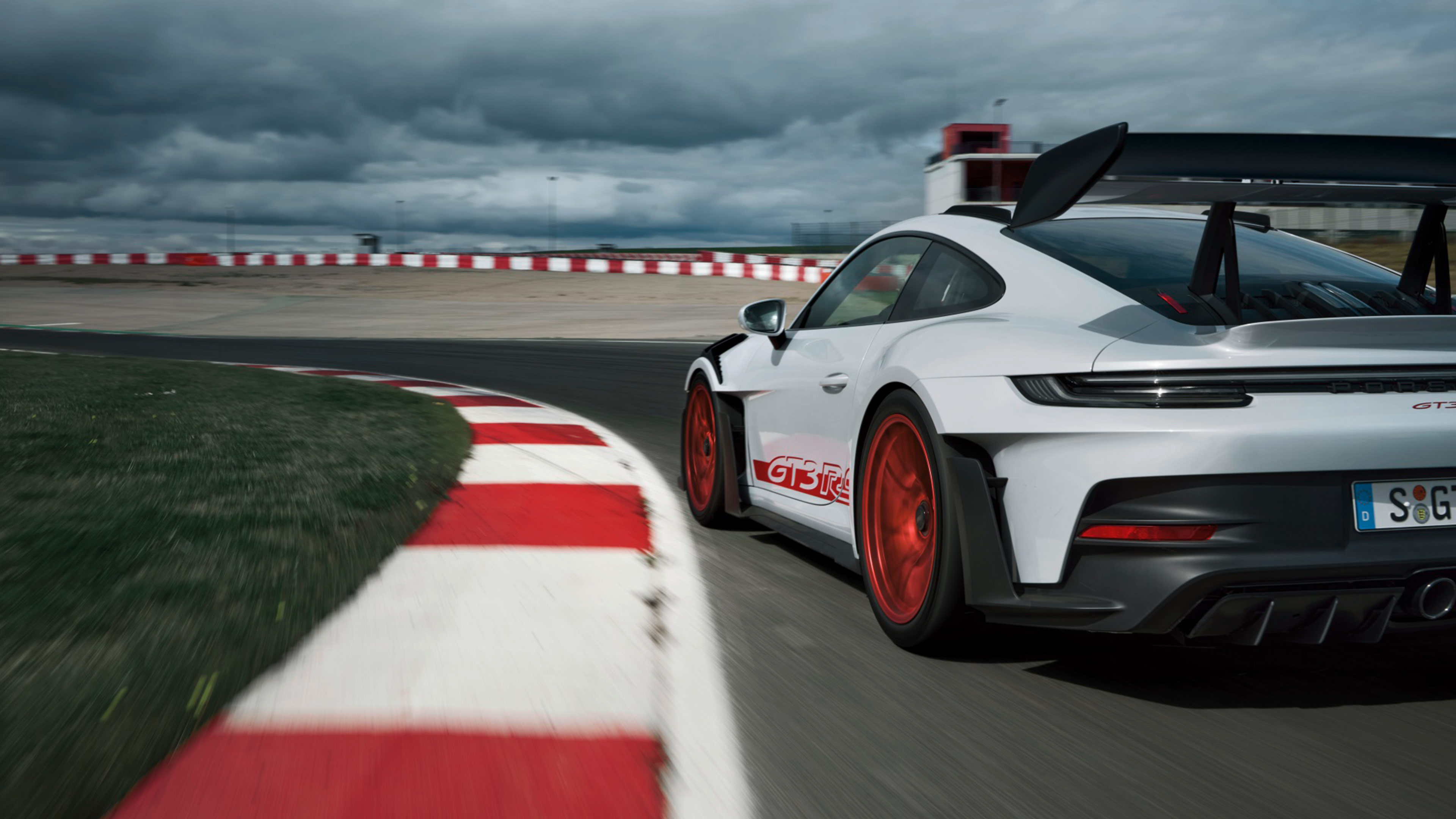 Lateral dynamics.
The new 911 GT3 RS reduces the need to brake before bends and chicanes to a minimum. The sports tyres with 275/35 R20 at the front and 335/30 R21 at the rear, the new wider wheels and wider track provide more lateral dynamics and higher cornering speeds.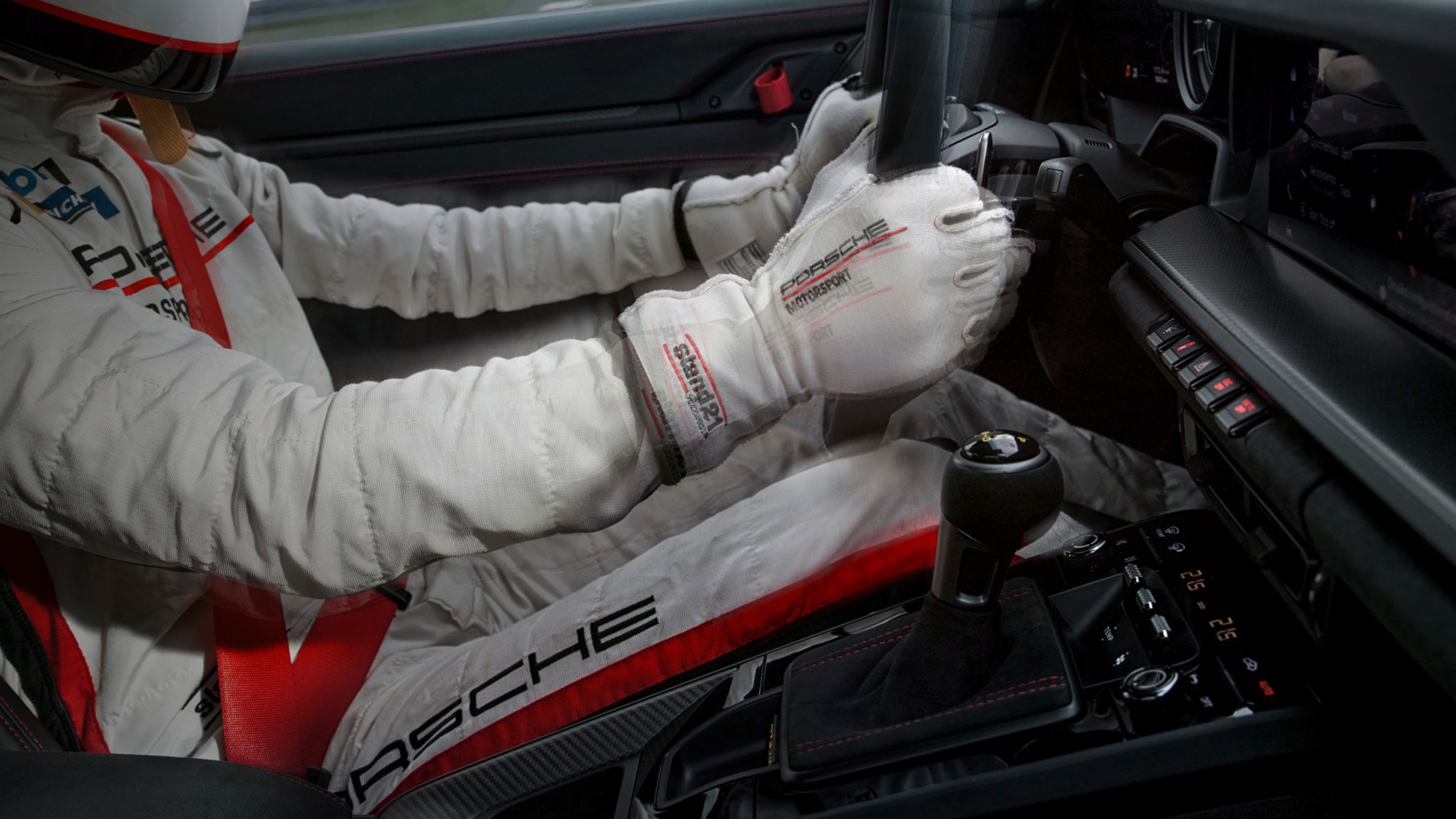 More robust.
Intense racing demands everything from man and machine. That's why the sporty 7-speed Porsche Doppelkupplung (PDK) is now even more robust on the race track, thanks to a modified bleeding system with an adjusted transmission ratio. After all, you don't want to drive the new 911 GT3 RS in overdrive.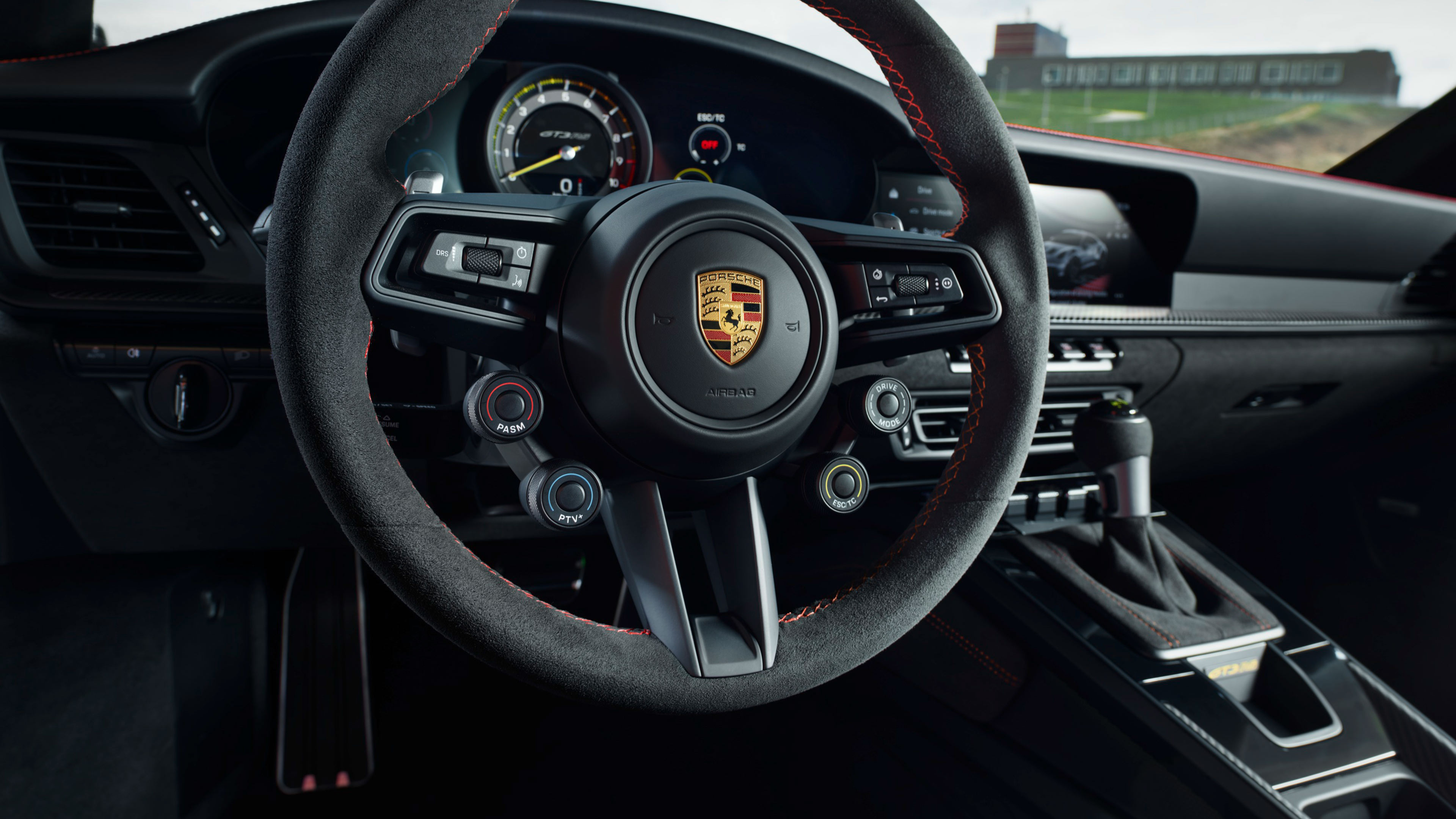 More personalised setup.
Wet asphalt, tight bend combinations, personal driving style: there are many factors to consider in motorsport for an optimal setup. The steering wheel with three additional mode switches now offers even more flexibility for adapting chassis control systems like the PASM, PSM and PTV Plus to support the driving conditions. Additionally, Traction Control (TC) can also be switched off and be adjusted in different stages.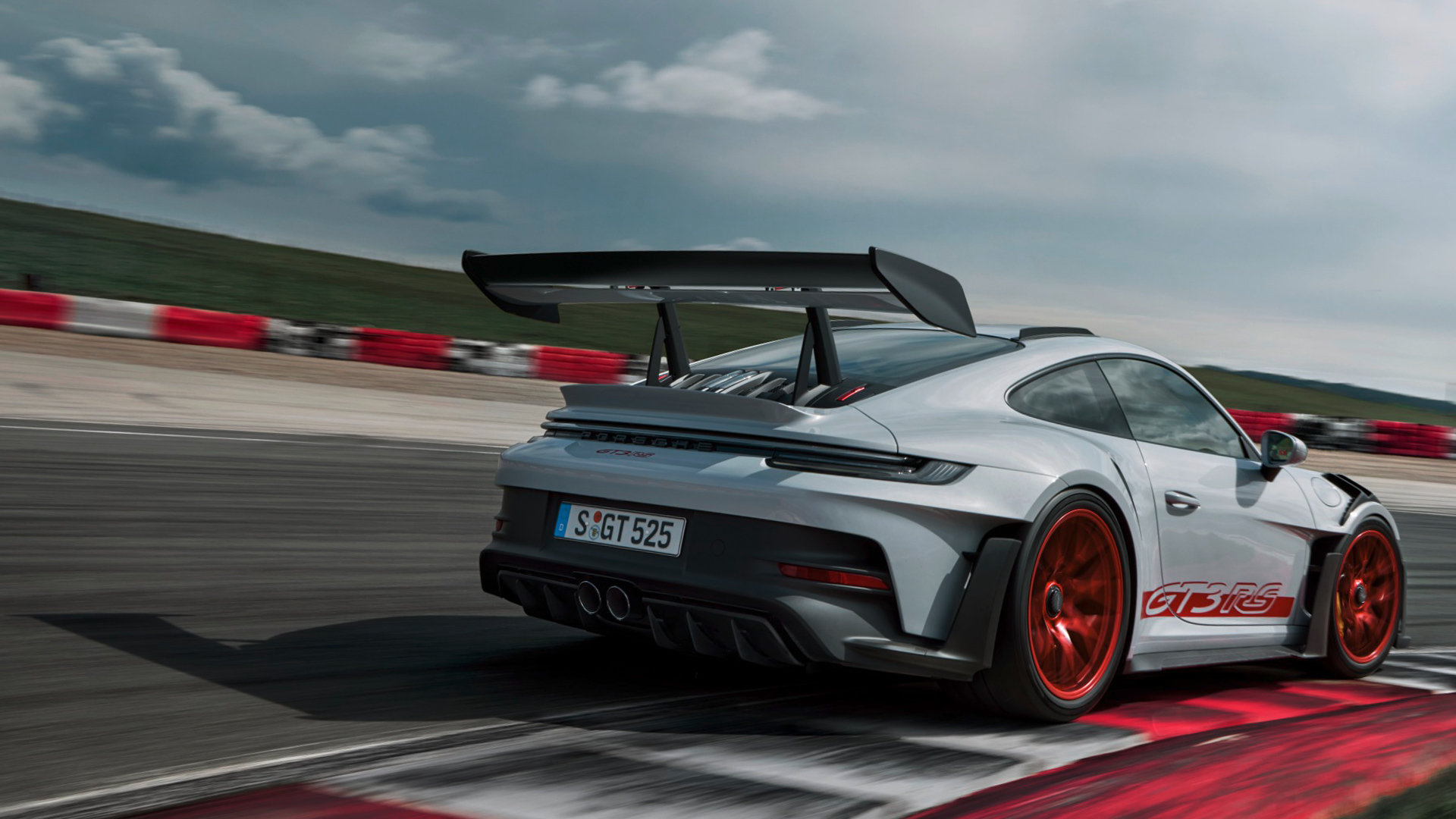 Porsche Active Suspension Management.
The electronic adjustment of the damping control system actively and continuously adjusts the damping force on each wheel, based on current road conditions and driving style. The PASM has two settings: sporty-comfortable and sporty-firm.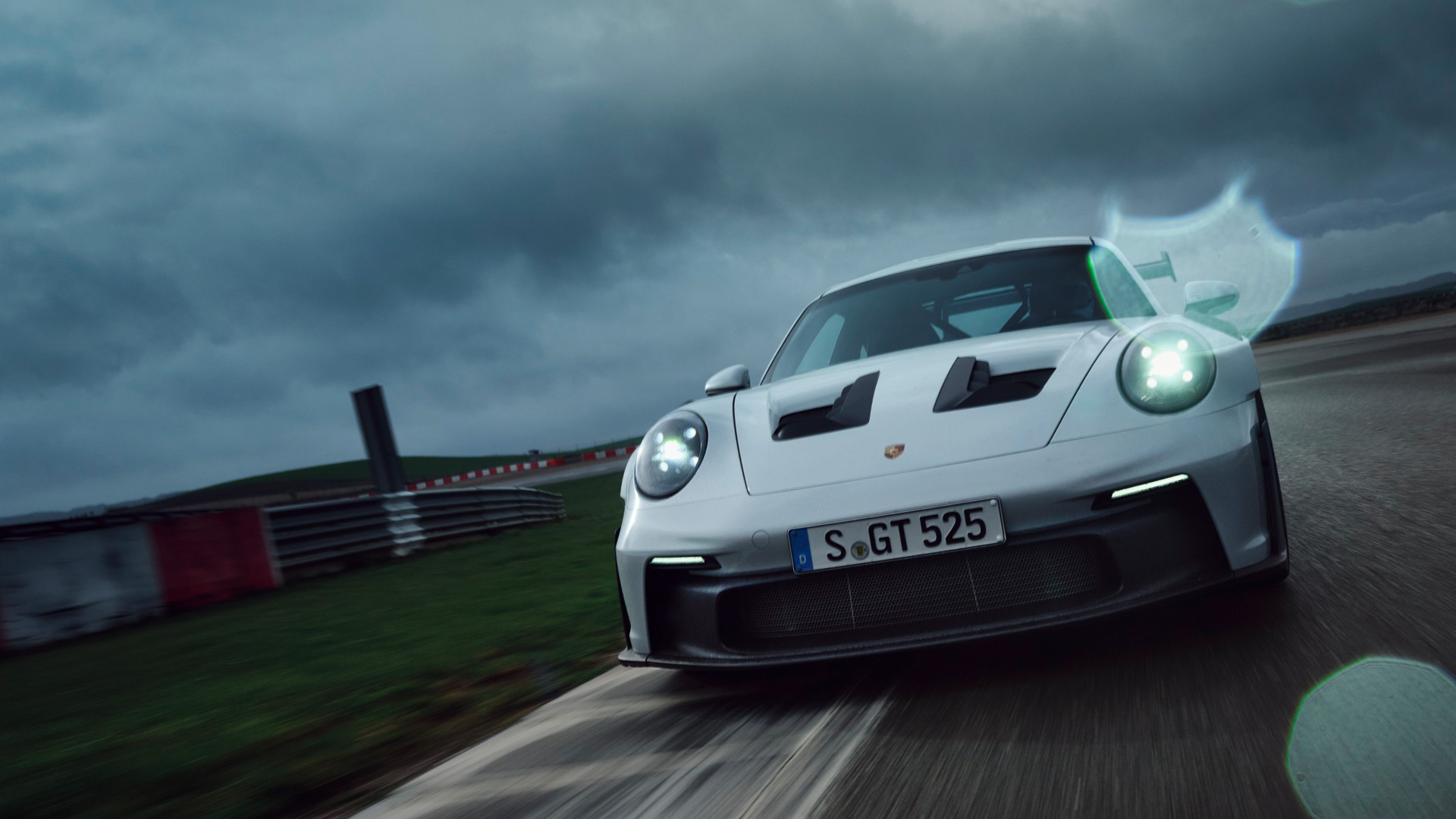 Porsche Stability Management.
PSM is an automatic control system for maintaining stability at the limits of dynamic driving performance. The system interventions can be switched off completely in two stages, for intentionally sporty handling on the race track.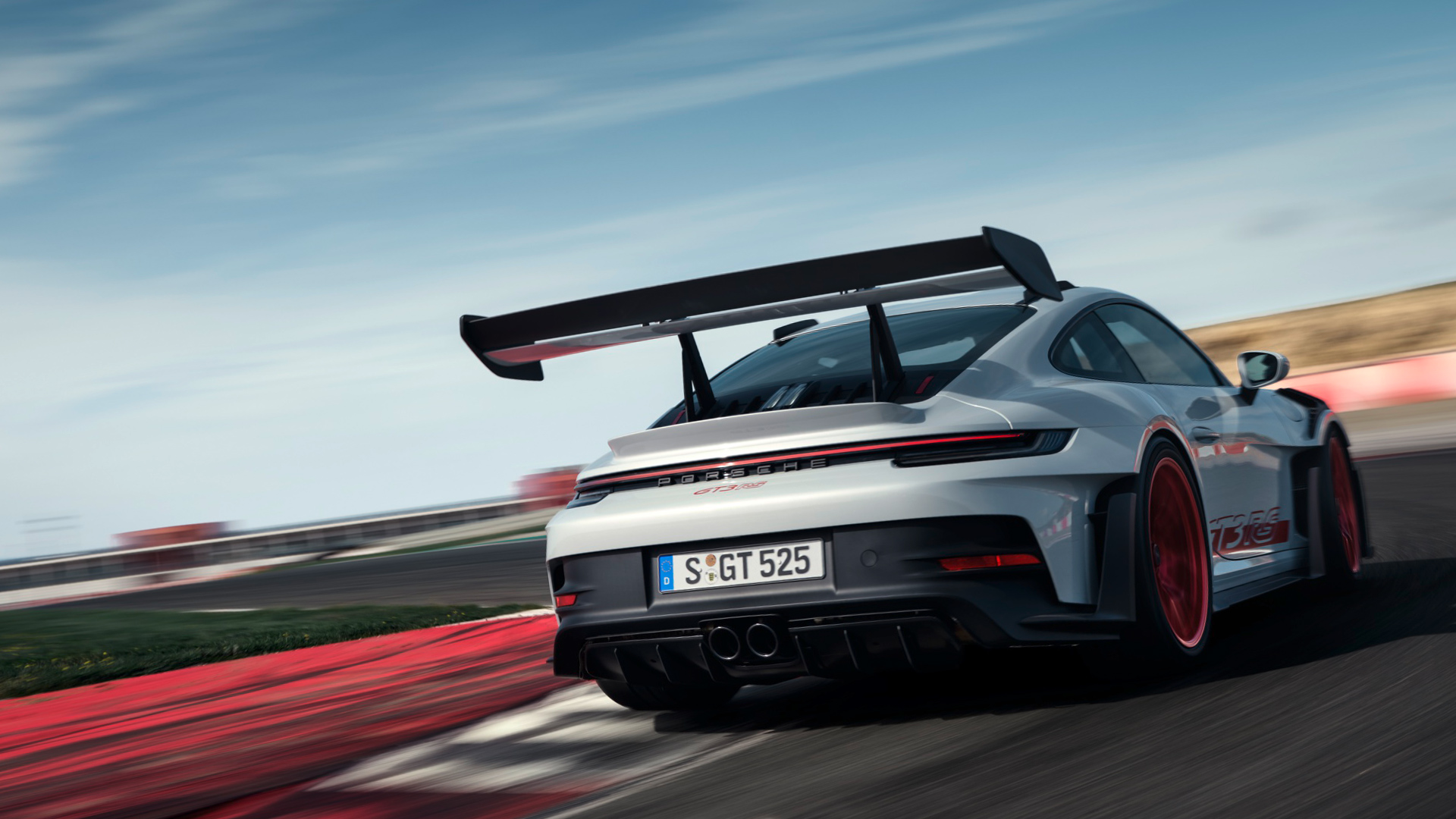 Porsche Torque Vectoring Plus.
In conjunction with 7-speed PDK, PTV Plus operates with an electronically regulated and fully variable rear differential lock with fully variable torque distribution. Resulting in increased traction and improved lateral dynamics and enhanced stability when cornering under load change conditions and when changing lanes.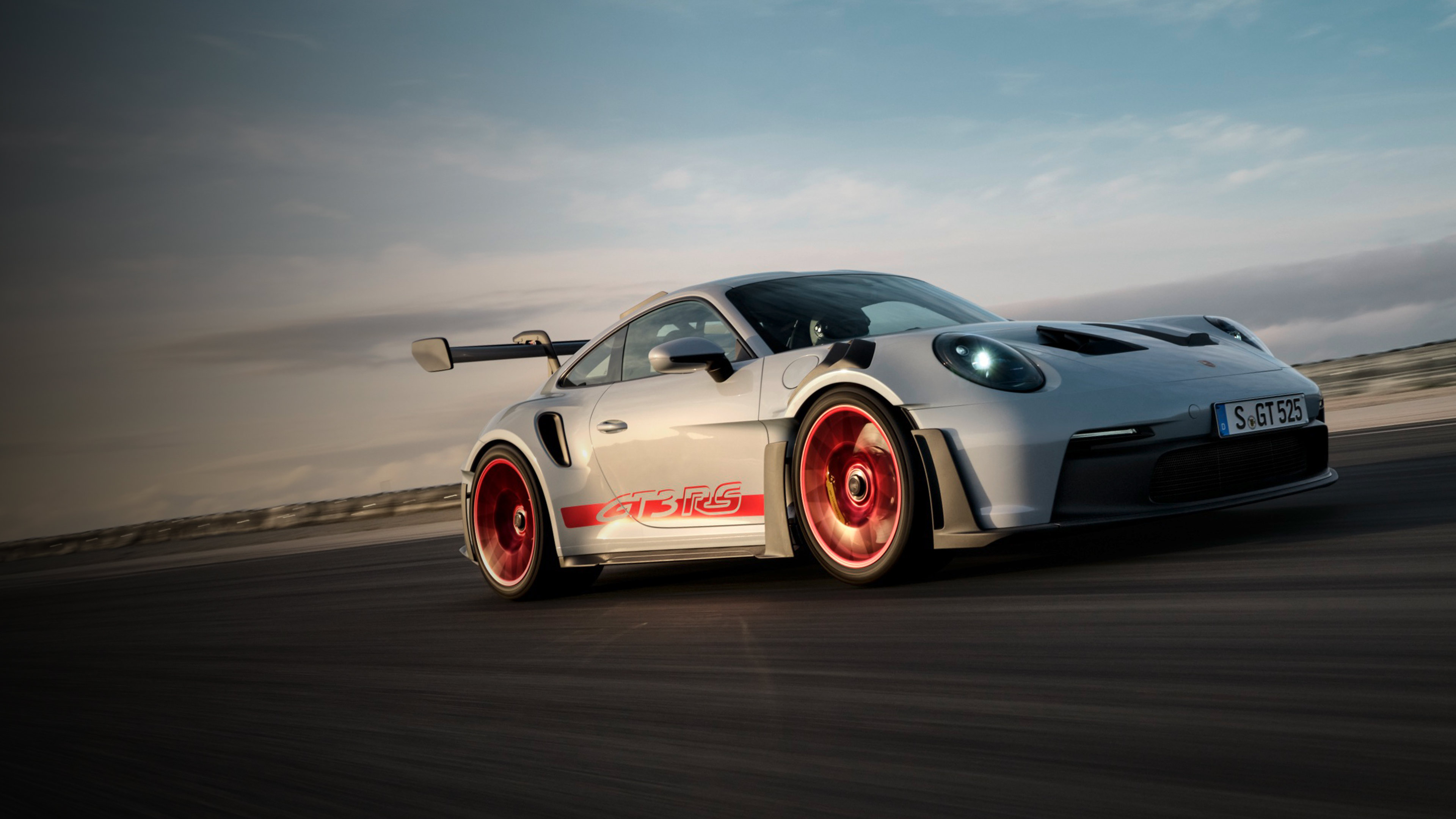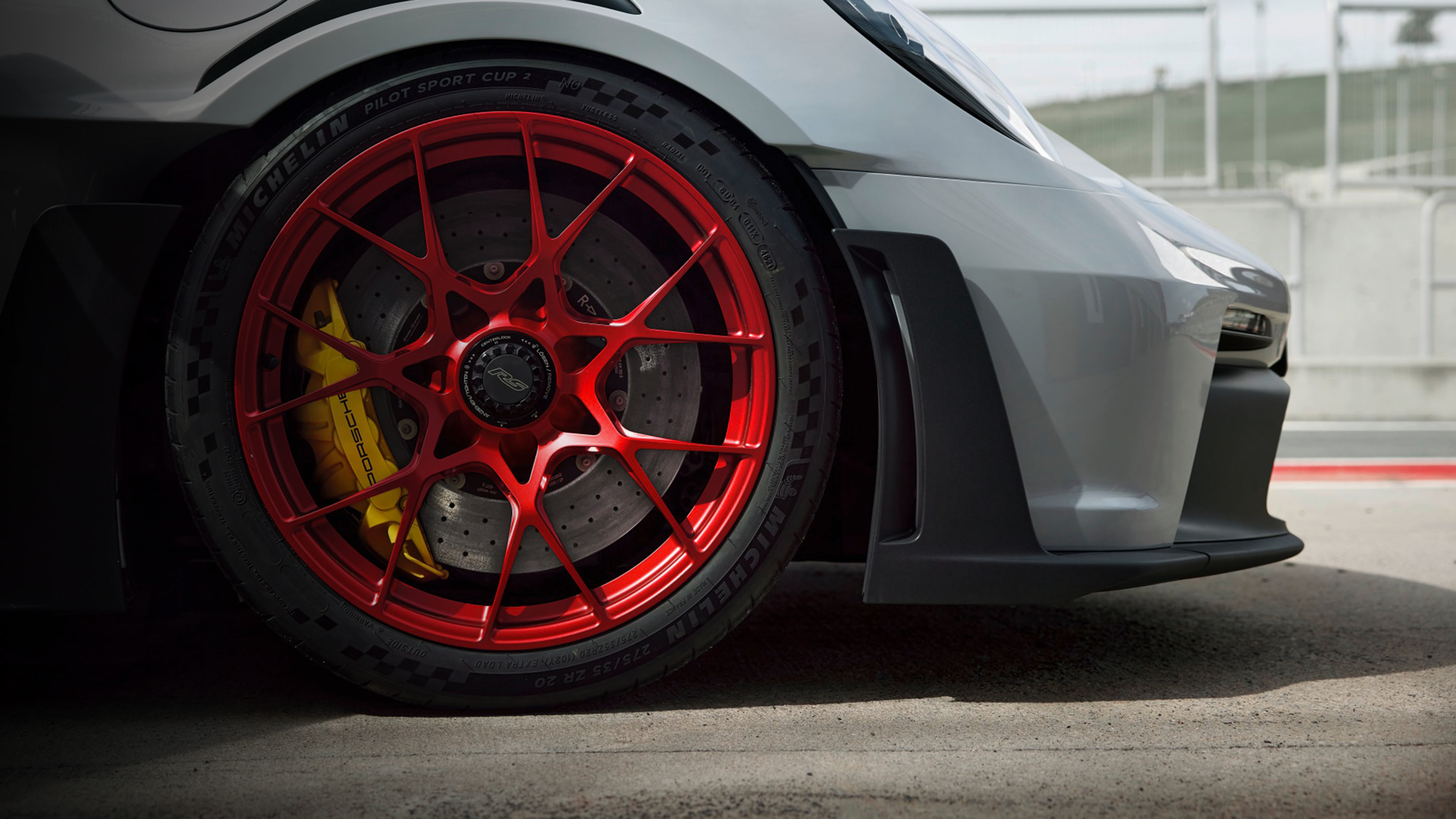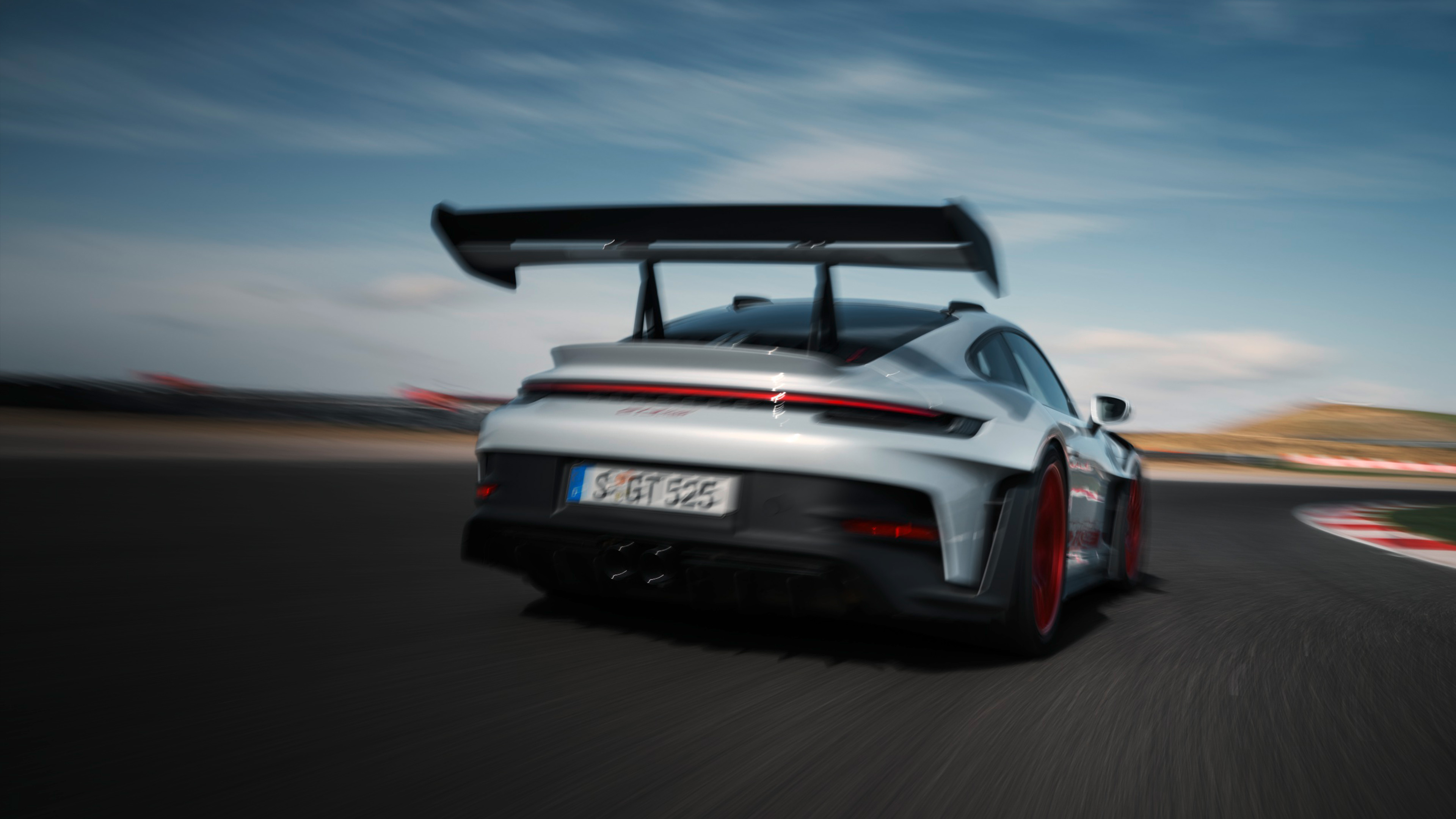 Other performance highlights.
Chassis bearings with ball joints.
For maximum performance. Precise, sharp and direct handling. And a particularly firm connection between the chassis and body. All chassis bearings are equipped with ball joints, further increasing dynamics and precision.
Hydraulic lift system.
The optional front-axle hydraulic lift system raises the front of the 911 GT3 RS by 40 mm. This minimises the risk of grounding on kerbs, ramps and car park entrances when manoeuvring.
Rear-axle steering with sports setup.
At low speeds, the system steers the rear wheels in the opposite direction to that of the front - increasing agility, especially in bends. At high speeds, the system steers the rear wheels in the same direction as the front wheels. This increases stability, especially at high speeds or overtaking on the race track.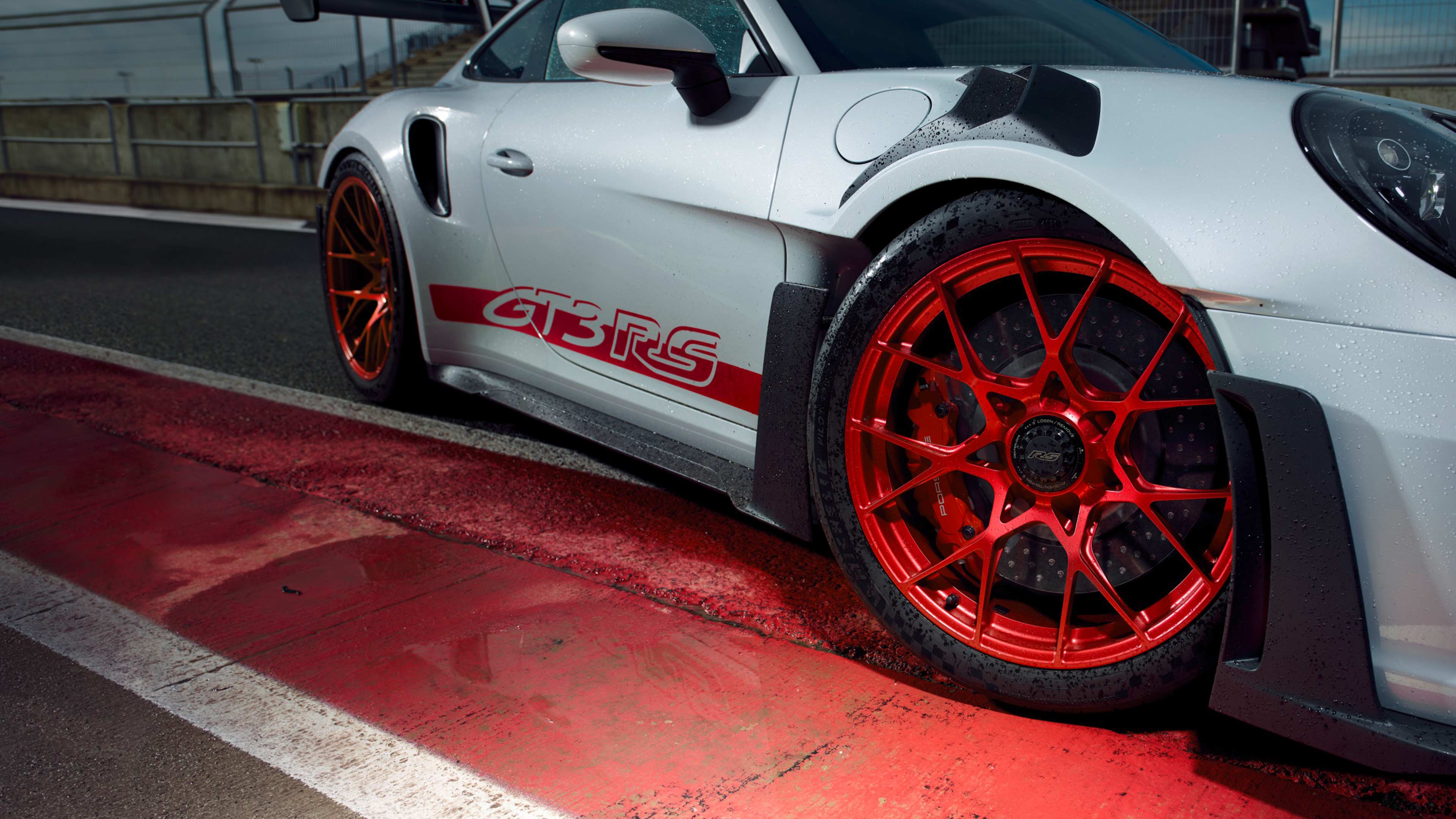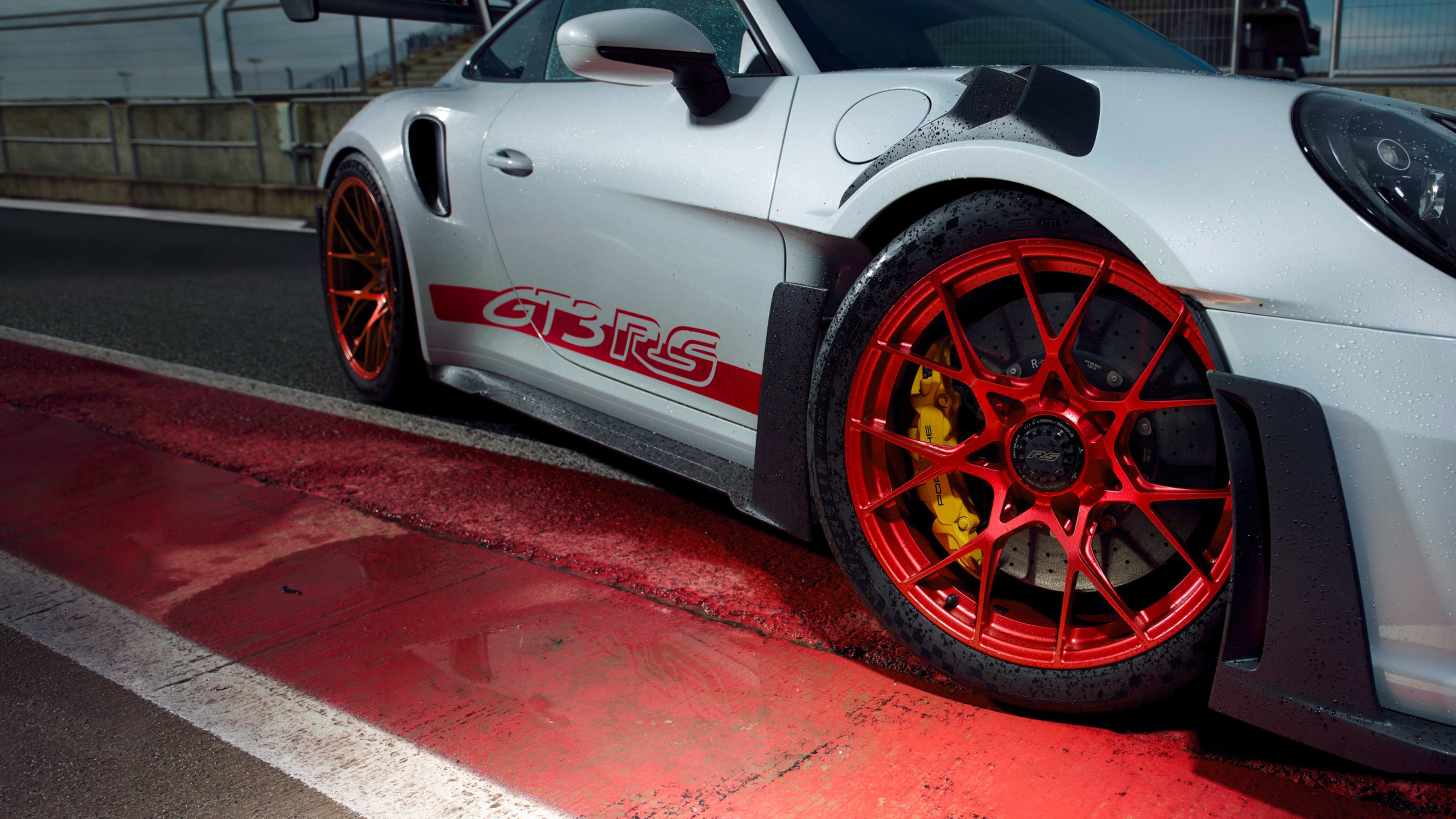 Brakes.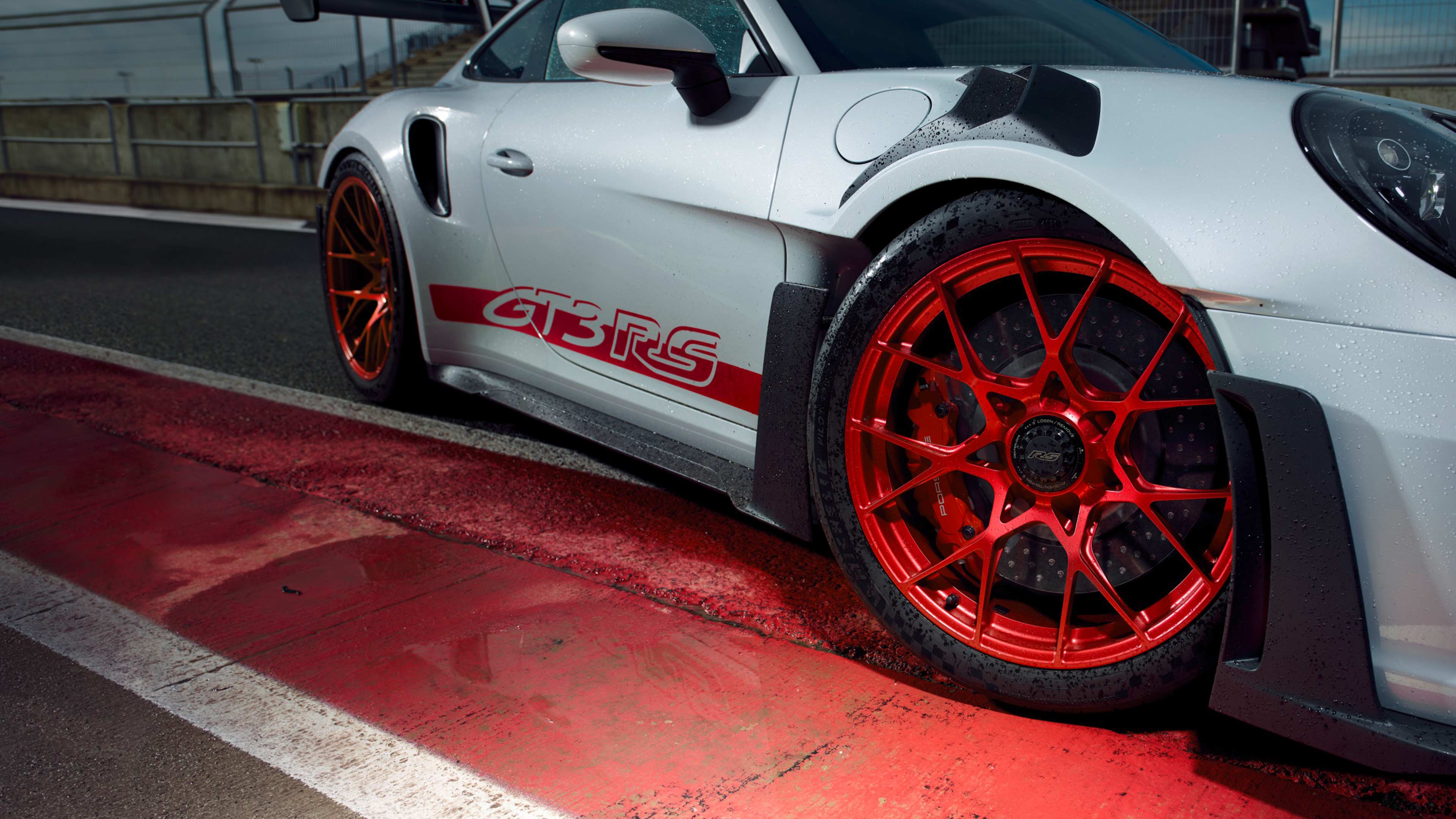 The 911 GT3 RS already has a particularly powerful brake system as standard – which has been optimised again for use on the race track. With 6-piston aluminium brake callipers painted in Red at the front and 4-piston aluminium brake callipers at the rear in monobloc construction for high dimensional stability and very good response and release of the brakes. The lowered and internally vented compound brake discs reduce the unsprung and rotating masses and thus the weight, thanks to their two-part design with aluminium brake chambers.
Porsche Ceramic Composite Brake (PCCB).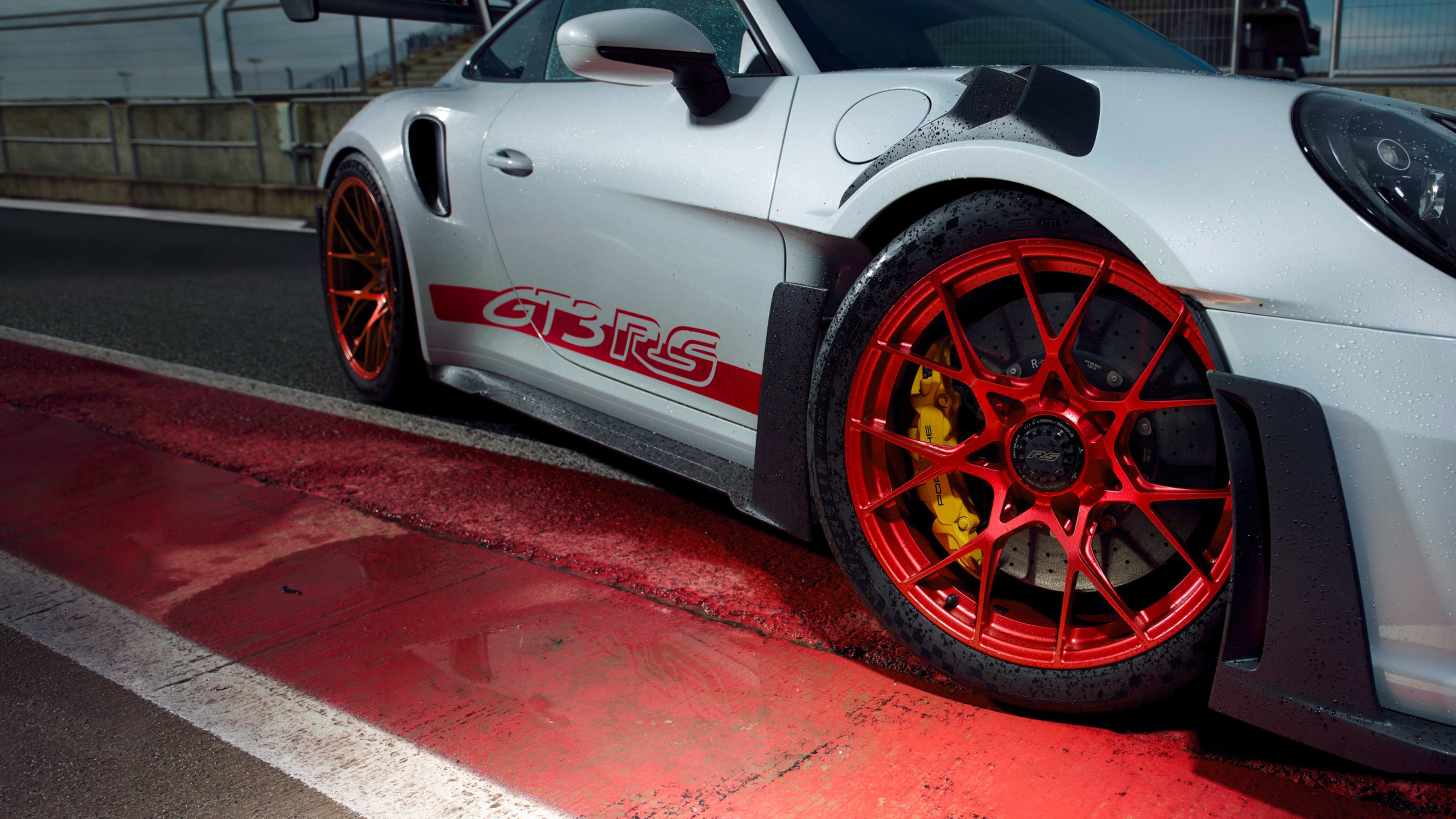 The optional Porsche Ceramic Composite Brake (PCCB) discs are around 50% lighter than cast iron discs of a comparable design. Committed to lightweight construction and motorsport, the perforated ceramic brake discs are 410 mm at the front and 390 mm at the rear in diameter – for enhanced braking performance. Safety is also improved under high-speed braking, thanks to excellent fade resistance.
Next chapter
Interior and infotainment
Interior and infotainment
Interior and infotainment
Winning is a matter of attitude.
The right mindset decides on victory or defeat. With four integrated mode switches, the motorsport-oriented steering wheel offers more diverse setting options than ever before: from DRIVE MODE and Porsche Active Suspension Management (PASM) to Porsche Torque Vectoring Plus (PTV Plus) and Traction Control (TC). For an even more interactive connection between driver and vehicle.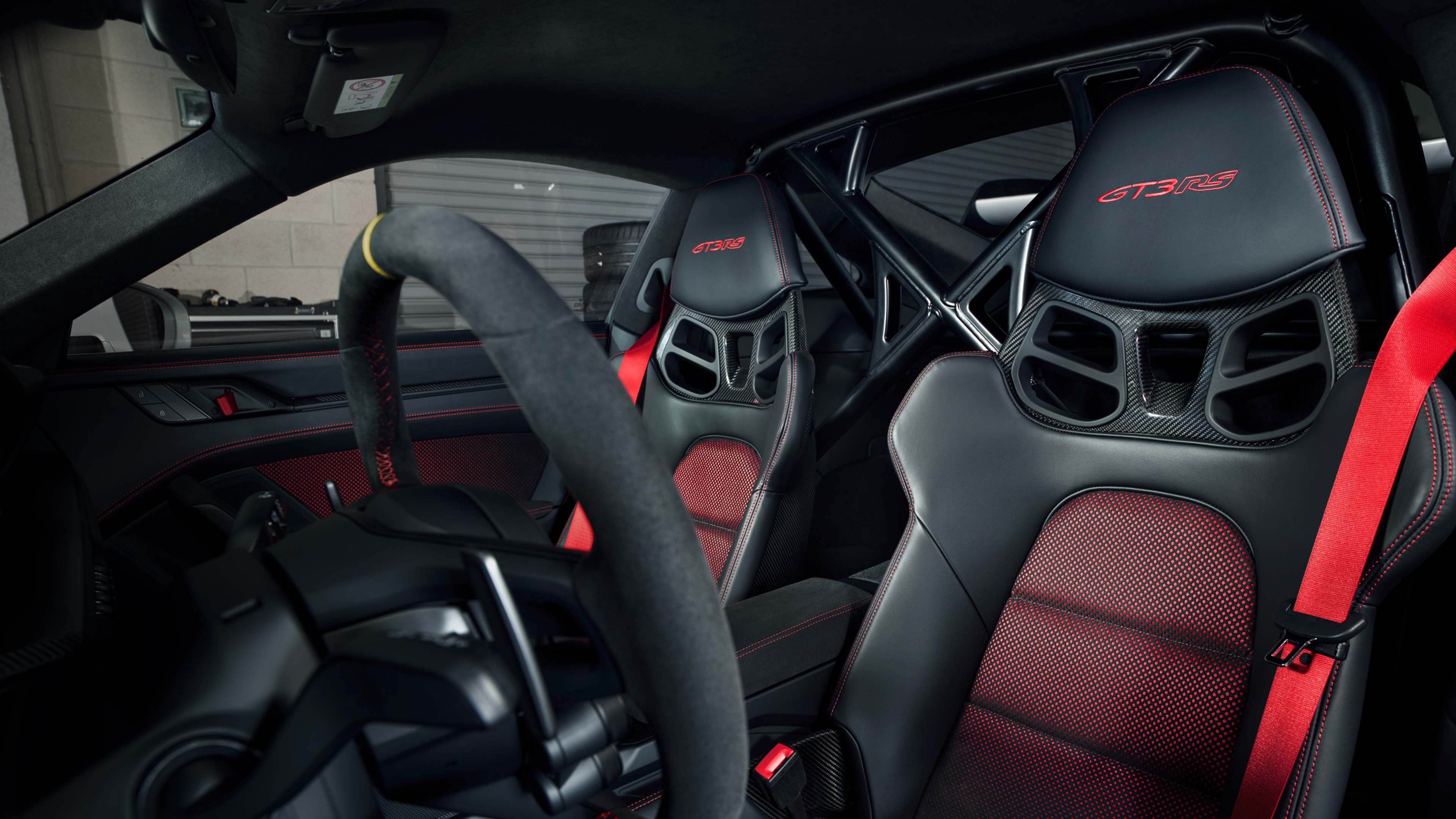 It can take more than a knock or two.
The Clubsport package, optionally available at no extra cost, consists of a steel roll cage behind the front seats, which is bolted to the body and painted in Black or Guards Red as an option. Additionally, the 6-point racing harness for the driver's side increases safety.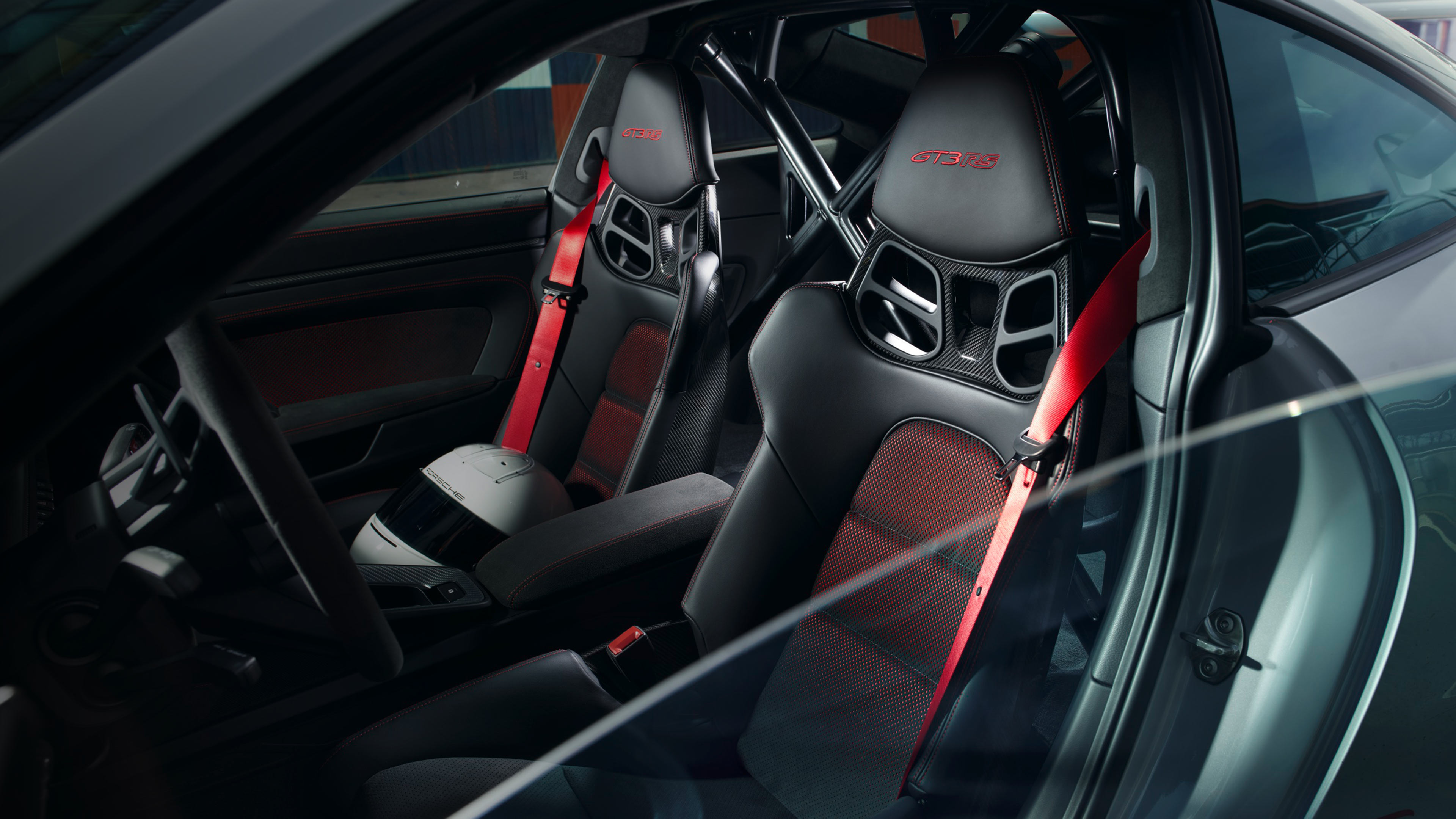 Increased comfort.
The full bucket seats made of carbon fibre reinforced plastic (CFRP) with carbon-weave finish and integrated thorax airbag offer particularly good lateral support with minimal weight. The fore/aft adjustment is manual, the height adjustment is electric. The cover is made of black leather as standard, with 'GT3 RS' lettering embroidered on the head rests and a seat centre section in black perforated Race-Tex with contrasting underlay. The adaptive sports seats Plus (18-way, electric) are available as an option.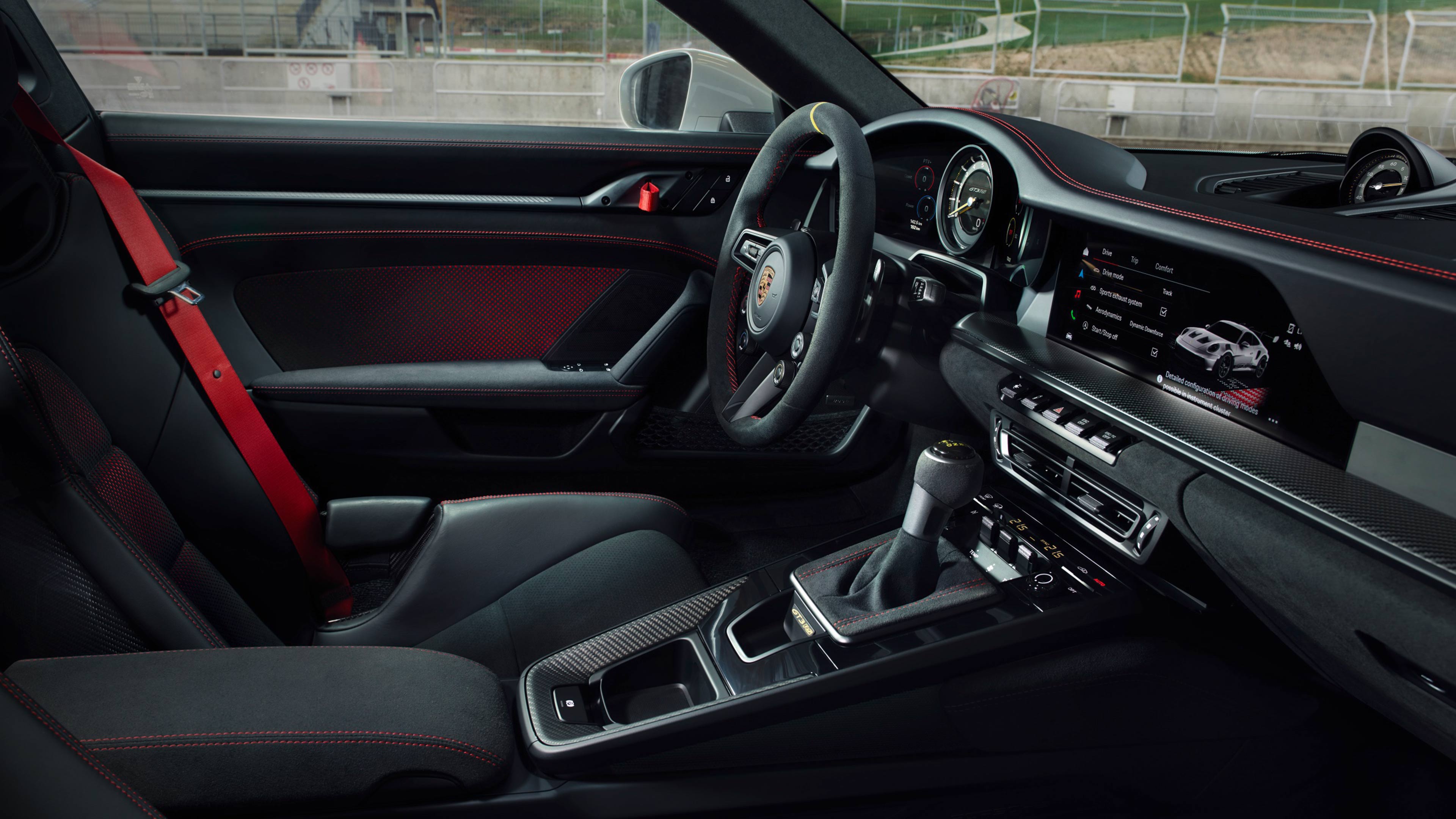 More contrast.
The interior with black leather/Race-Tex features, black decorative stitching, embroidered 'GT3 RS' lettering and decorative trim with inlays in carbon-weave finish (satin) highlights the standard exclusivity. On request, the interior is also available with advanced leather/Race-Tex features and contrasting Guards Red or GT Silver colours.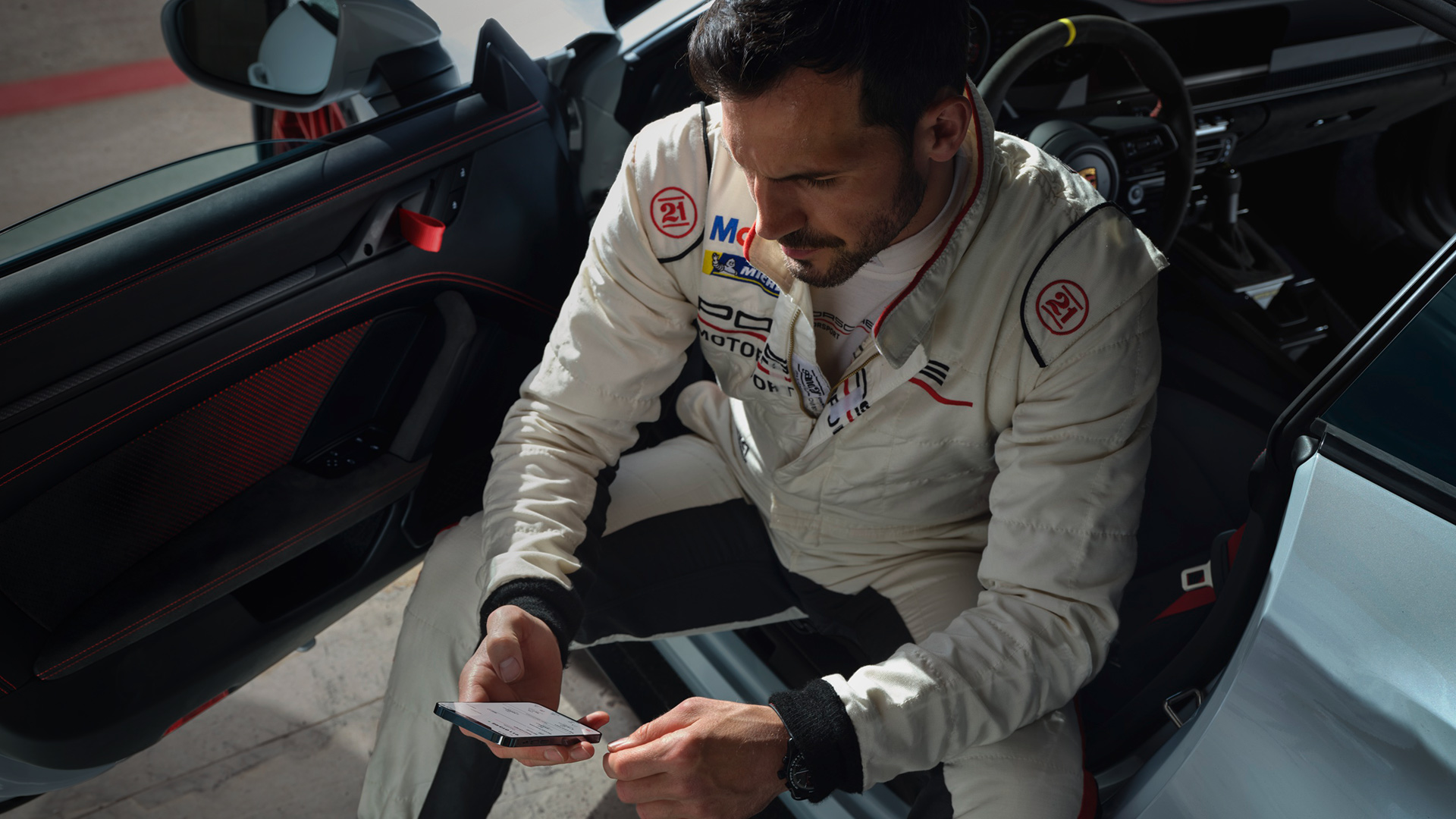 Porsche Track Precision App.
With the Porsche Track Precision App¹ you can measure, evaluate and improve your performance in detail - allowing you to display, log and analyse detailed driving data on your smartphone in detail.
¹ Use of the app only permitted on closed off premises. Use of this product (the video recording feature in particular) could be prohibited by laws or regulations in certain markets or at certain events. Before any use of this product, please check that this is permitted under local laws and regulations.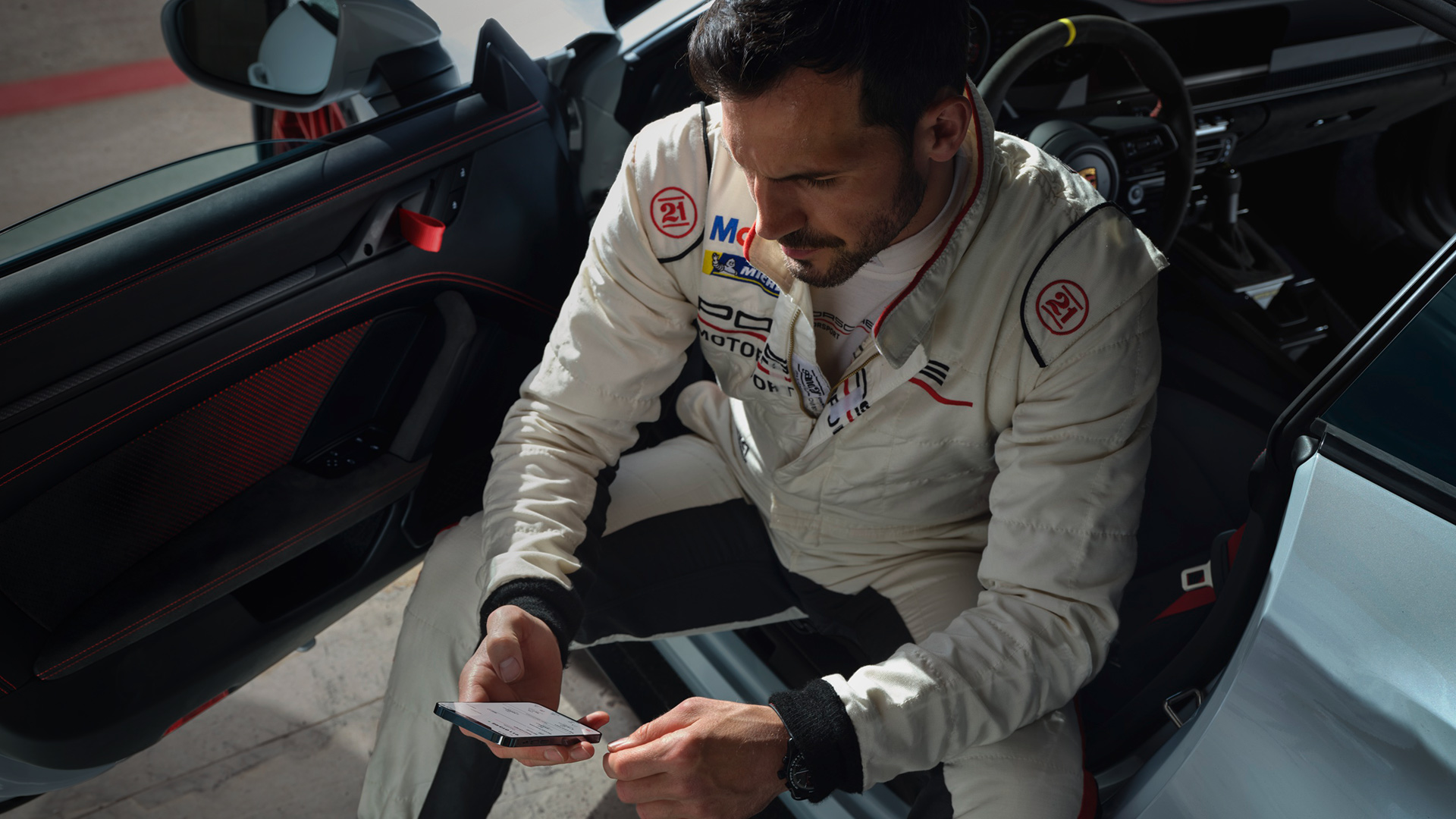 Sound systems.
Sound Package Plus provides 8 loudspeakers, 150 watts of power and an amplifier integrated in the PCM - delivering an acoustic pattern that is optimally adapted to the driver and front passenger. The optional BOSE® Surround Sound System with 12 loudspeakers, 100 watt subwoofer and 570 watt total output also enables each individual loudspeaker to be fine-tuned to the vehicle interior.
Next chapter
Model and Data
Configure 911 GT3 RS model.
Selected
911 GT3 RS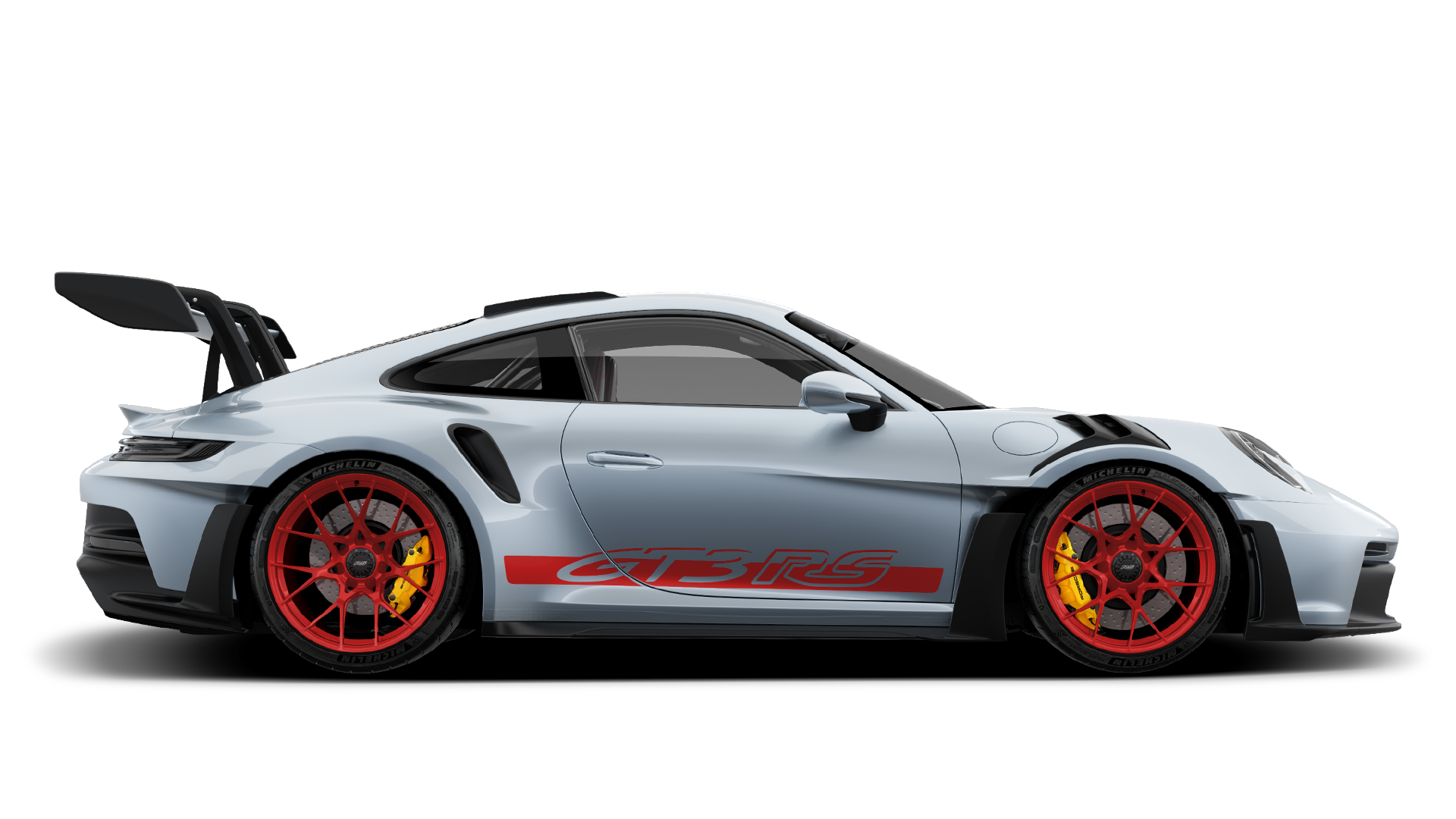 USD 342,900
386 kW/525 PS
Potencia (kW)/Potencia (PS)
3.2 s
Aceleración de 0 - 100 km/h
911 GT3 RS
386 kW/525 PS
Potencia (kW)/Potencia (PS)
3.2 s
Aceleración de 0 - 100 km/h
296 km/h
Velocidad máxima
Distancia entre ejes
2,457 mm
Technical Specs
| | |
| --- | --- |
| Número de cilindros | 6 |
| Calibre | 102.0 mm |
| Carrera | 81.5 mm |
| Desplazamiento | 3,996 cm³ |
| Potencia (kW) | 386 kW |
| Potencia (PS) | 525 PS |
| Potencia máxima del punto RPM | 8,500 1/min |
| Velocidad máxima del motor | 9,000 1/min |
| Torque máximo | 465 Nm |
| Potencia máxima del punto RPM | 6,300 1/min |
| Máx. producción por litro (kW/l) | 96.00 kW/l |
| Máx. producción por litro (PS/l) | 131.00 PS/l |
| | |
| --- | --- |
| Velocidad máxima | 296 km/h |
| Aceleración de 0 - 100 km/h | 3.2 s |
| Aceleración de 0 - 160 km/h | 6.9 s |
| Aceleración de 0 - 200 km/h | 10.6 s |
| Recuperación (80-120km/h) (50-75 mph) | 1.8 s |
| 1/4 de milla | 10.9 s |
| | |
| --- | --- |
| Ángulo de inclinación, delantero / trasero (suspensión de acero)<br/> | 6.2 - 9.8 ° |
| Ruptura de rampa sobre suspensión de acero en ángulo) | 10.6 ° |
| Máx. distancia al suelo (suspensión de acero) | 100 mm |
| | |
| --- | --- |
| Longitud | 4,572 mm |
| Ancho | 1,900 mm |
| Ancho (con espejos) | 2,027 mm |
| Altura | 1,322 mm |
| Distancia entre ejes | 2,457 mm |
| Círculo de giro | 10.5 m |
| Peso en vacío (DIN) | 1,450 kg |
| Peso en vacío (UE) | 1,525 kg |
| Peso máximo autorizado | 1,795 kg |
| Carga máxima | 345 kg |
| | |
| --- | --- |
| Tanque de combustible | 64 l |
Standard features
Motor de 6 cilindros opuestos horizontalmente y de aspiración natural, 4.0 litros, potencia máxima de 386kW (525PS), par máximo 465Nm
Transmisión PDK de 7 velocidades
Paquete Chrono incl. activador de vuelta
Sistema de elevación del eje delantero
Depósito de combustible 90l
Bloque de motor y culata de aluminio, con refrigeración por agua
Tecnología de cuatro válvulas con balancines
Lubricación por cárter seco con depósito de aceite de motor separado
Inyección directa de combustible (DFI)
Colector de admisión variable en plástico con dos válvulas de resonancia conmutables y seis válvulas de mariposa individuales
Suministro de aceite con bomba de presión de aceite totalmente variable, siete bombas de barrido, centrífuga de aceite y suministro de aceite adicional a través del cigüeñal
Dos convertidores catalíticos de tres vías, filtro de partículas Gasonline (GPF) y diagnóstico a bordo para monitorear el sistema de control de emisiones
VarioCam, ajuste del arbol de levas para válvulas de admisión y escape
Vástagos de pistón de titanio forjado
Revoluciones máximas 9.000 1/min
Sistema de escape deportivo ligero de acero inoxidable con dos tubos de escape centrales en negro
Suspensión delantera de doble horquilla aerodinámica, resortes auxiliares integrados, barra estabilizadora, todos los soportes de suspensión articulados
Dirección asistida electromecánica con relación de dirección variable y ajuste de la fuerza de dirección sensible a la velocidad
Discos de freno compuestos con cámaras de freno de aluminio, discos ventilados internamente y con hoyuelos, diámetro: 408 mm (delantero), 380 mm (trasero)
Vigilancia del desgaste de las pastillas de freno
Pinzas de freno fijas de una pieza de aluminio de seis pistones en la parte delantera y de cuatro pistones en la parte trasera, pinzas en rojo
Freno de estacionamiento accionado eléctricamente
Eje trasero multibrazo con resortes auxiliares integrados, barra estabilizadora, todos los soportes de suspensión articulados
Tracción trasera
Eje trasero direccional con configuración deportiva
Ligera batería de arranque LiFePO4
Función de inicio/parada automática
Suspensión ajustable para uso en carreras (ángulo de convergencia, inclinación, barras estabilizadoras, altura)
Porsche Active Suspension Management (PASM) con configuración deportiva y altura de conducción reducida en aprox. 20 mm (en comparación con el 911 Carrera). Ajuste multinivel de compresión y rebote directamente en el volante
Porsche Stability Management (PSM) incluido ABS. Ajuste multinivel y apagado total del control de estabilidad (ESC) y control de tracción (TC) desde el volante
Interior con elementos de cuero/Race-Tex en negro con color de contraste Plata GT
Ruedas de aluminio forjado GT3 RS de 20/21"
Monitoreo de la presión de los neumáticos (TPM) con modo de pista de carreras
Ruedas pintadas en plata
Compuesto para sellar neumáticos y compresor de aire eléctrico
Coupé biplaza
Construcción ligera inteligente en compuesto de aluminio y acero combinado con varios componentes hechos de plástico reforzado con fibra de carbono (CFRP)
Tapa delantera ligera de plástico reforzado con fibra de carbono (CFRP) en color exterior con escudo Porsche impreso, dos grandes salidas de aire y elementos aerodinámicos
Tapón de depósito de combustible en look aluminio
Faldón trasero con salidas de aire adicionales que incluyen rejillas de color antracita, aspas de aire, sección inferior negra
Faldones laterales en negro con cuchillas de aire detrás de la rueda delantera, incl. indicadores laterales
Techo de carbono pintado en color exterior, forma contorneada (con cuentas).
Listón de luces traseras con inscripción 'PORSCHE' en negro (brillo satinado)
Alerón trasero fijo de dos partes con función DRS, conexión de cuello de cisne y soportes de ala en fibra de carbono (CFRP) que son parte integral de la carrocería. Parte inferior del alerón trasero (fijo) en color exterior, parte superior (móvil) en negro; elemento hidráulico, placas laterales en el alerón trasero y montantes del alerón en negro
Retrovisor exterior pintado en color exterior, base del retrovisor en plástico negro
Designación del modelo en negro satinado en el faldón trasero
Tapón de llenado de combustible de diseño exclusivo
Faros principales LED en negro incl. sistema de luces dinámicas de Porsche (PDLS)
Unidades de luces auxiliares LED en el faldón delantero con luces de posición, indicadores de dirección e indicadores laterales
Retrovisores interiores y exteriores con atenuación automática
Sensor de lluvia
Activación automática de faros incl. Iluminación 'Bienvenida a casa'
Paquete de luces de diseño
Sistema de lavado de parabrisas con escobillas aerodinámicas, dos velocidades de limpieza, limpieza intermitente ajustable y chorros de lavado
Pilotos traseros con luz de freno, luz de marcha atrás e intermitentes más tercera luz de freno LED
Banda de luces traseras como luz de marcha trasera con luz de estacionamiento integrada y luz antiniebla trasera
Luces de lectura LED, orientación y cerradura de encendido. También incluye maletero, espacio para los pies, guantera e iluminación de cortesía de salida
Espejos de cortesía iluminados en ambos parasoles
Con tinte más oscuro en la parte superior para reducir el deslumbramiento
Volante deportivo GT3 RS en negro Race-Tex
Asientos livianos de cubo completos hechos de plástico reforzado con fibra de carbono (CFRP) con acabado de tejido de carbono con airbag de tórax integrado, ajuste eléctrico de altura y ajuste manual longitudinal para el lado del conductor y el pasajero.
Asientos tapizados en cuero negro con centro de los asientos en Race-Tex negro parcialmente perforado y con respaldo en color de contraste plata GT. Reposacabezas con logotipo 'GT3 RS' bordado en plata GT.
Cinturones de seguridad automáticos de tres puntos
Cuentarrevoluciones con pantalla digital para la marcha seleccionada y la velocidad del vehículo, esfera distinguible y logotipo 'GT3 RS'
Aire acondicionado. Filtro de partículas/polen con filtro de carbón activo
Cuadro de instrumentos con cuentarrevoluciones central y dos pantallas TFT de 7" con pantalla Track
Bolsas de aire de tamaño completo para el conductor y el pasajero delantero
Porsche Side Impact Protection (POSIP), compuesto por elementos de protección contra impactos laterales en las puertas y airbags laterales (airbags de tórax integrados en los laterales de cada asiento delantero y airbags de cortina integrados en el techo para el conductor y el acompañante)
Cubierta trasera liviana, cubierta con alfombra negra
Consola central ascendente con un compartimento de almacenamiento abierto y otro cerrado
Vidrio liviano y aislante del ruido
Guantera (con cerradura) y redes portaobjetos en las puertas
Ventanas laterales con recubrimiento repelente al agua
Dos portavasos individuales (1x como entrada en la consola central y 1x en el lado del pasajero)
Luneta trasera calefactable
2 puertos USB-C en la tapa del compartimiento de almacenamiento principal de la consola central, enchufe (12 voltios) en el espacio para los pies del pasajero
Juego de alfombras en negro con logotipo "PORSCHE" bordado en la parte delantera
Asistente de aparcamiento (trasero) incluida la cámara de reversa
Control crucero
Elevalunas eléctricos con operación de un solo toque y protección del sello de la puerta
Cierre centralizado a distancia
Sistema de sonido envolvente BOSE®
Porsche Communication Management (PCM)
Integración de teléfonos inteligentes
Colores exteriores estándar: negro, blanco, rojo guardia, amarillo racing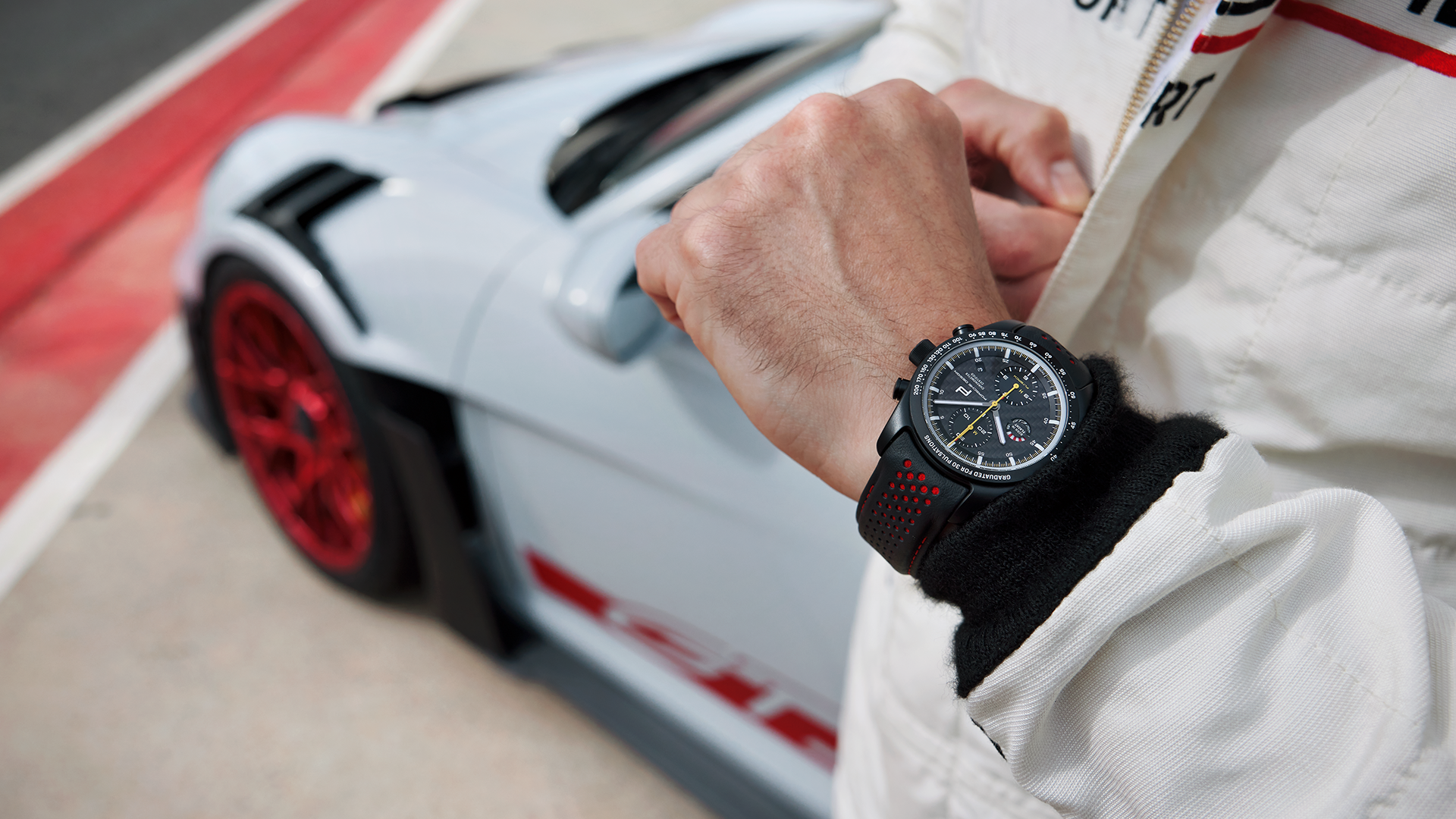 Excited in no time.
The perfect companion for the racetrack: With its multitude of performance design features and technical details, the chronograph 911 GT3 RS is perfectly matched to the car on which it's based. Exclusively for owners of the new Porsche 911 GT3 RS and 911 GT3 RS with Weissach package.

Personalisation & finishing.
At Porsche Exclusive Manufaktur, we offer you a range of personalisation options for the exterior and interior of your car. For your own very personal vehicle.