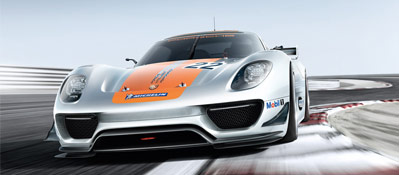 If you're curious and would like to know more about our Porsche magazine, you'll find selected articles here for you to read as a sample.
We hope you enjoy reading them – and if you want to read more, you can apply for subscription to 'Christophorus' online now.
A Winner's Genes
Green light for the new 911 GT3 RSR. This ongoing success story is entering the 2011 racing season with a modified engine and enhanced aerodynamics.
Download PDF/ 119 KB
Leading the Charge
The first photos of the 918 RSR. Technology from the 911 GT3 R Hybrid merges with the design of the 918 Spyder to create a fascinating sports car.
Download PDF/ 272 KB
Right Down the Middle
Walter Röhrl tested the new Cayman R—on ice and snow—for Christophorus. The racing legend maneuvered merrily through the snow.
Download PDF/ 171 KB
A No-Frills Kind of Guy
F. A. Porsche's genius gave birth to the 911. To mark his 75th birthday, we discuss his philosophy with designers Michael Mauer and Roland Heiler.
Download PDF/ 193 KB
In a World of Its Own
Taste of freedom, under a blue desert sky: Join us on a drive in the new 911 Carrera GTS in and around California's Palm Springs.
Download PDF/ 416 KB