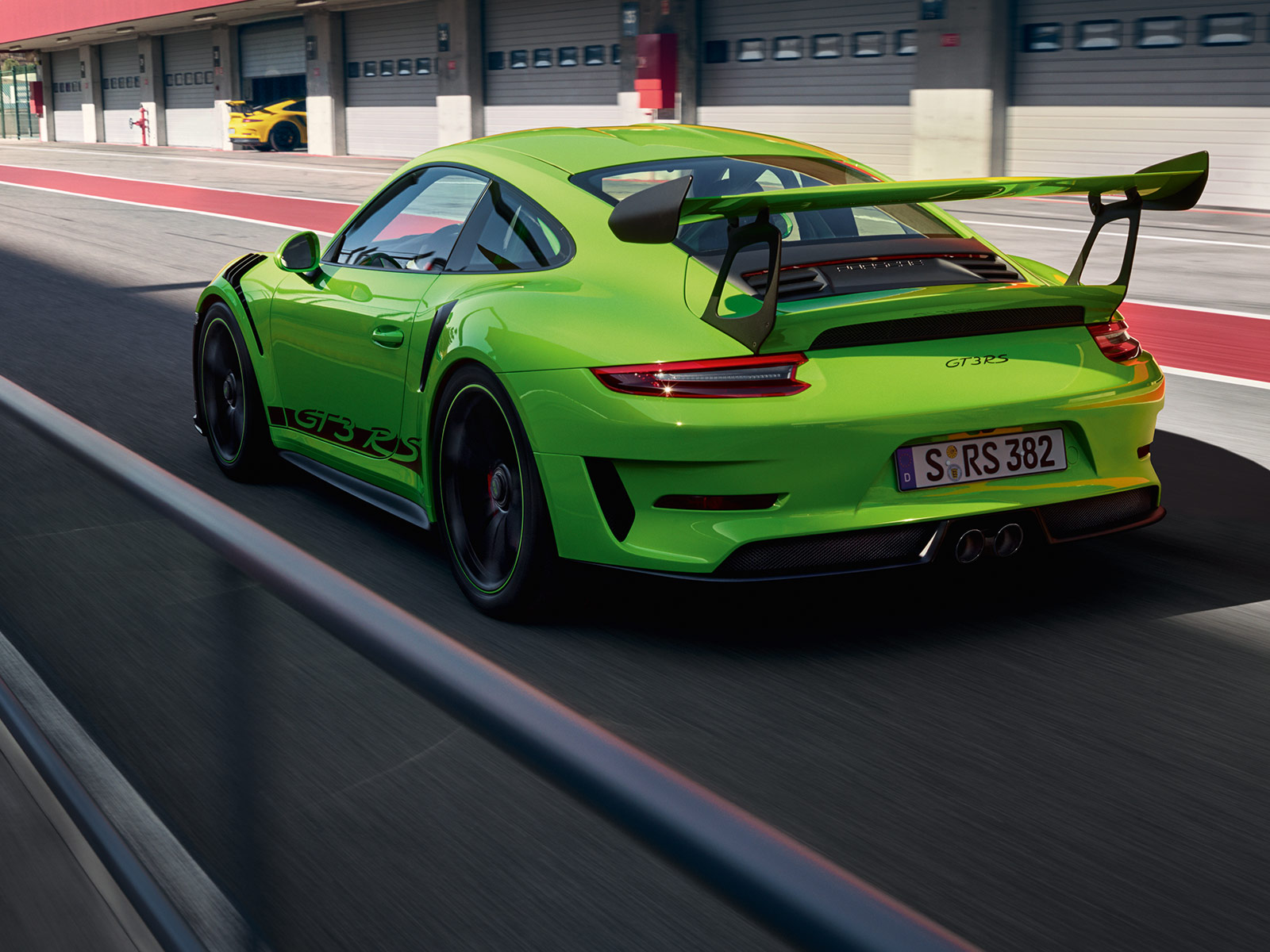 Engine
Time and time again, the cynics would have you believe that the potential of a six-cylinder horizontally opposed and naturally aspirated engine mounted in the rear has been exhausted. And our engineers? They smile. And prove over and over again the exact opposite.
For the new 911 GT3 RS, the specs read as follows: naturally aspirated engine, 4.0-litre displacement, high-revving concept. A maximum power output of 383 kW (520 hp) – 20 hp higher than that of the predecessor model. Maximum torque 470 Nm, i.e. 10 Nm more than before. Up to 9,000 rpm on the rev counter makes it clear what we mean by a high-revving concept.
As a result, the new 911 GT3 RS with Porsche Doppelkupplung (PDK) sprints from 0 to 100 km/h in just 3.2 seconds and top speed isn't reached until 312 km/h.
Especially robust and high-performing, the engine is based on that of the 911 GT3 Cup. Also derived from motorsport is the oil supply principle, which uses a separate engine oil tank, fully variable oil pressure pump and an additional supply of oil via the crankshaft.
Four valves per cylinder with cam followers and a rigid valve train is another concept matured on the race track. The engine block and cylinder heads are made of aluminium, the titanium connecting rods have been forged and, thanks to VarioCam, the camshaft timing is precisely matched to the engine speed and load.
Direct fuel injection (DFI)
As far as the efficiency of the engine – and its power output – is concerned, direct fuel injection (DFI) makes a decisive contribution. And it does so with millisecond precision and a pressure of up to 200 bar. For optimum mixture formation and combustion in the combustion chamber.
High-revving concept
The valves are operated by cam followers – another principle from motorsport. Clearance compensation between the camshafts and valves of the new 911 GT3 RS is realised not by hydraulic means, but by shim plates as part of a solid arrangement. This provides greater robustness as well as enabling remarkably high engine speeds and hard use on the race track.
Dry-sump lubrication
The way in which oil is supplied to the engine is also successfully proven in motorsport. Continued lubrication is vital, especially at very high engine speeds of up to 9,000 rpm and under the effects of the extremely high lateral and longitudinal acceleration that can be experienced on the race track. Seven scavenge pumps in total return the engine oil quickly and efficiently to the external oil tank.
Together with the oil pressure pump offering fully variable displacement, optimum oil pressure is assured in all operating conditions. This system provides reliable lubrication of hard-working components and increases the robustness of the engine under hard use on the race track. The efficient defoaming of the oil by a centrifuge before it is delivered to the separate oil tank is a solution originating in high-performance motorsport and is also used in a similar form in the Porsche 919 Hybrid, an LMP1 class competitor.
Intake manifold
In interaction with the sports exhaust system, the variable intake manifold in synthetic material and featuring two switchable resonance flaps helps to ensure efficient gas cycles. This results in an impressive torque curve, a high maximum torque and high power output across a broad engine speed range.