Adventure in the desert.
The Dakar Rally was never a game in a sandbox. Right from the start, it was one of the greatest adventures in the world and a challenging test of endurance. With the toughest drivers, the toughest vehicles and a legendary winner in 1984: the 911 Carrera 3.2 4x4 Paris-Dakar (953).

The new Porsche 911 Dakar is a worthy successor. With the Rallye Design Package, it pays homage to the original and brings history back to life.
"The 911 is the only car that you can drive from an African safari to Le Mans, then to the theatre and onto the streets of New York."
Ferry Porsche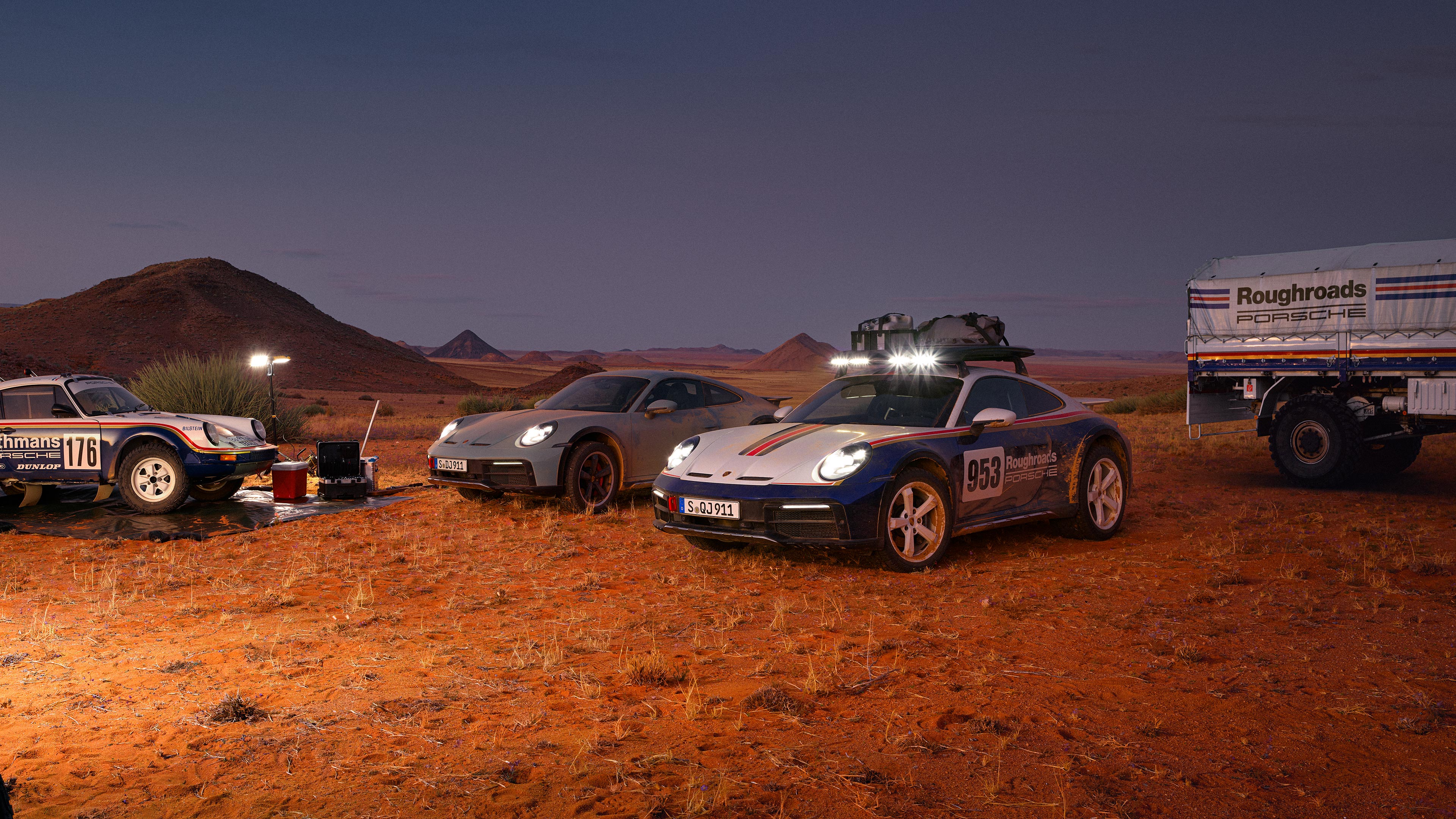 On to the next stage.
Performance, robust technology and endurance are what count in rallying. Only then do you really have a chance of being the first to reach the finish line. The new 911 Dakar is a sports car that is just as suitable for off-road driving as it is for on-road performance and also cutting a fine figure in the city.
The 911 Dakar with Rallye Design Package.
The 911 Dakar in Shade Green.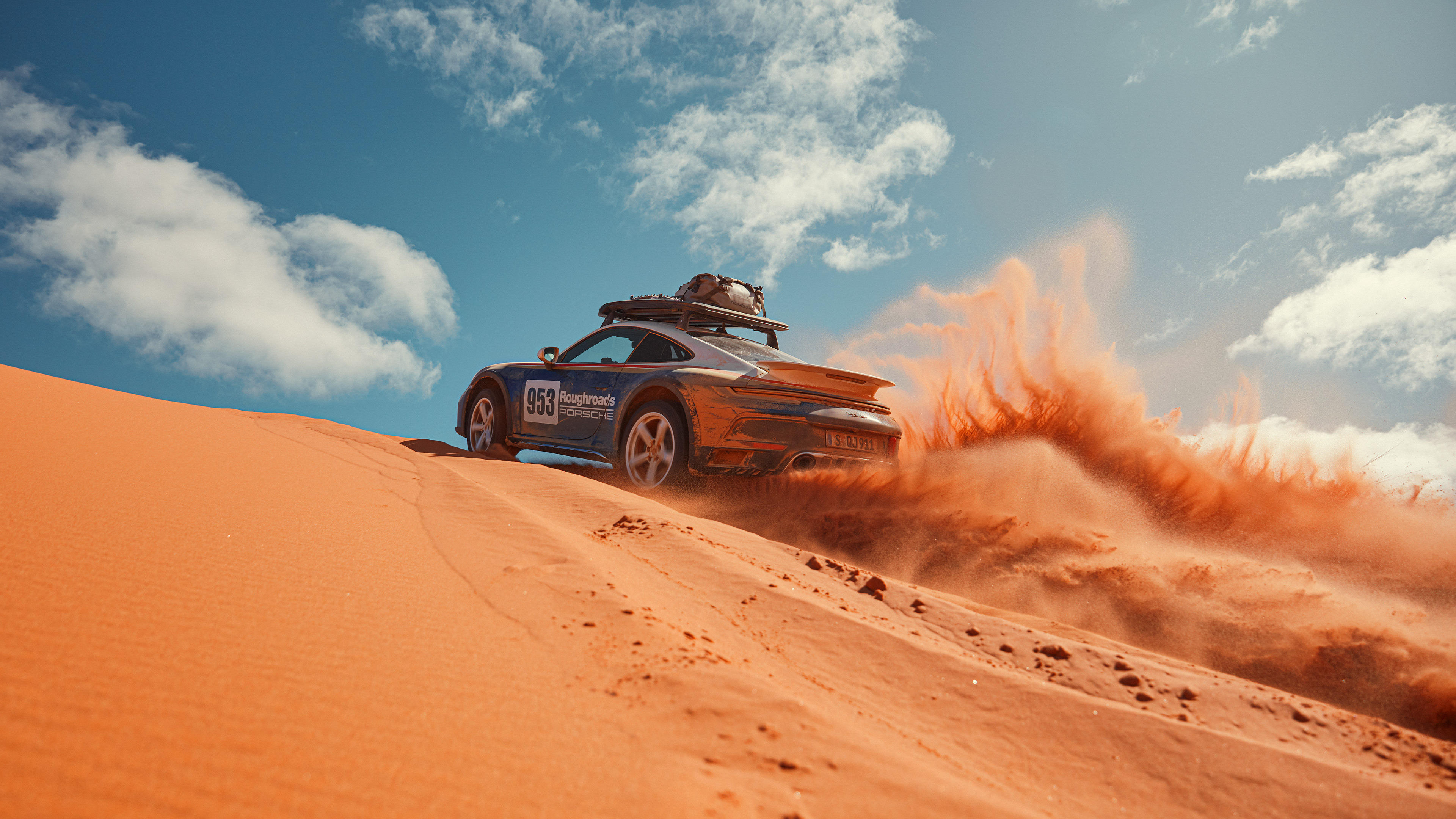 Strong performance.
Whether on tarmac, gravel or sand: the stiffer unit mounts of the 911 GT3 increase the driving dynamics of the 911 Dakar, especially when driving off-road. Together with the rear-axle steering and PDCC active roll stabilisation, the result is an optimally tuned chassis package that masters even the most difficult rally passages safely and comfortably. The 911 Dakar produces 353 kW (480 PS) of power, which is transferred to all four wheels by the 8-speed Porsche Doppelkupplung (PDK).
80 mm more ground clearance.
Keep your distance. Not just at the front and the rear – but also underneath. The Dakar is the only 911 that has sports chassis to make it 50 mm higher than the standard model. If space still gets tight under the stainless steel guard while on gravel roads, the 911 Dakar's specially developed lift system can raise the car by a further 30 mm at the front and the rear to let it reach speeds of up to 150 km/h. The maximum speed at 80 mm is 170 km/h.
Rallye Launch Control.
The Sport Chrono Package for the 911 Dakar includes two further specific performance setups: Rally mode for gravel roads, muddy tracks and wet grass; and Off-Road mode for tackling sand dunes and rocky passages. The Rallye Launch Control is also on hand to ensure a perfect rally stage start on loose ground.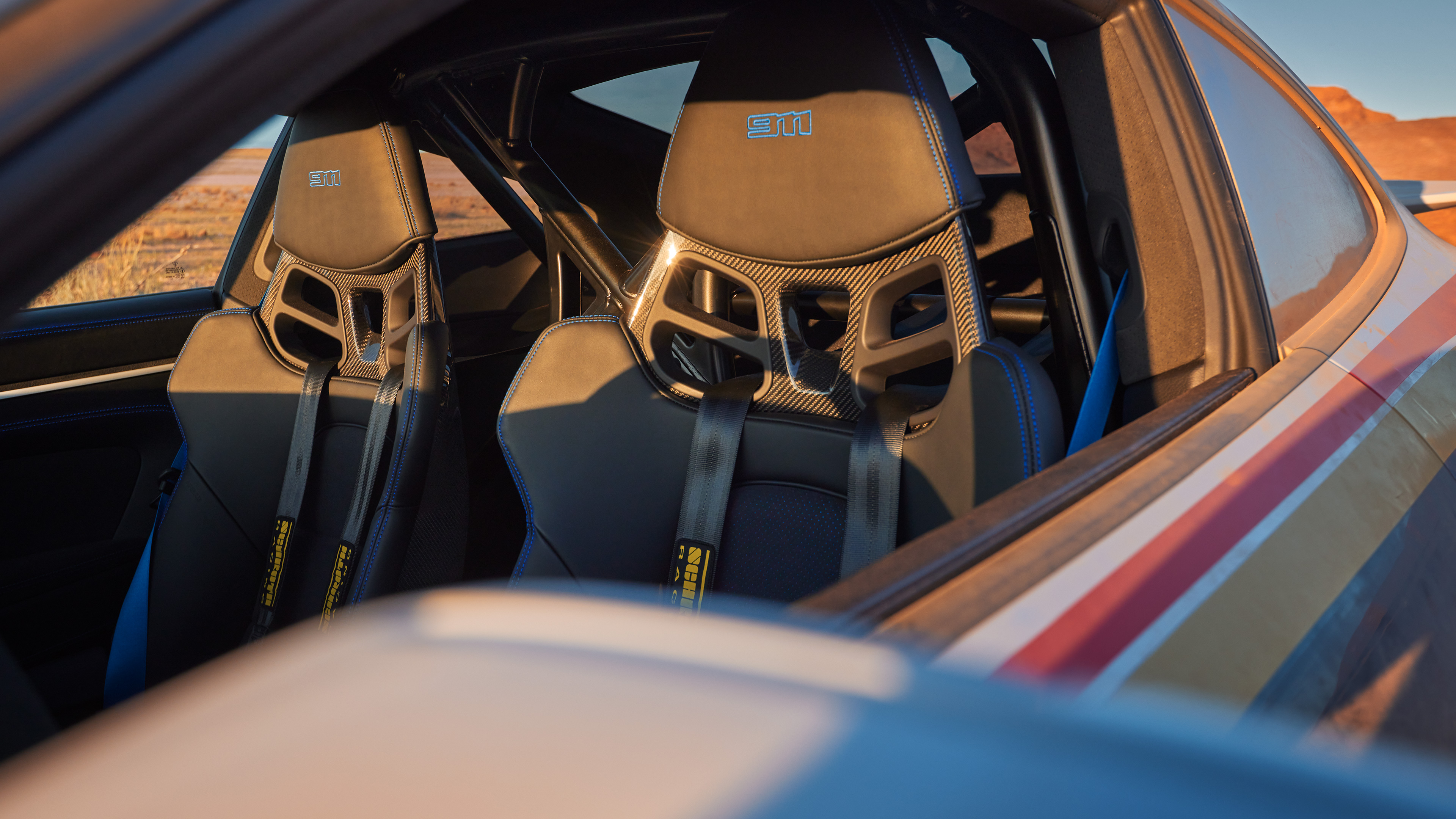 Rallye Sport Package.
The Rallye Sport Package offers enhanced protection for driving off-road and on circuits. It comes with two six-point seatbelts and a Black powder-coated steel roll bar that is bolted to the bodyshell behind the front seats. The package also includes an easily accessible fire extinguisher mounted on the passenger side.
Specific front profile with additional protection.
Front protection made of stainless steel with reinforced forged aluminium eyelet.
All-terrain tyres and robust side skirts.
19/20-inch Dakar light-alloy forged wheels with newly developed all-terrain tyres, sill with stainless steel covers and striking wheel arch extensions.
Specific rear profile with spoiler.
Rear with stainless steel protection, eyelet and fixed rear spoiler.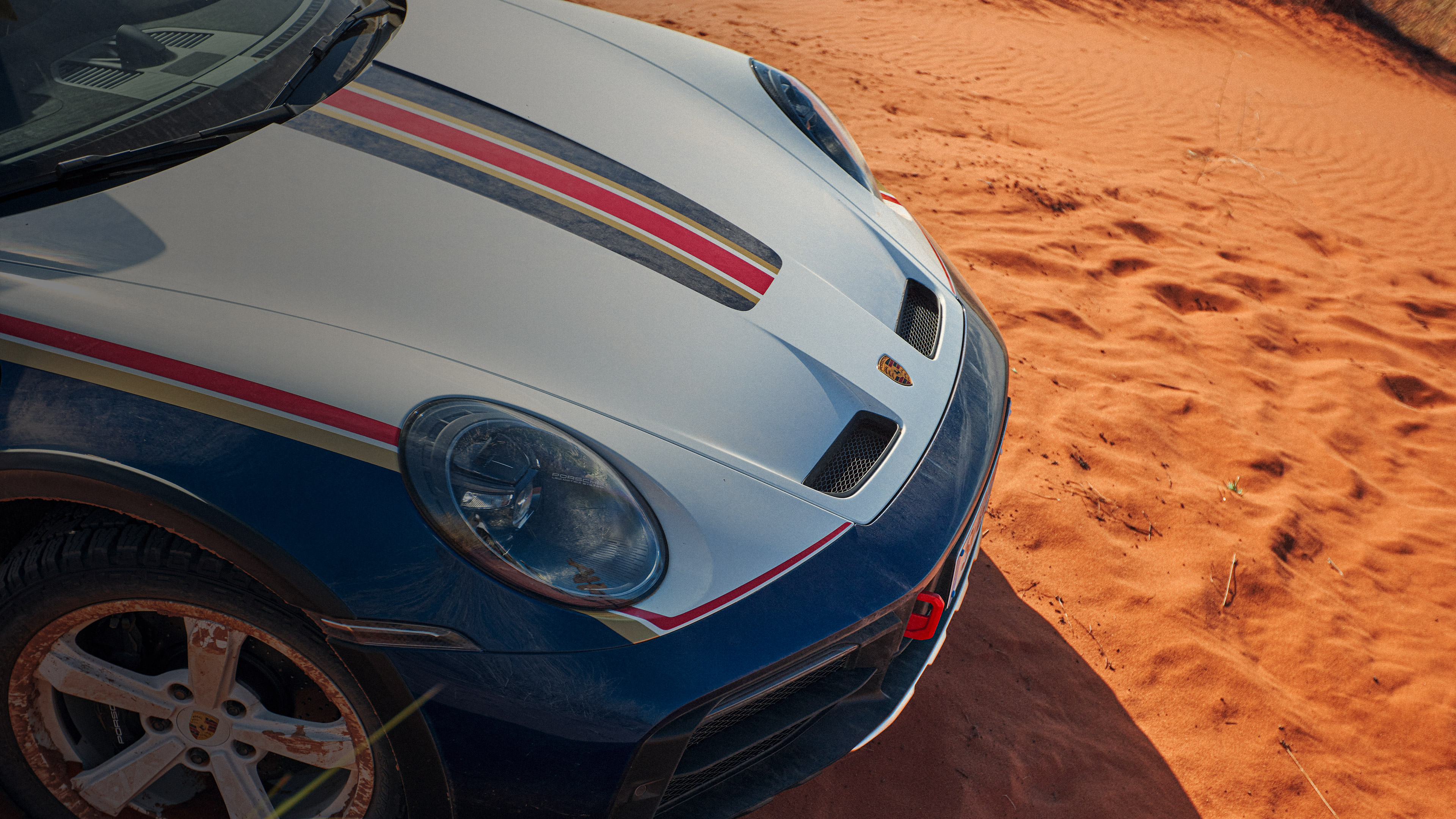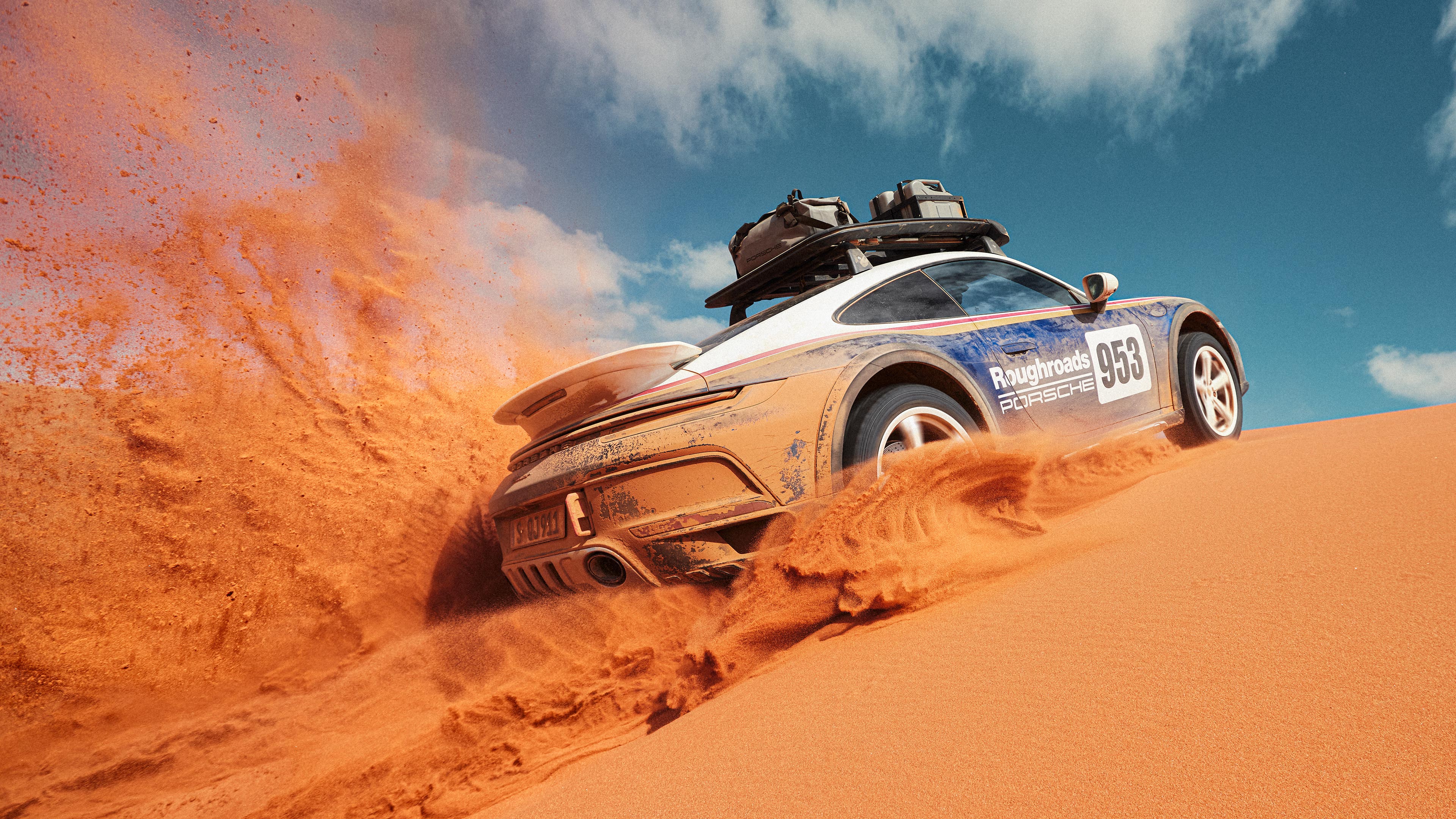 Fighting for every gram.
CFRP bonnet.
Every gram counts on sandy terrain. That's why the bonnet of the 911 Dakar, like that of the 911 GT3, is made of particularly lightweight carbon-fibre reinforced plastic (CFRP) with integrated air vents.
CFRP rear spoiler.
A carbon-fibre reinforced plastic (CFRP) fixed rear spoiler, which was developed for optimal aerodynamics, provides the necessary downforce on fast sections.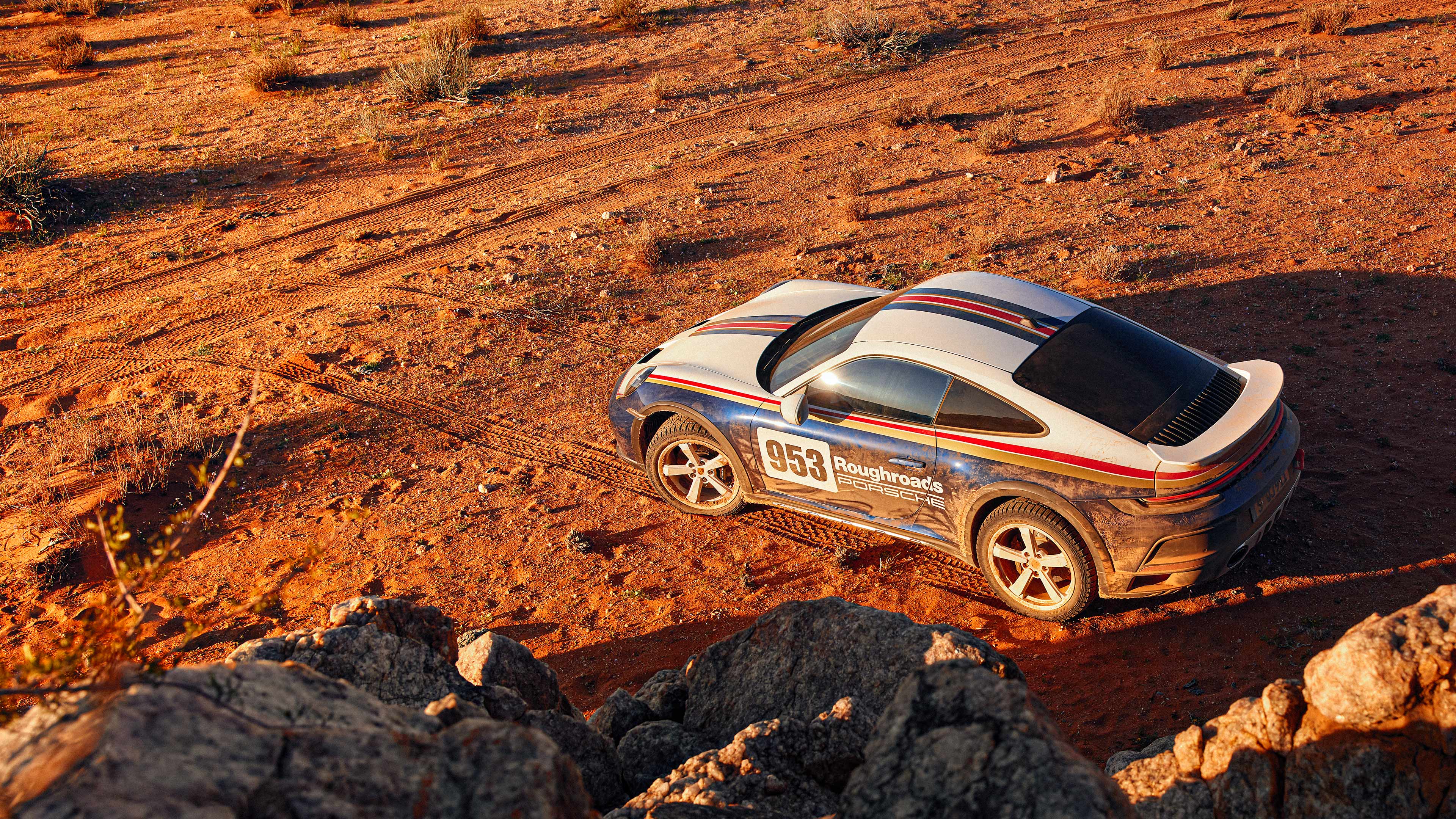 Rallye Design Package.
Two-tone paintwork.
A nod to the historic original: the two-tone paint finish in White/Gentian Blue Metallic, decorative stripes in Gold/Red and 19/20-inch wheels painted in White with all-terrain tyres pay homage to the legendary 1984 Porsche 953. The starting number can be chosen individually.
Accessories.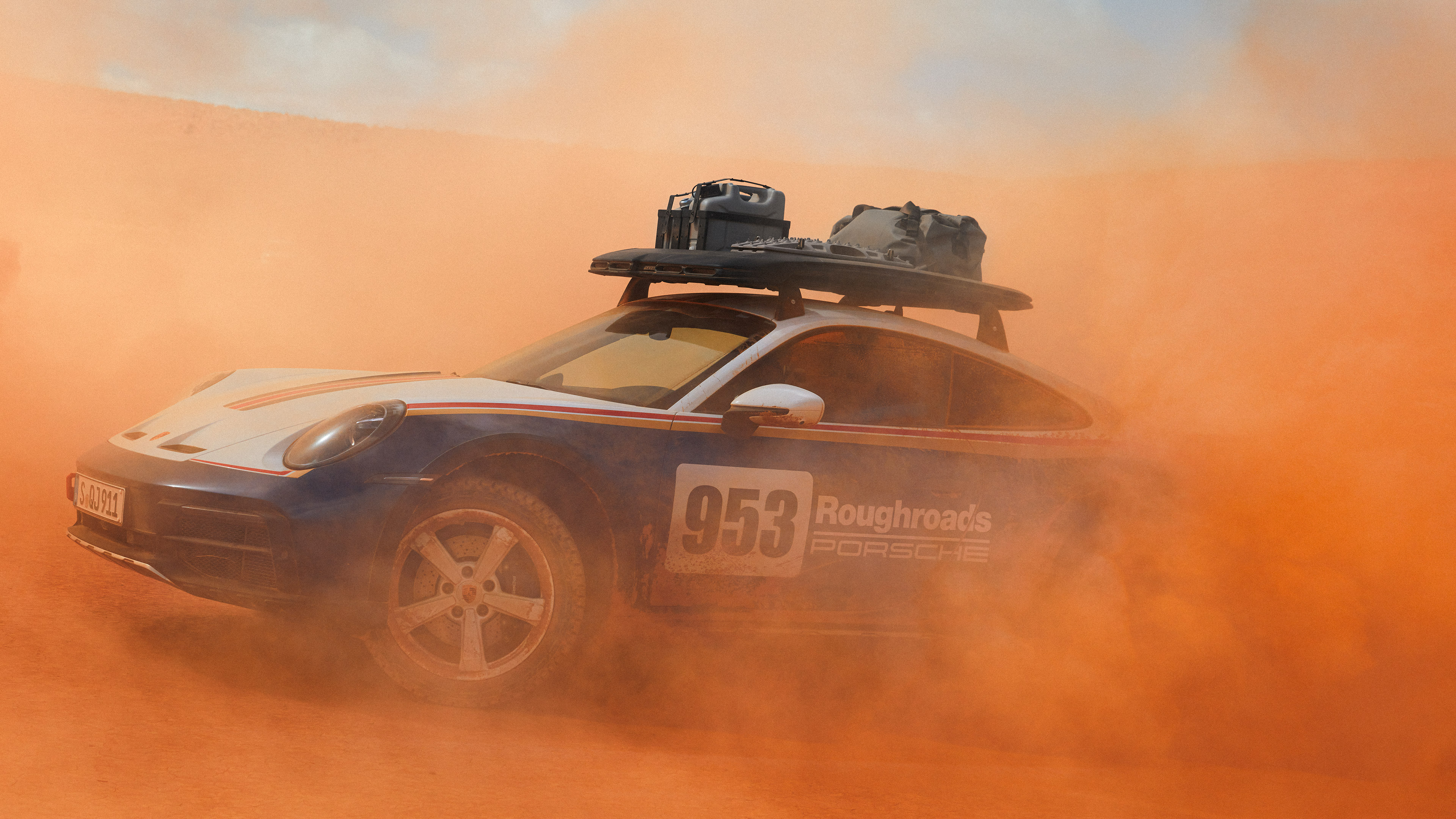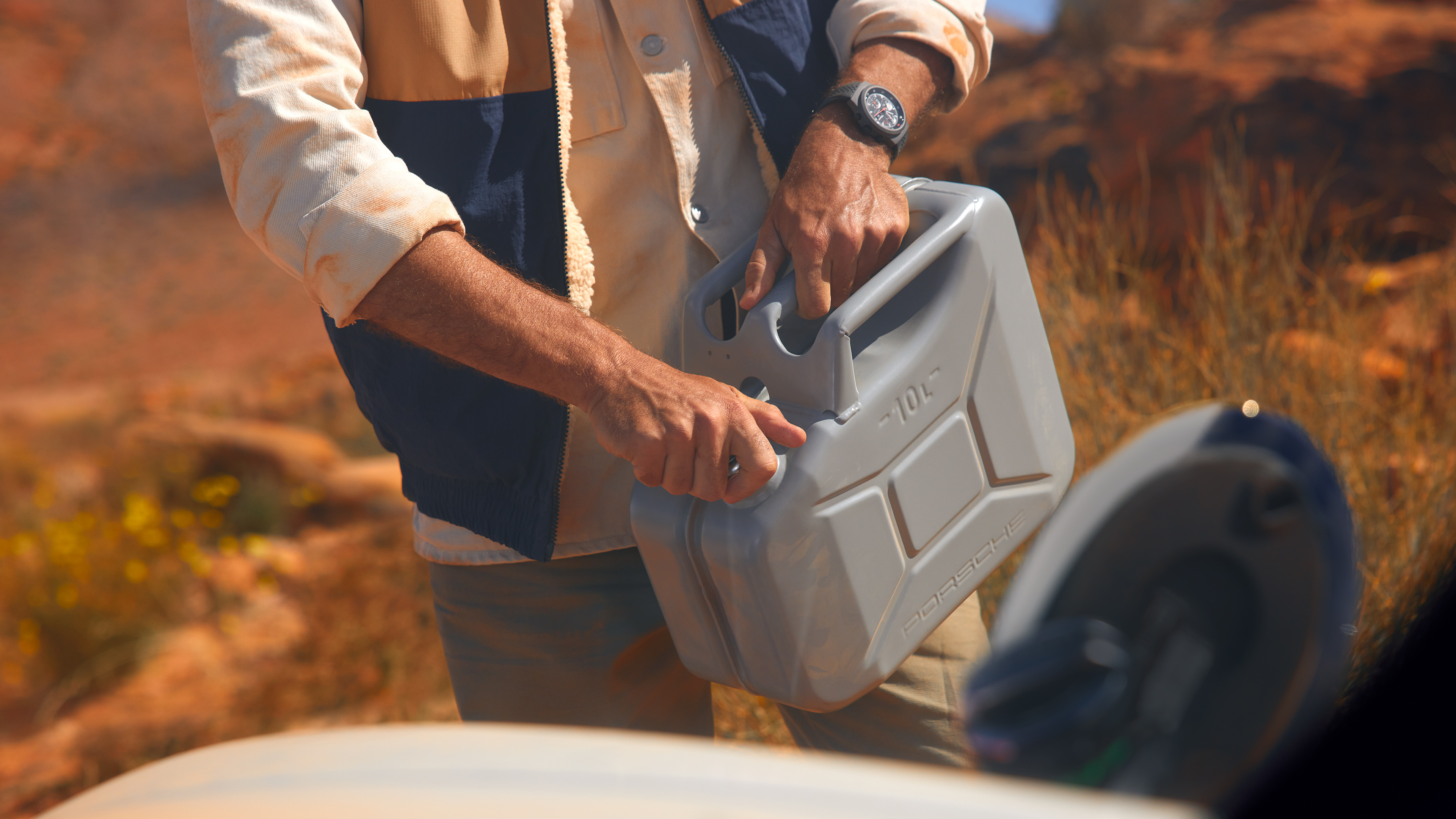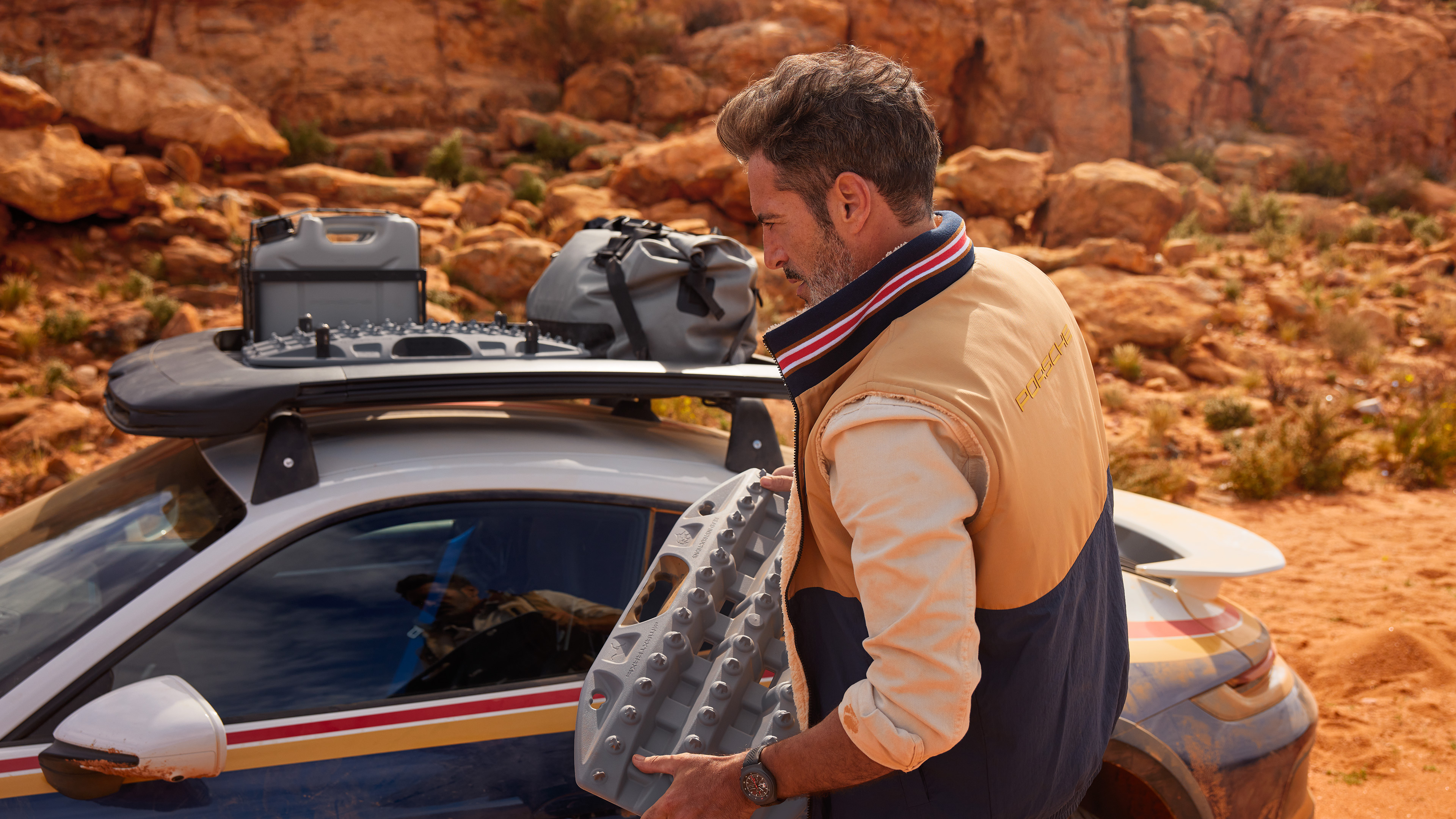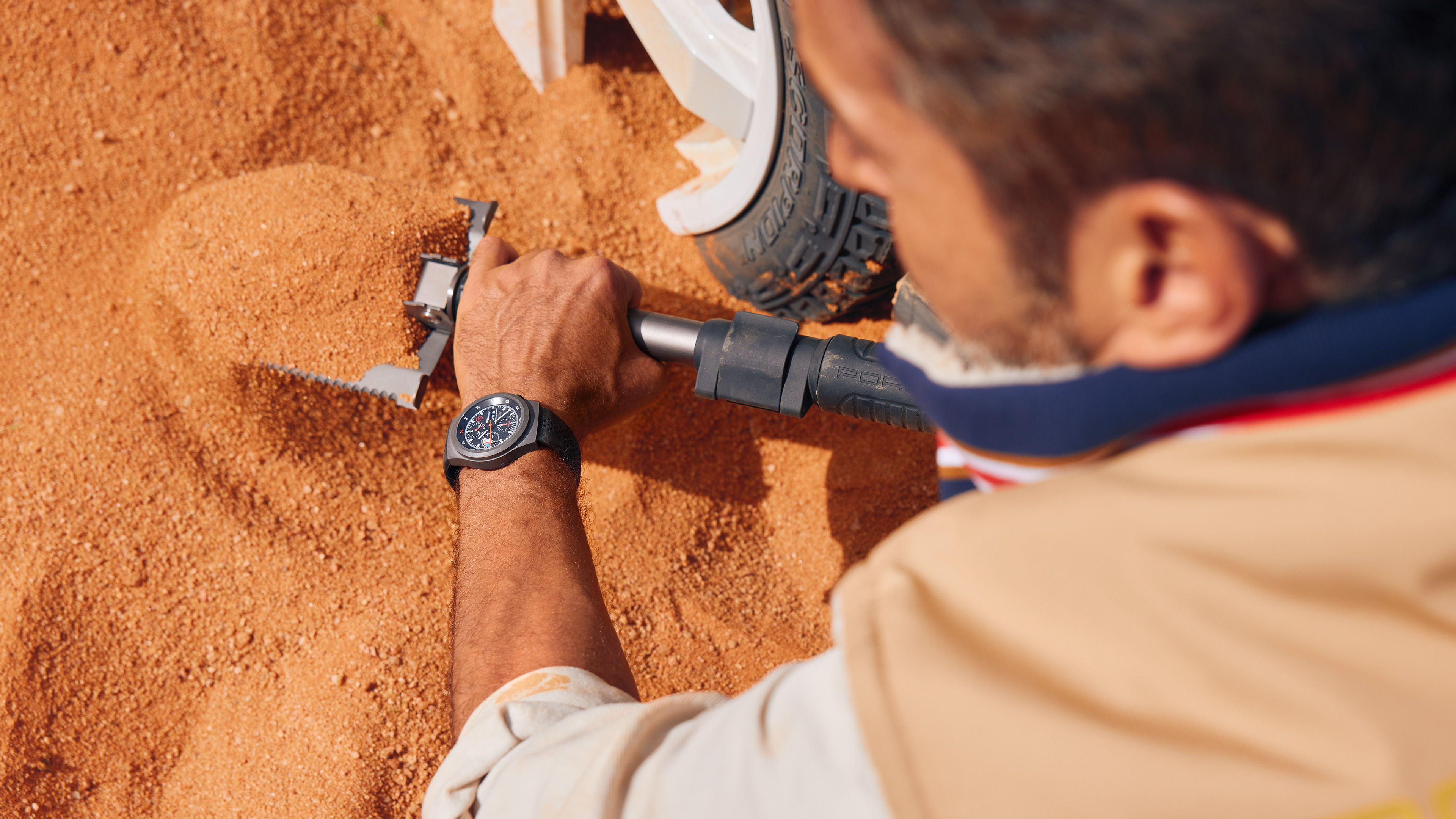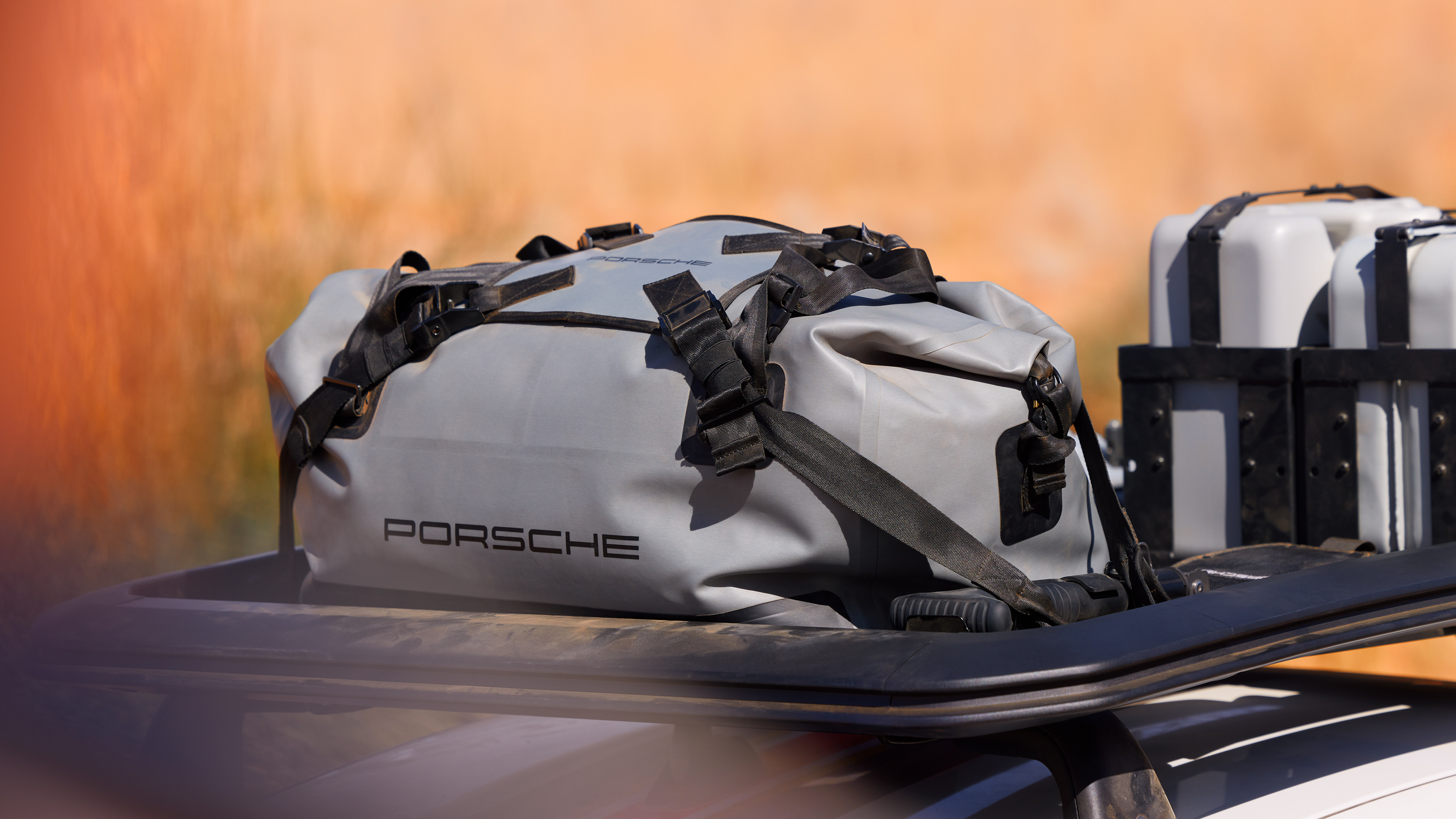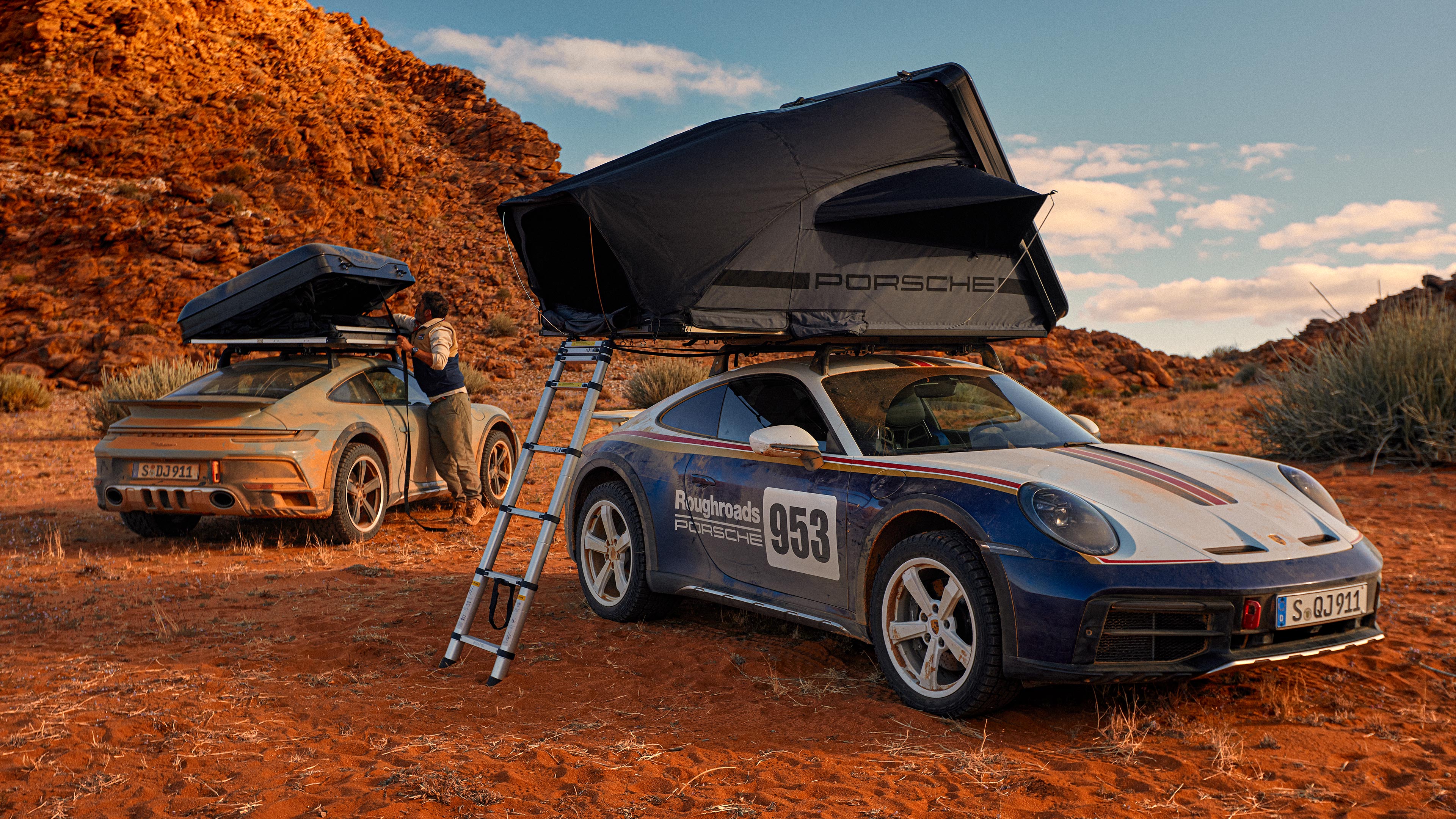 Roof basket with auxiliary headlights.
Ready to hold up to 40 kg: the Tequipment accessories available for the 911 Dakar, such as canisters, recovery boards and other luggage, can be securely fastened in the robust aluminium roof basket, featuring a Matt Black powder coating. If the stage lasts into the night, the integrated LED auxiliary headlights light the way through the desert.
Canister.
Indispensable during every stage: the painted 10-litre fuel canister and the 12-litre plastic canister for drinking water with "PORSCHE" logo. Both containers are fixed onto the roof basket with special, easy-to-open canister holders so that no time is lost when refuelling.
Recovery boards.
Essential for soft ground such as sand and mud: the robust plastic boards in grey with "PORSCHE" logo help with recovering the vehicle if it gets stuck, and can be transported in the roof basket.
Folding spade.
If you dive deep into the endless sea of desert, you need to have the right equipment. The folding spade including axe and saw is a true multifunctional tool – and should be attached to the roof basket within easy reach on every off-road adventure.
Active 2.0 duffle.
Extremely robust and water-repellent: this travel bag is made of Grey tarpaulin material with a distinctive "PORSCHE" logo in Black. Functional details, such as roll-top closure and practical straps for attaching to the roof basket, make it the perfect piece of kit on all tours.
Sticker sets.
For the 911 Dakar, three additional designs are available as decals that are reminiscent of historic Porsche vehicles from the East African Safari Rally of 1971, 1974 and 1978 and can be attached directly ex-works or retrofitted via Tequipment.
Roof tent.
The foldable roof tent for two people is mounted on the vehicle's roof transport system and can be set up in just a few simple steps – the best conditions for achieving the top podium position. During the journey, the tent, mattress and ladder are stowed in the hard-shell case.
Cockpit.
In the 911 Dakar, the driver is greeted by the GT sports steering wheel, which is covered with non-slip Race-Tex. Other specifications: a centre top marking in Shade Green, PDK shift paddles and a mode switch for selecting driving modes. Further highlights are the decorative inlays in brushed Black aluminium, the inlay in Shade Green and the limited edition plaque on the passenger side.
Rallye Design Package cockpit.
Additional elements in Race-Tex make the Rallye Design Package even more dynamic, such as the decorative inlays combined with decorative supports in Ceramica. Blue contrasting stitching, the Blue centre top marking on the GT sports steering wheel and the Blue belts add further distinctive accents.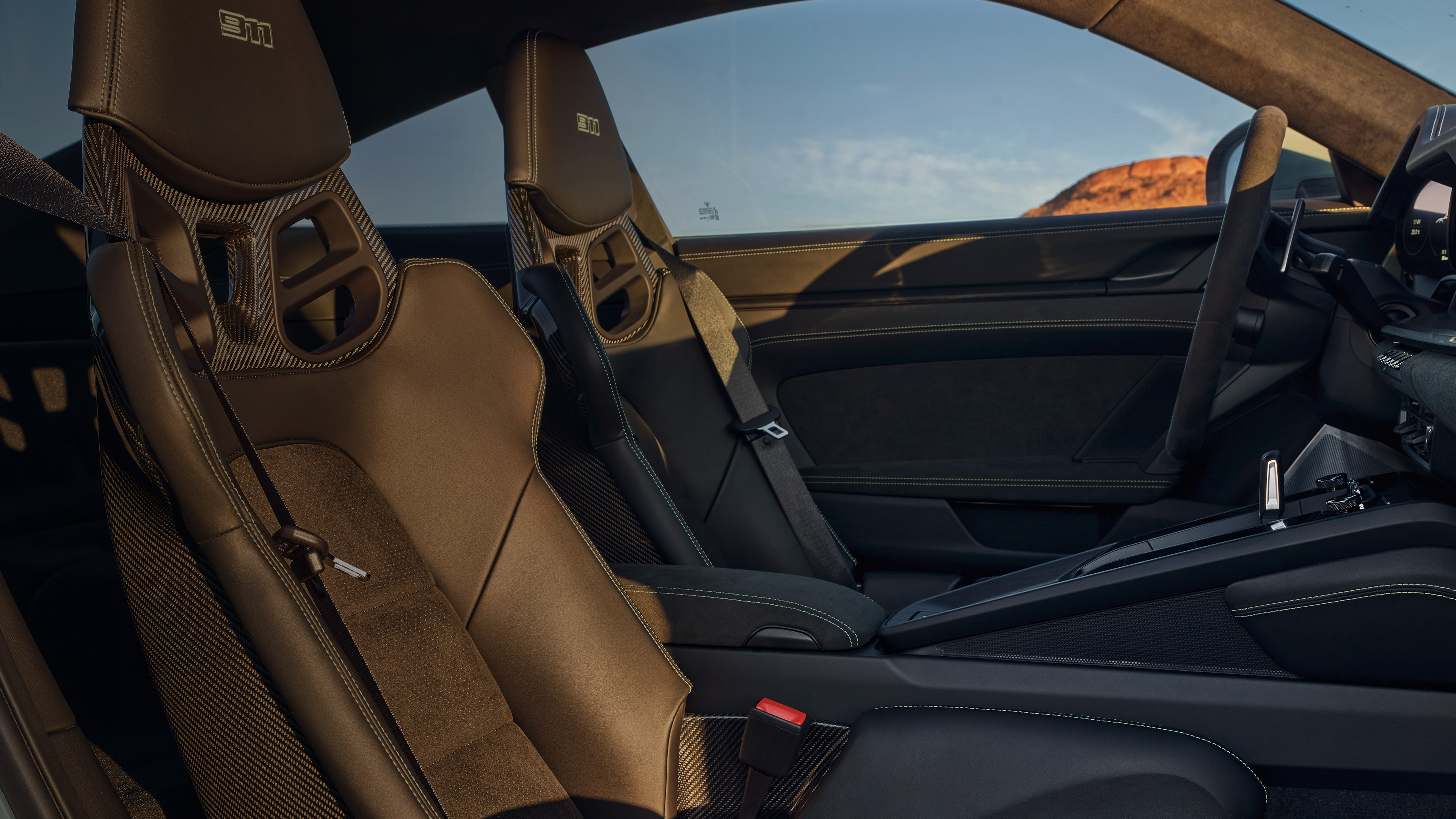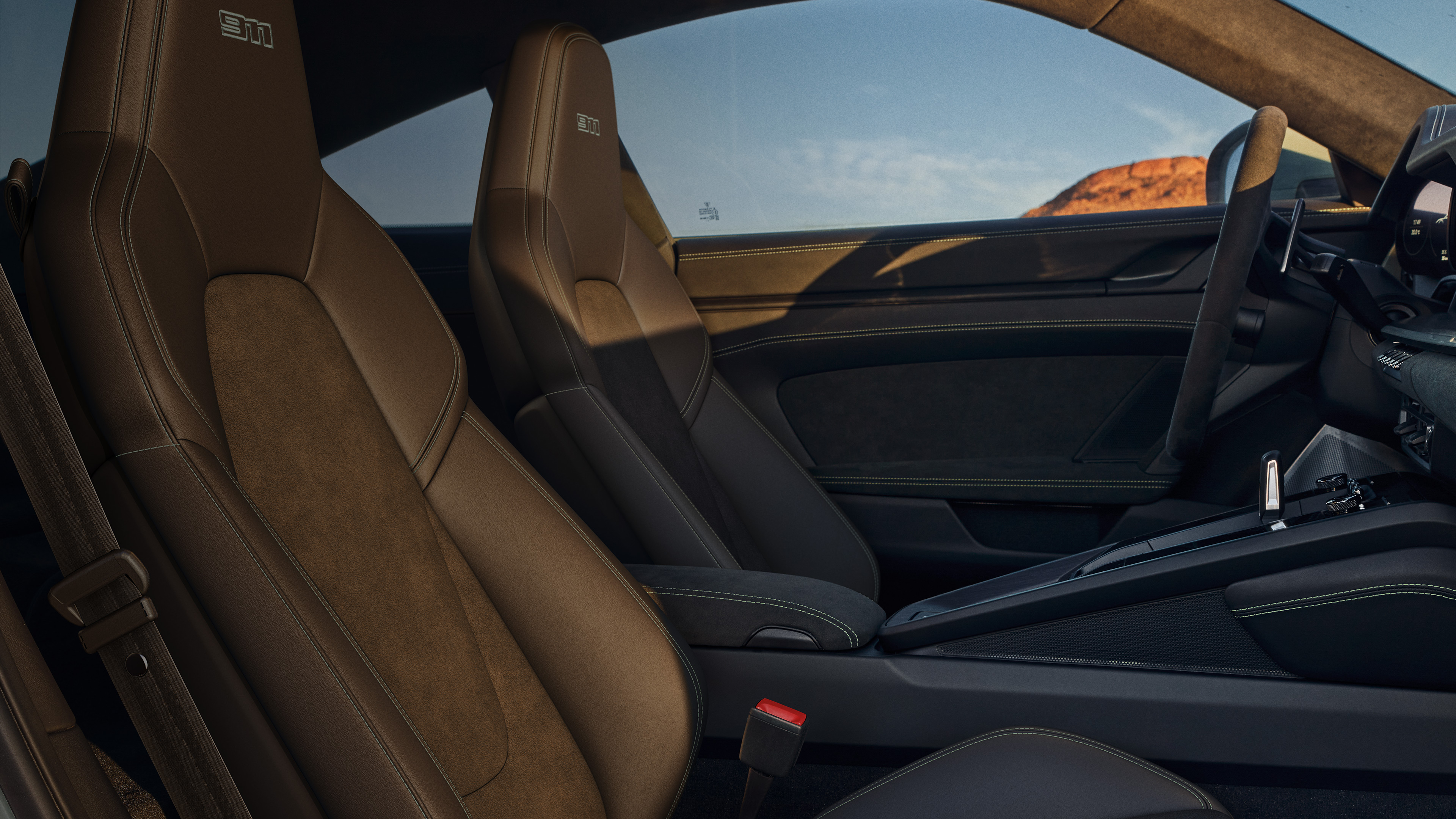 Seats.
Full bucket seats.
Built for wild dune drifts: the full shell is made of carbon-fibre reinforced plastic (CFRP) and offers particularly good lateral support while being lightweight. The bolsters are covered in Black leather and the seat centres in perforated Race-Tex with a Shade Green background. The decorative stitching and the embroidered "911" logo are also in Shade Green.
Adaptive sports seats Plus.
These 18-way electric seats offer adventurers particularly high levels of comfort. The seats are in Race-Tex, while the side bolsters are in leather. The contrasting seams and embroidered "911" logo in Shade Green add additional accents.
Interior highlights.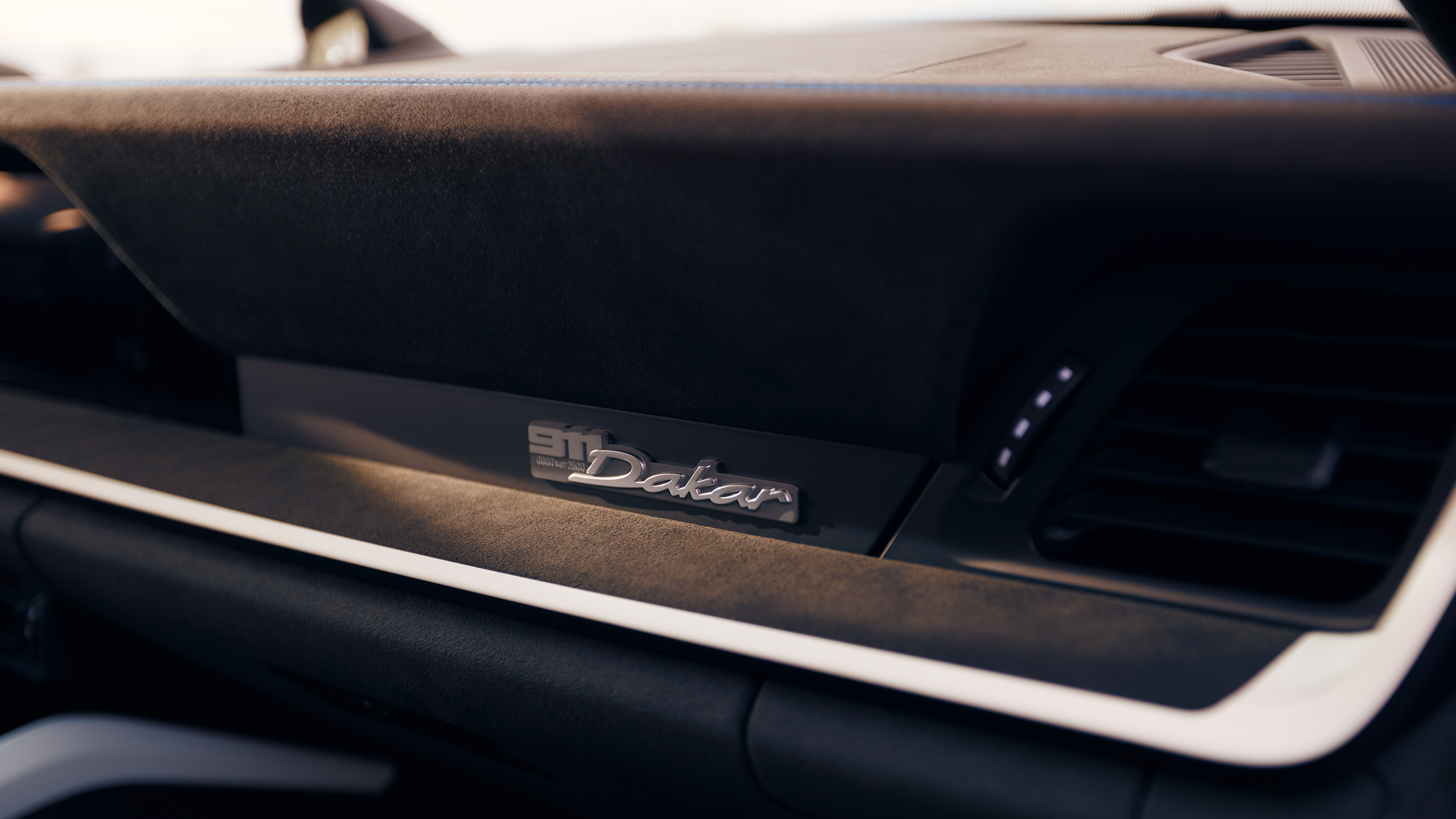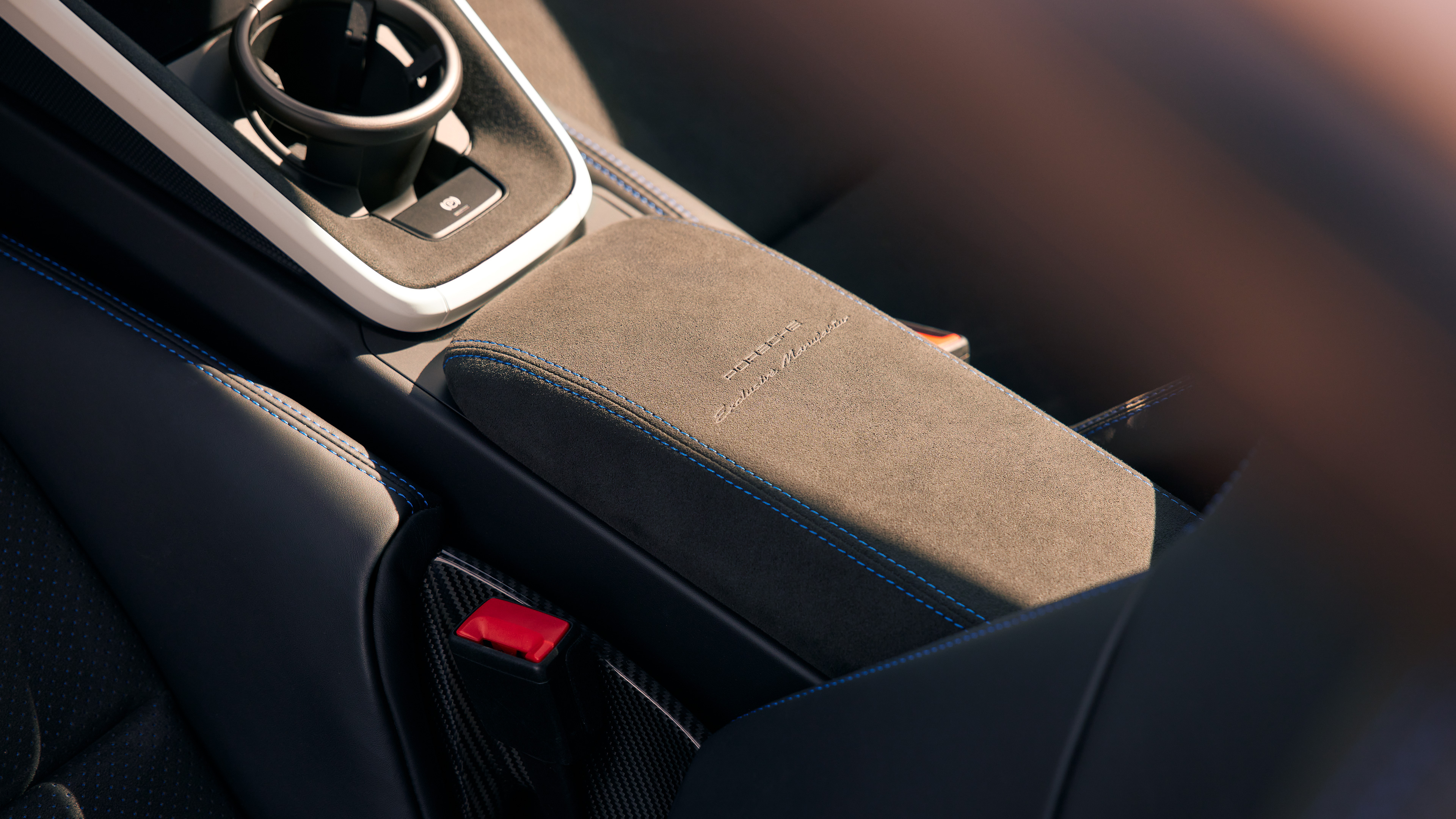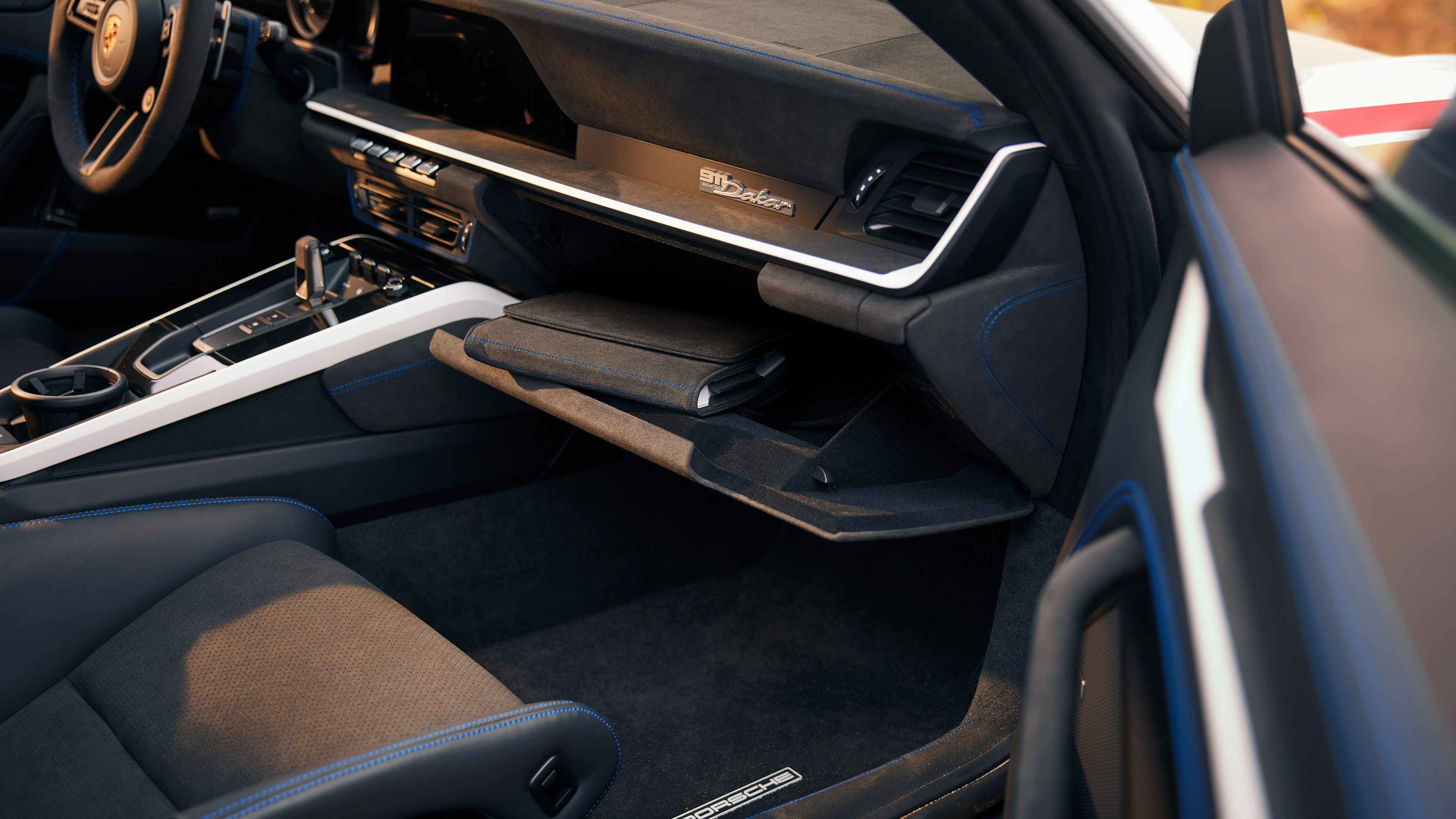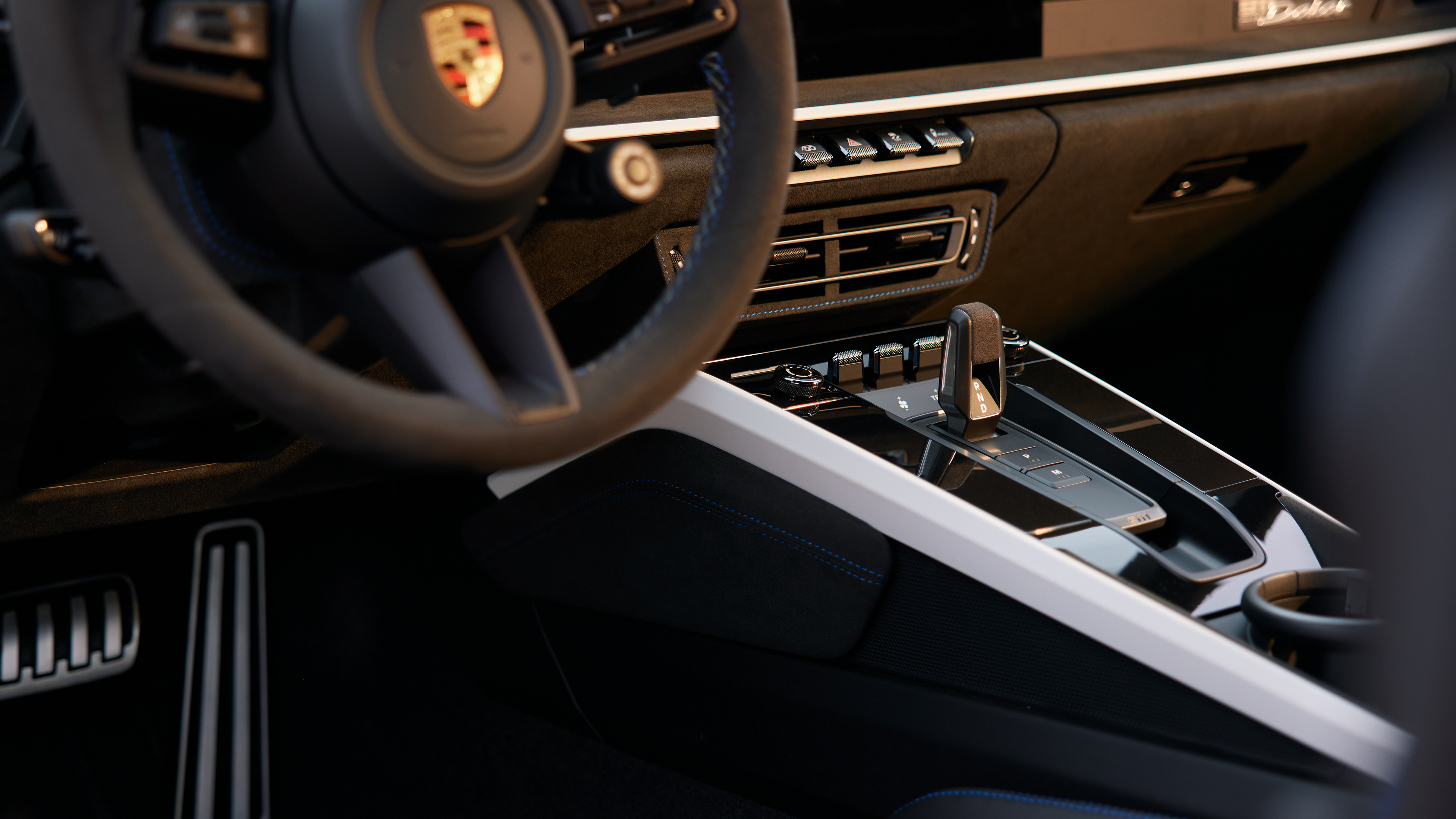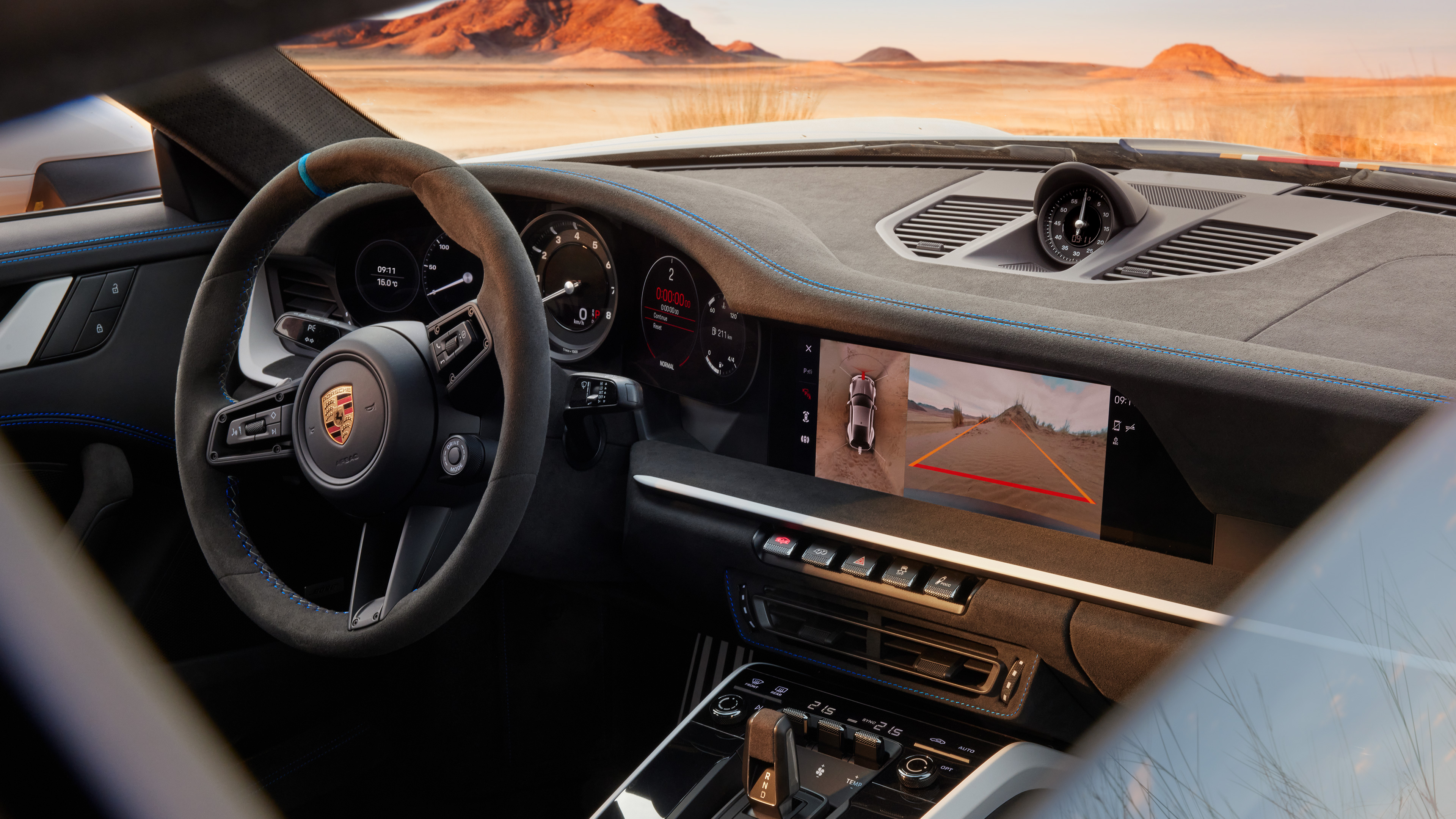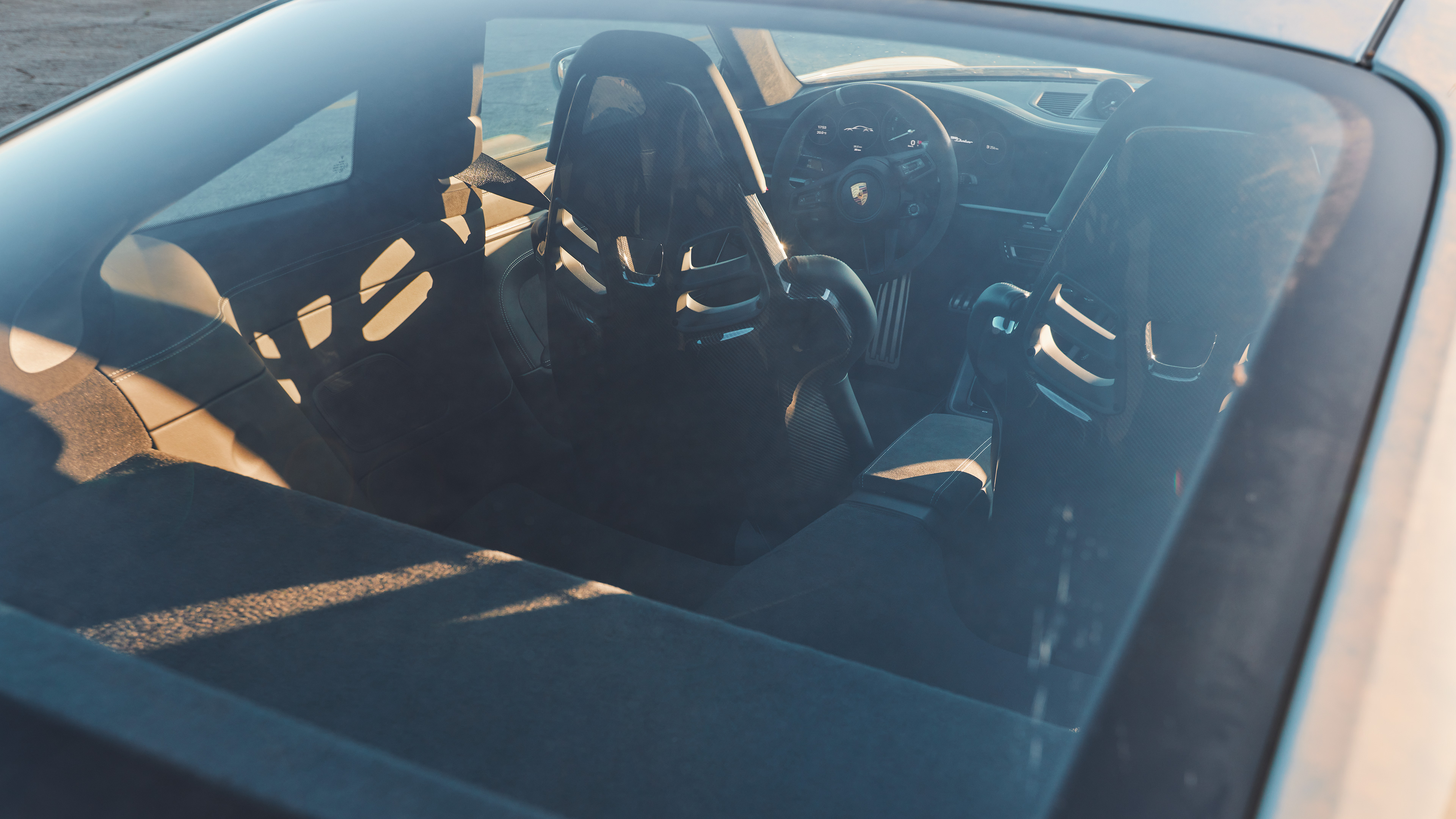 Desired limitation.
In the desert, there is an infinite number of stars in the night sky. The 911 Dakar, on the other hand, is limited to 2,500 units. The aluminium plaque with the limited edition number ensures each car is unique.
Porsche Exclusive Manufaktur.
The fascination of Dakar – combined with extraordinary craftsmanship. The design of the new 911 Dakar was specially matched to the sporty look of the victorious 1984 953 by Porsche Exclusive Manufaktur, and signed with the embossed logo on the storage compartment lid.
Rallye Design Expansion Package.
This is no mirage: the expansion package has additional details in Race-Tex including decorative stitching in Blue – such as the inner sill panelling, the fuse box cover, the vehicle document folder and the central air vent housing with vanes in leather. Another eye-catcher is the shell of the interior mirror, clad in Black Race-Tex with decorative stitching in the same colour.
Black aluminium.
Exclusive and sporty: pedals and footrest in forged aluminium with partially Black anodised and nanocoated finish. The milled PDK selector lever combines Matt Black and Silver-coloured aluminium with Black leather inlays.
Surround view.
When driving off-road, you have to always keep an eye on your surroundings – and even more so on the ground. Gravel? Branches? Mud? At low driving speeds, the terrain camera shows everything on the Porsche Communication Management (PCM) display, so the 911 Dakar can also be parked a little further away if necessary.
Removal of rear seats.
You don't drive a rally with four people, but two. For this reason, the rear seats were deliberately removed from the 911 Dakar, saving even more weight on the way to winning a rally stage.
911 Dakar
911 Dakar
911 Dakar
911 Dakar
911 Dakar
911 Dakar
911 Dakar
911 Dakar
911 Dakar
911 Dakar
911 Dakar
911 Dakar
Configure 911 Dakar model.
Selected
911 Dakar
New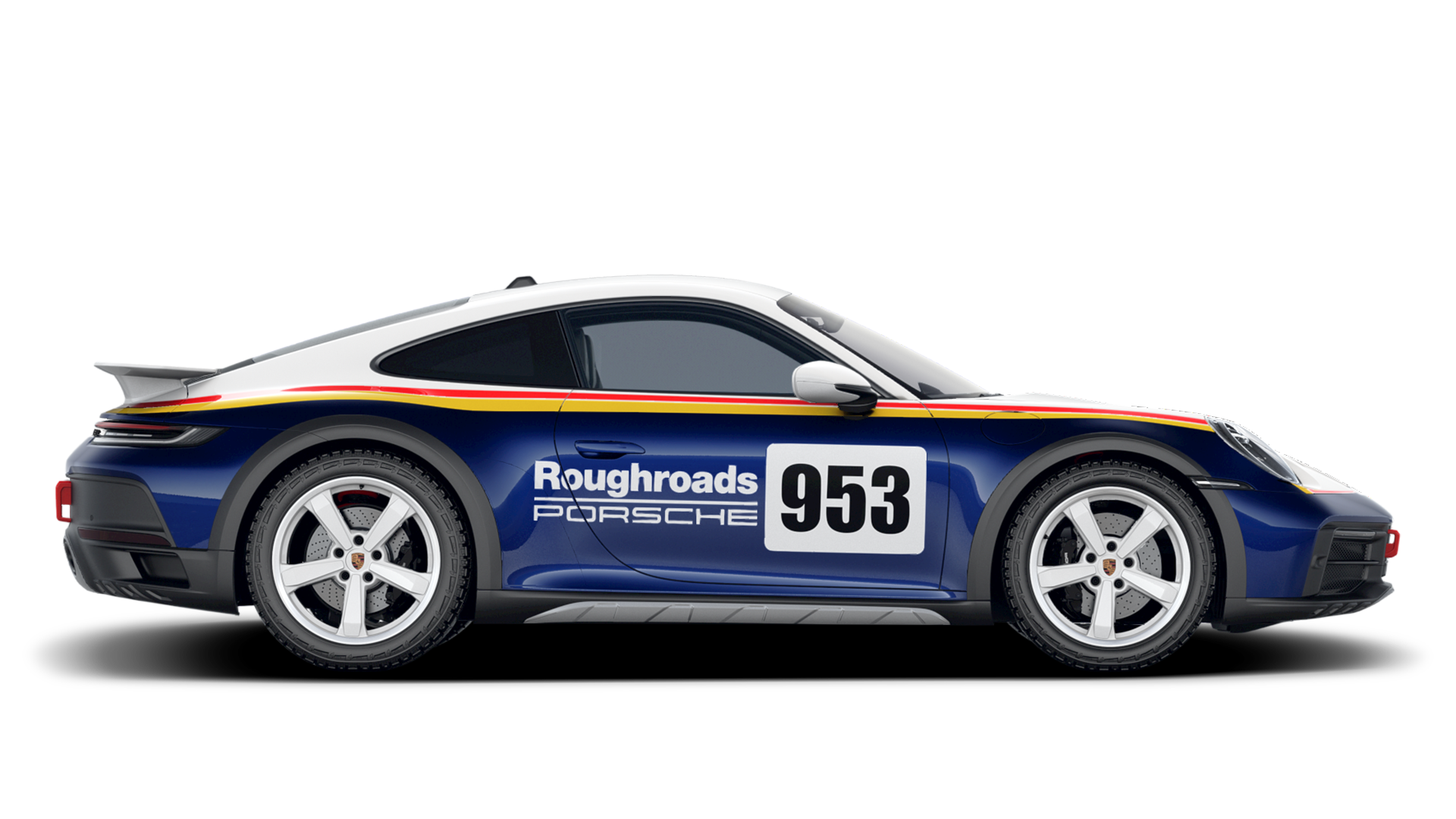 From US$ 321,100
3.4 s
Aceleración 0 - 100 km/h
911 Dakar
3.4 s
Aceleración 0 - 100 km/h
240 km/h
Velocidad máxima
Distancia entre ejes
2,450 mm
Technical Specs
| | |
| --- | --- |
| Grado de combustible | 98 |
| Bore | 91.0 mm |
| Torque | 76.4 mm |
| Desplazamiento | 2,981 cm³ |
| Potencia (CV) | 480 CV |
| Potencia máxima del punto RPM | 6,500 1/min |
| Max. torque | 570 Nm |
| Rango de RPM de máximo torque | 2,300 - 5,000 1/min |
| Máx. producción por litro (CV/l) | 161.00 CV/l |
| | |
| --- | --- |
| Velocidad máxima | 240 km/h |
| Aceleración 0 - 100 km/h | 3.4 s |
| Aceleración 0 - 160 km/h | 7.8 s |
| Aceleración 0 - 200 km/h | 12.0 s |
| Aceleración en marcha (80-120 km/h) (50-75 mph) | 2.2 s |
| 1/4 mile | 11.6 s |
| | |
| --- | --- |
| Ángulo de inclinación, delantero / trasero (suspensión de acero) | 14.2 - 16.4 ° |
| Suspensión de acero de ángulo de ruptura de rampa) | 16.2 ° |
| | |
| --- | --- |
| Longitud | 4,530 mm |
| Ancho | 1,864 mm |
| Ancho (con espejos) | 2,033 mm |
| Altura | 1,338 mm |
| Distancia entre ejes | 2,450 mm |
| Radio de giro | 10.7 m |
| Peso bruto admisible | 1,960 kg |
| Carga máxima | 355 kg |
| Carga máxima admisible sobre el techo con sistema de transporte de techo Porsche | 75 kg |
| | |
| --- | --- |
| Volumen del maletero, delantero | 132 l |
| Tanque de combustible | 67 l |
| | |
| --- | --- |
| Período de garantía | 2 años o 100,000km |
| Intervalo de servicio principal | Cada 10,000km / 1 año |
| Período de garantía de la pintura | 3 Años |
| Garantía de óxido | 10 Años |
| | |
| --- | --- |
| Consumo de combustible urbano | 15.1 l/100 km |
| Consumo de combustible extraurbano | 7.8 l/100 km |
| Consumo de combustible combinado | 10.5 l/100 km |
| Emisiones de CO2 combinadas | 239 g/km |
Standard features
Cambio Porsche Doppelkupplung (PDK) de 8 velocidades con volante bimasa
Motor bóxer de 6 cilindros con doble turbo, cilindrada: 3,0 litros, potencia máxima de salida: 480 CV, torque: 570 Nm
Tren de impulsión
Transmisión de doble embrague de 8 velocidades con control manual a través de levas de cambio en el volante. Incluye un modo automático
Bloque de aluminio y culatas
Tracción en las cuatro ruedas con embrague multidisco controlado por mapa Porsche Traction Management (PTM)
Dirección asistida electromecánica con relación de dirección variable y generador de impulsos de dirección
PTV Plus junto con PDK incluye bloqueo de diferencial trasero totalmente variable controlado electrónicamente y distribución de par totalmente variable
Refrigerado por agua con gestión térmica
4 válvulas por cilindro
Gestión estacionaria con función HOLD
Porsche Stability Management (PSM) incl. ABS con funciones de frenado extendidas
Control Dinámico de Chasis Porsche (PDCC)
Función Auto Start-Stop
2 turbocompresores, 2 intercoolers
Dirección activa de las ruedas traseras para aumentar la agilidad, reducir el radio de giro a bajas velocidades y mejorar la estabilidad de conducción a altas velocidades
Inyección directa de combustible (DFI)
Levantamiento y sincronización variable de válvulas VarioCam Plus
Sistema de dirección asistida con capacidad para reducir el esfuerzo de dirección a bajas velocidades, por ejemplo, durante maniobras y estacionamiento
Lubricación por cárter seco integrada con una bomba de aceite controlada bajo demanda
Dos convertidores catalíticos de 3 vías y diagnóstico a bordo para monitorear el sistema de control de emisiones
Incluye: − Soportes de motor específicos para Dakar − Cronómetro analógico y digital − Interruptor de modo en el volante para seleccionar los modos de conducción NORMAL, SPORT, RALLYE, OFFROAD y WET − Modo RALLYE para una tracción deportiva en terrenos sueltos e irregulares − Modo OFFROAD para una tracción óptima en terreno ambicioso − activación de 'RALLYE Launch Control' en modo RALLYE y OFFROAD
Sistema de escape deportivo con silenciador modificado y dos embellecedores de tubo de escape ovalados en acero inoxidable negro (alto brillo)
2 filtros de partículas de gasolina (GPF)
Múltiple de admisión de expansión
Freno de estacionamiento accionado eléctricamente
Delanteros: Pinzas fijas monobloque de aluminio de 6 pistones con discos de freno de 350 mm perforados en cruz y ventilados internamente Traseros: Pinzas fijas monobloque de aluminio de 4 pistones con discos de freno de 350 mm perforados en cruz y ventilados internamente, pinzas de freno Rojas
Paquete interior Race-Tex con numerosos elementos en cuero, costuras Shadegreen. Los siguientes elementos tapizados en cuero: parte superior del salpicadero, secciones superiores del panel de la puerta, secciones laterales de la consola central, paneles laterales traseros En Race-Tex: aro del volante, manijas de las puertas, reposabrazos del panel de la puerta, paneles centrales de las puertas, tapa del compartimiento de almacenamiento, parte inferior del salpicadero que incluye tapa de la guantera y tapa del portavasos Con costuras decorativas en Shadegreen: parte superior del salpicadero, parte superior de los revestimientos de las puertas, asientos delanteros y paneles laterales traseros.
Llantas de aleación forjadas Dakar de una pieza de 8,0 J x 19 pulgadas con diseño de cinco radios. Acabado de pintura en negro satinado con llantas exteriores muy pulidas y neumáticos todo terreno 245/45 ZR 19 en la parte delantera.
Llantas de aleación de una pieza forjada Dakar de 11,5 J x 20 pulgadas con diseño de cinco radios. Acabado de pintura en negro satinado con llantas exteriores muy pulidas y neumáticos todoterreno 295/40 ZR 20 en la parte trasera.
Sistema de control de presión de neumáticos (TPM)
Construcción ligera inteligente en compuesto de aluminio y acero
Retrovisores exteriores plegables eléctricamente incl. iluminación de cortesía
Manijas de las puertas retráctiles
Designación del modelo en la moldura trasera en negro satinado
Inscripción 'PORSCHE' en negro integrada en la tira de luces traseras
Molduras de las ventanillas laterales en Negro
Rejilla del portón trasero con listones verticales en Negro Satinado
Embellecedor inferior de los retrovisores exteriores pintado en color exterior
Tapón de llenado de combustible de diseño exclusivo
Alerón trasero ligero fijo de plástico reforzado con fibra de carbono (CFRP)
Faldón trasero y sección inferior del faldón trasero en acero inoxidable con molduras de tubo de escape integradas y salidas de aire del intercooler
Cubierta de paso de rueda en negro
Faldones laterales en negro con incrustaciones en acero inoxidable
Faldón delantero con protección frontal en acero inoxidable y rejillas de entrada de aire
Tapa frontal ligera de plástico reforzado con fibra de carbono (CFRP) en color exterior con dos salidas de aire
Argolla de remolque fija en rojo (delantera y trasera)
Fijación de matrícula en la parte delantera, pequeña
Tira de luces traseras con luces traseras LED transparentes que incluyen luces de estacionamiento integradas y luz antiniebla trasera
Faros principales LED tintados con Matrix Beam que incluyen Porsche Dynamic Light System Plus (PDLS Plus)
Retrovisores interiores y exteriores antideslumbrantes automáticos con sensor de lluvia integrado
Luces de lectura, orientación, cerradura de encendido, maletero, espacio para los pies, guantera e iluminación de puertas, todos construidos con tecnología LED
Espejos de cortesía iluminados en parasoles para conductor y pasajero
Vidrio ligero y aislante del ruido.
Unidades de luces auxiliares LED en la parte delantera con luces de posición, indicadores de dirección e indicadores laterales
Activación automática de faros incl. Iluminación 'Bienvenido a casa'
Sistema de lavado de parabrisas con escobillas aerodinámicas y chorros de lavado
Parabrisas con tinte superior gris. Fuertemente tintado en la zona superior para reducir el deslumbramiento.
Electrificación de cubierta con toma de corriente externa
Número de edición limitada. Insignia plateada '911 Dakar' con el número de limitación 'xxxx/2500' en el tablero
Interior negro con elementos seleccionados en negro Race-Tex: centros de los asientos delanteros y traseros, manijas de las puertas, reposabrazos del panel de la puerta, aro del volante, palanca/selector de cambios y tapa del compartimiento de almacenamiento principal de la consola central (parcialmente)
Sistema de fijación ISOFIX
Ligeros asientos de cubo completos hechos de plástico reforzado con fibra de carbono (CFRP) con acabado de tejido de carbono (alto brillo) con airbag de tórax integrado, ajuste eléctrico de altura y ajuste manual longitudinal para el lado del conductor y del pasajero. Tapizado de asiento de cuero en negro con centro de asiento en material Race-Tex perforado con respaldo en Shadeegreen, reposacabezas con logotipo '911' bordado. Con costuras de contraste en Shadegreen. Nota: los asientos para niños no son compatibles con los asientos de cubo completos
Embellecedor del salpicadero en Shadegreen; Molduras de la consola central y listones de las puertas en negro, inserciones decorativas en aluminio cepillado negro
Cuadro de instrumentos con cuentarrevoluciones central y dos pantallas TFT de 7 pulgadas, Centerdisplay de 10,9 pulgadas
Control de clima automático de 2 zonas con ajustes de temperatura separados para el conductor y el pasajero delantero, modo de recirculación de aire automático incl. sensor de calidad del aire
Maletero en la parte delantera
Indicador de marcha en el cuentarrevoluciones
Filtro de partículas/polen con filtro de carbón activo
Bolsas de aire de tamaño completo (dos etapas) para el conductor y el pasajero delantero
Consola central ascendente con compartimento portaobjetos
Compartimento de almacenamiento en cada puerta.
Porsche Side Impact Protection (POSIP), compuesto por elementos de protección contra impactos laterales en las puertas, airbag de cortina (Head-/ Windowbag) y airbag de tórax para el conductor y el acompañante
Guantera (con cerradura) y compartimento de almacenamiento en cada puerta
Dos portavasos individuales (1x como entrada en la consola central y 1x en el lado del pasajero)
Inmovilizador de motor con cierre centralizado a distancia y sistema de alarma con vigilancia interior basada en sonido ultrasónico
Vidrio termoaislante teñido de verde
Luneta trasera calefactable
Iluminación ambiental adicional alrededor de los compartimentos portaobjetos de las puertas, la consola central y los asientos traseros. Regulable y disponible en siete colores; incluyendo la iluminación estándar del espacio para los pies delantero
Revestimiento del techo y revestimiento de los pilares A/B/C en tela, revestimiento del pilar A en cuero
2 puertos USB-C en la tapa del compartimiento de almacenamiento principal de la consola central, enchufe (12 voltios) en el espacio para los pies del pasajero
Alfombras de piso
Cuero acabado liso en el color interior y parcialmente con costuras decorativas: - molduras laterales del tablero - molduras centrales de la parte superior del salpicadero incl. cubierta Sport Chrono del cronómetro.
WET Mode de Porsche
Sistema de llamada de emergencia eCall
Advertencia y asistencia de frenado incl. Protección de peatones
Keyless drive
ParkAssist incl. Vista envolvente. ParkAssist (delantero y trasero), incluida la cámara de marcha atrás, pero también con una vista envolvente de 360 grados generada a partir de las imágenes de cuatro
Elevalunas eléctricos con operación de un solo toque y protección del sello de la puerta
Cruise control
Mando a distancia para el cierre centralizado y el desbloqueo de la tapa del maletero
Porsche Entry
HomeLink®
ParkAssist incl. Vista envolvente
Sistema de alarma con vigilancia interior
Revestimiento del techo, revestimiento del pilar A, cubierta del pilar B (parte superior), pilar C en Race-Tex
Volante Deportivo GT Calefactable Race-Tex. En Race-Tex negro. Las costuras decorativas y la marca central superior están en Shadegreen.
Pedales y reposapiés de estilo deportivo en aluminio forjado, parcialmente con acabado anodizado negro y nanorevestido
Selector de marchas PDK fresado en aluminio negro (mate) con un diseño distintivo. Con inserciones de cuero negro y refuerzos laterales en plata aluminio
Molduras de acceso de las puertas en aluminio cepillado en negro con designación de modelo '911 Dakar'
Porsche Connect
Sistema de sonido envolvente BOSE®
Sistema de seguimiento de vehículos Porsche (PVTS)
Porsche Communication Management (PCM) incl. Navegación en línea¹
Radio digital
Integración de teléfonos inteligentes
Sound Package Plus
Connect Care
Blanco
Negro
GT Silver Metálico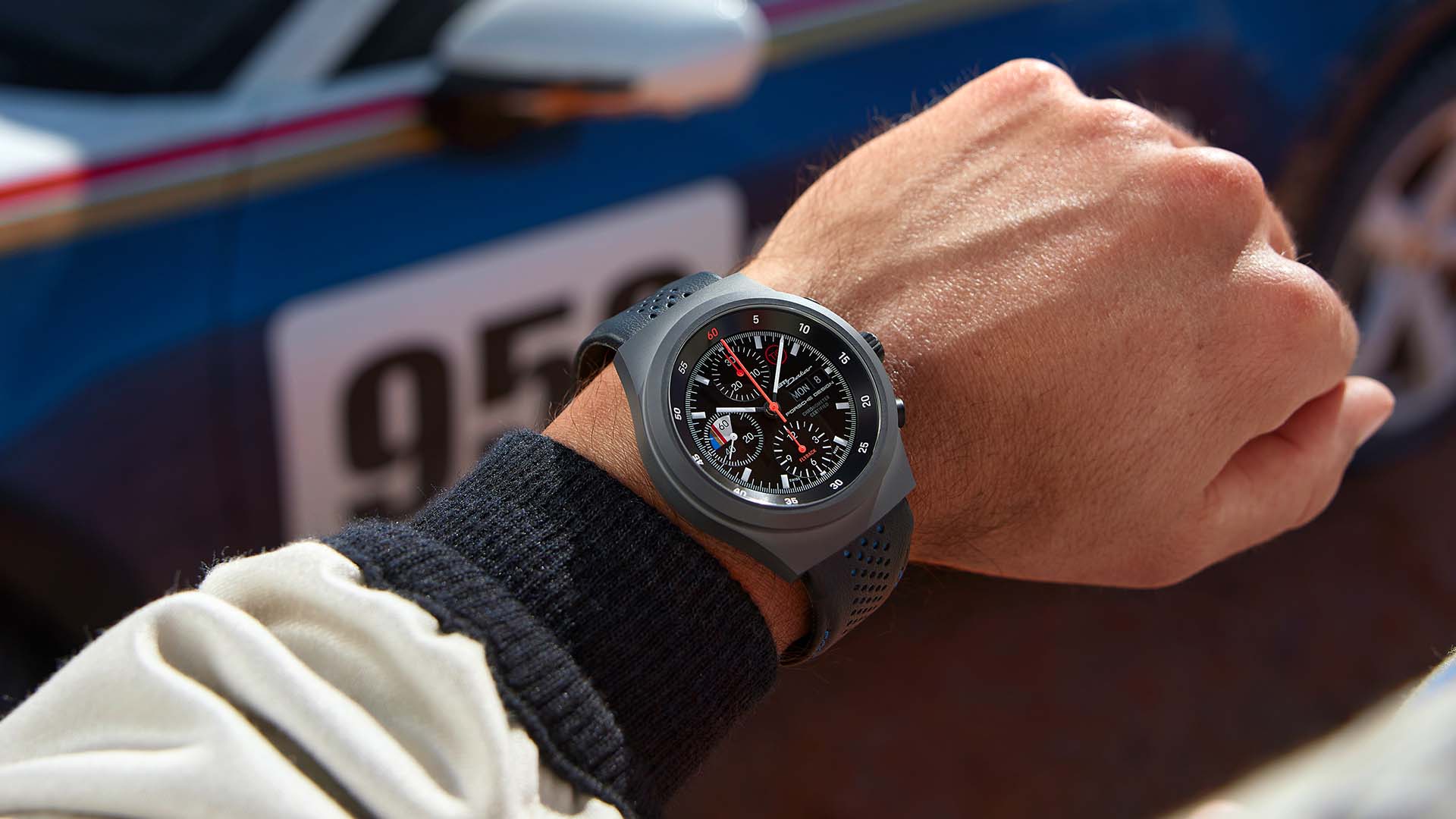 World innovation - made of titanium carbide.
The world's first chronograph with a titanium carbide case: the strictly limited-edition Chronograph 911 Dakar has legendary design features and impresses with its optimal readability even in direct sunlight. Exclusively for owners of the Porsche 911 Dakar.

Personalisation & finishing.
In the Porsche Exclusive Manufaktur we offer you a variety of personalisation options for exterior and interior. For your completely personalised vehicle.