6 Hours of Spa-Francorchamps
Results for Porsche
Porsche 911 RSR No. 92: Christensen, Estre
3rd position; 124 laps; fastest lap: 2'15.556
Porsche 911 RSR No. 91: Lietz, Bruni
8th position; 124 laps; fastest lap: 2'15.784
Overall result
1st Aston Martin Racing, Aston Martin Vantage AMR no. 97
124 laps; fastest lap: 2'15.702
2nd AF Corse, Ferrari 488 GTE EVO no. 51
124 laps; fastest lap: 2'16.336
3rd Porsche GT Team, Porsche 911 RSR no. 92
124 laps; fastest lap: 2'15.556
4th BMW Team MTEK , BMW M8 GTE no. 82
124 laps; fastest lap: 2'14.208
5th Ford Chip Ganassi Team UK, Ford GT no. 67
124 laps; fastest lap: 2'14.914
6th AF Corse, Ferrari 488 GTE EVO no. 71
124 laps; fastest lap: 2'16.109
7th Aston Martin Racing, Aston Martin Vantage AMR no. 95
124 laps; fastest lap: 2'16.276
8th Porsche GT Team, Porsche 911 RSR no. 91
124 laps; fastest lap: 2'15.784
9th BMW Team MTEK , BMW M8 GTE no. 81
124 laps; fastest lap: 2'14.515
10th Ford Chip Ganassi Team UK, Ford GT no. 66
123 laps; fastest lap: 2'15.629
Race report
The road to the world championship title: the 2018/2019 success story
Stuttgart. As the Porsche 911 RSR rolls on to the grid at Spa-Francorchamps (Belgium) on May 5, 2018, it begins its second season in the FIA Sports Car World Endurance Championship. The model has already notched up two race wins in North America, as well as the North American Endurance Cup (NAEC),...
Read more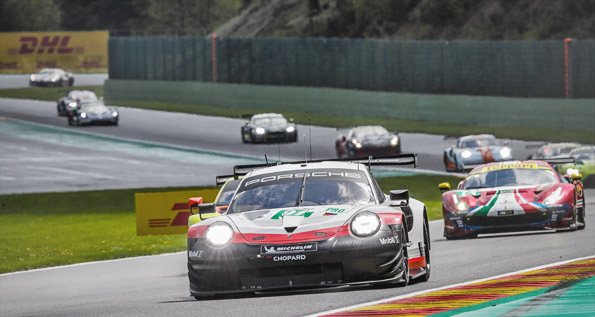 Porsche finishes on podium at Spa and claims early world championship title
Stuttgart. Porsche is the new world champion of FIA World Endurance Championship (WEC). With positions three and eight for the two Porsche 911 RSR at Spa, the team from Weissach secured an early title at the penultimate round of the 2018/2019 Super Season.

The two leaders of the drivers'...
Read more
6 Hours of Spa-Francorchamps
6 Hours of Spa-Francorchamps
6 Hours of Spa-Francorchamps
6 Hours of Spa-Francorchamps
6 Hours of Spa-Francorchamps
6 Hours of Spa-Francorchamps
6 Hours of Spa-Francorchamps
6 Hours of Spa-Francorchamps
6 Hours of Spa-Francorchamps
6 Hours of Spa-Francorchamps
6 Hours of Spa-Francorchamps
6 Hours of Spa-Francorchamps
6 Hours of Spa-Francorchamps
6 Hours of Spa-Francorchamps
6 Hours of Spa-Francorchamps