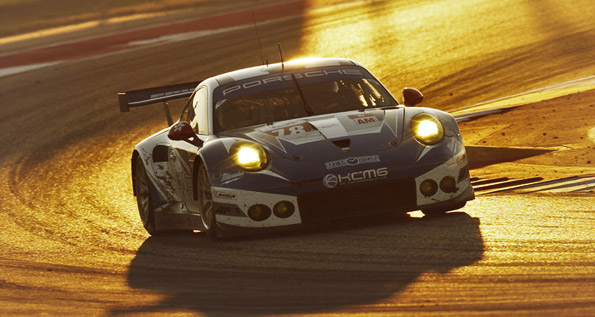 Race report
Porsche 911 RSR (78), KCMG
FIA World Endurance Championship, round 6 in Austin/USA - GT, Race report
Second place for the Porsche customer team KCMG
Stuttgart. The KCMG Porsche customer team secured second place in the GTE-Am class at round six of this year's Sports Car World Endurance Championship WEC in Austin. For Porsche works driver Wolf Henzler (Germany), Christian Ried (Germany) and Joel Camathias (Switzerland), this marks the second podium result with the Porsche 911 RSR within two weeks. At the race in Mexico City the trio saw the chequered flag in third place with the 470 hp race car.

The other Porsche customer squads also performed well at the Circuit of the Americas and could match the pace of the GTE-Am class frontrunners over much of the distance. In the second half of the race, however, they had to relinquish their hopes in the fight for a podium result: Gulf Racing finished on fourth place, with Abu Dhabi Proton Racing having to settle for fifth after a long stint in the lead. This team, with the driver line-up of Porsche factory pilot Kévin Estre (France), Khaled Al Qubaisi (Abu Dhabi) and David Heinemeier Hansson (Denmark), had recently celebrated its first WEC victory in Mexico City.

In the GTE-Pro class, the Porsche 911 RSR fielded by Dempsey Proton Racing finished the six-hour race without incident. Facing strong opposition in the GT field, the Porsche works drivers Richard Lietz (Austria) and Michael Christensen (Denmark) took the flag in sixth place.

The Sports Car World Endurance Championship rounded off a remarkable Porsche Festival on the Grand Prix racetrack on the outskirts of the Texas capital. Aside from the WEC, fans were treated to an action-packed weekend of racing in Austin which also included the IMSA SportsCar Championship, in which Porsche clinched a double victory in the GTLM class with the 911 RSR, as well as the Porsche GT3 Cup Challenge and the SportsCar Challenge. Spectators could enjoy five races with around 45 Porsche racing vehicles including the 911 RSR, 911 GT3 R, 911 GT3 Cup, Cayman GT4 Clubsport as well as 919 Hybrid models.

Race quotes
Wolf Henzler (Porsche 911 RSR #78): "We were incredibly consistent from the first to the last lap and we made virtually no mistakes. Third in Mexico, second in the USA – obviously I'd now like to continue this logical progression in Japan."
Kévin Estre (Porsche 911 RSR #88): "Our start was good and we were running in the lead for a long time. But then we had a minor fire during a pit stop, and later we got a puncture. This cost us a lot of time. It's a shame because the pace of our 911 RSR was really good, especially towards the end of the race. Without these problems we would definitely have finished higher up the ranks."
Richard Lietz (Porsche 911 RSR #77): "Our team supported us with excellent pit stops. We had no technical problems and with the cooler temperatures towards the end our tyres worked better. Still, in terms of pace unfortunately we couldn't achieve a better result today."
Michael Christensen (Porsche 911 RSR #77): "The main priority for us was to get over the line safely and not damage the car. It's tough when you do your very best in every lap and it's still not enough to fight for top places. But we have to think positively and hope that things go better for us at the next race."

Round seven of the Sports Car World Endurance Championship WEC is contested on 16 October in Fuji/Japan.

Race result
GTE-Pro class
1. Sörensen/Thiim (DK/DK), Aston Martin, 163 laps
2. Bruni/Calado (I/GB), Ferrari 488 GTE, 163
3. Rigon/Bird (I/GB), Ferrari 488 GTE, 162
4. Franchitti/Priaulx/Tincknell (USA/GB/GB), Ford GT, 162
5. Turner/Rees (GB/BRA), Aston Martin, 162
6. Christensen/Lietz (D/A), Porsche 911 RSR, 161
7. Mücke/Pla (D/F), Ford GT, 144

GTE-Am class
1. Lamy/Dalla Lana/Lauda (P/CAN/A), Aston Martin, 158 laps
2. Ried/Henzler/Camathias (D/D/CH), Porsche 911 RSR, 158
3. Yamagishi/Ragues/Taylor (J/F/USA), Chevrolet Corvette, 157
4. Wainwright/Carroll/Barker (GB/GB/GB), Porsche 911 RSR, 153
5. Al Qubaisi/Estre/Heinemeier Hansson (UAE/F/DK), Porsche 911 RSR, 153
6. Collard/Perrodo/Aguas (F/F/P), Ferrari F458 Italia, 147

The Sports Car World Championship WEC
Sports prototypes and GT vehicles contest the Sports Car World Endurance Championship (WEC) in four classes: LMP1 (eg. Porsche 919 Hybrid), LMP2, LMGTE-Pro (eg. 911 RSR) and LMGTE-Am (eg. 911 RSR). They all compete together in one race but are classified separately.


All reports on the previous season can be found in our archive.