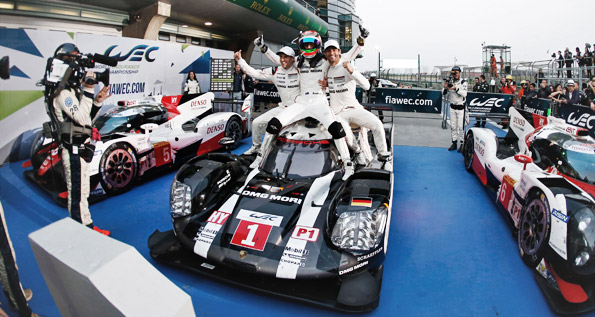 Race report
Porsche 919 Hybrid, Porsche Team
FIA World Endurance Championship, LMP1, Round 8, Shanghai (China), Race report
Start-finish win and manufacturers' title for Porsche 919 Hybrid
Stuttgart. Porsche celebrates its sixth race win this season and the successful defence of the manufacturers' world championship title in Shanghai. At the penultimate of nine rounds of the FIA World Endurance Championship (WEC) the race winners were Timo Bernhard (DE), Brendon Hartley (NZ) and Mark Webber (AU), who started from pole position. The trio with the sister Porsche 919 Hybrid, Romain Dumas (FR), Neel Jani (CH) and Marc Lieb (DE), who are the championship leaders, had started from sixth and finished fourth. Hartley set the fastest race lap with at time of 1.45,935 minutes on the 5.451 kilometre long Shanghai International Circuit. The six-hour race was held in dry conditions and temperatures of around 23 degrees Celsius.

How the race went for car number 1:

Hartley starts from pole position, does a double stint and, after 60 laps, hands over the leading car to Bernhard. He double-stints as well, and hands over the car, that is still leading, to Webber after 120 laps. After 150 laps Hartley takes over again and brings home the well-deserved race win at the end of 195 laps.

How the race went for car number 2:

Jani starts from P6, is continuously catching up, and hands over the 919 to Lieb after two stints (59 laps) in P2. On lap 80 Lieb loses P2 to the number 6 Toyota. After 89 laps Dumas jumps in, but on lap 109, after a tough battle, is passed by the number 5 Toyota and continues in P4. At the end of 119 laps Jani takes over again. After a good pit stop he gets by the number 5 Toyota again and, when the number 6 Toyota has an unscheduled pit stop after 134 laps, is second again behind the leading sister Porsche. Then a duel with the number 5 Toyota evolves. Jani stays in the car until the finish and comes in fourth.
Quotes after the race
Andreas Seidl, Team Principal: "It feels great having secured the manufacturers' world championship title again for Porsche. This is an achievement by every single team member – at home in Weissach, here at the race track and also thanks to our partners. The title is the result of having a fast, reliable car and a strong team performance. Here in Shanghai we took pole, set fastest race lap, constantly had the fastest car on track, the best pit stops, the right strategy and the best drivers at the wheel. This title win is well deserved and at the finale in Bahrain we want to fight for the drivers' world championship title."

Drivers Porsche 919 Hybrid number 1

Timo Bernhard (35, Germany): "We've had a super race today. Brendon made a great start, so we were able to keep the lead and then extend it. I was the second driver in the car and also did a double stint. The number 6 Toyota with Kamui Kobayashi driving was really strong. Very often the situation in traffic was the limiting factor. Here you really had to constantly balance between being aggressive or rather defensive when lapping slower cars. I am absolutely happy that our trio has another race win."

Brendon Hartley (26, New Zealand): "What a day! The first corner after the start was interesting. I think the Toyota used a big package of energy from the e-motor and passed me quite easily into turn one. I knew he would suffer later in the lap, because according to the rules you can only use a certain amount of energy. I got him just before the safety car came out. This was a good little battle on the first lap, and after that I just tried to keep it clean and handed the car over with an 18 second lead. We had to change the nose because a massive peace of rubber had damaged the light. Once again our pit stops were great and on my last double stint everything went smoothly. I am very, very happy."

Mark Webber (40, Australia): "Brendon was flying today and Timo's double stint was really nice. I did a single stint and got some used tyres out of the way before Brendon brought it home. It was an amazing day for Porsche and we are really happy to have contributed to it."

Drivers Porsche 919 Hybrid number 2

Romain Dumas (38, France): "It was very tight racing today. I was third in the car for a single stint. I had some bad traffic, which, of course, cost some time. I had lots of pick-up on my tyres that I never got rid of."

Neel Jani (32, Switzerland): "I started from sixth on the grid, and tried to drive tactically with regards to positioning myself in traffic and saving boost to be able to attack when needed. It worked out, the car was super good and I could catch one car after another. When I was in third position I struggled a bit, because I then very unluckily hit traffic and lost several seconds. But still I was able to hand over the car in second position after a double stint. Unfortunately in the middle stints of the race we lost some time. I did another double stint in the end, but then the car didn't feel quite as good. Now we have to take care of the drivers' world championship at the finale in Bahrain in two week's time."

Marc Lieb (36, Ludwigsburg): "I was in the car second after Neel and my stint wasn't great. In the beginning I had a lot of traffic and constantly had to lap cars, I just ruined my front tyres. I had no grip at the front axle and constant understeer."

All points standings: http://www.fiawec.com/courses/classification.html
All results: http://fiawec.alkamelsystems.com


All reports on the previous season can be found in our archive.