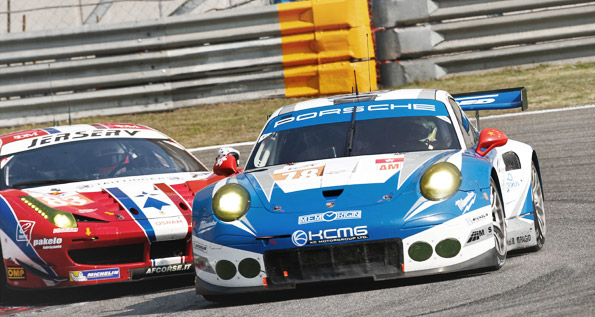 Race report
FIA World Endurance Championship, Round 8, Shanghai/China, Race GT, Race report
Fourth consecutive podium for the Porsche 911 RSR
Stuttgart. The success streak for Porsche customer teams in the Sports Car World Endurance Championship WEC continues: At the six-hour race in Shanghai, Porsche works driver Wolf Henzler (Germany), Christian Ried (Germany) and Joel Camathias (Switzerland) achieved the fourth straight podium result after a spectacular pursuit with the Porsche 911 RSR. With KCMG squad's 470 hp winning racer from Weissach, which is based on the seventh generation of the iconic 911 sports car, they secured second place in the GTE-Am class on the Shanghai International Circuit. After a consistently strong performance in the second half of the season, the team finished second in Austin and third at the races in Mexico City and Fuji.

The penultimate race of the season on the 5.541 kilometre Grand Prix circuit on the outskirts of the Chinese economic metropolis remained gripping to the very end, thanks to Wolf Henzler, who put a Ferrari ahead of him in second under increasing pressure in the closing phase of the race. When both cars became embroiled in a collision involving a prototype in the last lap, the Porsche factory driver grabbed the chance to snatch second place. For Abu Dhabi Racing, which celebrated its first win of the season in Mexico City, Porsche works driver Patrick Long (USA), Khaled Al Qubaisi (Abu Dhabi) and David Heinemeier Hansson (Denmark) clinched fourth place. The 911 RSR run by Gulf Racing with the all-British driver line-up of Ben Barker, Adam Carroll and Michael Wainwright crossed the finish line as sixth.

In the GTE-Pro class, Richard Lietz (Austria), the most successful WEC GT pilot of 2015, clinched sixth place with Michael Christensen (Denmark). This season, the Porsche works driver's 911 RSR was campaigned by the Dempsey Proton Racing customer squad.
Quotes after the race
Wolf Henzler (Porsche 911 RSR #78): "The last lap was really tough. During my entire stint I was within striking distance of the Ferrari and was a little better in some decisive places, but simply couldn't get past. Then in the final lap I got my chance. I came out of Turn 3 well and because I knew that we were better on the brakes I made my move in the first hairpin. I had pulled alongside the Ferrari when suddenly a prototype squeezed in on the inside. Because there was simply no room he smashed into my right side, which caused me to hit the right side of the Ferrari. We both spun but I managed to recover quicker. And that meant a step higher on the podium."
Christian Ried (Porsche 911 RSR #78): "Of course we were determined to win a race this season but it looks as if second place is the maximum for us."

Patrick Long (Porsche 911 RSR #88): "Our 911 RSR was very consistent over the distance and we were actually in a good position to be able to fight for a podium spot. But a slow puncture robbed us of this hope."
Richard Lietz (Porsche 911 RSR #7): "Shanghai was another tough race for us. In the heat at the start our tyres didn't work as well as we'd hoped. The situation improved in the final phase and we had a great fight with the Ferrari in front of us. For the last race in Bahrain we'll do everything we can to improve."
Michael Christensen (Porsche 911 RSR #77): "The track conditions became better for us as the race went on. Bahrain is a different story to conclude the season, and that goes for the tyres, as well. We'll run a different tyre compound there and hope that we benefit from that."

The ninth and final round of the Sports Car World Endurance Championship will be contested on 19 November in Sakhir/Bahrain.
Race result
GTE-Pro class

1. Priaulx/Tincknell (USA/GB/GB), Ford GT, 170 laps
2. Mücke/Pla (D/F), Ford GT, 170
3. Bruni/Calado (I/GB), Ferrari 488 GTE, 170
4. Sörensen/Thiim (DK/DK), Aston Martin, 170
5. Rigon/Bird (I/GB), Ferrari 488 GTE, 168
6. Christensen/Lietz (D/A), Porsche 911 RSR, 168
7. Stanaway/Turner (NZ/GB), Aston Martin, 1

GTE-Am class

1. Lamy/Dalla Lana/Lauda (P/CAN/A), Aston Martin, 166 laps
2. Ried/Henzler/Camathias (D/D/CH), Porsche 911 RSR, 166
3. Collard/Perrodo/Aguas (F/F/P), Ferrari F458 Italia, 166
4. Al Qubaisi/Long/Heinemeier Hansson (UAE/F/DK), Porsche 911 RSR, 166
5. Brandela/Ragues/Taylor (F/F/USA), Chevrolet Corvette, 164
6. Wainwright/Carroll/Barker (GB/GB/GB), Porsche 911 RSR, 164

The Sports Car World Championship WEC
Sports prototypes and GT vehicles contest the Sports Car World Endurance Championship (WEC) in four classes: LMP1 (eg. Porsche 919 Hybrid), LMP2, LMGTE-Pro (eg. 911 RSR) and LMGTE-Am (eg. 911 RSR). They all compete together in one race but are classified separately.


All reports on the previous season can be found in our archive.