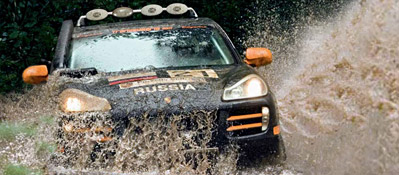 If you're curious and would like to know more about our Porsche magazine, you'll find selected articles here for you to read as a sample.
We hope you enjoy reading them – and if you want to read more, you can apply for subscription to 'Christophorus' online now.
Ride into the Future
Move today what you'll see tomorrow: That modified version of this year's International Motor Show slogan is what the 911 Turbo Cabrio is all about - as we'll show you in this tour of Frankfurt.
Download PDF/ 457 KB
Beyond the Imagination
Porsche presents a great top athlete: the new 911 GT2 is the most powerful 911 of all time. It ventures into new dimensions - and not just because of its technology.
Download PDF/ 164 KB
Batteries Included
The Hybrid Cayenne will be here within this decade. A workshop at the Porsche Development Center shows how fuel consumption can be reduced by up to 25 percent.
Download PDF/ 304 KB
Siberian Tigers
A fleet of Cayenne S Transsyberias has tackled one great adventure: the grueling course from Moscow to Mongolia. A trip for those who can handle anything.
Download PDF/ 460 KB
Champion's Time Travel
For eleven years, Jochen Mass was a factory driver at Porsche. In the storeroom of the Porsche Museum, he experiences racing history once again - and in a completely new way.
Download PDF/ 179 KB
Triple Triumph
Twenty-five years ago, Porsche celebrated its first victory in Le Mans with the 956/962 - a triple crown. The race car that never wanted to retire was to rake in plenty more wins and become a legend.
Download PDF/ 464 KB
Bridging Desires
It's more than just a connection between two points: bridges give a driver something like a feeling of weightlessness - even when all four wheels are still on the ground.
Download PDF/ 426 KB
The Beauty of Budapest
Budapesters are purely men's business. The traditional German brand Dinkelacker, which maintains a factory in the Hungarian capital, cultivates the tradition and fascination of this shoe.
Download PDF/ 277 KB