Results for Porsche
919 Hybrid No. 2: Bernhard, Bamber, Hartley
1st position; 192 laps; fastest lap: 1'47.302
919 Hybrid No. 1: Jani, Lotterer, Tandy
2nd position; 192 laps; fastest lap: 1'47.149
911 RSR No. 92: Christensen, Estre
2nd position; 167 laps; fastest lap: 2'05.436
911 RSR No. 91: Lietz, Makowiecki
6th position; 166 laps; fastest lap: 2'05.230
Overall result
P
Driver
No.
Team
Car
Class
Laps
Best Lap
Gap
1
Timo BERNHARD
Earl BAMBER
Brendon HARTLEY
2
Porsche LMP Team
Porsche 919 Hybrid
LM P1
192
1'47.302
2
Neel JANI
André LOTTERER
Nick TANDY
1
Porsche LMP Team
Porsche 919 Hybrid
LM P1
192
1'47.149
0.276
3
Sébastien BUEMI
Stéphane SARRAZIN
Kazuki NAKAJIMA
8
Toyota Gazoo Racing
Toyota TS050 - Hybrid
LM P1
192
1'47.556
21.956
4
Mike CONWAY
Kamui KOBAYASHI
Jose Maria LOPEZ
7
Toyota Gazoo Racing
Toyota TS050 - Hybrid
LM P1
192
1'47.391
45.026
P
Driver
No.
Team
Car
Class
Laps
Best Lap
Gap
1
James CALADO
Alessandro PIER GUIDI
51
AF Corse
Ferrari 488 GTE
LM GTE Pro
167
2'04.874
25 Laps
2
Michael CHRISTENSEN
Kevin ESTRE
92
Porsche GT Team
Porsche 911 RSR
LM GTE Pro
167
2'05.436
25 Laps
3
Davide RIGON
Sam BIRD
71
AF Corse
Ferrari 488 GTE
LM GTE Pro
167
2'04.801
25 Laps
4
Nicki THIIM
Marco SØRENSEN
95
Aston Martin Racing
Aston Martin VANTAGE
LM GTE Pro
167
2'04.789
25 Laps
5
Darren TURNER
Jonathan ADAM
Daniel SERRA
97
Aston Martin Racing
Aston Martin VANTAGE
LM GTE Pro
167
2'05.972
25 Laps
6
Richard LIETZ
Frédéric MAKOWIECKI
91
Porsche GT Team
Porsche 911 RSR
LM GTE Pro
166
2'05.230
26 Laps
7
Andy PRIAULX
Harry TINCKNELL
67
Ford Chip Ganassi Team UK
Ford GT
LM GTE Pro
166
2'05.604
26 Laps
8
Stefan MÜCKE
Olivier PLA
66
Ford Chip Ganassi Team UK
Ford GT
LM GTE Pro
166
2'05.780
26 Laps
Race report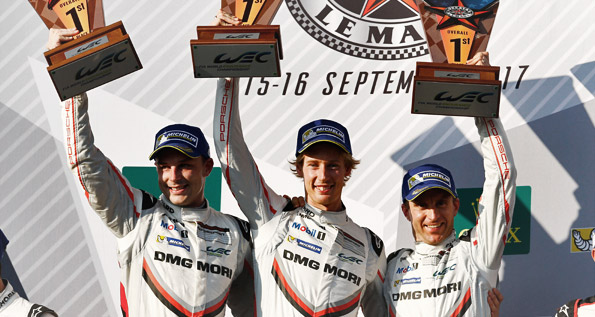 Another one-two race win for the Porsche 919 Hybrids in Texas
Stuttgart. By taking a one-two victory in Austin, Texas, USA, the Porsche LMP Team further extended its world championship lead. Earl Bamber (NZ), Timo Bernhard (DE) and Brendon Hartley (NZ), the championship leading Le Mans winners, crossed the line first at the Circuit of The Americas. The sixth...
Read more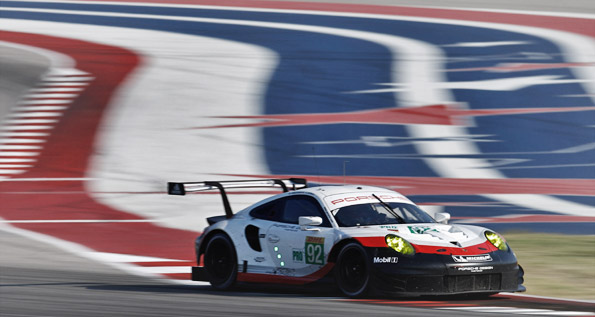 Second place for the 911 RSR at sweltering Texas race
Stuttgart. At the six-hour race in Austin, the newly developed Porsche 911 RSR put in a spectacular chase through the field. At Saturday's race on the Circuit of the Americas, Michael Christensen (Denmark) and Kévin Estre (France) ploughed their way from the last grid spot to finish second in the...
Read more