Results for Porsche
919 Hybrid No. 01: Bernhard, Webber, Hartley
3rd position; 244 laps; fastest lap: 1'25.311
919 Hybrid No. 02: Dumas, Jani, Lieb
5th position; 243 laps; fastest lap: 1'25.473
Overall result
P
Driver
No.
Team
Car
Class
Laps
Best Lap
Gap
1
Stéphane SARRAZIN
Mike CONWAY
Kamui KOBAYASHI
6
Toyota Gazoo Racing
Toyota TS050 - Hybrid
LM P1
244
1'25.320
2
Lucas DI GRASSI
Loïc DUVAL
Oliver JARVIS
8
Audi Sport Team Joest
Audi R18
LM P1
244
1'24.645
1.439
3
Timo BERNHARD
Mark WEBBER
Brendon HARTLEY
1
Porsche Team
Porsche 919 Hybrid
LM P1
244
1'25.311
17.339
4
Anthony DAVIDSON
Sébastien BUEMI
Kazuki NAKAJIMA
5
Toyota Gazoo Racing
Toyota TS050 - Hybrid
LM P1
244
1'25.377
53.779
5
Romain DUMAS
Neel JANI
Marc LIEB
2
Porsche Team
Porsche 919 Hybrid
LM P1
243
1'25.473
1 Laps
6
Mathéo TUSCHER
Dominik KRAIHAMER
Alexandre IMPERATORI
13
Rebellion Racing
Rebellion R-One - AER
LM P1
229
1'29.901
15 Laps
7
Simon TRUMMER
Oliver WEBB
Pierre KAFFER
4
Bykolles Racing Team
CLM P1/01 - AER
LM P1
79
1'30.658
165 Laps
8
Marcel FÄSSLER
André LOTTERER
Benoît TRÉLUYER
7
Audi Sport Team Joest
Audi R18
LM P1
36
1'25.476
208 Laps
P
Driver
No.
Team
Car
Class
Laps
Best Lap
Gap
1
Andy PRIAULX
Harry TINCKNELL
67
Ford Chip Ganassi Team UK
Ford GT
LM GTE Pro
212
1'38.575
32 Laps
2
Stefan MÜCKE
Olivier PLA
66
Ford Chip Ganassi Team UK
Ford GT
LM GTE Pro
212
1'38.712
32 Laps
3
Gianmaria BRUNI
James CALADO
51
AF Corse
Ferrari 488 GTE
LM GTE Pro
212
1'39.096
32 Laps
4
Davide RIGON
Sam BIRD
71
AF Corse
Ferrari 488 GTE
LM GTE Pro
212
1'38.994
32 Laps
5
Nicki THIIM
Marco SØRENSEN
95
Aston Martin Racing
Aston Martin Vantage V8
LM GTE Pro
211
1'39.169
33 Laps
6
Richie STANAWAY
Darren TURNER
97
Aston Martin Racing
Aston Martin Vantage V8
LM GTE Pro
211
1'39.463
33 Laps
7
Richard LIETZ
Michael CHRISTENSEN
77
Dempsey - Proton Racing
Porsche 911 RSR (2016)
LM GTE Pro
210
1'39.672
34 Laps
Race report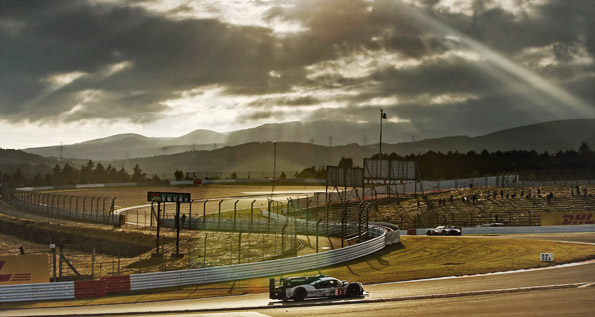 Porsche 919 Hybrid extends manufacturers' championship lead in Japan
Stuttgart. Porsche came third and fifth with its two 919 Hybrids in a thrilling six-hour race at the Fuji International Speedway. Porsche thus defended its lead in both, the manufacturers' and drivers' classifications, at the seventh out of nine rounds of the FIA World Endurance Championship (WEC)....
Read more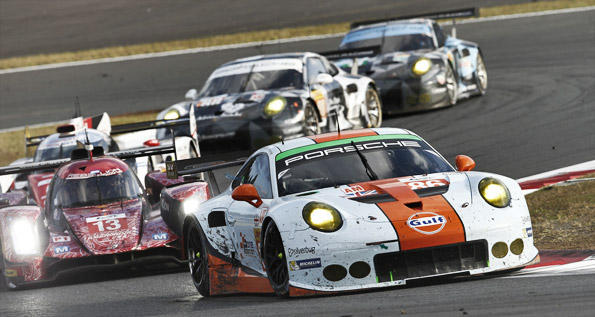 Another podium for Porsche customer team KCMG with third
Stuttgart. Porsche customer teams are continuing on their successful path in the Sports Car World Endurance Championship WEC. After Abu Dhabi Proton Racing's GTE-Am class win in Mexico City, KCMG went on to clinch second in Austin and secured another podium spot on Sunday in Fuji, Japan: Porsche...
Read more