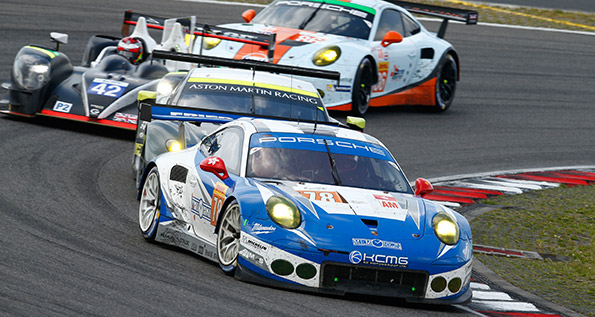 Race report
Porsche 911 RSR, Team KCMG
FIA World Endurance Championship, round 4 at the Nürburgring/Germany – Race GT, Race report
First podium for the Porsche customer team KCMG
Premiere for KCMG: The Porsche customer team from Hong Kong has secured its first podium result with the Porsche 911 RSR in the Sports Car World Endurance Championship WEC at Sunday's six-hour race on the Nürburgring. In front of 58,000 spectators, Wolf Henzler (Germany), Christian Ried (Germany) and Joel Camathias (Switzerland) finished second in the GTE-Am class after a strong drive in the 470 hp race car, which is based on the seventh generation of the iconic 911 sports car.

After making a good start from pole position, the 911 RSR fielded by Abu Dhabi Proton Racing initially took the lead on the Eifel circuit. Patrick Long (USA) defended the top spot in the GTE-Am class over the first hour of racing. While handing the car off to David Heinemeier Hansson (Denmark), a fire started in the pits. This cost the lead. At the beginning of the fifth racing hour, Khaled Al Qubaisi (Abu Dhabi) had to pit after a collision with an LMP1 prototype, dashing the hopes of the third place-getters at the Le Mans 24 Hours for a second podium spot this season. The team ultimately had to settle for fifth ahead of Gulf Racing's 911 RSR.

In the GTE-Pro class, the 911 RSR run by the Dempsey Proton Racing team with drivers Richard Lietz (Austria) and Michael Christensen (Denmark) scored sixth.

Race quotes
Richard Lietz (Porsche 911 RSR #77): "The race actually went quite well for us. This might sound strange when you finish sixth, but in fact everything worked out just fine. Quite frankly, we can't do better at the moment. We have to accept this. Having said that, we won't stop working hard to perhaps bring home the odd surprise result over the course of the season."
Michael Christensen (Porsche 911 RSR #77): "That was definitely not an easy race. Our 911 RSR was excellently setup and well balanced. The team also did a flawless job. Still, unfortunately a better result was not possible this weekend.
Wolf Henzler (Porsche 911 RSR #78): "Congratulations and thank you to the whole team for the great work. I'm thrilled that it worked out for us with the podium. We did everything right today. What a shame for the number 88 car. Our teammates also deserved a podium spot. That was just bad luck. I hope our luck has now changed with this result and that we can continue with our strong form at the next round."
Christian Ried (Porsche 911 RSR #78): "Our race simply ran perfectly. I couldn't be happier. We managed to keep our noses clean in the race, which wasn't easy. The caution phase complemented our pit strategy perfectly. It was a tough race but it was also great fun."
Patrick Long (Porsche 911 RSR #88): "There are days where you're simply powerless. Today was such a day. We were strong and we gave it our best shot but we weren't rewarded for it. It had nothing to do with the 911 RSR. The car was fantastic. We were again well supported by our team. But it doesn't help: We have to put this disaster behind us as quickly as possible and focus all our energy on the next race in Mexico City."

Round five of the Sports Car World Endurance Championship WEC is contested in Mexico City on 4 September.

Race result
GTE-Pro class
1. Bruni/Calado (I/GB), Ferrari 488 GTE, 170 laps
2. Rigon/Bird (I/GB), Ferrari 488 GTE, 170
3. Mücke/Pla (D/F), Ford GT, 170
4. Sörensen/Thiim (DK/DK), Aston Martin, 169
5. Stanaway/Turner (NZ/GB), Aston Martin, 169
6. Christensen/Lietz (D/A), Porsche 911 RSR, 169
7. Franchitti/Priaulx/Tincknell (USA/GB/GB), Ford GT, 155

GTE-Am class
1. Lamy/Dalla Lana/Lauda (P/CAN/A), Aston Martin, 166 laps
2. Ried/Henzler/Camathias (D/D/CH), Porsche 911 RSR, 166
3. Collard/Perrodo/Aguas (F/F/P), Ferrari F458 Italia, 166
4. Yamagishi/Ragues/Ruberti (J/F/I), Chevrolet Corvette, 165
5. Al Qubaisi/Long/Heinemeier Hansson (UAE/USA/DK), Porsche 911 RSR, 164
6. Wainwright/Carroll/Barker (GB/GB/GB), Porsche 911 RSR, 164

The Sports Car World Championship WEC
Sports prototypes and GT vehicles contest the Sports Car World Endurance Championship (WEC) in four classes: LMP1 (eg. Porsche 919 Hybrid), LMP2, LMGTE-Pro (eg. 911 RSR) and LMGTE-Am (eg. 911 RSR). They all compete together in one race but are classified separately.




All reports on the previous season can be found in our archive.