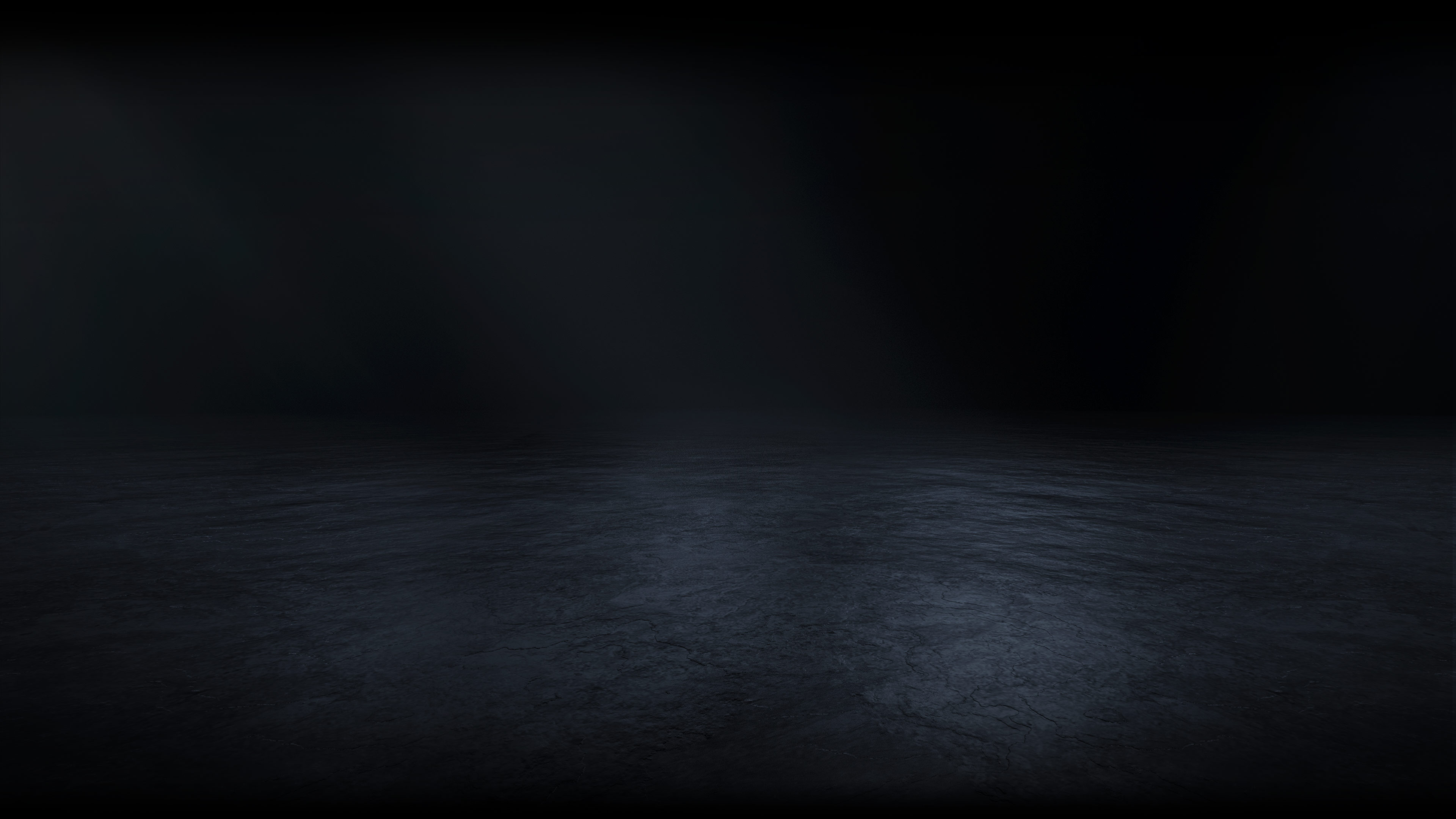 911 Sport Classic
USD 455.400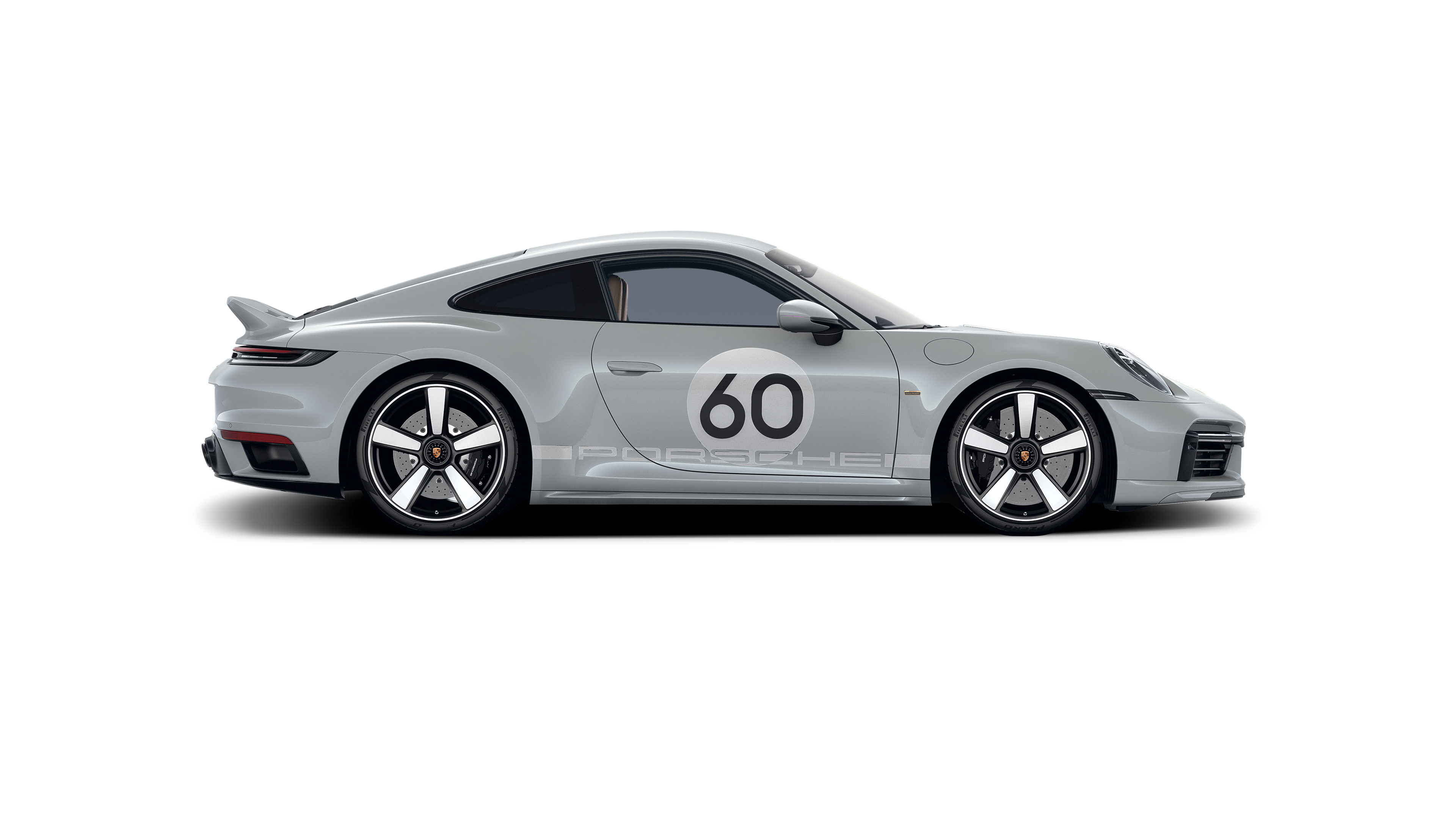 405 kW/550 PS
Potencia (kW)/Potencia (PS)
4,1 s
Aceleración de 0 - 100 km/h
Back to beginning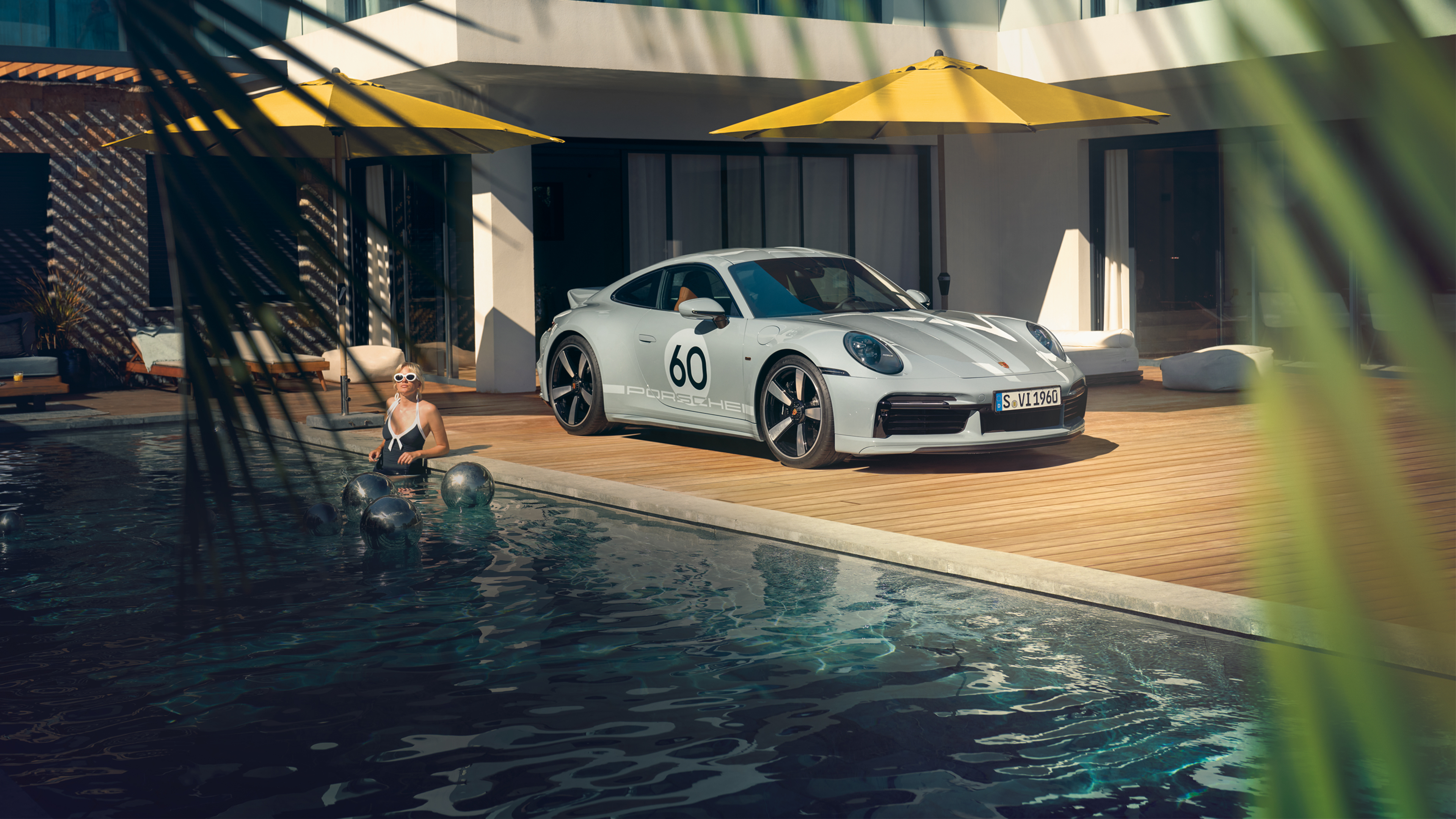 The era of freedom.
Welcome to the sixties. A truly dynamic decade. When the Côte d'Azur became the jet set catwalk. When London was swinging. As a cool icon, the 911 Sport Classic is reminiscent of those years – and of its legendary predecessors: the original 911 and the 911 Carrera RS 2.7.
Be carried away to the Côte d'Azur and rediscover the flair of bygone times with the 911 Sport Classic.
911 Sport Classic
911 Sport Classic
911 Sport Classic
911 Sport Classic
911 Sport Classic
911 Sport Classic
911 Sport Classic
911 Sport Classic
911 Sport Classic
911 Sport Classic
911 Sport Classic
911 Sport Classic
911 Sport Classic
911 Sport Classic
911 Sport Classic
911 Sport Classic
911 Sport Classic
911 Sport Classic
911 Sport Classic
911 Sport Classic
911 Sport Classic
911 Sport Classic
911 Sport Classic
911 Sport Classic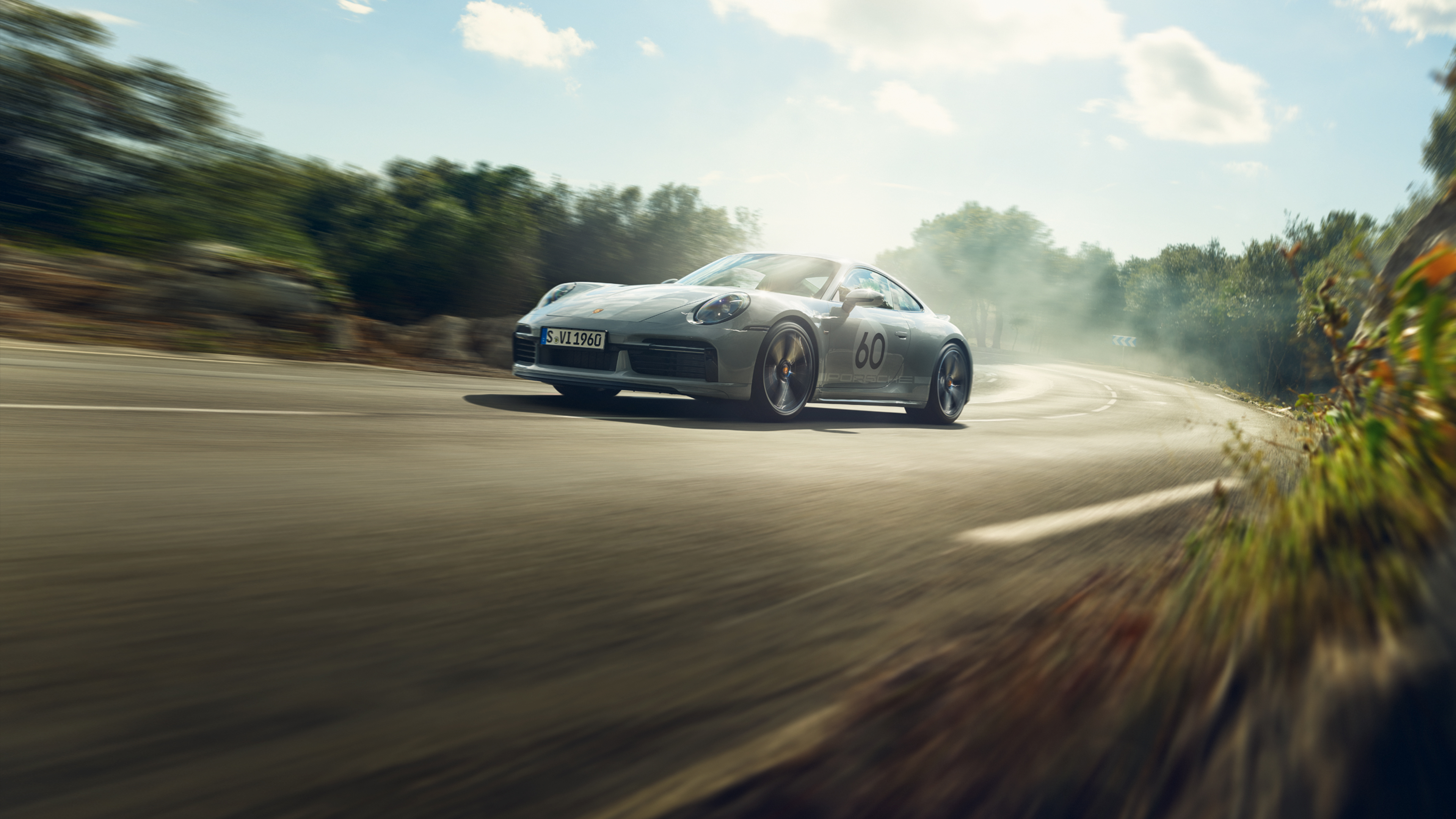 Wild at heart.
550 PS, rear-wheel drive, manual transmission. This triad is sure to appeal to any Porsche fan. Because the unusual combination makes the 911 Sport Classic with a 3.7-litre bi-turbo boxer engine the current most powerful manual 911 model.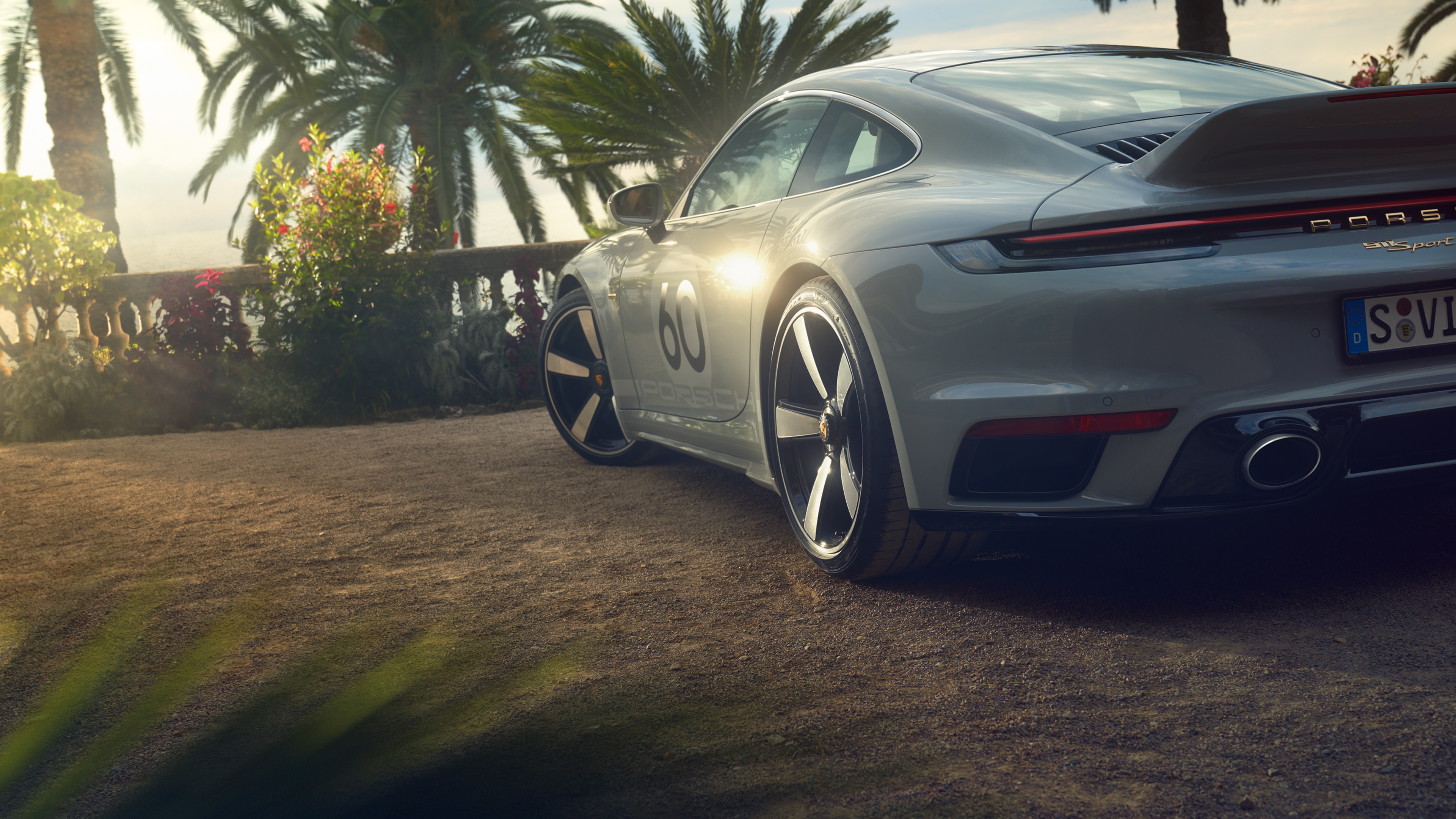 Sporty design.
A very special aesthetic highlight is provided by the wide body in 911 Turbo look with clearly flared rear bodywork, but without the typical Turboside air intakes. This unique appearance sets it apart from all other 911 models.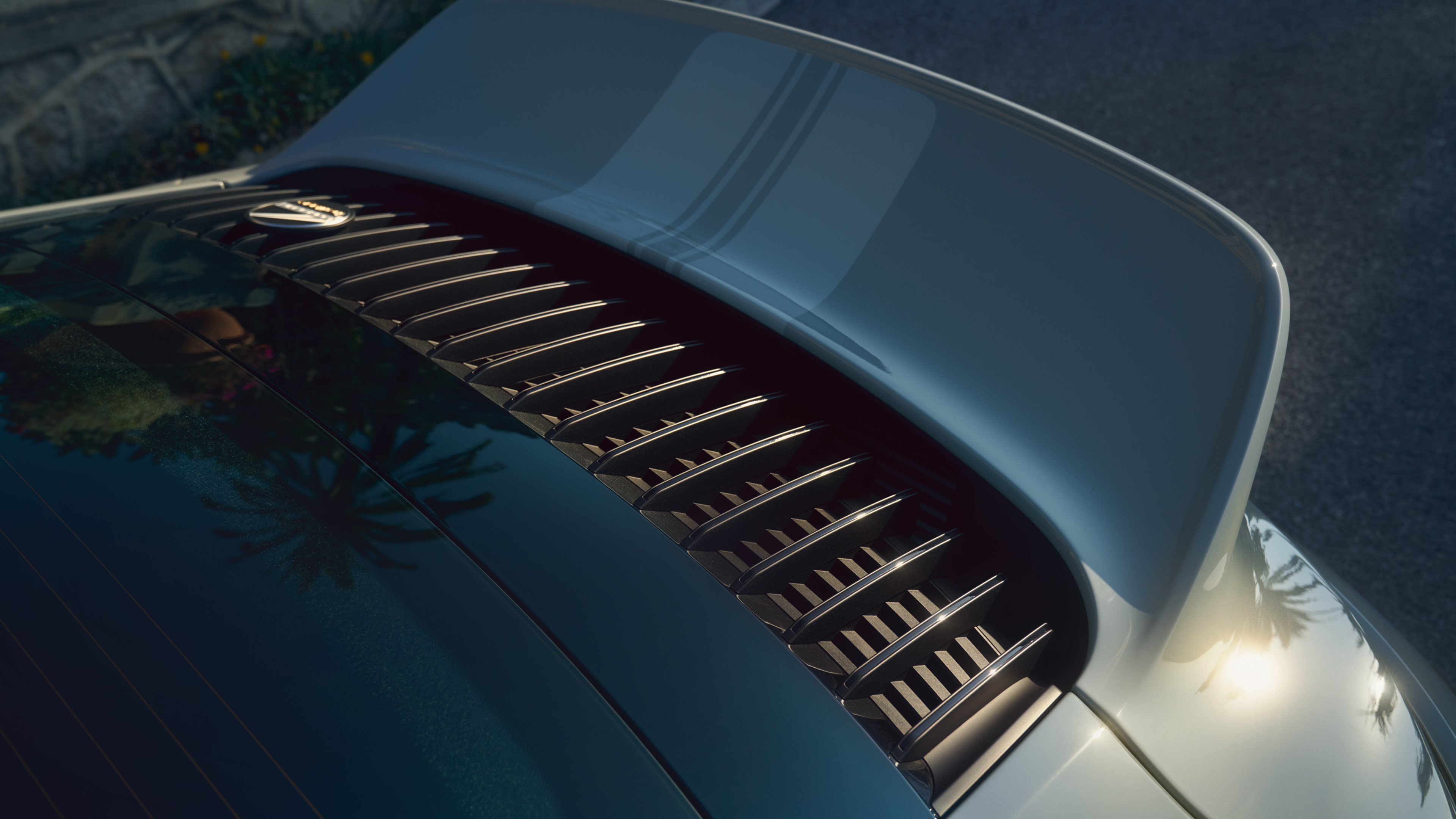 Like then. But now.
Both the drive and the distinctive rear are guaranteed to cause a sensation. And rightly so. Because the spoiler is based on the original 'ducktail' of the 911 Carrera RS 2.7. Made from ultra-light carbon and painted light sport grey with double stripes, the result is an unmistakable look that sets the heart of any Porsche enthusiast racing.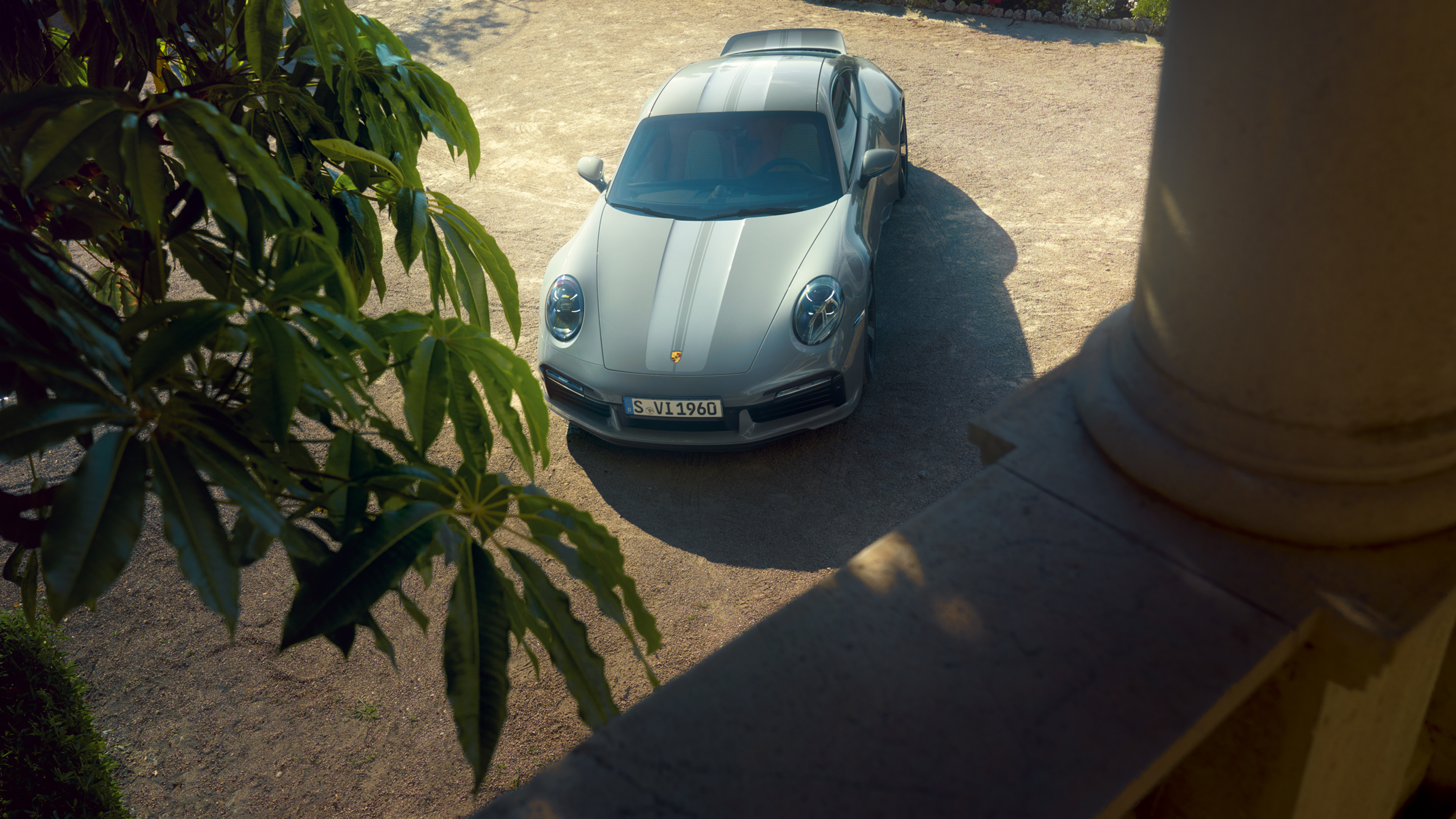 Love for details.
It is the details that make a work of art. It is no different with the 911 Sport Classic. The beading of the bonnet and the roof are perfectly adapted to the hand-painted double stripes. Just as the rear spoiler, both components are made of carbon.
Exterior highlights.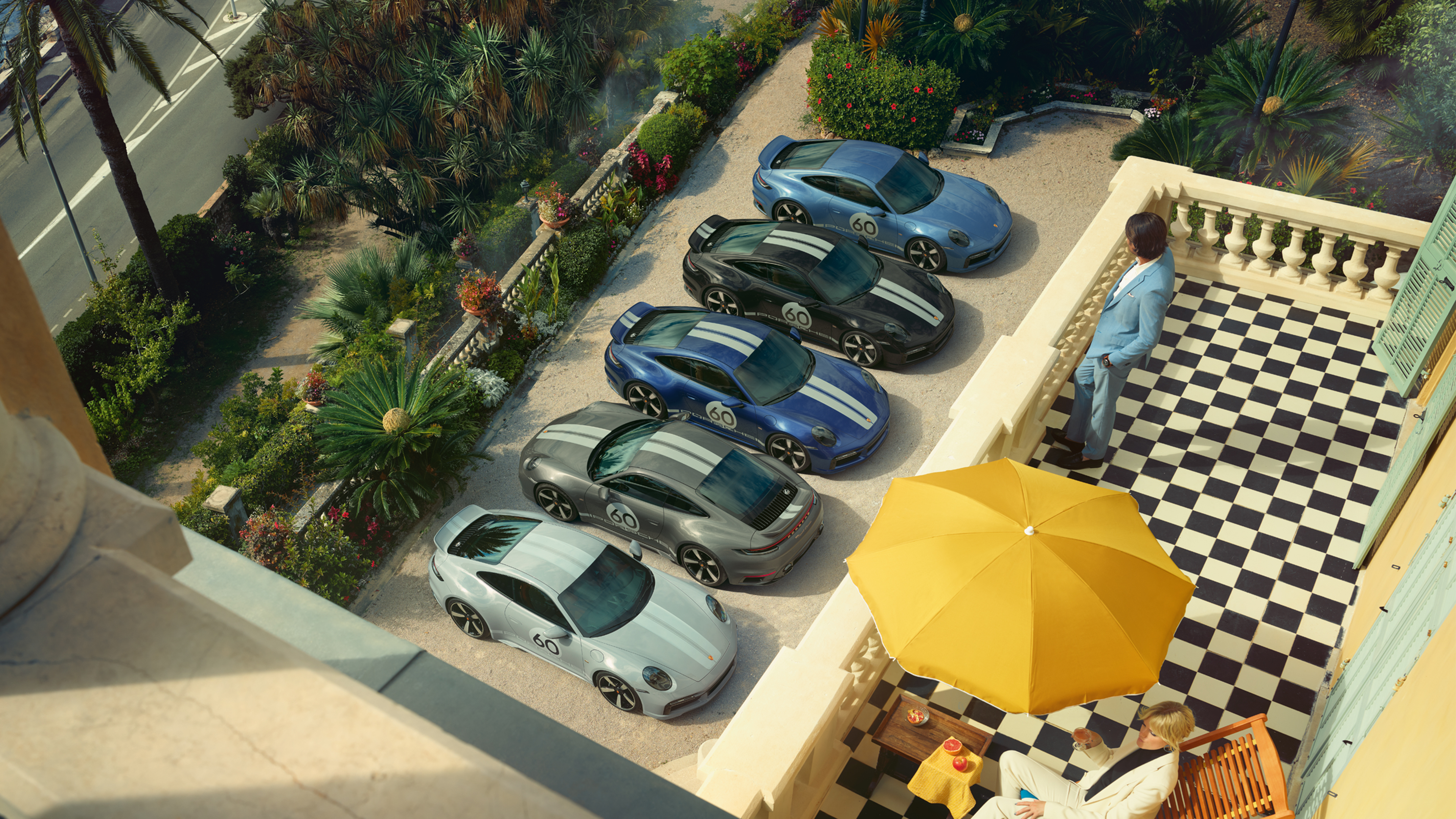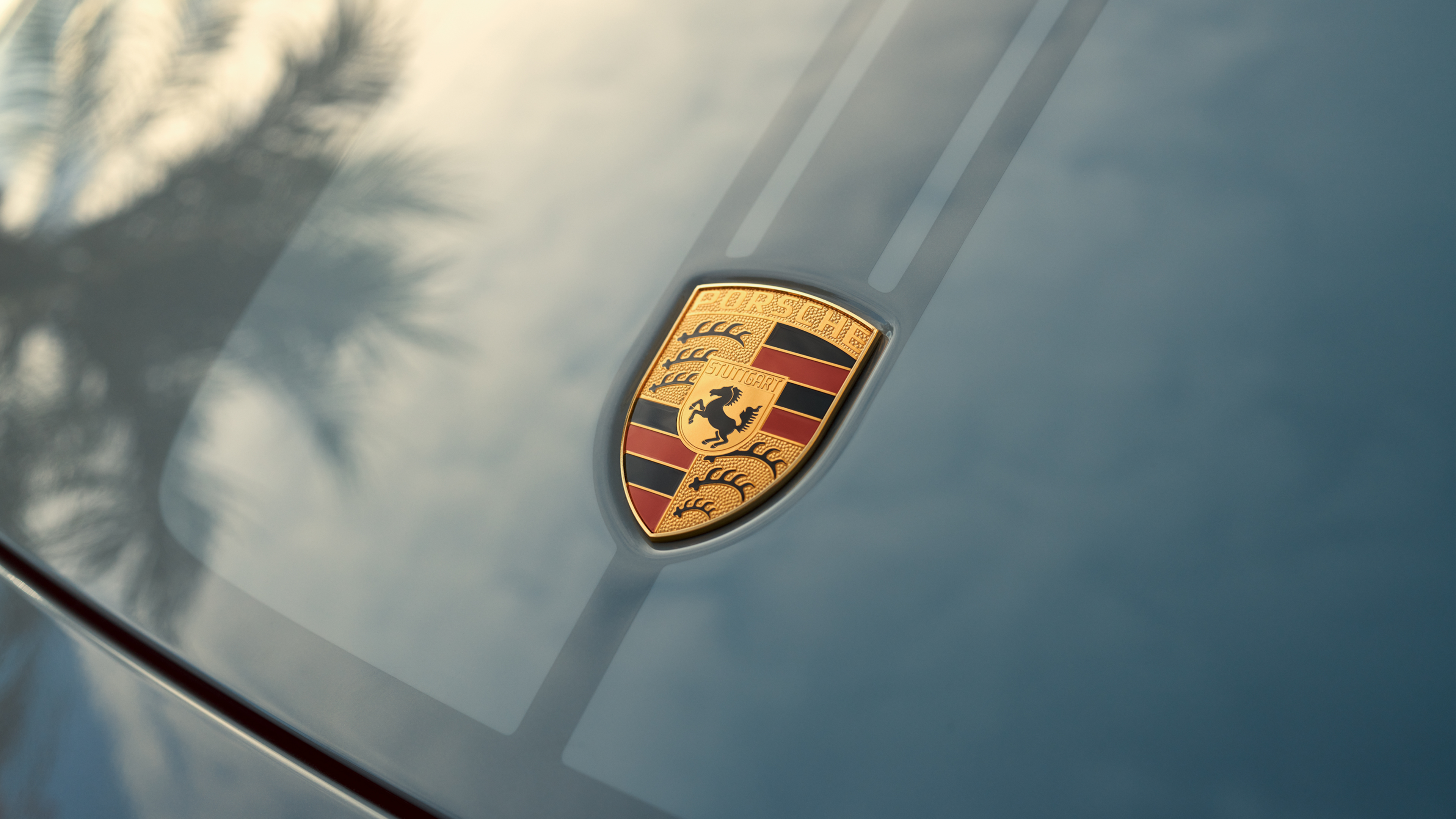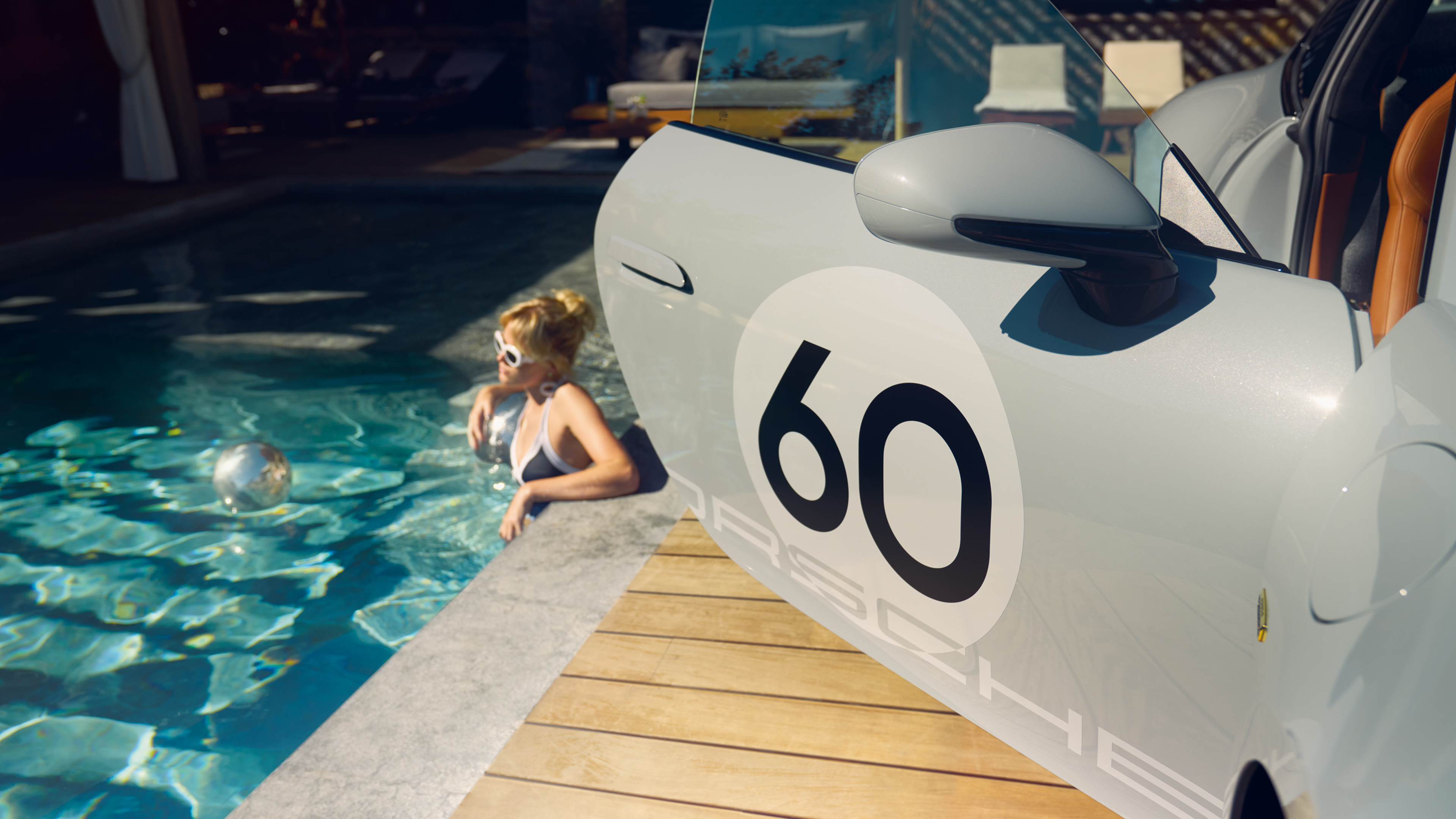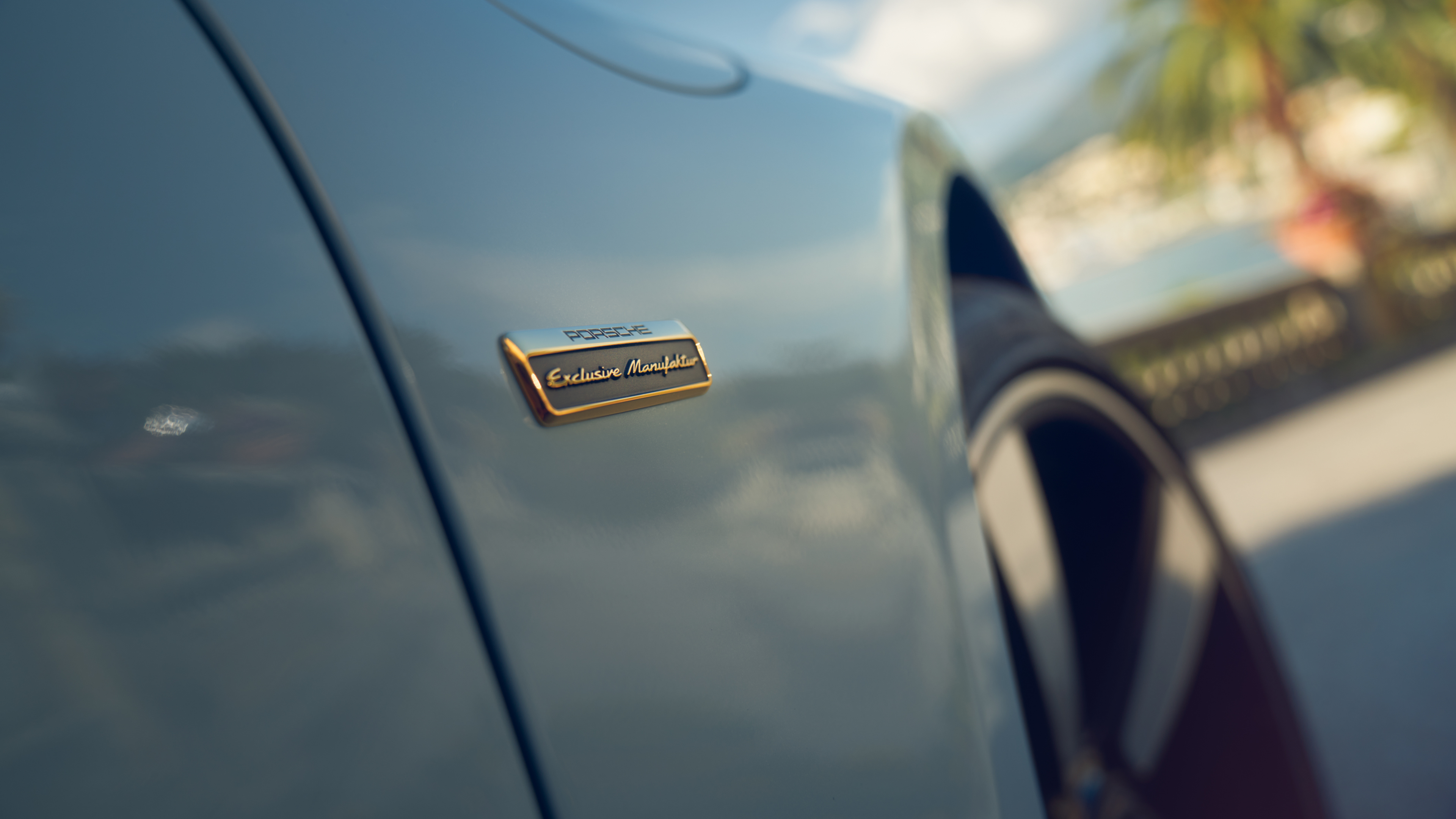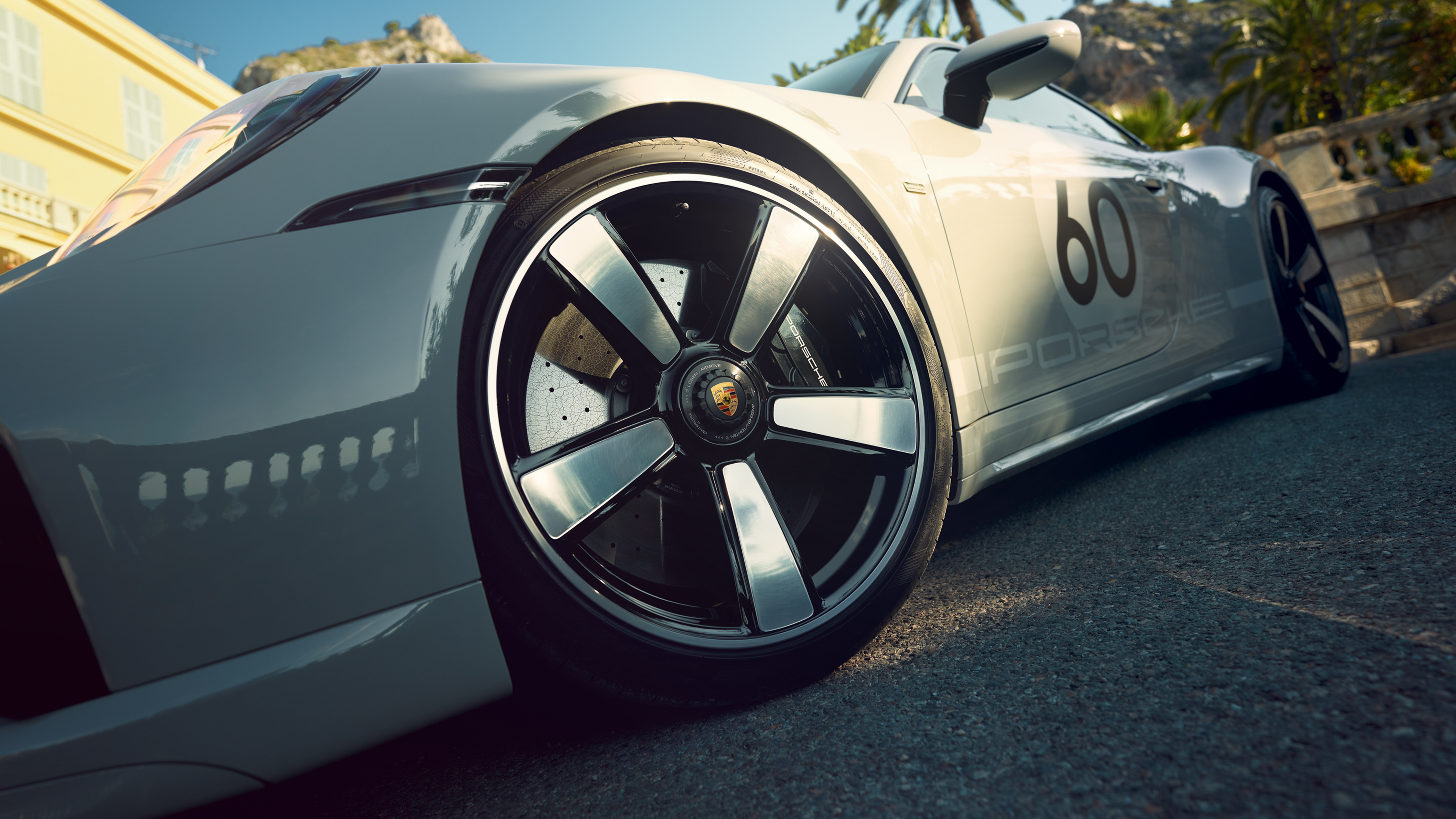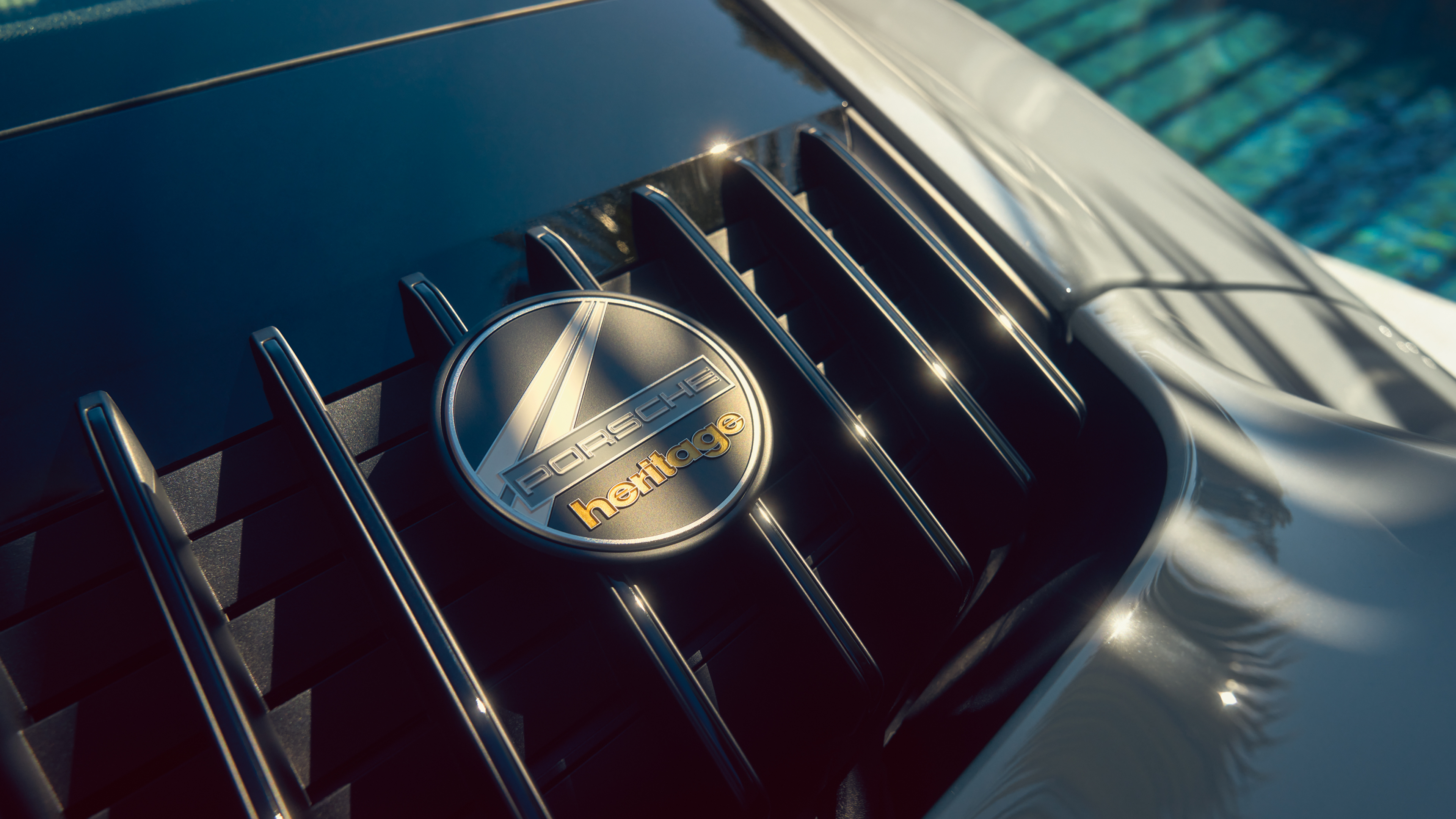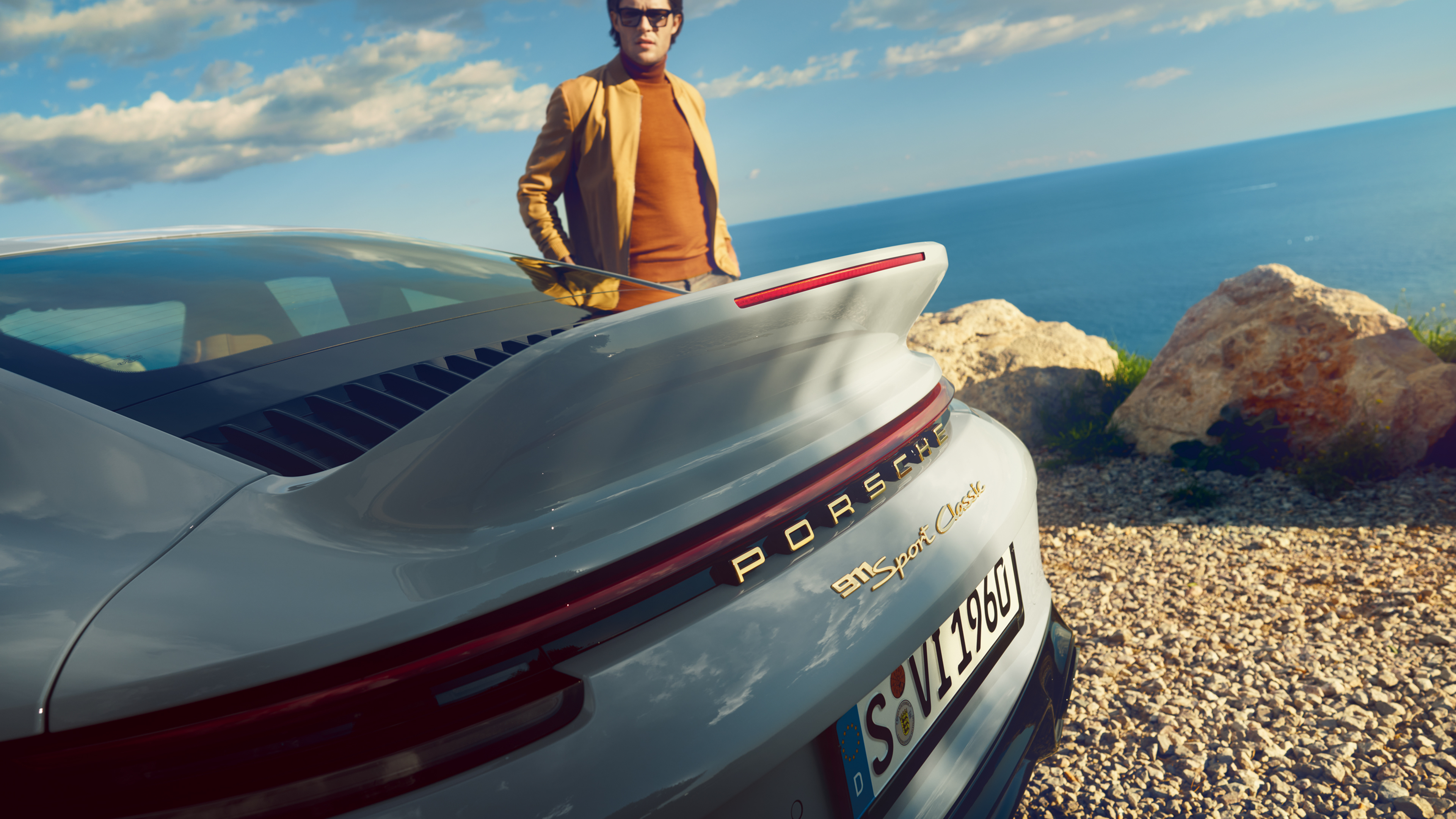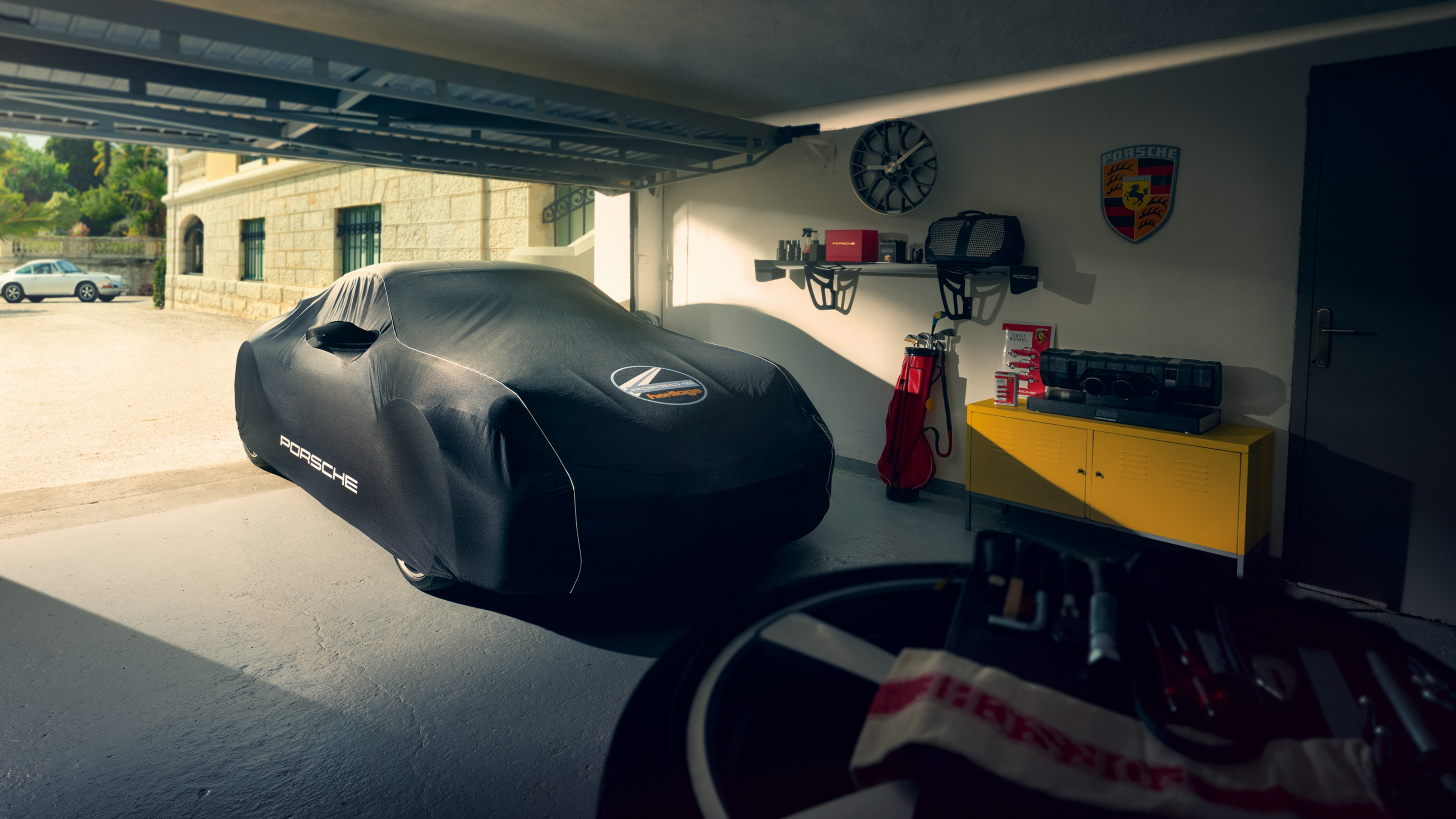 Exterior colours.
For the traditional appearance, 4 exterior colours are availablethat look particularly striking with the hand-painted double stripes in Light Sports Grey: Sports Grey Metallic, Agate Grey Metallic, Gentian Blue Metallic and Black. Paint to Sample complement the colour palette.
1963 Crest.
Each area has its own identifying feature. The historic Porsche crest from 1963 shines, among other things, with golden "PORSCHE" lettering and orange stripes. So the 911 Sport Classic always brings a piece of the past along with it on the road into the future.
Lollipop and lettering.
Nostalgia at its most beautiful: the individually selectable starting number in a circular design represents the golden era of racing par excellence. Lollipop and "PORSCHE" lettering are colour-coordinated with the double stripes and come in the same sports grey.
Porsche Exclusive Manufaktur.
No stranger to true connoisseurs: the gold-coloured Porsche Exclusive Manufaktur plaque affixed to the front fenders highlights the model's noble origins and indicates that the finishing touches were added by master craftsmen.
Sport Classic wheels.
A child of the late 60s, already a legend by the early 70s: the first light-alloy forged wheel for cars, the Fuchs rim®, was the inspiration for the 20/21-inch Sport Classic wheels painted in black (high-gloss). Central lock and historic Porsche crest on the wheel hub cover.
Heritage Design plaque.
First-class quality deserves recognition. That is why owners of the 356 were awarded a plaque after they had covered 100,000 kilometers. Today, the seal, which is based on the original, decorates the engine cover slats of all Porsche Heritage models.
Gold-coloured logos.
A brilliant finish in many respects: the rear features exclusive, gold-coloured lettering that ties in with early Porsche history . Both the "PORSCHE" lettering and the model designation are covered with a touch of the precious metal.
Indoor car cover.
If you love your sports car, you wish to protect it. The black car cover for the garage hugs the shape of the 911 Sport Classic precisely and protects it from dust and excessive light. A Heritage Badge indicates that there is a rare collector's item underneath.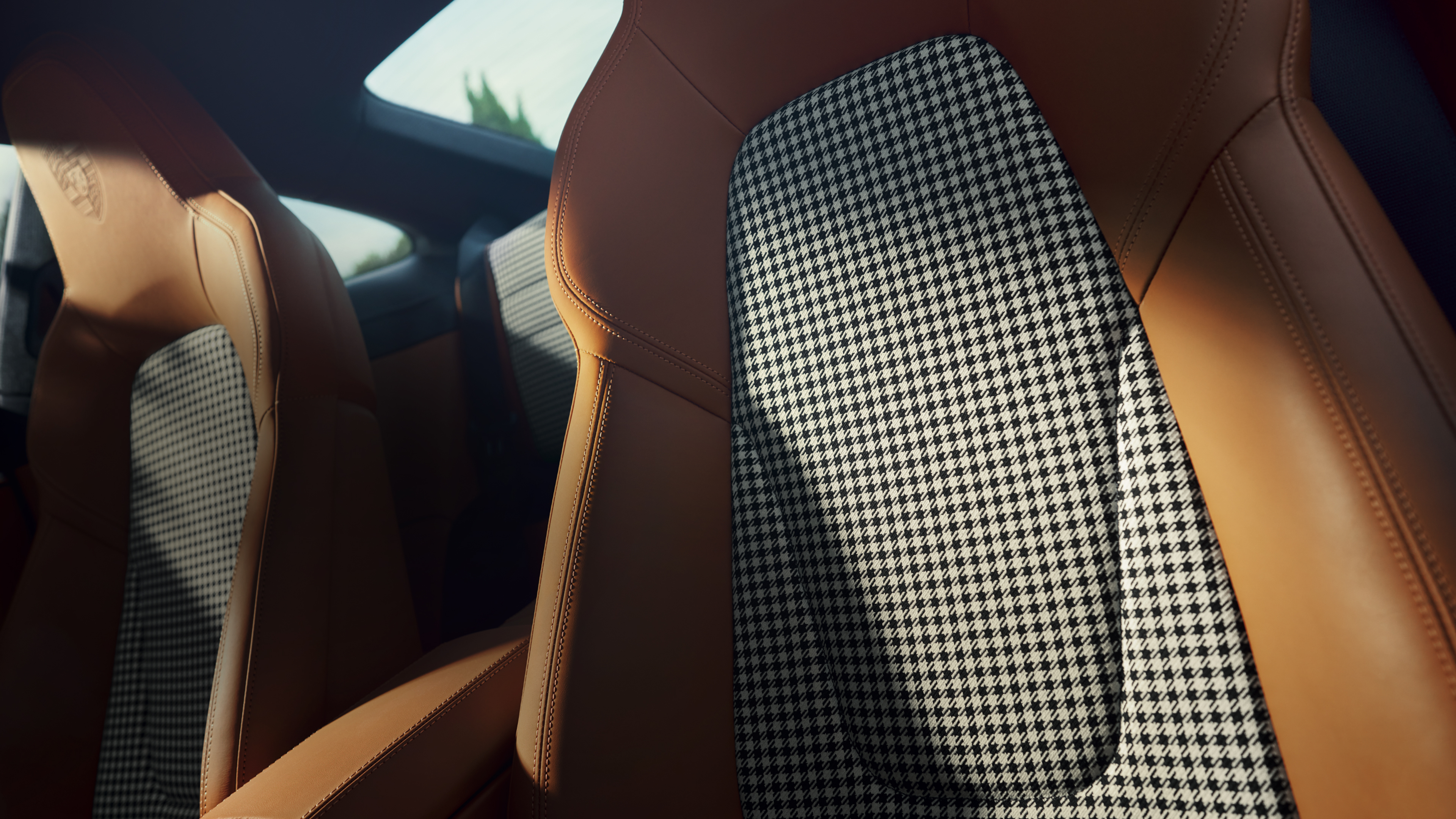 Haute Couture.
A fabric of which dreams are made: Pepita, the black and white diamond pattern with slanting stripes, was first found in 1965 in the original 911 model. Officially. Because trendsetters could already add it to the 356 as a special request. Just as back then, this timeless design is reserved for the seat centres and door panels.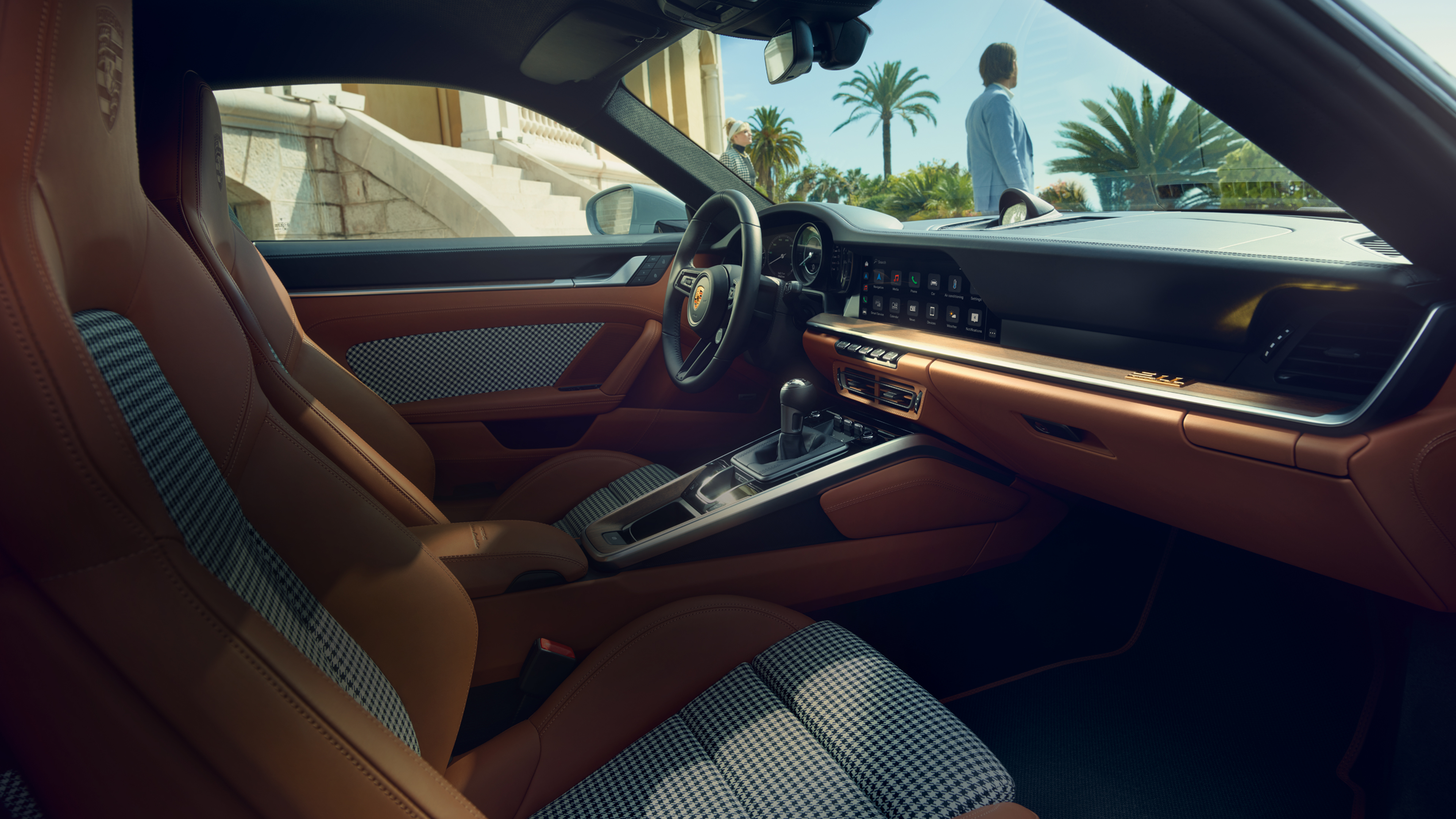 Finest materials.
The two-tone interior made of black nappa leather and extremely fine semi-aniline leather in classic cognac leaves nothing to be desired. With the special tanning, the noble rawhide retains its natural, soft appearance. And it fits perfectly with the open-pored wood of the Paldao interior package. Alternative: leather upholstery in black and the leather interior package.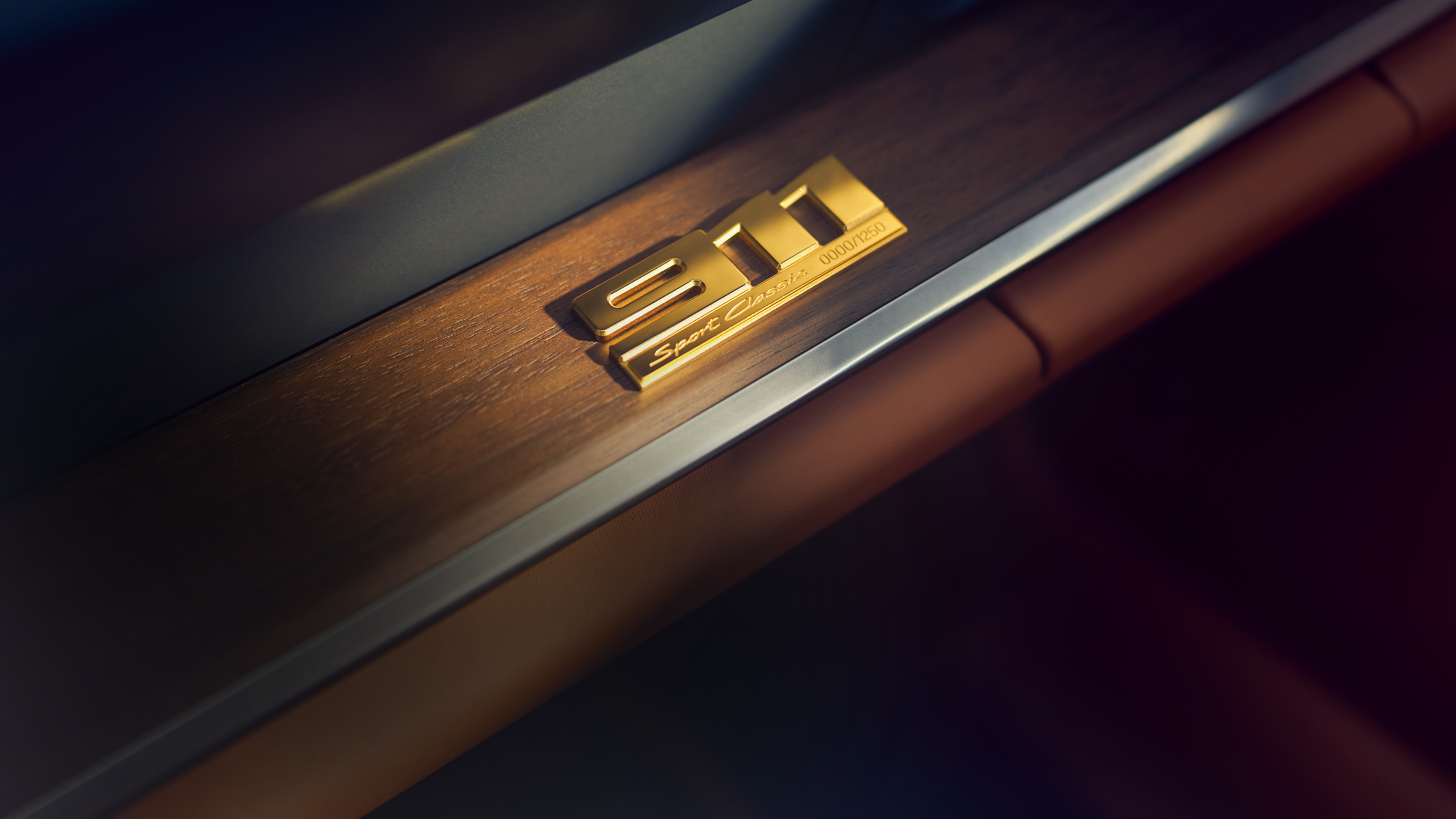 Only 1,250 models.
The gold-coloured limited edition plaque with "911" lettering, model designation and personal limited edition number is prominently located on the decorative trim of the dashboard. It makes each of the 1,250 vehicles unique - and a rare collector's item.
Interior highlights.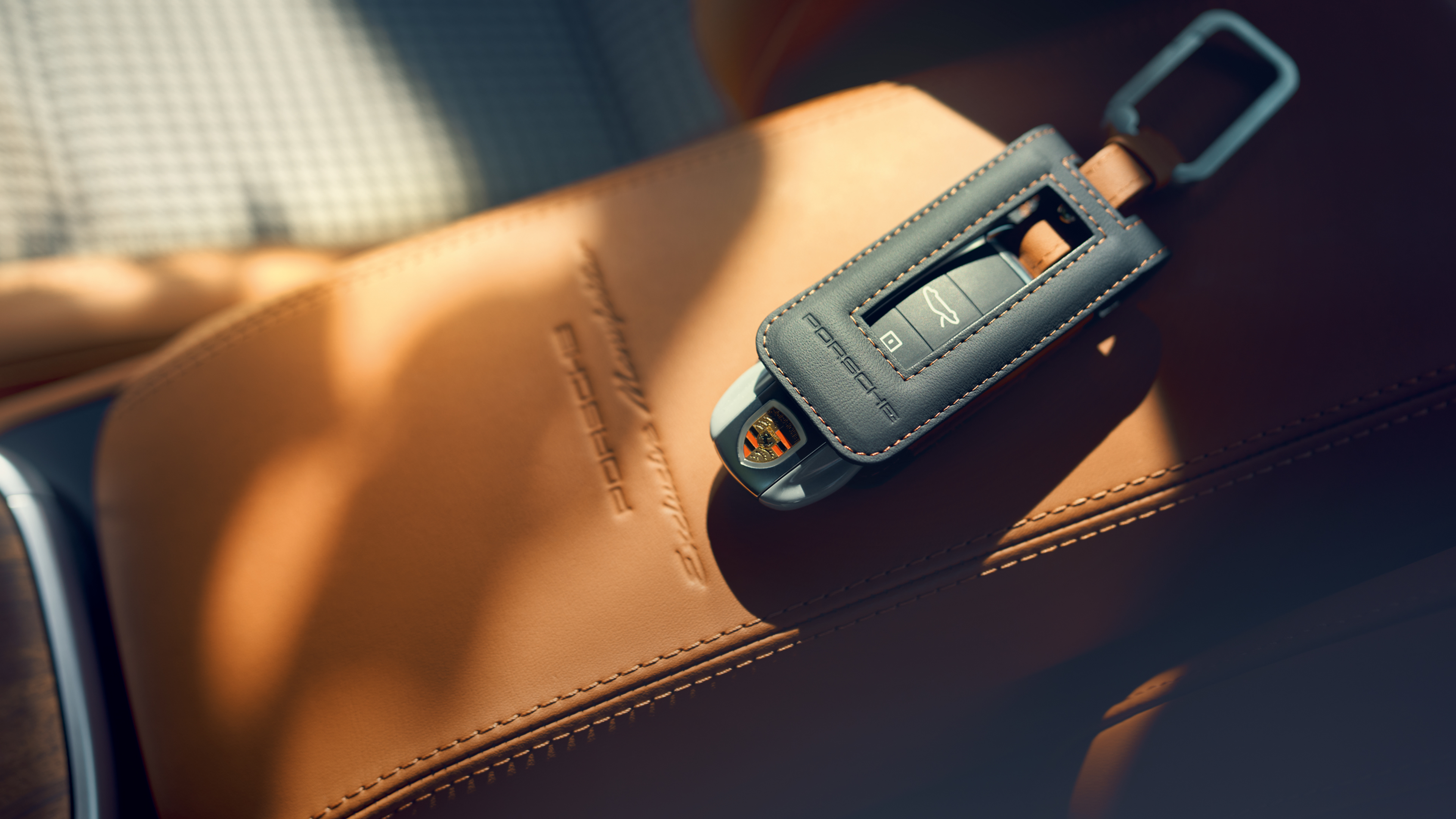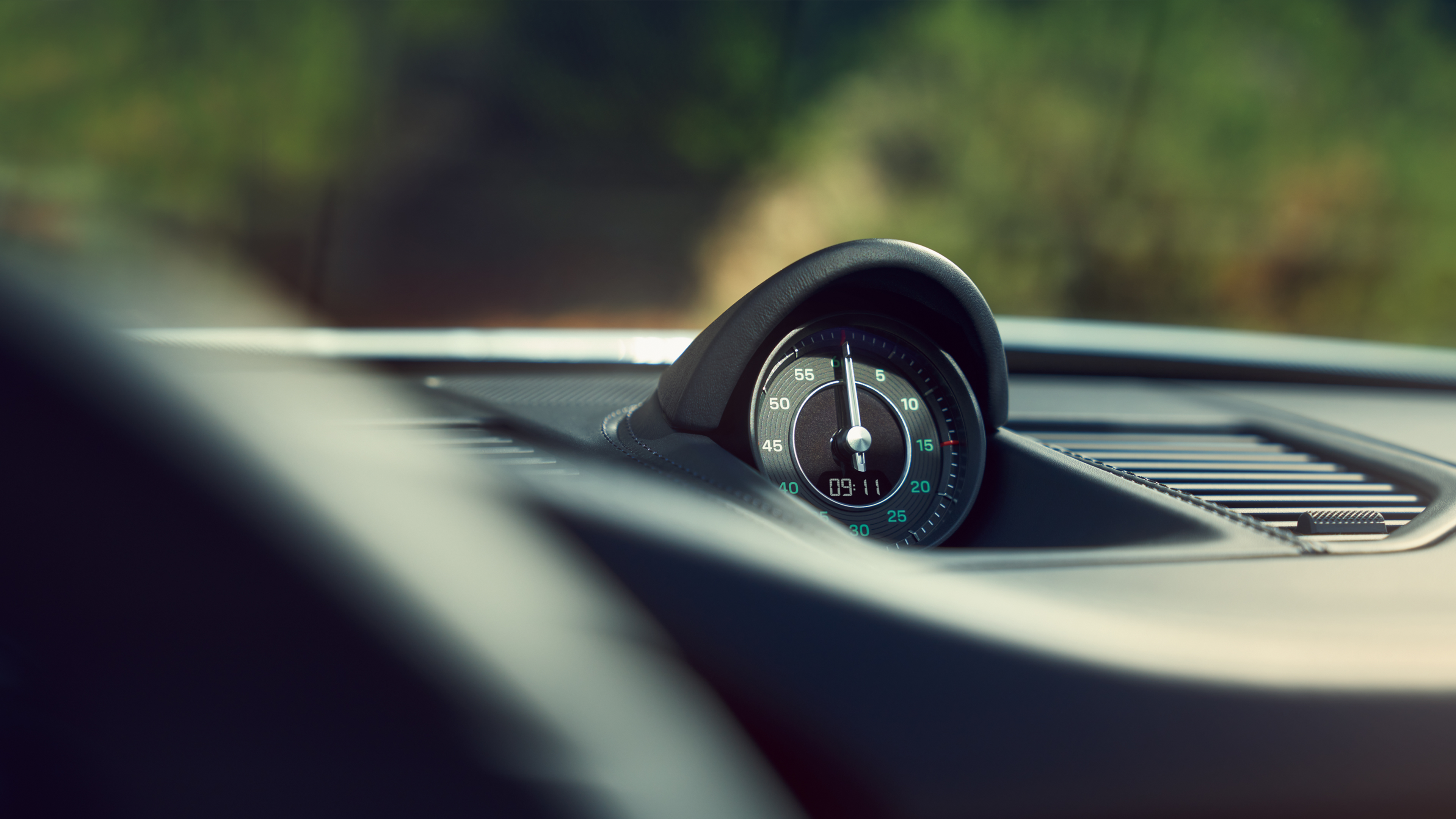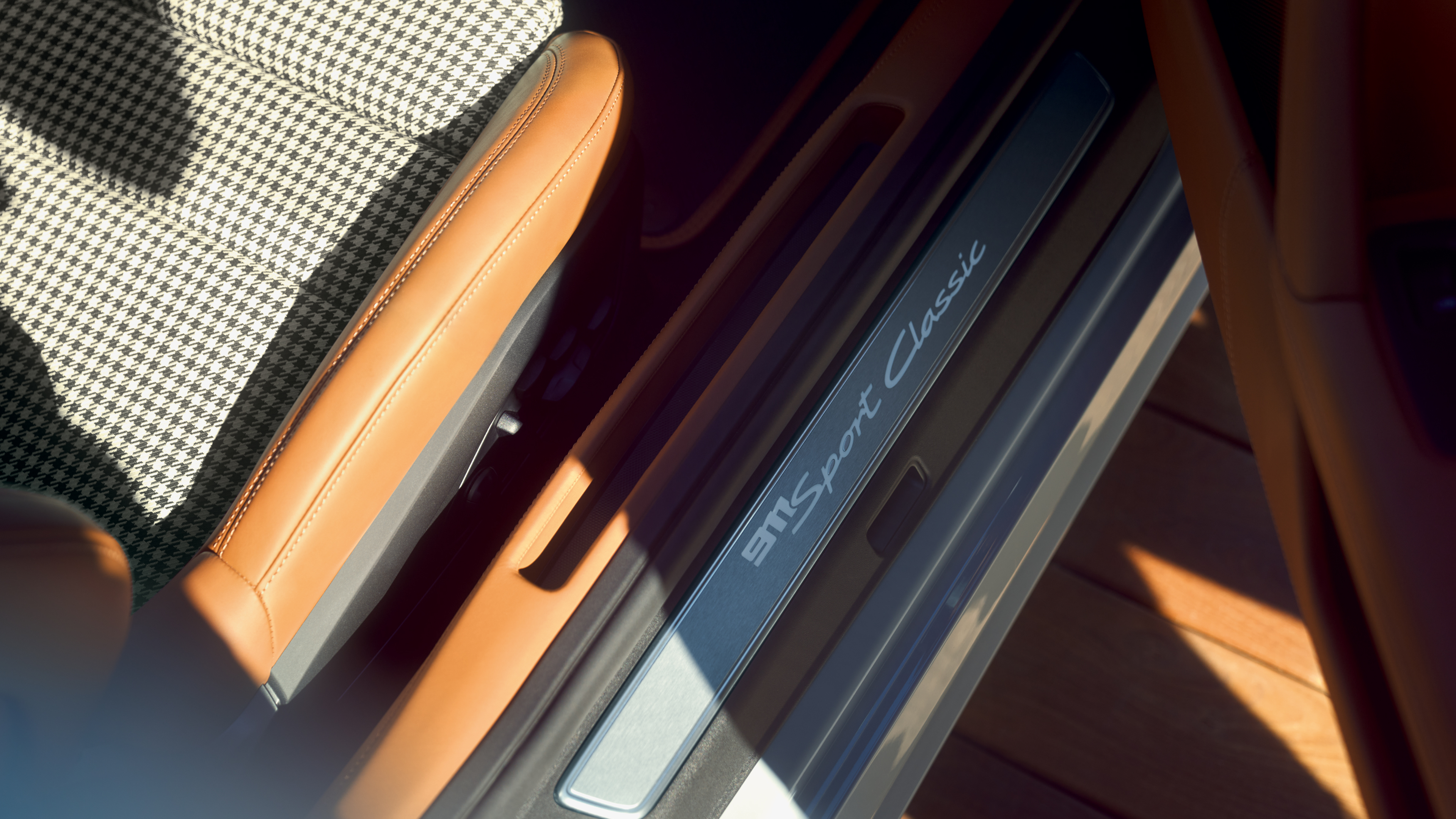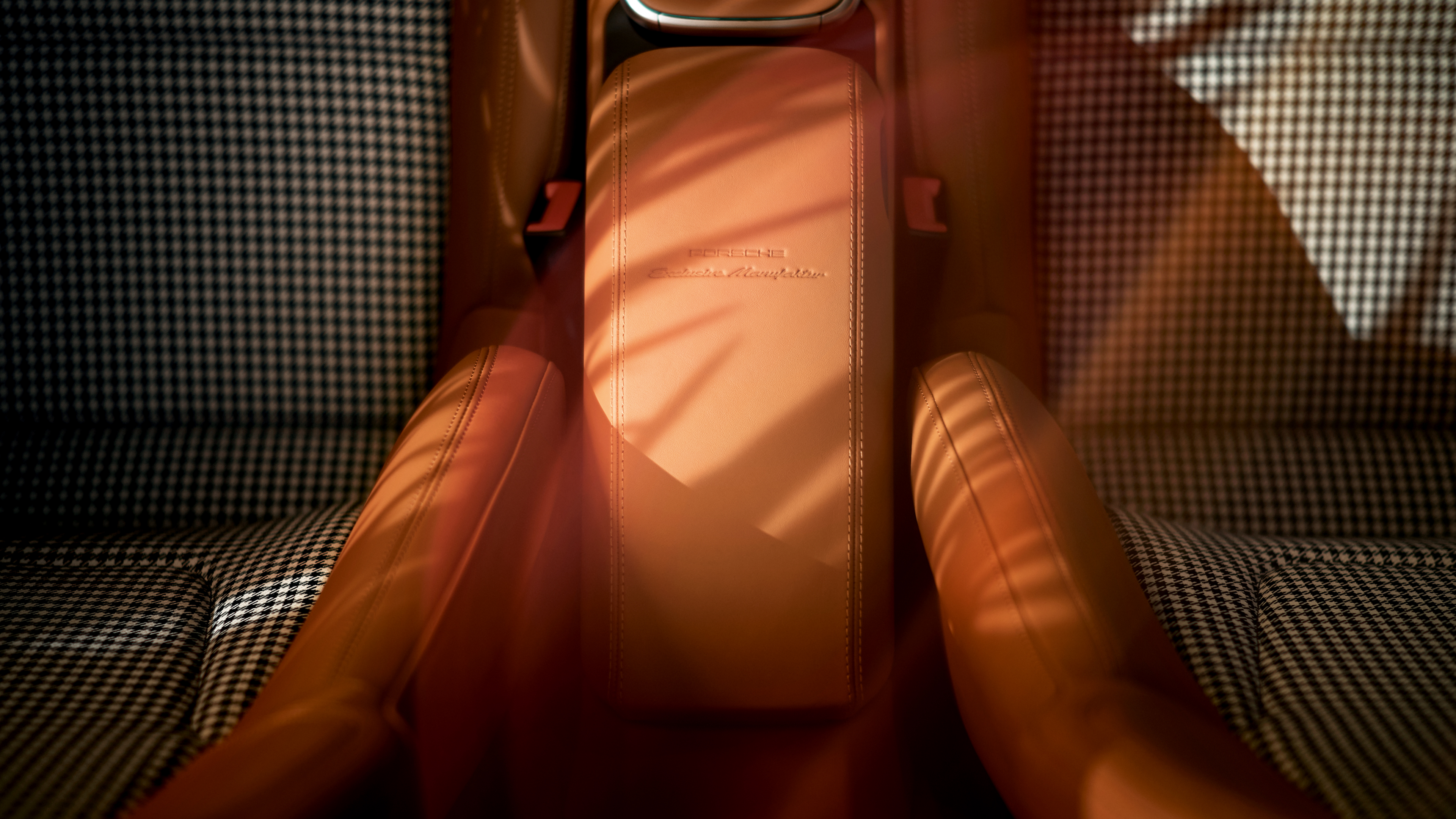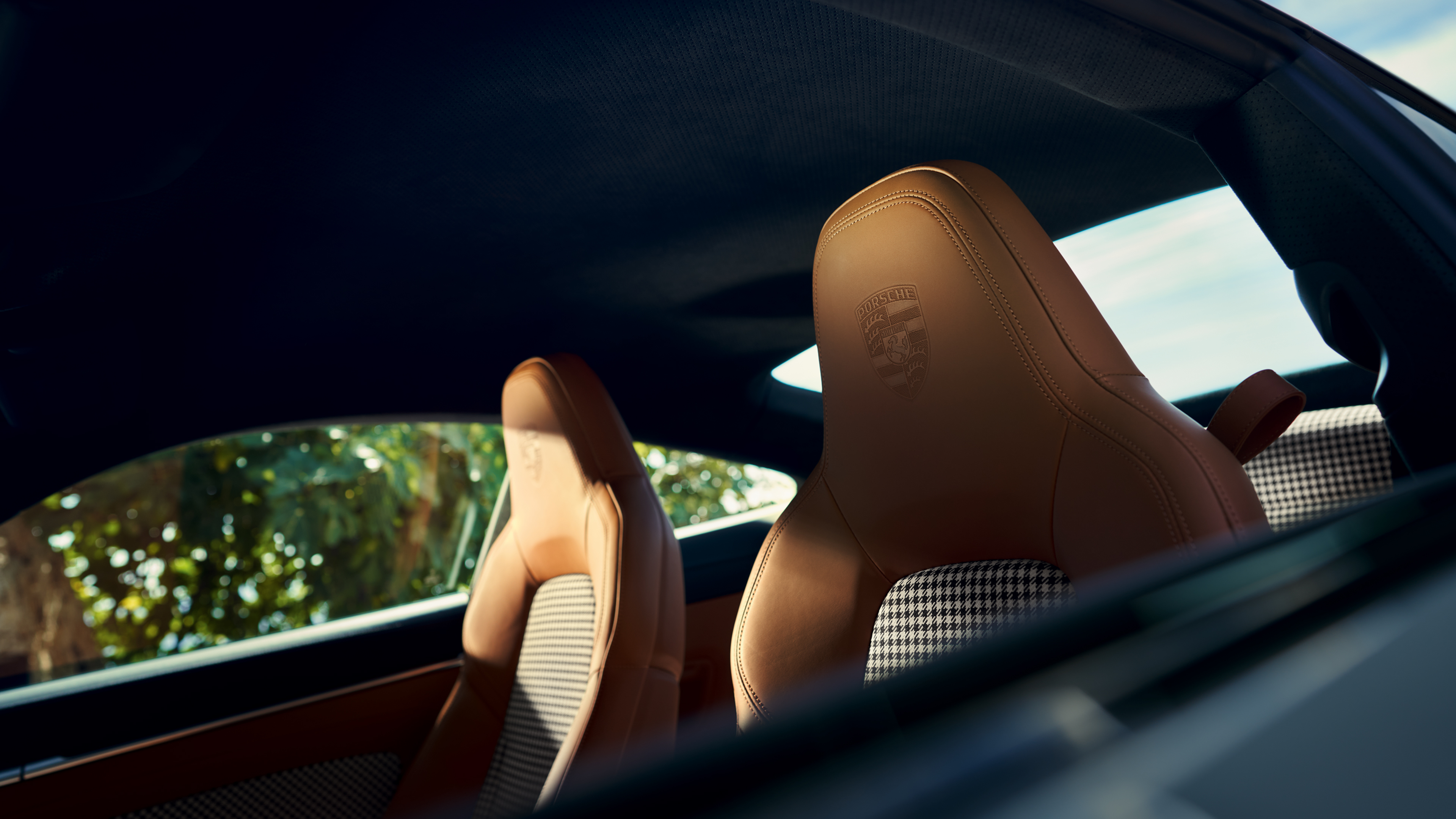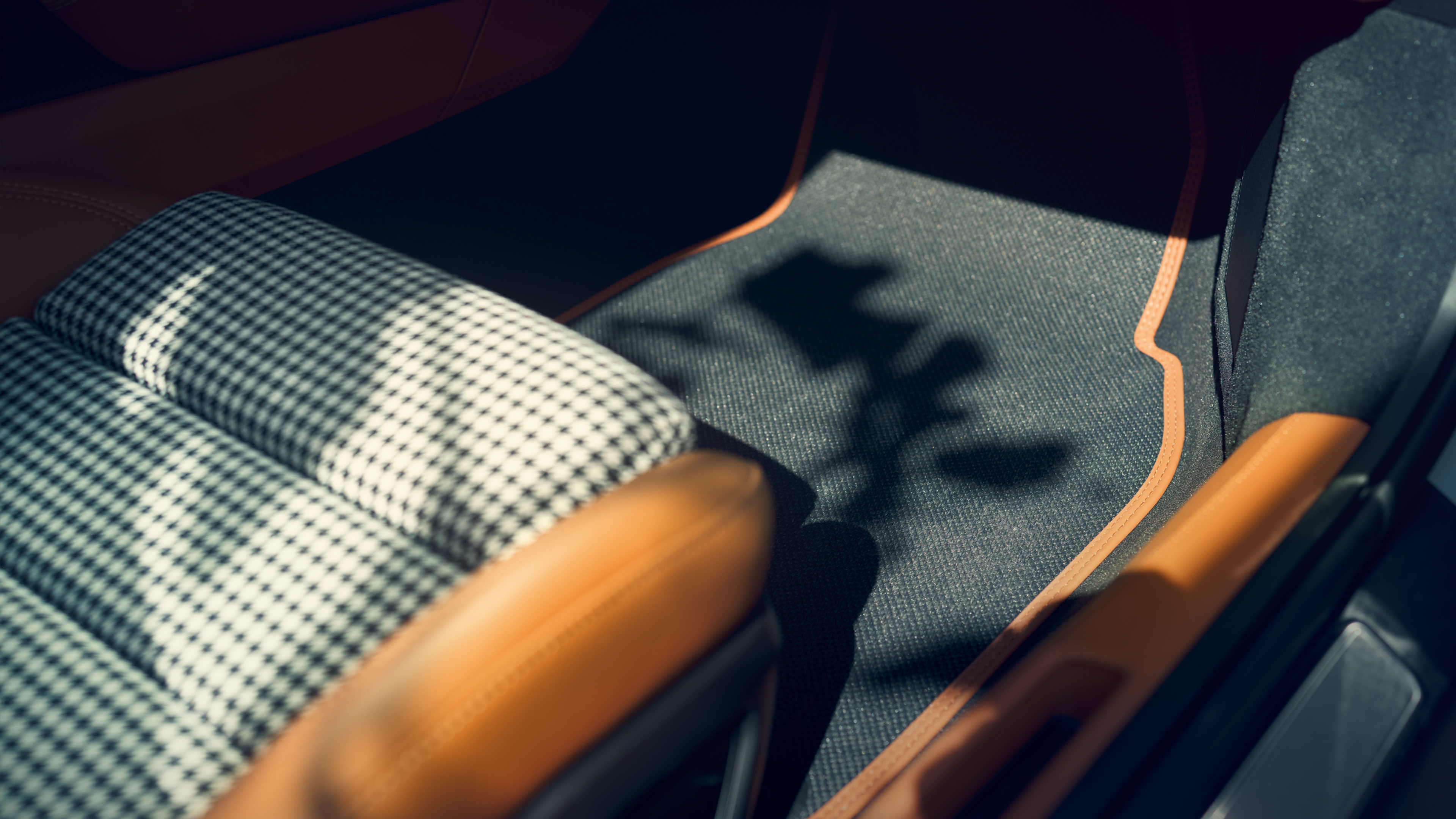 Historic crest.
History as far as the eye can see. The crest that adorned the first 911 is repeated on the sports steering wheel, the headrests, the painted vehicle key and the key pouch. Incidentally, the latter is made of the same nappa leather as the interior.
Instrument cluster.
The focal point of the instrument cluster is the analogue rev counter with a traditional layout and needle. To the left and right of this, the other dials are shown on high-resolution 7-inch displays - in homage to the legendary 356 with white hands and green numerals.
Sport Chrono stopwatch.
Stop time and go back in time. Both are easy for the Sport Chrono stopwatch in Heritage design. While it measures the turns, its dial with green numerals and white scale lines transports the viewer back into the past.
Door sill guards with "911 Sport Classic" lettering.
The door sill in Light Silver marks the entry into the exclusive world of the 911 Sport Classic. The illuminated lettering also sets it in scene perfectly for night-time drivers.
Exclusive Manufaktur embossed detail.
Signets embossed in fine leather are always an expression of subtle elegance. Especially when it comes to the lettering "PORSCHE Exclusive Manufaktur". The embossing on the lid of the storage compartment reflects genuine craftsmanship and refers to the origin from Stuttgart-Zuffenhausen.
Perforated roof lining.
A cover under which you will wish to spend time. The roof and the A/B/C pillars are covered with RaceTex material. Its perforated surface exudes the spirit of the 60s and 70s and conveys an airy feeling.
Floor mats.
The floor mats in Heritage design elegantly draw attention to the footwell with their contemporary weave and fine leather edge.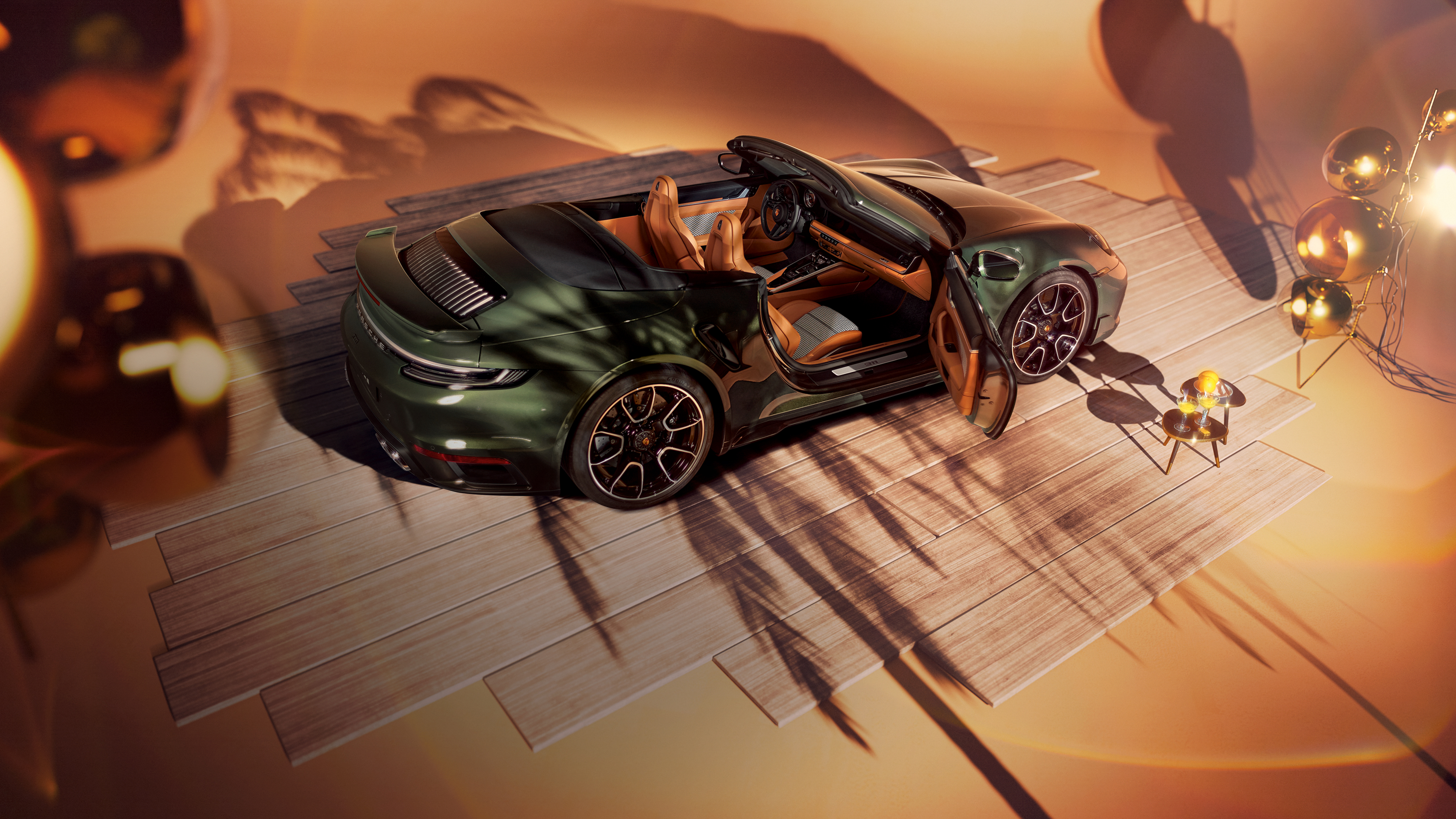 Timeless just as the 911.
Have you opted for a different 911 model, but would also like to take yourself back to the golden jet set era? The Classic Heritage Design Package combines several interior highlights of the 911 Sport Classic – from the two-tone leather upholstery and Pepita, to the classic rev counter – and adds a touch of the 60s and early 70s to other body shapes too.
Configure 911 Sport Classic model.
Selected
911 Sport Classic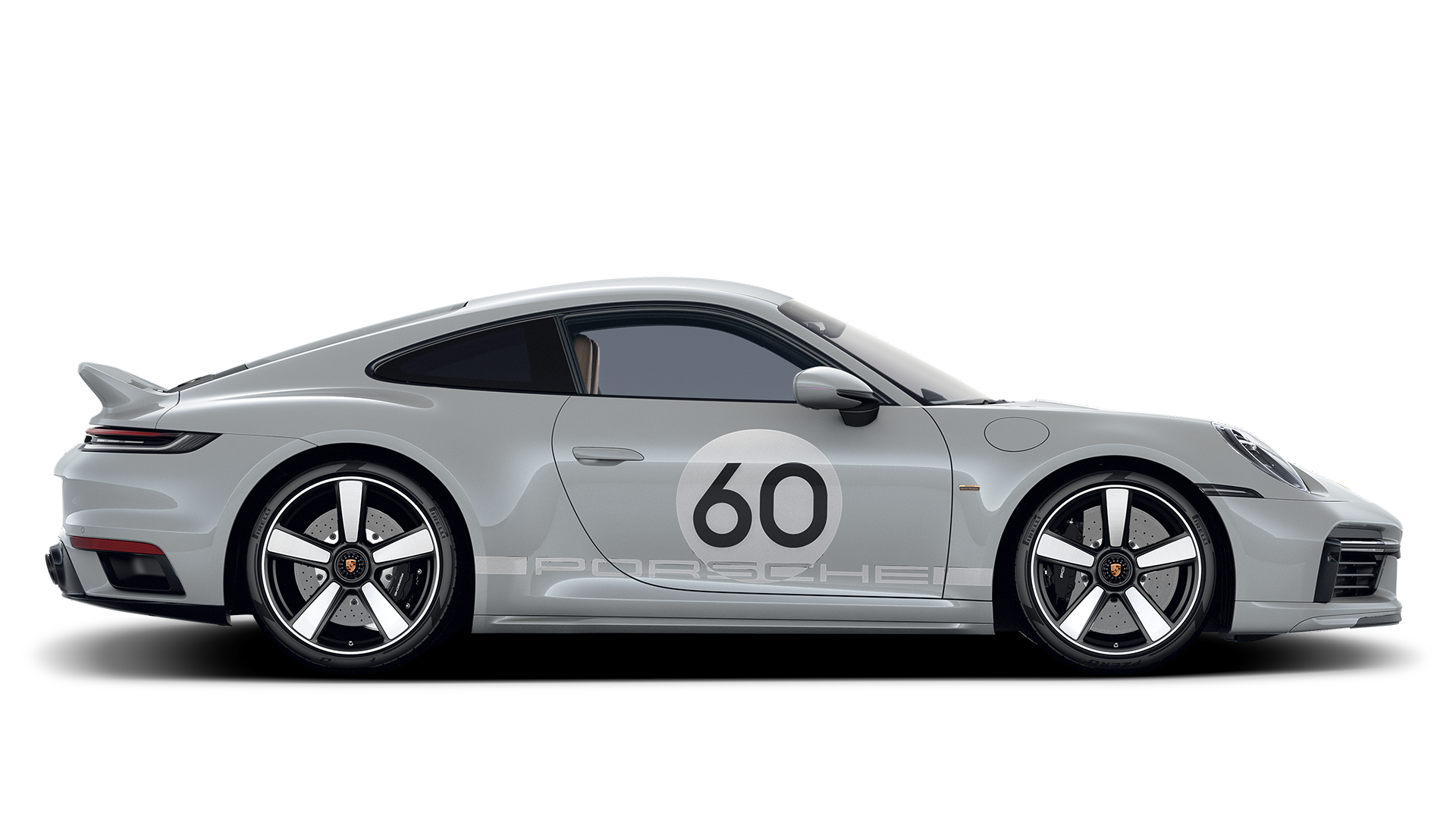 USD 455.400
405 kW/550 PS
Potencia (kW)/Potencia (PS)
4,1 s
Aceleración de 0 - 100 km/h
911 Sport Classic
405 kW/550 PS
Potencia (kW)/Potencia (PS)
4,1 s
Aceleración de 0 - 100 km/h
315 km/h
Velocidad máxima
Technical Specs
| | |
| --- | --- |
| Posición /Número de cilindros | 6 |
| Grado del combustible | 98 |
| Calibre | 102,0 mm |
| Carrera | 76,4 mm |
| Cilindrada | 3.745 cm³ |
| Potencia (kW) | 405 kW |
| Potencia (PS) | 550 PS |
| Potencia máx. RPM | 6.750 r/min |
| Velocidad máx. del motor | 7.200 r/min |
| Par Máximo (Nm) | 600 Nm |
| Rango de par máximo RPM | 2.000 - 6.000 r/min |
| Potencia máx. por litro (PS/l) | 146,00 PS/l |
| | |
| --- | --- |
| Velocidad máxima | 315 km/h |
| Aceleración de 0 - 100 km/h | 4,1 s |
| Aceleración de 0 - 160 km/h | 7,9 s |
| Aceleración de 0 - 200 km/h | 12,0 s |
| | |
| --- | --- |
| Longitud | 4.535 mm |
| Ancho | 1.900 mm |
| Ancho (sin espejos plegados) | 2.024 mm |
| Altura | 1.299 mm |
| Batalla | 2.450 mm |
| Círculo de giro | 10,9 m |
| Tara según CE | 1.645 kg |
| Peso máximo autorizado | 1.955 kg |
| Carga máxima | 385 kg |
| | |
| --- | --- |
| Volumen del maletero, delantero | 132 l |
| Tanque de combustible | 67 l |
| | |
| --- | --- |
| Garantía | 2 años sin limite de kilometraje. Lo invitamos a conocer nuestro plan de Garantía Extendida para su Porsche hasta por 15 años. |
| Intervalos de mantenimiento | cada 10.000 km / un año |
| Garantía de pintura | 3 años |
| Garantía contra corrosión | 12 años; se debe realizar un informe sobre el estado del vehículo / garantía de larga duración cada 2 años. |
Standard features
Motor bóxer de 6 cilindros con VTG biturbo, potencia máxima: 405 kW (550 CV), par máximo: 600 Nm.
Bloque de aluminio y culatas
Refrigerado por agua con gestión térmica
4 válvulas por cilindro
Direct Fuel Injection (DFI)
2 turbocompresores con turbina de geometría variable (VTG), 2 intercoolers
Lubricación por cárter seco integrada con una bomba de aceite controlada bajo demanda.
Levantamiento y sincronización variable de válvulas VarioCam Plus
Dos convertidores catalíticos de 3 vías y diagnóstico a bordo para monitorear el sistema de control de emisiones
2 filtros de partículas de gasolina (GPF)
Auto start/stop
Gestión estacionaria con función HOLD
Eje delantero McPherson con barra estabilizadora
Dirección asistida electromecánica con relación de dirección variable y generador de impulsos de dirección
Llantas Sport Classic 20-/21-Zoll pintadas en negro (alto brillo)
Centro de rueda pintado en negro (satinado) con escudo Porsche histórico.
Porsche Ceramic Composite Brake (PCCB) con pinzas de freno pintadas en negro (alto brillo)
Sistema de escape deportivo (tubos de escape en negro)
Auto-Blip-Function
Paquete de aislamiento ligero
Transmisión manual de 7 velocidades y paquete Sport Chrono
Dirección del eje trasero
Sistema de elevación eje delantero
Porsche Dynamic Chassis Control (PDCC)
PASM Sport Suspension (-10 mm)
Tracción trasera
Múltiple de admisión de expansión
Batería de arranque ligera LFP
Freno de estacionamiento accionado eléctricamente
Freno de potencia electromecánico
Coupé 2+2 plazas con amplia carrocería 911 Turbo y motor trasero
Construcción ligera inteligente en compuesto de aluminio y acero
Porsche WET Mode
Advertencia y asistencia de frenado incl. Protección de peatones
Pantalla de presión y temperatura de los neumáticos
Keyless drive
Filtro de partículas/polen con filtro de carbón activo
Inmovilizador de motor con cierre centralizado a distancia y sistema de alarma con vigilancia interior basada en sonido ultrasónico
Luneta trasera calefactable
Tyre Pressure Monitoring System (TPM)
Emblema histórico de Porsche en el capó delantero
Capó delantero Fibra de carbono
techo de fibra de carbono
Acabado de diseño
Spoiler trasero fibra de carbono
Borde del alerón delantero
Logotipo PORSCHE en color dorado
Designación del modelo color dorado
Carrocería más ancha en la parte trasera
Motorsport graphic Heritage Design
Insignia Heritage Design
Faros principales LED oscurecidos con matriz de haz que incluyen Porsche Dynamic Light System Plus (PDLS Plus)
SportDesign sideskirts
Tomas de aire pintadas en Negro (alto brillo)
Salidas de aire pintadas en Negro (alto brillo)
Faldón trasero SportDesign pintado en negro (alto brillo)
Molduras de las ventanillas laterales en negro (alto brillo)
Lamas pintadas en Negro (alto brillo)
Embellecedores inferiores de los retrovisores exteriores pintados en el color exterior, incluida la base del retrovisor pintada en Negro (alto brillo)
Inserciones de listones en el portón trasero pintados en Negro(alto brillo)
Tapón de llenado de combustible Exclusive Design
Molduras de ventanillas laterales y faldones laterales en Negro
manijas de las puertas retráctiles
Rejilla del portón trasero con listones verticales con listones de adorno de color negro (alto brillo)
Porta Placa
Retrovisores interiores y exteriores antideslumbrantes automáticos con sensor de lluvia integrado con luz de cortesía
Parabrisas con tinte superior gris
Faros principales LED, incluidas luces de circulación diurna con focos LED de 4 puntos y Porsche Dynamic Light System Plus (PDLS Plus)
Luces de lectura, orientación, cerradura de encendido, maletero, espacio para los pies, guantera e iluminación de puertas, todos construidos con tecnología LED
Espejos de cortesía iluminados en parasoles para conductor y pasajero
Unidades de luces delanteras duales incl. las luces de posición y los indicadores de dirección, así como las luces de los intermitentes laterales, están construidos con tecnología LED
Tira de luces traseras que incluye luces de estacionamiento integradas y luz antiniebla trasera
Luces traseras LED tridimensionales incl. luz de marcha atrás e indicadores de dirección, así como terceras luces de freno integradas
Retrovisores exteriores en los rieles laterales de las puertas, regulables eléctricamente y calefactables, asféricos del lado del conductor
Sistema de lavado de parabrisas con escobillas aerodinámicas y chorros de lavado
Asientos deportivos adaptativos Plus, eléctricos de 18 movimientos con paquete de memoria
Reposacabezas con el histórico escudo Porsche
Asientos con Pepita
Paneles de puertas con Pepita
Asiento deportivo Plus Respaldos Cuero con inserciones decorativas Cuero
Logotipo 'PORSCHE Exclusive Manufaktur' en la tapa del compartimento portaobjetos
Revestimiento del techo en Race-Tex perforado
Paquete interior en Paldao oscuro poroso
Cuadro de instrumentos Heritage Design
Insignia de limitación
Tapetes Heritage Design
Maletín de tablero de cuero
Molduras de acceso de las puertas Aluminio cepillado, iluminado
Llave del vehículo pintada en color exterior con funda para llaves de cuero
Viseras de cuero parasol
Salidas de aire cuero con lamas cuero
Revestimiento de la columna de dirección Cuero
Cuero de la carcasa de la columna de dirección (en combinación con el paquete de memoria)
Cuero del panel del espejo interior
Cuero de la cubierta de la caja de fusibles
Tapizado de portavasos de cuero
Paquete de tapizado de puertas y tablero de cuero
Volante deportivo GT con el histórico escudo Porsche
Elevalunas eléctricos con operación de un solo toque y protección del sello de la puerta
Control de clima automático de 2 zonas con ajustes de temperatura separados para el conductor y el pasajero delantero, modo de recirculación de aire automático incl. sensor de calidad del aire
Cuadro de instrumentos con dos pantallas de alta resolución
maletero delantero
Volante multifuncional
Bolsas de aire de tamaño completo para el conductor y el pasajero delantero
Consola central ascendente con compartimento portaobjetos
Compartimento de almacenamiento en cada puerta.
Porsche Side Impact Protection (POSIP), compuesto por elementos de protección contra impactos laterales en las puertas y airbag Head-Thorax para el conductor y el acompañante
Dos portavasos individuales (1x como entrada en la consola central y 1x en el lado del pasajero)
Cuentarrevoluciones con pantalla digital para la marcha seleccionada y la velocidad del vehículo.
Puntos de montaje en el asiento del pasajero para el sistema de montaje del asiento infantil ISOFIX
Ganchos para ropa en los respaldos de los asientos
Control Crucero
cierre centralizado a distancia
Función de memoria para ambos retrovisores exteriores, columna de dirección y posición del asiento (lado del conductor), así como otras configuraciones personalizadas en el automóvil
ParkAssist (delantero y trasero) incl. Surround View
BOSE® Surround Sound System
2 puertos USB-C en la tapa del compartimiento de almacenamiento principal de la consola central, enchufe (12 voltios) en el espacio para los pies del pasajero
Apple CarPlay® and Android Auto™
Porsche Communication Management (PCM)
Gris Sport Metalizado, Gris Agata Metalizado, Azul Gentiano Metalizado
Negro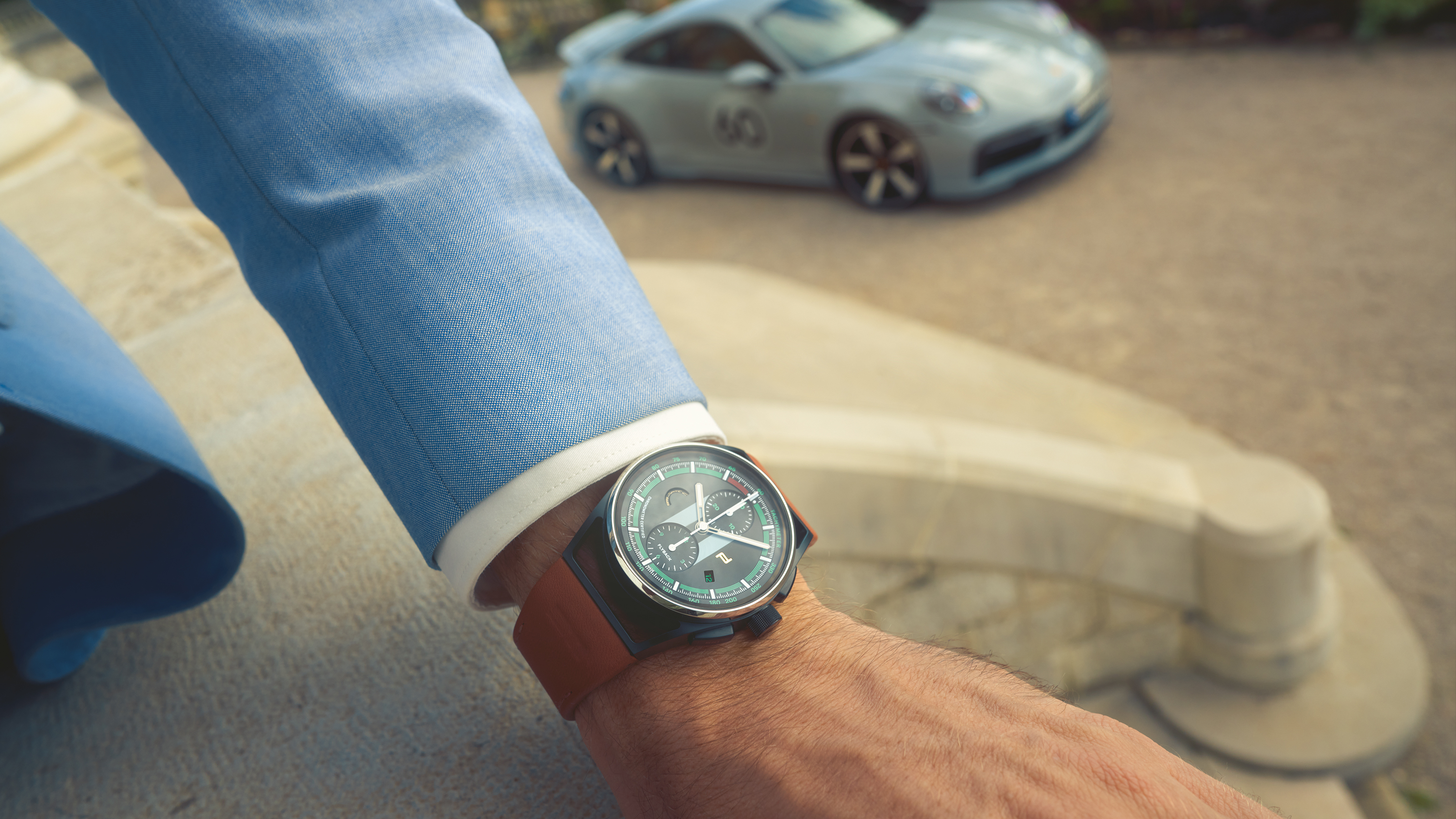 Time flies.
Do not keep your love for the 60s and 70s just in your heart, but wear it on your wrist. The Chronograph Heritage Edition cites design features of the 911 Sport Classic and is made exclusively for the owners of the sports car. Made to order and strictly limited.
History up close.
Immerse yourself in the sophisticated jet set era, the first moon landing and free love. The Coffee Table Book takes you back to the era where one innovation follows the next – in life and on the racetrack. Always to the forefront even back then: the Porsche 911.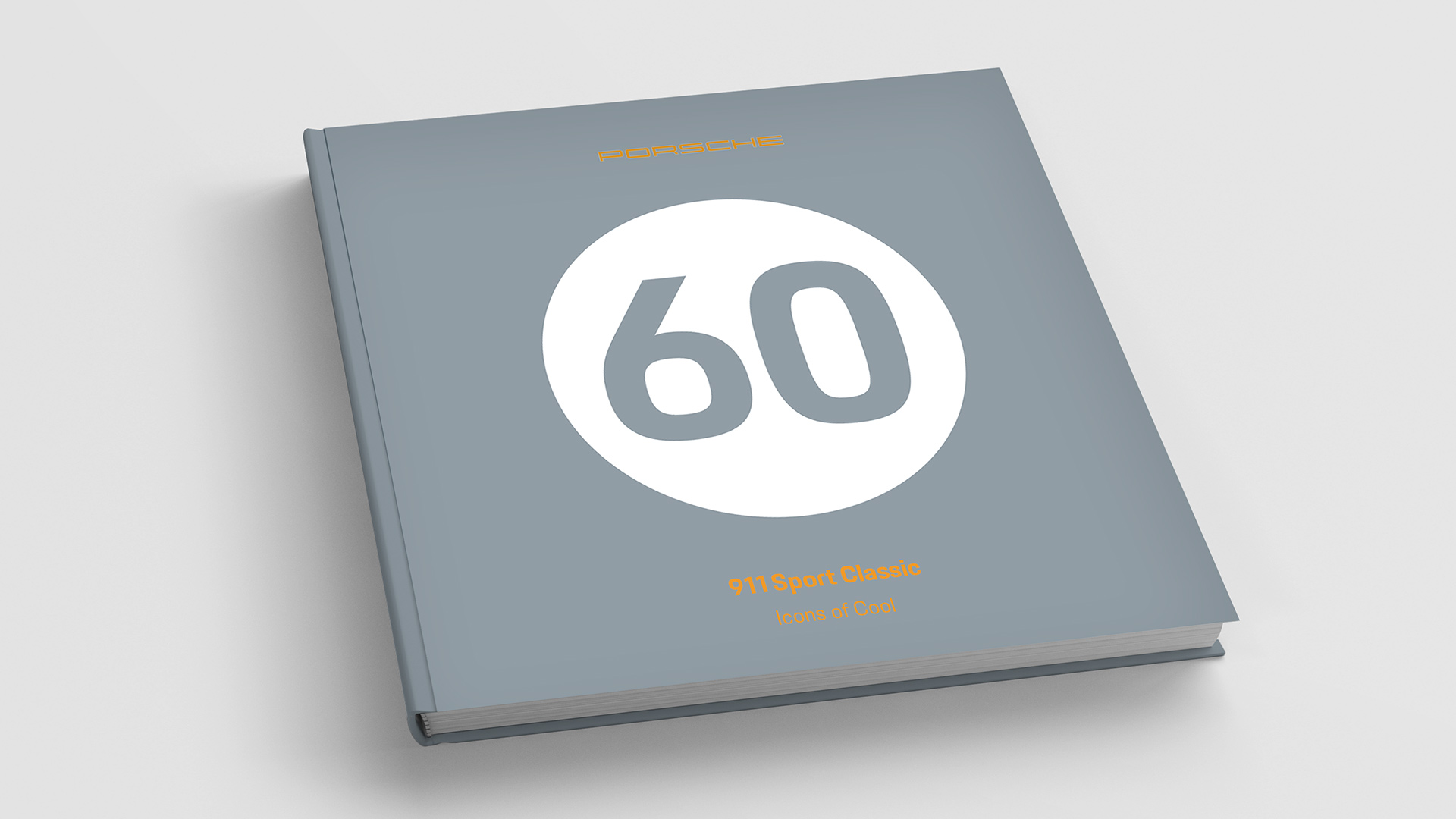 Heritage design.
Limited-edition collector models and optional packages. Inspired by the spirit of the 50s, 60s, 70s and 80s, they are bringing the lifestyle of bygone times back onto the road. And honouring iconic Porsche classics with numerous design highlights.

Personalisation & finishing.
At Porsche Exclusive Manufaktur, we offer you a range of personalisation options for the exterior and interior of your car. For your own very personal vehicle.