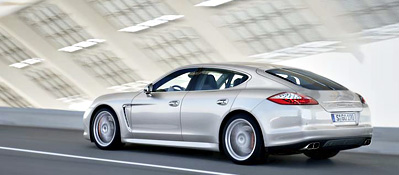 If you're curious and would like to know more about our Porsche magazine, you'll find selected articles here for you to read as a sample.
We hope you enjoy reading them – and if you want to read more, you can apply for subscription to 'Christophorus' online now.
The Panamera Moment
On the 94th floor of the Shanghai World Financial Center, 425 meters above the streets of the Asian metropolis, the Panamera was presented to the public. The clear message: Porsche reaches new heights with its fourth model series. Supervisory Board Chairman Dr. Wolfgang Porsche (center) and board members Klaus Berning (left) and Wolfgang Dürheimer accompanied the first appearance.
Download PDF/ 399 KB
The Weight Watchers
Porsche has focused resolutely on lightweight construction in the Panamera. As a result, the Gran Turismo offers superior comfort and performance with low fuel consumption.
Download PDF/ 322 KB
A Fine Line
The Panamera's appearance is not a thing of chance — it derives from its genetic code. Says design director Michael Mauer: "It's immediately recognizable as a Porsche."
Download PDF/ 234 KB
Where Energy Flows
Cayenne drivers don't really need to worry about saving fuel anymore. They can relax and watch the "energy flow" as the hybrid drive reduces consumption on its own.
Download PDF/ 246 KB
"Oh, these Cars!"
The world is coming to Zuffenhausen—and not only car fans are seeking out the new Porsche Museum. Porsche design is also attracting art connoisseurs.
Download PDF/ 247 KB
Sign of the Times
Porsche Design lays down the line: black and bold. And yet the P'6920 Rattrapante Chronograph is a very special watch, and comes in a limited edition of only 250.
Download PDF/ 413 KB
The Zen of Cylinders
If there were a gauge for emotions, it could never keep up. That's the verdict of our author following his joy ride in a 911. A very special automotive excursion.
Download PDF/ 300 KB