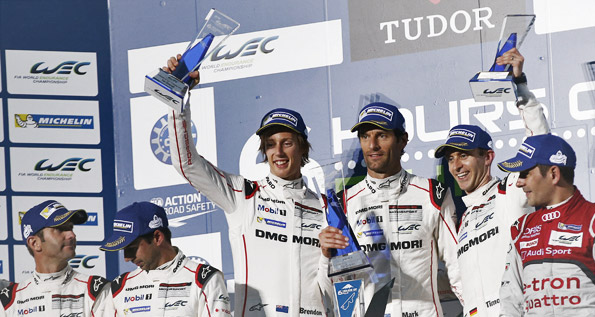 Race report
FIA World Endurance Championship, LMP1, Round 6, Fuji, Race report
Porsche takes lead in the drivers' championship with another one-two result
Stuttgart. By winning the fourth race in a row with the Porsche 919 Hybrid, the Porsche Team took an important step forward in the battle for the FIA World Endurance Championship (WEC), and now leads both the manufacturers' and the drivers' standings. Today Timo Bernhard (DE), Brendon Hartley (NZ) and Mark Webber (AU) won on the 4.549 kilometre long Fuji Speedway in the Japanese Alps under tricky weather conditions. Romain Dumas (FR), Neel Jani (CH) and Marc Lieb (DE) came second in the six-hour race. With this one-two result – the third one including the Le Mans 24 Hours – Porsche significantly extended its lead in the manufacturers' standings. Porsche now has 264 points to its tally, with Audi following with 211 points and Toyota having 119. In the drivers' championship the Porsche trio of Bernhard/Hartley/Webber is now leading by one point.

How the race went for car number 17:
After almost 40 minutes behind the safety car and with light rain still falling, finally the race goes green. Mark Webber starts on full wet tyres from pole position, but goes off the track in turn three, re-joining the race in P4. An issue with the hybrid system causes a lack of boost, so the sister car overtakes on lap 23 and Webber drops back to fifth. From lap 31 until the number 1 Toyota pits after lap 42, the spectators see a great battle between the Toyota and the Porsche. After 43 laps Mark comes in for fuel only. Meanwhile the car lies third behind the leading number 7 Audi and the Porsche sister car. During the second part of his double stint Mark catches up on the still wet track. After the sister Porsche manages to take the lead, from lap 72 onwards Mark is trying to get by the number 7 Audi. After several changes of positions, both cars are due for their pit stops. Mark hands over the car to Brendon Hartley after 81 laps. It is also the first tyre change, and Brendon gets intermediate slicks. On lap 86 he loses P2 again to the number 7 Audi but takes revenge on lap 108. Still in second, Brendon comes in after 121 laps for fuel only. After 160 laps he hands over to Timo Bernhard, who continues on slick tyres. He picks up a set of new ones and more fuel at his final pit stop after 193 laps. At the end of lap 209 Timo takes the lead.

How the race went for car number 18:
As the long period behind the safety car finally is over, Romain Dumas starts on full wet tyres from P2, but immediately loses positions because the pit limiter comes on. When the sister car is in trouble with an hybrid issue, Romain improves to P4 and then gets past the number 1 Toyota on lap 25 to take P3. On lap 36 Romain overtakes the number 8 Audi and is now in second. After 44 laps the number 18 Porsche is the last one of the LMP1 cars to come in to refuel. Romain stays in the car and keeps his tyres. On lap 71 he manages to overtake the number 7 Audi and takes the lead. Just when Romain is due to pit after 82 laps, there is a full course yellow. He hands over to Marc Lieb, who gets intermediate slicks and continues in the lead. Still leading, Marc comes in after 122 laps for fuel only. After 159 laps Neel Jani jumps in the leading car and gets slick tyres. After 192 laps he comes in for his final pit stop for fuel and fresh slick tyres. After changing positions at the end of lap 209, Neel finishes the race in second position.
Quotes after the race:
Fritz Enzinger, Vice President LMP1: "It was a difficult race in changing conditions, but we accomplished what we wanted. By another one-two result we have extended our lead in the manufacturers' standings and also in the drivers' championship Timo, Brendon and Mark are now leading. The team did a sensational job, it is a pleasure to work like we do and I want to thank everyone involved."

Andreas Seidl, Team Principal: "Despite extremely challenging conditions, we strategically got everything right today. Every single decision by the team proved to be the right one. All six drivers did a great and completely errorless job. In the end of the race they showed true teamwork. Although we are a very young team, we also proved that we are able to manage and win a difficult race. Audi did put us under pressure right from the start. Many thanks to all the employees and team members here on site and back home in Weissach for the perfect preparation which was the base for our success."

Drivers Porsche 919 Hybrid number 17

Timo Bernhard (34, Germany): "We have achieved our target to get another one-two result for the manufacturers' standings. This, for me, is the most important news. Normally it would have been the day for our sister car, as they had deserved to win. Our race was difficult and we are grateful for the full points. But to win the title, there is still a long way to go as we have two more six-hour races ahead of us."

Brendon Hartley (25, New Zealand): "Before I began my double stint in the middle part of the race we had lost a huge amount of time to our sister car, and this was because the full course yellow came out just when we had done our pit stop and their stop was due. I went out on intermediate slick tyres in tricky conditions. Initially the wet tyre would have been quicker, but we kept ours on for two stints, so in the end it was the right tyre choice. I had a bit of fun with the number 7 Audi out there. He was able to overtake me when I was busy with some switches in the cockpit. Then I had a good battle with him. It was nice and clean and good fun."

Mark Webber (39, Australia): "My first stint was pretty tricky with very little grip. After the start I almost lost the car in turn three. Shortly later a hybrid issue occurred, so we had lots of talk on the radio. I was very happy with the second half of my double stint. I had a good battle with the number 7 Audi and it was good to get our cars back to the front."

Drivers Porsche 919 Hybrid number 18

Romain Dumas (37, France): "The conditions weren't easy for sure. After the start the pit limiter came on on my car – maybe I pressed it, I don't know – but I lost places. Then a Toyota pushed me out and I had brake issues for about 20 laps. But I enjoyed the second part of my double stint a lot because I was catching everybody."

Neel Jani (31, Switzerland): "For us it was the first race since Silverstone without any problems. The car was good, the strategy worked out, my teammates were top. I got it together as well, and then we also had some luck with the timing of the full course yellow. We had a lead of over one minute, but with the problems in earlier races we had lost our chances for the championship. So we handed today's win over to our sister car. Of course it hurts, but I try think with the part of me that is Indian, and like to believe there will be another opportunity and the karma will be with me."

Marc Lieb (35, Germany): "I did a double stint in the middle of the race. The first one was a bit tricky in the beginning, because the track was quite slippery for intermediate tyres. The rain didn't stop as quickly as we hoped it would. It was challenging, but it worked well, and the pace was good. Also in the second stint everything was fine. Having a lead of almost one minute, I was able to take care of the brake temperatures, which were rather high, and save the tyres. At times we were the fastest car on track, it was good."
Race result 6 hours of Fuji (J):
1. Bernhard/Hartley/Webber (DE/NZ/AU), Porsche 919 Hybrid, 216 laps
2. Dumas/Jani/Lieb (FR/CH/DE), Porsche 919 Hybrid, + 14.306 seconds
3. Fässler/Lotterer/Tréluyer (CH/DE/FR), Audi R18 e-tron quattro, 1 lap behind
4. Di Grassi/Duval/Jarvis (BR/FR/GB), Audi R18 e-tron quattro, 2 laps behind
5. Davidson/Buemi/Nakajima (GB/CH/JP), Toyota TS040 Hybrid, 2 laps behind
6. Wurz/Sarrazin/Conway (AT/FR/GB), Toyota TS040 Hybrid, 13 laps behind
FIA World Endurance Championship (WEC), after 6 of 8 rounds
Drivers:
1. Bernhard/Hartley/Webber (D/NZ/AUS), Porsche 129
2. Lotterer/Tréluyer/Fässler (D/F/CH), Audi, 128
3. Dumas/Jani/Lieb (F/CH/D), Porsche, 95,5
4. Di Grassi/Duval/Jarvis (BRA/F/GB), Audi, 79
5. Tandy (GB), Porsche & Oreca, 66
6. Davidson/Buemi (GB/CH), Toyota, 59
7. Bamber/Hülkenberg (NZ/D), Porsche, 58
8. Nakajima (J), Toyota, 55

Manufacturers:
1. Porsche, 264
2. Audi, 211
3. Toyota, 119


All reports on the previous season can be found in our archive.