More than two thirds of all the Porsche vehicles ever built are still in use. This is the result of regular maintenance. No matter how long your Porsche has already been delivering pure driving pleasure, Porsche Service aims to ensure that nothing will change in future.
Maintenance by Porsche Service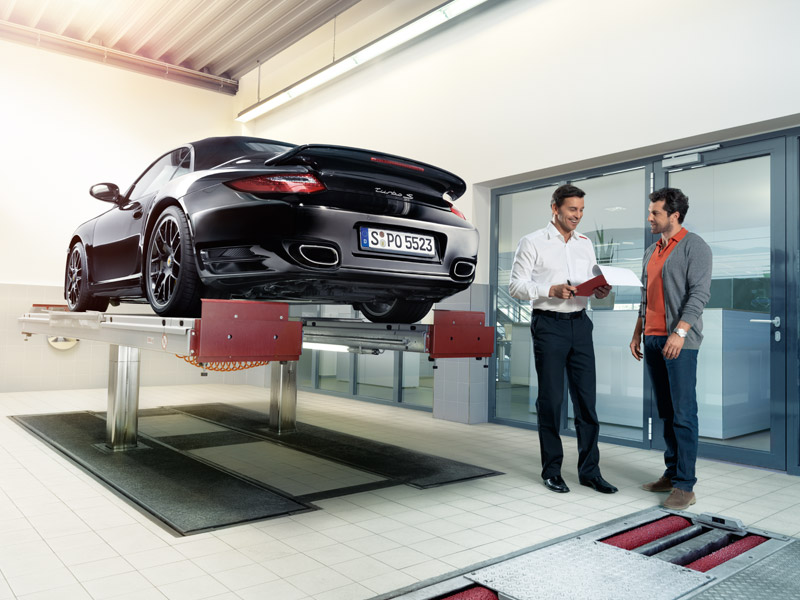 To guarantee the optimum performance of systems and components, they must be regularly maintained. This helps retain their value and improves road safety. We therefore have a maintenance system that is optimally tailored to your Porsche. Your vehicle is checked at regular intervals. If necessary, wearing parts and fluids are changed. Your Porsche Partner will advise which maintenance intervals and requirements apply to your vehicle.
E-Performance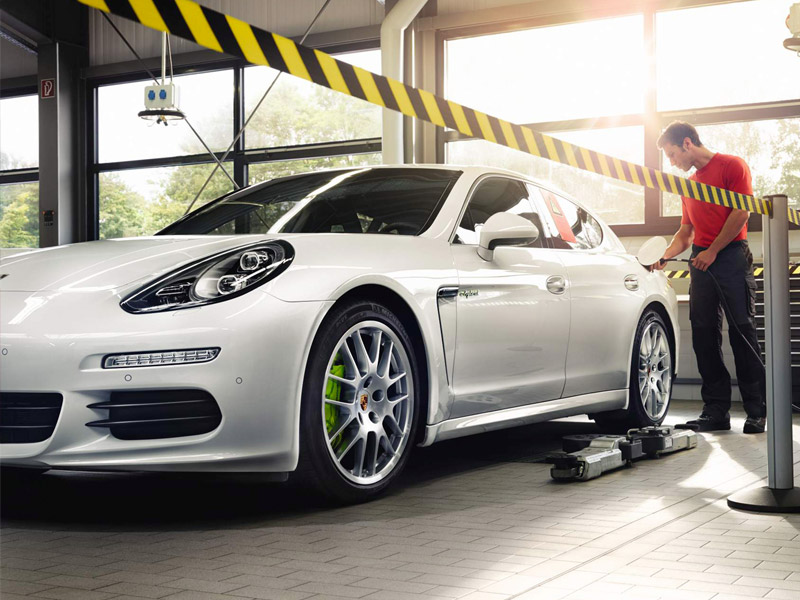 At Porsche, it's natural for us to break new ground.
One example of this is hybrid technology. Such a highly developed technique also places particular demands on service. That's why our Porsche Centres are ideally equipped and trained to undertake the proper maintenance and repair of hybrid vehicles and high-voltage components.
AdBlue®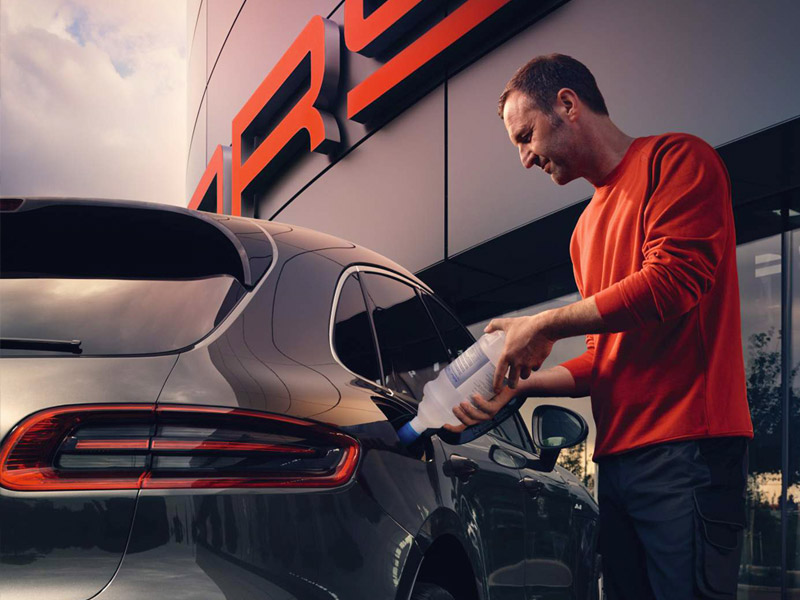 AdBlue® is a refillable fluid for diesel engines, which is stored in a separate tank. Warning lights on the instrument panel display the residual range in various grades. An overview of the meaning of the lights can be found in the Owner´s Manual. We recommend topping up with AdBlue® at a Porsche Centre. They will also be happy to help with any other issues.
Direct dialogue bay and service process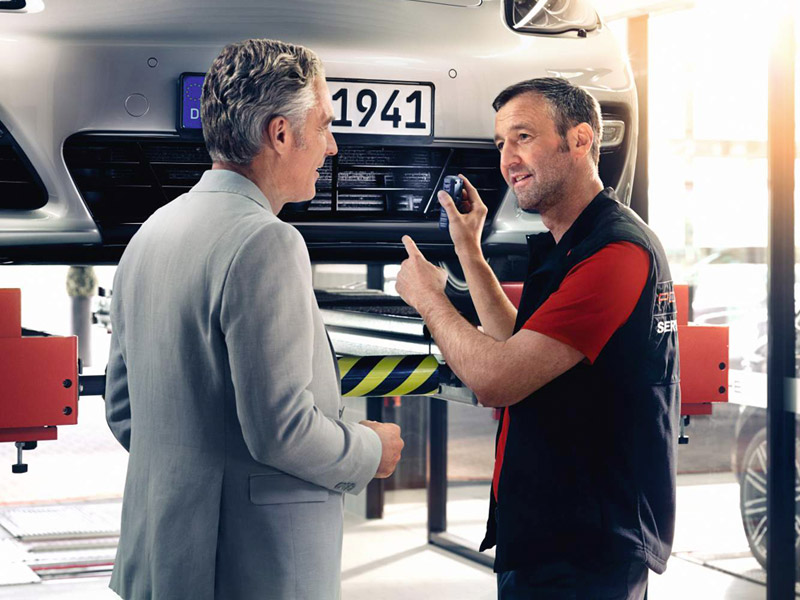 Exactly according to plan: your workshop visit.
Leaving nothing to chance. That's also typically Porsche. That's why every visit to your Porsche Centre´s workshop follows a standard process. From arranging the appointment, through the reception process, to the repair, quality inspection and vehicle return. So that we ensure consistent service.
You'll find out what work needs to be carried out on your vehicle and why, right at the outset: using our direct reception system. You're actively involved and carry out a visual inspection of your vehicle, together with our Porsche Service Consultant. Using a check list, they explain the work required and write it down. This gives you the opportunity to discuss the nature and extent of the work directly on site with the Porsche Service Consultant, along with the price, possible repair alternatives – e.g. dynamic repair - repair times and recommendations. And of course, they're also available to deal with any other issues and options regarding your Porsche. Because we don't want to leave anything to chance, especially as regards your wishes.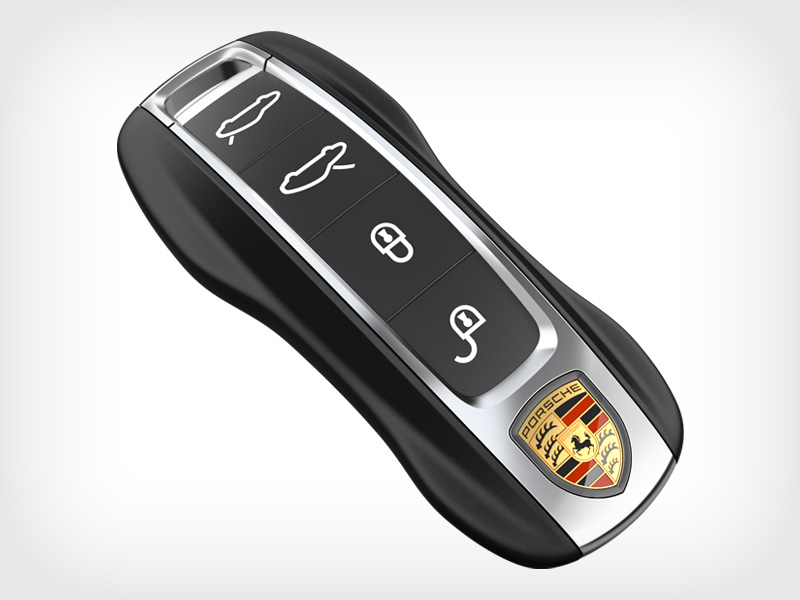 Diagnostic Key: The key to superior service.
Current vehicle condition and diagnostic data is written to the Diagnostic Key in coded form when driving. The vehicle condition is thus available immediately in the Porsche Centre by reading out the vehicle key.
This means that Service Advisors already have comprehensive vehicle information at their disposal during their first contact with the customer. This ensures a fast, individual and targeted analysis at all times.