The Porsche Museum is a museum like no other. Even as they age, Porsche cars hardly retire. These witnesses-on-wheels to the past are active exhibits of the Museum on Wheels. Their appearances outside its walls demonstrate an enduring youthfulness.
A vintage Porsche is much more than just an old car. It is a bearer of dreams and experiences that fascinate the younger generation as well. These cars are marked but not broken by a lifetime of driving on the road or the racetrack. They bear witness to victories, and also, albeit less often, to defeats. They speak of the sweat and solitude of their drivers, of the tears of losers, the roar of tormented engines, and the heat generated from their backs. Thirty years on, they bring the scent of rubber and gasoline back to the present. For that is the perfume of a vintage Porsche.
Wherever these historical race cars appear, they have a moving effect on people who are fascinated by their technology and by the rumbling and howling of their engines. Some of the vehicles remind them of their youth, when they dreamed of a 356, a Speedster, a 911, or a Targa. And now they encounter these cars again, which belong to the Museum on Wheels. The cars themselves enjoy growing numbers of fans. Porsche cars and Porsche aficionados can be found nearly everywhere in the world these days, as is clear from the examples below.
It is late June and the sun is shining. That alone nearly qualifies as an unusual state of affairs in southern England. Everyone here had expected rain, and it wouldn't be a problem if it came. For regardless of the weather at the Goodwood Festival of Speed, the wind resolutely blows sizable clouds of exhaust across the track, or on rare occasions old dust, and sometimes both. More than 150,000 people have gathered at this festival for elderly race cars and elderly men. But as tradition would have it, there are many young women, as well.
Change of scenery: along the Monterey coastline in California, one weekend in August stands out like no other. Half a million people gather here every year to witness a rendezvous of automotive gems and proud billionaires at Pebble Beach, on the Quail golf course in the romantic town of Carmel-by-the-Sea, and at the Laguna Seca racecourse in the desert-like hills of the hinterlands. While sunlight just manages to filter through the fine mist of fog down at the coast, the racetrack has long since caught fire—figuratively speaking, of course. These special curves host a renaissance of the sport in the tradition of speed with roaring engines and the smell of exhaust fumes, enabling older race cars and their drivers to become young once again—for two or three days, at least.
The events can get even tougher, or at least higher, for example, in the Austrian state of Styria. The Ennstal Classic in July starts with a hill-climbing contest on the Stoder­zinken, followed by a 421-kilometer marathon the next day. And it's not only the vehicles here in Austria that are breathtaking. Most of them are marvelous sports cars, driven with their tops down, of course, to commune all the better with nature. Seeing and being seen is an important part of this event for elegant drivers with sleek partners and dress codes that might be described as casual. The visitors, especially during the show race known as the Grand Prix of Gröbming, view this rolling world of yesterday's wonders as a thrilling opportunity for close contact with the cars. The Ennstal Classic is casual by design, simply delightful—and sponsored, incidentally, by Porsche.
There is no definitive hit parade for the well over one hundred vintage rallies and races that take place worldwide every year, including the Concours d'Elegance, endurance races, and time-speed-distance contests. These intense, but generally brief, events serve a representational purpose. However, a ranking of enthusiasm-sparking events would have to include the Mille Miglia, which has served as a showcase for vintage cars since 1977; the Le Mans Classic contest; in Germany, the Sachsen Classic, the well-conceived Schloss Bensberg Classics, and the still young Paul Pietsch Classic; and the exotic Top City Classic Rally in China. These events all have very different characters, but also a common element greatly valued by vintage car fans, namely, the fact that Porsche is present with historical vehicles that are tended to, maintained, restored, and held in reserve at the Porsche Museum precisely for this purpose.
A set part of the collection, these cars form the inner core of the Museum on Wheels. The name itself attests to the fact that old and historical sports cars still possess the vitality for challenging appearances even after long automotive lives. The Museum on Wheels, says Achim Stejskal, director of the Porsche Museum and also responsible for public relations on vintage topics, is essentially a second, mobile collection that can be taken out of the permanent pool of exhibits when needed for events. "Our exhibition is in constant flux," he observes. "There is always something new to see, and nearly all of the cars are in good running condition."
This enables Porsche to demonstrate the long service lives and competitive quality of its historical products as well, on racetracks and in rallies which demand quite a bit from cars that carry a good many years on their fast backs. They are occasionally driven by professional racers of yore, who have not forgotten the motivation that comes from 441 kW (600 hp) behind their seats.
The cars needed for a wide range of events, such as an elegant 911 2.0 with the beige paint job of the time or a 917 K that won Le Mans in 1971, are rolled from their places in the museum and taken down to the workshop, where they are inspected before being sent off. Afterward they are put back into perfect shape and returned to their spots in the permanent exhibition. Porsche has a collection of around 520 cars. Not all of them are for public display; many serve in the background as a reserve, supporting a crucial sense of historical awareness.
Alexander E. Klein is in charge of vehicle management at the Porsche Museum. That is by no means a quiet job. In 2013, for example, during the anniversary year of the 911, there was more than enough for all hands to do, with a total of 128 different 911 cars being sent out to events. Klein keeps a firm hand on the arrangements and registrations for these witnesses to the history of racing, as well as meticulous records of his treasures on wheels. A few statistics suffice to show that they are called upon to appear ever more often these days. More than two hundred cars are essentially ready at any time to get moving. Generally they serve the museum, but they are being sent out on an ever more frequent basis. Porsche supported 132 events with cars from its museum in 2011, and that figure reached 235 in 2013. One master mechanic and three technical specialists are responsible for the well-being of this special fleet, with support from Porsche Classic, the factory maintenance team, and the vintage racing department when needed.
The appearances of these vintage Porsche cars are as authentic as the brand, regardless of whether they are on the road or the racetrack. Their message consists of their ability to live and to drive. They are a moving demonstration of the continuing, worldwide fascination for Porsche.
By Wolfgang Peters
"I'll be entering it next year too"
Dr. Wolfgang Porsche on his passion for the Mille Miglia and the Ennstal Classic.
The chairman of Porsche's supervisory board discovered his love for vintage car events rather late. "This is the first year that I've driven in the Mille Miglia," reveals Dr. Wolfgang Porsche, "and my son Ferdinand was the co-driver." The Italian vintage car rally was recommended so highly by friends at the beginning of the year that the youngest son of company founder Ferry Porsche had no choice but to find a talented co-driver and a suitable car.
"We decided on a 356 Speedster from the Porsche Museum and were given the befitting starting number of 356," adds Dr. Porsche. It happens only rarely that "Porsche in Porsche" is announced at a vintage event, because the Porsche family is generally discreet about its enjoyment of classic cars.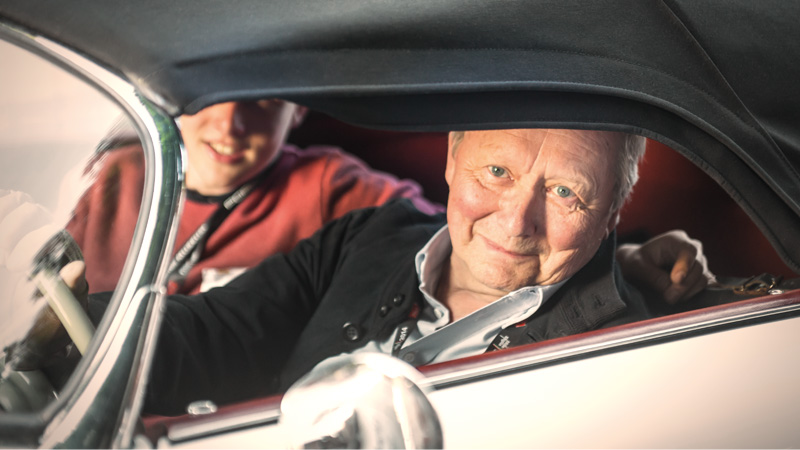 But Wolfgang Porsche is now defining his collection of the family's valuable automobiles. With cars such as a 356 America Roadster, rare early Speedsters and 550 Spyders, and the first 918 Spyder ever delivered, his portfolio of Porsche sports cars is now so complete that it can also be complemented by early designs from his grandfather Ferdinand Porsche, such as the Egger-Lohner electric car from 1898 and an Austro-Daimler champion hill-climbing Cabriolet from 1932.
Dr. Porsche had the Austro-Daimler so perfectly restored that the open four-seater with its distinguished gray-white paint job caused a sensation at the 2011 Concours d'Ele­gance at Pebble Beach in California. But as an honored guest at American Porsche parades for decades now, he is acutely aware of the effect that meticulous attention to detail at events of that type can have on the company's most important sports-car market.
As a student, Wolfgang Porsche cultivated the driving talent he inherited from his father and grandfather at contests known as gymkhanas, which are displays of skill against the clock. These activities had to give way, however, to the demands of his developing career. It was not until the twenty-first century that his talent had a chance to resurface.
The vintage event Ennstal Classic has long been considered the most sports-oriented vintage rally in the Alps. Held in Austria, the starting and finishing point of Gröbming in the state of Styria is but a figurative stone's throw—just about two hours by car—from the Porsche family estate of Schüttgut in Zell am See.
"This year marks the eighth time that I've taken part in the Ennstal Classic," says Dr. Porsche, explaining the source of his passion for vintage events. "The rally passes through simply gorgeous scenery, and it complements Porsche, our cars, and our company very well." A precise yet relaxed competitive spirit can be discerned in his voice as he relays the following result: "My co-driver Dr. Horvath and I took 73rd place this time, among nearly three hundred participants."
At their first Mille Miglia, the team of Wolfgang and Ferdinand Porsche in a Porsche 356 Speedster also finished in the first third. "Unfortunately, I'm a poor codriver and can't read the roadbook during the drive, which is why we prefer to have my son Ferdinand drive the long connecting stretches, such as the one over the mountains from the Adriatic to Rome," says Dr. Porsche as he explains who performs which tasks.
Nevertheless, there was still sufficient occasion to experience the weaknesses of this heroic Italian event, which in its current incarnation goes on for four days. "The Mille Miglia is also stressful," observes Dr. Porsche. "It usually gets started very early in the morning, and you reach your destination late. We arrived in Rome at 1:30 in the morning, and even at that hour a police escort had been scheduled for the tour through the city." But the way political life sometimes is in Italy, it was precisely at this late—or early—hour of the day that the police were on strike.
"I noticed that although you drive quite fast, you often have to wait in a line of other rally cars to have some time or other confirmed." Dr. Porsche also notes: "Professional service from our museum team is great when we arrive so late and then have to start again early in the morning. It's also amazing that there are so few accidents with around five hundred participants. The Mille Miglia may be strenuous, but it's fun. And I'll be entering it next year as well."
Driving vintage Porsche models has always been a matter of the heart for Dr. Porsche, and one he pursues privately, as well. He has a special permit for the Großglockner High Alpine Road over the highest mountain in Austria, within sight of the family estate of Schüttgut, "in order to be able to drive cars from my collection there at any time."