Results for Porsche
919 Hybrid No. 1: Jani, Lotterer, Tandy
3rd position; 113 laps; fastest lap: 1'38.444
919 Hybrid No. 2: Bernhard, Bamber, Hartley
4th position; 112 laps; fastest lap: 1'37.702
911 RSR No. 91: Lietz, Makowiecki
2nd position; 109 laps; fastest lap: 1'48.313
911 RSR No. 92: Christensen, Estre
3rd position; 109 laps; fastest lap: 1'49.465
Overall result
P
Driver
No.
Team
Car
Class
Laps
Best Lap
Gap
1
Sébastien BUEMI
Anthony DAVIDSON
Kazuki NAKAJIMA
8
Toyota Gazoo Racing
Toyota TS050 - Hybrid
LM P1
113
1'38.070
2
Mike CONWAY
Kamui KOBAYASHI
Jose Maria LOPEZ
7
Toyota Gazoo Racing
Toyota TS050 - Hybrid
LM P1
113
1'38.747
1.498
3
Neel JANI
André LOTTERER
Nick TANDY
1
Porsche LMP Team
Porsche 919 Hybrid
LM P1
113
1'38.444
2.272
4
Timo BERNHARD
Earl BAMBER
Brendon HARTLEY
2
Porsche LMP Team
Porsche 919 Hybrid
LM P1
112
1'37.702
1 Laps
P
Driver
No.
Team
Car
Class
Laps
Best Lap
Gap
1
James CALADO
Alessandro PIER GUIDI
51
AF Corse
Ferrari 488 GTE
LM GTE Pro
109
1'49.227
4 Laps
2
Richard LIETZ
Frédéric MAKOWIECKI
91
Porsche GT Team
Porsche 911 RSR
LM GTE Pro
109
1'48.313
4 Laps
3
Michael CHRISTENSEN
Kevin ESTRE
92
Porsche GT Team
Porsche 911 RSR
LM GTE Pro
109
1'49.465
4 Laps
4
Stefan MÜCKE
Olivier PLA
66
Ford Chip Ganassi Team UK
Ford GT
LM GTE Pro
109
1'50.059
4 Laps
5
Davide RIGON
Sam BIRD
71
AF Corse
Ferrari 488 GTE
LM GTE Pro
109
1'49.768
4 Laps
6
Darren TURNER
Jonathan ADAM
97
Aston Martin Racing
Aston Martin VANTAGE
LM GTE Pro
109
1'52.243
4 Laps
7
Nicki THIIM
Marco SØRENSEN
95
Aston Martin Racing
Aston Martin VANTAGE
LM GTE Pro
108
1'51.838
5 Laps
8
Andy PRIAULX
Harry TINCKNELL
67
Ford Chip Ganassi Team UK
Ford GT
LM GTE Pro
96
1'49.145
17 Laps
Race report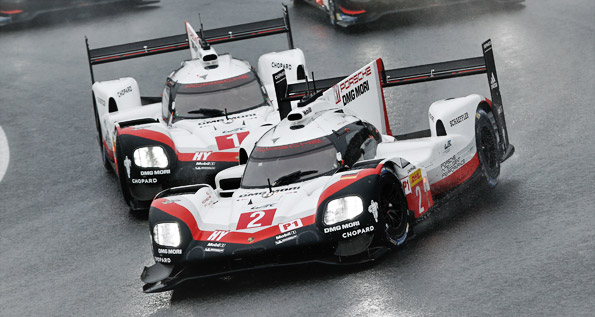 Rain, fog, red flag – Porsche 919 Hybrids finish third and fourth
Stuttgart. The Porsche LMP Team had to be content with third and fourth place finishes at the seventh of nine rounds of the FIA World Endurance Championship (WEC). The six-hour race on the Fuji International Speedway was hampered by persistent rain plus fog and staged in only 14 degree Celsius...
Read more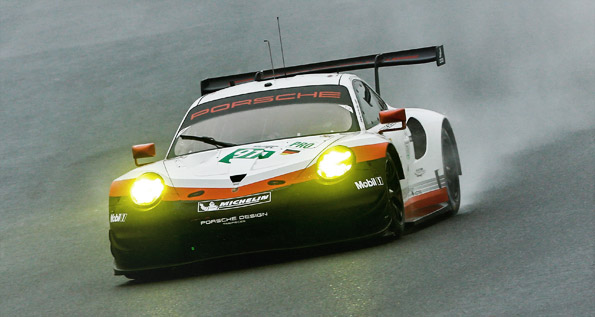 Double podium for 911 RSR in rain and fog at Mount Fuji
Stuttgart. The Porsche GT Team scored two podium spots with the Porsche 911 RSR in extremely difficult weather conditions at the six-hour race on the Fuji Speedway in Japan. Facing rain and fog, Richard Lietz (Austria) and Frédéric Makowiecki (France) secured second place in the strongly...
Read more