6 Hours of Spa-Francorchamps
Results for Porsche
919 Hybrid No. 18: Dumas, Jani, Lieb
2nd position; 176 laps; fastest lap: 1'58.025
919 Hybrid No. 17: Bernhard, Webber, Hartley
3rd position; 175 laps; fastest lap: 1'57.972
919 Hybrid No. 19: Hülkenberg, Bamber, Tandy
6th position; 173 laps; fastest lap: 1'58.052
911 RSR No. 92: Makowiecki, Lietz
2nd position; 151 laps; fastest lap: 2'18.963
911 RSR No. 91: Müller, Estre
3rd position; 151 laps; fastest lap: 2'19.229
Overall result
P
Driver
No.
Team
Car
Class
Laps
Best Lap
Gap
1
Marcel FÄSSLER
André LOTTERER
Benoît TRÉLUYER
7
Audi Sport Team Joest
Audi R18 e-tron quattro
LM P1
176
1'57.996
2
Romain DUMAS
Neel JANI
Marc LIEB
18
Porsche Team
Porsche 919 Hybrid
LM P1
176
1'58.025
13.424
3
Timo BERNHARD
Mark WEBBER
Brendon HARTLEY
17
Porsche Team
Porsche 919 Hybrid
LM P1
175
1'57.972
1 Laps
4
Filipe ALBUQUERQUE
Marco BONANOMI
René RAST
9
Audi Sport Team Joest
Audi R18 e-tron quattro
LM P1
174
1'59.797
2 Laps
5
Alexander WURZ
Stéphane SARRAZIN
Mike CONWAY
2
Toyota Racing
Toyota TS 040 - Hybrid
LM P1
173
2'00.170
3 Laps
6
Nico HÜLKENBERG
Earl BAMBER
Nick TANDY
19
Porsche Team
Porsche 919 Hybrid
LM P1
173
1'58.052
3 Laps
7
Lucas DI GRASSI
Loïc DUVAL
Oliver JARVIS
8
Audi Sport Team Joest
Audi R18 e-tron quattro
LM P1
168
1'58.077
8 Laps
8
Anthony DAVIDSON
Sébastien BUEMI
1
Toyota Racing
Toyota TS 040 - Hybrid
LM P1
162
1'59.528
14 Laps
9
Simon TRUMMER
Vitantonio LIUZZI
Christian KLIEN
4
Team Bykolles
CLM P1/01 - AER
LM P1
46
2'09.137
130 Laps
P
Driver
No.
Team
Car
Class
Laps
Best Lap
Gap
1
Alex MACDOWALL
Fernando REES
Richie STANAWAY
99
Aston Martin Racing V8
Aston Martin Vantage V8
LM GTE Pro
151
2'19.189
25 Laps
2
Frédéric MAKOWIECKI
Richard LIETZ
92
Porsche Team Manthey
Porsche 911 RSR
LM GTE Pro
151
2'18.963
25 Laps
3
Sven MÜLLER
Kevin ESTRE
91
Porsche Team Manthey
Porsche 911 RSR
LM GTE Pro
151
2'19.229
25 Laps
4
Gianmaria BRUNI
Toni VILANDER
51
AF Corse
Ferrari F458 Italia
LM GTE Pro
151
2'19.178
25 Laps
5
Darren TURNER
Stefan MÜCKE
Rob BELL
97
Aston Martin Racing
Aston Martin Vantage V8
LM GTE Pro
150
2'18.774
26 Laps
6
Christoffer NYGAARD
Marco SØRENSEN
Jonathan ADAM
95
Aston Martin Racing
Aston Martin Vantage V8
LM GTE Pro
150
2'19.626
26 Laps
7
Davide RIGON
James CALADO
71
AF Corse
Ferrari F458 Italia
LM GTE Pro
150
2'19.504
26 Laps
P
Driver
No.
Team
Car
Class
Laps
Best Lap
Gap
1
Marcel FÄSSLER
André LOTTERER
Benoît TRÉLUYER
7
Audi Sport Team Joest
Audi R18 e-tron quattro
LM P1
176
1'57.996
2
Romain DUMAS
Neel JANI
Marc LIEB
18
Porsche Team
Porsche 919 Hybrid
LM P1
176
1'58.025
13.424
3
Timo BERNHARD
Mark WEBBER
Brendon HARTLEY
17
Porsche Team
Porsche 919 Hybrid
LM P1
175
1'57.972
1 Laps
4
Filipe ALBUQUERQUE
Marco BONANOMI
René RAST
9
Audi Sport Team Joest
Audi R18 e-tron quattro
LM P1
174
1'59.797
2 Laps
5
Alexander WURZ
Stéphane SARRAZIN
Mike CONWAY
2
Toyota Racing
Toyota TS 040 - Hybrid
LM P1
173
2'00.170
3 Laps
6
Nico HÜLKENBERG
Earl BAMBER
Nick TANDY
19
Porsche Team
Porsche 919 Hybrid
LM P1
173
1'58.052
3 Laps
7
Lucas DI GRASSI
Loïc DUVAL
Oliver JARVIS
8
Audi Sport Team Joest
Audi R18 e-tron quattro
LM P1
168
1'58.077
8 Laps
8
Anthony DAVIDSON
Sébastien BUEMI
1
Toyota Racing
Toyota TS 040 - Hybrid
LM P1
162
1'59.528
14 Laps
9
Simon DOLAN
Mitch EVANS
Harry TINCKNELL
38
Jota Sport
Gibson 015S - Nissan
LM P2
161
2'09.364
15 Laps
10
Gustavo YACAMAN
Luis Felipe DERANI
Ricardo GONZALEZ
28
G-Drive Racing
Ligier JS P2 - Nissan
LM P2
160
2'10.709
16 Laps
11
Pierre RAGUES
Oliver WEBB
Zoel AMBERG
43
Team Sard Morand
Morgan Evo - SARD
LM P2
159
2'10.113
17 Laps
12
Matthew HOWSON
Richard BRADLEY
Nicolas LAPIERRE
47
KCMG
Oreca 05 - Nissan
LM P2
159
2'09.633
17 Laps
13
Nelson PANCIATICI
Paul Loup CHATIN
Vincent CAPILLAIRE
36
Signatech Alpine
Alpine A450b - Nissan
LM P2
159
2'10.587
17 Laps
14
Nick LEVENTIS
Danny WATTS
Jonny KANE
42
Strakka Racing
Strakka Dome S103 - Nissan
LM P2
156
2'12.246
20 Laps
15
Jacques NICOLET
Jean-Marc MERLIN
Erik MARIS
35
Oak Racing
Ligier JS P2 - Nissan
LM P2
152
2'14.763
24 Laps
16
Alex MACDOWALL
Fernando REES
Richie STANAWAY
99
Aston Martin Racing V8
Aston Martin Vantage V8
LM GTE Pro
151
2'19.189
25 Laps
17
Frédéric MAKOWIECKI
Richard LIETZ
92
Porsche Team Manthey
Porsche 911 RSR
LM GTE Pro
151
2'18.963
25 Laps
18
Sven MÜLLER
Kevin ESTRE
91
Porsche Team Manthey
Porsche 911 RSR
LM GTE Pro
151
2'19.229
25 Laps
19
Gianmaria BRUNI
Toni VILANDER
51
AF Corse
Ferrari F458 Italia
LM GTE Pro
151
2'19.178
25 Laps
20
Darren TURNER
Stefan MÜCKE
Rob BELL
97
Aston Martin Racing
Aston Martin Vantage V8
LM GTE Pro
150
2'18.774
26 Laps
21
Christoffer NYGAARD
Marco SØRENSEN
Jonathan ADAM
95
Aston Martin Racing
Aston Martin Vantage V8
LM GTE Pro
150
2'19.626
26 Laps
22
Davide RIGON
James CALADO
71
AF Corse
Ferrari F458 Italia
LM GTE Pro
150
2'19.504
26 Laps
23
Ed BROWN
Johannes VAN OVERBEEK
Jonathon FOGARTY
31
Extreme Speed Motorsports
Ligier JS P2 - HPD
LM P2
149
2'12.273
27 Laps
24
Paul DALLA LANA
Pedro LAMY
Mathias LAUDA
98
Aston Martin Racing
Aston Martin Vantage V8
LMGTE Am
148
2'20.317
28 Laps
25
François PERRODO
Emmanuel COLLARD
Rui AGUAS
83
AF Corse
Ferrari F458 Italia
LMGTE Am
148
2'21.526
28 Laps
26
Victor SHAYTAR
Andrea BERTOLINI
Aleksey BASOV
72
SMP Racing
Ferrari F458 Italia
LMGTE Am
147
2'20.311
29 Laps
27
Christian RIED
Khaled AL QUBAISI
Klaus BACHLER
88
Abu Dhabi-Proton Racing
Porsche 911 RSR
LMGTE Am
146
2'21.095
30 Laps
28
Patrick DEMPSEY
Patrick LONG
Marco SEEFRIED
77
Dempsey - Proton Racing
Porsche 911 RSR
LMGTE Am
145
2'21.750
31 Laps
29
Francesco CASTELLACCI
Roald GOETHE
Stuart HALL
96
Aston Martin Racing
Aston Martin Vantage V8
LMGTE Am
138
2'21.927
38 Laps
30
Scott SHARP
Ryan DALZIEL
David HEINEMEIER-HANSSON
30
Extreme Speed Motorsports
Ligier JS P2 - HPD
LM P2
134
2'11.633
42 Laps
31
Roman RUSINOV
Julien CANAL
Sam BIRD
26
G-Drive Racing
Ligier JS P2 - Nissan
LM P2
124
2'09.399
52 Laps
32
Duncan CAMERON
Matt GRIFFIN
Alexander MORTIMER
55
AF Corse
Ferrari F458 Italia
LMGTE Am
128
2'20.857
48 Laps
33
Gianluca RODA
Paolo RUBERTI
Kristian POULSEN
50
Larbre Competition
Chevrolet Corvette C7
LMGTE Am
61
2'21.056
115 Laps
34
Simon TRUMMER
Vitantonio LIUZZI
Christian KLIEN
4
Team Bykolles
CLM P1/01 - AER
LM P1
46
2'09.137
130 Laps
Race report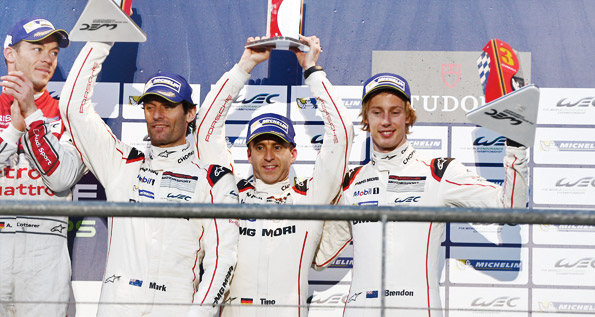 Thriller in the Ardennes – second, third and sixth for Porsche 919 Hybrids
Stuttgart. After an action packed six-hour race in Spa-Francorchamps, the trio of Romain Dumas (France), Neel Jani (Switzerland) and Marc Lieb (Germany) came second at round two of the FIA World Endurance Championship (WEC). This is a repeat of the season's opening race in Silverstone. Timo...
Read more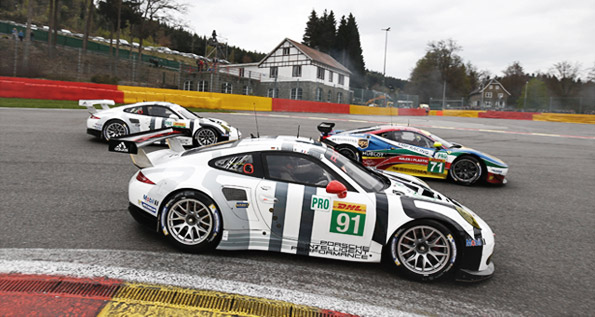 Two podium spots for Porsche Manthey team at the Le Mans dress rehearsal
Stuttgart. At the six-hour race on the Circuit de Spa-Francorchamps, generally regarded as the dress rehearsal for the Le Mans 24 Hours on 13/14 June, the Porsche Manthey squad scored two podium results. Campaigning the 470 hp Porsche 911 RSR, which is based on the seventh generation of the iconic...
Read more