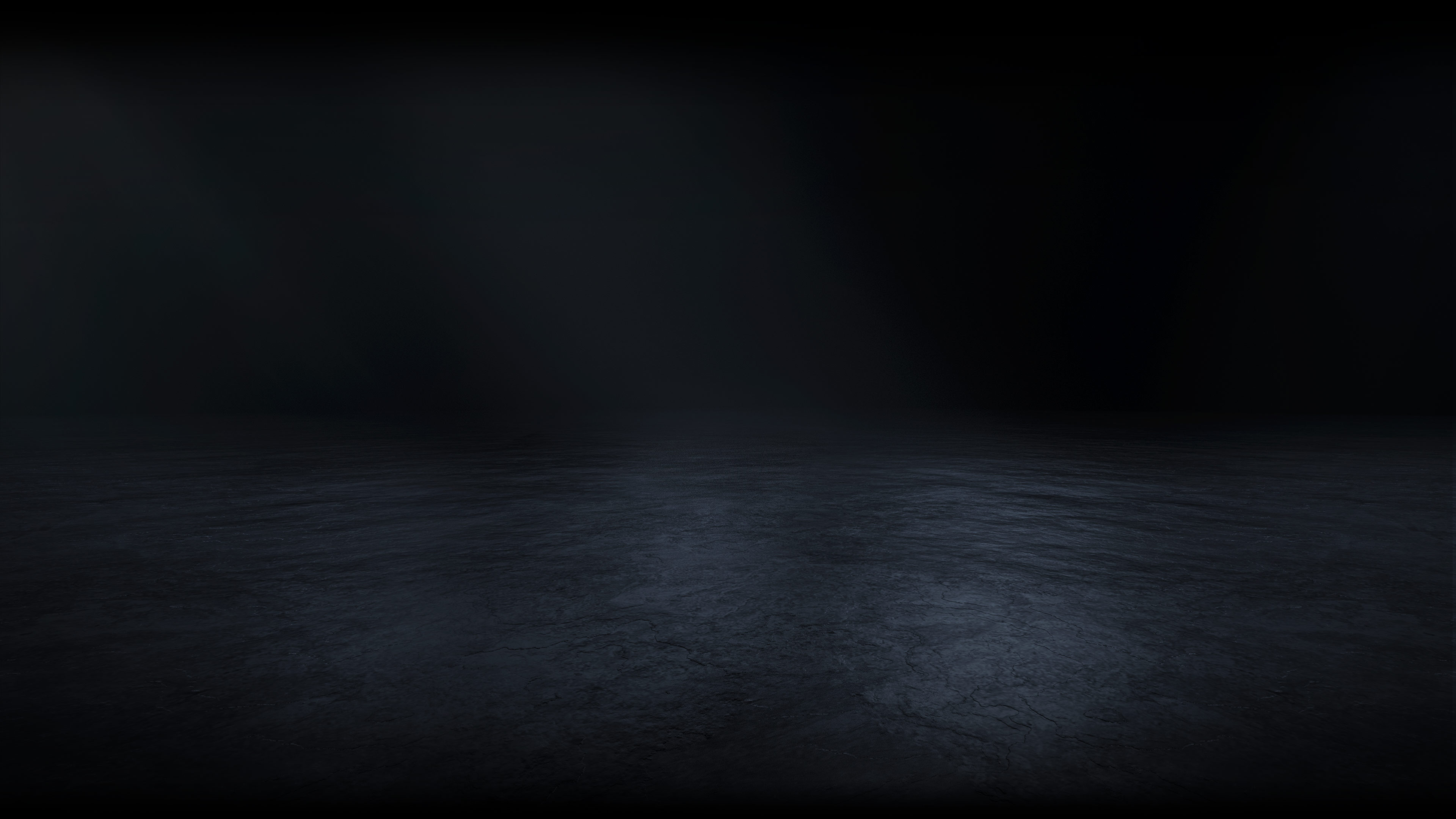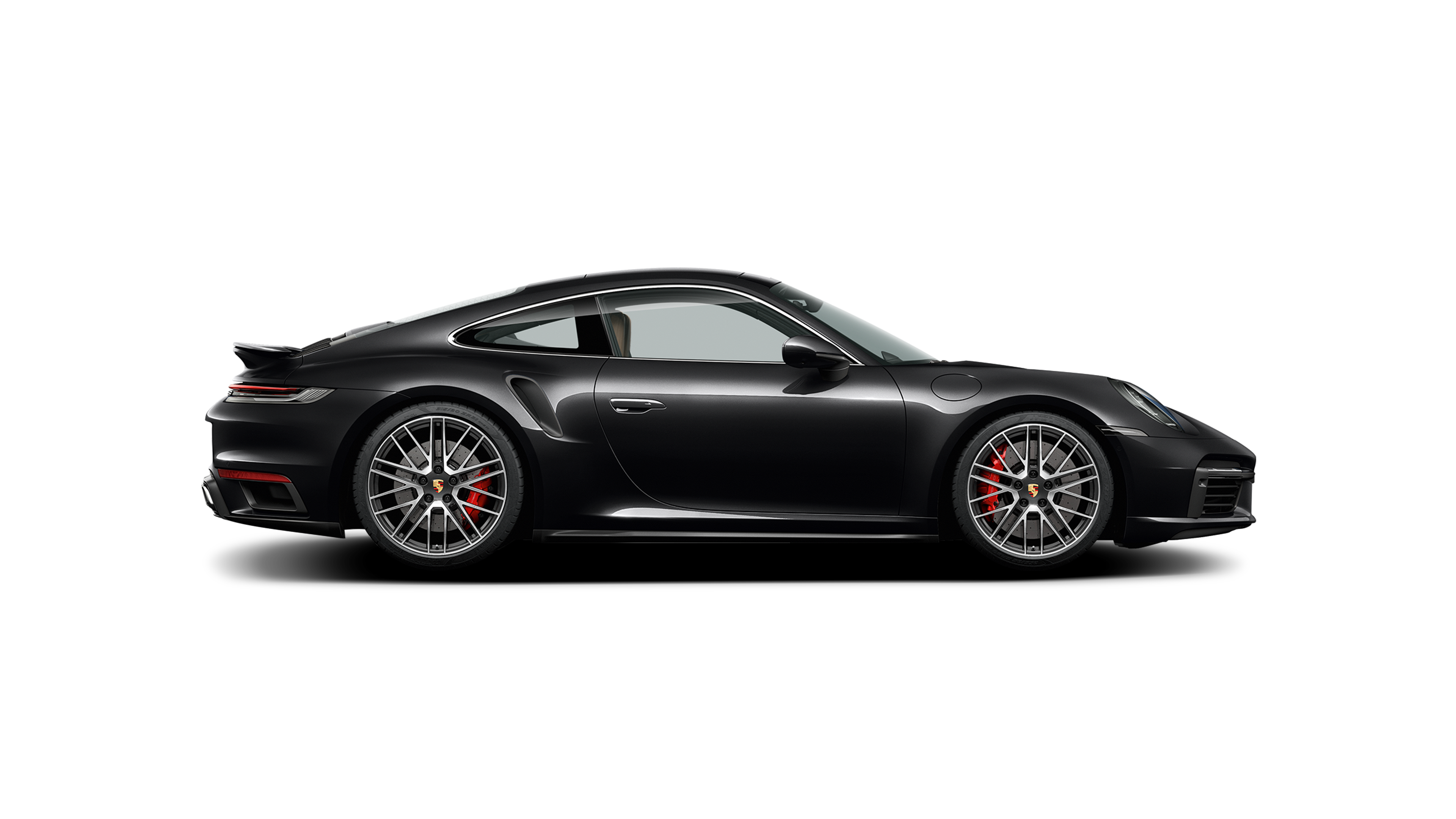 2,8 s
Aceleración 0 - 100 km/h con Paquete Sport Chrono
911 Turbo Cabriolet
USD 725.000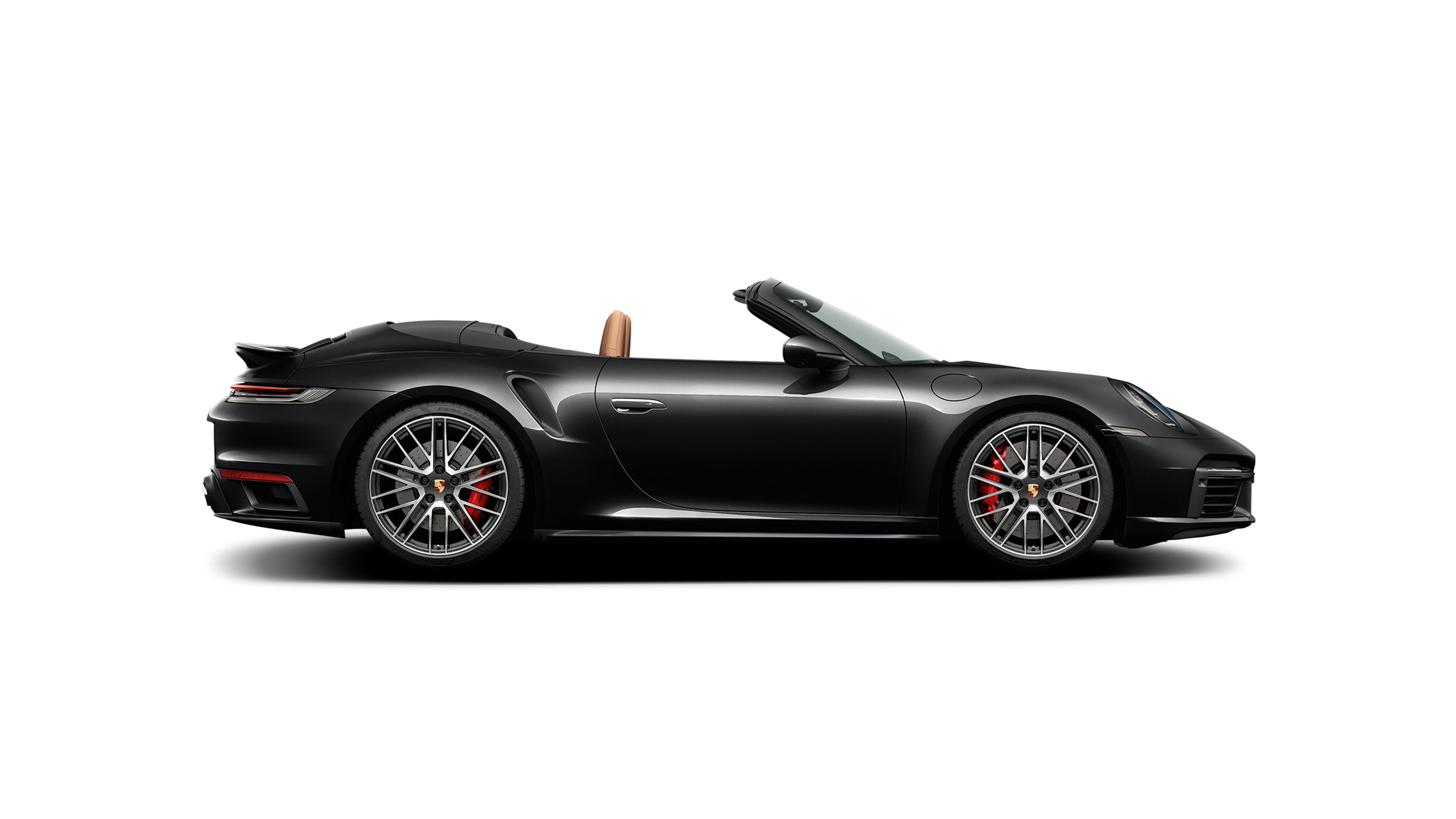 2,9 s
Aceleración 0 - 100 km/h con Paquete Sport Chrono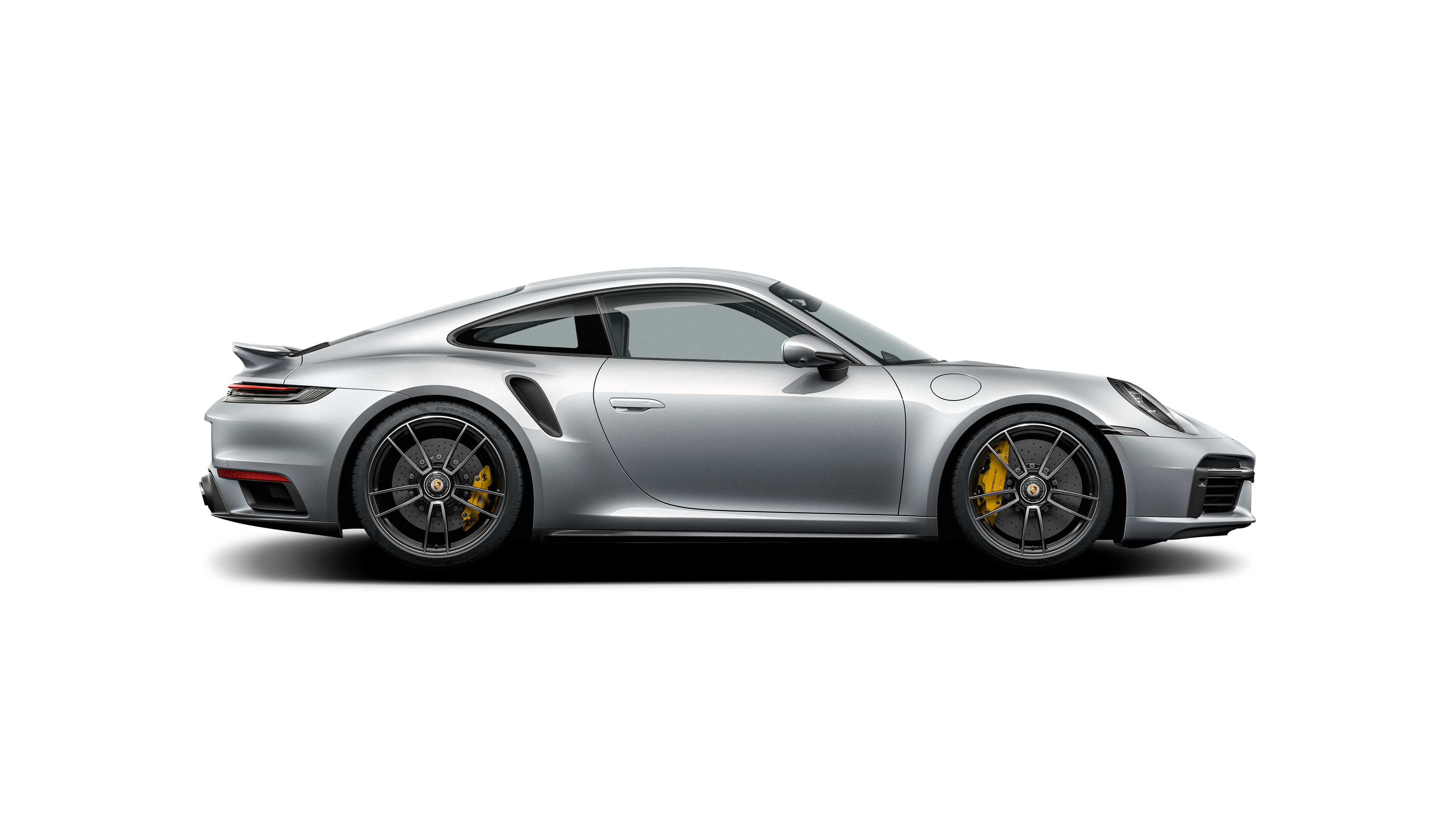 911 Turbo S Cabriolet
USD 835.000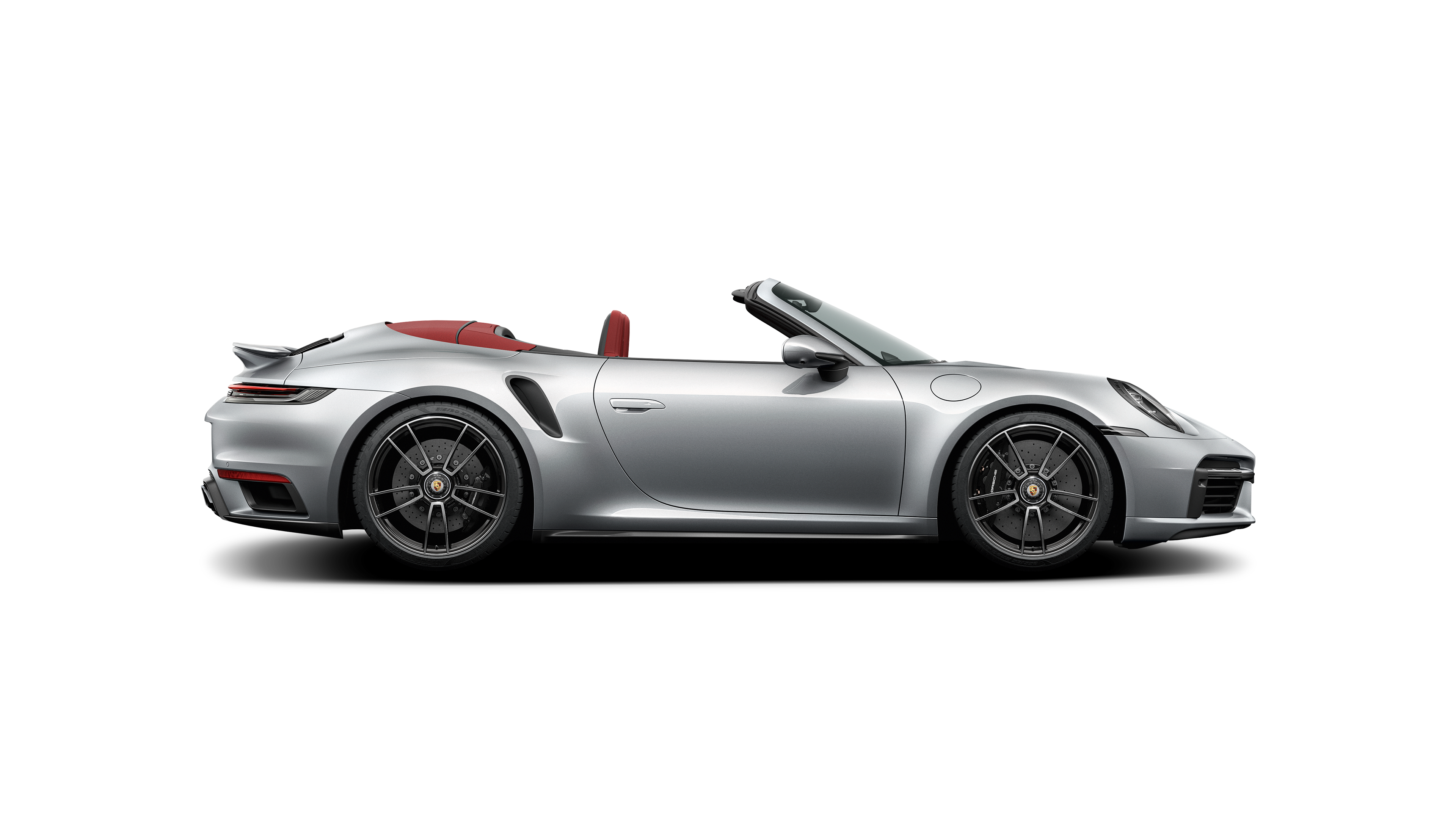 2,8 s
Aceleración 0 - 100 km/h con Paquete Sport Chrono
Back to beginning
The 911 Turbo:
Our engineers like to talk about the most perfect sports car ever. Incredible performance, whilst being comfortable and fully suitable for everyday use. The 911 Turbo models continue this philosophy.
Performance.
For Porsche, the finish line is just a stepping stone in the continuous pursuit of further improvement.
New engine generation: six-cylinder horizontally opposed engine with VTG twin-turbo

New 8-speed Porsche Doppelkupplung (PDK)

Optional sports exhaust system for a powerful engine sound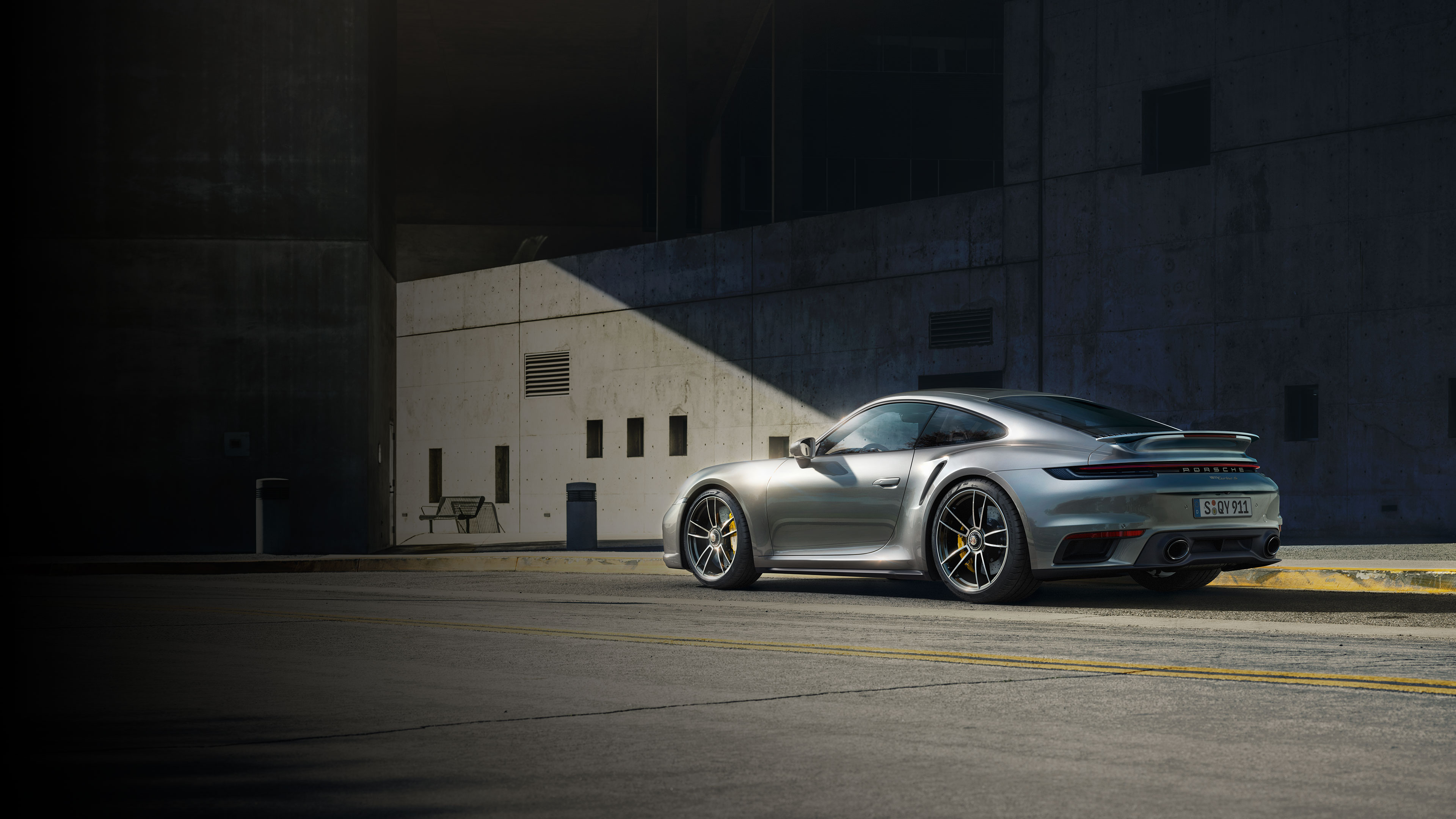 Overawes many.
While making others celebrate.
The 911 Turbo models feature incredible performance combined with breath taking driving dynamics. Even though the basic engine layout has not changed, every detail has been optimised, honed and refined.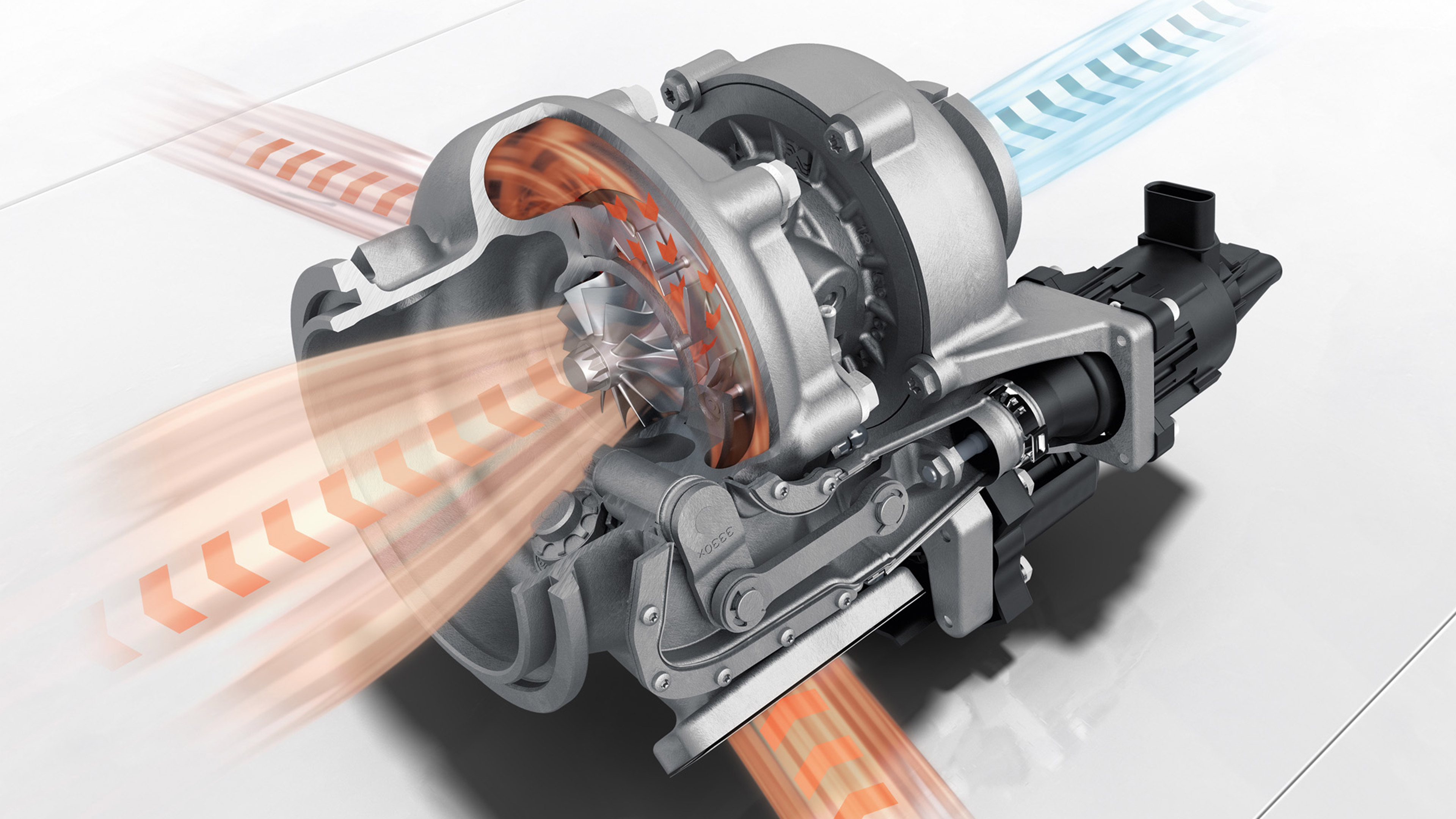 For example, larger exhaust turbochargers and piezo injectors are used for the first time. Exhaust manifolds derived from the 911 GT2 RS improve responsiveness and efficiency, thanks to optimised flow ratios.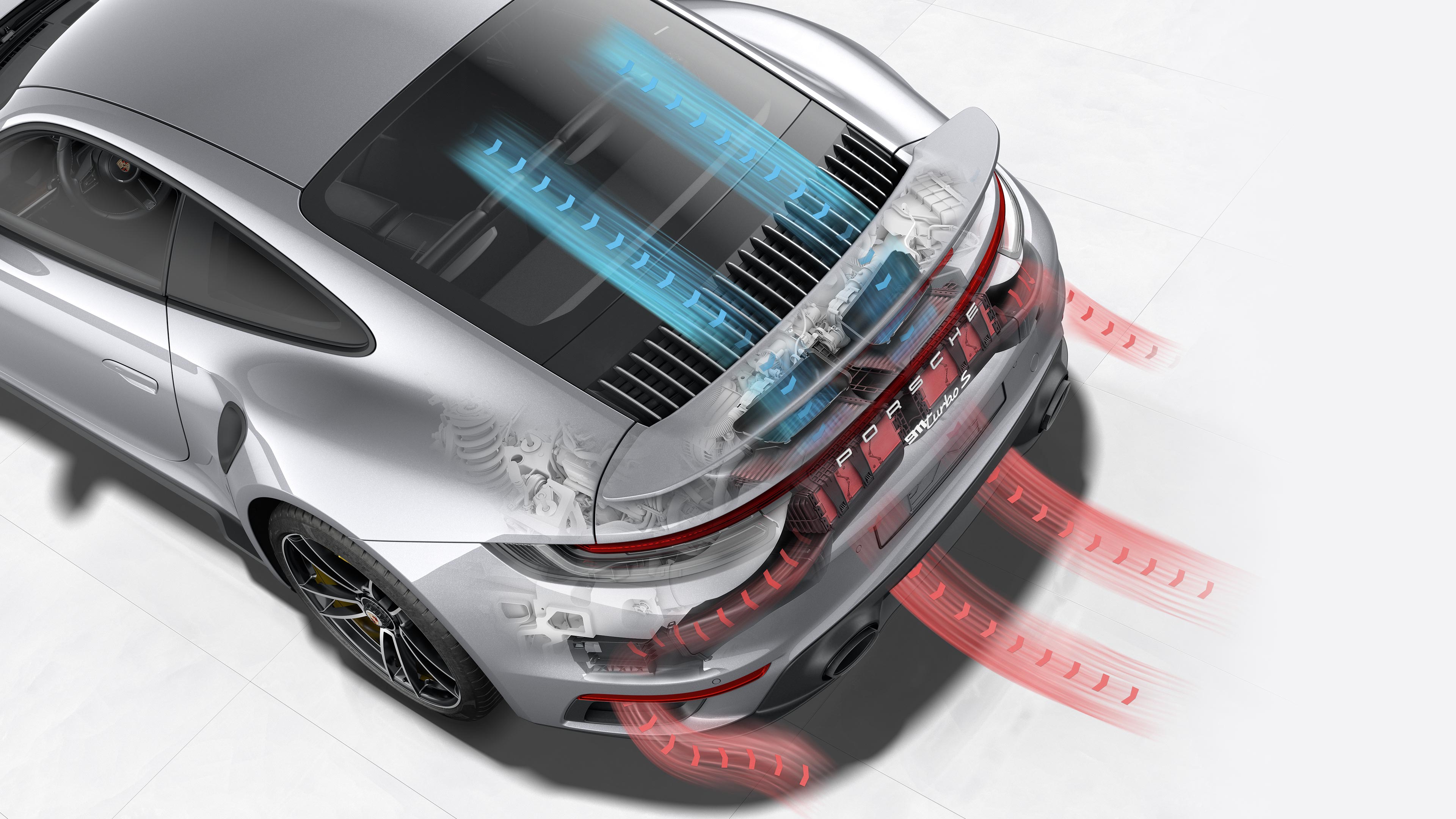 Charge-air cooling and engine air intake have been completely redesigned. Previously, air for the intercooler was supplied via side air intakes in the rear wings and the aspirated engine air via a tailgate grille. This principle has been swapped over in the current 911 Turbo models. This can also be seen from an additional two-tract air outlet for the intercoolers between the tailpipes in the rear apron. This enables more efficient air flow and charge-air cooling – and thus more power.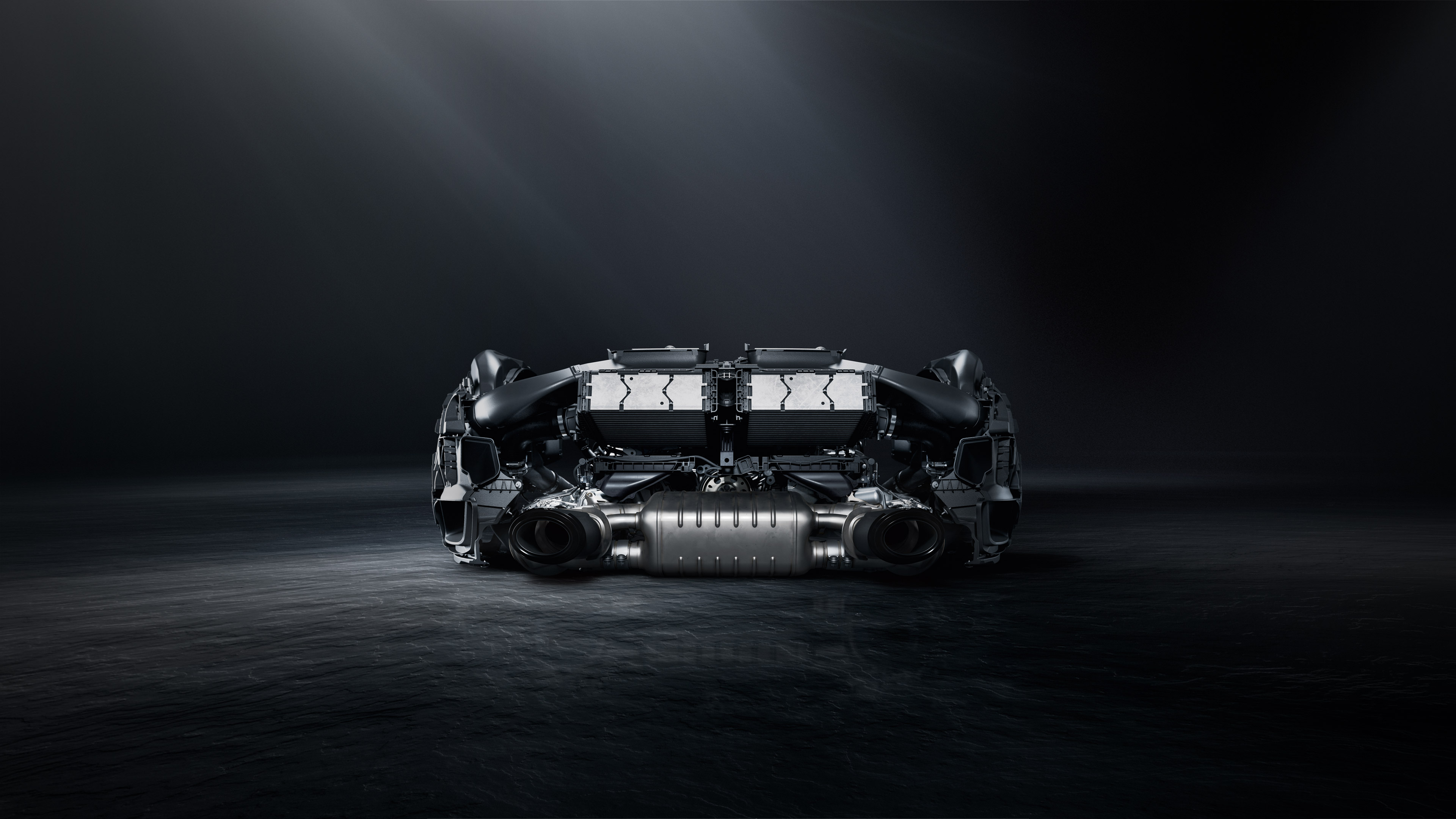 The result: impressive. Extremely sporty. In the 911 Turbo, the unit delivers 427kW (580PS), and 478kW (650PS) in the 911 Turbo S. The sprint performances are excellent. The 911 Turbo reaches 100km/h in 2.8 seconds with Launch Control and 200km/h in 9.7 seconds. The 911 Turbo S reaches 100km/h in 2.7 seconds with Launch Control and 200km/h in 8.9 seconds. Top speed: 320km/h in the 911 Turbo and 330km/h in the 911 Turbo S.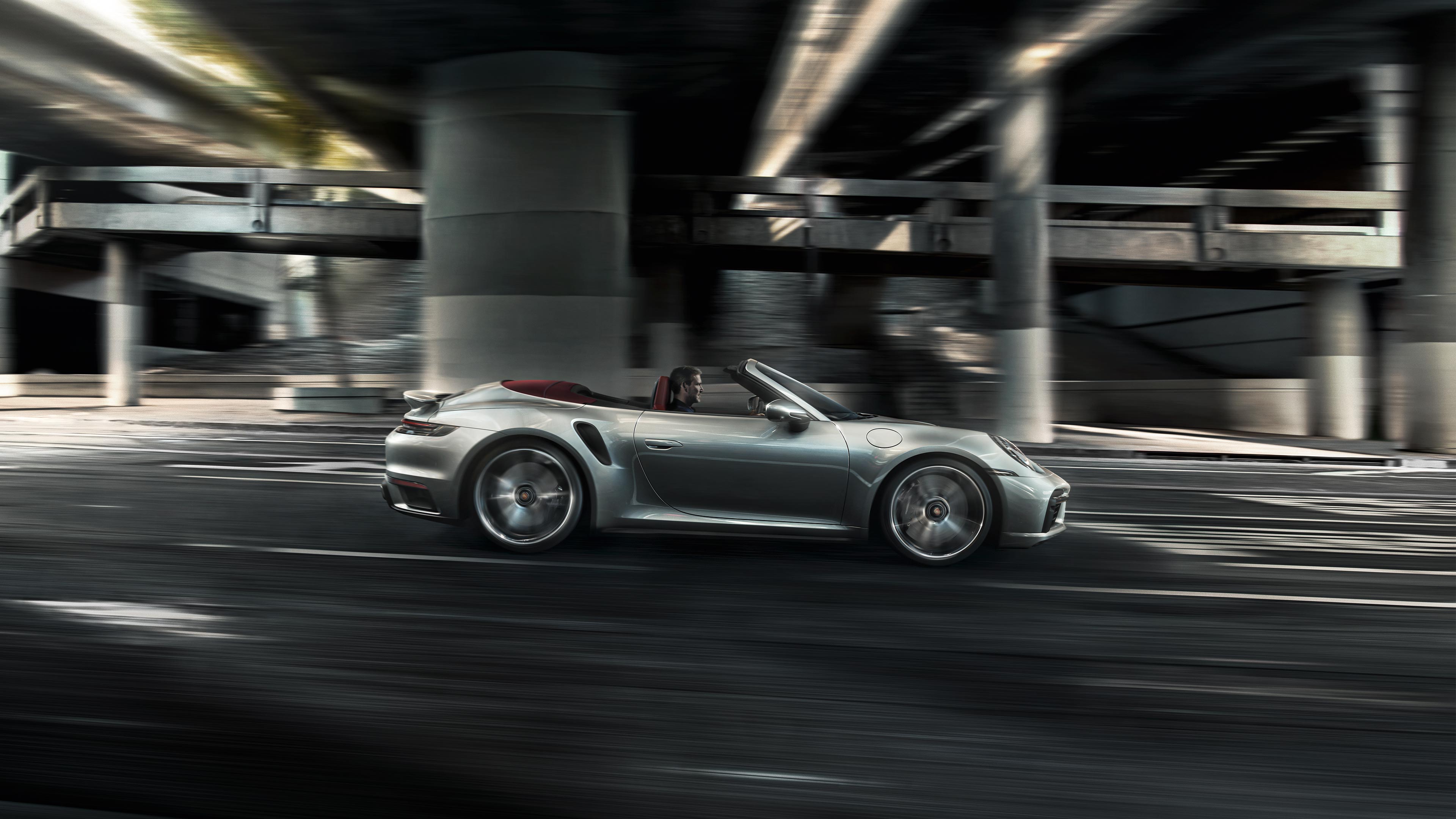 The completely redeveloped 8-speed Porsche Doppelkupplung (PDK) allows extremely fast gear changes without interrupting the flow of power – not even by a millisecond. In comparison with previous generations, the new 8-speed PDK offers a perceptibly wider middle ground between comfort, performance and efficiency.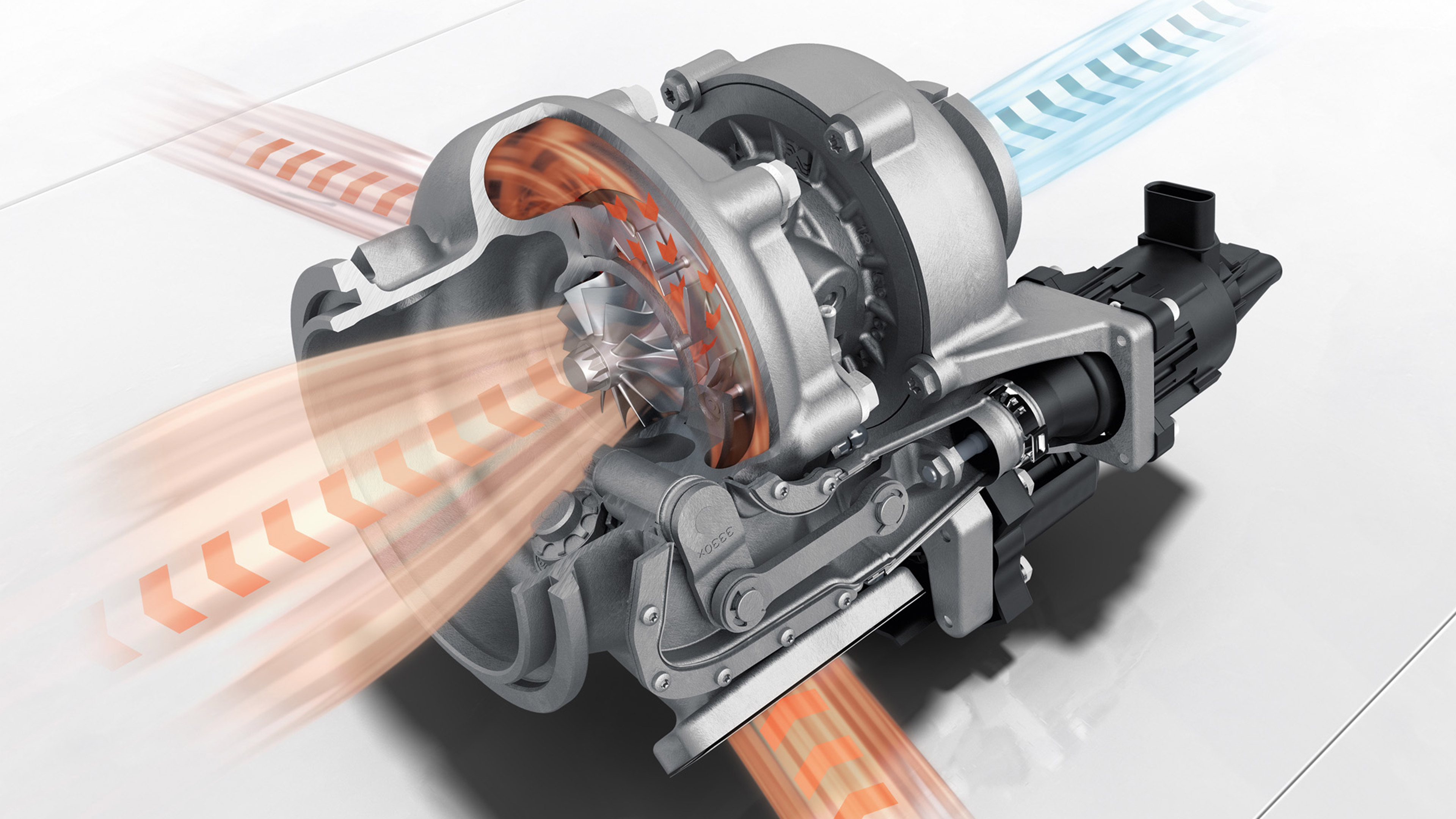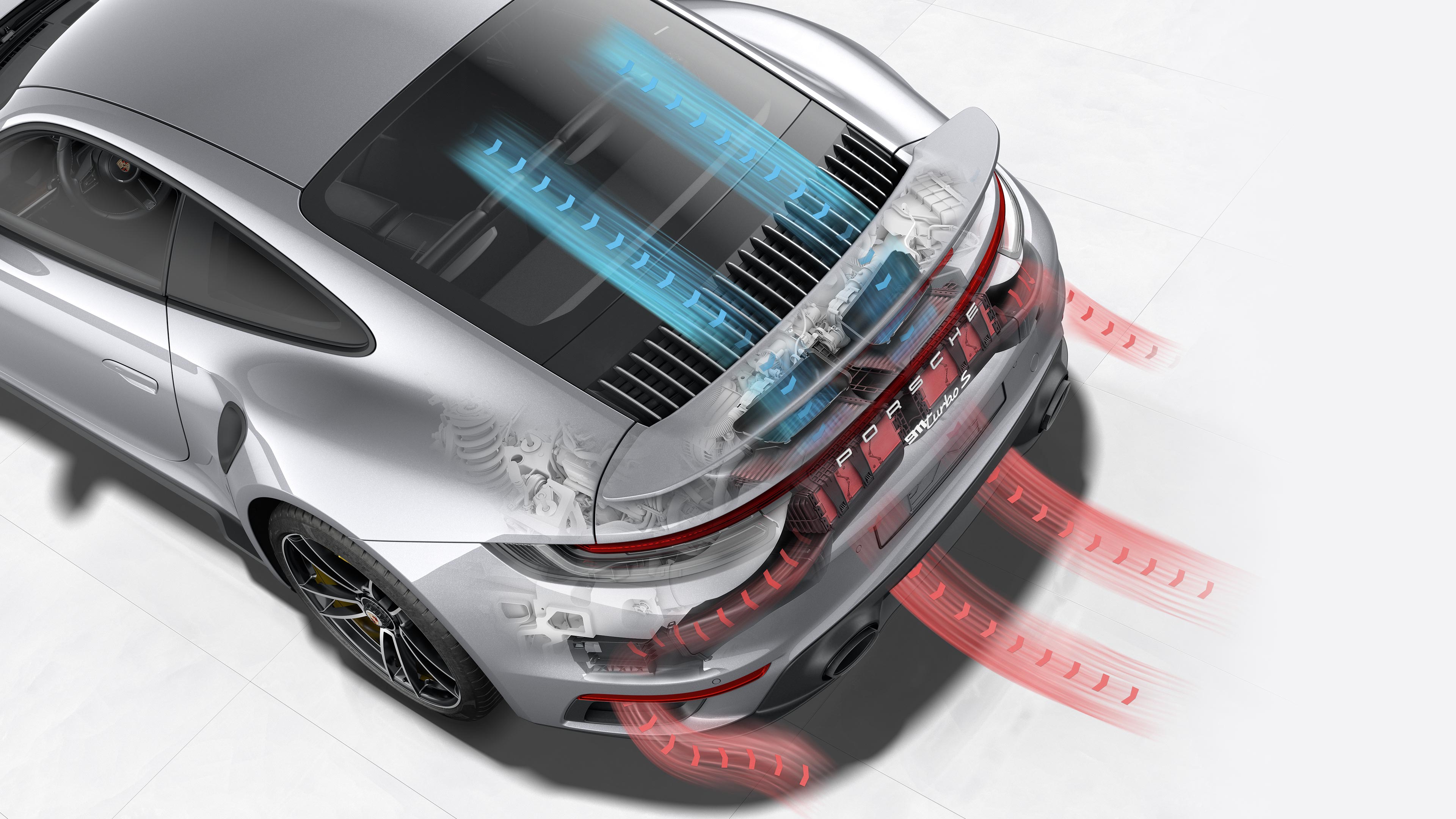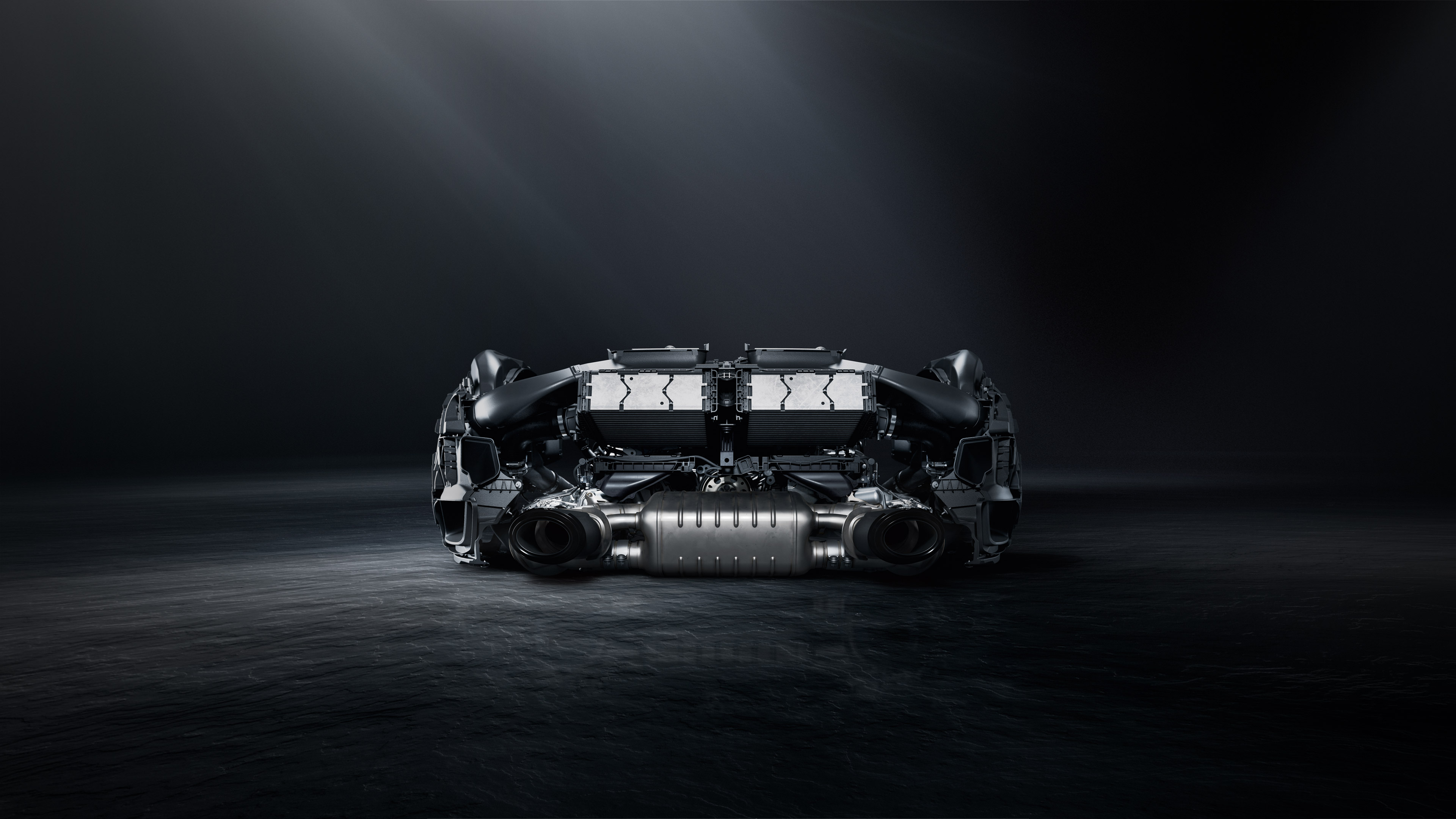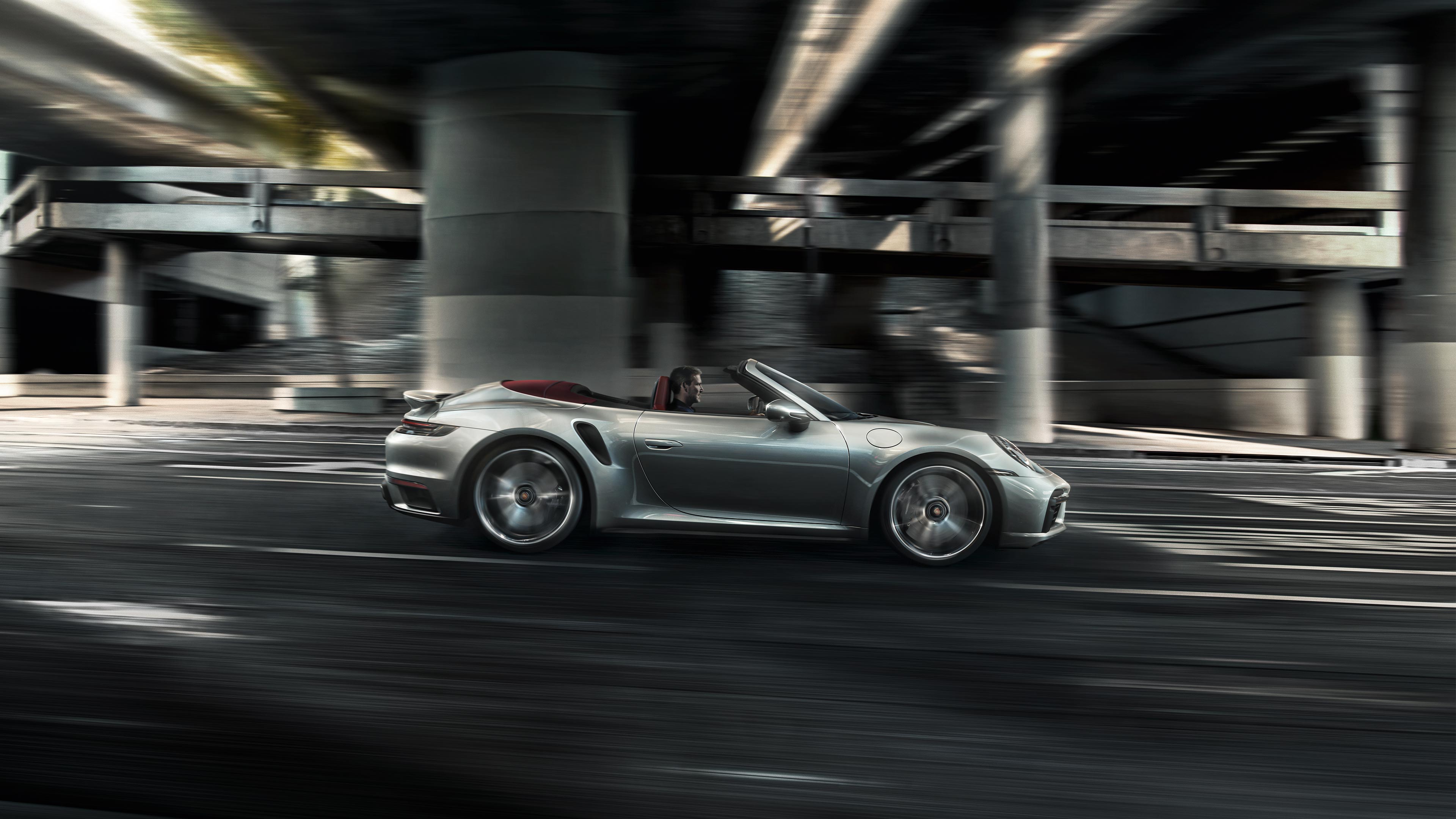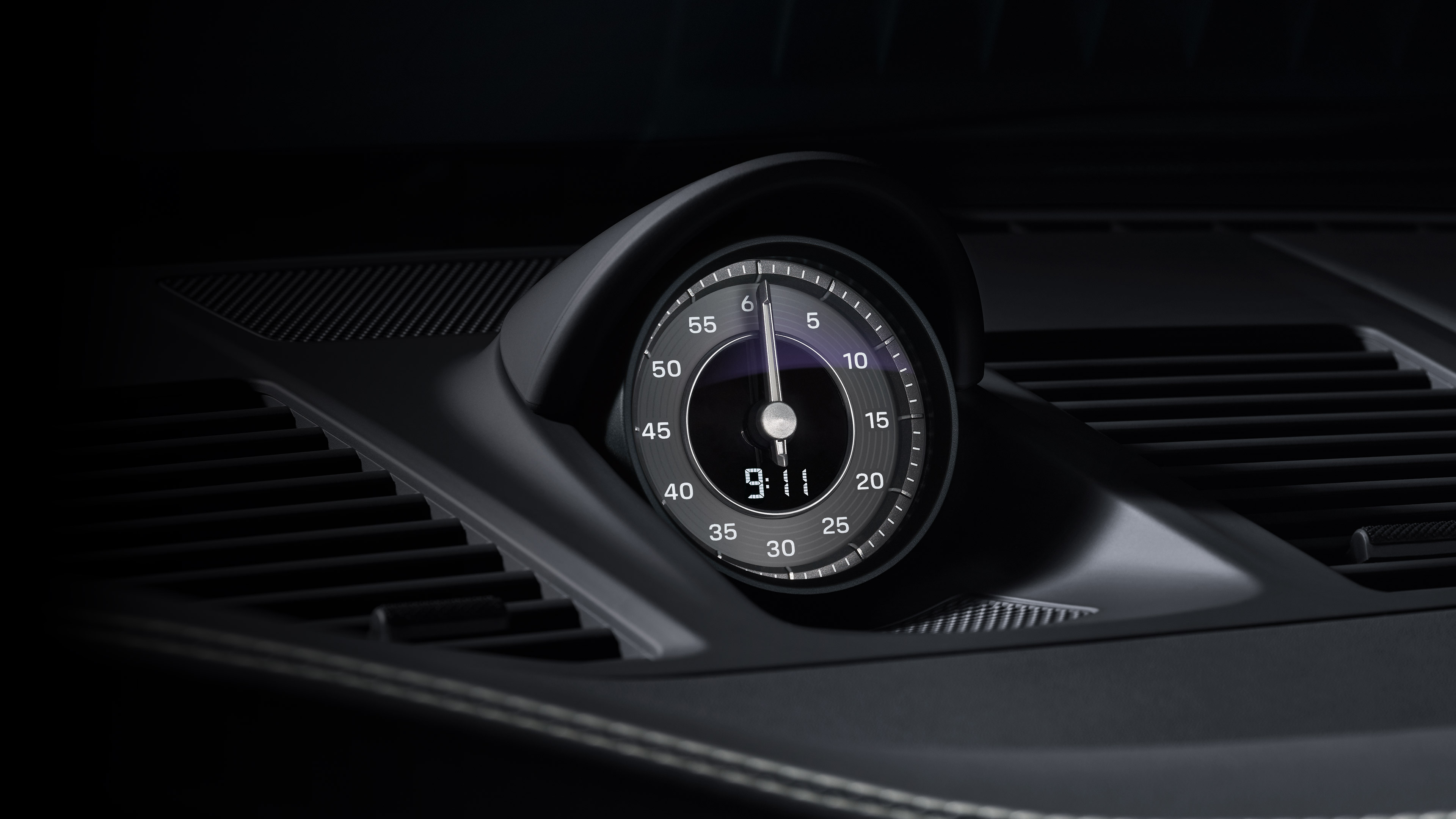 For your best time. And great times. Sport Chrono Package.
Adrenaline at the push of a button, goosebumps included: the standard Sport Chrono Package with mode switch. It allows an even sportier tuning of the chassis, engine and transmission. Also included in the package: the Porsche Track Precision app and a tyre temperature display.
With the mode switch including Sport Response button on the steering wheel you can choose from five driving modes: 'Normal', 'Sport', 'Sport Plus' and 'Individual' – allowing you to adapt the vehicle even more to your personal driving style – and Wet mode.
In Sport mode, the 911 Turbo models respond more dynamically. In Sport Plus mode, Porsche Active Suspension Management (PASM), Porsche Dynamic Chassis Control (PDCC) and rear-axle steering ensure sportier damping, increased roll stability and more direct turn-in on entering corners.

In addition, the Sport Chrono Package has three more functions. The first is Launch Control, which can be used to achieve the best possible standing start in Sport Plus mode.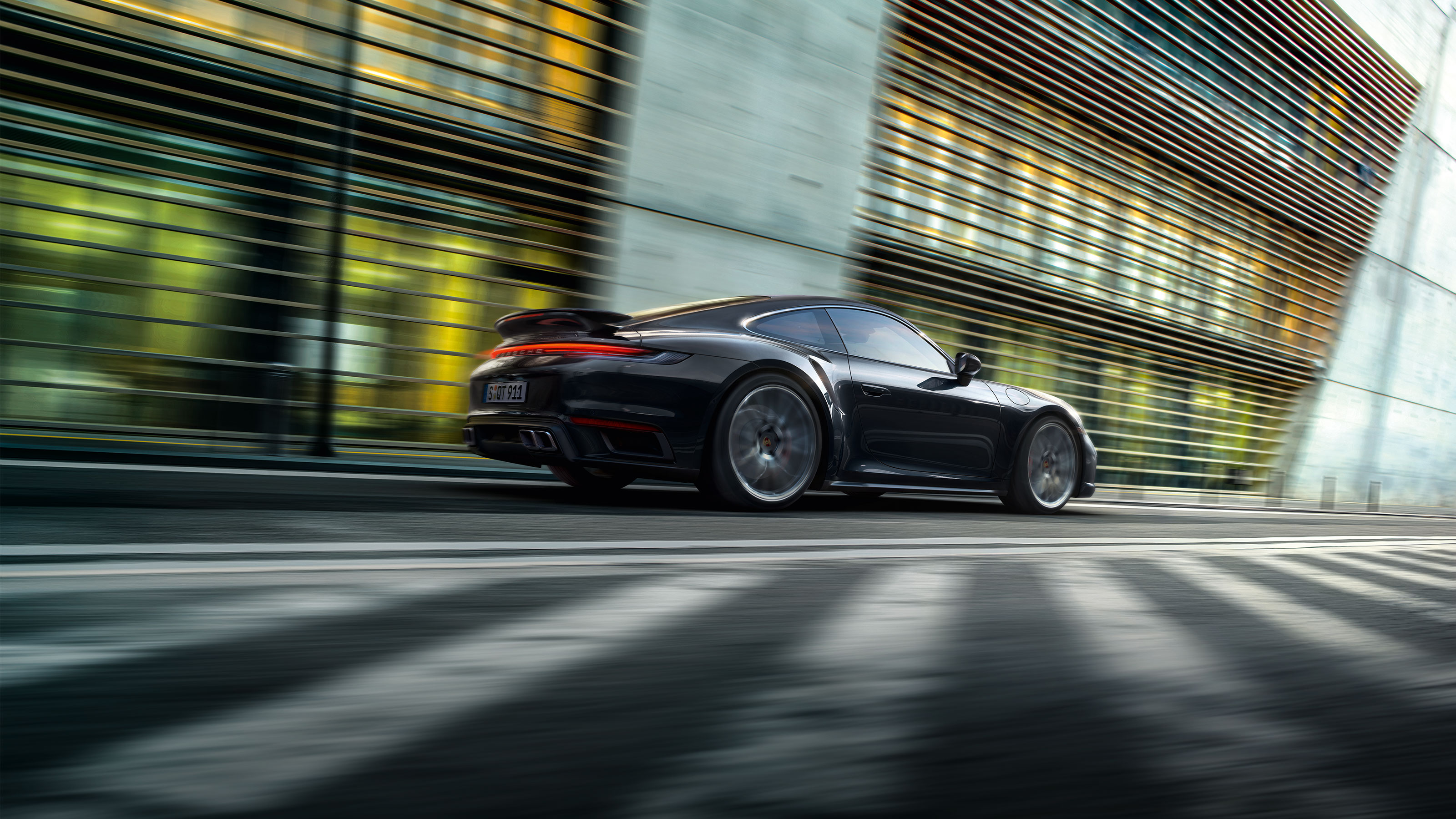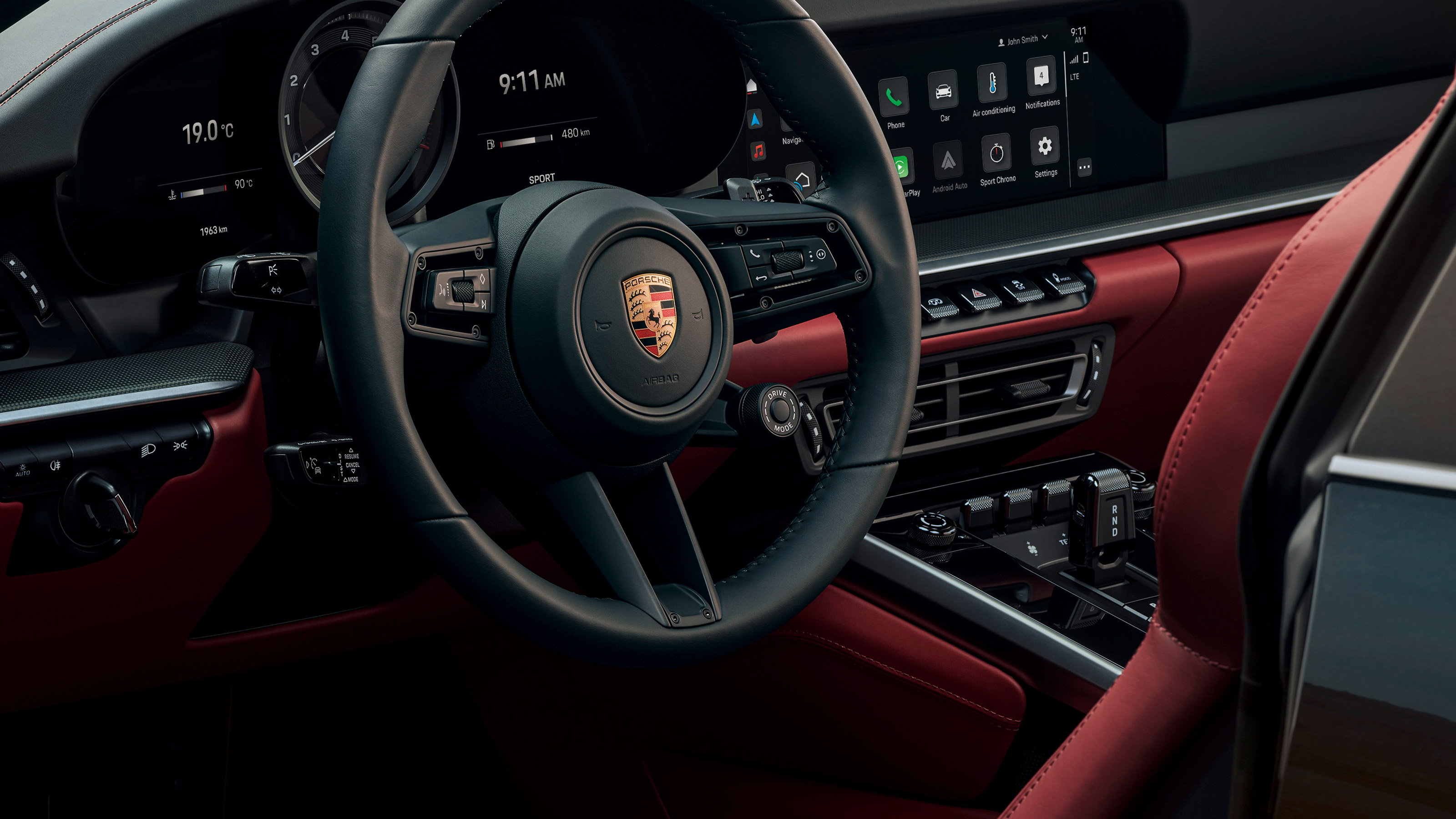 The second function is the so-called motorsportderived gearshift strategy. In this mode, PDK is geared up for extremely short shift times and optimum shift points for maximum acceleration. For uncompromising performance that is ideal for the race track with noticeably active gearshifts.

The third function: activated via the Sport Response button in the centre of the mode switch. The engine and transmission are then primed for the fastest possible unleashing of power. The result: maximum responsiveness – for a period of approximately 20 seconds.
Chassis.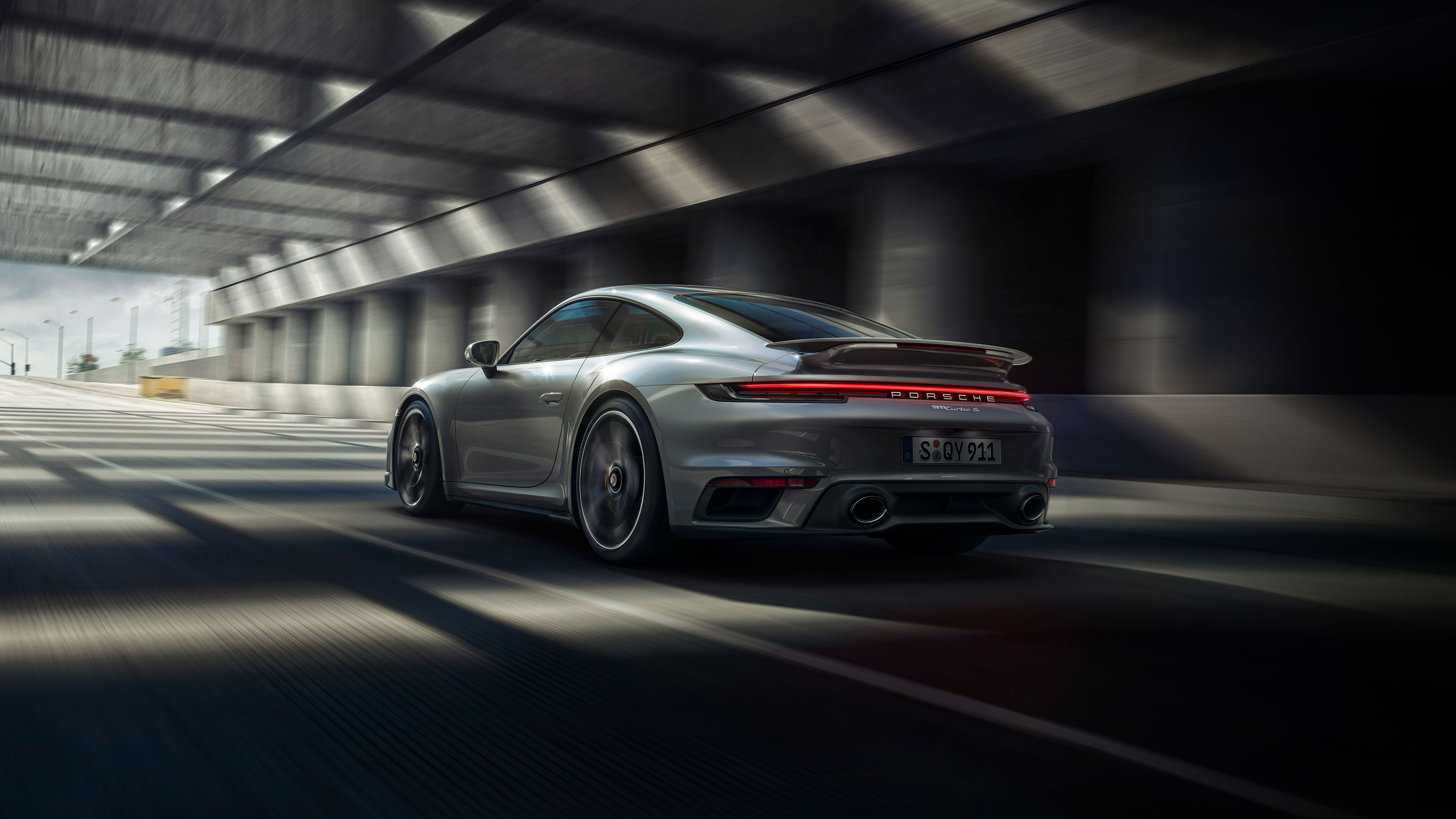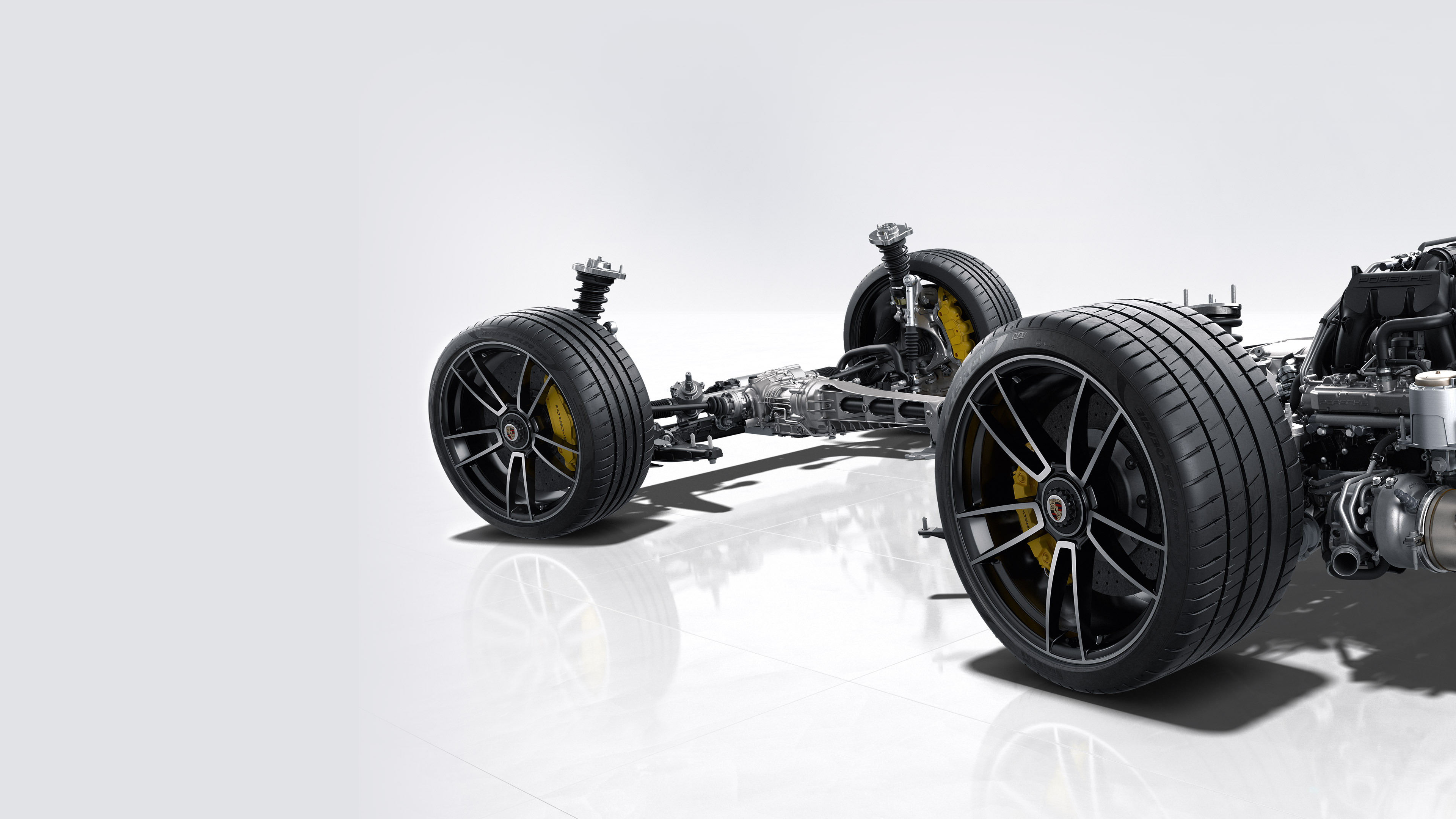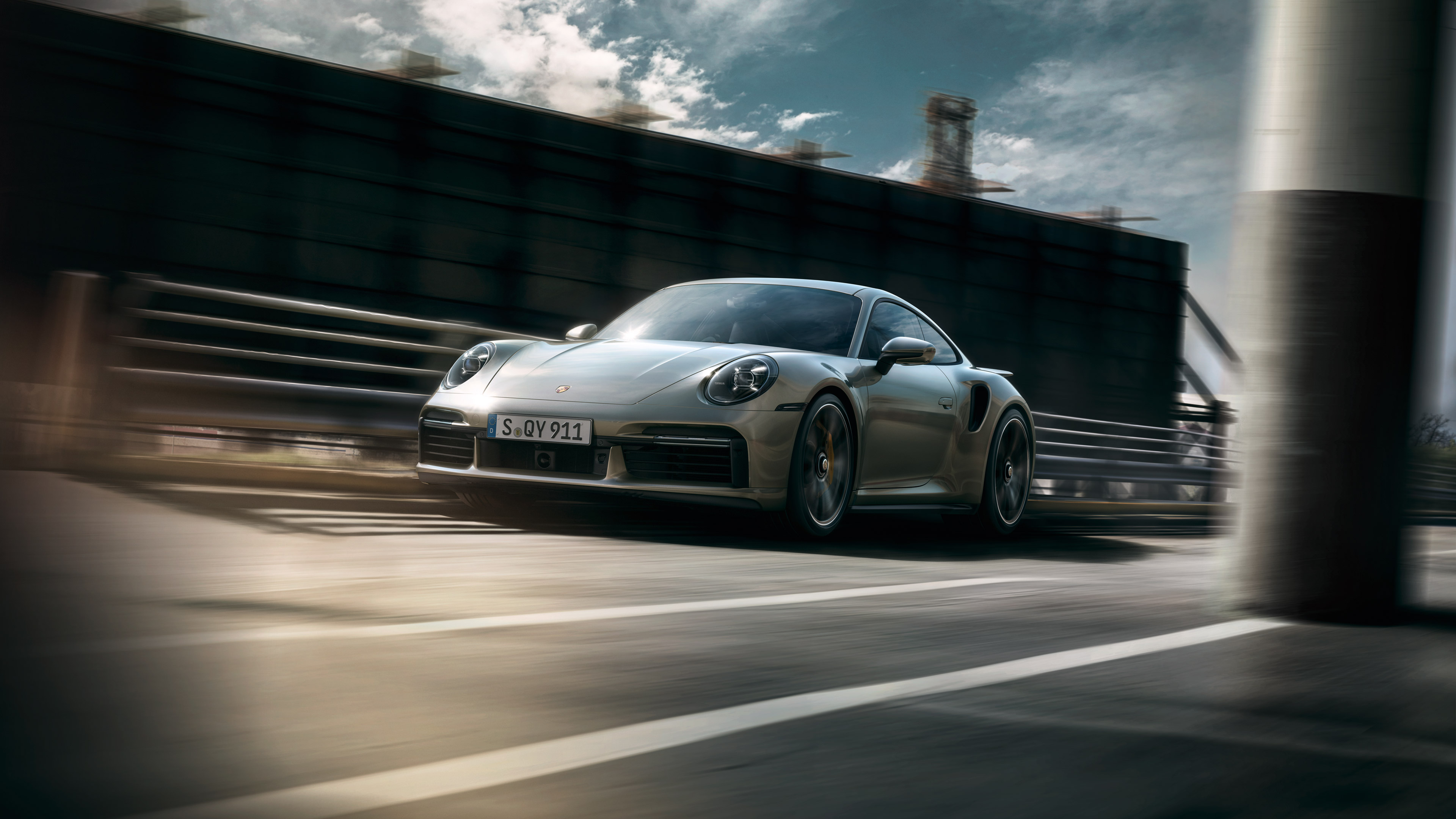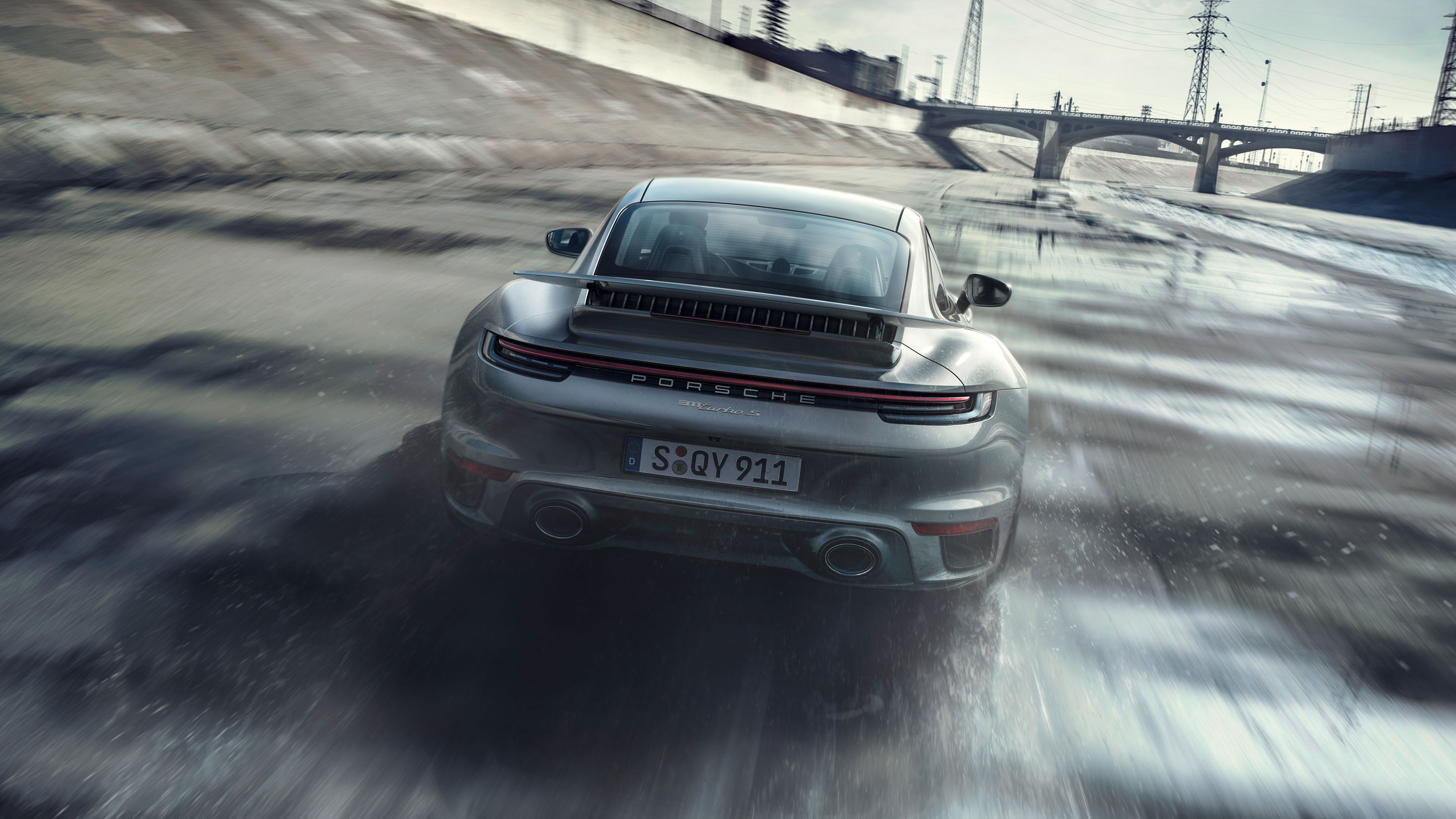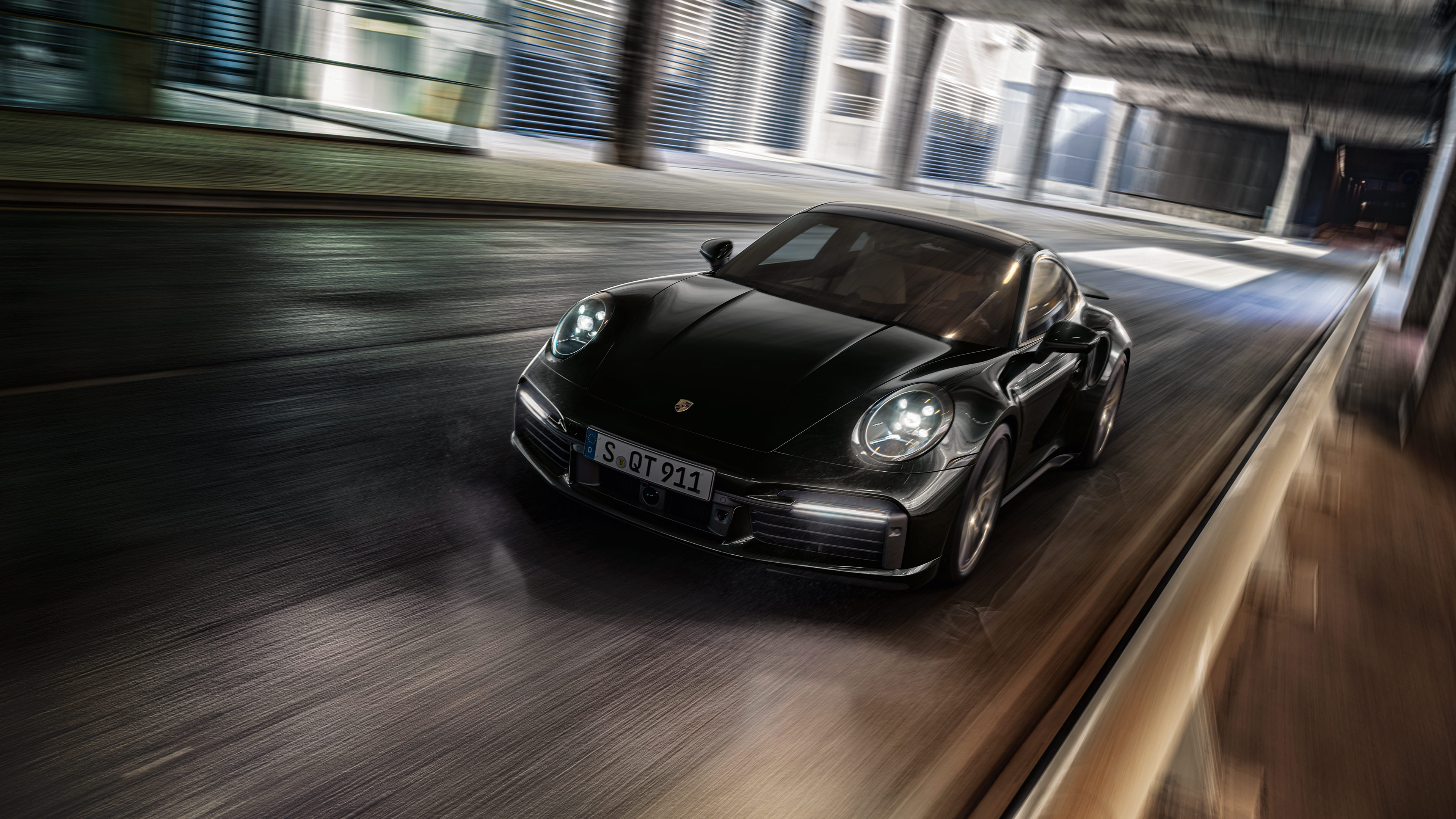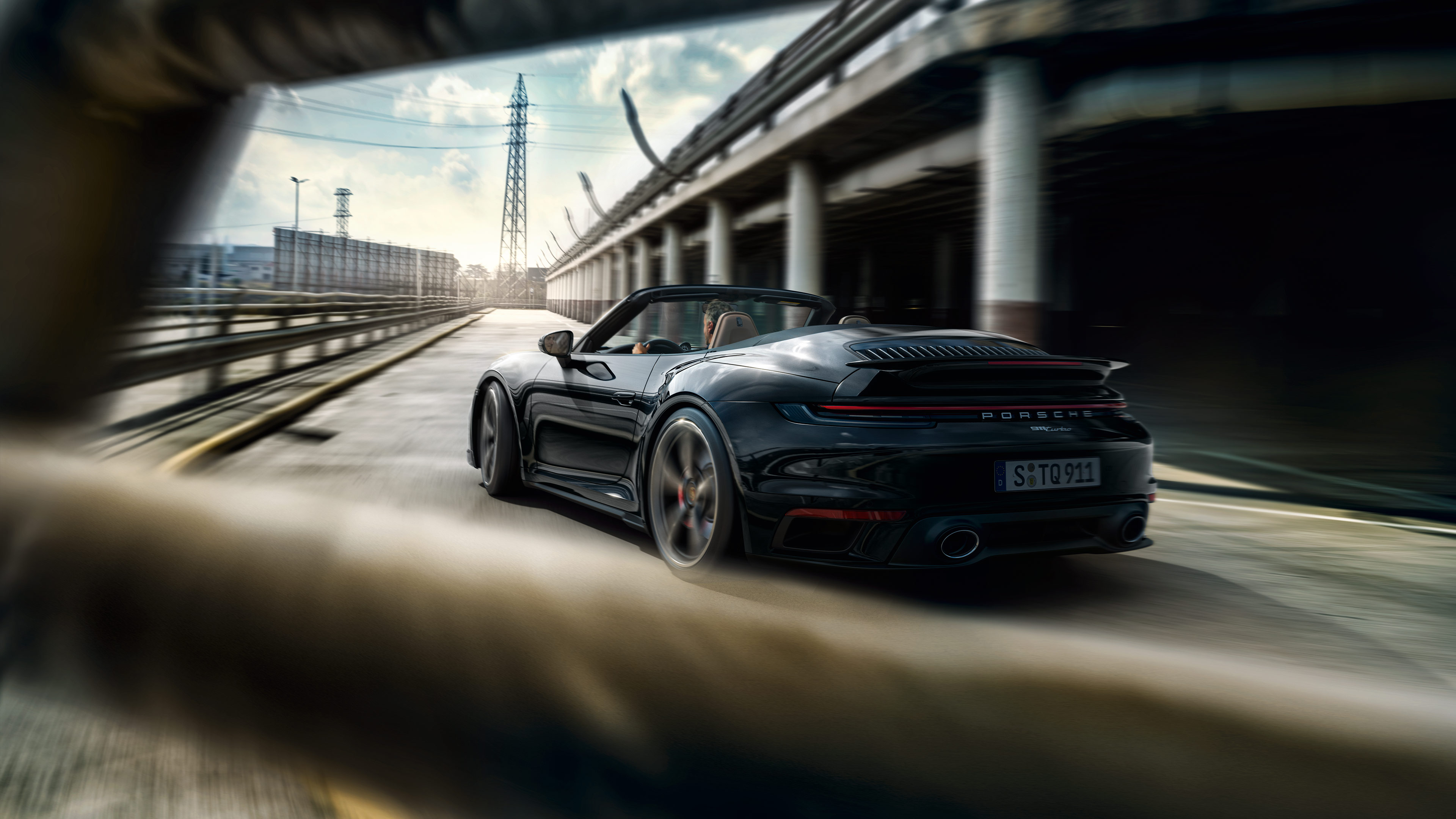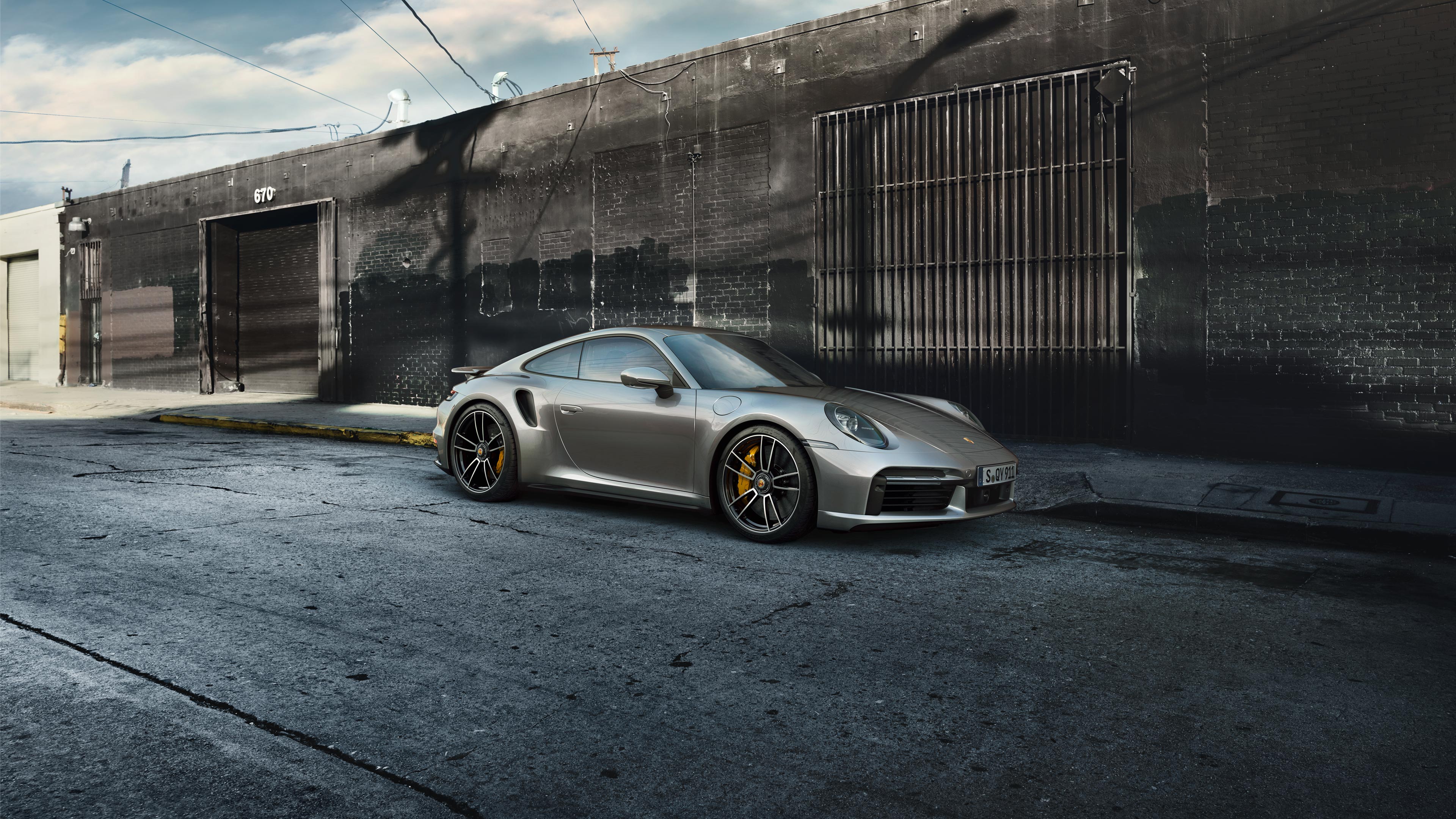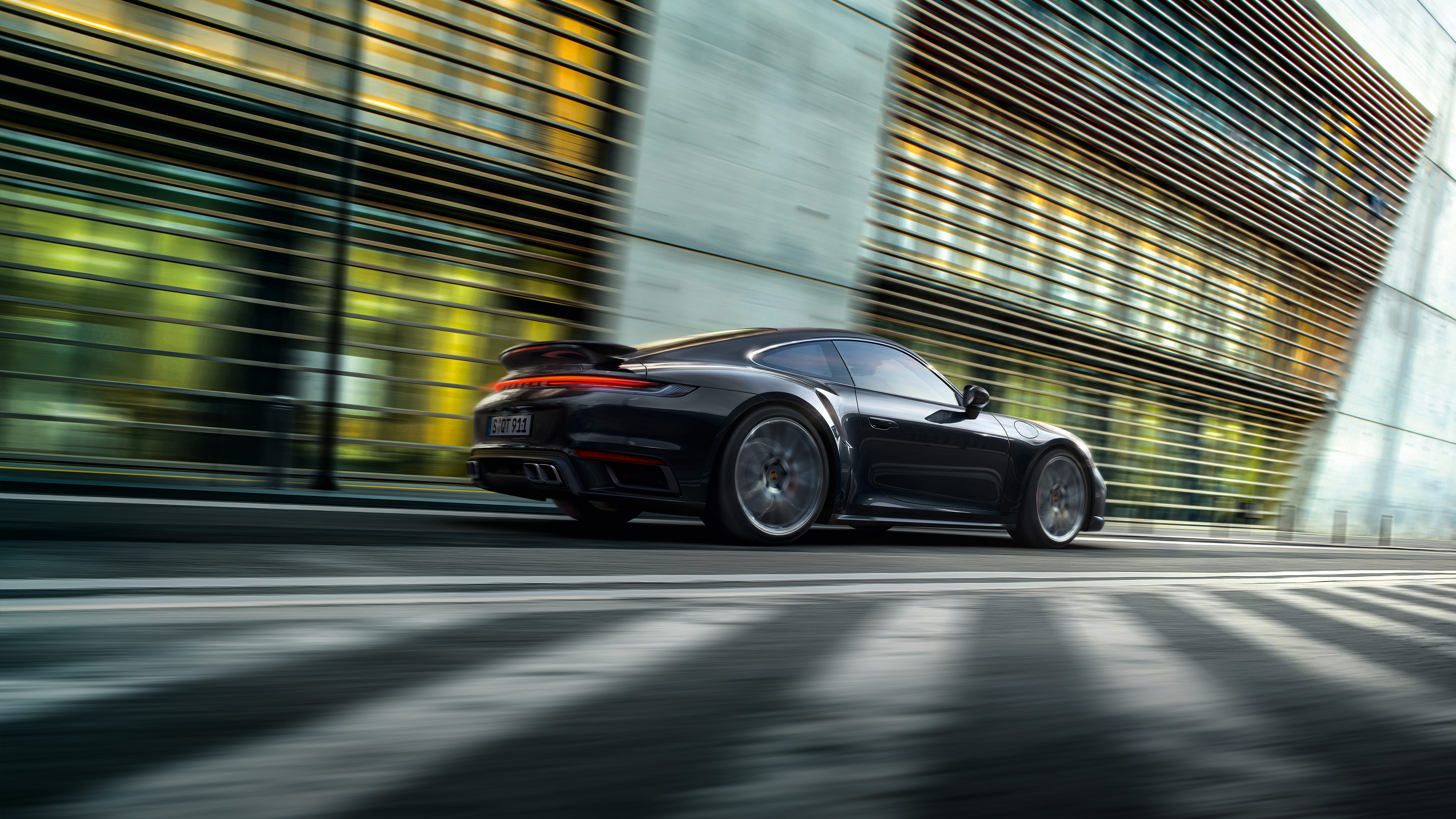 Porsche Active Suspension Management (PASM).
PASM is an electronic damping control system that actively and continuously adjusts the damping force on each wheel, based on current road conditions and driving style – for reduced body roll and thus for improved comfort and increased dynamics.
PASM sports suspension.
For the first time in the 911 Turbo models, a particularly high-performance PASM sports suspension in combination with a body lowered by 10mm is optionally available. With firm springs, adapted anti-roll bars and a new tuning of the PASM dampers, the PASM sports suspension enables a further improvement in dynamic performance. Without major restrictions on driving comfort.
Porsche Traction Management (PTM).
The system has been continuously enhanced. It is now more robust and offers improved control. The result: increased precision and resilience.
Porsche Torque Vectoring Plus (PTV Plus).
This system enhances vehicle dynamics and stability by applying brake pressure to the rear wheels, in conjunction with a rear differential lock. When the car is driven assertively into a corner, moderate brake pressure is applied to the inside rear wheel. Consequently, a greater amount of drive force is distributed to the outside rear wheel, inducing an additional rotational pulse (yaw movement) around the vehicle's vertical axis.
Porsche Stability Management (PSM).
Porsche Stability Management (PSM) is an automatic control system for maintaining stability at the limits of dynamic driving performance. Sensors continuously monitor the direction, speed, yaw velocity and lateral acceleration of the car. Using this information, PSM is able to calculate the actual direction of travel at any given moment and applies selective braking on individual wheels to restore stability.
Rear-axle steering.
Rear-axle steering enhances performance and suitability for everyday use in equal measure. The advantage for day-to-day driving: at low speeds, the system steers the rear wheels in the opposite direction to that of the front wheels. This leads to a virtual shortening of the wheelbase. The advantage for sporty driving: at high speeds, the system steers the rear wheels in the same direction as that of the front wheels.
Front-axle lift system.
The further development of the lift system on the front axle allows more ground clearance at the front of the 911 Turbo. More precisely, by 40mm and up to a speed of approx. 35km/h. The system therefore ensures that kerbs, ramps and car park entrances are a sporting challenge of the past.
Porsche Dynamic Chassis Control (PDCC).
PDCC is an active roll stabilisation system. It suppresses the vehicle's lateral body movement during dynamic cornering manoeuvres. A permanently controlled rolling torque distribution between the front and rear axles ensures that the handling is ideally adjusted for every driving conditions. For improved dynamic performance, even more neutral handling and increased ride comfort – whatever the speed.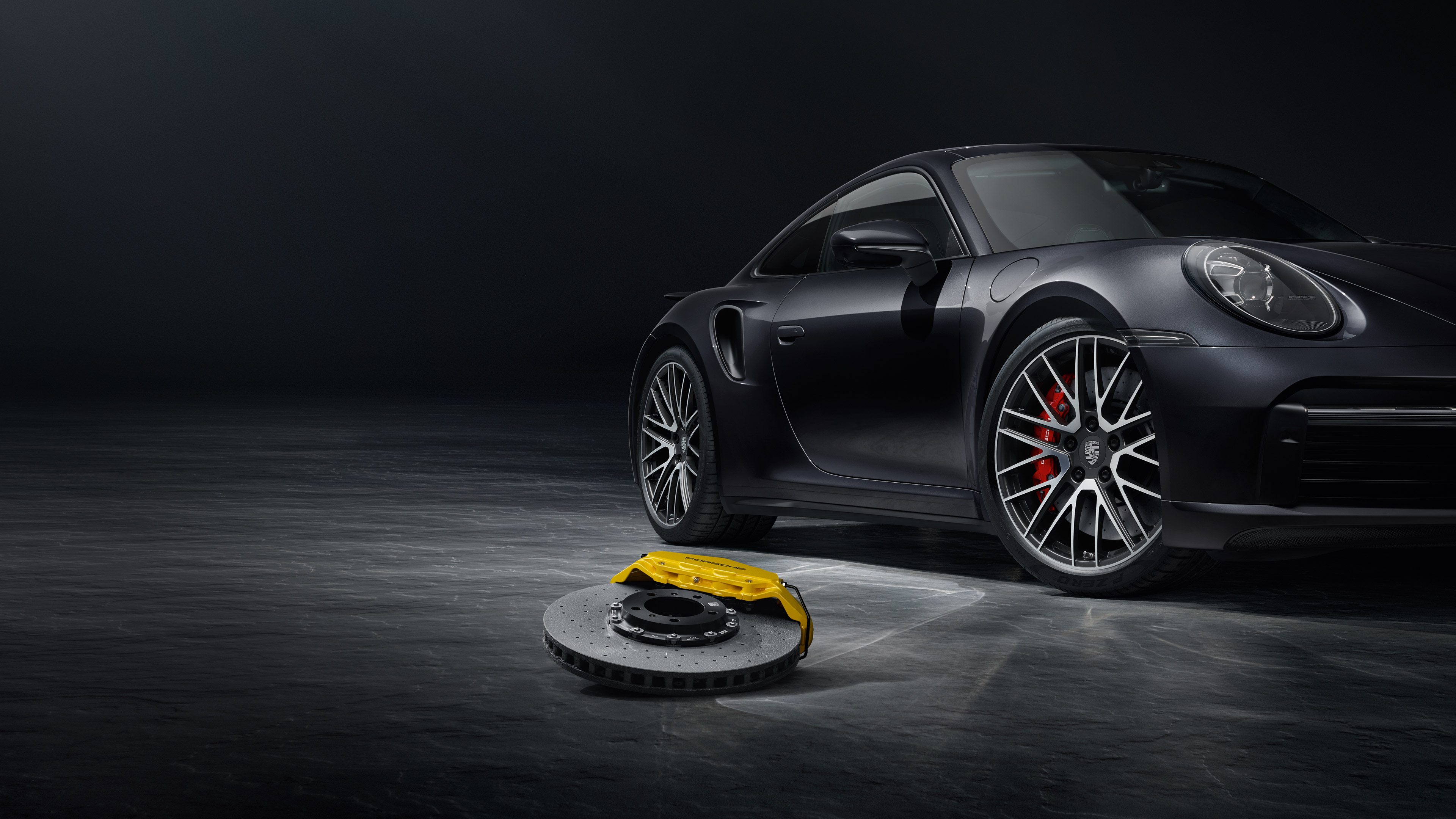 Brakes.
911 Turbo brakes.
We place just as much importance on braking performance as we do on driving performance. On the 911 Turbo models, the brakes feature sixpiston aluminium monobloc fixed brake calipers at the front and four-piston aluminium Monobloc fixed brake calipers at the rear, in red. The brake disc diameter: 408mm front and 380mm rear. Fixed brake calipers also painted in black are optionally available.
Porsche Ceramic Composite Brake (PCCB).
Motorsport tested: the Porsche Ceramic Composite Brake (PCCB) of the 911 Turbo S. The crossdrilled ceramic brake discs of PCCB have a diameter of 420mm at the front and 390mm at the rear: for even greater braking performance. Another advantage of PCCB is the extremely low weight of the ceramic brake discs, which are approximately 50% lighter than cast-iron brake discs of a similar design and size. The result: a reduction in unsprung masses and therefore better roadholding and increased comfort, particularly on uneven roads, as well as greater agility and a further improvement in handling. On request, PCCB is also available for the 911 Turbo models.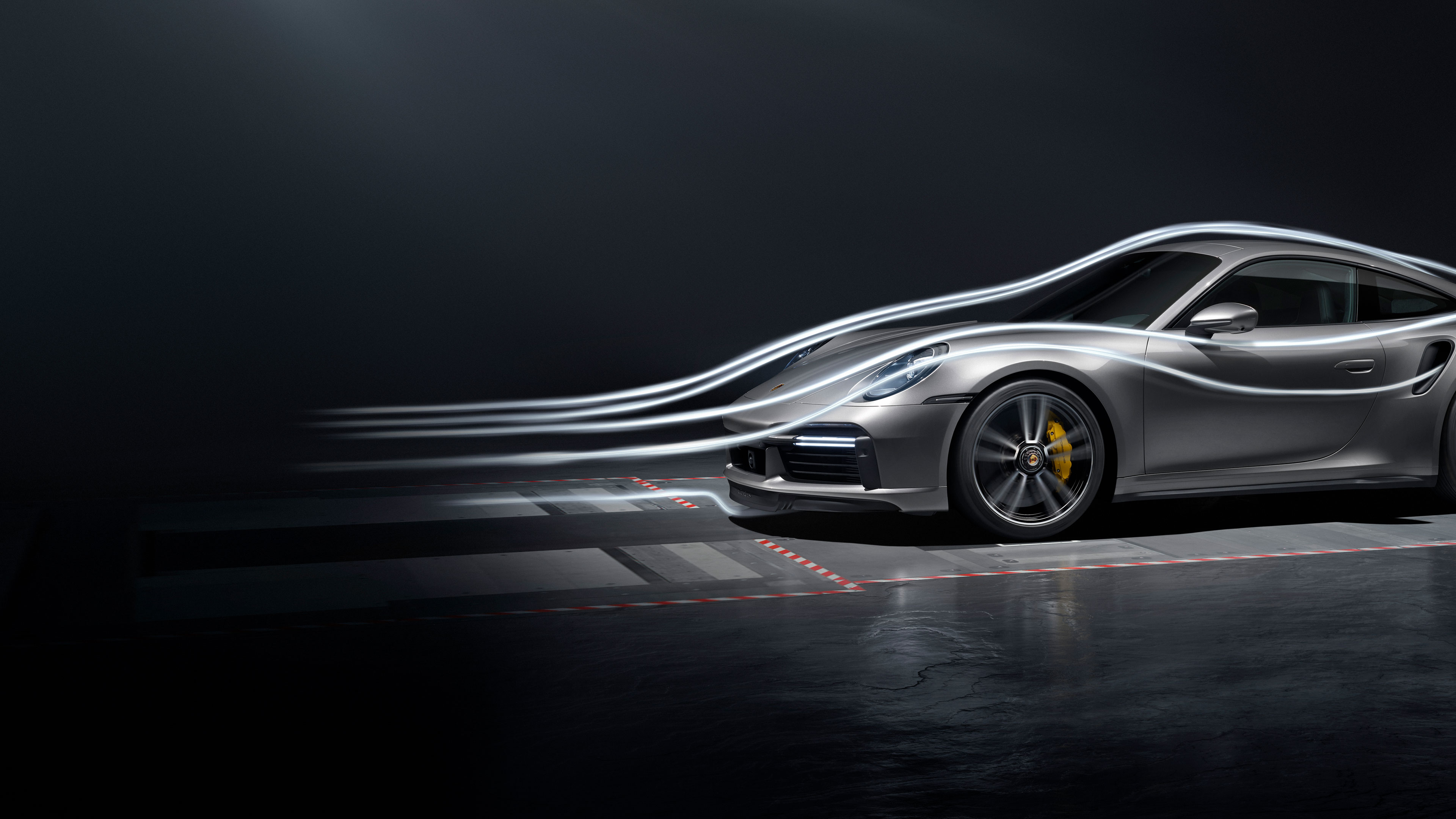 You'll never have the wind taken out of your sails. Porsche Active Aerodynamics.
You cannot avoid the wind. But you can direct it. The aerodynamic system, which has been enhanced compared with the previous generation, makes the 911 Turbo models even more aerodynamically flexible in any situation. PAA ensures optimum performance, along with fuel consumption and CO₂ emissions benefits.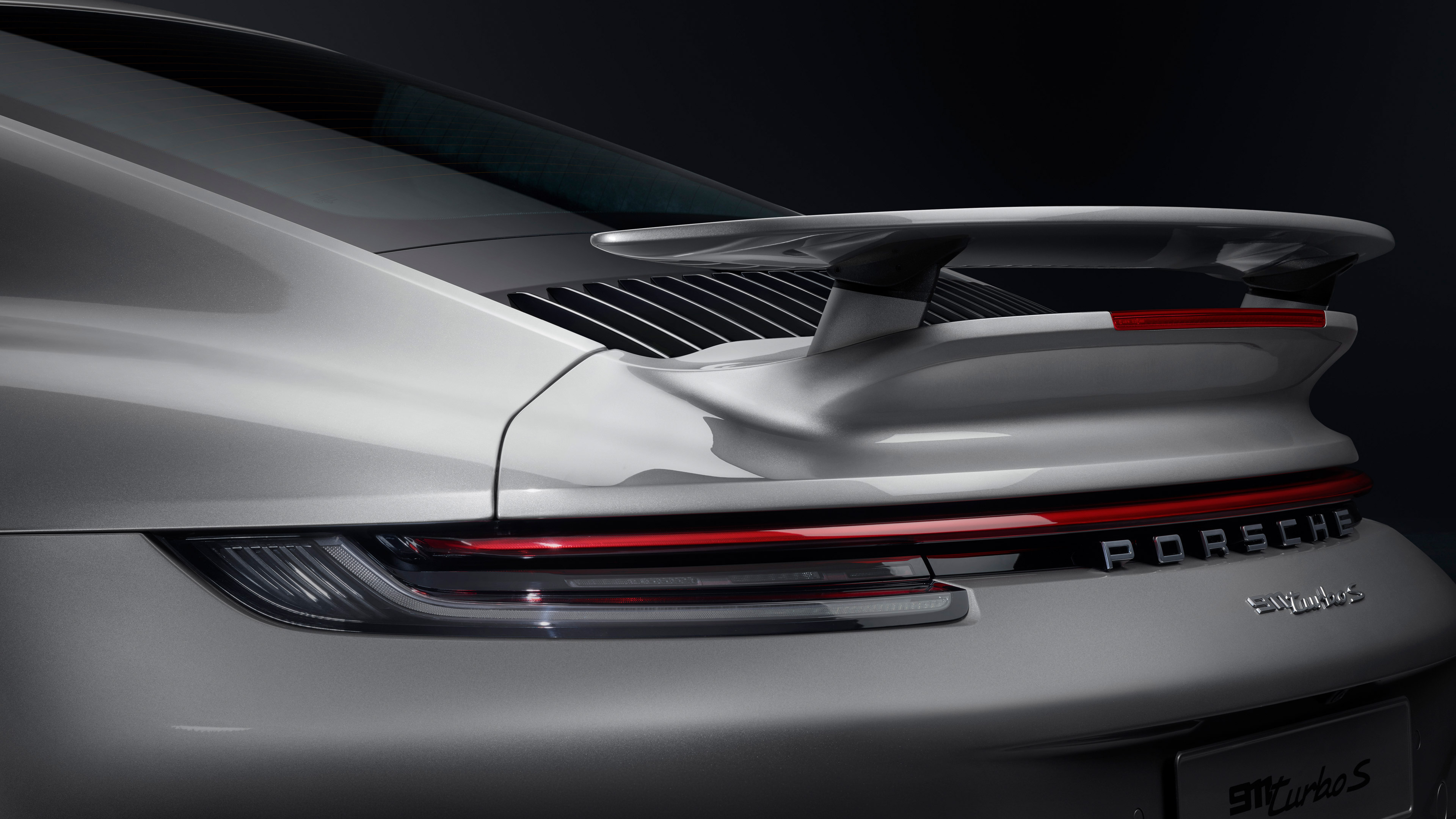 The active air intake flaps in the front air intakes, the pneumatically extendible front spoiler made of flexible elastomer and the variable rear wing are pivotal here. Both the front spoiler and the rear wing are extended and retracted synchronously in several positions.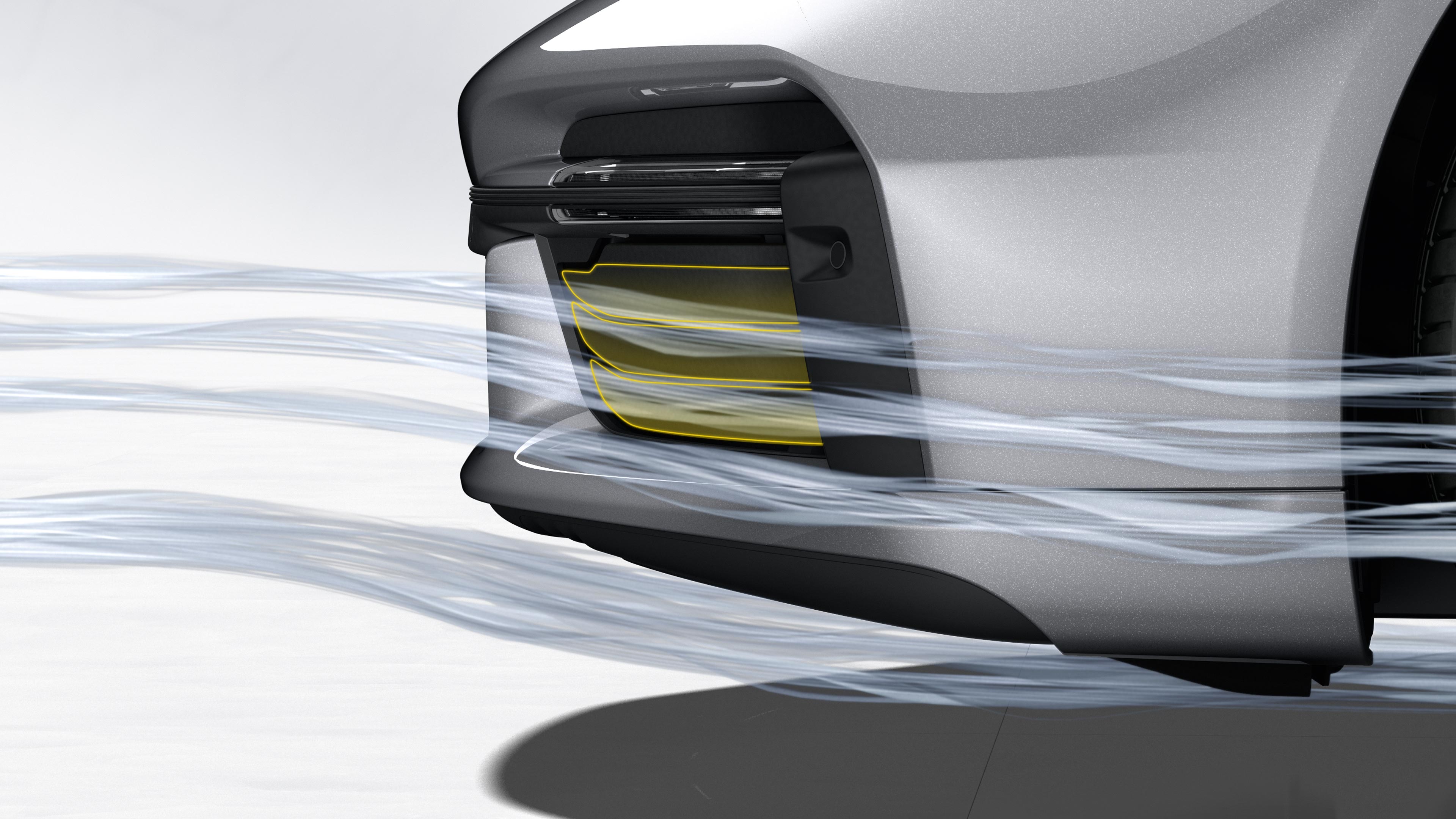 Also included: the Airbrake function. During emergency braking from high speeds, it has – depending on the selected driving programme – a positive influence on the braking distance by automatically (additionally) extending the front spoiler and rear wing.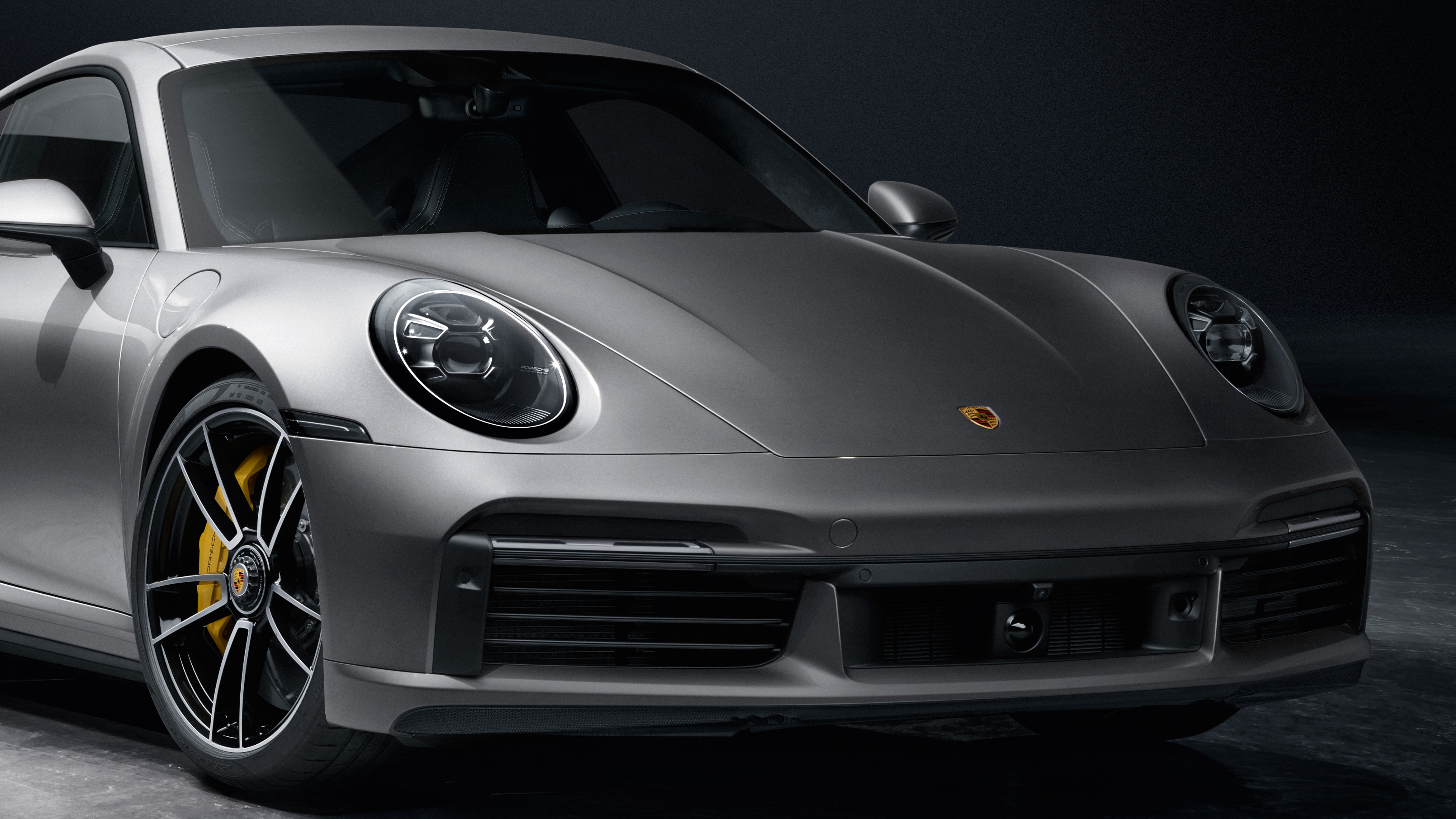 Designed to reduce fuel consumption during everyday trips and achieve superlative performance on sporty drives: the active air intake flaps in the front air intakes. The flaps close automatically while the car is in motion, thereby reducing drag. On demand or in Sport, Sport Plus or PSM Sport mode, the flaps open, helping to provide optimum engine cooling. This means that cooling air is supplied only to the extent that it is actually needed. That's efficiency. Of the intelligent kind.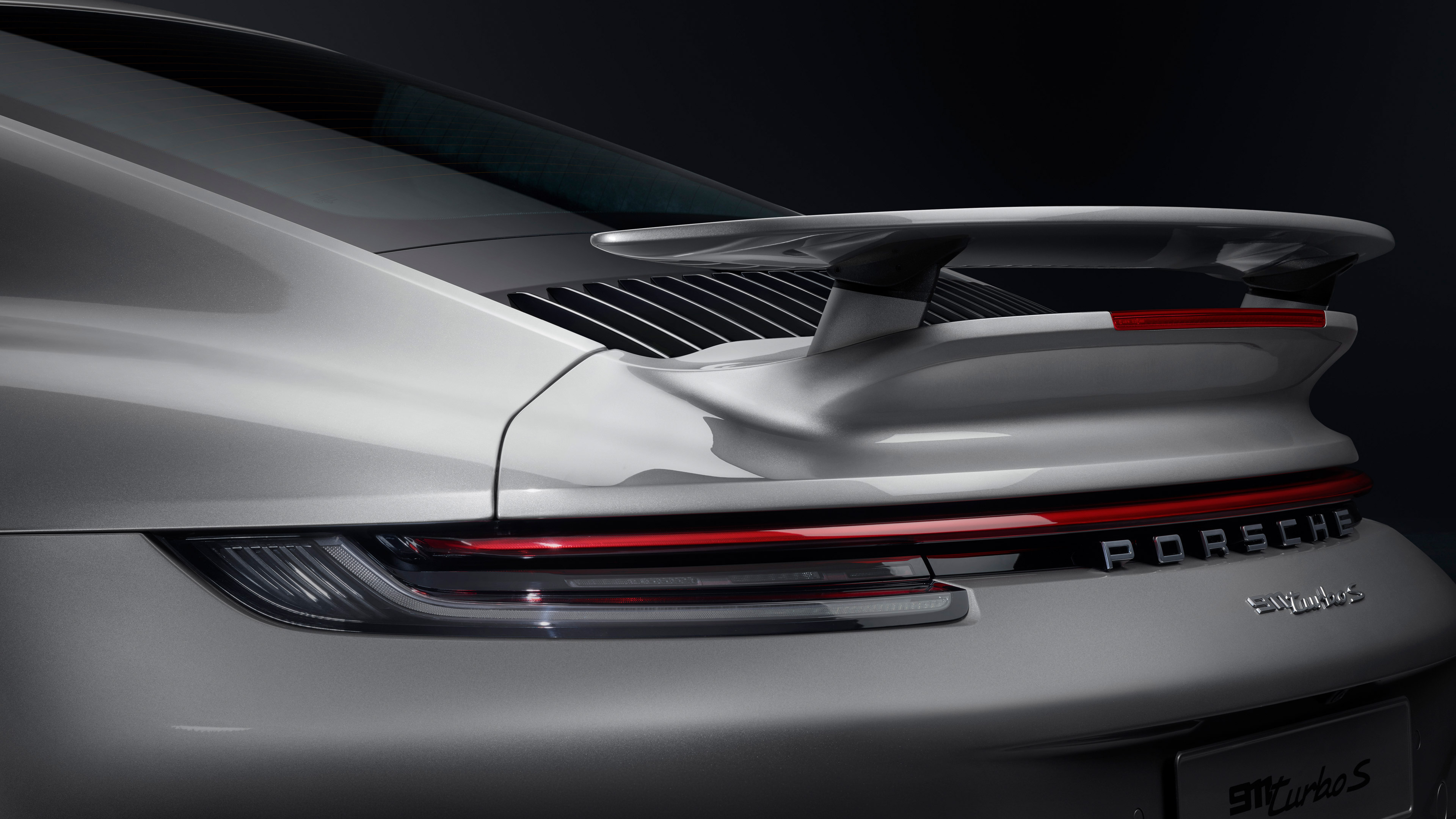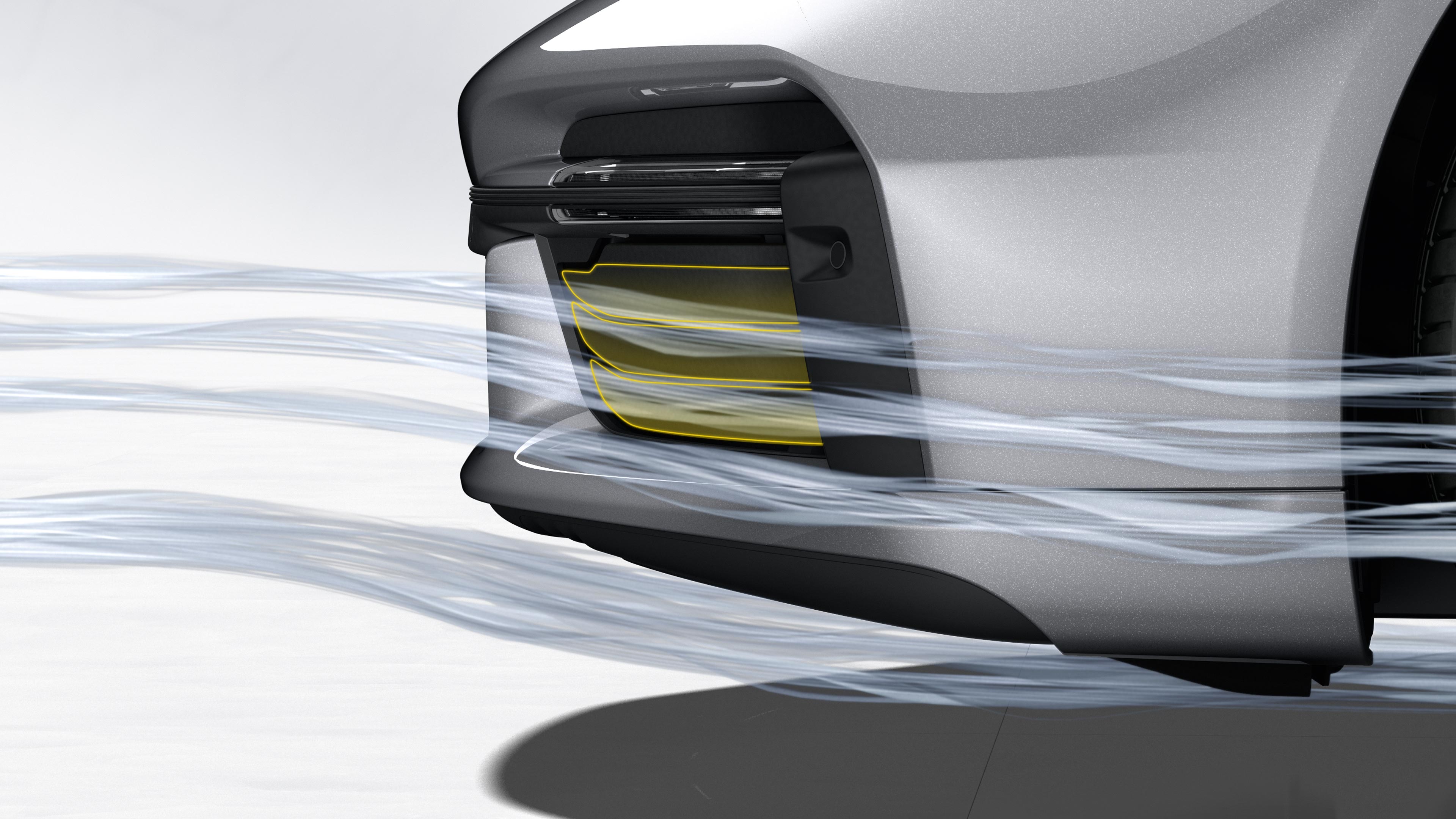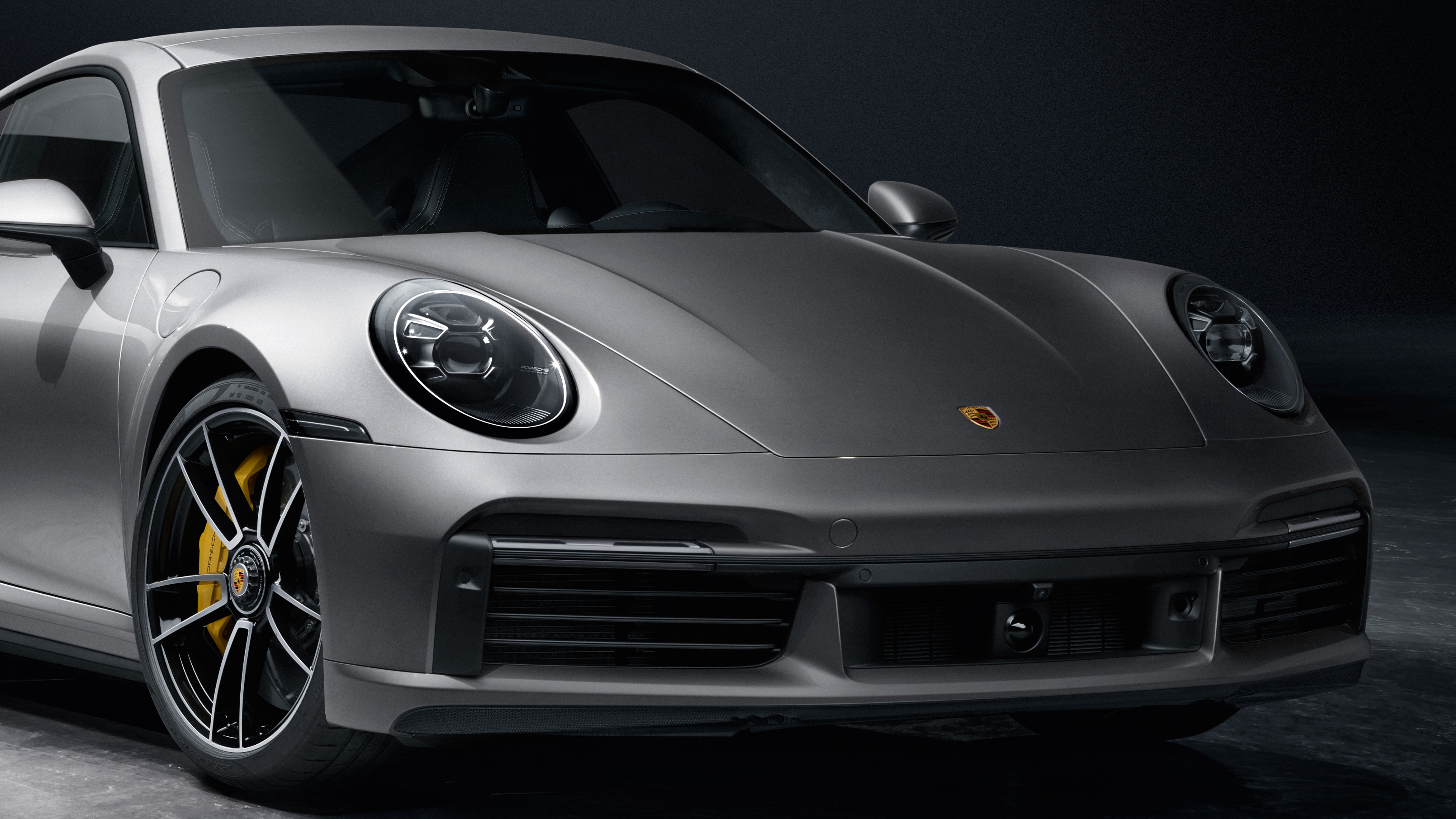 Design.
From every angle a traditional athletic form: every detail combines timeless design with contemporary style.
Light strip

Variable front spoiler
Middle ground?
Never been up for discussion.
How do you further develop a design that was already almost perfect with the first draft over 45 years ago? It's difficult, of course. Impossible? Is not part of our designers' vocabulary, nor our engineers'. So they just keep going, relentlessly looking for the perfect design for the perfect sports car. The good news: they found it.
First things first: the rear. Because this is where the heart of every 911 has beaten since 1963 and the heart of every 911 Turbo since 1974: the horizontally opposed engine. The rear of the 911 Turbo models is powerfully designed: it is wider. 20mm wider than previous models, to be precise. The rear wings have a particularly powerful design. Another distinguishing feature that has characterised the 911 Turbo since the very first model. The rear is clear and precise. Straight lines, with an evident horizontal orientation. Focusing on the essentials. The rear screen appears visually extended and merges, almost seamlessly, into the tailgate grille with black slats and silver-coloured trim strips.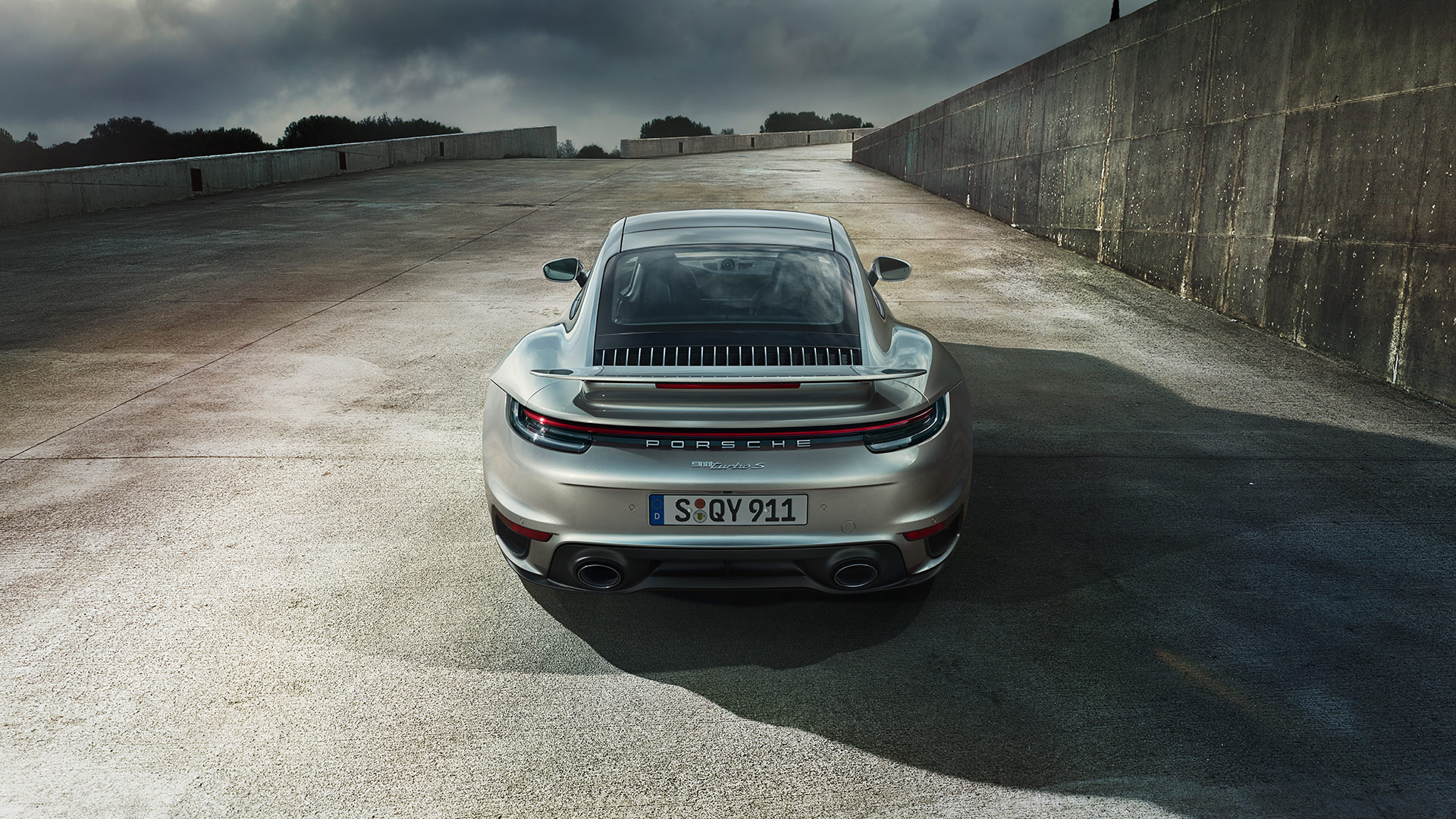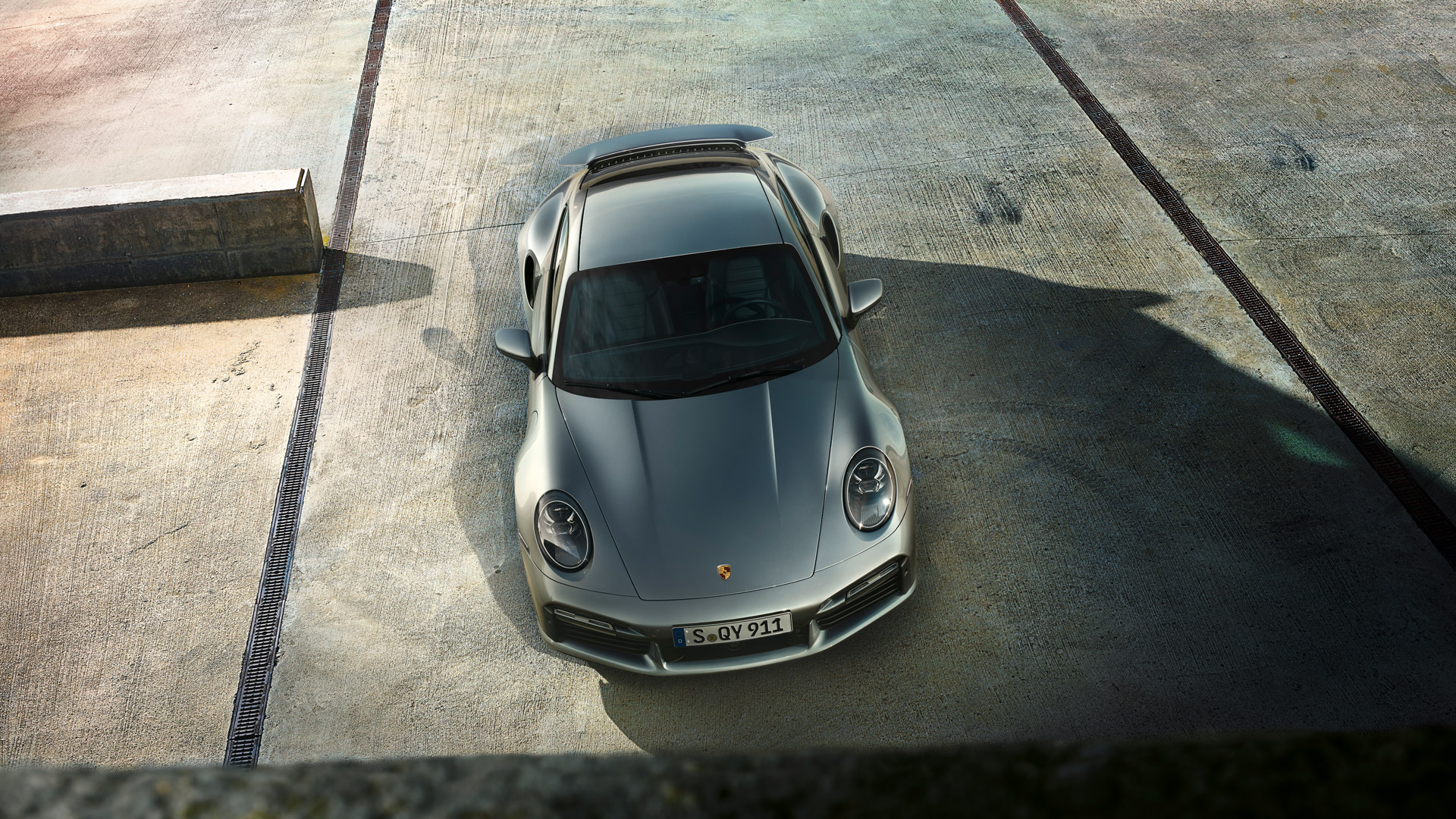 The front design language is a reference to Porsche history – and yet breaks new ground. It is a whopping 45mm wider. In combination with its broader track, this significantly increases stability. The wings are traditionally higher than the bonnet. Even more clearly shaped, they highlight the typical design DNA of Porsche. The bonnet's characteristic dynamic recess profiles and straight slope to the front apron are a reference to the design language of earlier 911 models. Another typical distinguishing feature: the four-point daytime running lights and dipped beam of the LED main headlights.
The more pronounced front apron with its black airblades directs any headwind. Or to be more precise: into the side air intakes and active cool air intake flaps that enable needs-based air flow and thus optimum aerodynamics and cooling. In addition, the front apron accommodates the almost invisibly integrated camera and sensors for the comfort and assistance systems. The variable front spoiler can be extended lower than the previous model, further optimising the aerodynamics.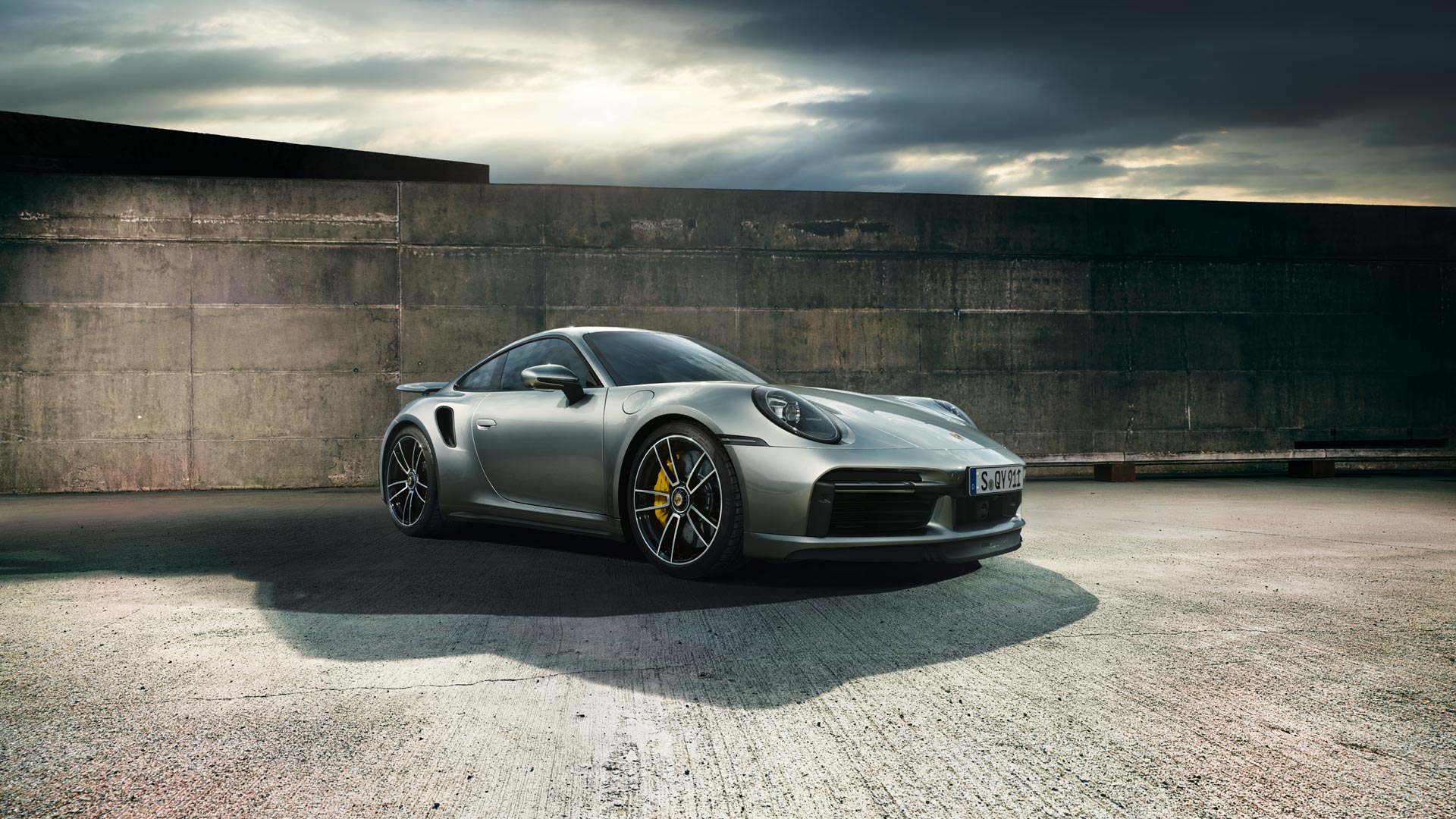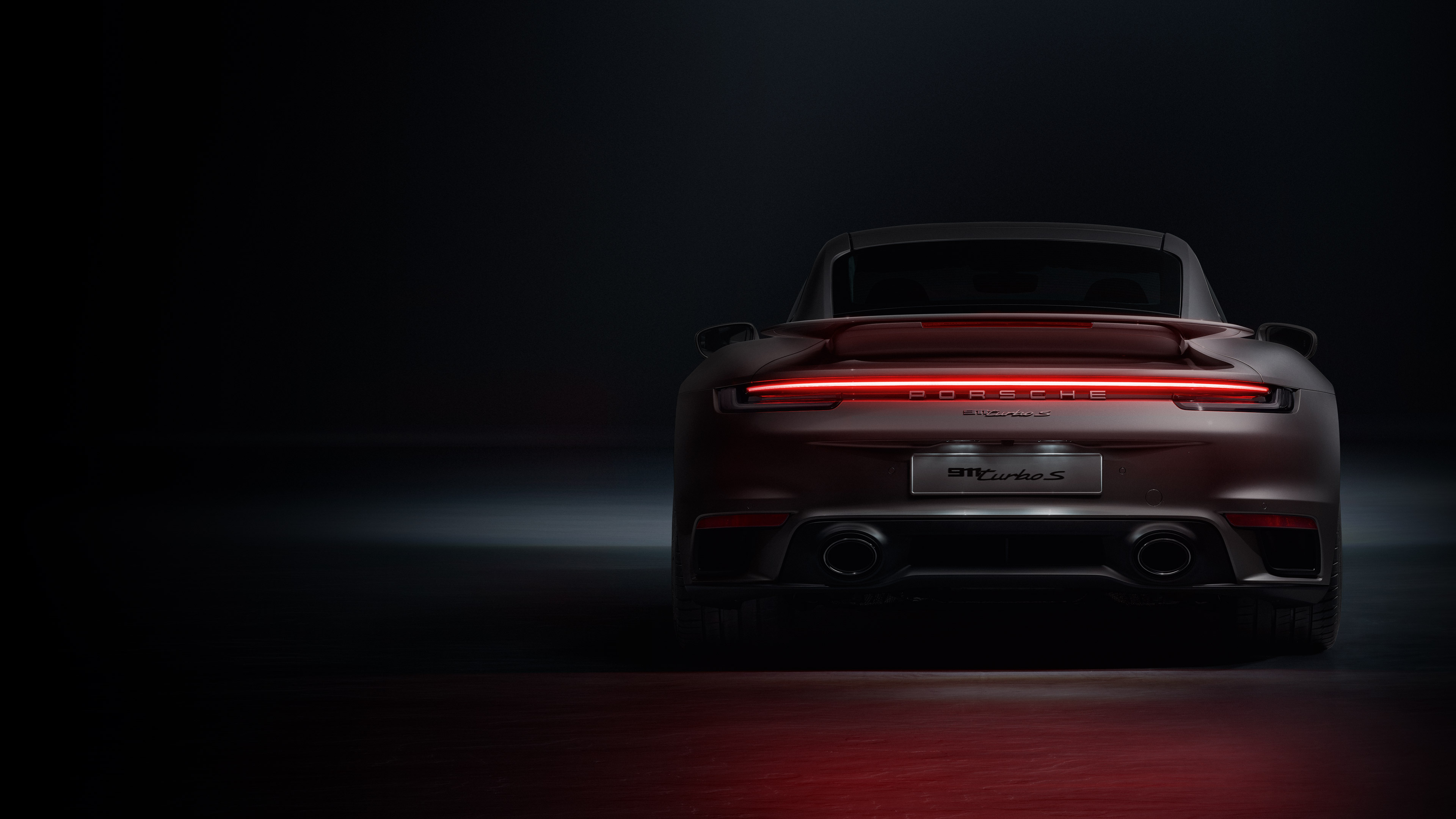 The seamless, one-piece light strip including 'PORSCHE' logo at the rear connects the three-dimensional LED taillights.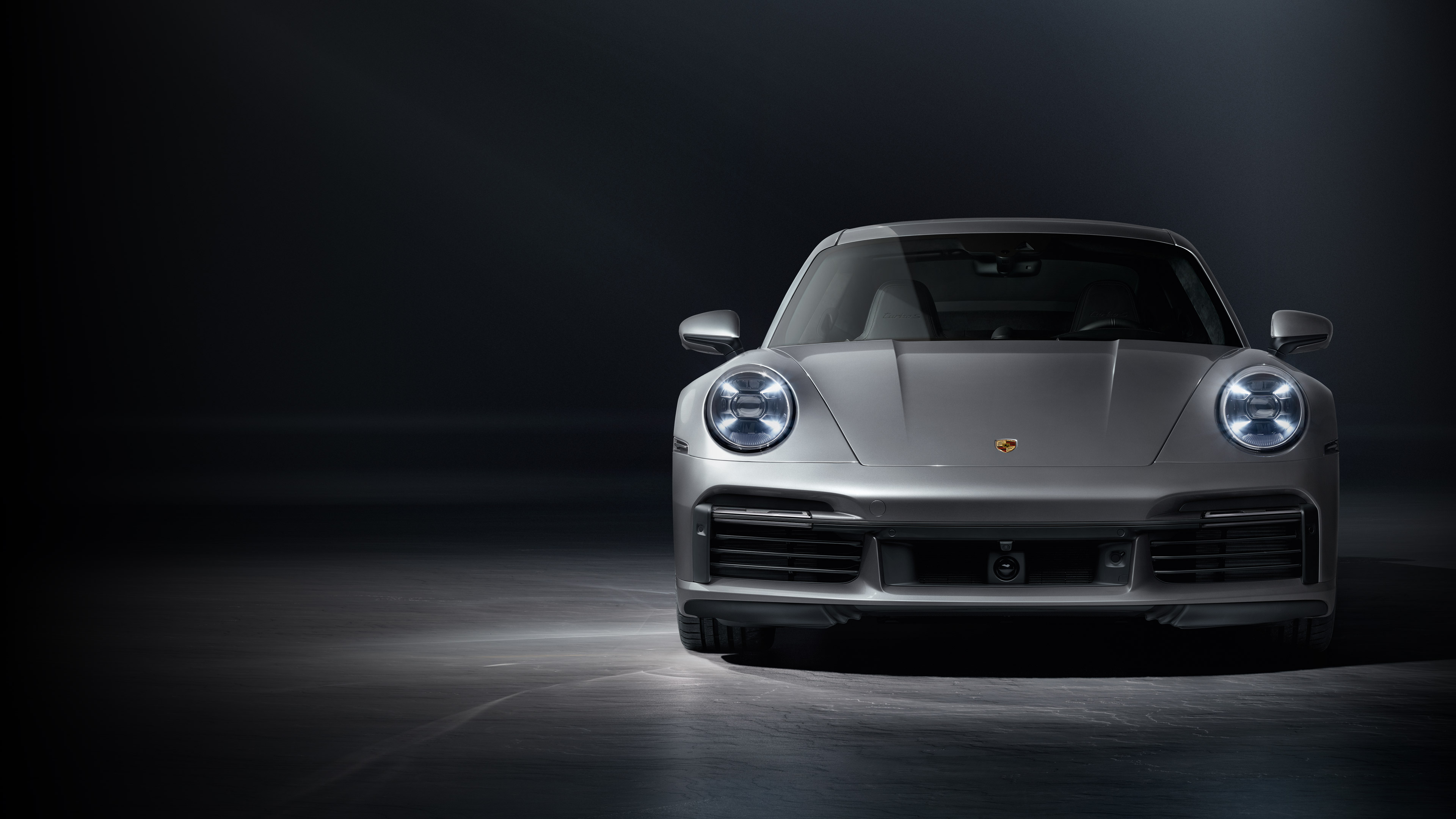 The variable front spoiler can be extended lower than the previous model, further optimising the aerodynamics.
The 911 Turbo is fitted with 20/21-inch 911 Turbo forged alloy wheels. The wheels have a titanium-coloured two-tone finish and the wheel centres feature a Porsche Crest. Tyre sizes: 255/35 ZR 20 at the front and 315/30 ZR 20 at the rear. This guarantees high traction and lateral force potential. Also with the 911 Turbo S with 20/21-inch 911 Turbo S wheels in a black two-tone finish. Also made of forged alloy construction, they are equipped with motorsport- proven central locking and a wheel centre with full-colour Porsche Crest. Further designs are available on request.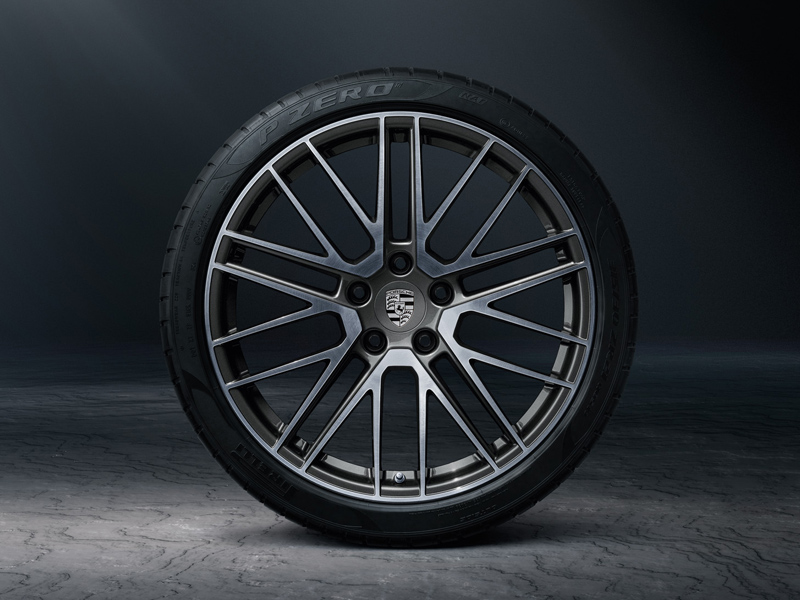 911 Turbo wheel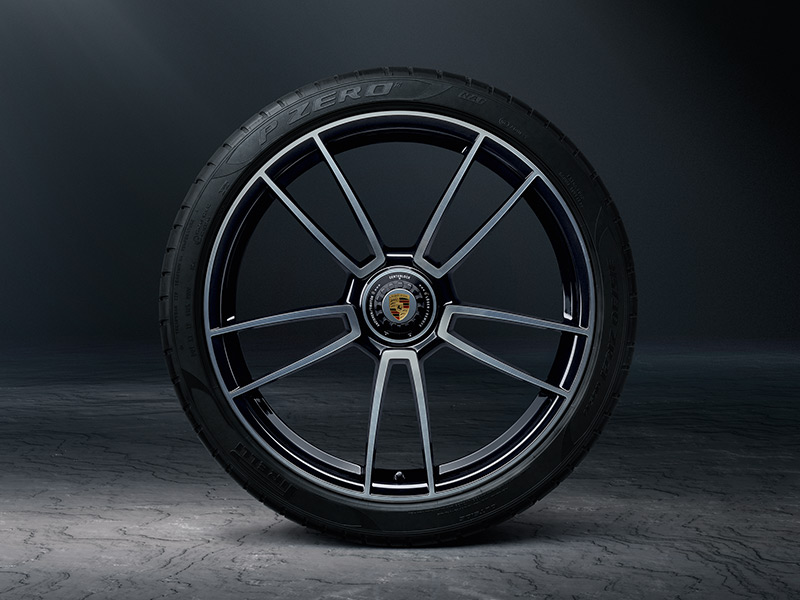 911 Turbo S wheel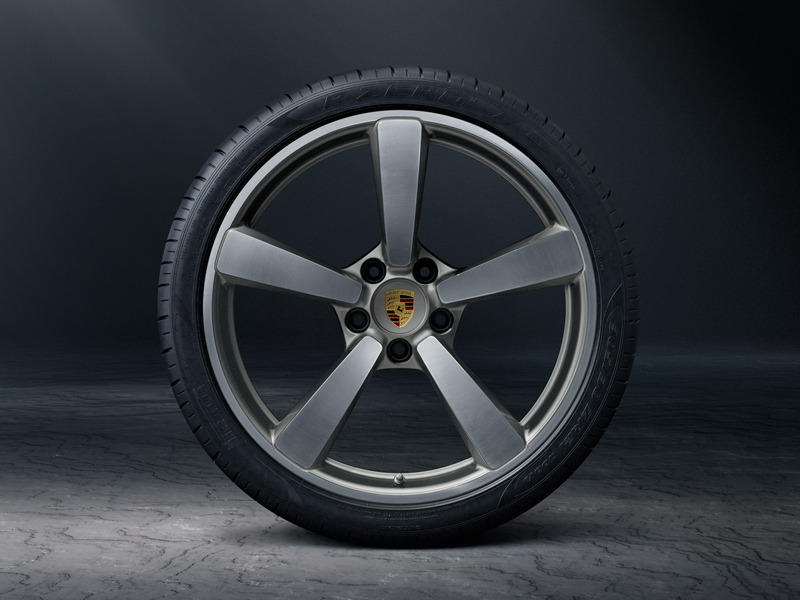 911 Turbo Exclusive Design wheel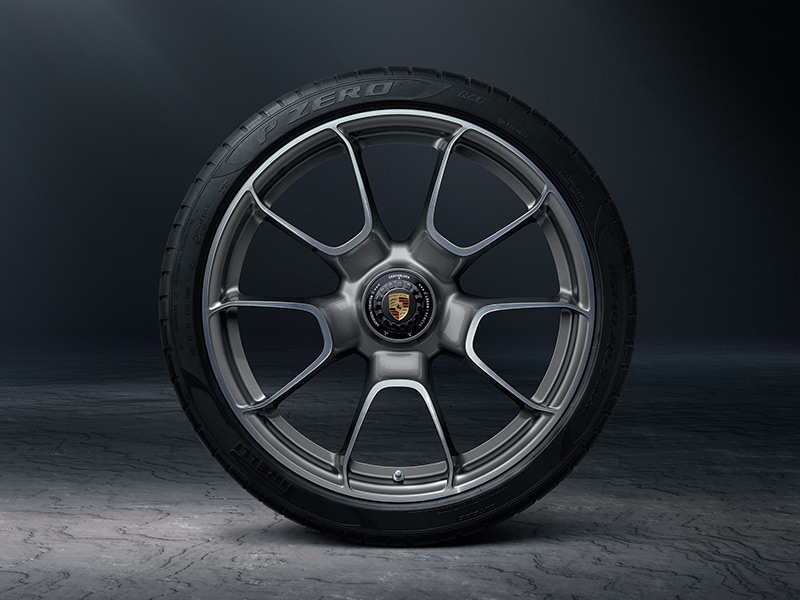 911 Turbo S Exclusive Design wheel
Information about wheels can be found here.
Roof.
It goes without saying that the air supply plays a decisive role in a 911 Turbo. But why limit it to the engine? The 911 Turbo Cabriolet models unite the classic silhouette of the 911 Turbo with the possibility of enjoying the unmistakable sound of the turbo engine even more intensively with the roof open. They are fitted with a fully automatic fabric roof. It has a fixed glass rear screen and three integral magnesium elements that make the roof highly robust and yet particularly lightweight. The roof opens or closes in around 12 seconds – up to a speed of 50km/h – with the option to operate the mechanism remotely.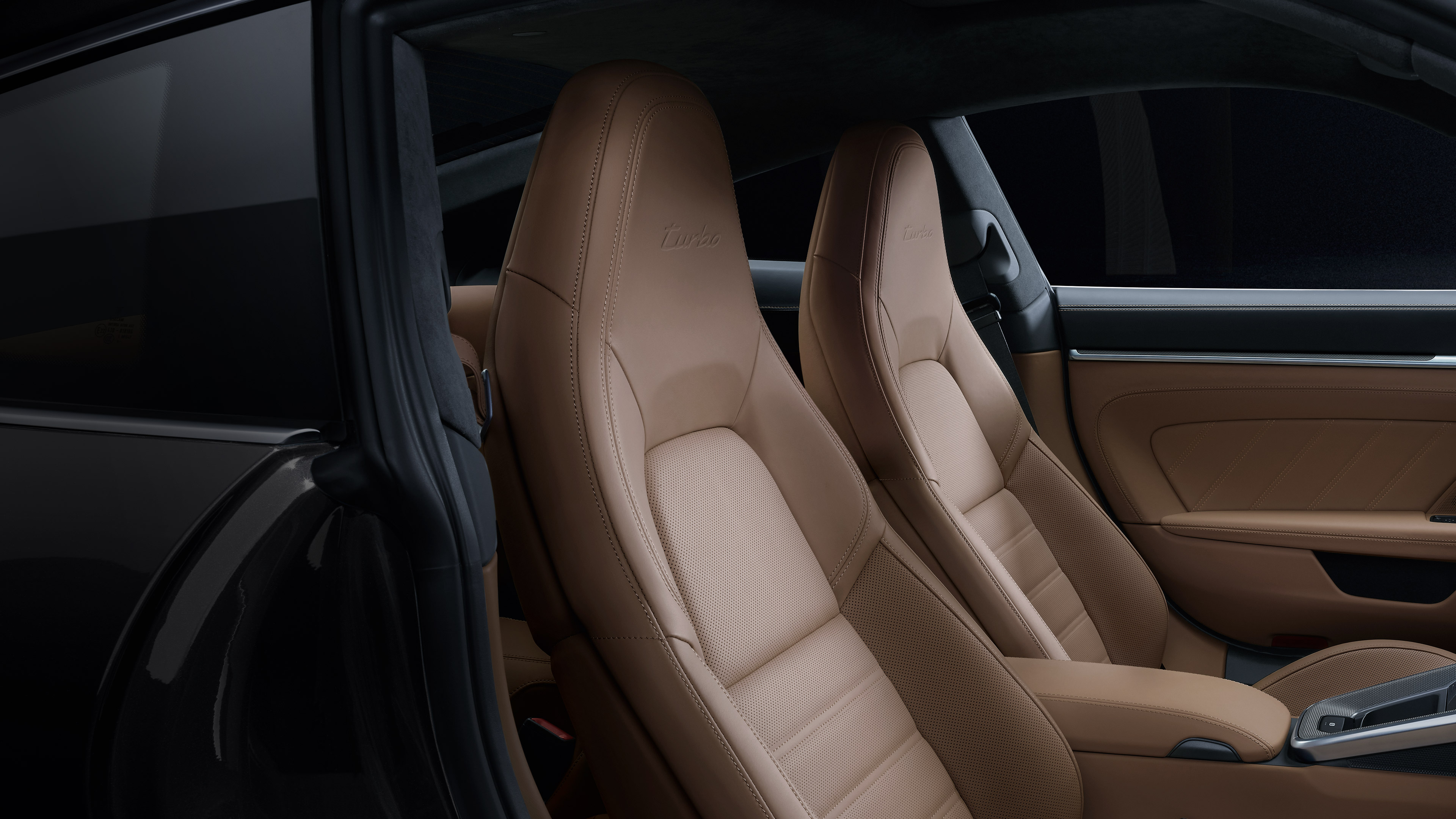 The roof lining is made from a heat-insulating and sound-absorbing material. Noticeable effect: perceptibly consistent interior temperatures and an effective suppression of wind noise.
Intelligent climate control automatically regulates optimal cabin comfort without manual intervention, whether the roof is open or closed.
The 911 Turbo Cabriolet models also have an electrically powered wind deflector. At the touch of a button, it can be extended or retracted in just two seconds, offering practically draught-free driving with the top down and minimal wind noise.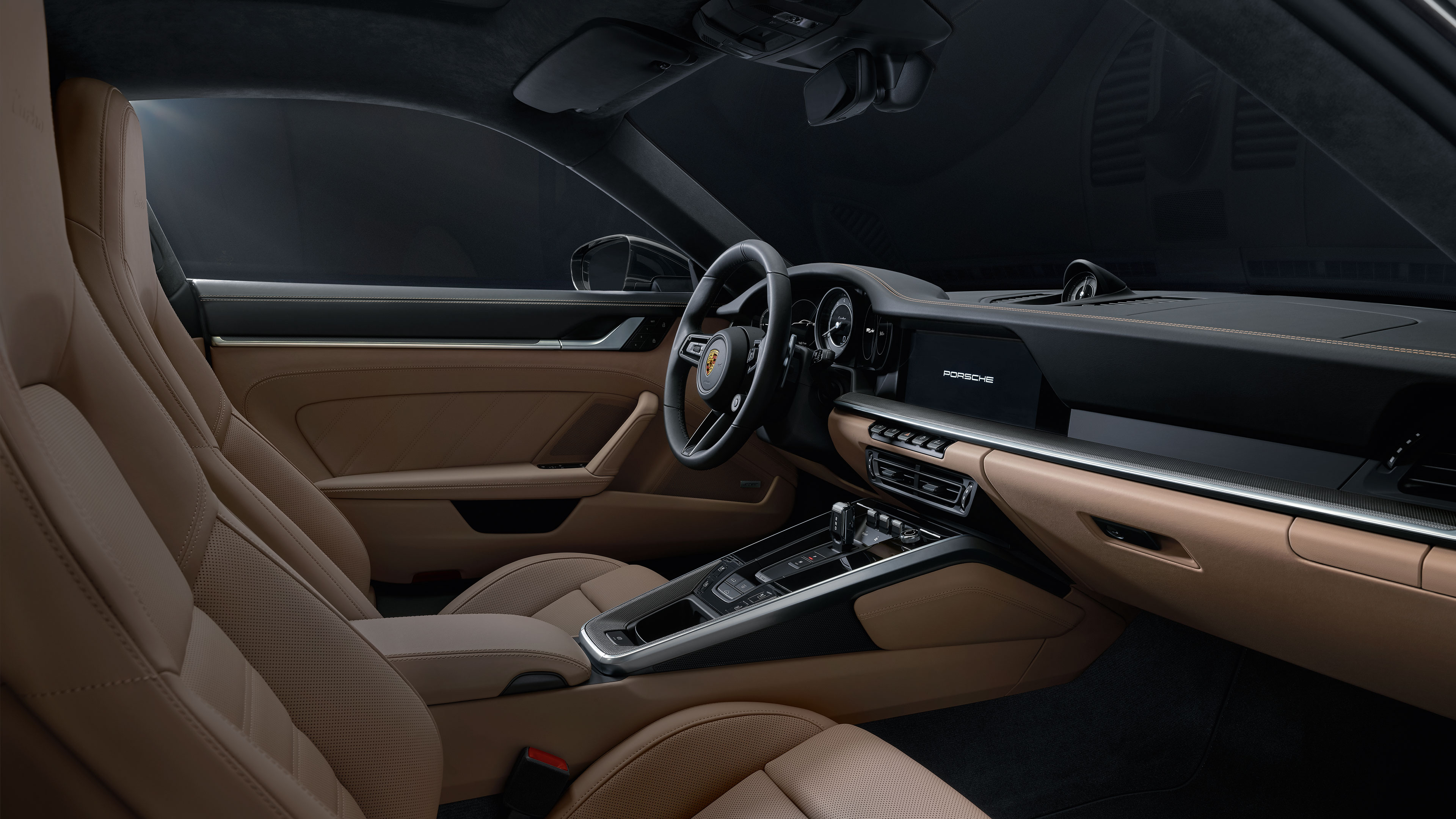 Only the deepest conviction can trigger the highest emotions. Interior.
The interior consistently lives up to the promise made by the exterior. Even a first glance inside the vehicle reveals one of the greatest optical and digital enhancements of all generations. Uncompromising sports performance combined with high comfort and exclusive feel. Typical 911 Turbo.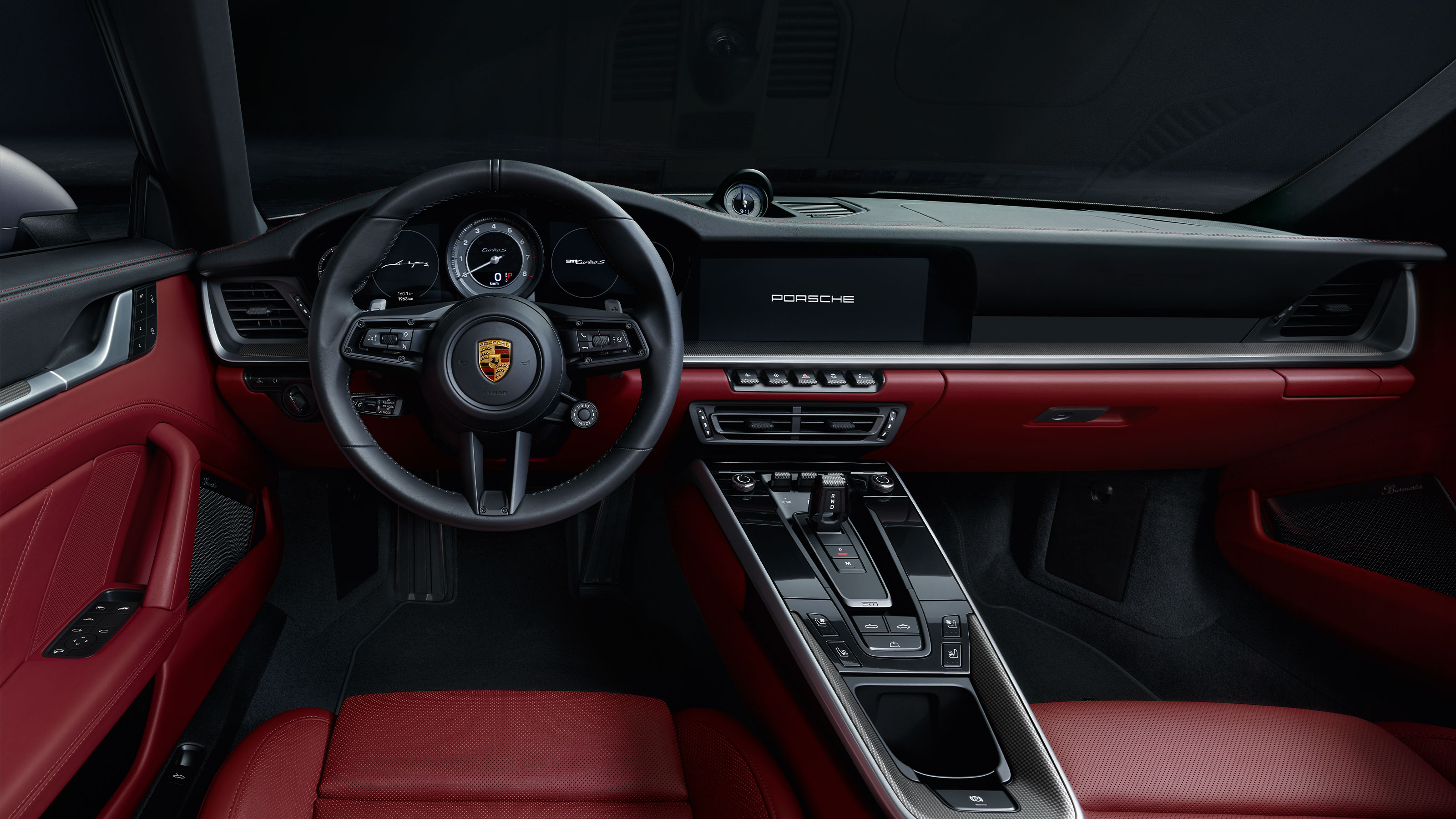 New and yet a nod to earlier 911 generations: the horizontal lines of the interior. The concept also offers optimum access to all important functions at all times. The number of controls has been significantly reduced and everything is located within direct reach of the driver. Sports car ergonomics that also characterise the GT sports steering wheel with multifunction controls and shift paddles.
The details are particularly stylish. Standard in the 911 Turbo: the leather interior with contrasting stitching in Crayon. Standard in the 911 Turbo S: the two-tone leather interior also with contrasting stitching. In addition, the trim strips in Light Silver: with decorative inlays in Dark Silver Diamar in the 911 Turbo and decorative inlays in matt carbon in the 911 Turbo S. The quilted seat centres and quilted door panels of the 911 Turbo models are a reference to their own great history – already in the first 911 Turbo models, the interior was manufactured in this elaborate way. Yet more evidence that maximum performance can also be interpreted in terms of look and feel.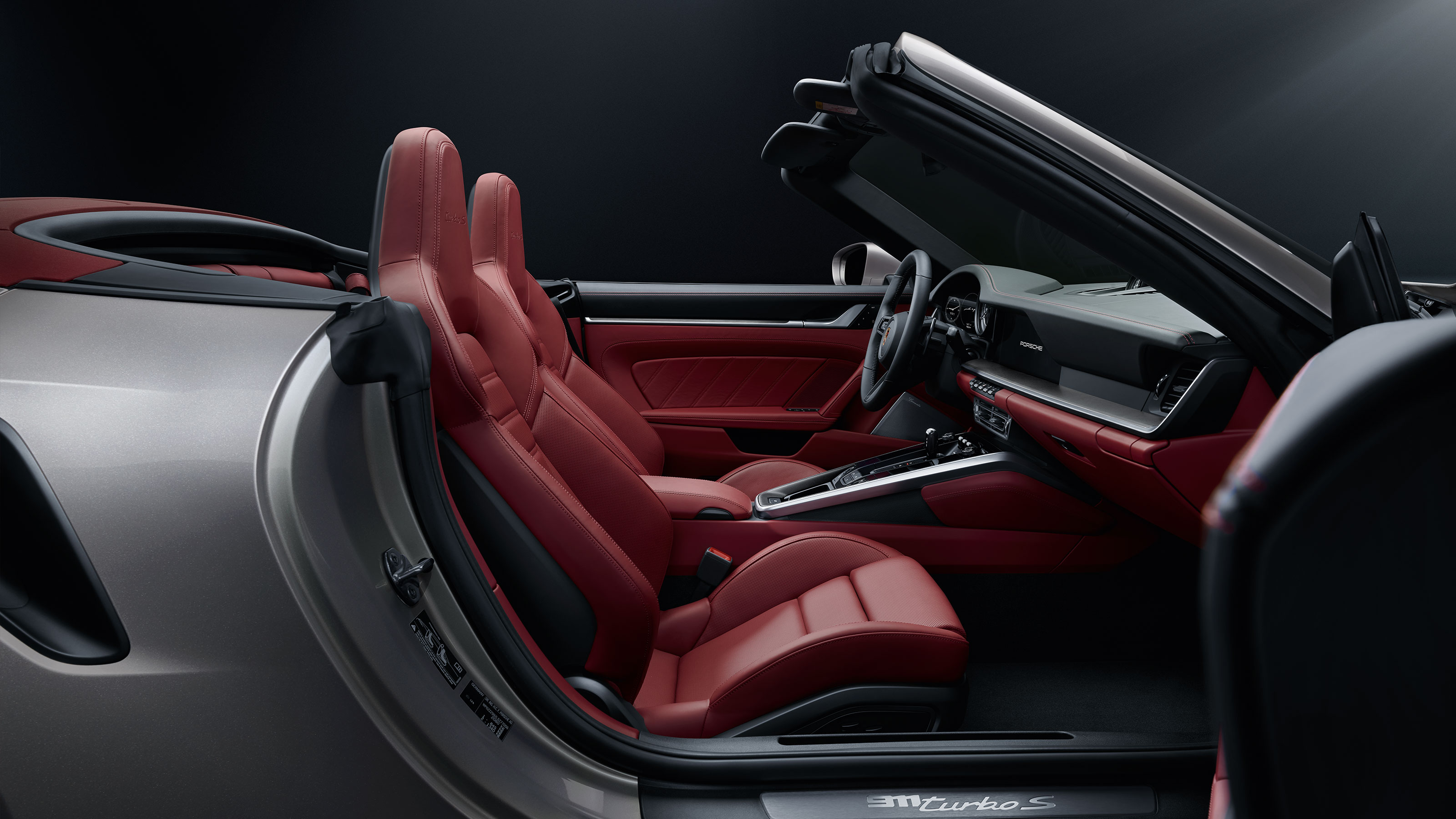 Gallery.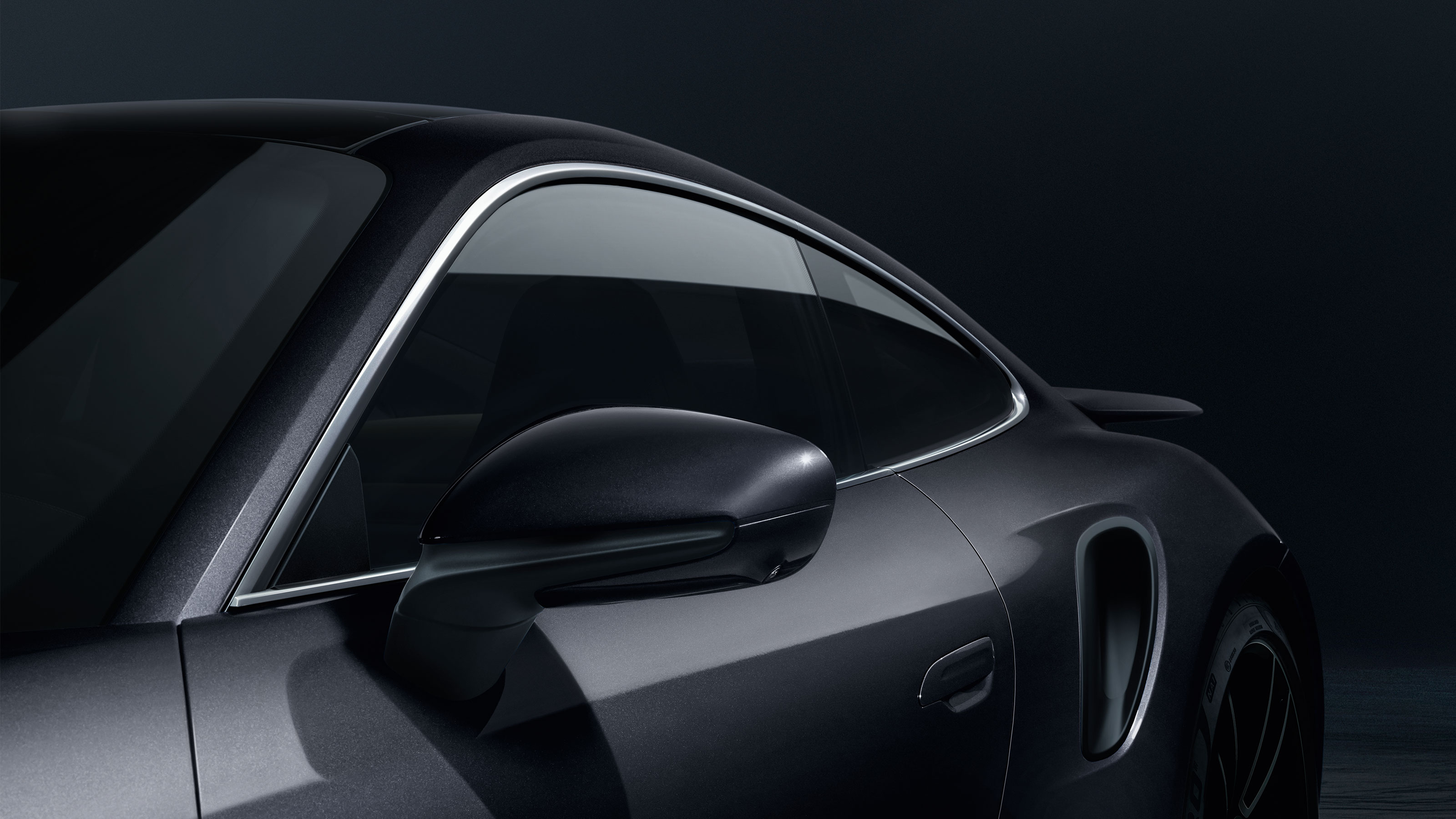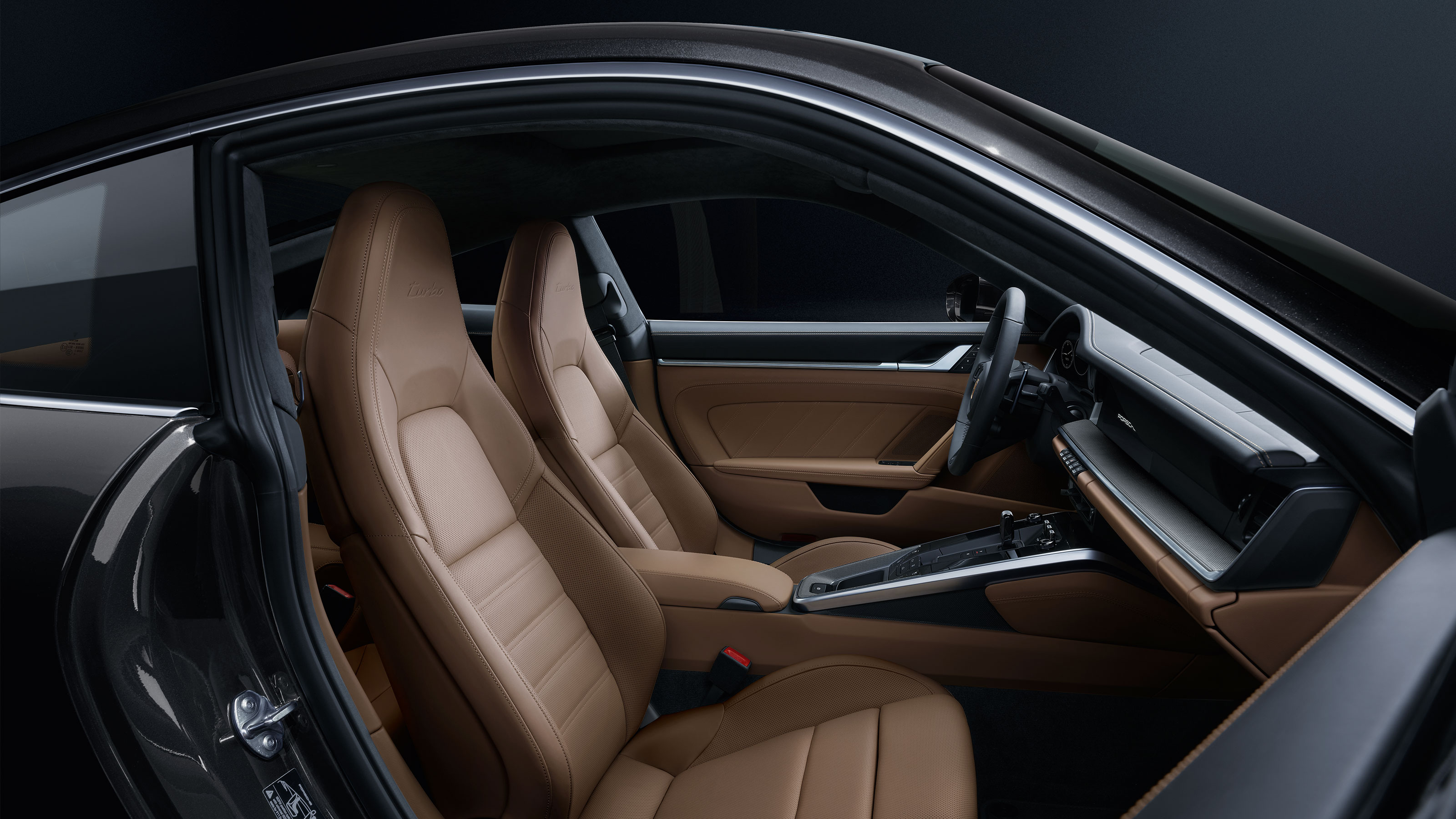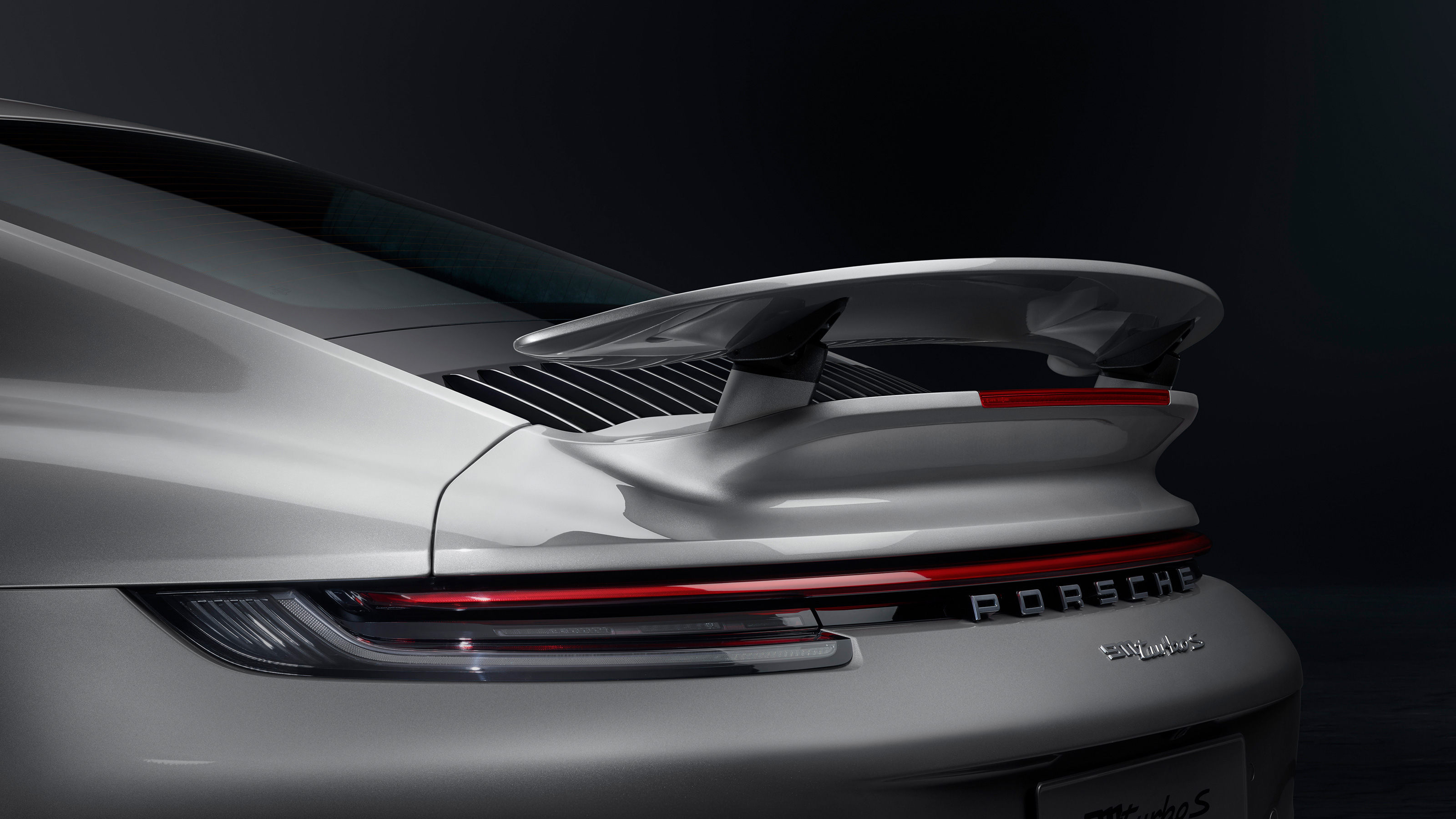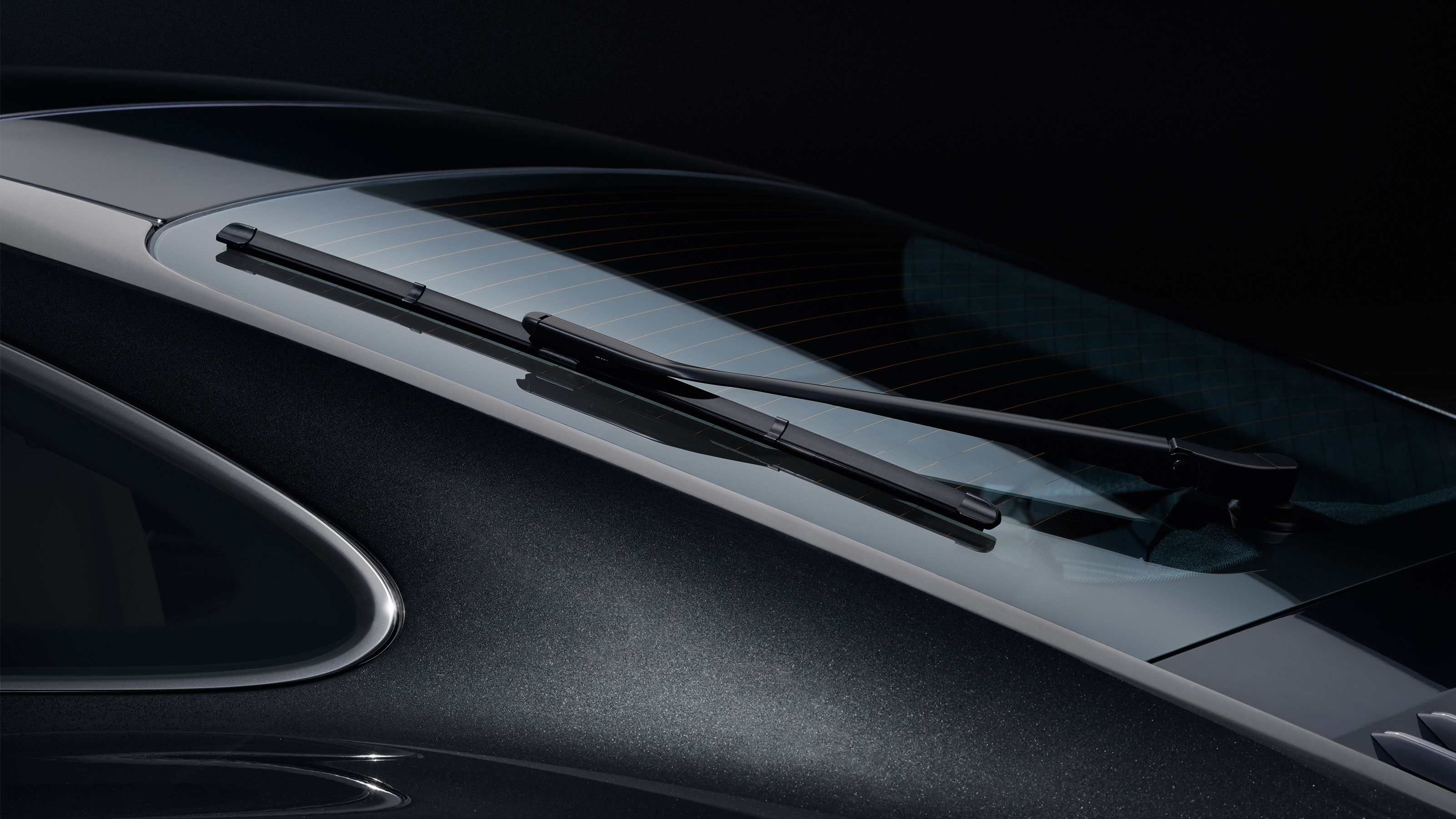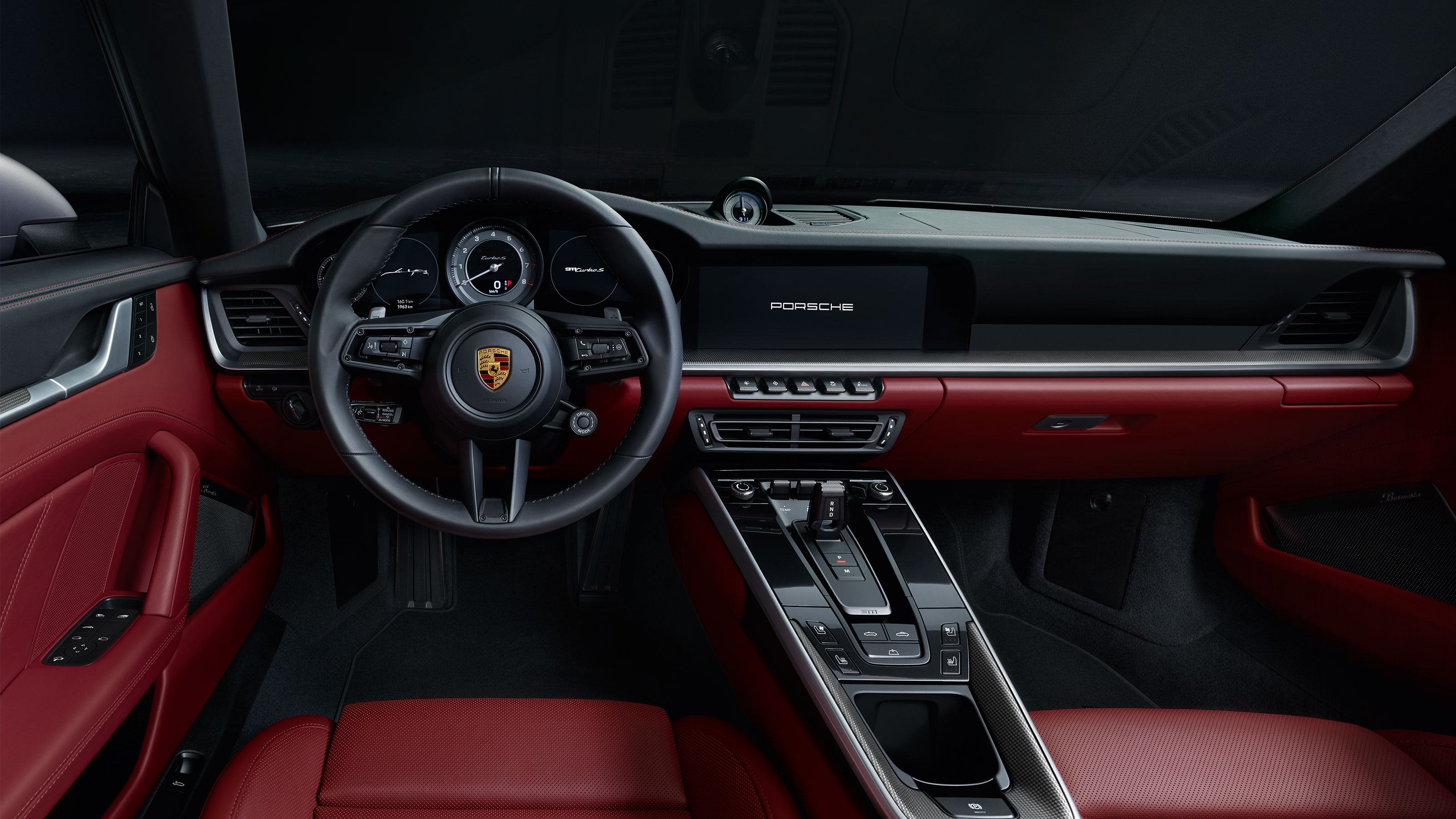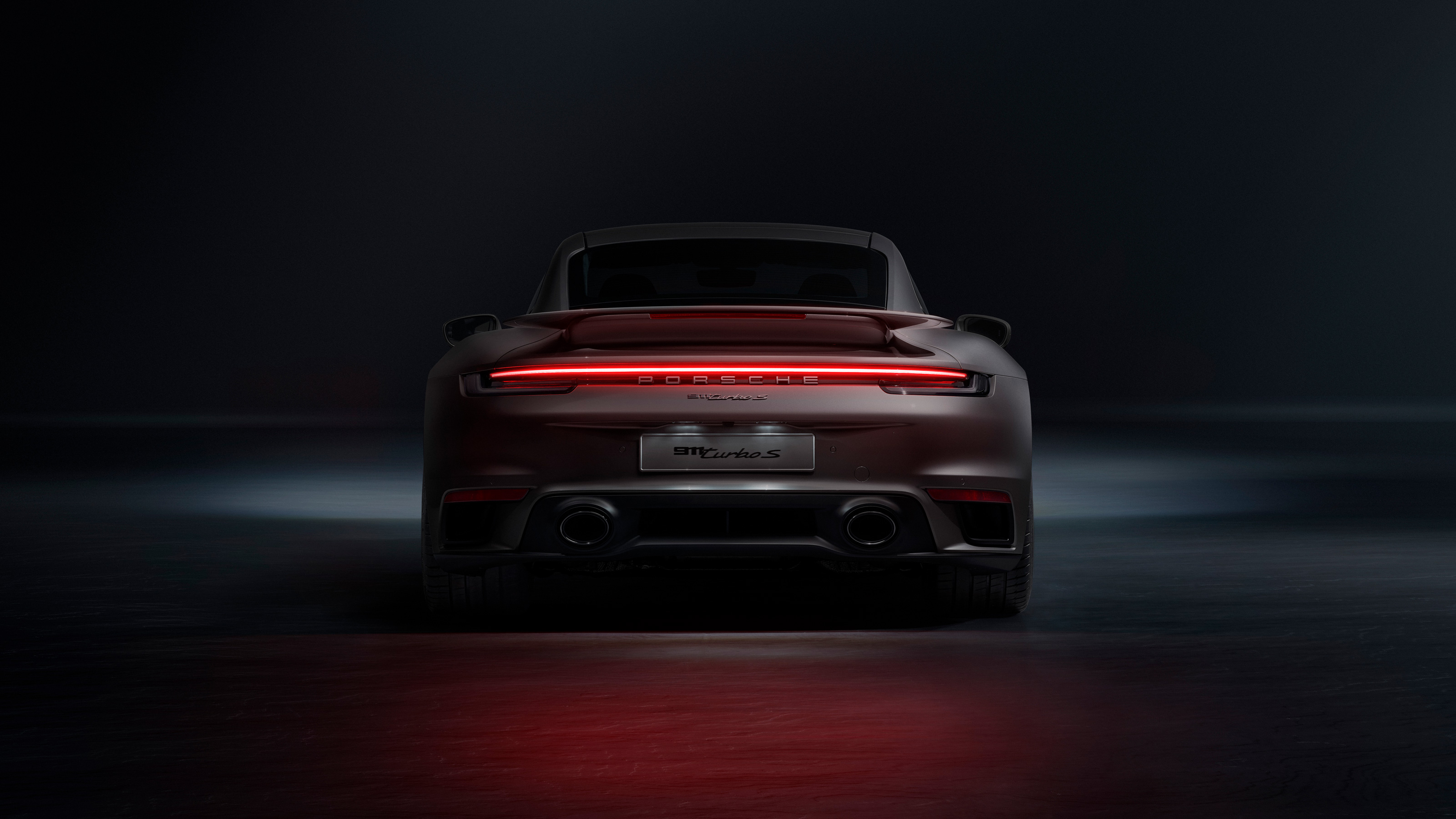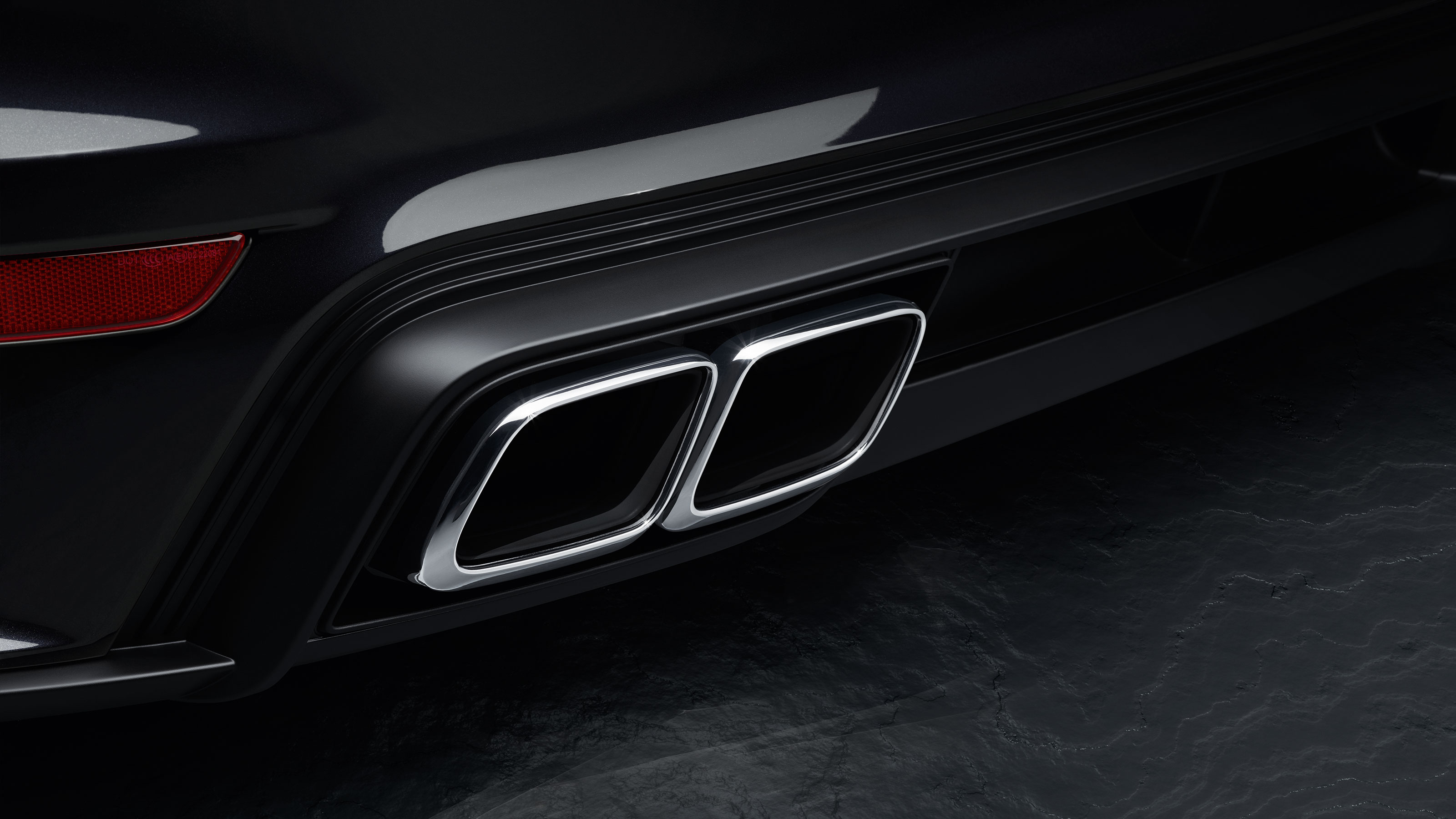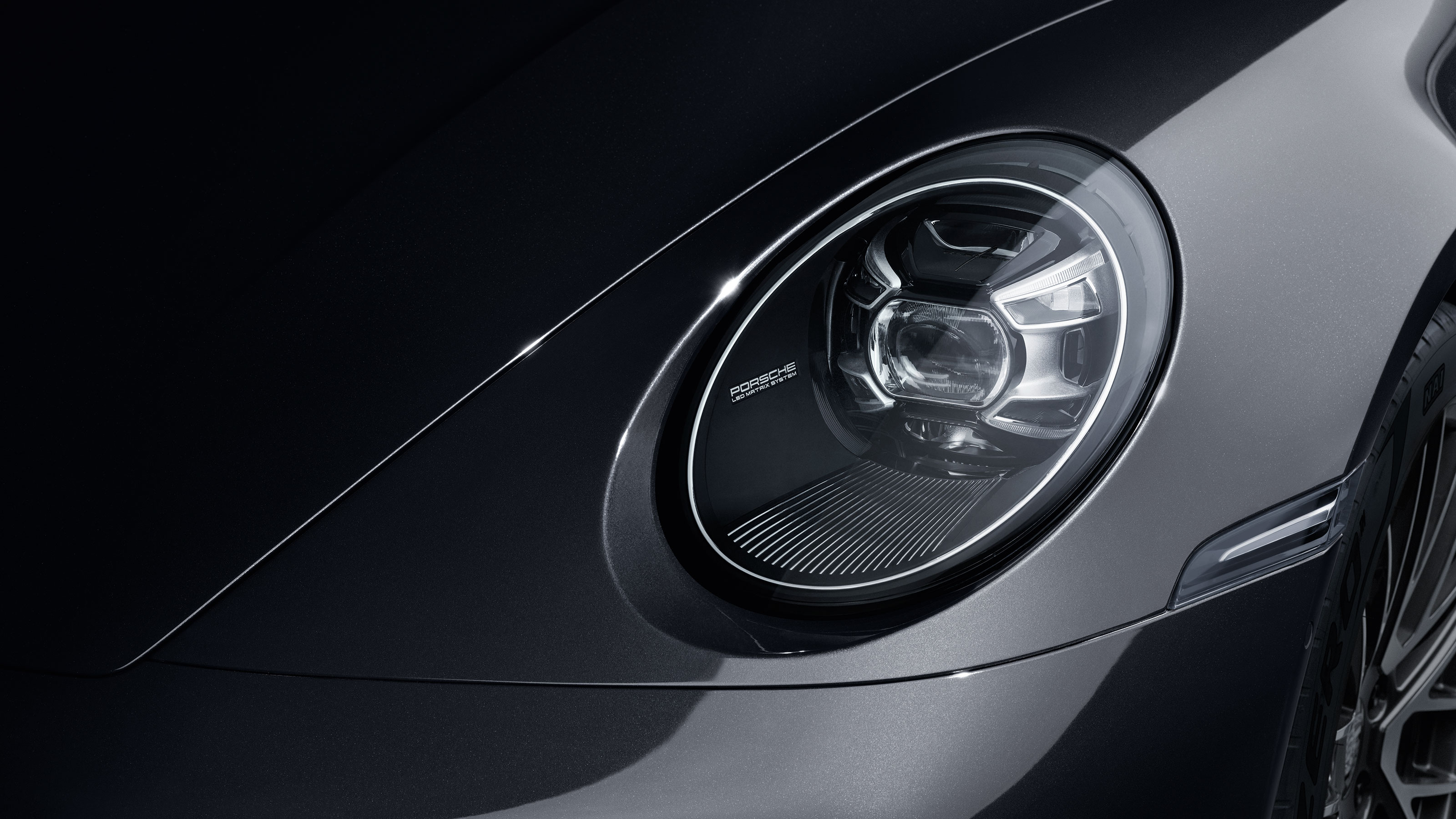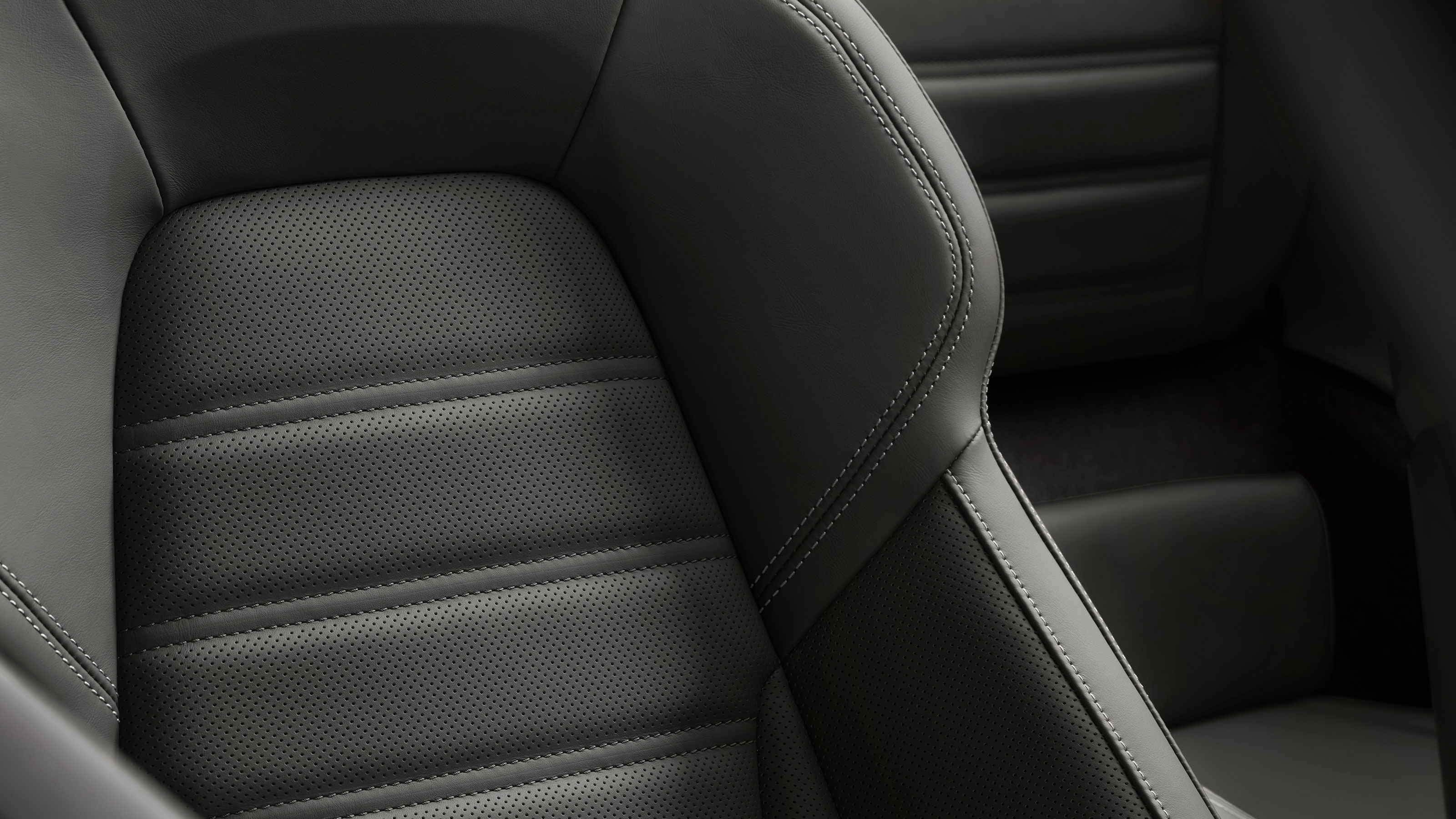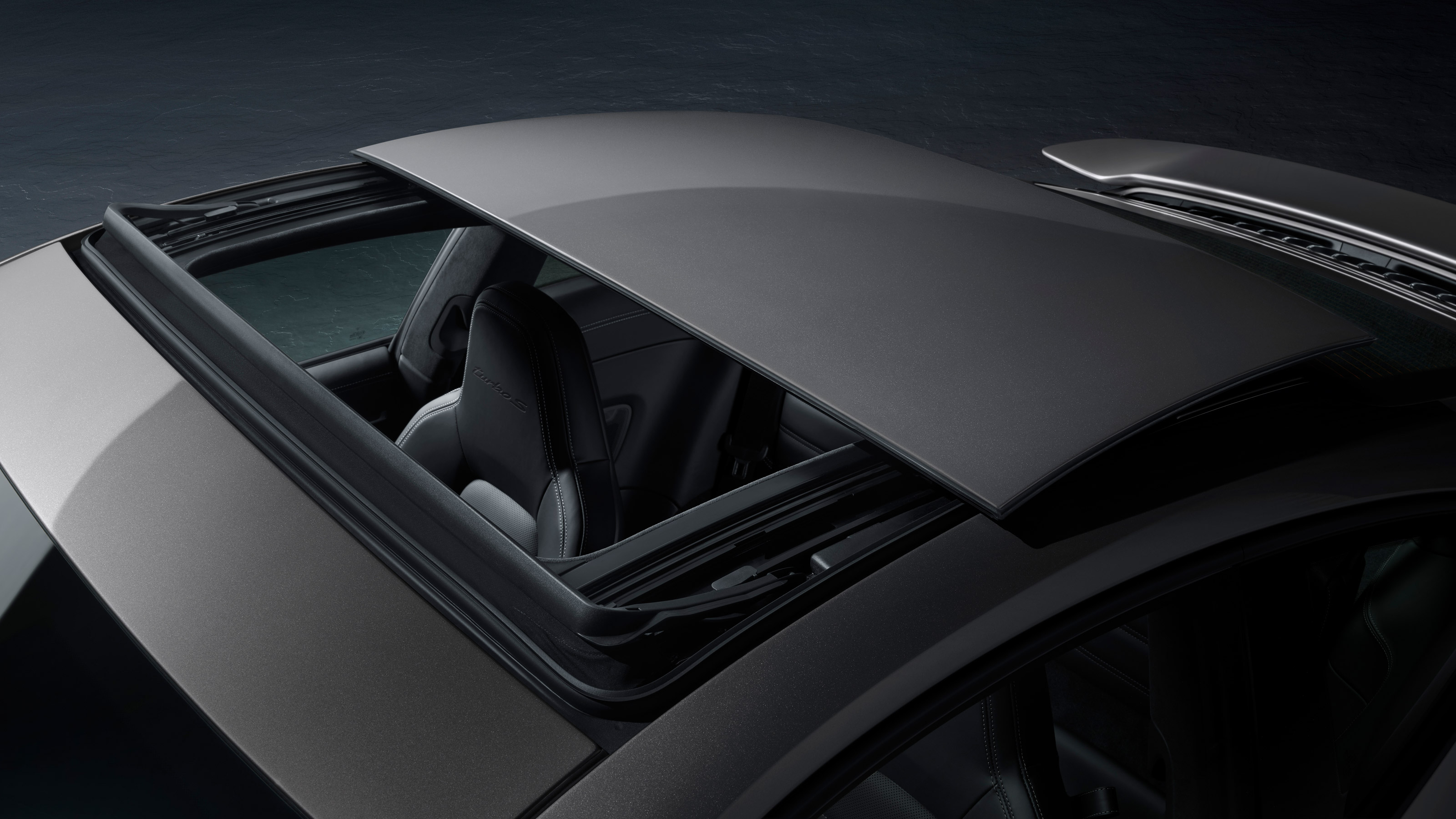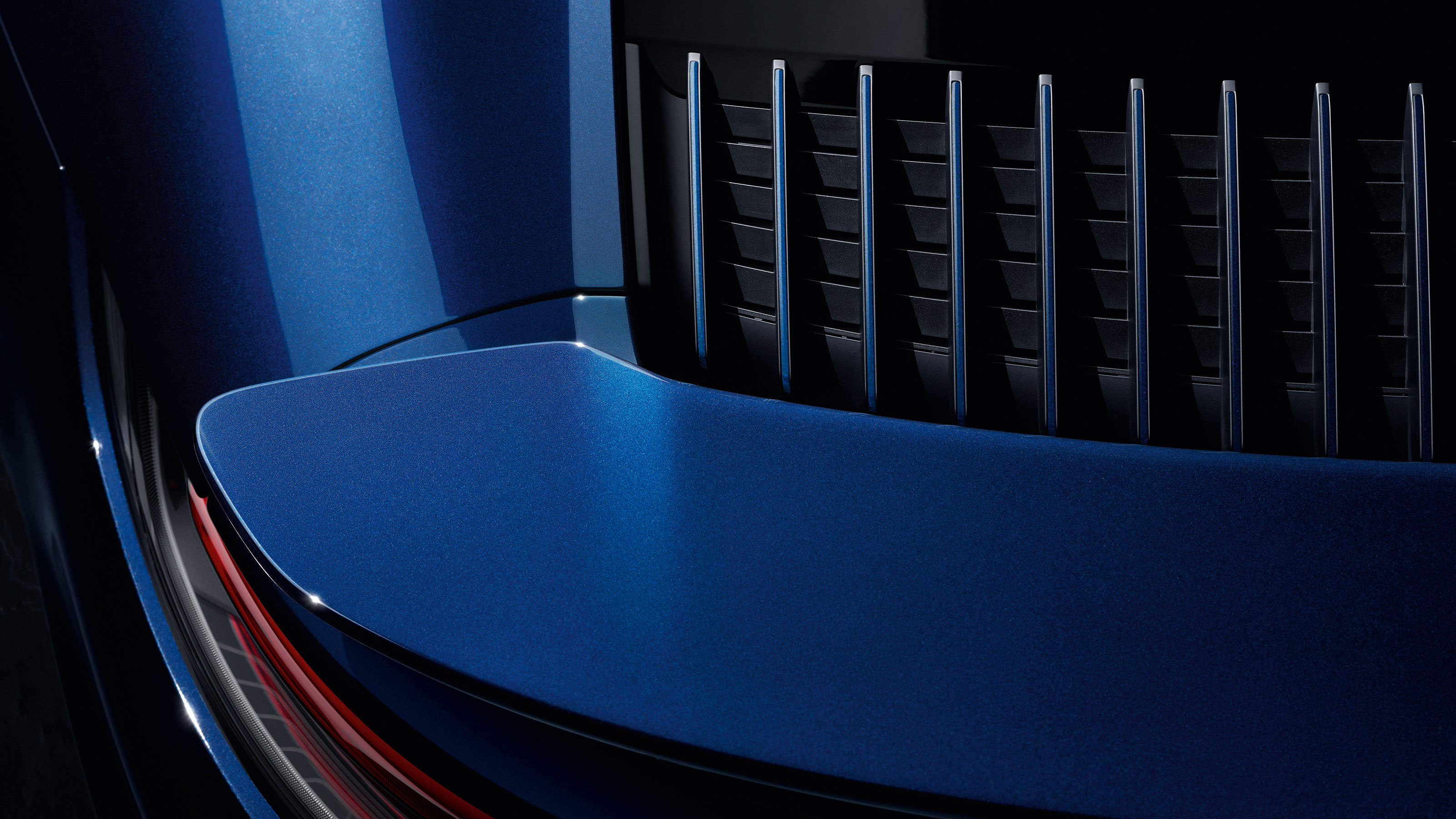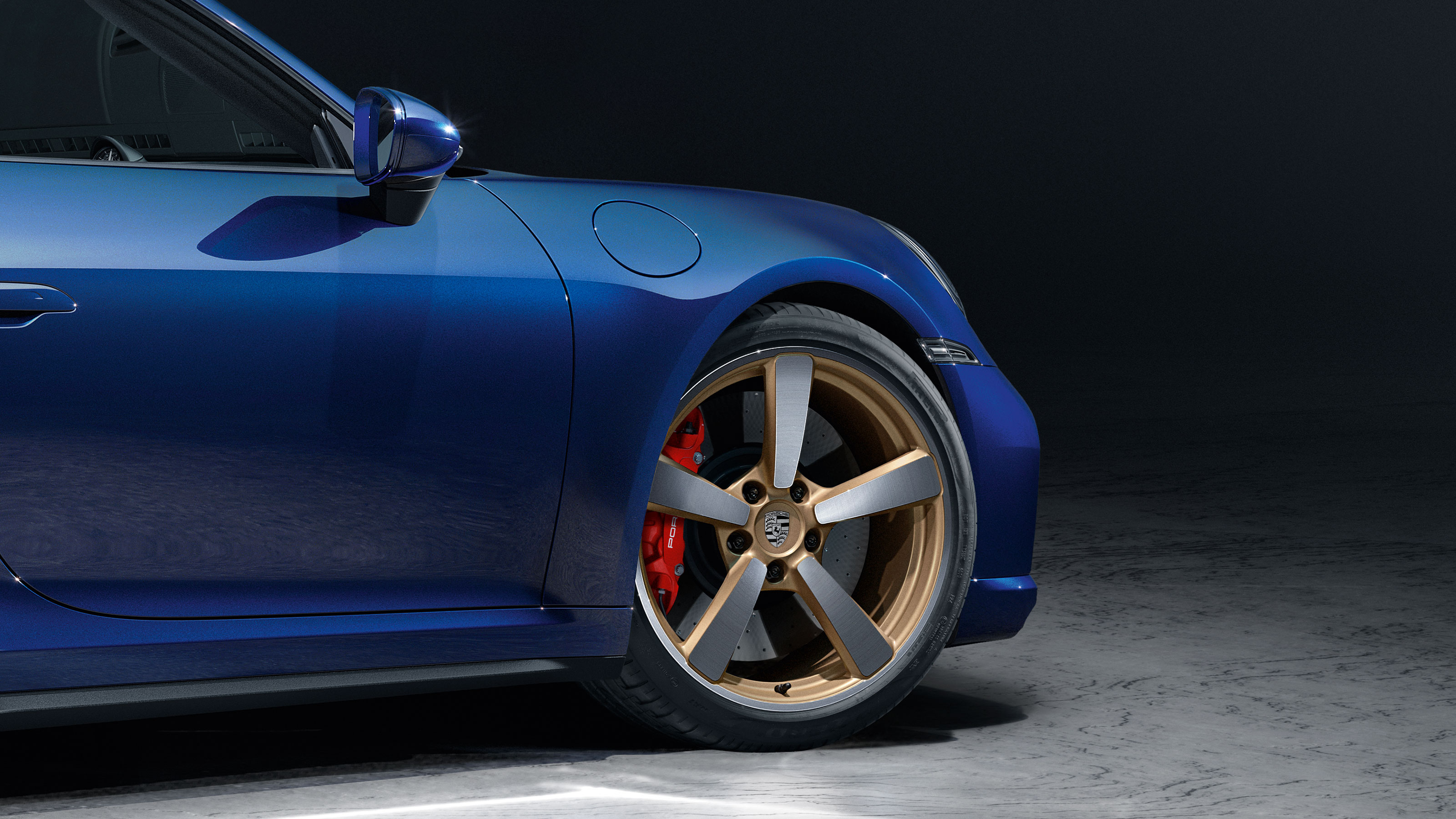 Comfort.
Everything new? Everything the same? Neither. The interior combines what has characterised the 911 Turbo for over 45 years with the possibilities of today.
10.9-inch touchscreen display

Wet mode
GT sports steering wheel.
Tangible motorsport emotion: the GT sports steering wheel is fitted as standard in the 911 Turbo. With a thumb rest and 12 o'clock marking as well as spoke trims with bolt applications, it makes a clear reference to the motorsport DNA.
Light design package.
The optional light design package is both practical and aesthetically appealing. It includes dimmable LEDs in the centre console, around the door handles, door storage compartments, front footwells and rear seats. You have the choice between seven lighting colours.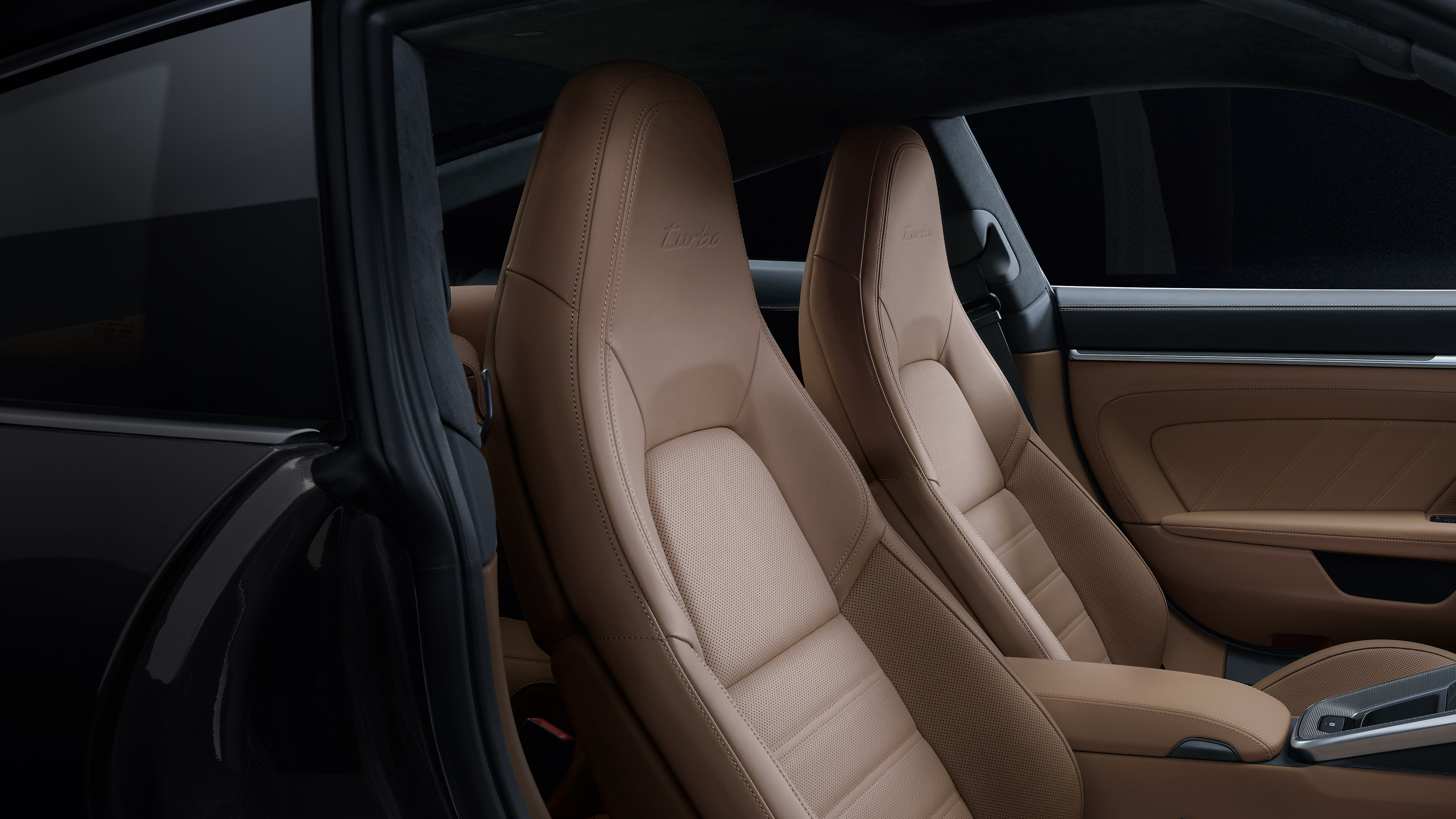 The fully electric Sports seats (14-way) are not only comfortable, but also provide good lateral support. Seat height and backrest adjustment can be adjusted electrically, as can the fore/aft position, the lumbar support and the seat squab angle and depth. A comprehensive memory function is also included. The headrests are embossed with the 'turbo' or 'turbo S' logo. The seat backrests have quilted seat centres and backrests in leather.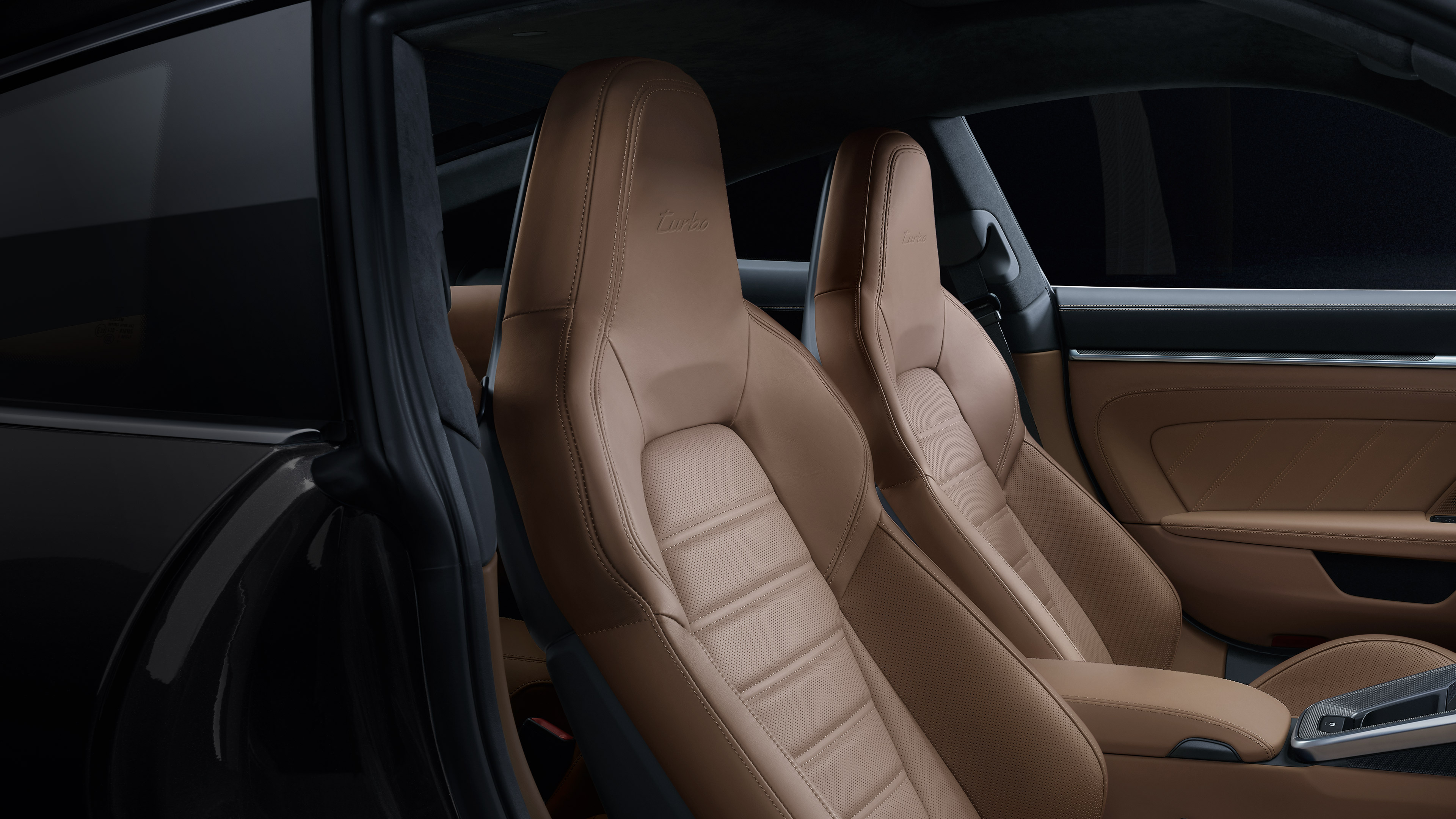 The adaptive Sports seats Plus (18-way) are standard in the 911 Turbo S models. They offer even better lateral support with the firm sporty padding of the side bolsters and additional shoulder support. Also included is a memory function for all seat positions (apart from the side bolsters) on the driver's side. The headrests are embossed with the 'turbo' or 'turbo S' logo.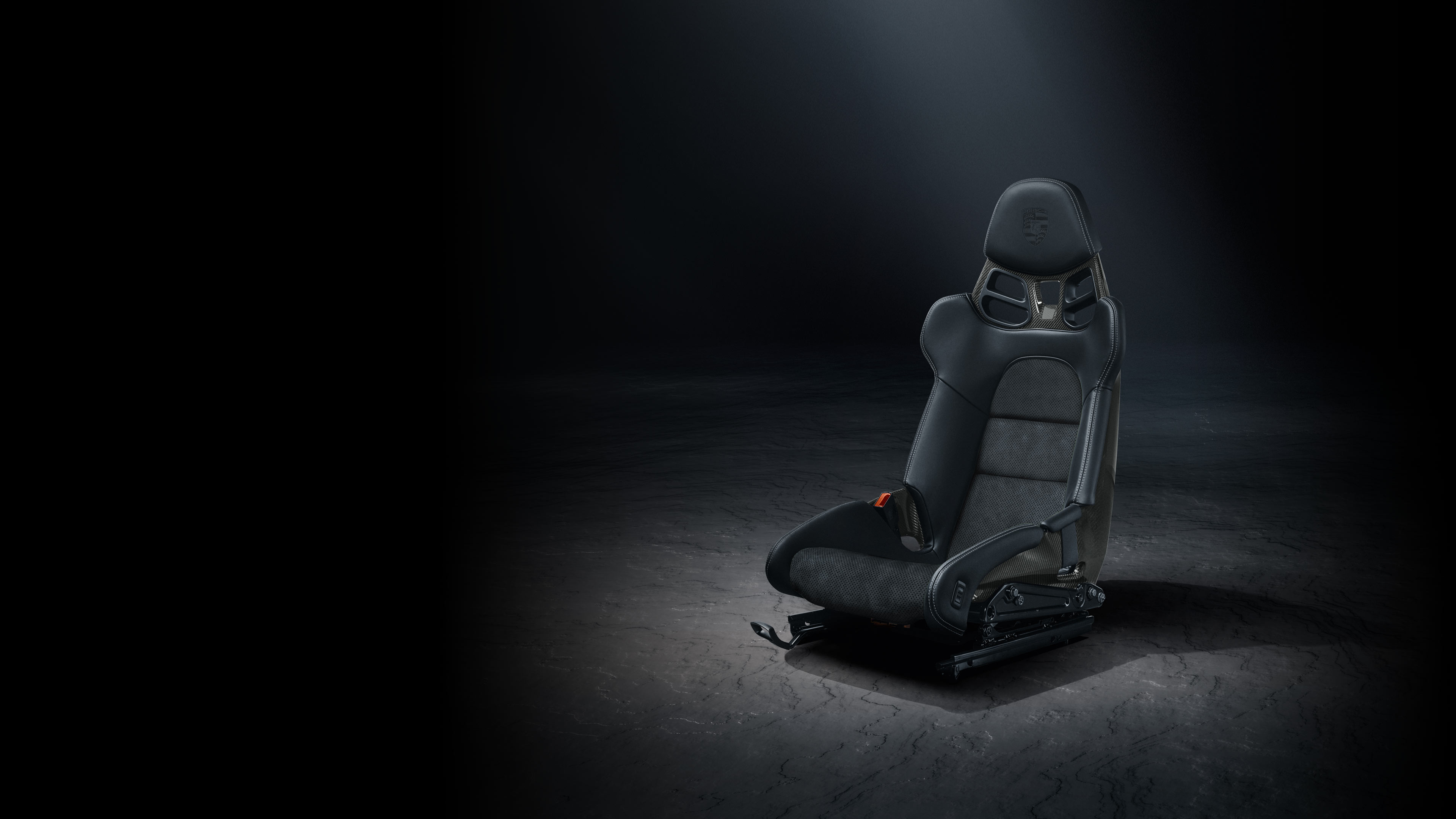 The optionally available full bucket seats are made completely of carbon-fibre reinforced plastic (CFRP) with a carbon-weave finish. They offer particularly good lateral support at minimal weight. The fore/aft adjustment is manual, the height adjustment is electric. The seat is covered in black leather – the seat centre in perforated Race-Tex. For the perfect finish: the embossed Porsche Crest can be found on the headrests.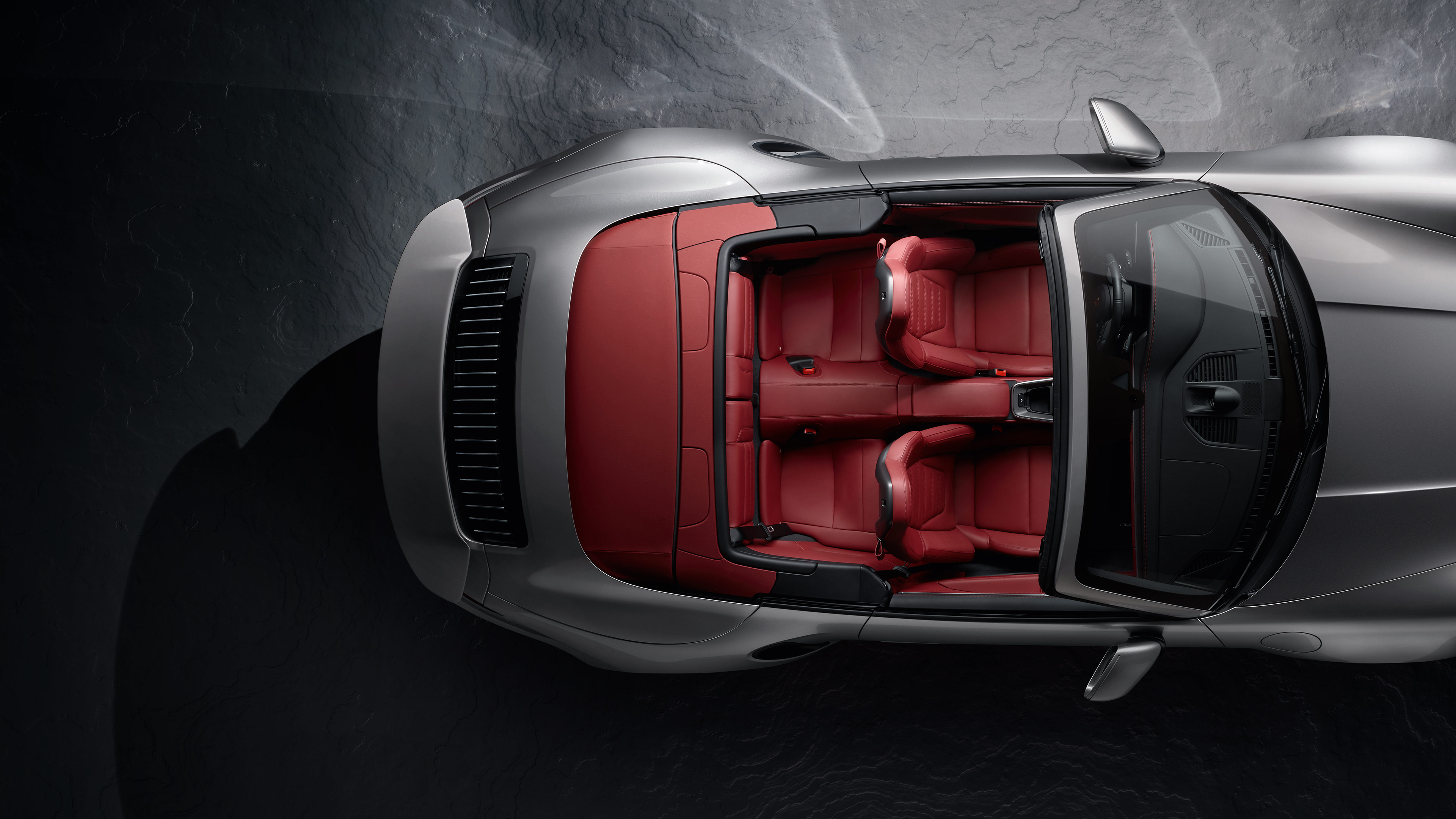 Rear seats.
Remarkably comfortable for a sports car: the rear seats. As with the front seats, the centre panels of the seat backrests are quilted. The shelf behind these provides additional storage. Thanks to the folding backrests, the 911 Turbo Coupé models have ample space in the rear for luggage. With 163 litres in the 911 Turbo Cabriolet models.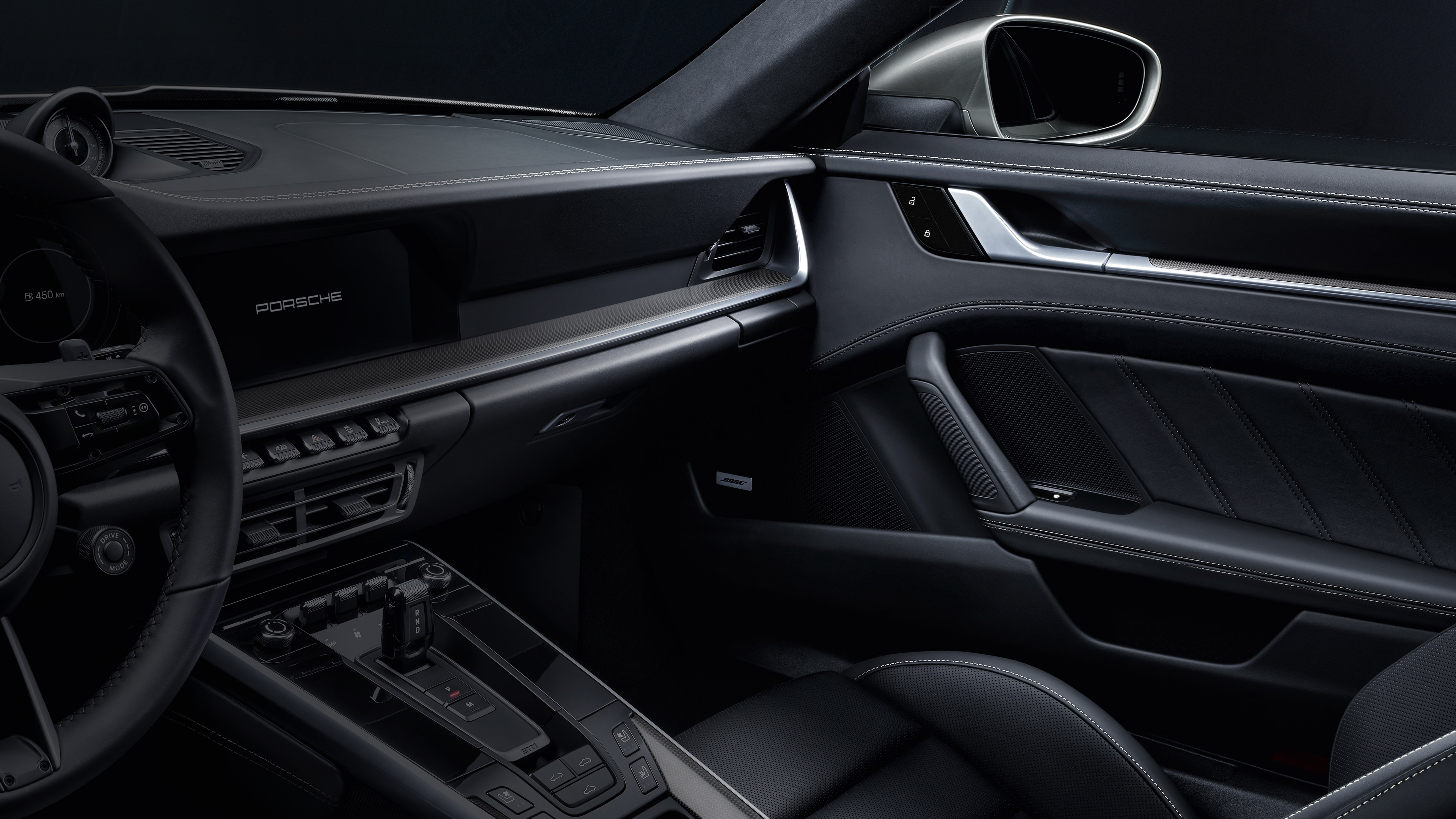 BOSE® Surround Sound System.
The standard BOSE® Surround Sound System is optimally tuned to the specific interior acoustics of the 911 Turbo models. The audio system features 12 loudspeakers and amplifier channels including a patented, 100-watt subwoofer integral to the vehicle bodyshell. The fully active system design transforms the 911 Turbo into a concert hall.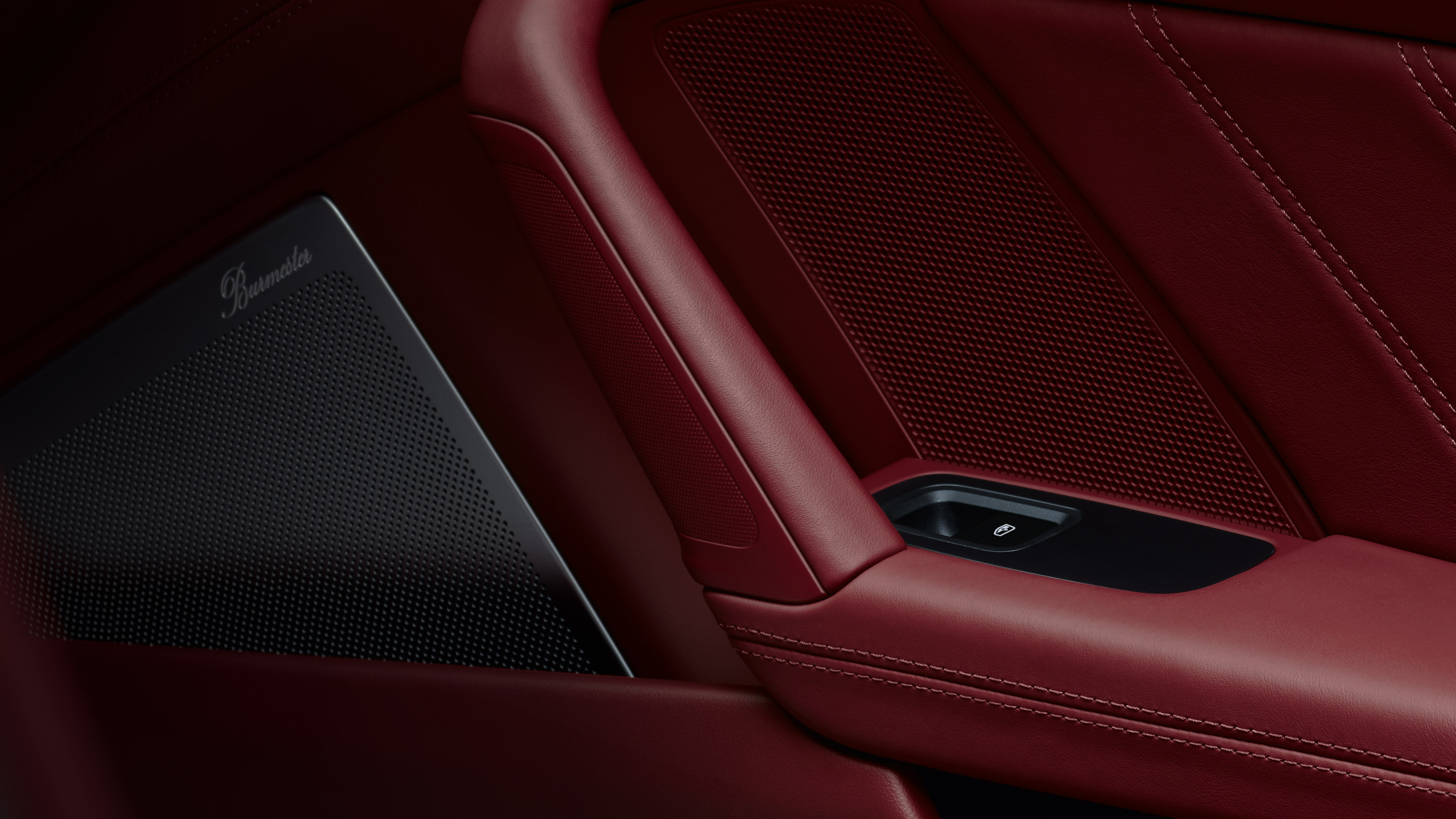 Burmester® High-End Surround Sound System.
Together with Burmester® – one of the world's most significant manufacturers of premium quality audio devices – we've created the optionally available Burmester® High-End Surround Sound System. The result: a sound performance of the highest level, individually matched to your 911 Turbo using numerous measurement and audio sessions.
Simply sit back and enjoy the ride? Yes, but only to get ahead.
The latest generation of Porsche Communication Management (PCM) is the control centre for audio, navigation and communication, as well as a variety of assistance systems. The new display and control concept on the 10.9-inch central display impresses with its clear design and presentation. In addition, the home screen can be individually configured for quick and easy access to the functions that are most important to you.
The navigation module¹ features a clear interface – and innovative functions such as route monitor, which displays and summarises all the details of the route and any congestion in a concise timeline. Another new feature: menu 'notifications'. Incoming messages from connected devices or the vehicle can be viewed here.

¹Not available in some markets. Please contact your local Porsche Center.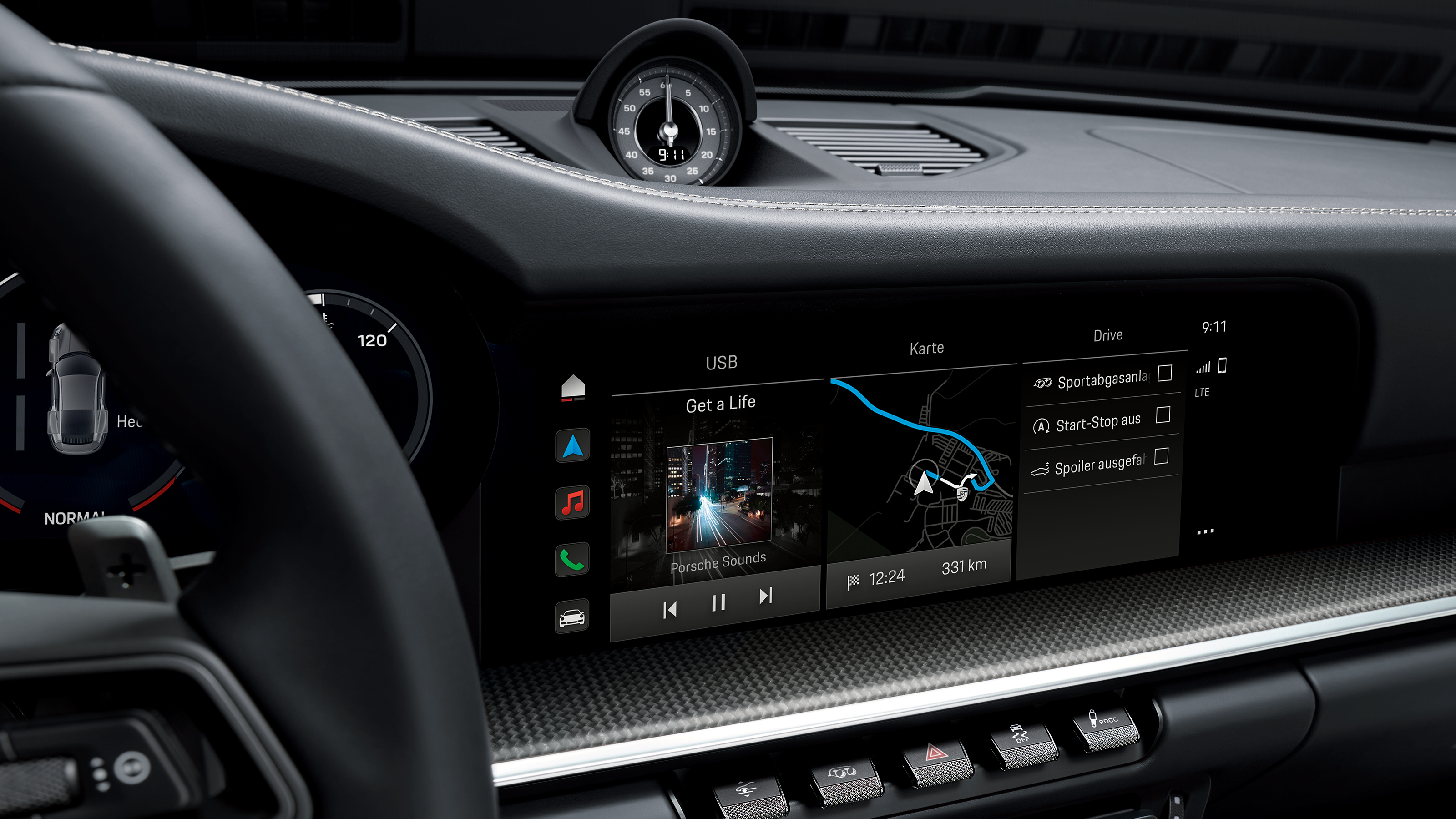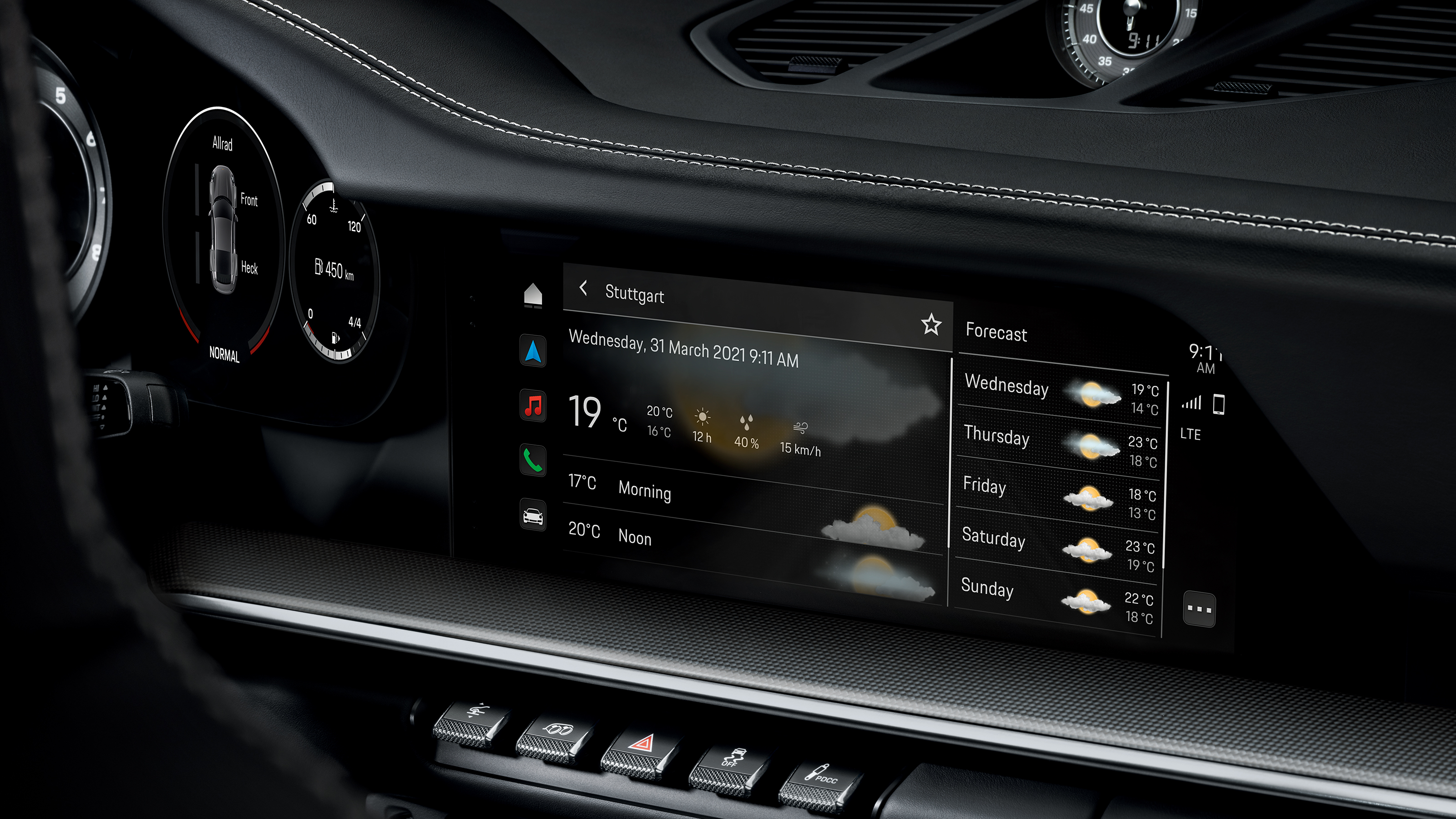 Voice control has been further developed and can now be operated in your 911 Turbo using natural speech. Voice control can be enabled by the "Hey Porsche" prompt, for example. In addition, multi-modal interaction is possible, for example, simply tap the map in the central display and say: "take me there".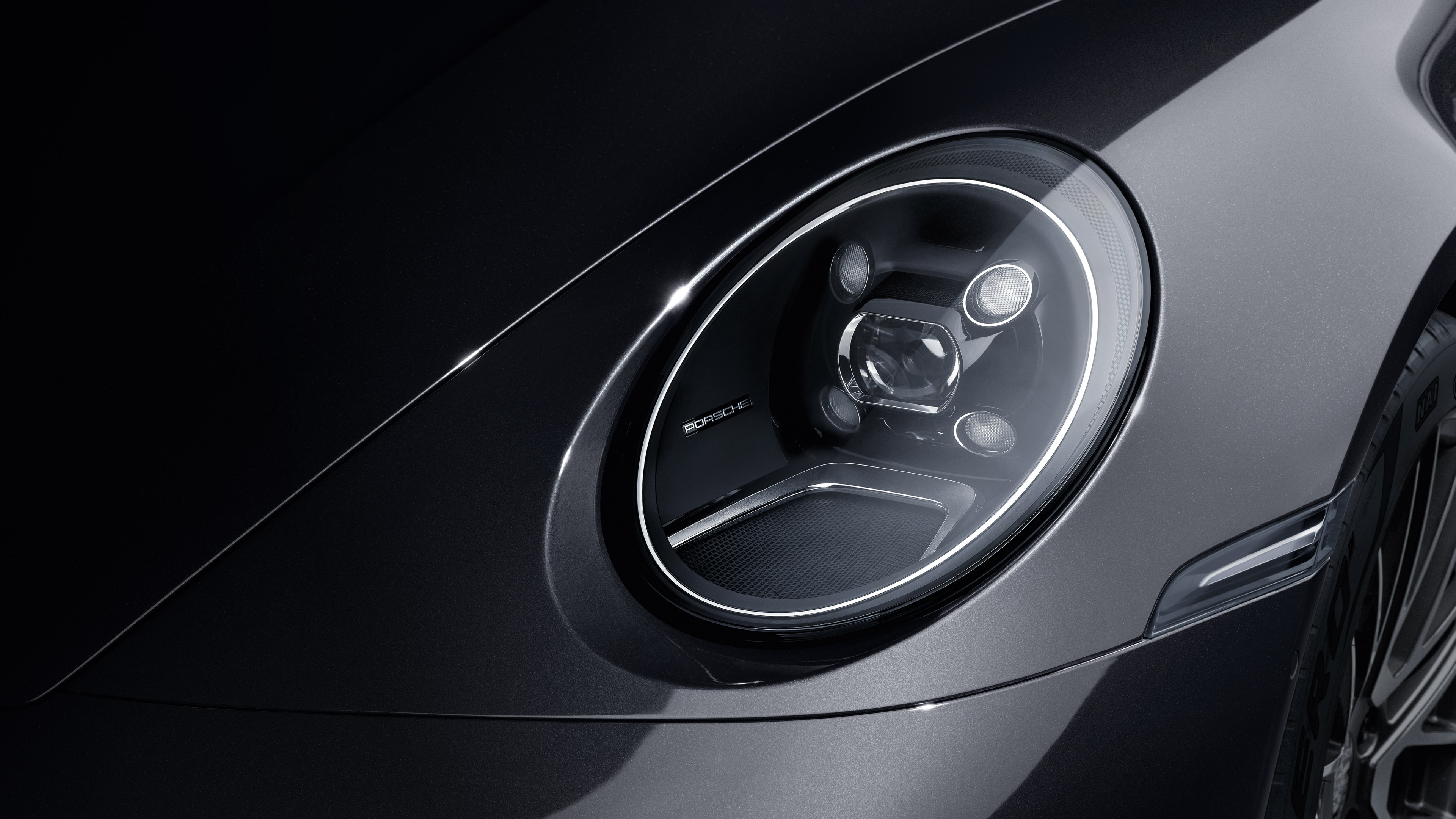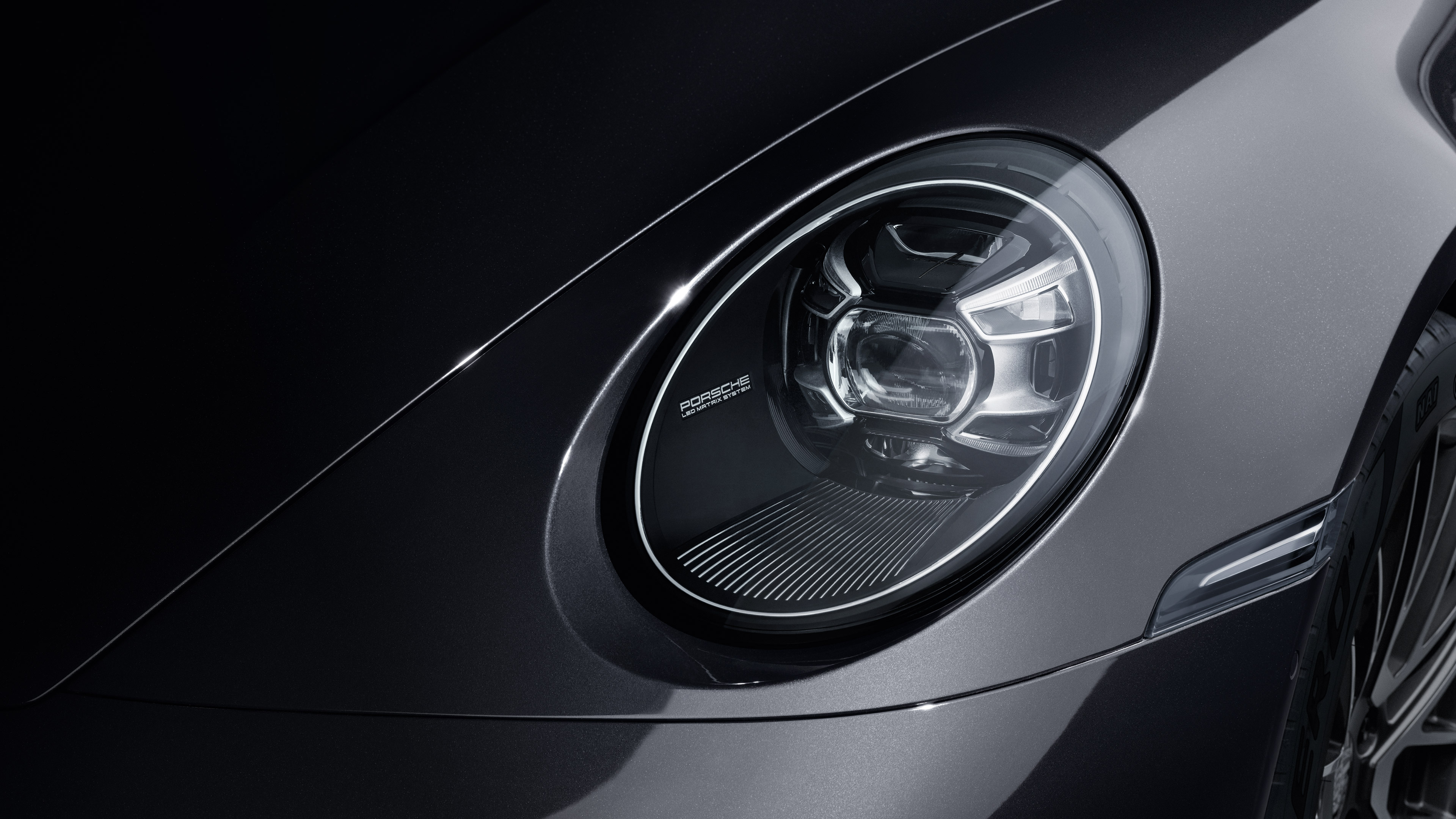 Light systems.
LED main headlights with Porsche Dynamic Light System Plus (PDLS Plus).
In the 911 Turbo, the LED main headlights with Porsche Dynamic Light System Plus (PDLS Plus) point the way. They are fitted with Main Beam Assist, dynamic cornering lights and speedsensitive headlight range control. For enhanced near-field, lateral and far-field illumination – and added safety.
LED main headlights with matrix beam including Porsche Dynamic Light System Plus (PDLS Plus).
The main headlight with matrix beam strategically deactivates specific segments of the permanent main-beam cone. 84 individually controlled LEDs can be adjusted to the situation by switching off or dimming accordingly. Vehicles in front of you or on the opposite side of the road are dimmed, while the areas in between and next to them are still fully illuminated.
Assistance systems.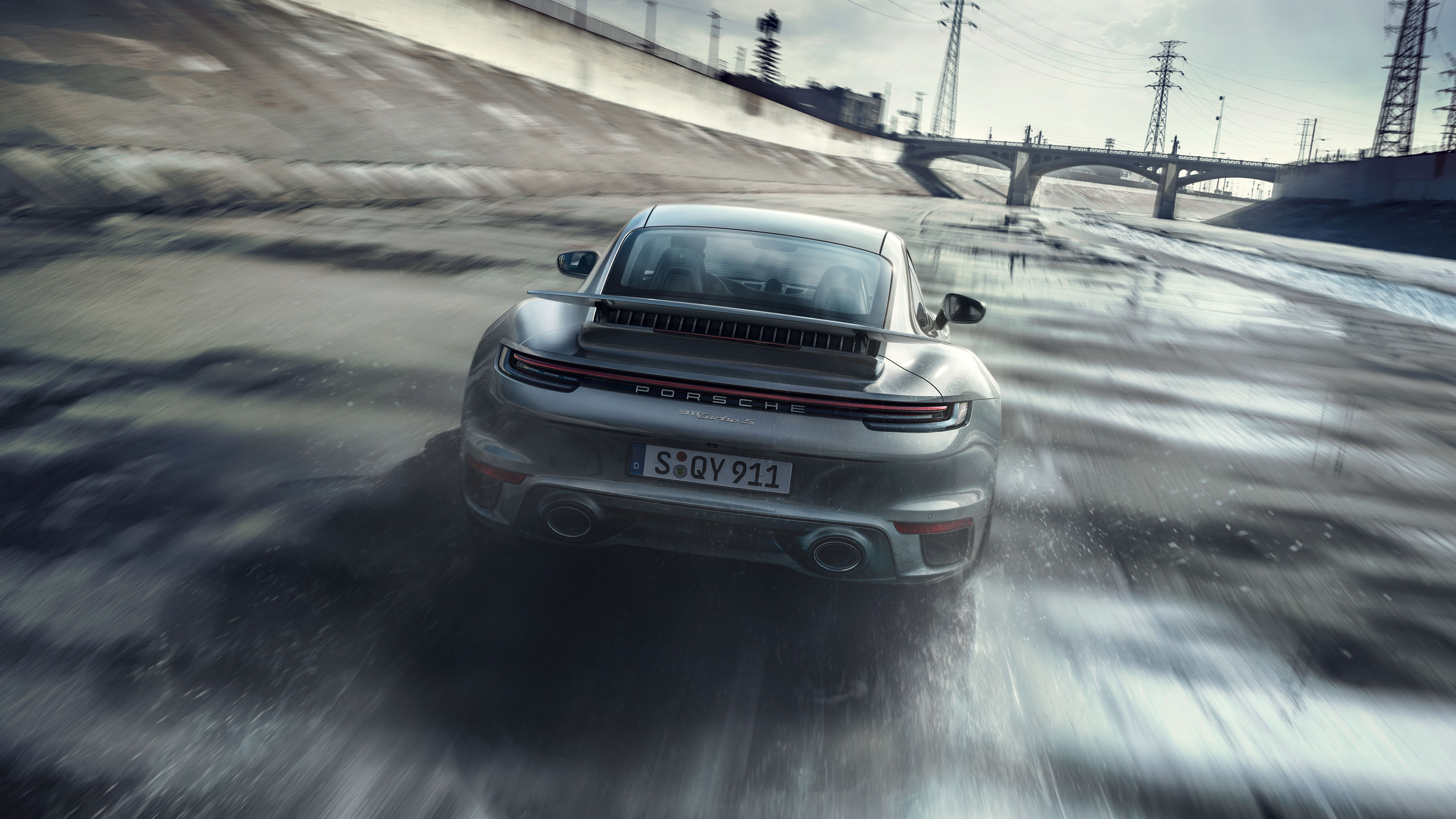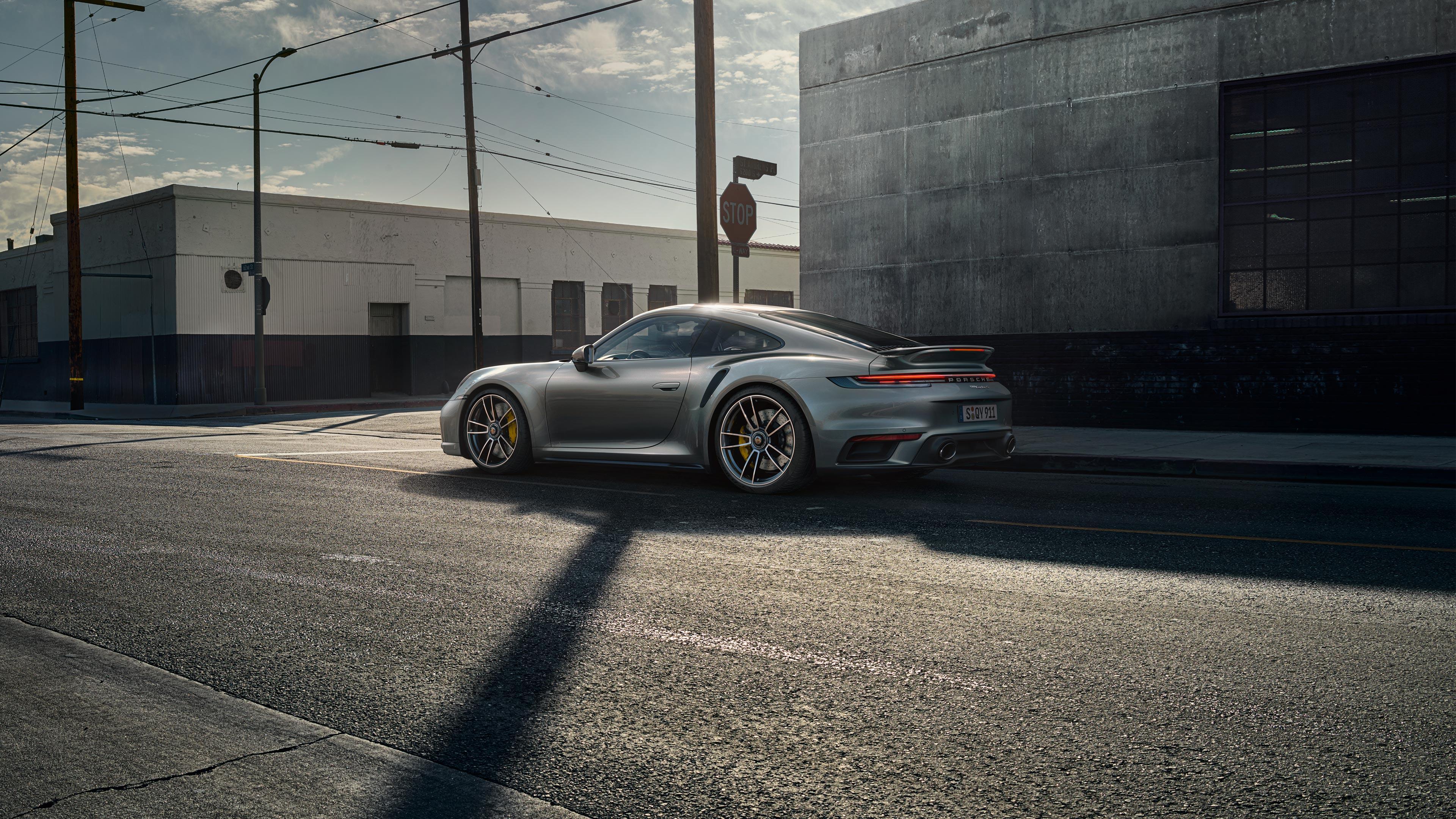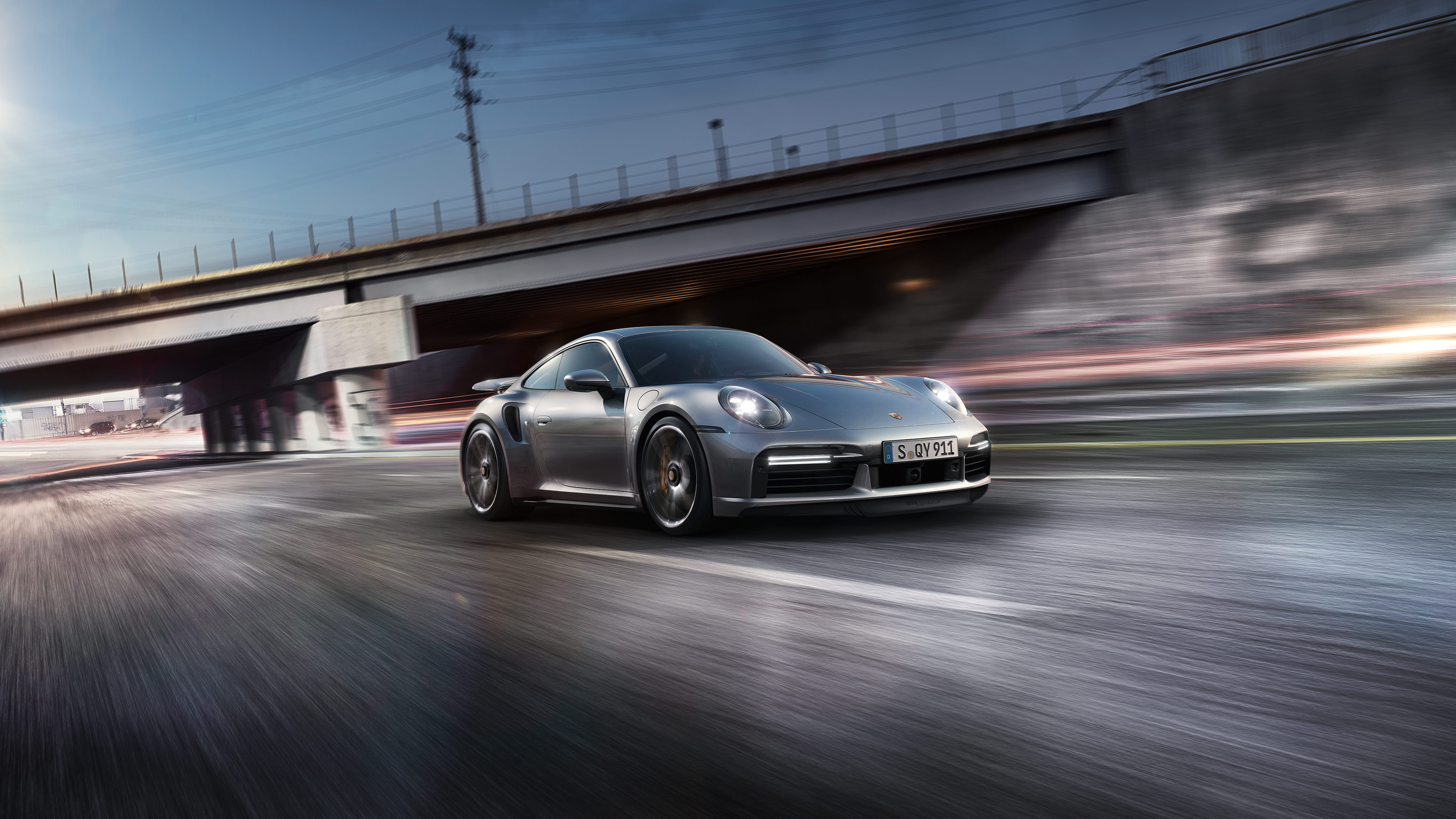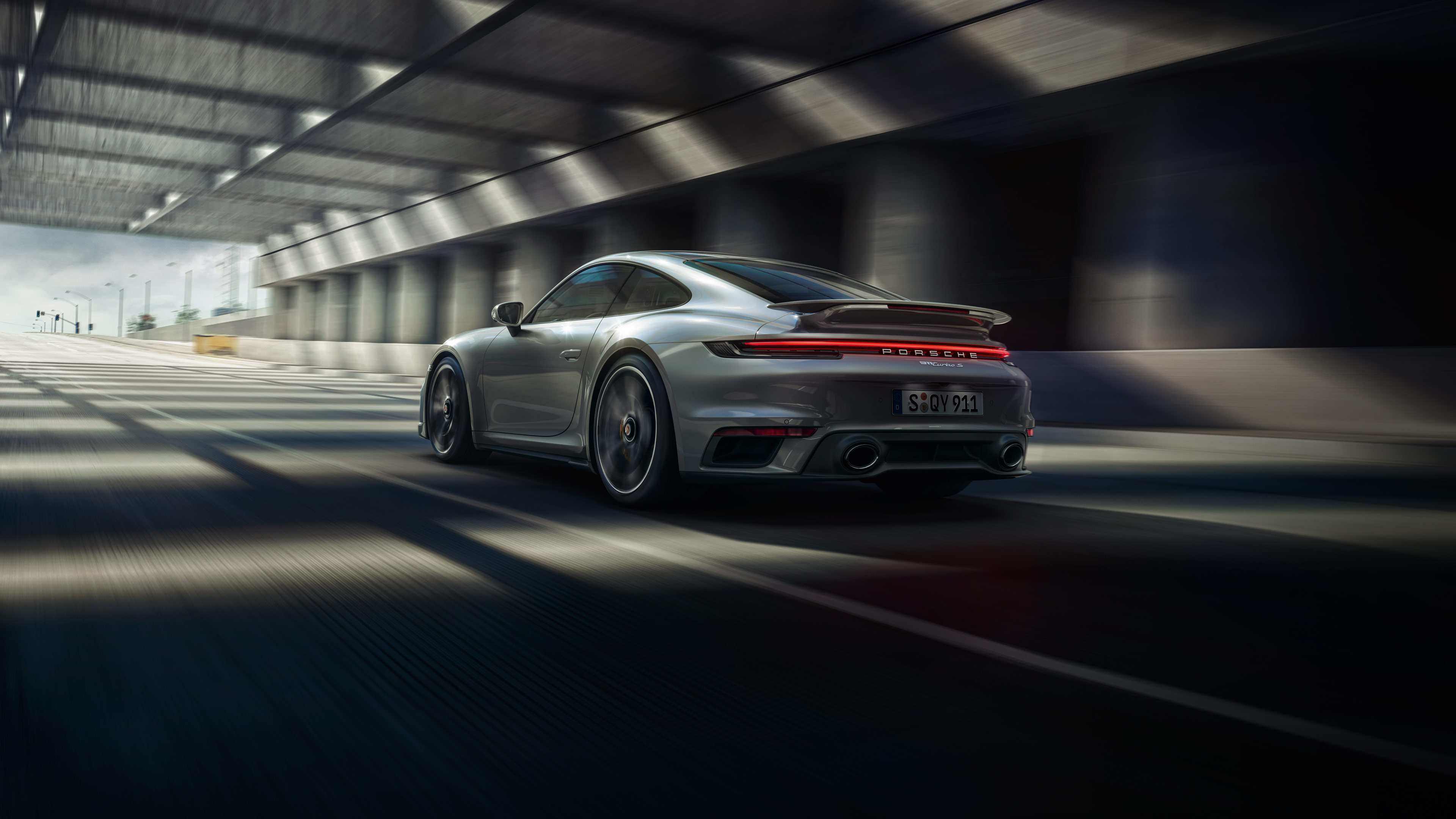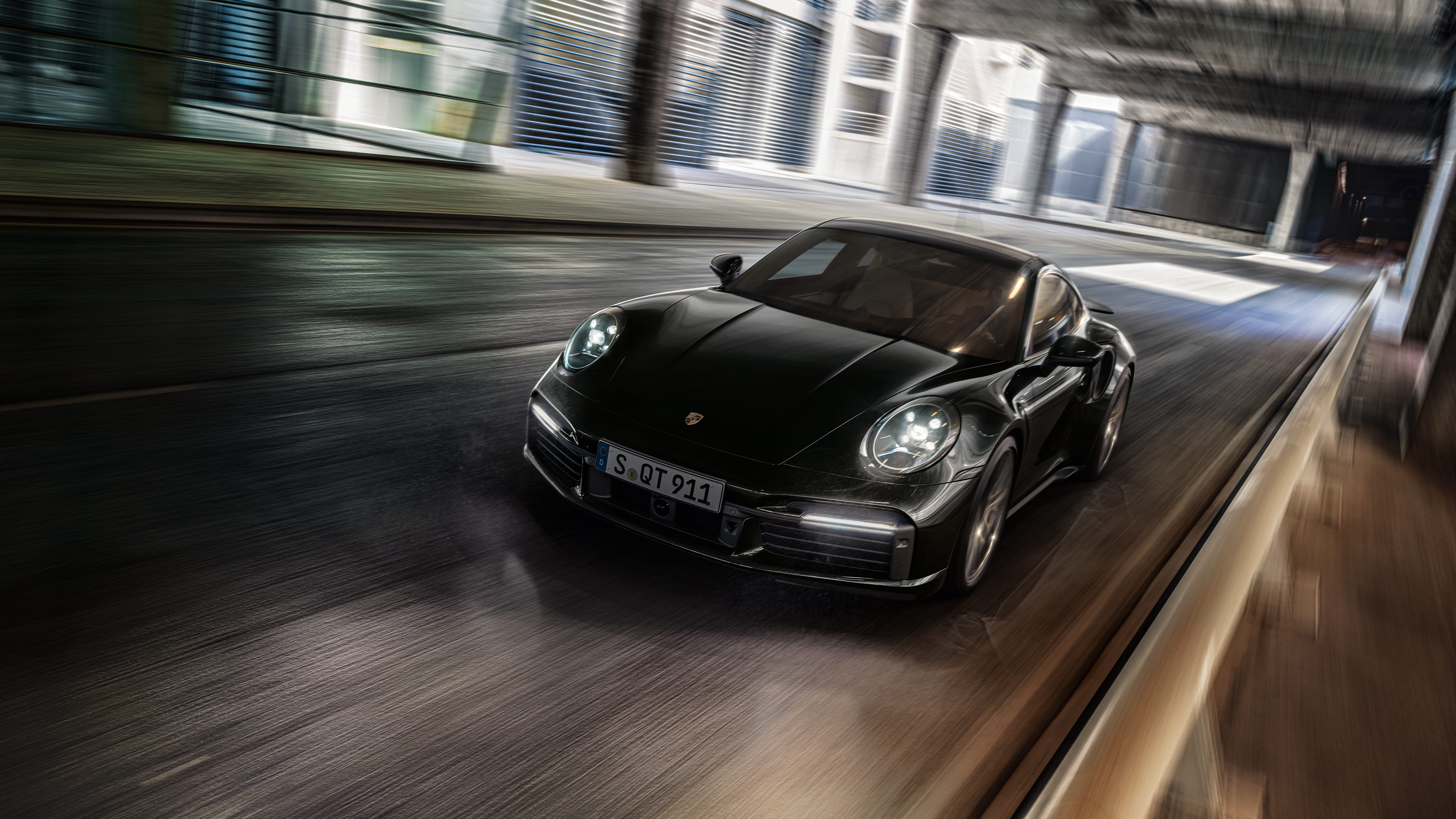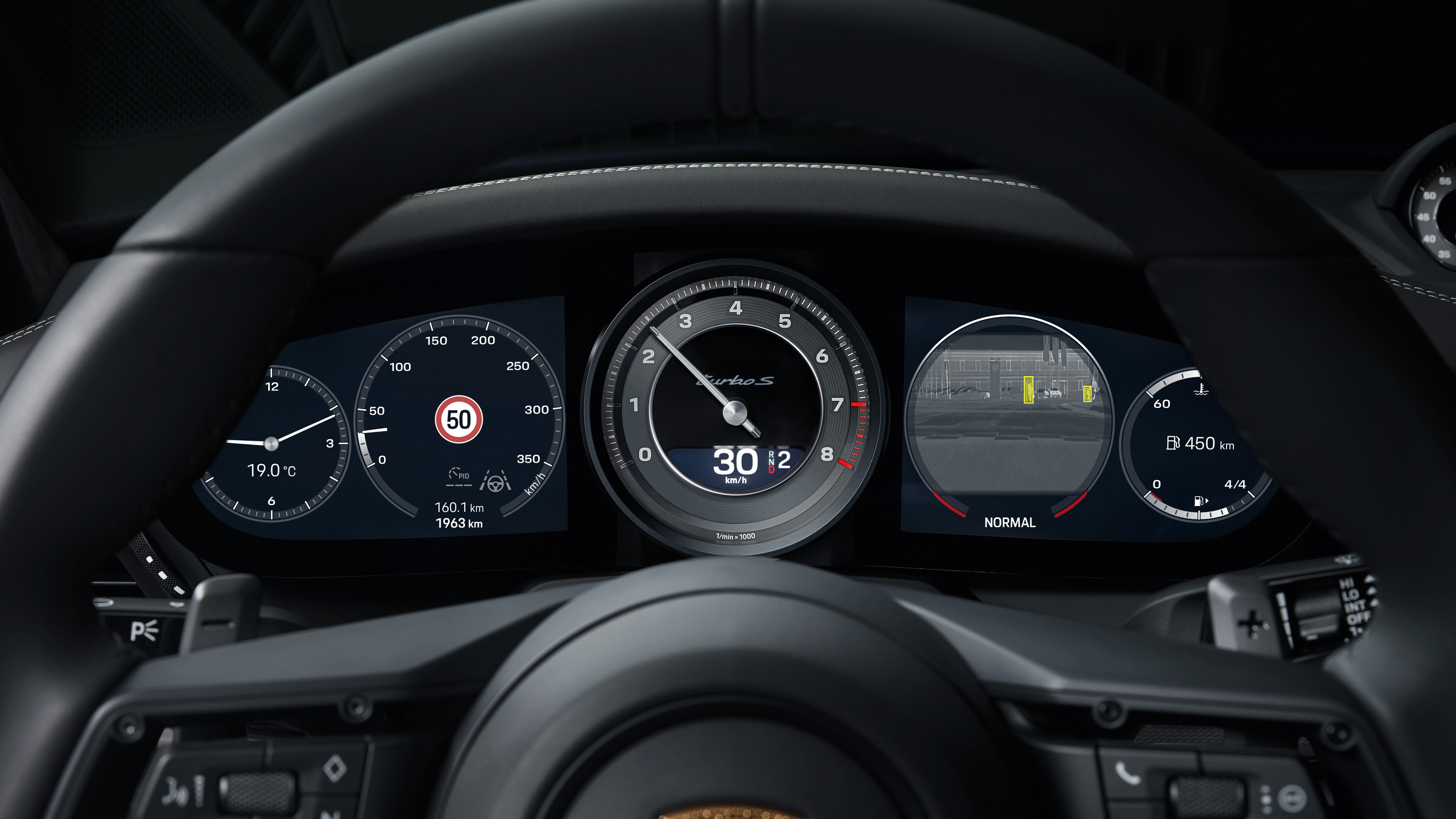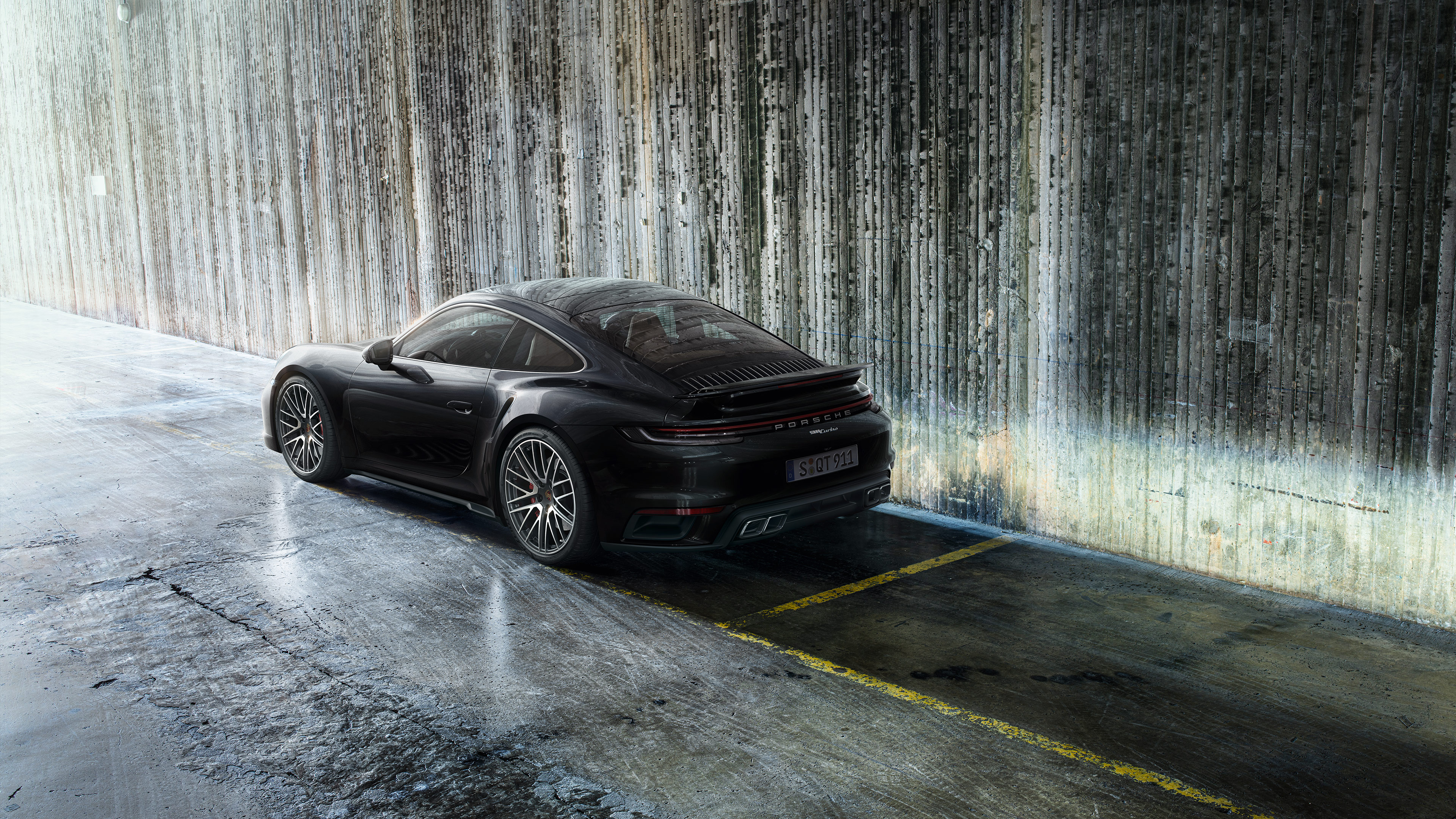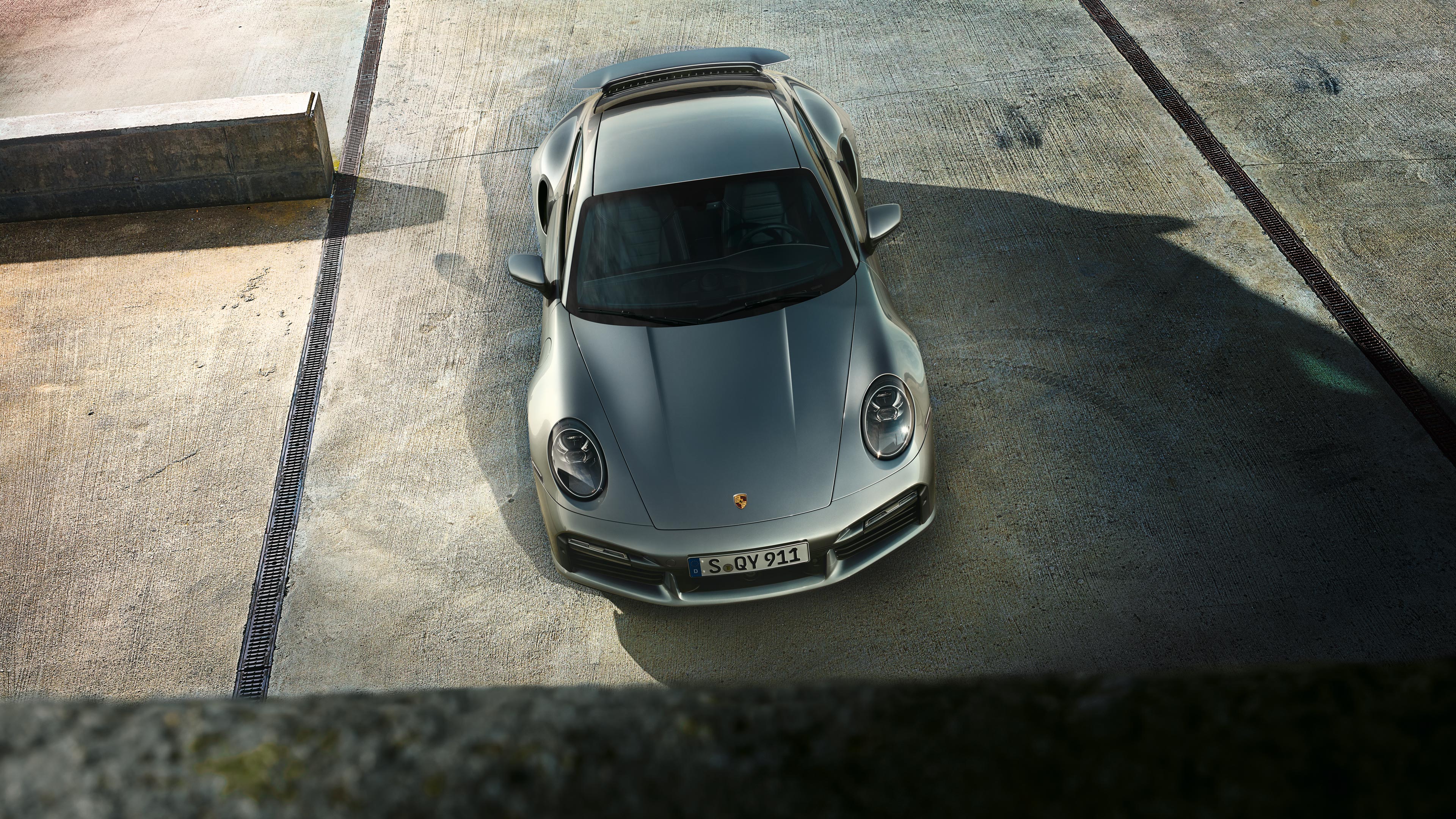 Porsche Wet mode.¹
Using sensors in the front wheel housing, the system detects swirled-up water spray, thereby assessing wet road surfaces. If it detects a noticeably wet road surface, the response behaviour of PSM and PTM is prepared accordingly. The system informs the driver of detected wetness and recommends that they switch manually to Wet mode. If the driver activates this, PSM, PTM, aerodynamics, PTV Plus and the responsiveness of the drivetrain are adjusted.
¹The Porsche Wet mode is not a substitute for adopting an appropriate driving manner in different road and weather conditions, and is, at the most, an aid for the driver.
Collision and Brake Assist.
The standard Collision and Brake Assist can reduce the risk of collisions with vehicles, pedestrians and cyclists within the limits of the system. In the first stage, the system uses the front camera to alert the driver both audibly and visually when it detects vehicles, pedestrians or cyclists in the collision area.
Automatic distance control.
Where system limitations allow, the system regulates the speed of your 911 Turbo fully independently in line with the speed of the vehicle in front. A radar sensor in the front apron monitors the area in front of your vehicle. If you have selected a cruising speed and begin to approach another vehicle that is travelling in the same lane as you and which is driving more slowly, the system slows the engine or gently applies the brakes.
Lane Keeping Assist including traffic sign recognition.
Lane Keeping Assist uses a camera to detect the divider line markings where system limitations allow. The system supports the driver with steering assistance when the vehicle approaches a detected divider line marking and threatens to leave the lane, thus helping to keep the car on track. Integrated traffic sign recognition uses camera images and navigation data to detect speed limits, 'no overtaking' zones and indirect information, such as boundary signs, and displays these in the instrument cluster.
Not available in some markets. Please contact your local Porsche Center.
Lane Change Assist with Turn Assist.
Within system limits, Lane Change Assist uses radar-based technology to monitor the area behind your 911 Turbo and blind spots. If the system detects a vehicle approaching quickly from behind or one that is in the blind spot, and changing lanes would be too dangerous, it informs the driver with a visual signal in the exterior mirrors. For greater comfort and safety, especially on the motorway. Turn Assist provides support during low-speed turns. Once you've arrived at a junction, Turn Assist issues a visual warning if it detects objects in your blind spots.
Not available in some markets. Please contact your local Porsche Center.
Night Vision Assist.
Night Vision Assist provides you with information when driving at night, even beyond the range of the headlights within the system limits. An infrared camera detects pedestrians or large wildlife before they are illuminated. A thermal image in the instrument cluster warns you: the detected person or animal is highlighted in yellow – or in red and is accompanied by an audible signal if within the critical range in front of the vehicle. At the same time, the stopping distance control is activated.
ParkAssist (front and rear) including reversing camera.
The standard reversing camera facilitates precise reverse parking and manoeuvring. Help is provided in the form of the camera image and dynamic guidelines on the PCM screen, which illustrate the predicted course of the vehicle given the current position of the steering wheel.
Surround View.
Surround View supplements the reversing camera with three more high-resolution cameras in the front apron and exterior mirror lower trims. Based on the information supplied by all four cameras, the system generates a virtual bird's eye view of the car and displays this on the PCM screen. It is also possible to switch between various camera views to improve visibility, e.g. at narrow exits.
Next chapter
Models & Data
Select and configure 911 Turbo models.
Selected
911 Turbo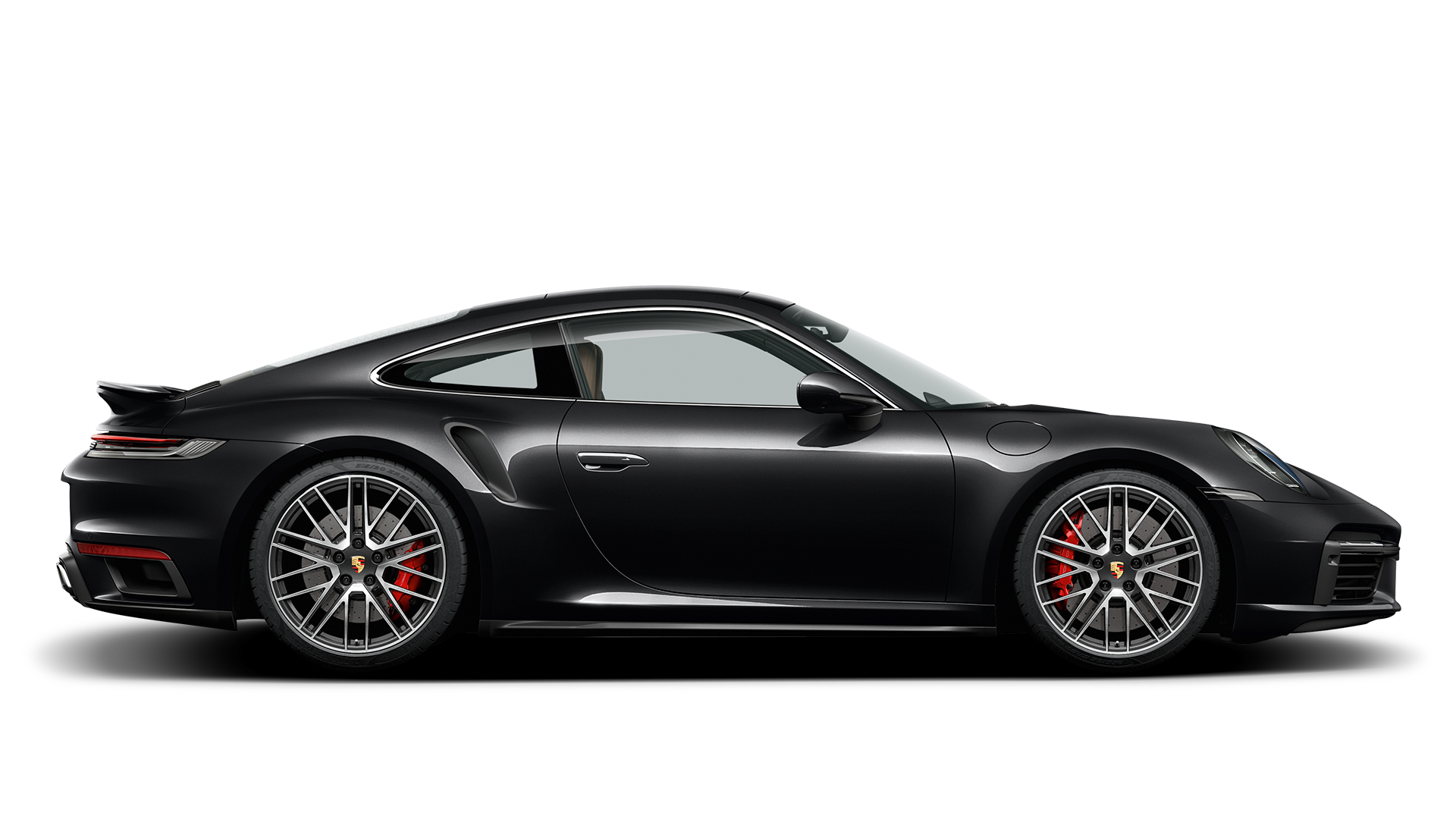 USD 677.000
2,8 s
Aceleración 0 - 100 km/h con Paquete Sport Chrono
Selected
911 Turbo Cabriolet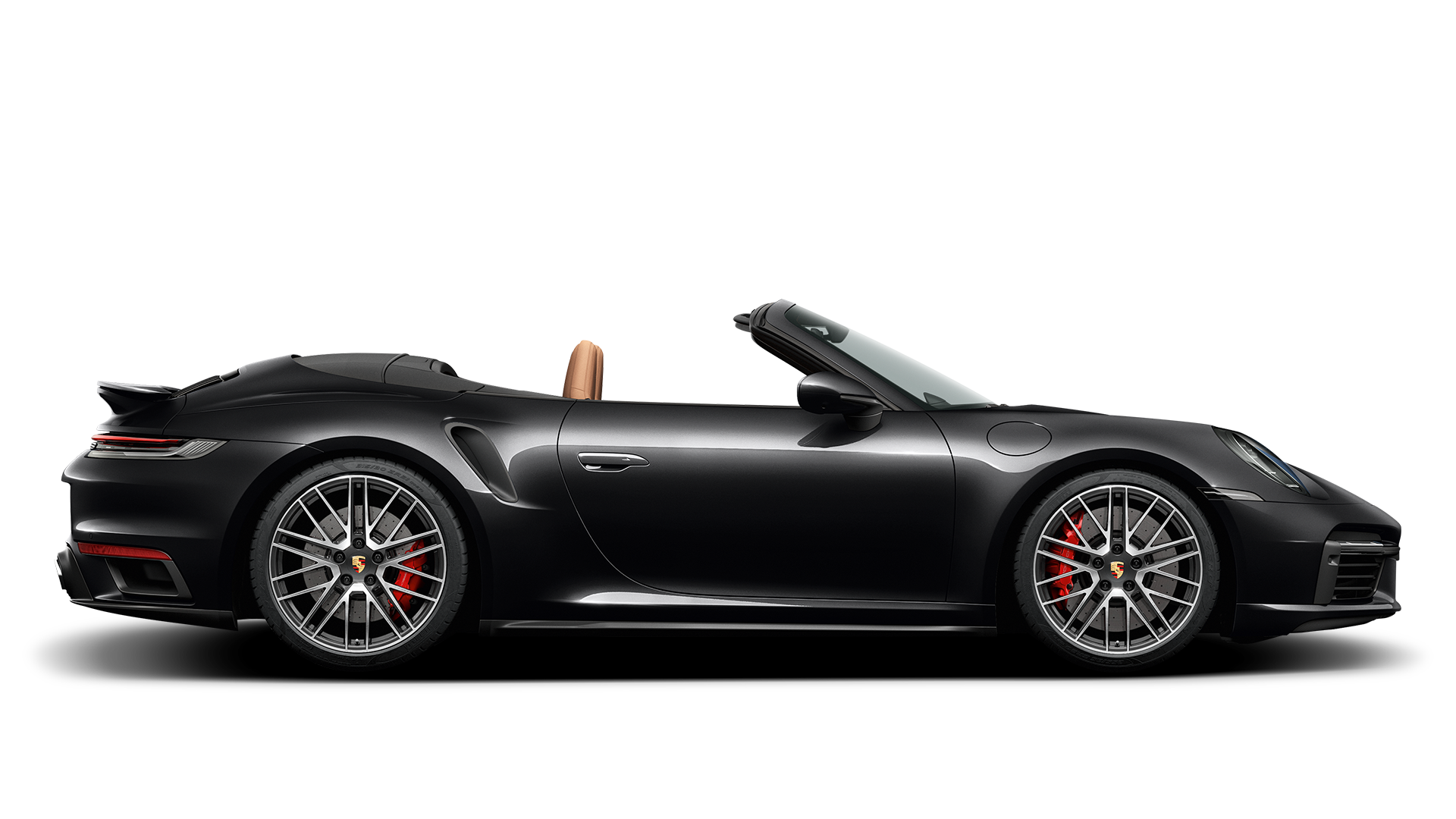 USD 725.000
2,9 s
Aceleración 0 - 100 km/h con Paquete Sport Chrono
Selected
911 Turbo S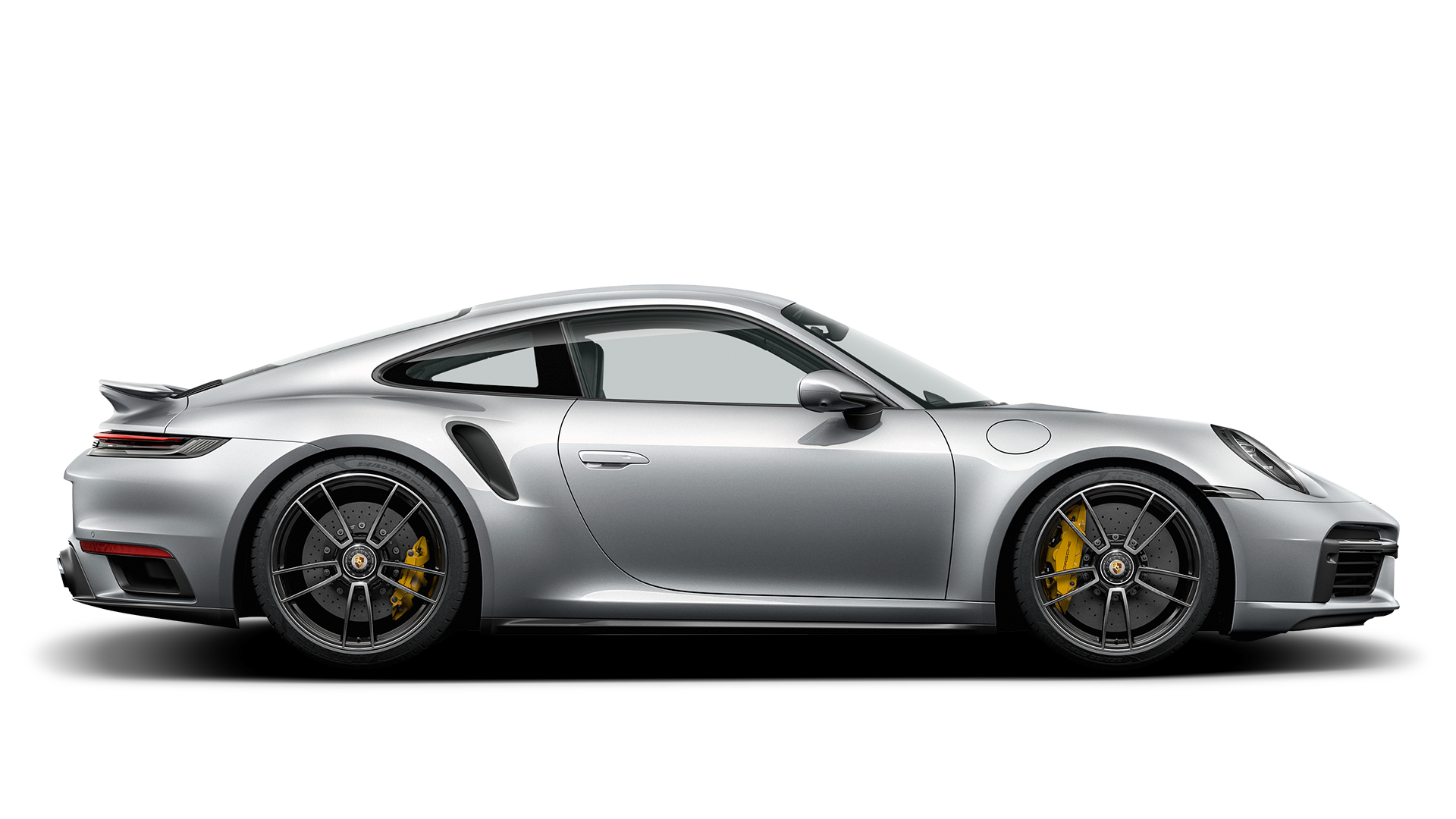 USD 787.500
Selected
911 Turbo S Cabriolet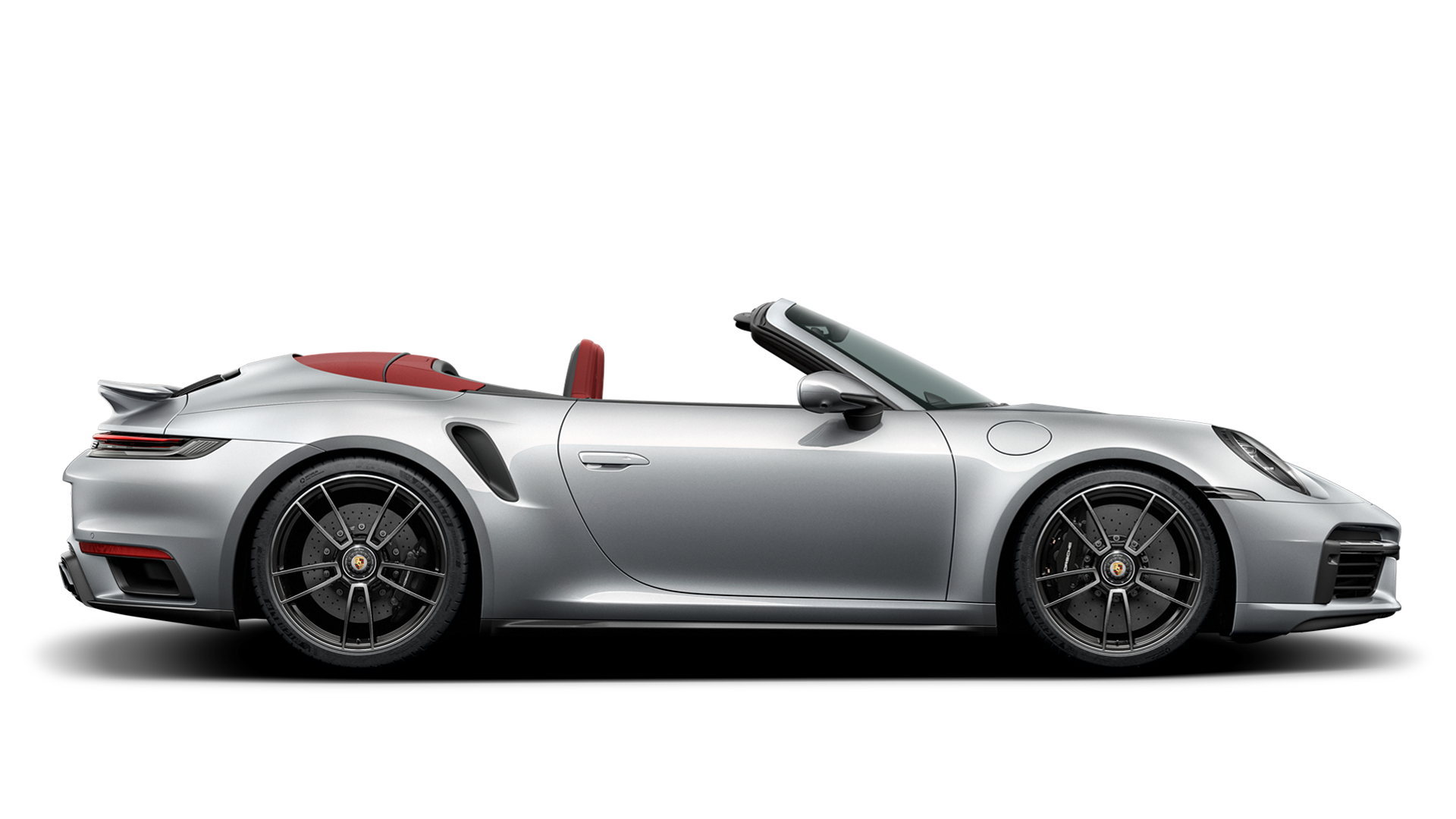 USD 835.000
2,8 s
Aceleración 0 - 100 km/h con Paquete Sport Chrono
911 Turbo S Cabriolet
2,8 s
Aceleración 0 - 100 km/h con Paquete Sport Chrono
330 km/h
Velocidad máxima
Distancia entre ejes
2.450 mm
Technical Specs
| | |
| --- | --- |
| Numero de cilindros | 6 |
| Calibre | 102,0 mm |
| Carrera | 76,4 mm |
| Cilindrada | 3.745 cm³ |
| Potencia (PS) | 650 PS |
| Potencia máxima del punto RPM | 6.750 1/min |
| Velocidad máxima del motor | 7.200 1/min |
| Max. torque | 800 Nm |
| Punto minimo de torque RPM | 2.500 - 4.000 1/min |
| Máx. producción por litro (kW/l) | 128,00 kW/l |
| Máx. producción por litro (PS/l) | 174,00 PS/l |
| | |
| --- | --- |
| Velocidad máxima | 330 km/h |
| Aceleración 0 - 100 km/h con Paquete Sport Chrono | 2,8 s |
| Aceleración 0 - 160 km/h con Paquete Sport Chrono | 6,0 s |
| Aceleración 0 - 200 km/h con Paquete Sport Chrono | 9,3 s |
| 1/4 de milla con paquete Sport Chrono | 10,6 s |
| | |
| --- | --- |
| Longitud | 4.535 mm |
| Ancho | 1.900 mm |
| Ancho (con espejos) | 2.024 mm |
| Altura | 1.301 mm |
| Distancia entre ejes | 2.450 mm |
| Radio de giro | 10,9 m |
| Peso en vacío (DIN) | 1.710 kg |
| Peso bruto admisible | 2.080 kg |
| Carga máxima | 370 kg |
| | |
| --- | --- |
| Volumen del maletero, delante | 128 l |
| Volumen del maletero abierto (detrás de los asientos delanteros) | 163 l |
| Depósito de combustible | 67 l |
Standard features
Sistema de escape - dos convertidores catalíticos de 3 vías y diagnóstico a bordo para monitorear el sistema de control de emisiones - 2 filtros de partículas de gasolina (GPF)"
Chasis "- McPherson-eje delantero con barra estabilizadora - Eje trasero multibrazo con barra estabilizadora"
Cuerpo "- Construcción ligera inteligente en compuesto de aluminio y acero - Manijas de las puertas retráctiles"
concepto de coche
- Concepto de vehículo de dos plazas con motor central
Consumo de aire Entradas de aire laterales en la parte delantera con aletas de aire de refrigeración activas y aspas de aire
Aerodinámica activa de Porsche (PAA) Porsche Active Aerodynamics (PAA) con alerón delantero de despliegue automático, aletas de aire de refrigeración activas y elemento de ala
Luces, interiores - Luces de lectura LED, iluminación de orientación e iluminación de cerradura de encendido. Iluminación adicional del maletero y de la guantera
Luces, exteriores - Activación automática de faros incl. Iluminación 'Bienvenido a casa'
Visión - Sistema de lavado de parabrisas con escobillas aerodinámicas y chorros de lavado
Seguridad - Inmovilizador con transpondedor en llave - Sistema de alarma con vigilancia interior basada en sonido ultrasónico
Aire acondicionado - Filtro de partículas/polen con filtro de carbón activo
Almacenamiento y maletero - Maletero en la parte delantera - Consola central ascendente con compartimento portaobjetos - Compartimento de almacenamiento en cada puerta - Guantera (con cerradura) - Dos portavasos individuales (1x como entrada en la consola central y 1x en el lado del pasajero)"
Pantallas "- Cuadro de instrumentos con cuentarrevoluciones central y dos pantallas TFT de 7 pulgadas, pantalla central de 10,9 pulgadas - Indicador de marcha en cuentarrevoluciones (PDK)"
Conducir - Múltiple de admisión de expansión - Bloque y culatas de aluminio - Refrigerado por agua con gestión térmica - 4 válvulas por cilindro - Inyección directa de combustible (DFI) - Levantamiento y sincronización variable de válvulas VarioCam Plus - Lubricación por cárter seco integrada con una bomba de aceite controlada bajo demanda - Función de inicio/parada automática"
Frenos - Freno de estacionamiento accionado eléctricamente - Freno de potencia electromecánico - Gestión estacionaria con función HOLD - Gestión de estabilidad Porsche (PSM) incl. ABS con funciones de frenado extendidas"
Sistemas de confort - Cierre centralizado - Ir sin llave"
Porsche Connect Con Porsche Connect, siempre tiene a su copiloto digital a bordo. Los diferentes servicios lo respaldan antes, durante y después del viaje.
Gestión de comunicaciones de Porsche (PCM) Porsche Communication Management (PCM) que incluye navegación en línea¹, preparación para teléfonos móviles, interfaces de audio y control por voz
Sistema de seguimiento de vehículos Porsche (PVTS) - PVTS es un sistema para la vigilancia avanzada de vehículos. En caso de robo, su vehículo envía automáticamente una alarma silenciosa a un centro de alarmas con personal continuo. Luego toma las medidas adicionales necesarias para proteger su vehículo con las autoridades locales.
Aplicación Porsche Track Precision
Conectar Cuidado "Con Connect Care, puede estar absolutamente despreocupado en la carretera. Nos ocupamos de que usted y su vehículo estén siempre actualizados. Los siguientes servicios están incluidos en el paquete: - Llamada de emergencia - Llamada de avería - Detección temprana de necesidades de mantenimiento y reparación. - Actualizaciones de software en línea a través de tecnología inalámbrica - Manual de usuario digital"
911 Turbo Models
911 Turbo
911 Turbo Models
911 Turbo Models
911 Turbo Models
911 Turbo Models
911 Turbo Models
911 Turbo Models
911 Turbo Models
911 Turbo Models
911 Turbo Models
911 Turbo Models
911 Turbo Models
911 Turbo Models
911 Turbo Models
911 Turbo Models
911 Turbo Models
911 Turbo Models
911 Turbo Models
911 Turbo Models
911 Turbo Models
911 Turbo Models
911 Turbo Models
911 Turbo Models
911 Turbo Models
911 Turbo Models
911 Turbo Models
911 Turbo Models
911 Turbo Models
911 Turbo
911 Turbo Models
911 Turbo
911 Turbo Models
911 Turbo Models
911 Turbo Models

Personalisation & finishing.
In the Porsche Exclusive Manufaktur we offer you a variety of personalisation options for exterior and interior. For your completely personalised vehicle.