10,000th Panamera leaves the Leipzig plantHuge customer interest for the fourth Porsche model series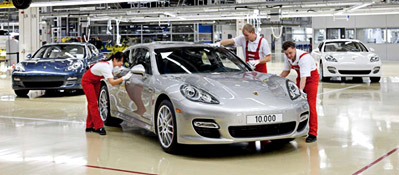 Stuttgart/Leipzig. Today, just three months after the new Panamera went on sale the 10,000th car rolled off the production line at the Leipzig plant of Dr. Ing. h.c. F. Porsche AG, Stuttgart. The 500 HP platinum silver metallic Panamera Turbo will be delivered to a customer in Singapore.
Michael Macht, Chairman of the Board of Porsche AG: "Sales of the Panamera have really taken off: we have already secured over 9,000 orders. Shortly after it was launched our Gran Turismo won the coveted "Goldenes Lenkrad" ["Golden steering wheel"] and "Auto Trophy" awards in Germany. It has also won many international prizes." The Panamera 4S is proving particularly popular and has a share of 44 per cent - putting it ahead of the Turbo (36 per cent) and the Panamera S (20 per cent).
The company plans to build 20,000 Panamera per year across the whole product cycle. The fourth Porsche model series is being manufactured at the Leipzig plant in the so-called model mix, sharing a production line with the Cayenne SUV. The innovative, highly streamlined production is seen as a model of technological and economic excellence for the automobile industry worldwide.
GO
Note: Image material for the 10,000th Panamera is available to accredited journalists in the Porsche press database at http://presse.porsche.de/.
14.12.2009