Special "Panamera Moment" Exhibition starting on 8 December 2009Porsche offers insight into the development of the new Gran Turismo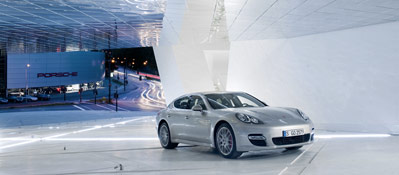 Stuttgart. Special tidbits at the Porscheplatz in Zuffenhausen: For the first time, visitors of the Porsche Museum will experience the model series Panamera. A range of exhibits and documents are offering an insight into the development of the latest model series of the Dr. Ing. h.c. F. Porsche AG, Stuttgart, in an extraordinary atmosphere. The special "Panamera Moment" exhibition (from 8 December 2009 to 28 February 2010) presents the innovations of the four-door Gran Turismo i.e. via a sophisticated cutaway model. Films on the design and technical features of the vehicle complete this experience.
The Special Exhibition comes in an artistic framework set by the well-known car photographer Frank M. Orel with his spectacular pictures. This photo artist from Stuttgart has photographed Porsche's new
Gran Turismo in situations both unusual and, indeed, quite unexpected. Shortly after having been launched in September, the Panamera was awarded the renown prizes "Goldenes Lenkrad" (Bild am Sonntag / Autobild) and "Auto-Trophy" (Auto Zeitung) as well as several international prizes.
The Porsche Museum is open from Tuesday to Sunday from 9:00 to 18:00. Further information is available at www.porsche.com/museum.
GO
Note: Images of the "Panamera Moment" are available to accredited journalists in the Porsche Press Database at http://presse.porsche.de/.
01.12.2009