Porsche Approves Winter Tyres Specifically for Young and Old Classics
Extensive Tyre Test Programme for Older Model Series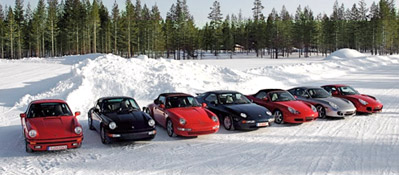 Stuttgart. Porsche has extended its demanding approval process for winter tyres to include tyres for young and old classics. Offering customers this unusual service, the German manufacturer of sports cars enables drivers of older models to use the best available products on their car. Porsche is therefore providing valuable help and orientation particularly in the process of choosing new winter tyres with safe driving characteristics also on snow and ice. A further point is that this makes Porsche one of the few car makers to offer such an elaborate tyre approval process.
Well over 70 per cent of all Porsche sports cars ever built still exist today and are still driven actively in most cases - in both summer and winter. Indeed, even classic Porsche models more than 20 years old still offer the kind of performance today one would expect of a modern sports car. But the tyres fitted when such old and new classics were still in production have no longer been available for years. Tyre treads and rubber compounds have changed in an ongoing process of development, thus influencing the driving behaviour of such old Porsche models.
Conducting elaborate tests, Porsche's engineers determine which of the tyres available today harmonise best with the features of a classic Porsche. The highlight in this testing and approving process is an extensive test programme up north in the Polar Circle.
Numerous Porsche models built in former years, among them the 911, 928, 964, 993 and 996, and then all the way to the first Boxsters, have been tested for this purpose on countless laps at the Arctic Driving Center in the Finnish town of Rovaniemi.
The criteria to be fulfilled by the tyres tested in order to receive approval by Porsche are so strict that not all tyres met the test requirements. The characteristics and features typical of an older air-cooled 911, for example, form an challenge not easy to overcome.
Further tests for dry and wet handling on test routes free of snow round off the test programme as such. Information on which tyres are recommended for which Porsche model is presented on Porsche's website (www.porsche.com) and is also available at all Porsche Centers.
GO
Note: Images of the tyre approval process for old and new classics are available to accredited journalists in the Porsche Press Database at http://presse.porsche.de.
18.11.2009