Panamera available for Avis CustomersCar rental service adds fourth Porsche series to its fleet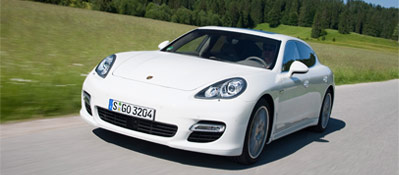 Stuttgart. Just shortly after its entry in retail, the new Porsche Panamera is also available as a rental car: the sports limousine stands at the ready beginning on 1 October at many German locations of the Avis car rental service. The models Panamera S and Panamera 4S – the fourth series of Dr. Ing. h.c. F. Porsche AG – will especially be offered at major city and airport locations. The rental price per day (Monday to Thursday) begins at 189 euro, according to Avis. The cost of weekend rental (Friday to Monday) starts at 567 euro for the Gran Turismo. As a longstanding business partner of Porsche, Avis offers the sport saloon as a rental car exclusively in Germany.
With the four-door Panamera, Porsche positions itself in the upper class and addresses customers who expect the consistent sportiness of a Porsche, in addition to the exclusive comfort and spaciousness of a limousine. The use of efficient V8 motors with direct injection, an intelli-
gent, light construction, the start-stop system, optimal aerodynamics, the innovative Porsche PDK dual clutch transmission and additional measures have lead to an ideally low consumption of fuel, with which the four-door Gran Turismo sets new standards in its direct field of competition.
GO
Note: Photos of the Porsche Panamera are available to accredited journalists on the Porsche Press Database at http://presse.porsche.de/.
15.09.2009