Readers of German Car Magazine "sport auto" vote Porsche No 1 Four Times
"Most Sporting Cars 2009"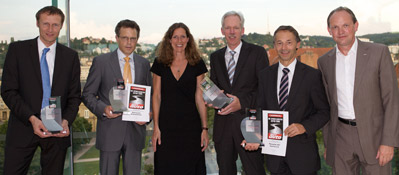 Stuttgart. The readers of "sport auto", one of Germany's leading car magazines, have chosen four sports cars from Dr. Ing. h.c. F. Porsche AG, Stuttgart, as the best cars in their respective categories. This year readers were able to choose among 260 sporting cars in sixteen categories for production vehicles and ten categories for tuned cars. 10,112 readers participated in the survey.
The new Porsche 911 GT3 received the clearest vote, with 37 per cent of all readers choosing the most sporting 911 as the No 1 in the category of coupés up to Euro 150,000. Approximately one-quarter of the jury chose the Boxster S as the best production cabriolet up to Euro 60,000 and the Carrera S Cabriolet as the top open-air car up to Euro 120,000. Receiving almost 18 per cent of all votes, the Porsche Cayman came No 1 in the category of coupés up to Euro 50,000, while the Carrera S came second – very close to first place – in the category of coupés up to Euro 100,000.
Just how much the readers of "sport auto" appreciate Porsche's outstanding competence comes out clearly through the fact that the Panamera was voted No 3 in the category of saloons over Euro 80,000 – although so far the Panamera has not even been launched into the market.
The German car magazine "sport auto" has been requesting its readers to vote for the "Most Sporting Car of the Year" since 1980. In the first year readers were able to choose among 69 models in six categories, the Porsche 911 SC and the 930 Turbo scoring a double victory for Porsche right from the start in the very first year. In all, sports cars from Zuffenhausen have come right at the top no less than 44 times in the last 29 years.
GO
Note: Images of Porsche's sporting models are available to accredited journalists in the Porsche Press Database at http://presse.porsche.de/.
19.06.2009