Vehicle production as an example of working efficientlyPorsche Consulting develops the concept of the "lean office"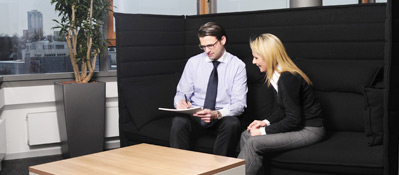 Stuttgart. The consulting company Porsche Consulting GmbH, based in Bietigheim-Bissingen, Germany, has developed an innovative office concept which will be able to optimize internal workflows and lower internal company costs. The improvement measures, called "lean office" for short, are being implemented in the company for the first time and are already having an impact. For example, the amount of walking employees have to do has been reduced by 62 percent while the office areas, storage room and office supplies are being better utilized. The basic idea is to apply optimization methods from vehicle production at Porsche to work in the administrative offices.
"With the help of the 'lean office' we have succeeded in working more efficiently and, at the same time, increasing employee satisfaction," says Eberhard Weiblen, Chairman of the Board of Directors of Porsche Consulting GmbH. The subsidiary of Dr. Ing. h.c. F. Porsche AG, Stuttgart, has grown at a breathtaking pace in the past years. Because the office areas in Bietigheim-Bissingen were designed for a maximum of 150 persons, but currently house 220 employees of Porsche Consulting, the consultants had to become active on their own account. Their solution was the "lean office." Now, not only do all employees have sufficient space to work; in the future it should be possible to increase the workforce to up to 300 persons without having to rent additional office space.
In order to make their office "lean" the consultants turned to the same methods that they also use for external customers in order to optimize their own workflows. The Porsche Consulting employees first analyzed the amount of time they spend walking around the office, the capacity of meeting rooms and the use of individual workstations. Then the optimization process began. So, several small instead of a few large meeting rooms were set up. This arrangement allows work groups to implement their respective projects faster because the waiting times for available meeting rooms have been reduced and it is easier to call meetings on short notice. Through modular shelving systems and lockers with an integrated post box, work-related walking distances have been shortened and space saved. Just as on the Porsche production line the availability of office materials is controlled by a "just-in-time" system. This ensures that the most important office tools are available at all times at each workstation.
Employees no longer sit at firmly assigned desks but rather work flexibly around the office with laptop and Bluetooth headset at changing locations. "Thanks to the creation of separate meeting rooms, smaller meeting corners and acoustically screened-off individual workstations, Porsche Consulting has addressed the different work situations in the office," explains Weiblen convincingly. At the same time this set-up has reduced the noise level considerably. For the workforce it means a more comfortable working environment in which concentrated work is easier.
GO
15.05.2009